This Section of Costco Is Soaring in Popularity
Both have a variety of member favorites, but only one is being posted about most right now.
No matter where in the warehouse you start off your Costco run, at some point every shopper ends up in the area where all the in-store prepared foods are made. Both the bakery section and the deli have their fair share of popular items—from the rotisserie chicken to the previously discontinued Almond Poppy Seed muffins. But one is seemingly becoming more popular than the other. Based on posts on social media, it seems as though the deli is becoming more and more of a go-to compared to the bakery.
Related: These Are Costco's Most Popular Items Right Now
With over 10 million members across the globe, there are also a lot of people who go to social media platforms to find info on products. Head to Instagram and there are dozens of accounts that post about items in the warehouse and online. Look on Reddit to find conversations between members about what's going on at the warehouse chain. Go onto Twitter to find out breaking news about the location in your neighborhood. And right now a lot of members can't stop talking about the deli.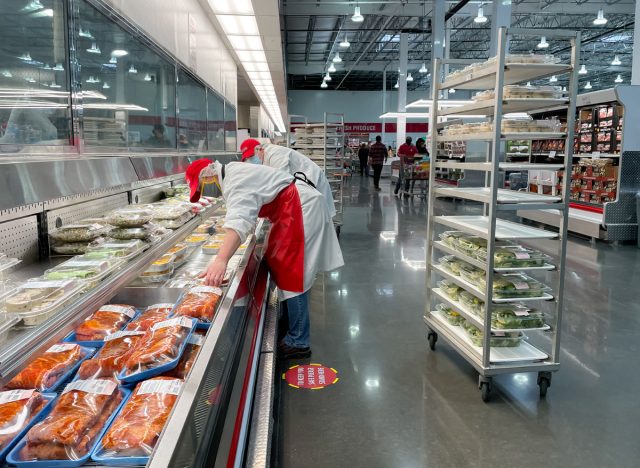 From Beef Bulgogi to Meatloaf and Mashed Potatoes to Shrimp Cocktail, the Costco deli is more than just the $4.99 signature rotisserie chicken—even though over 106 million were sold in 2021, the most of any year. It's a place to pick up bulk-size meats as well as lunch or dinner. And since the pandemic, that's what everyone wants.
Ready-made foods are all the rage in grocery stores since March 2020 when everyone started to cook from home exclusively and then got tired of it. America's largest grocery chain Kroger has invested in its in-store meal kits and so has grocery delivery company Instacart.
What Costco deli offerings are trendy right now?
Just in the last month posts about the offerings have been some of the most engaging on social media. One Reddit Costco member recently boasted about the Chicken Street Tacos, Saying they are "legit".
Another took to the site to ask others about the Yakisoba Stir Fry Kit just a few days ago in mid-April, and over 200 people commented.6254a4d1642c605c54bf1cab17d50f1e
On Instagram account @costco.hotbuys posted about the Ravioli Lasagna on sale in early April. One Costco member commented and said they stocked up because of the deal because they "really like this one."
Around the same time, @costcoorganic let their followers know about the Garlic Seasoned Chicken Drumsticks that are in the deli, and @thecostcopro posted about the beef chili.
Most recently @costcobuys posted two deli finds that have thousands of likes each. Almost 7,000 people double-tapped on the account's post about the Taco Salad kit—complete with chicken, tortilla strips, cheese, black beans, and cilantro lime dressing.
Another 2,000 saw and liked the post about the Roasted Chicken Croissant Sandwich and Caesar Salad Kit in the deli too. "These are my favorite! Been waiting for them to make a comeback," one commenter said.
However, another 60,000 people liked @costcohotfinds post about the same kit, with one saying, "Omg Panera could never."
With both the deli and bakery sections being exclusive to the warehouse and offering a variety of options, it's no wonder they are both so popular. But it sure does seem like more and more members are flocking to the deli for the meal kits and ready-made options more and more right now—and telling others to do so, too.
Before your next trip to the warehouse, here are The 6 Best Costco Summer Items Right Now, According to Dietitians.
Amanda McDonald
Amanda has a master's degree in journalism from Northwestern University and a bachelor's degree in digital journalism from Loyola University Chicago.
Read more about Amanda