The Best Costco Backyard BBQ Basics Right Now
Two dietitians picked the best grilling and snacking staples at the warehouse right now.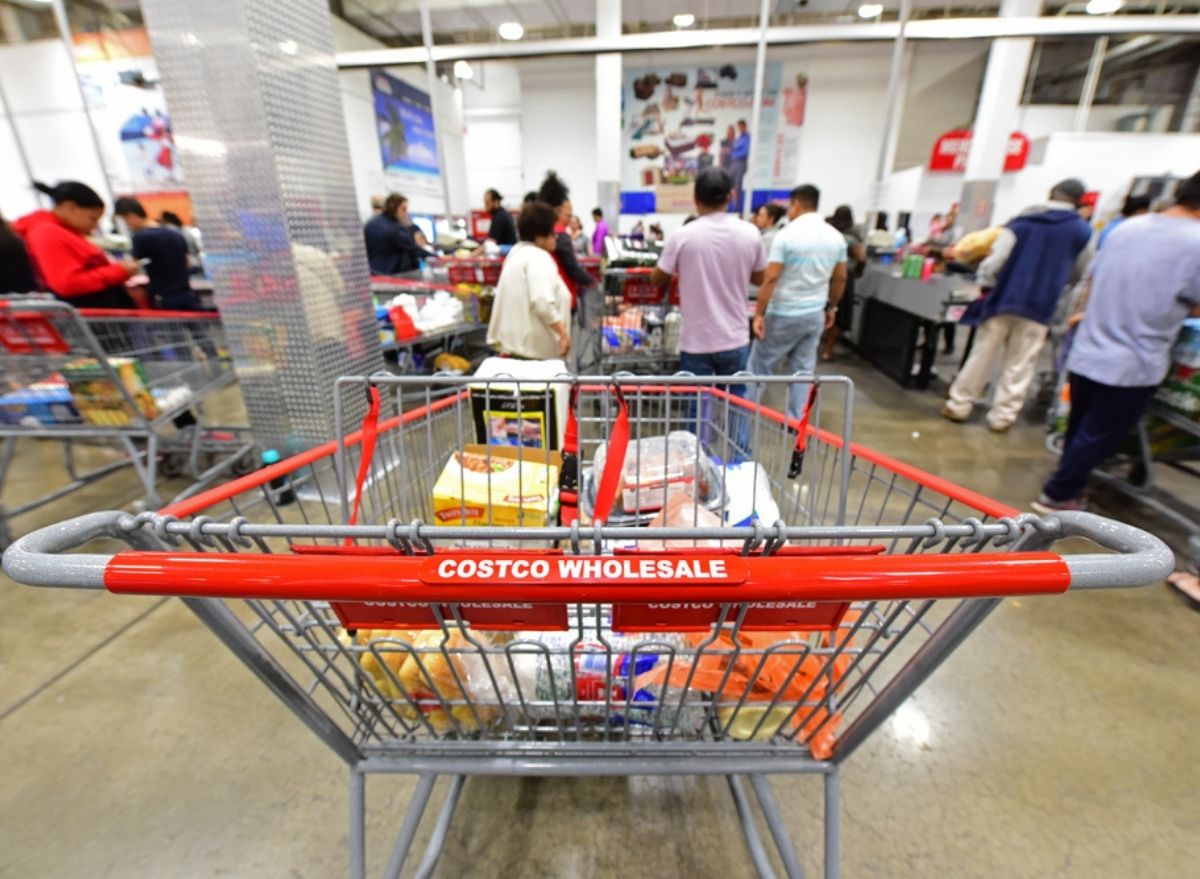 It's BBQ season and you can find everything you need for a summer backyard party at Costco, from burgers and chicken to chips and salads. Not everything you can find is going to keep everyone energetic and hydrated, though. That's why we got in touch with some experts to help us choose the best items.
We consulted two registered dietitians: Lauren Harris-Pincus and founder of Nutrition Starring YOU and Julia Denison, founder of Running On Cupcakes. Read on to see what you should be throwing in your shopping cart at Costco right now as Memorial Day and Summer vacation gets closer.
Columbus Seasoned Turkey Burgers
Per 1 burger
: 240 calories, 13 g fat (3.5 g saturated fat), 105 mg cholesterol, 390 mg sodium, 2 g carbs (0 g fiber, 1 g sugar), 30 g protein
The Columbus Turkey burgers at Costco for just over $12 are conveniently seasoned and ready to cook. Just plop them on the grill and enjoy. Plus, the ingredients are dietitian-approved.
"These delicious turkey burgers are made from wholesome ingredients with a fraction of the saturated fat of a burger while maintaining a lot of flavor. One burger packs 30 grams of protein into 240 calories, 3 grams of carbohydrate and 390mg of sodium," says Harris-Pincus.
Denison agrees. She says these burgers are a healthy option because of the low saturated fat and high protein and iron.
Per 1 bag
: 100 calories, 3.5 g fat (0 g saturated fat), 0 mg cholesterol, 160 mg sodium, 15 g carbs (0 g fiber, 0 g sugar), 1 g protein
This box of 30 snack-sized bags of Popchips for just below $15 should be enough to feed the whole crew at your next BBQ. Both registered dietitians we spoke to give them a thumbs up.
Harris-Pincus loves the single-serving bags. Denison likes these for the low saturated fat and sodium. She also likes the variety of flavors.
"If you are like most people, it's tough to manage your portion of chips, especially when there's a large party bowl in front of you. These baked, gluten-free Popchips come in single-serving 100-calorie bags with only 160-170 mg of sodium so you can thoroughly enjoy your tasty snack," she says.
WestEnd Cuisine Grilled Chicken Mediterranean Style Skewers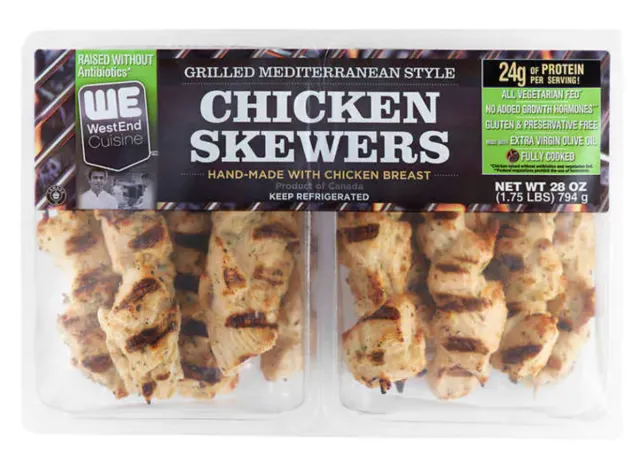 Per 2 skewers
: 150 calories, 3.5 g fat (1 g saturated fat), 60 mg cholesterol, 690 mg sodium, 3 g carbs (0 g fiber, 1 g sugar), 24 g protein
Grab some of your favorite combinations (onions, peppers, etc.) to grill up with these WestEnd Cuisine chicken skewers that the warehouse has in the freezer section at around $20 for 14 2-ounce skewers.
Harris-Pincus likes them for their versatility. "They are a huge time saver and can be enjoyed in sandwiches, salads, wraps and so much more," she says. "They have simple ingredients and only 75 calories per skewer with 12 grams of protein."
Summer Fresh Tuscan Bean Salad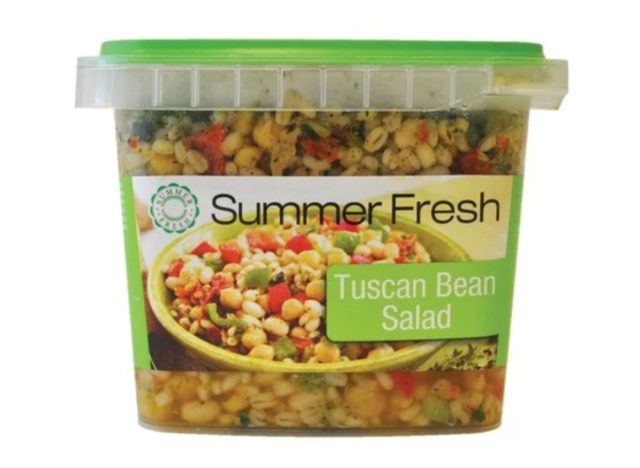 Per ½ cup
: 140 calories, 4.5 g fat (0 g saturated fat), 0 mg cholesterol, 21 g carbs, 5 g fiber, 1 g sugar, 4 g protein
Bean salad is a must-have for any BBQ, and this one combines seasonal flavors and nutritious benefits—so you'll get plant-based protein and all the nutrients that come with it.6254a4d1642c605c54bf1cab17d50f1e
"Beans are some of the healthiest foods on the planet and are consumed daily in the Blue Zones which are areas of the world where people live the longest and healthiest lives. This Tuscan Bean Salad brings 4 grams of plant-based protein and 5 grams of fiber from barley, navy beans, and chickpeas per 1/2 cup serving," says Harris-Pincus, and Denison agrees.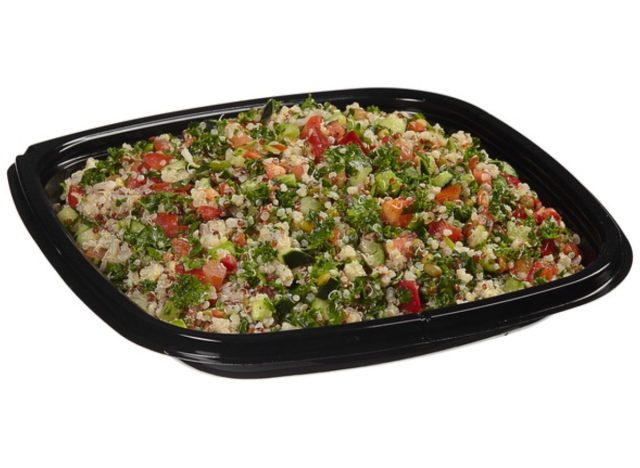 For a non-leafy salad that can be found in the Costco deli, try out the Quinoa Salad.
Harris-Pincus likes it for its convenience and nutrition and Denison loves that there's a variety of colorful foods as well as tons of flavor and nutrients. She notes the whole grains from the quinoa offer fiber, B vitamins, and iron—all of which are essential on hot days.
"BBQ side dishes are usually swimming in mayo, not this Costco Quinoa Salad," she says. "Save yourself the chopping and enjoy the benefits of quinoa, cucumbers, tomatoes, mung bean, red peppers, brown rice, kale, and red lentils."
Speaking of this section of the warehouse, there are some options to skip, and others to try out. Here are The Best and Worst Costco Deli Items Right Now.
Nicole LaMarco
Nicole has a first-degree black belt in Taekwondo and is passionate about everything health-related.
Read more about Nicole