These 5 Costco Frozen Items Are Selling Fast Right Now
Love them while they last, because they're flying off the shelves.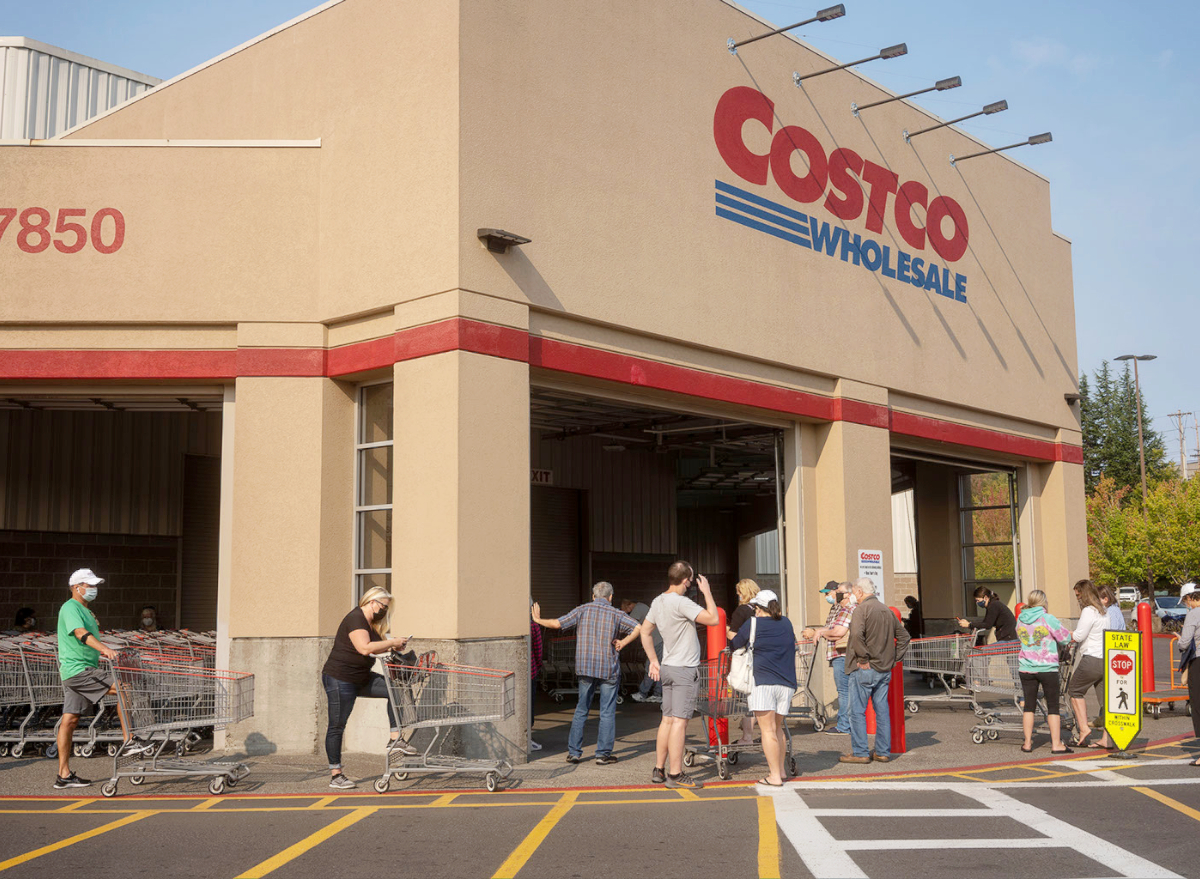 There are a million and one reasons to become a member of the elite Kirkland club. While it's true that membership fees could go up this year, you can be sure you're still getting a bang for your buck. From great deals on groceries, furniture, clothing, and electronics to expansive product offerings, this all-in-one retailer knows how to provide customers with a shopping experience they can look forward to every week.
And whenever Costco puts something new on the pallet, members are quick to notice and spread the word, especially when they discover a must-have. For those days when you need a helping hand in the kitchen or a no-fuss, rainy-day dinner, we found five of the products that you might want to pile high in the freezer, based on shoppers' overwhelming enthusiasm for them on social media. (And for more, here are 6 Things You'll See at Costco This Year.)
La Boulangerie San Francisco Spicy Chicken Sandwich on Brioche Bun
Everybody loves a good chicken sandwich. You might prefer it from your restaurant of choice, but it can't hurt to have a few on hand in your own kitchen. There's been a lot of hype around this new item that showed up in the frozen section at the end of 2021, according to an Instagram post by @costcohotfinds. The package of six sandwiches features both the spicy, breaded white meat chicken patties and the soft, sturdy brioche buns to nestle them between.
Reddit users recommend using the air frying instructions on the package, as well as customizing the sandwich with additional toppings (lettuce, onions, tomato, pickles, mayo, hot sauce – whatever floats your boat!)6254a4d1642c605c54bf1cab17d50f1e
Tru Fru Milk Chocolate Strawberries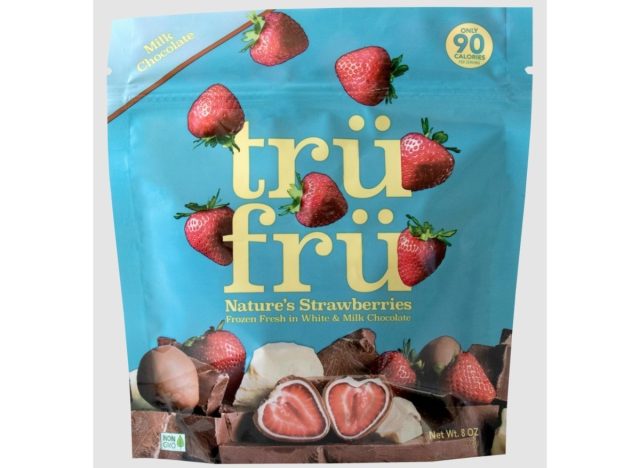 These frozen strawberries coated in a crunchy milk and white chocolate exterior came back for an encore appearance at Costco, just in time for Valentine's Day. One user on Reddit spotted the dessert at the end of January, which drummed up excitement from people in the comments. Redditor u/iggypop19 said, "Really hope my store gets them back at some point in the future because I'll be stocking up on several bags to put away in case they disappear again."
Tru Fru made its debut in May last year, and it seems they've garnered fans who have been eagerly awaiting their return to the icebox. If you can manage to pick up one of the 20-ounce bags before they disappear, the only regret you'll have from buying these in bulk is justifying how many you should eat in one sitting.
Motor City Pizza Co. Detroit-Style Deep Dish Pizza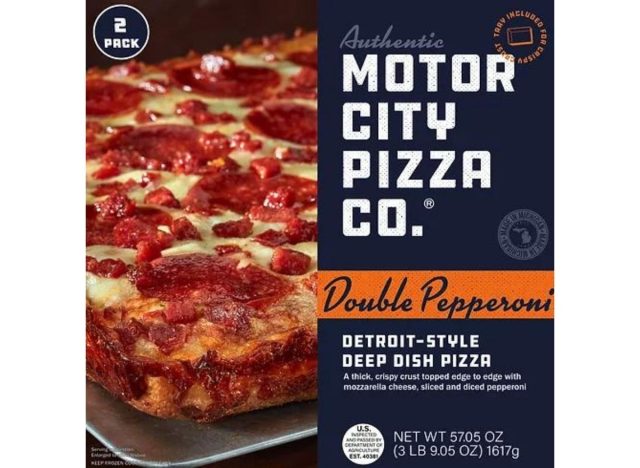 Hailed by one Reddit user as the best frozen pizza they've tried, the consensus on this two-pack of meat-laden Detroit-style deep dish pie is clear—it's a must-buy. It comes in both Double Pepperoni and Ultimate Meat, and it's gained a large following.
Redditor u/onetimeuse789456 commented, "This pizza is legit. I've had separate conversations with multiple people who also think it is amazing. I do not know why this brand isn't in more stores. I'd 100% buy this over anything else. Getting this pizza is half the reason why I go to Costco."
Followers of @thecostcopro showed equal excitement when the Instagrammer posted a video, preparing the Ultimate Meat package with the caption: "Now, I see why everyone loves it so much. Happy National Pizza Day!"
If you're looking for a new go-to pizza to add to your freezer stash, this is a steal your tastebuds will thank you for.
Milton's Craft Bakers Meat Lover's Trio Cauliflower Crust Pizza
For the pizza lover who's gluten-free, this frozen pick should satisfy your craving for that meaty, cheese combo—all on top of a thin, crisp cauliflower crust. And from a nutritional perspective, it's guilt-free to boot. This two-pizza package came out in March 2021, according to Instagram account @costcodeals, but its presence has been spotty ever since.
At the end of January, @costcohotfinds found it sitting in the freezer aisle once more. Some comments noted that their local store wasn't carrying it, so it may only be back in several regions for now. However, if you're not in the Bay Area, Northeast, or Midwest area, @costcohotfinds said that the vegetarian variety, Roasted Vegetable, should be available nationwide.
Brown Sugar Boba Milk Tea Mochi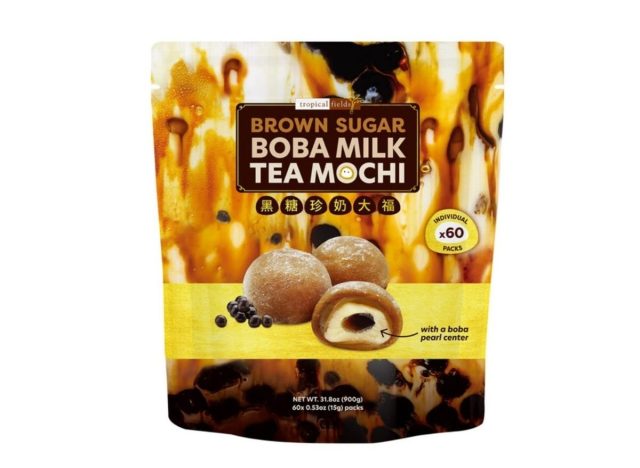 A twist on the Boba Milk Tea Mochi from July 2021, Costco brought back this top seller in a new flavor: Brown Sugar Boba Milk Mochi. The name is a mouthful, which feels appropriate for these bite-sized frozen treats. Instagram account @costco_empties found it in February in the warehouse, to the delight of commenters.
The original flavor sold out quickly, according to comments on an Instagram post by @costcobuys, which is all the more reason to snag one of these 60-piece packages before they do another disappearing act. But be forewarned—if you don't like the texture of boba, you might want to opt for a different dessert from the Kirkland freezer section.
Did you know? Costco Is Offering This Perk If You Sign Up For A Membership Now.
Sarah Wong
Sarah studied at Northwestern University, where she received a bachelor's degree in computer science and experimented with mixing tech and journalism.
Read more about Sarah