We Tested 9 Protein Powders, and This One Is the Best
Got your protein in today, bro?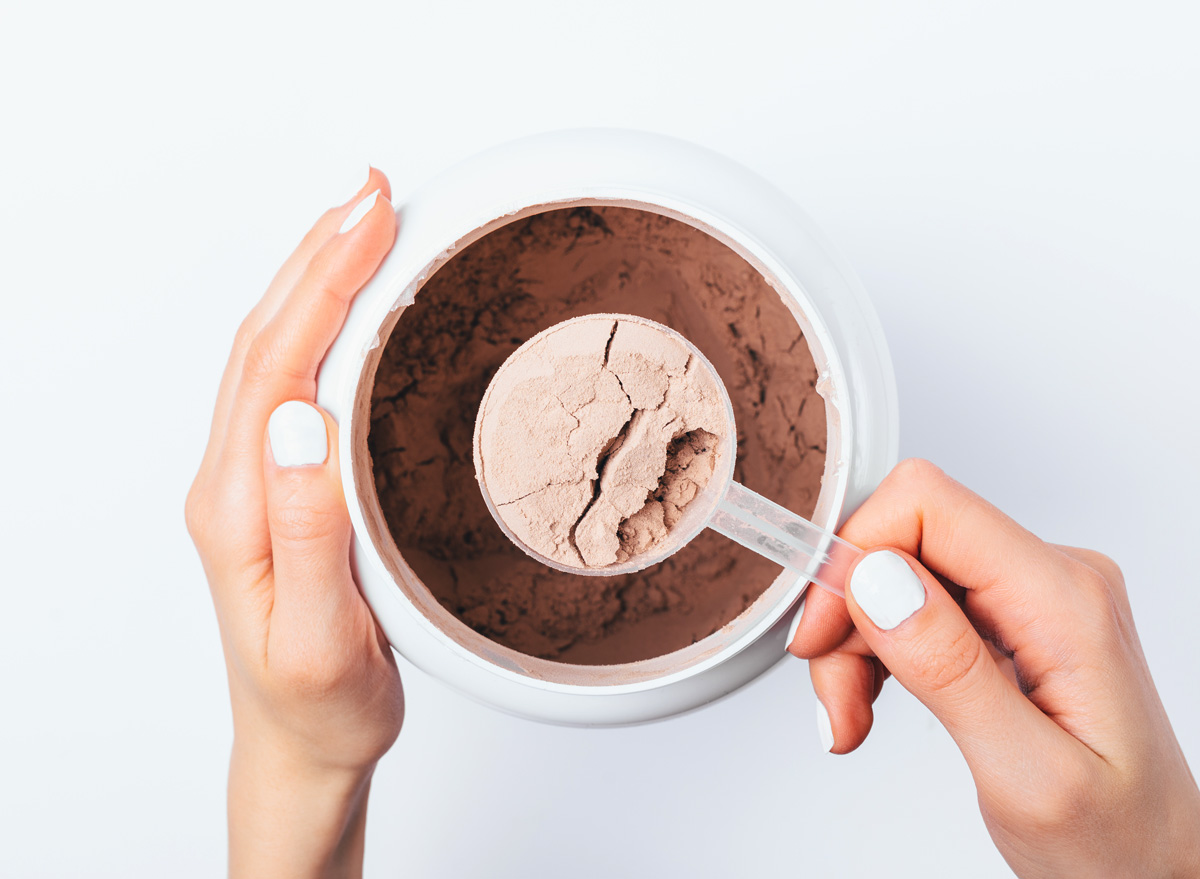 Protein isn't just for bodybuilders. A lot of people often add more protein to their diet in order to sustain muscle mass, keep tummies satiated, and maintain healthy hair, skin, and teeth. But sometimes it's not always the easiest to get enough of this notorious macronutrient because, well, life happens.
And that's where protein powders come in.
Either animal- or plant-based, they can provide a quick and easy boost during those missed-your-alarm mornings and days when you're stuck in traffic post-workout. But picking a powder can get excessively confusing, especially when there are so many brands, protein sources, flavors, and marketing ploys splattered across elaborate labels.
That's why we powered through the trouble of taste testing popular whey and plant-based protein powders (mixed with water or organic unsweetened soymilk) and then ranked them based on four standards: Nutrition, Clean Ingredients, Appearance, and Consistency, as well as Taste. Read on to find out which powdered protein came out on top. And while you're making healthier habits, be sure to stock up on any of The 7 Healthiest Foods to Eat Right Now.
How We Graded Them
Here are the four metrics we used to determine each protein powder's final grade.
Nutrition
Besides ensuring your protein powder has enough (about 15+ grams) of… you guessed it… protein, it's also vital to check for other nutritionals like fat, sodium, sugar, and fiber to ensure you're not wrecking the body goals you hope to achieve by sipping on the stuff.
Clean Ingredients
Many tubs contain a slew of funky additives and unpronounceable ingredients that are bad news for your belly. We want to make sure the protein dust you're scooping into your shake or baking into a cake is free of bloating artificial sweeteners, toxic metals, hydrogenated oils (trans fats), or any other culprit that shouldn't burrow its way into a health supplement.
Appearance & Consistency
Because no one wants a gritty neon-colored shake that's as dense as Duncan Hines cake batter.
Taste
Let's be honest for a sec—protein shakes can do wonderful things to your body, but if they're not up to par with our tastebuds, there's no way they'll be capable of working their magic.
And now, from the worst to the best…
Quest Vanilla Milkshake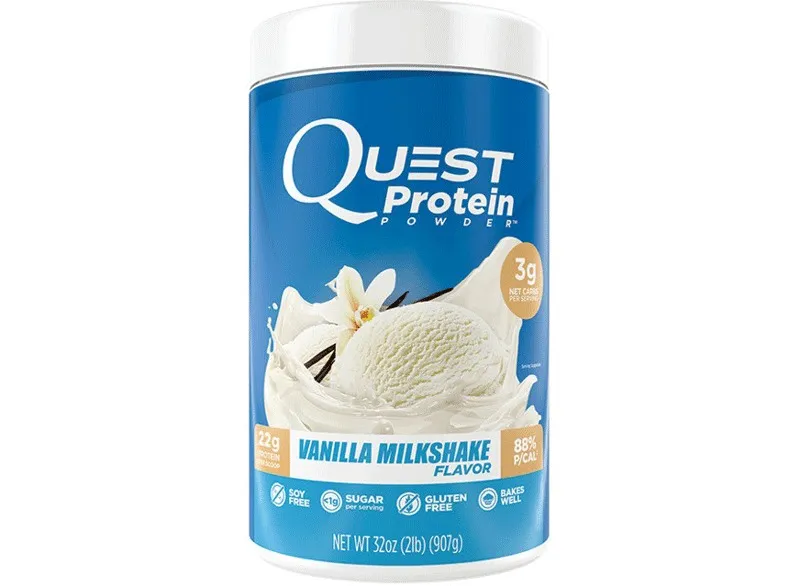 Nutrition: 1 Scoop (28 g): 110 calories, 0.5 g fat, 140 mg sodium, 2 g carbs (0 g fiber, 1 g sugar), 24 g protein
Ingredients: Protein Blend (Whey Protein Isolate, Micellar Casein), Natural Flavors. Contains less than 2% of the following: Sea Salt, Sunflower Lecithin, Cellulose Gum, Carrageenan, Silicon Dioxide, Sucralose, Steviol Glycosides (Stevia),
Appearance & Consistency: Super velvety, indulgent consistency, which was unexpected considering we only used water. Onlookers would definitely mistake this protein-loaded blend for an vanilla ice cream-packed thickshake.
Taste: Quest's vanilla milkshake rendition definitely smells and tastes like what it claims—but that should raise red flags warning you it's too good to be true. This powder was severely sweet, thanks to both the added stevia and sucralose, which also resulted in a brief yet unappetizing aftertaste.
Eat This, Not That! Verdict:
Overall, this dessert-like drink was overwhelmingly sweet and actually tasted like the flavor it boasts on its bright blue ice cream-adorned label. But it ranks the lowest on our list because of its use of sucralose (the generic name for Splenda), which studies have linked to dips and spikes in blood sugar.6254a4d1642c605c54bf1cab17d50f1e
Optimum Nutrition Gold Standard Vanilla Ice Cream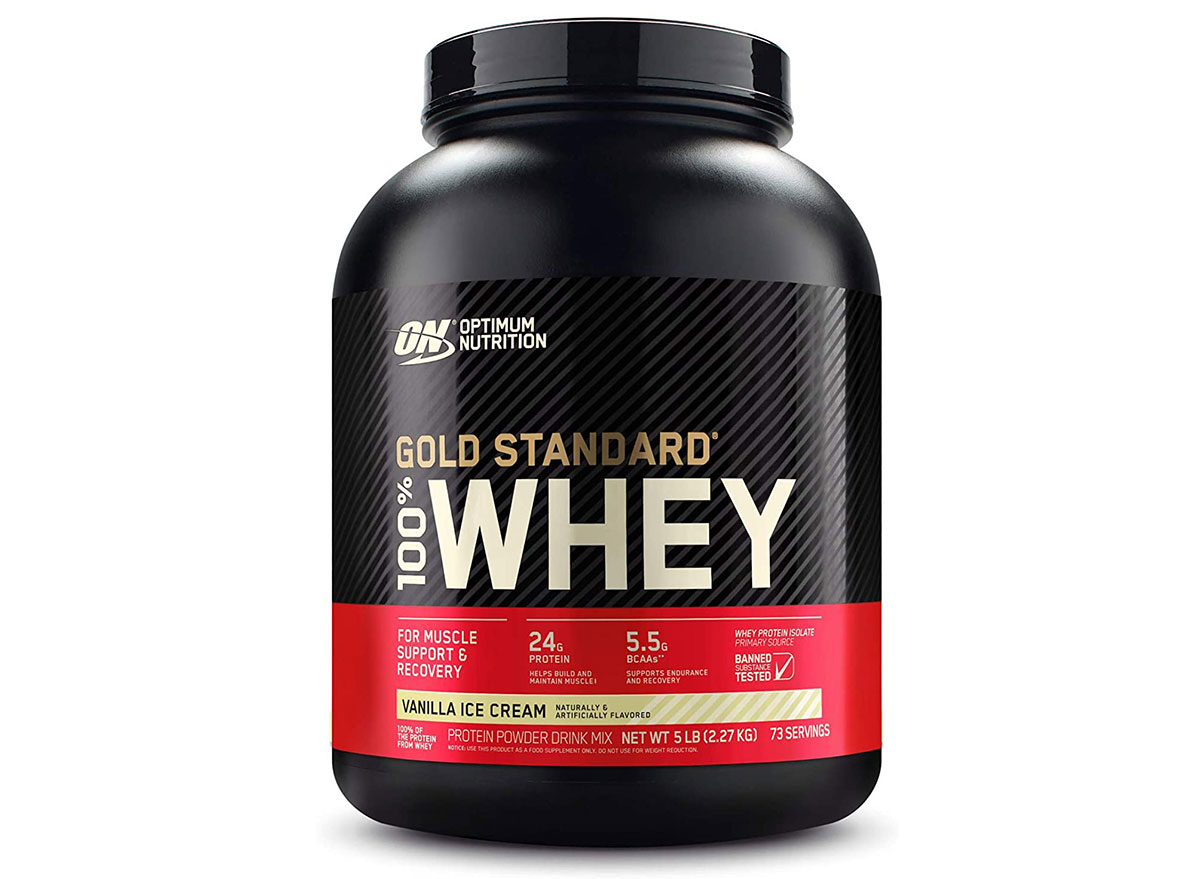 Nutrition: 1 Scoop (31 g): 120 calories, 1 g fat (0.5 g saturated fat), 105 mg sodium, 4 g carbs (1 g sugar), 24 g protein
Ingredients: Protein Blend (Whey Protein Isolates, Whey Protein Concentrate, Whey Peptides), Natural and Artificial Flavor, Lecithin, Cellulose Gum, Xanthan Gum, Salt Sucralose, Acesulfame Potassium, Lactase
Appearance & Consistency: Upon cracking open this giant black and ivory tub, I was hit with an unpleasant whiff of the contents' artificial vanilla scent, which only became worse after mixing it with ice cold water. The upside? The shake's consistency was quite smooth and far from gritty.
Taste: If your nose can get over the odd smell enough to allow you to introduce it to your tongue, the taste isn't as bad as expected. ON shake's mild vanilla flavor wasn't as sweet as Quest's, but it still wasn't pleasing enough to down a whole blender bottle's worth.
Eat This, Not That! Verdict:
We weren't impressed by the taste or the fact that this whey protein shake barely contains any vitamins, minerals, or benefits besides the 24 grams of protein it packs in. There are way better versions out there and you'll get to them in a jiffy.
Amazing Grass Protein Superfood, Chocolate Peanut Butter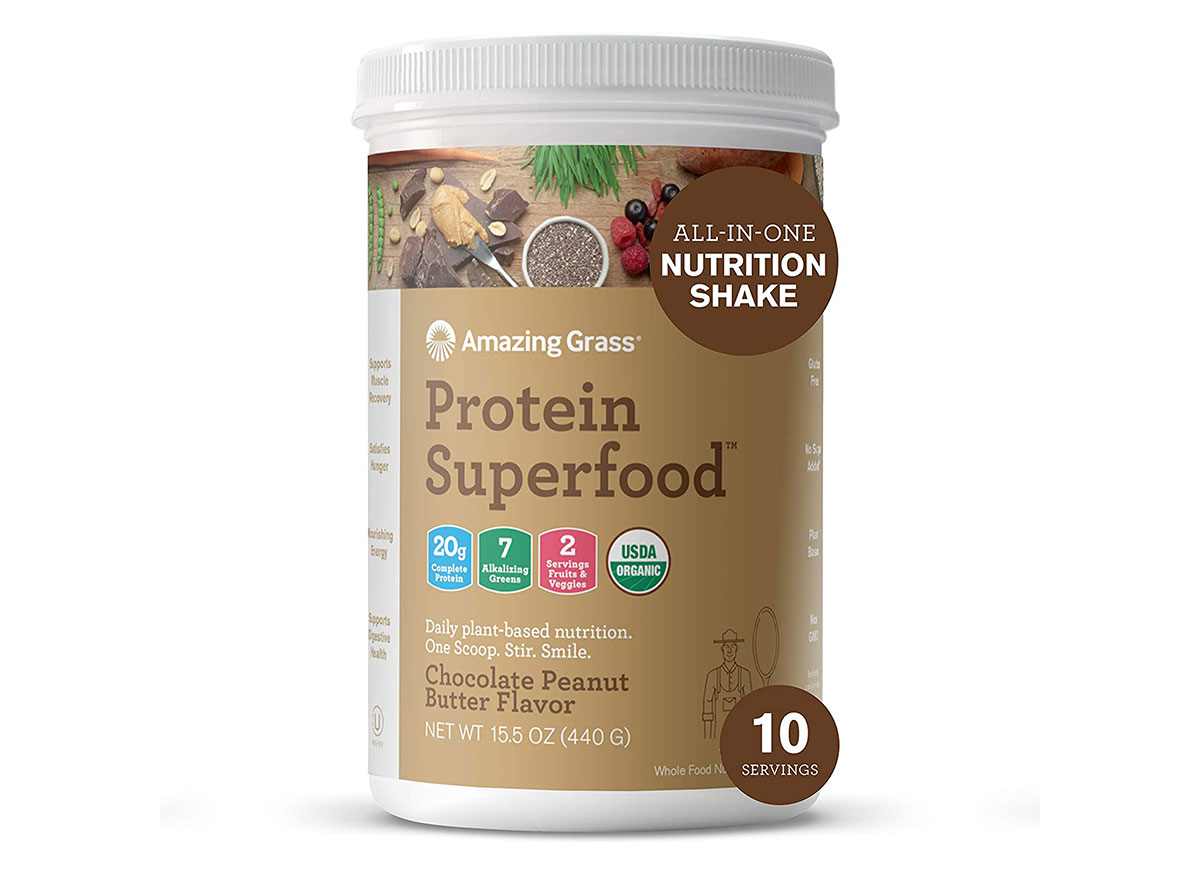 Nutrition: 1 Scoop (44 g): 190 calories, 7 g fat (1.5 saturated fat), 350 mg sodium, 12 g carbs (7 g fiber, 2 g sugar), 20 g protein
Ingredients: Protein Blend (Organic Pea Protein, Organic Hemp Protein, Organic Chia, Organic Quinoa); Green Food Blend (Organic Wheat Grass, Organic Alfalfa, Organic Barley Grass, Organic Spinach, Organic Spirulina, Organic Chlorella Powder, Organic Broccoli; Organic Alkalized Cocoa, Natural Flavor, Silica, Xanthan Gum, Fruit and Vegetable Blend ((Organic Acai, Organic Banana Powder, Organic Beet Root, Organic Carrot, Organic Goji Extract, Organic Pineapple, Organic Sweet Potato, Organic Raspberry, Organic Rose Hip), Organic Stevia Leaf Extract
Appearance & Consistency: The shake itself looked like a peanut butter-swirled blend, but was nowhere near as creamy as the dreamy nut butter we begged mom to spread on our sammies as kids.
Taste: Perhaps I was forewarned by the grassy smell, but for the sake of this experiment, I took a chug. My "this will be fun" experience quickly and darkly turned into a much scarier moment. No, this does not taste like chocolate. No, this does not taste like peanut butter. What it does taste like is pulverized produce and crushed expectations.
Eat This, Not That! Verdict:
While this superfood blend does pack in 20 grams of complete protein as well as two servings of organic fruits and vegetables, we're not impressed with its high sodium content. And taste wise, let's just add that you won't be singing "Amazing Grace" after taking a sip of this Amazing Grass shake.
Vega One All-In-One Shake, French Vanilla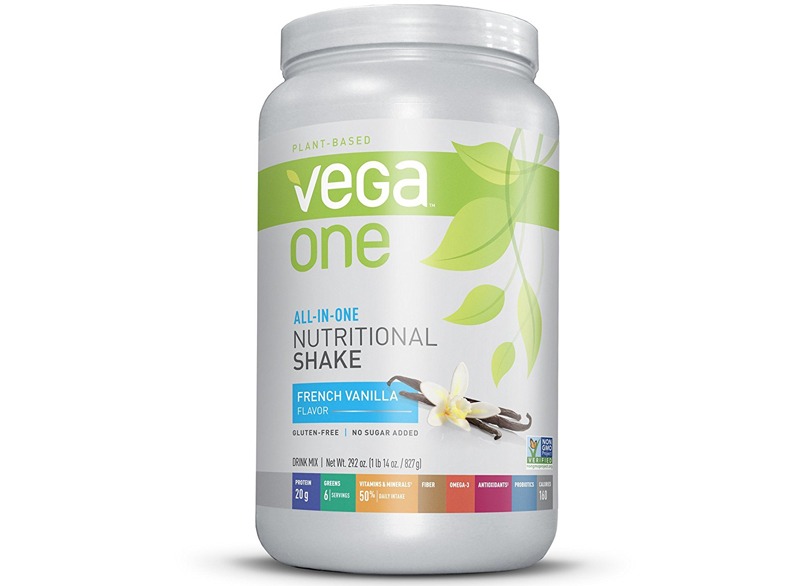 Nutrition: 1 Scoop (41 g): 160 calories, 5 g fat (0 g saturated), 240 mg sodium, 10 g carbs (6 g fiber, 1 g sugar), 20 g protein
Ingredients: Pea Protein, Flaxseed, Pea Starch, Organic Acacia Gum, Natural Flavor, Hemp Protein, Sacha Inchi Protein, Organic Gelatinized Maca Root, Organic Broccoli, Inulin (from Chicory Root), Organic Spirulina, Organic Kale, Organic Marine Algae, Dried Fruit and Vegetable Blend (Spinach, Broccoli, Carrot, Beet, Tomato, Apple, Cranberry, Orange, Cherry, Blueberry, Strawberry, Mushroom), Chlorella Vulgaris, Papain, Probiotics (Bacillus Coagulans), Stevia Leaf Extract, Citric Acid, Dried Antioxidant Fruit Blend (Grape Seed Extract, Organic Pomegranate, Acai, Mangosteen, Organic Goji, Organic Maqui)
Appearance & Consistency: Even though the flavor claims vanilla, this powder is green. So if you're into the whole holding-a-green-shake-because-it-looks-cool vibe, then you'll probably appreciate the Hulk-hued blend. Sadly, the powder's grainy texture wasn't as debatably impressive as its color.
Taste: Rather than tasting like French Vanilla, a sip of this tasted more like a wheatgrass shot… or the ocean. (After all, it does contain organic marine algae and spirulina.) When mixed with water, the vanilla flavor wasn't as distinct as the stevia flavor, but it vastly improved when we subbed H2O for soymilk.
Eat This, Not That! Verdict:
The addition of soymilk to the powder allowed the vanilla to really shine through, but we couldn't seem to get over that unusually strong stevia aftertaste or grainy mouthfeel. Hopefully, the one billion CFU probiotics count, 12 vitamins and minerals, six grams of fiber, and 1.5 grams of omega-3s will help you get over the freaky flavor enough to down this thing.
Orgain Organic Protein, Sweet Vanilla Bean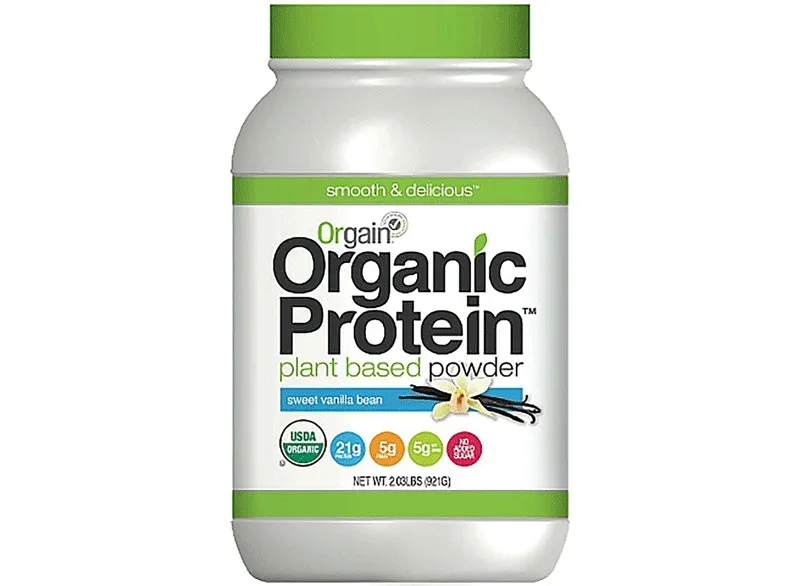 Nutrition: 2 Scoops (46 g): 150 calories, 4 g fat (0.5 g saturated), 270 mg sodium, 15 g carbs (<1 g fiber, 0 g sugar), 21 g protein
Ingredients: Orgain Organic Protein Blend (Organic Pea Protein, Organic Brown Rice Protein, Organic Chia Seed), Orgain Organic Creamer base (Organic Acacia, Organic High Oleic Sunflower Oil, Organic Rice Dextrin, Organic Sunflower Lecithin, Organic Rosemary Extract), Organic Erythritol, Organic Natural Flavors, Organic Acacia, Sea Salt, Organic Reb A (Stevia Extract), Organic Guar Gum, Organic, Xanthan Gum, Natural Flavor
Appearance & Consistency: This powder's smell is quite reminiscent of pancake mix and the texture was as smooth as batter—two factors we're fans of.
Taste: Excessively sweet and long-lasting stevia aftertaste.
Eat This, Not That! Verdict:
We really can't imagine chugging a whole shaker cup of this mix because of its strong sweet flavor—hello, five grams of sugar alcohols! Though, we do like the impressive five grams of fiber per serving and that it's made with a blend of organic plant proteins including pea, rice, chia, and hemp (minus a mind-altering high).
Garden of Life Sport, Chocolate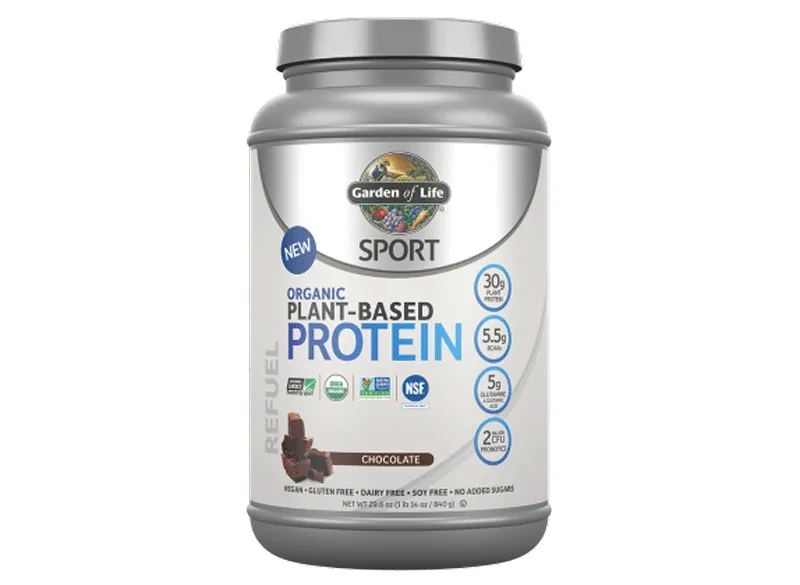 Nutrition: 2 Scoops (44 g): 180 calories, 3.5 g fat (0.5 g saturated), 180 mg sodium, 8 g carbs (3 g fiber, 2 g sugar), 30 g protein
Ingredients: Organic Performance Protein Blend: Organic Pea Protein, Organic Sprouted Navy Bean, Organic Sprouted Lentil Bean, Organic Sprouted Garbanzo Bean, Organic Cranberry Protein (seed). Organic Flavor Blend: Organic Cacao, Organic Carob, Organic Chocolate Flavors, Organic Vanilla Flavor, Sea Salt, Organic Stevia Extract (leaf). Organic Muscle Recovery Blend: Organic Apple (fruit pulp), Organic Tart Cherry (fruit), Organic Turmeric (root), Organic Blueberry (fruit), Organic Goji Berry (fruit)
Appearance & Consistency: The consistency of this chocolate protein powder was quite thick, so you'll definitely want to add a few extra splashes of water or your favorite milk to the mix. Once more liquid was added, it was delightfully smooth.
Taste: This is where Garden of Life lost us. We tasted the stevia way more than any promising chocolatey flavor notes, and the aftertaste was just as harsh. In addition to that, this shake was oddly saltier than a handful of pretzels.
Eat This, Not That! Verdict:
We really wanted to love this pick since it packs in a two billion CFU probiotic count, 5.5g BCAAs as well as 5g glutamine (which can help minimize recovery time after your workout), and 30 grams of organic plant protein. But, if you're able to get over the distractingly salty and chalky flavor, definitely give this tub a go!
Designer Whey, French Vanilla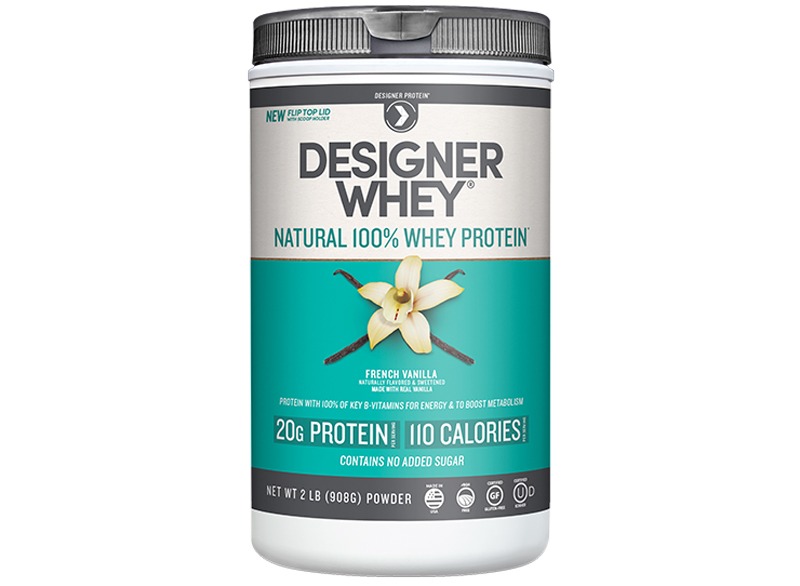 Nutrition: 1 Scoop (37 g), 110 calories, 1.5 g fat (1 g saturated fat), 90 mg sodium, 6 g carbs (3 g fiber, 2 g sugar), 20 g protein
Ingredients: Designer Whey Full Spectrum Peptides (Non-GMO and rBGH-free Whey Protein Concentrate, Non-GMO and rBGH-free Whey Protein Isolate, L-glutamine, L-leucine, Taurine, L-phenylalanine), Digestive Health Blend [Non-GMO Prebiotic Vegetable Fiber, Probiotics (lactobacillus Acidophilus, B. Longum, L. Plantarum), Vegetarian Protease Enzymes], Natural Vanilla Flavor, Sunflower Lecithin, Electrolyte Blend (Calcium Phosphate, Magnesium Oxide), B-vitamin Blend (Calcium Pantothenate, Pyridoxine Hydrochloride, Thiamin Mononitrate, Riboflavin), Zinc Gluconate, Xanthan Gum, Sodium Alginate, Stevia Leaf Extract, Cinnamon, Annatto, Monk Fruit, Mixed Tocopherols, Vitamin D3 (cholecalciferol). Contains Milk.
Appearance & Consistency: When mixed with water, the texture was incredibly smooth; but when mixed with cold soymilk, the consistency became sensationally silky.
Taste: Although this protein powder boasted a slight artificial taste and stevia aftertaste, fortunately, the overall sweetness didn't overpower the balanced vanilla flavor.
Eat This, Not That! Verdict:
We approve of this protein powder because of its stellar nutritionals and the fact that it provides 20 grams of unadulterated rBGH-free whey—which means no artificial growth hormones. Unlike most animal-derived proteins, this pick packs in a solid three grams of prebiotic vegetable fiber to prevent any awkward mid-afternoon tummy rumbles. We also like that it contains a blend of B-vitamins to help the body convert protein to energy, as well as calcium, vitamin D, phosphorus, magnesium, and zinc. Plus, the taste is significantly more tolerable than other whey-based powders. The only reason Designer Whey can't be deemed the Prada of whey proteins is because of its addition of taurine—an amino acid abundantly found in the brain and in many popular energy drinks that—according to research by Neil Harrison, PhD, a professor of pharmacology at Weill Cornell Medical College—may behave more like a sedative than a stimulant.
Sunwarrior Classic Protein, Chocolate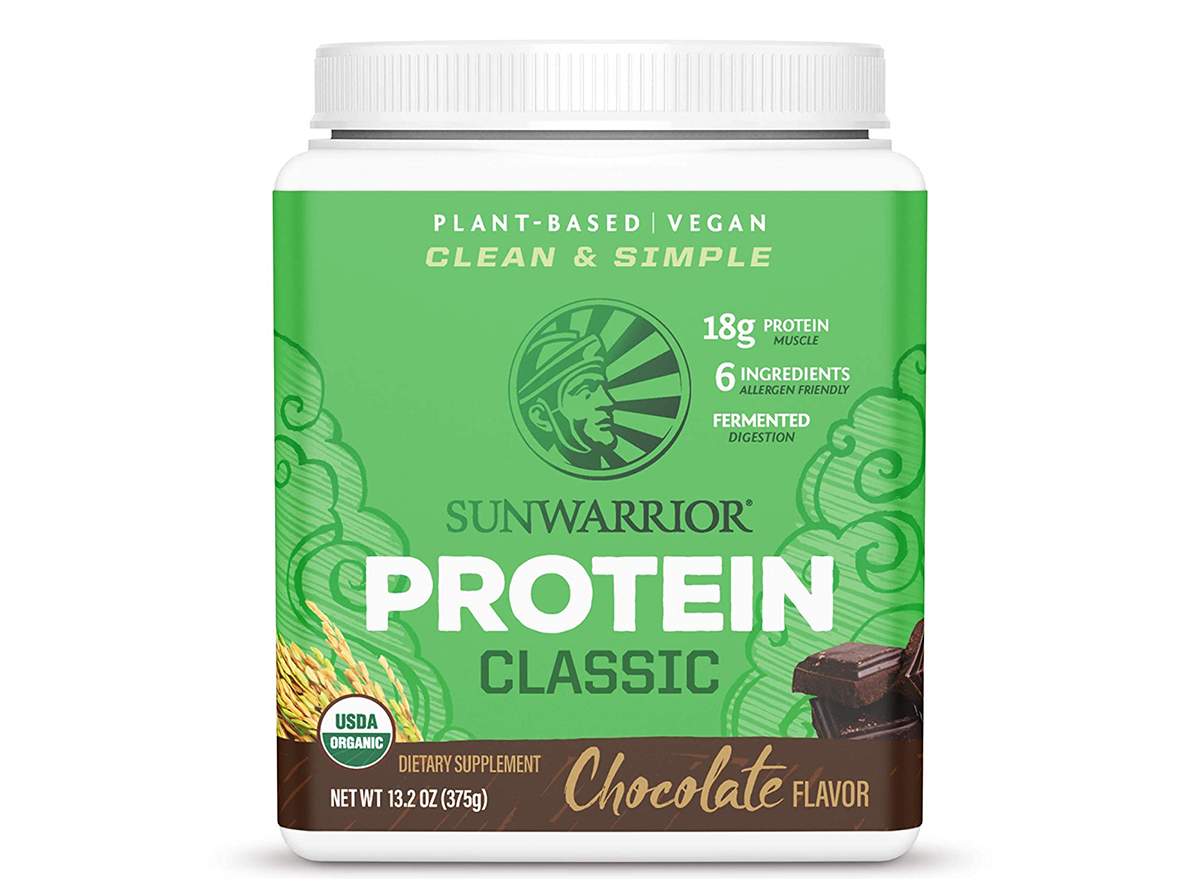 Nutrition: 1 Scoop (21 g), 80 calories, 0 g fat, 45 mg sodium, 4 g carbs (2 g fiber, 1 g sugar), 16 g protein
Ingredients: Raw Whole Grain Brown Rice Protein, Raw Organic Cocoa, Natural Flavor (Vegan), Chocolate Extract, Rice Oligodextrin, Stevia, Xanthan Gum, Ancient Sea Salt, Pectin
Appearance & Consistency: This does have a slight grainy texture and chalky feel, but nothing too major to write it off. Shaking it up with some soymilk improved the consistency by leaps and bounds.
Taste: Despite its odd smell, Sunwarrior's version does taste like real chocolate—which really pulls on a chocoholic's heartstrings.
Eat This, Not That! Verdict:
We're really obsessed with this pick because of it's got an abundant amount of amino acids, and its free of GMOs, soy, gluten, and dairy, yet chock full of flavor. Even if you double up and add an extra helping, your shake will clock in at a reasonable 160 calories, and you'll get more bang for your protein buck with 32 grams of the building block.
ALOHA Chocolate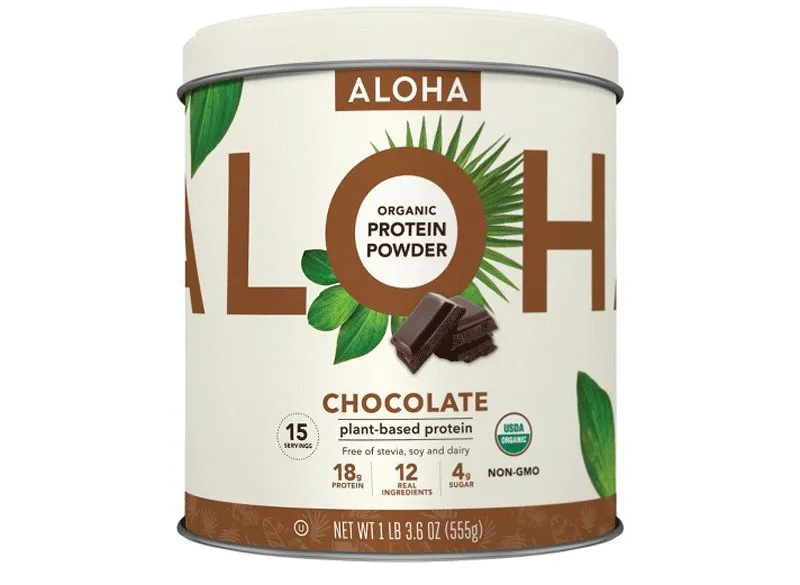 Nutrition: 2 Scoops (37 g): 130 calories, 2 g fat (0 g saturated fat), 250 mg sodium, 11 g carbs (5 g fiber, 4 g sugar), 18 g protein
Ingredients: Protein Blend (Pea Protein, Brown Rice Protein, Hemp Seed Protein), Cocoa (Processed with Alkali), Coconut Sugar, Acacia Fiber, Natural Flavor, Xanthan Gum, Monk Fruit Extract, Sea Salt
Appearance & Consistency: Unlike many of the plant-based protein powders, Aloha didn't have a revolting grassy scent or overly grainy texture. Opting for soymilk rather than regular ol' H2O endowed it with a silkier texture that required zero effort to gulp.
Taste: If you're a true chocolate nut like we are, you'll love this powder's rich, indulgent cocoa flavor that the Madagascar cinnamon helps highlight. The natural, low-glycemic coconut sugar adds a mild sweetness without an unpalatable aftertaste. Mix this with some unsweetened soymilk and it transforms into a perfectly sweet and significantly smoother bev that we wanna lap up on the reg.
Eat This, Not That! Verdict:
Say Aloha to our favorite protein powder! This vegan concoction is made with organic hemp seeds and peas that provide 18 grams of protein per serving—with 200 milligrams of omega-3s and zero chemicals or artificial fillers. Its true dark chocolate, sans stevia, flavor drove it home, deeming Aloha our most eligible bachelor yet. Purchase a tub of this stuff and sprinkle it into any one of the 100+ recipes in Zero Belly Smoothies for a delicious boost!
April Benshosan
April is a born-and-raised Brooklynite who has a passion for all things health, wellness, and tastebud-related.
Read more about April