Costco Just Put A Ton of Foods on Sale, Here's What You Should Buy, Dietitians Say
Stock up on all the healthy stuff for less right now!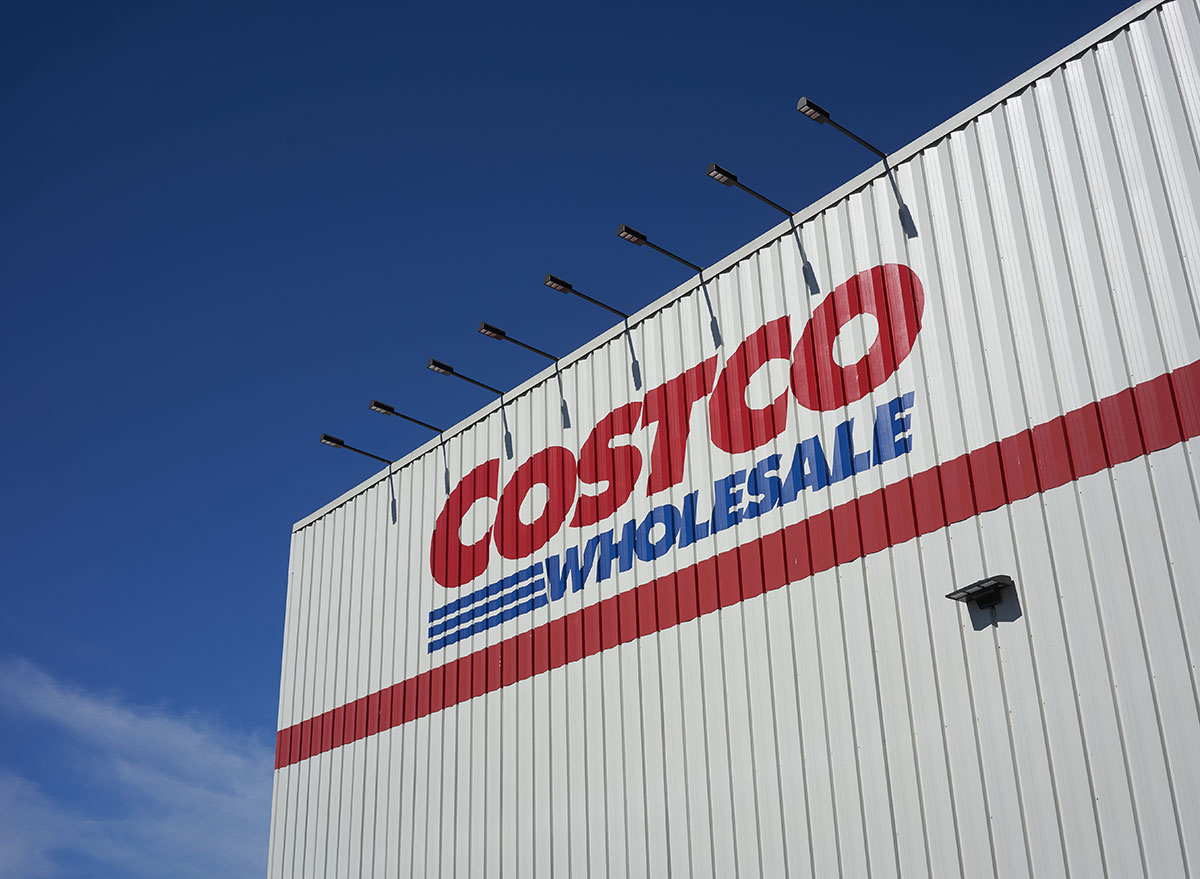 You have to love when healthy food options go on sale because going to the grocery is super pricey right now (and it may not get better anytime soon). A new sale at Costco includes a ton of options in the warehouse, including some healthy picks for snacks and meals—and there are a couple more weeks to take advantage of the savings.
Whether you're looking to add some protein to dinner or have a sweet snack in the afternoon without eating a ton of sugar, Costco's got you covered. Ahead, see what two dietitians recommend you buy from this sale.
Related: 6 Things You'll See at Costco This Year
One Degree Sprouted Organic Rolled Oats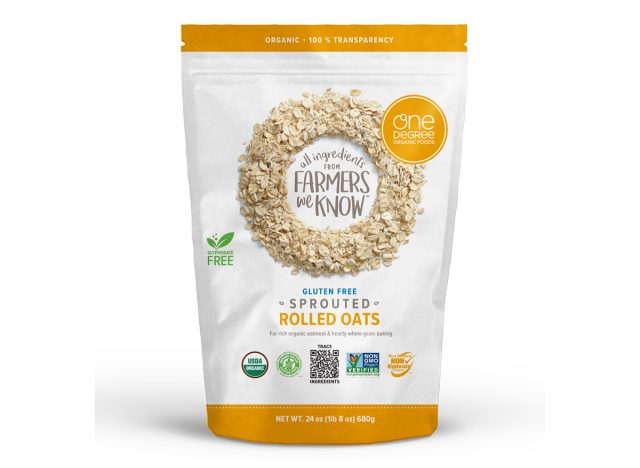 There's a lot to love about these oats, and it's not just their nutritional value. They're also incredibly versatile and can be used in a number of ways in your healthy diet.
"Sprouted oats are higher in protein and fiber than rolled oats and they are easy to digest," says Kristi Ruth RD, LDN, of Carrots and Cookies. "Use them to make oatmeal, overnight oats, breakfast cookies, or grind them up in your Vitamix to make your own oat flour."
The best part? This 80-ounce bag (that's 5 pounds!) is $2 off in the Costco warehouse near you right now until Feb. 27 as part of the Member-Only Savings Event.
Amylu Teriyaki & Pineapple Chicken Meatballs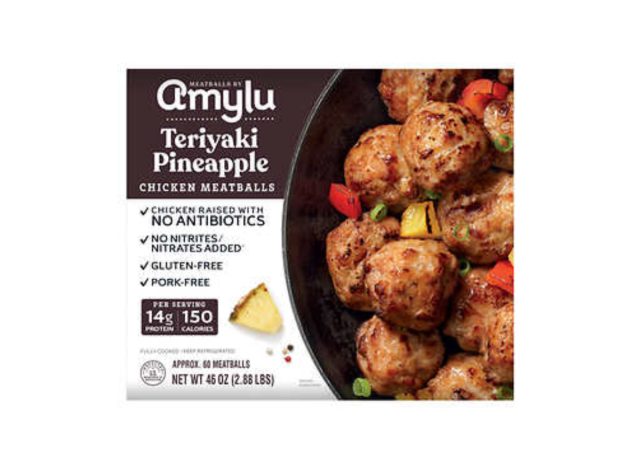 You can have a hearty dinner with these chicken meatballs—they'll add a great boost of protein to your meal without a ton of additives. And right now they are cheaper, too. Get a 46-ounce box in Costco's freezer section for $3.50 off thanks to this Costco sale.
"These meatballs are a great option for a quick, nutritious meal or appetizer because they contain 14 grams of protein and only 7 grams of fat, which will help keep you feeling full for a longer period of time," says Bailey Oschman, RDN, CD, CPT. "They also are low in sugar at just 4 grams per serving and are made from chickens raised with no antibiotics. These would be great on a sub sandwich, salad, or on their own."
Kirkland's Signature Farm Raised Atlantic Salmon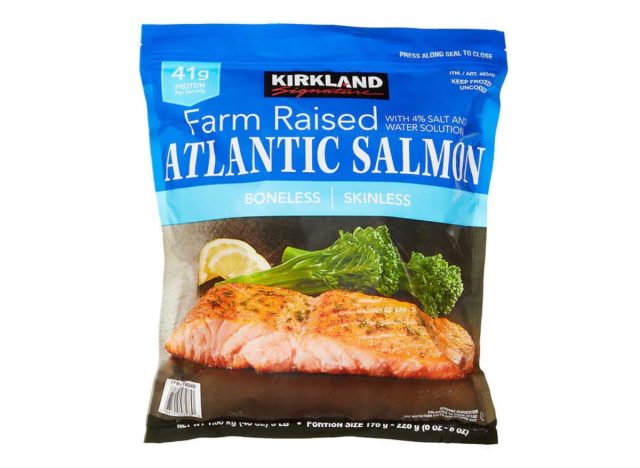 Ruth recommends Kirkland's salmon for a healthy dinner, pointing out that it "provides heart-healthy omega-3 fats" and has 35 grams of protein per serving. You can easily eat this with a big side of steamed veggies or top a bowl of warm grains with it. Salmon is a very versatile protein that can be enjoyed in a bunch of ways that still maintain its healthful factor.
Plus, this 3-pound bag is currently $5 off in the warehouse and online until the Member-Only Savings Event is over at the end of the month.
Don Lee Farms Organic Chipotle Black Bean Burger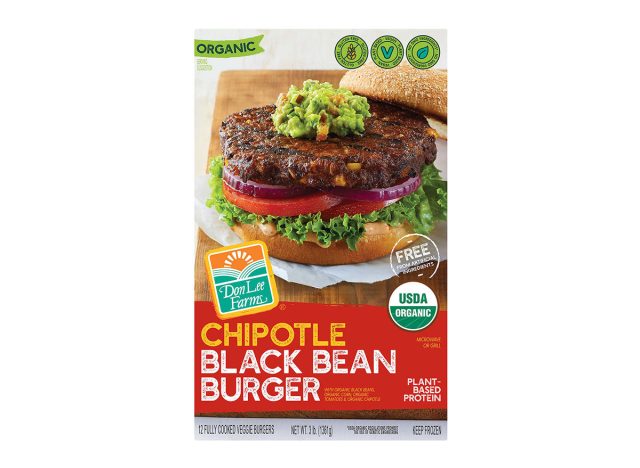 Another great deal in the warehouse? This box of 12 black bean burgers is $5 off as part of the Costco sale. Both Ruth and Oschman are fans of these for an evening meal because they're low in saturated fat but full of fiber.
"I'd go for the Don Lee Farms Organic Chipotle Black Bean Burger and top it with sliced avocado or serve it with guacamole and Food Should Taste Good Multigrain Tortilla Chips," Ruth says, adding, "These plant-based black bean burgers have a reasonable sodium content and contain 11 grams of protein per patty."
Oschman notes that these are particularly great for "vegan and vegetarian lifestyles," continuing, "They are quick, easy to make, and very versatile." What's even better is that they're "also free of GMOs, artificial flavors, and preservatives," she says.
These snacks are great to grab and go and now are cheaper, too. Ruth suggests pairing these fruit bars with pumpkin seeds for a salty-sweet treat.
"The flavors complement each other (a little sweet and a little salty), as do their nutrition profile," she says. "You'd get a delicious and nutritious high-fiber snack that offers fruit without added sugar as well as protein and a variety of minerals and other nutrients from the pumpkin seeds."
Get a bag of 24 for $4 off in the warehouse and online until Feb. 27.
Tattooed Chef Organic Riced Cauliflower Stir Fry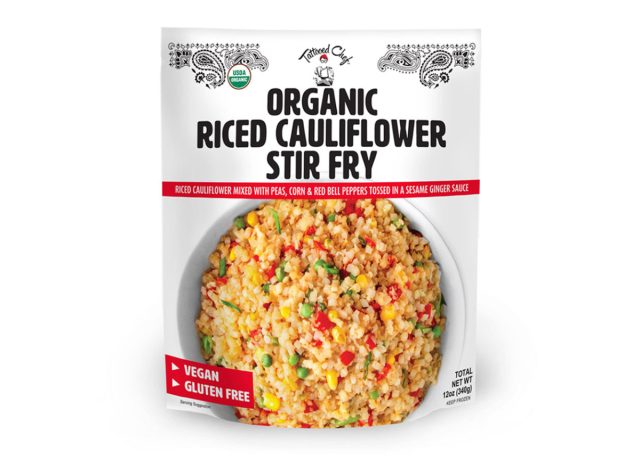 You can't go wrong with riced cauliflower, especially when it is pre-riced and on sale. Plus, pairing it with vegetables makes it an even healthier dish.6254a4d1642c605c54bf1cab17d50f1e
"One cup is only 60 calories and 8 grams of carbohydrates," Oschman points out. "This would be a great option for anyone, but especially someone who needs to monitor their blood sugar and carbohydrate intake. This stir fry is surprisingly low in sodium with one serving containing roughly 290 mg of sodium. Add your favorite protein for a well-balanced meal."
Get in the warehouse only right now as it is part of the Costco sale for $3 less than normal.
And for more of what you should get during your next trip to the warehouse, here are The Healthiest Snacks to Buy at Costco Right Now, According to a Nutritionist.
Hedy Phillips
Hedy is a freelance writer with years of experience covering buzzy food trends, wellness, and weight loss.
Read more about Hedy