Popular Foods With More Fiber Than Oatmeal
Wait...did you say chocolate?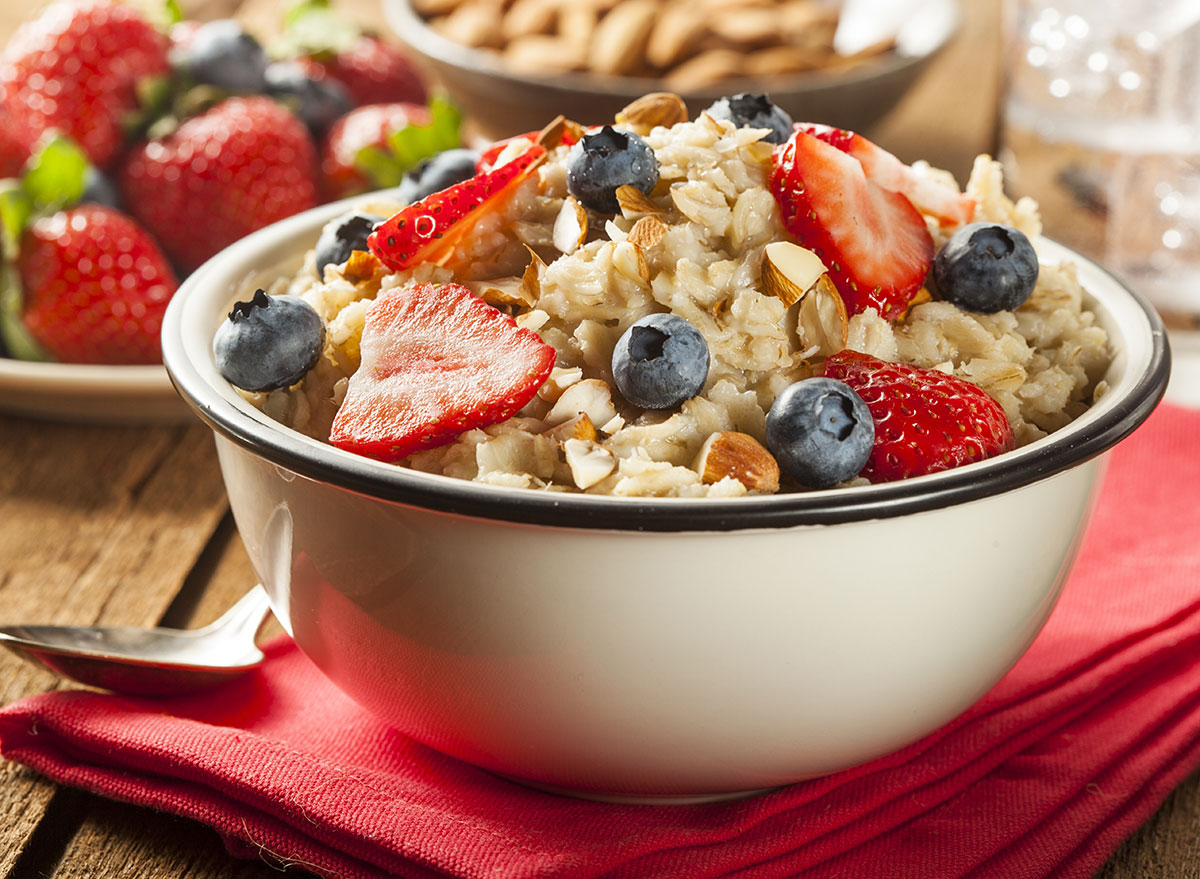 When you think of getting more fiber in, what food do you think about eating? Oatmeal is likely a top contender, given that it's always being pushed as a heart-healthy, fiber-rich breakfast option. And while both of these facts are true (and oatmeal is still considered the best breakfast for longevity), there are some foods on grocery shelves that actually have more fiber than oatmeal does!
According to the American Heart Association (AHA), you should be consuming around 25 to 30 grams of fiber a day in order to keep your body and heart healthy—especially when it comes to lowering your cholesterol. Having a few of these popular foods incorporated into your diet can help you easily reach that fiber goal.
We took a look at the U.S. Department of Agriculture's FoodData Central to determine the most popular foods that have more fiber than a half cup of oatmeal—which has 4 grams of fiber in it. Here are the high-fiber foods you should add to your diet (along with oatmeal) to get the proper fiber intake you need for the day. Then, be sure to check out our list of The 7 Healthiest Foods to Eat Right Now.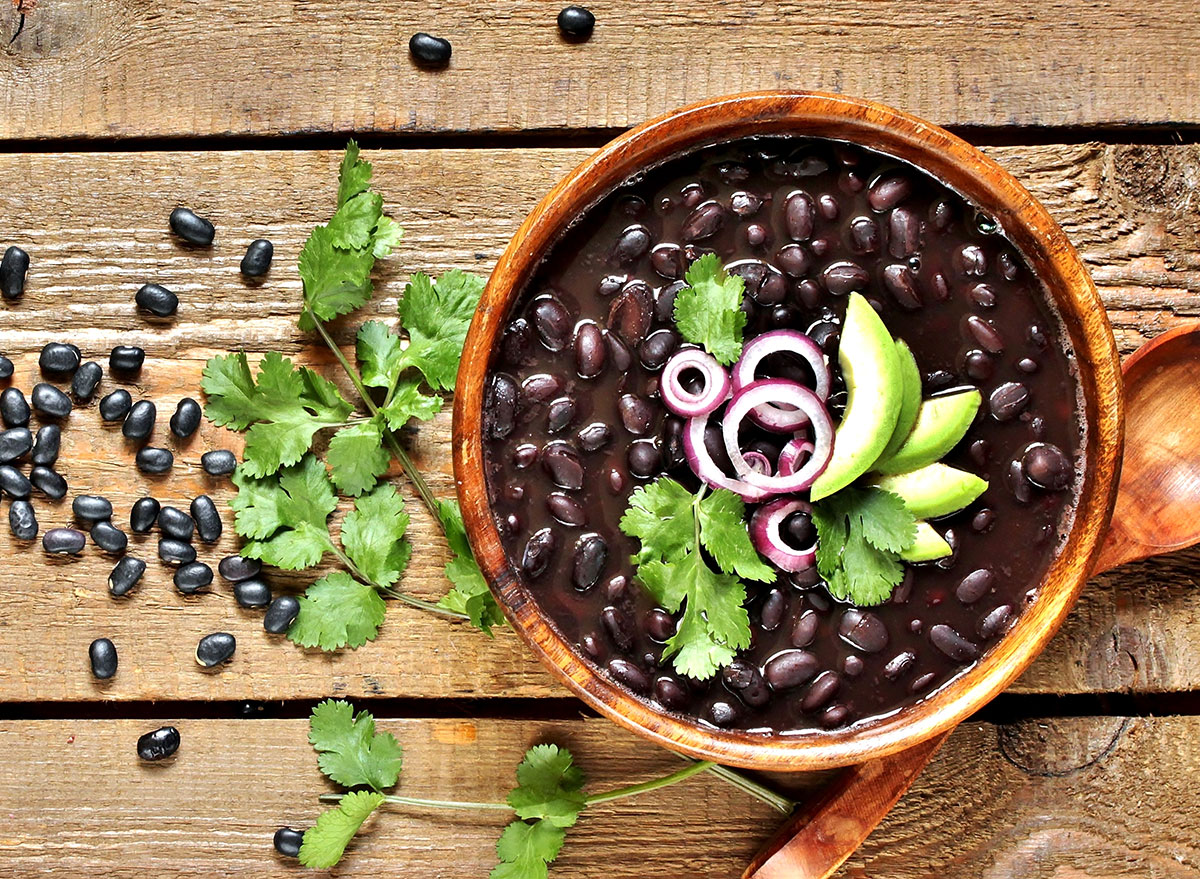 1/2 cup cooked = 7.5 grams
Because of their high fiber content, black beans are considered one of the best carbs to have for weight loss! With 7.5 grams of fiber in a 1/2 cup serving, you are getting 25% to 30% of your fiber intake at once. Use up that can of black beans in your fridge and make this Vegetarian Black Bean Omelet, this Healthy Cuban Tomato and Black Bean Soup, or these Black Bean and Sweet Potato Tacos.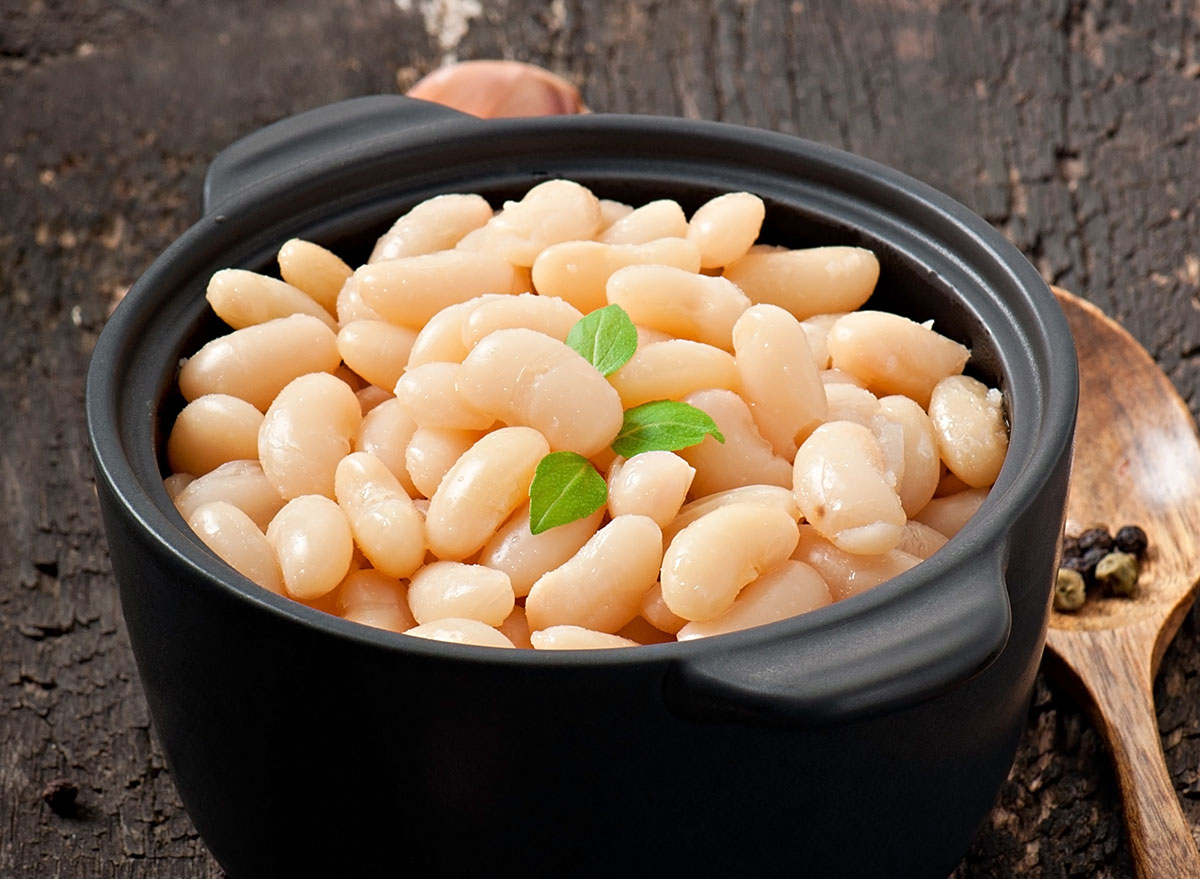 1/2 cup = 9.5 grams
Not a black bean person? Navy beans are a great alternative—plus they are even higher in fiber compared to black beans! Enjoy it as a side dish with this Seared Scallops and Spinach recipe, or incorporate it in a meal with this Turkey and White Bean Chili, or this Rotisserie Chicken, Kale, and White Bean Salad.
Raspberries & Blackberries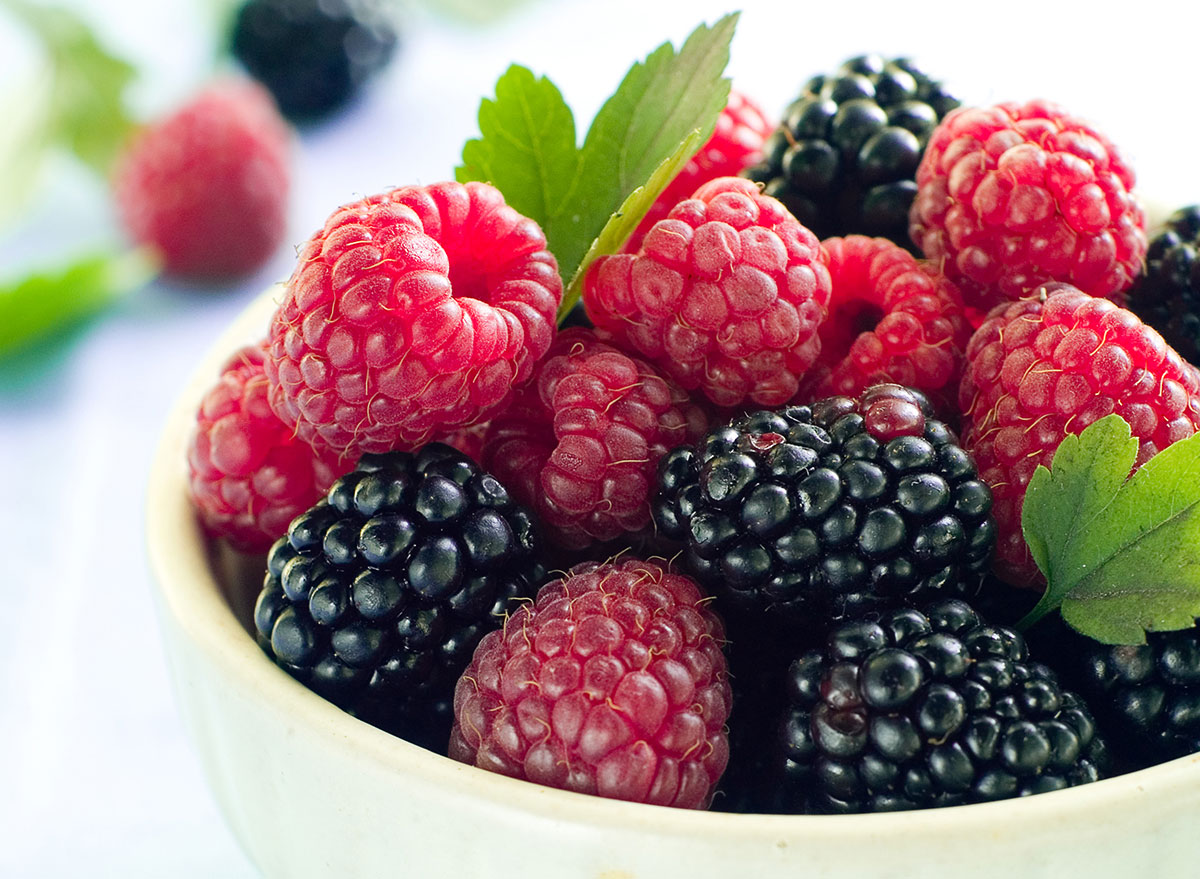 1 cup = 8 grams
Out of all the fruit on the shelves to pick, raspberries and blackberries are some of the best thanks to their incredibly high fiber content. Enjoy these berries in a smoothie (like this Raspberry-Peach Swirl Smoothie), on top of these Peanut Butter Overnight Oats, or even mixed in with these Fudgy Raspberries Brownies.
1/2 avocado = 6.5 grams
Slice up that avocado because this healthy fat is also full of fiber! Enjoy 1/2 of an avocado and get 21% to 26% of your fiber intake for the day. Top it on toast, make some homemade guacamole, or even mix it into a grilled chicken salad!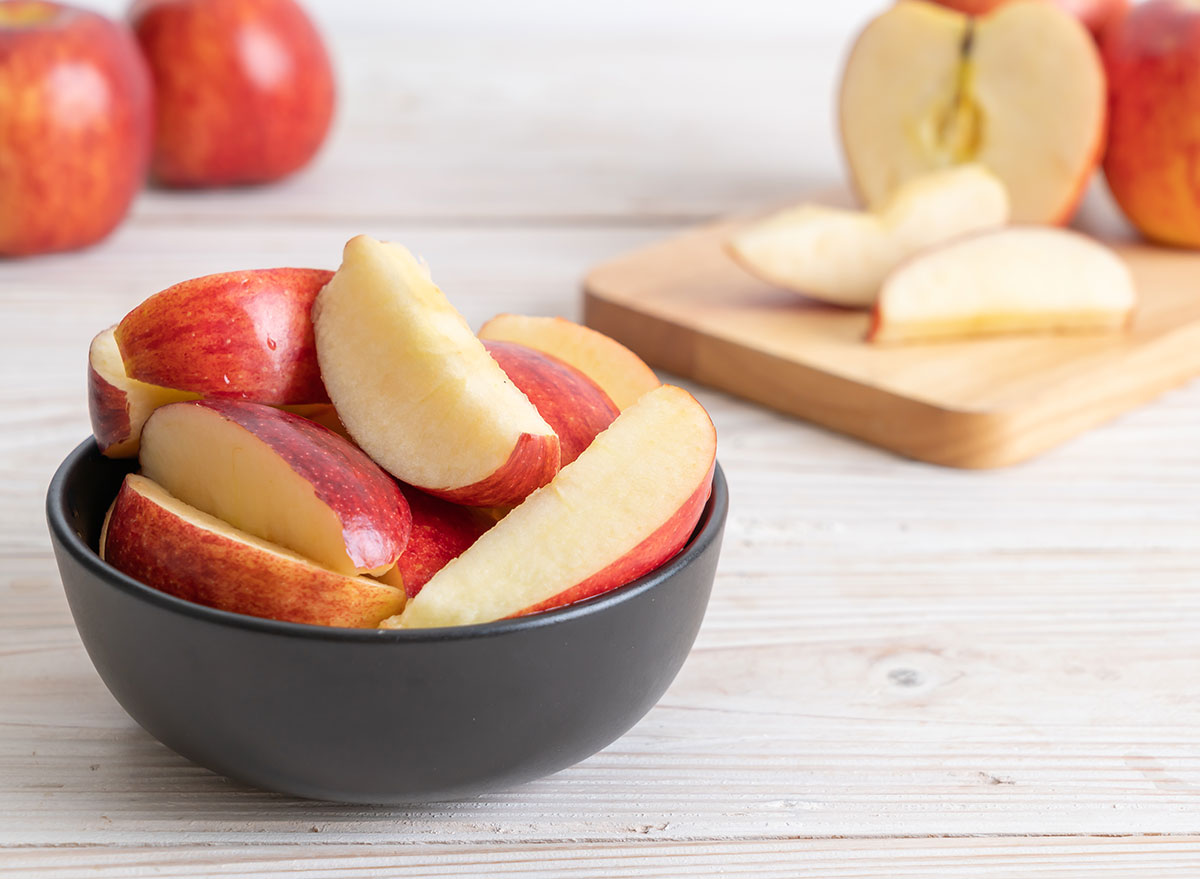 1 medium = 4.5 grams
Snack on an apple in the afternoon and you'll get an effortless amount of fiber with every bite! One apple contains just over 4 grams of fiber compared to oatmeal and accounts for 15% to 18% of your fiber intake. Snack on it plain or with some almond butter, saute them with a caramel drizzle or even bake it into a Healthy Apple Crumble.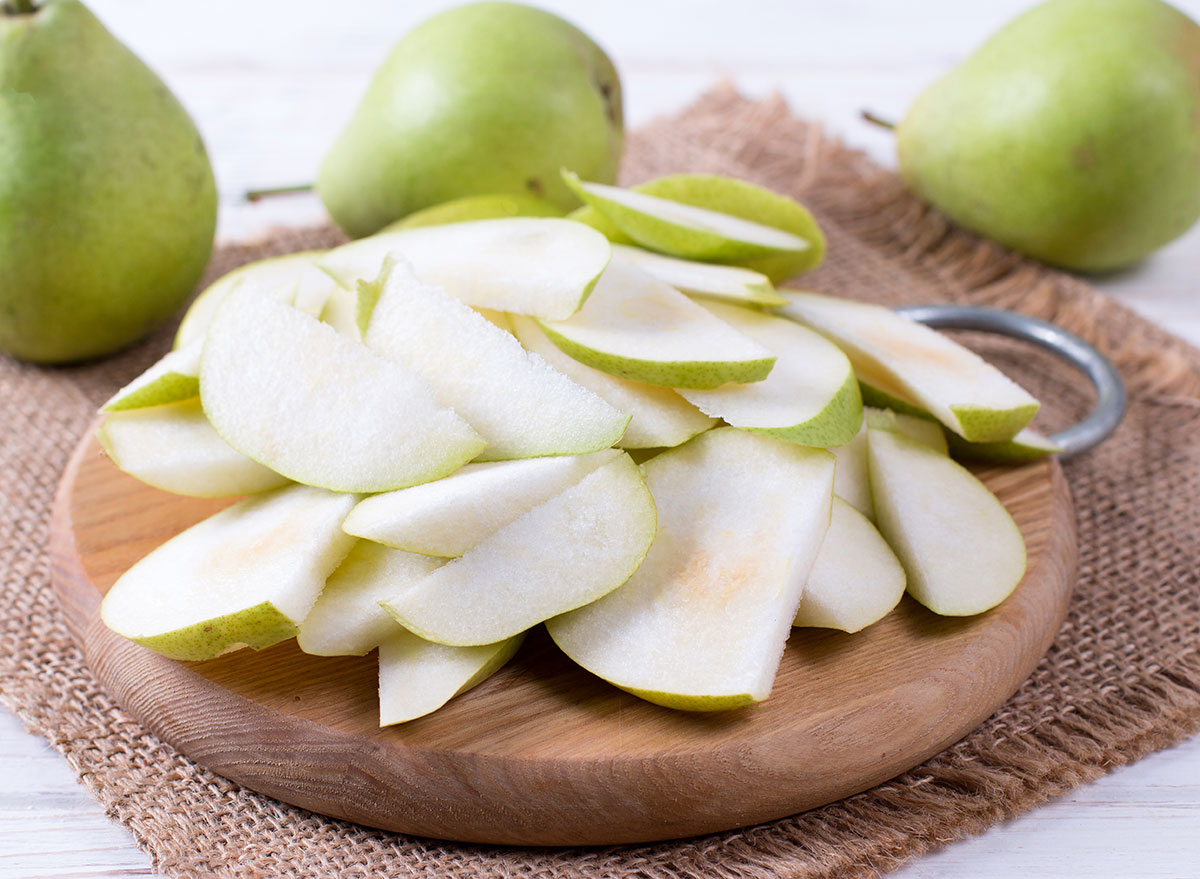 1 medium = 5.5 grams
Would you rather snack on a pear than an apple? Well, this fruit is actually higher in fiber! It accounts for 18% to 22% of your fiber intake for the day, and are delicious poached or mixed into this Warm Goat Cheese Salad.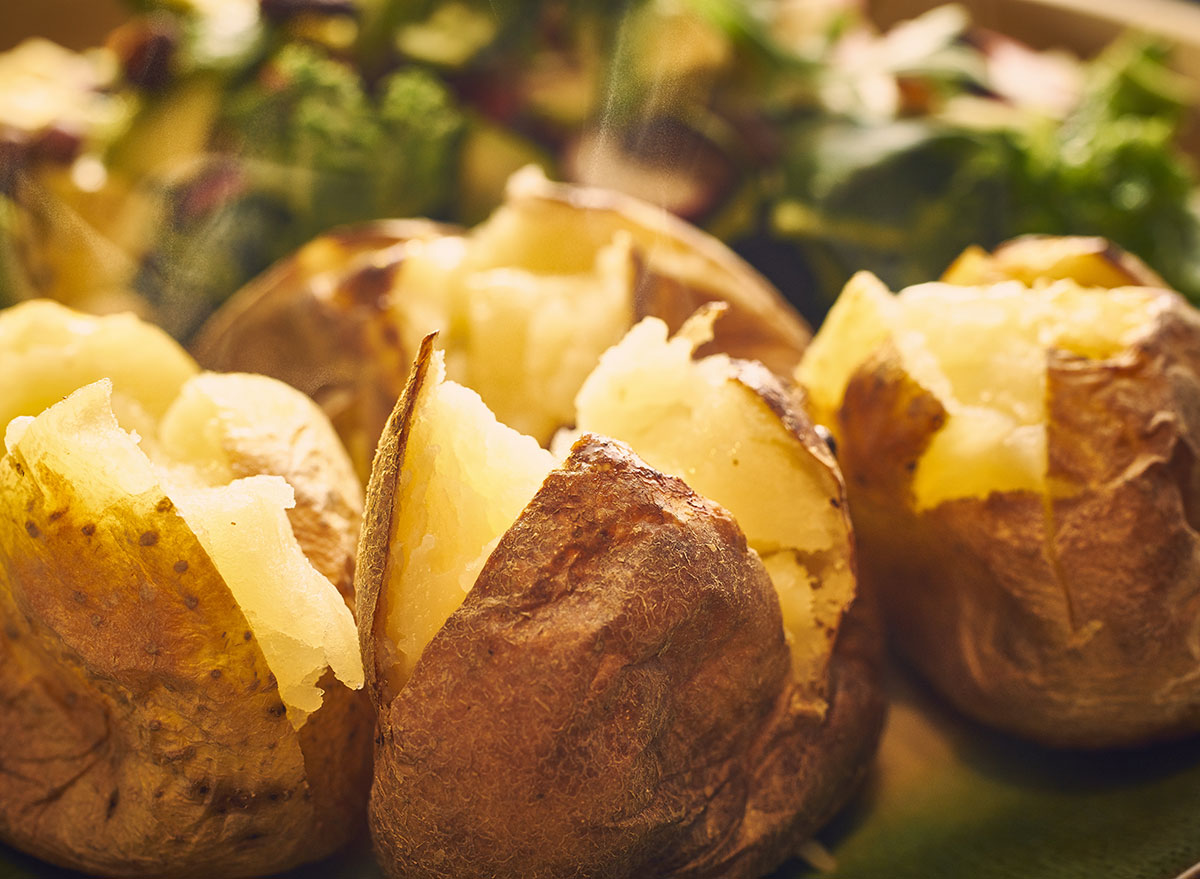 1 medium = 5 grams
Potatoes are a lot healthier for you than you think! In fact, one medium-sized potato contains 5 whopping grams of fiber and even has more potassium than a banana. Plus, they give you a major boost of nutrients and antioxidants that help ward off the free radicals in your body. Enjoy these Roasted Rosemary Potatoes as an easy side with dinner, or mix up this Healthy, Classic Potato Salad for your next potluck.
1/2 cup cooked = 6.5 grams
What can't chickpeas do? Not only can chickpeas make delicious hummus, but they also provide your body with a boost of fiber in such a small serving. Enjoy 1/2 cup of cooked chickpeas and get 21% to 26% of your fiber intake for the day. Some of our favorite chickpea recipes include this Grilled Salmon with Chermoula Chickpeas, this Cauliflower Curry with Butternut Squash, and this Socca with Curried Cauliflower and Spinach—which also uses chickpea flour!
Dark chocolate, 70-85% cacao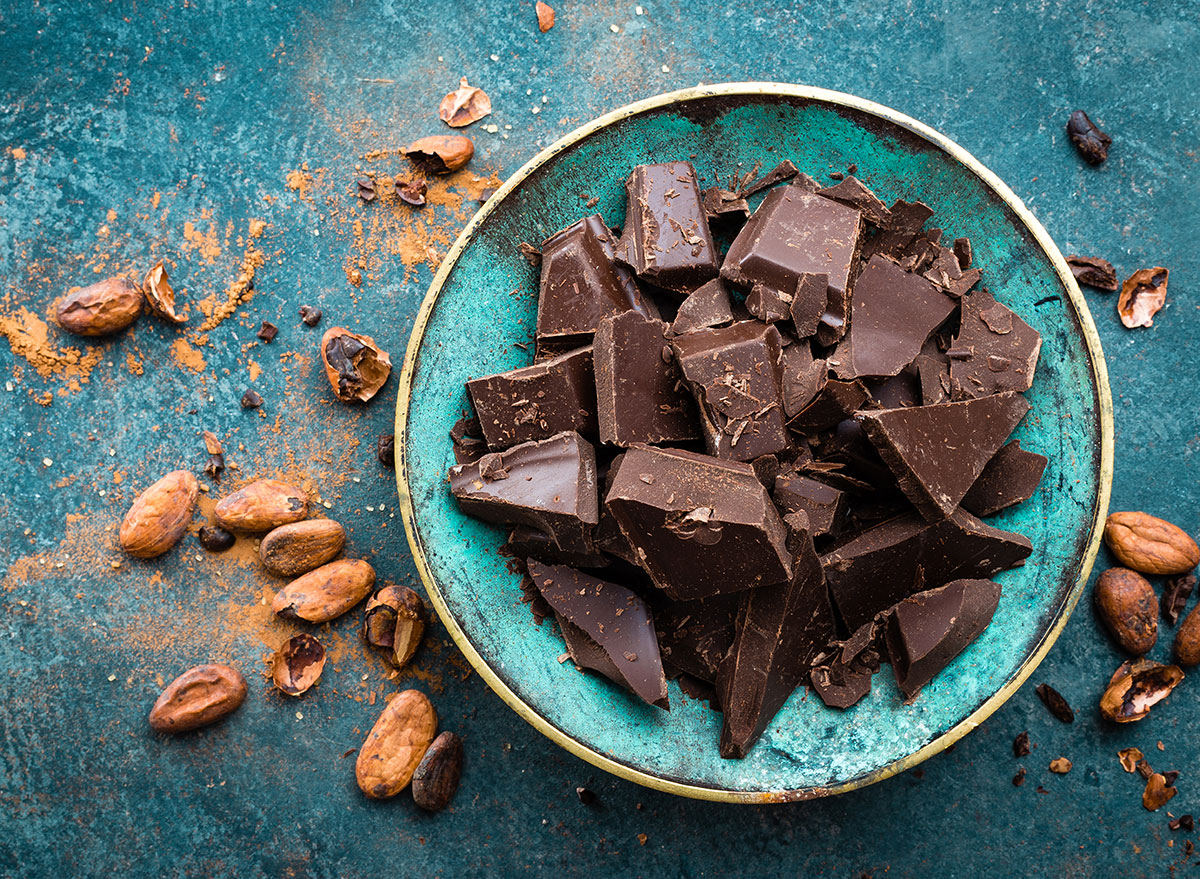 2 oz. = 6 grams
That's right—dark chocolate is incredibly high in fiber, and 2 ounces of it even contains more fiber than a bowl of oatmeal. A typical serving of dark chocolate is around 1 to 2 ounces, so if you are craving some chocolate after dinner, enjoy few squares to satisfy your sweet tooth—and get a boost of fiber. Or melt the chocolate and dip your favorite fruit, like with these Dark Chocolate Dipped Bananas!
Don't like super dark chocolate? A bar with 60-69% cacao also still has more fiber, with 4.5 grams per 2 ounces.
1/2 cup cooked = 4.5 grams
Out of all the squash to buy, acorn squash has one of the highest fiber counts out of them all, with 4.5 grams of fiber per 1/2 cup of cooked acorn squash. One of our favorite ways to enjoy acorn squash is to stuff the center with quinoa, turkey sausage, craisins, pumpkin seeds, and a whole lot of fall spices.
1 medium = 7 grams
Artichokes are the secret powerhouse vegetable full of fiber—and great as an appetizer! We're particularly obsessed with this Spinach Artichoke Dip, and we also love to throw artichoke in this Savory Artichoke Feta Quiche.
1/2 cup cooked = 8 grams
Another healthy complex carb full of fiber? Lentils! Half of a cup of cooked lentils provides your body with 27% to 35% of your fiber intake for the day, and they go great as a side with Roasted Salmon.
1/2 cup cooked = 8 grams
Maybe split peas aren't as popular as some of these other foods, but when you look at the high amount of fiber in a half-cup serving, it's hard to say no to prepping this Creamy Split Pea Soup with Smoky Ham for the week!
1/4 cup = 4.5 grams
Talk about a healthy snack! Scoop 1/4 cup of almonds out of the bag and you not only get 4.5 grams of fiber, but you're also getting a healthy amount of vitamin E, which is a powerful antioxidant that can fight free radicals, as well as promote cell health and improve your cholesterol levels. Here's What Happens To Your Body When You Eat Almonds Every Day.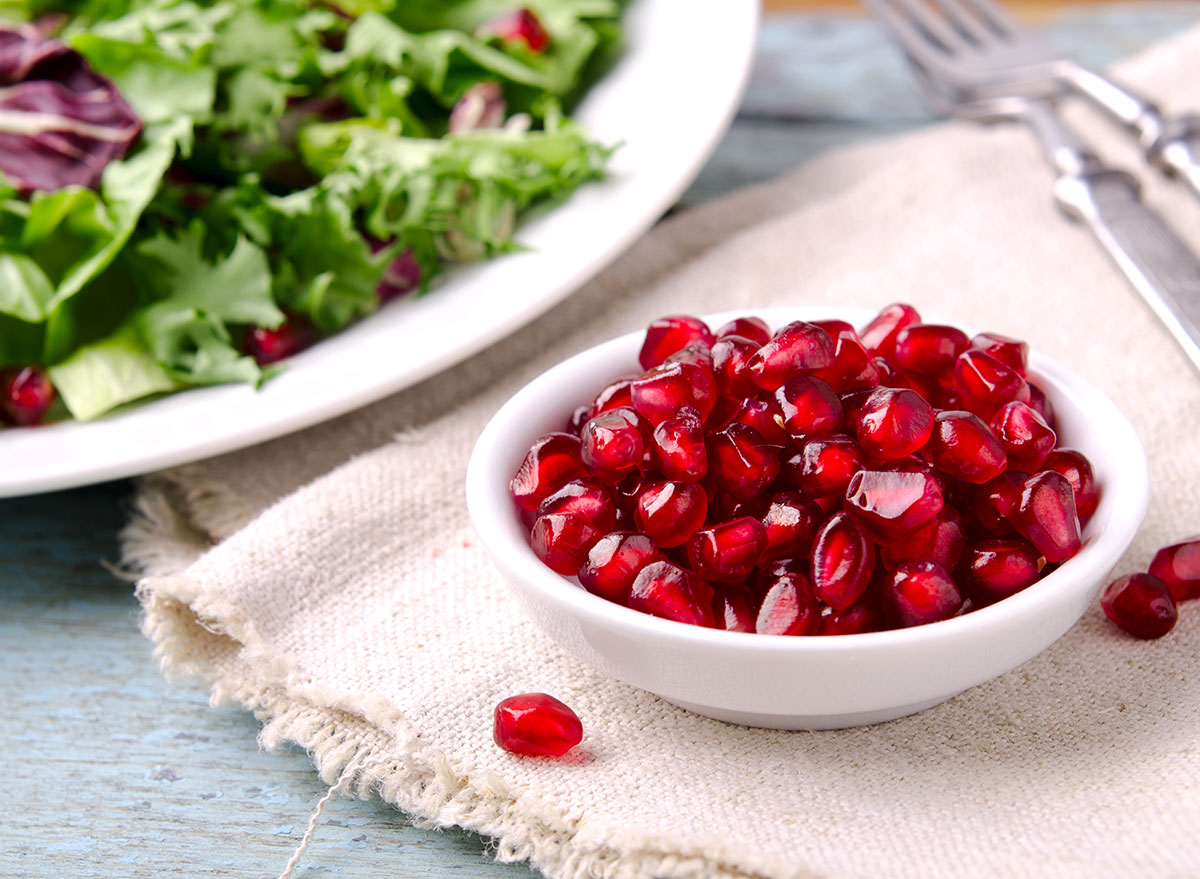 1/2 pomegranate = 5.5 grams6254a4d1642c605c54bf1cab17d50f1e
Not only do pomegranate seeds promote muscle health, but the seeds from 1/2 of a pomegranate provide your body with a whole lot of fiber! Enjoy them mixed in with a salad or on top of your favorite overnight oats recipe.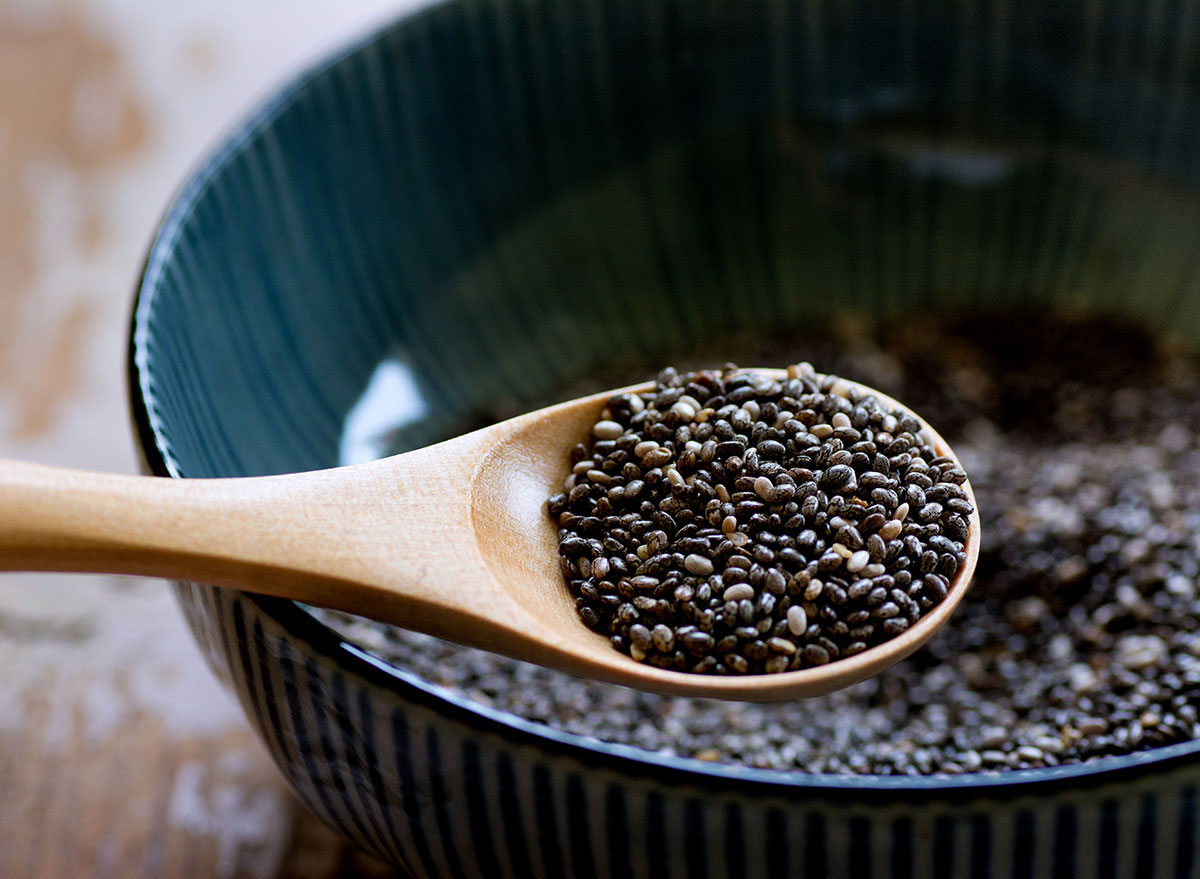 2 tbsp = 8 grams
A chia seed pudding in the morning not only provides your body with 27% to 35% of your fiber intake for the day, but chia seeds are also a powerful source of protein as well (around 4 grams per 2 tablespoons). Enjoy this Customizable Overnight Chia Pudding topped with any of your favorite fruits and nuts.
Get even more healthy tips straight to your inbox by signing up for our newsletter! After, read these next: