25 Best High-Fiber Snacks to Buy That Keep You Full
Feel fuller longer, improve digestion, and nourish your gut with these high fiber snacks.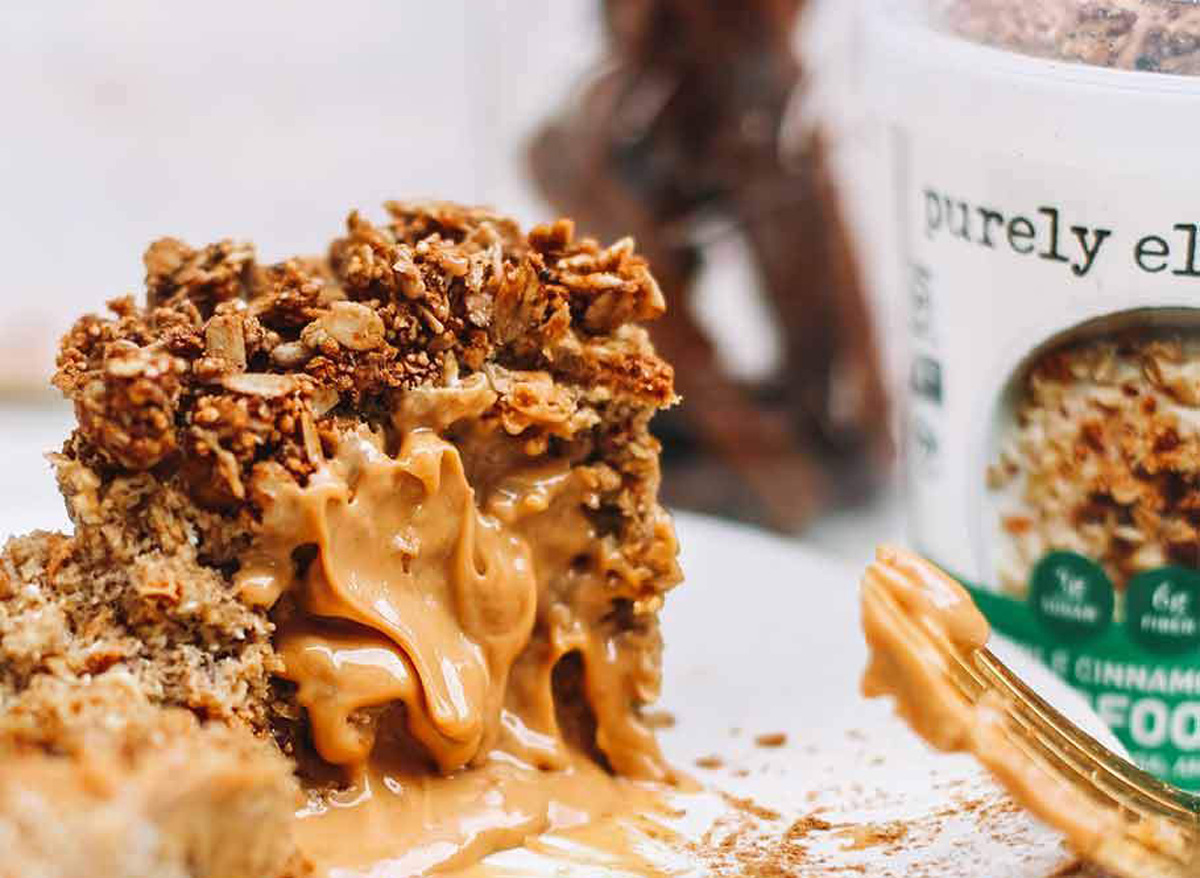 This post contains affiliate links. If you use these links to buy something, we may earn a commission.
While tracking macronutrients like protein, carbs, and healthy fats is important in any healthy diet, there's one key macronutrient that often gets overlooked: dietary fiber. In fact, according to a study published in the American Journal of Lifestyle Medicine, only a dismal 5 percent of Americans meet the FDA's daily recommendation of 28 grams of fiber per day. By adding a variety of high fiber snacks to your daily diet, you can put a serious dent into that daily value.
What is fiber?
Dietary fiber is a type of indigestible carbohydrate found in plant food sources.
There are two categories of fiber: soluble and insoluble.
"Soluble fiber dissolves in water and forms a gel-like consistency, and is beneficial for lowering blood cholesterol and glucose levels," says Hillary Cecere MS, RDN, a registered dietitian for Eat Clean Bro.
"Insoluble fiber doesn't dissolve in water and is beneficial for digestion and constipation prevention," Cecere says.
What are the benefits of eating fiber-rich foods?
"Some of the benefits of eating high fiber snacks throughout the day are that fiber-rich foods tend to be more filling and satisfying," says Cecere. But aside from their satiating properties, high fiber snacks also offer a ton of health benefits as well.
For example, combining high fiber snacks with a source of healthy fat and protein can help your blood sugar remain stable and ensure your energy levels remain constant, all while avoiding the energy crash common with high sugar foods, says Kristen Carli, RD.
Fiber also "plays a key role in digestive health by adding bulk to stool and promoting elimination," adds Madeline McDonough, MS, RDN. In other words: fiber keeps your gut healthy and your trips to the bathroom, regular.
How we chose the best store-bought high-fiber snacks.
Keep an eye on the DV (daily value). "Look at the nutrition label under %DV (which is the percent Daily Value). If this snack has at least 15% DV fiber per serving then you know this is a high fiber snack," says Janna Guberman MS, RD, CDN, a registered dietitian at the Kravis Center for Cardiovascular Health at Mount Sinai. A good source of fiber is 3 grams per serving.
Keep the sugar content at a minimum. "Ideally you are choosing foods with the least amount of added sugar. Generally, I will say, for packaged foods to keep sugar in the single digits per serving," says Guberman.
Go for whole grain. "The key is the food being 'whole grain' rather than enriched or made with whole grains. The first ingredient on the list should state either 100% or whole versus enriched," says Sandra Gultry, MS, RDN and founder of Its All About Choices, LLC.
Generally take a "whole foods first" approach. "Purchasing high fiber snacks can be confusing. Packaged foods may be labeled as 'high fiber'; however, the fiber may not be naturally occurring in the product," says McDonough. Rather, manufacturers may add synthetic isolated fiber, like inulin. "[But] you can be sure that plant-based options (fruits, veggies, nuts, seeds, whole grains) will be chock full of fiber."
Read the label. "It's important to not JUST look at the fiber contents of a food; try to keep the food's total profile in mind, since some high fiber foods could also be high in sugar, sodium or calories, and therefore, not as valuable to you," says Bonnie Taub-Dix, RDN, creator of BetterThanDieting.com, and author of Read It Before You Eat It – Taking You from Label to Table.
These are the 25 best high-fiber snacks.
The following store-bought, high-fiber snacks are all considered a "Good Source" of fiber, which means they provide over 10% of your daily value of the nutrient. That translates to more than 3 grams of fiber per standard portion size.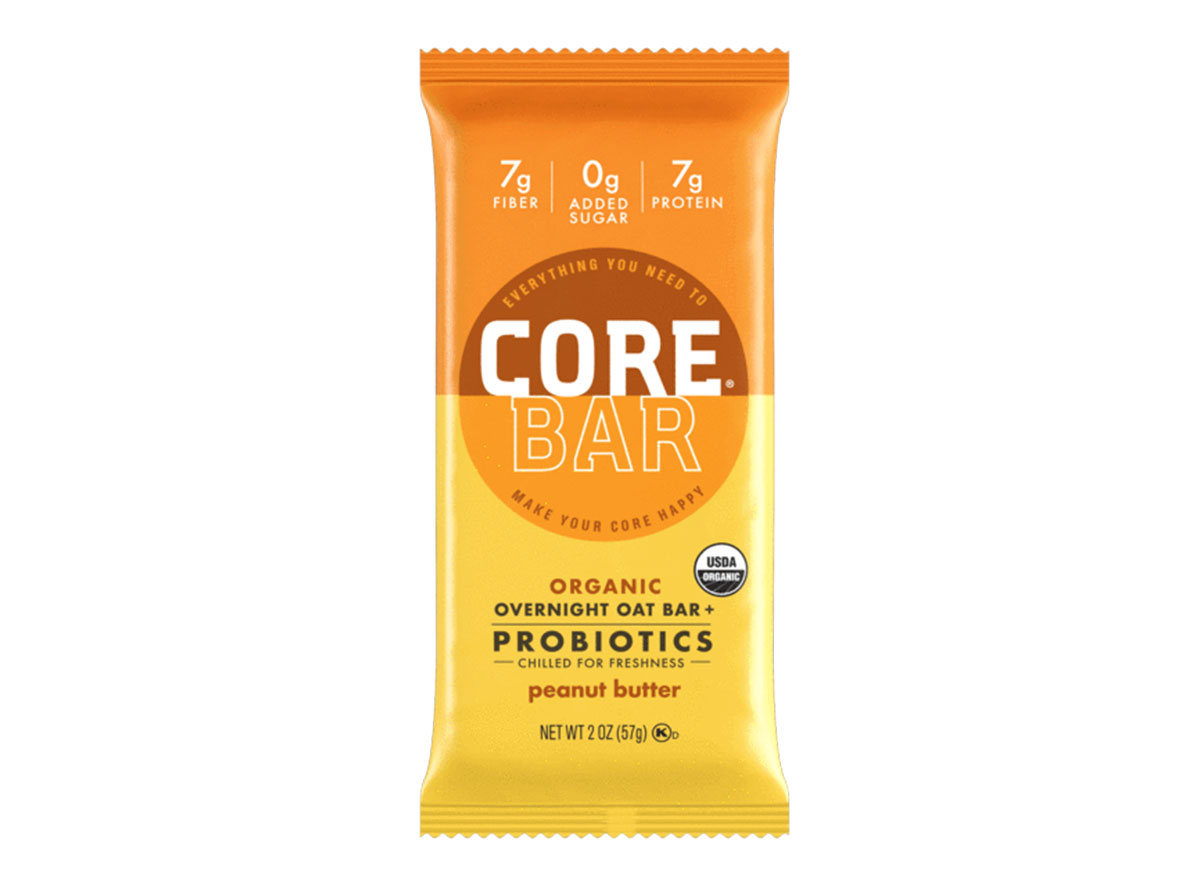 Fiber: 6-7 grams per bar
No time to prep traditional overnight oats? CORE bars are essentially the Pinterest-famous breakfast or snack in crunchy form. These on-the-go non-GMO, USDA-, vegan-, and gluten-free certified foods are crafted based on the principles of balanced nutrition. They're made with whole protein sources (aka sans isolates), are free of added sugars and, instead, sweetened with dates and fruit, plus they're swimming with prebiotic fiber and probiotics—a match made in healthy digestion heaven.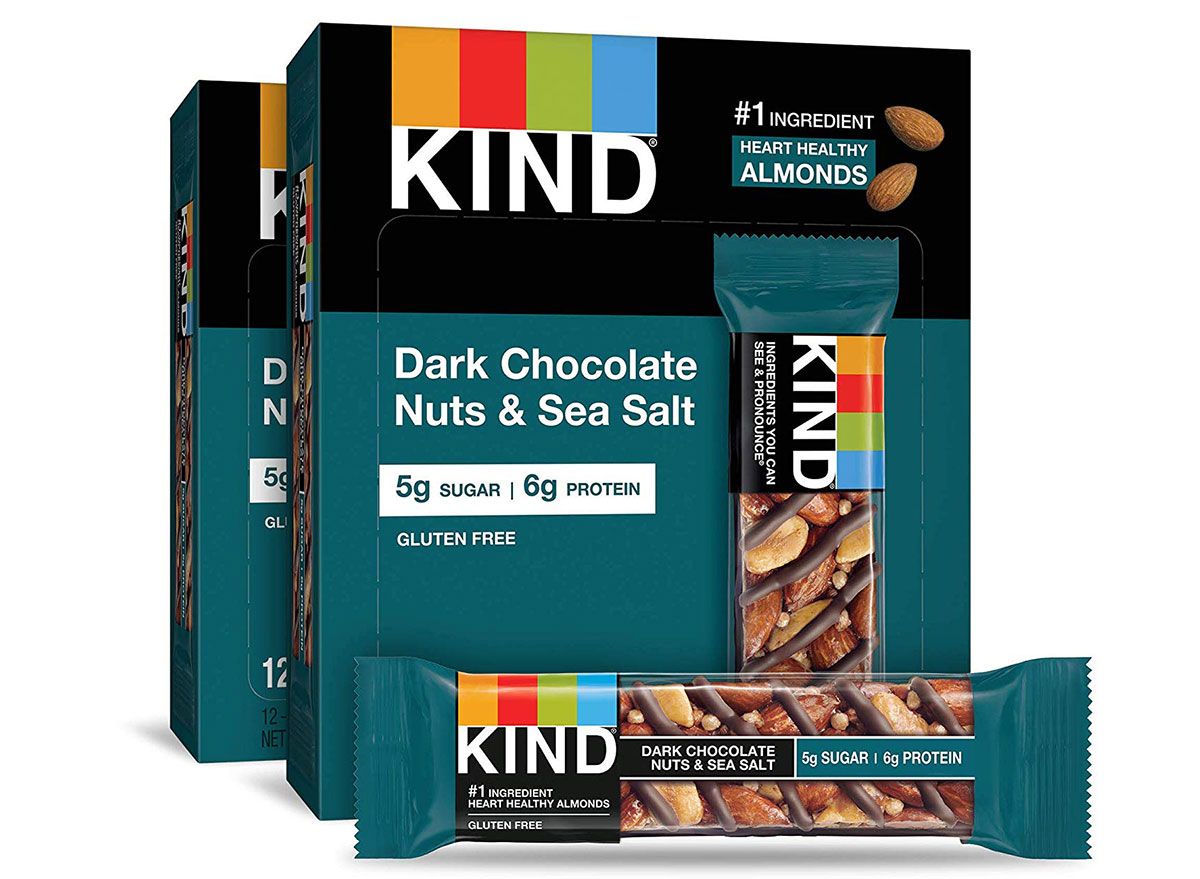 Fiber: 3-6 or more per bar
KIND bars have a cult following that includes registered dieticians and nutritionists alike. "Nuts are a delicious source of fiber," says Jackie Newgent, RDN, a plant-forward culinary nutritionist, author of The Clean & Simple Diabetes Cookbook, and spokesperson for KIND Snacks. "Simply grabbing a handful of pistachios or almonds daily is an awesome idea. Or, easier yet, stash some nut-based snack bars, like KIND nut bars (my favorite flavor is the dark chocolate almond mint!), in your tote, desk, purse, or carry-on so you have easy access to a tasty, healthy snack with fiber anytime."
Fiber: 4 grams per serving
Popcorn is high in fiber and low in calories and fat, making it among the quintessential sources of fiber on the market. However, many popcorn brands are sprinkling their kernels with flavorful additives, or drizzling on chocolate and caramel, which increases the snacks' sugar and fat content. "Be sure to avoid the pre-made, butter-coated kinds, and choose the plain variety, as you can always add on nutritional yeast or chili powder for extra flavor," says Bonnie Balk, RD, a health and wellness expert for Maple Holistics.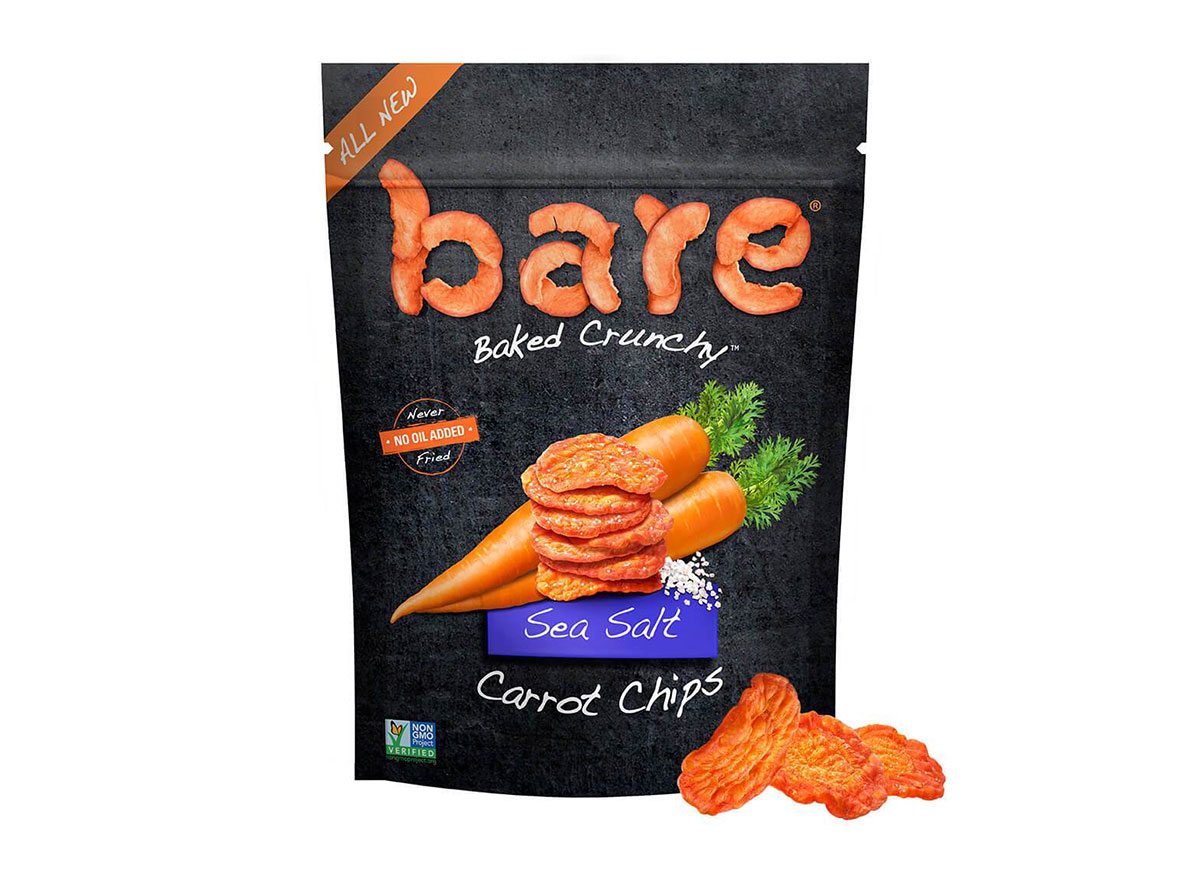 Fiber: 7 grams per serving
Whole fruits and vegetables are some of the best sources of dietary fiber (along with beans and legumes, whole grains, etc.), but dried variations, in moderation, can also be considered high fiber snacks (just make sure to scan their ingredients label for added sugars). Bare Snacks Sea Salt Carrot Chips are a perfect example of this: They're made from carrots and a sprinkle of sea salt and yield a whopping seven grams of fiber per serving.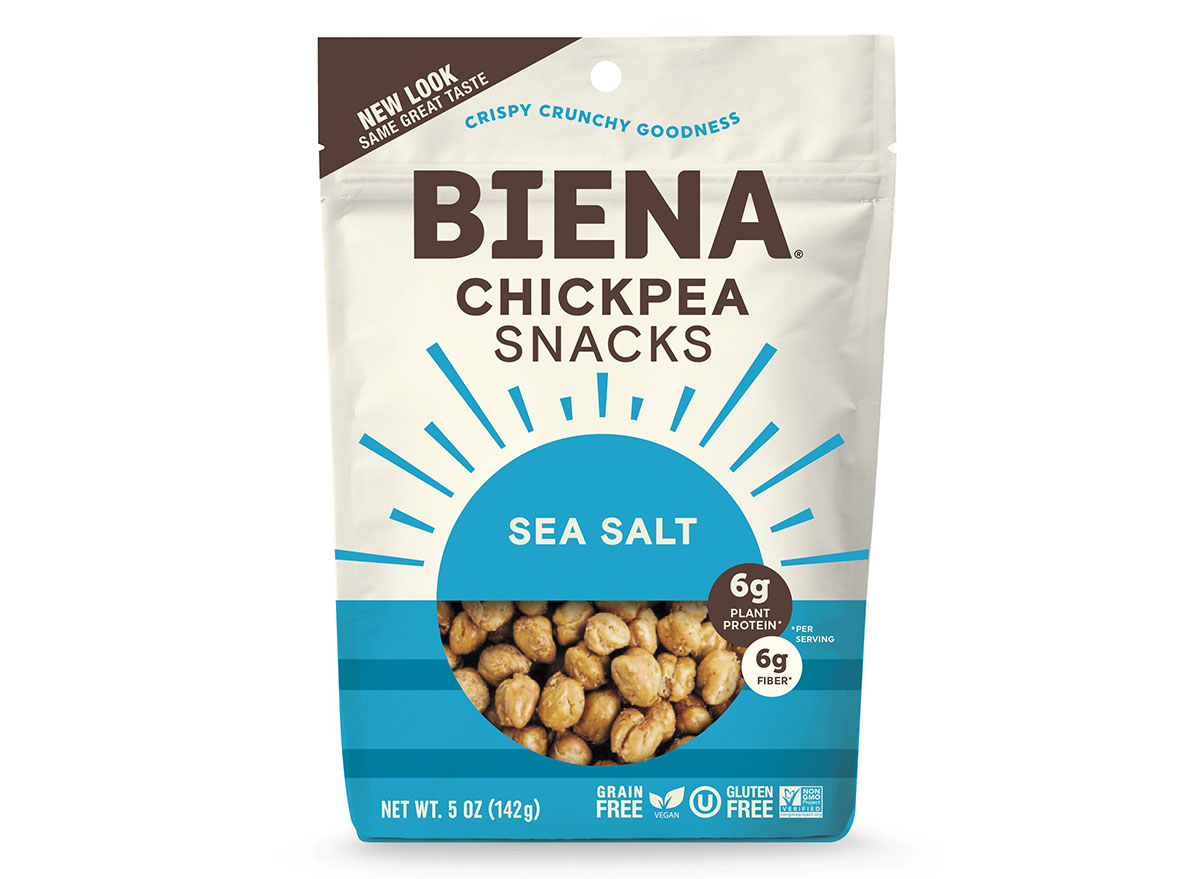 Fiber: 4-6 grams per serving
Chickpeas are having a glorified moment, and it looks like these roasted snacks are going to follow us into the new year. Stash a bag of Bienas in your desk drawer or display them front and center on your pantry shelves. With nine flavors to choose from—from Rockin' Ranch to Girl Scouts Thin Mints—there's a taste to curb every craving, with the added benefit of a very limited ingredients list that boasts a decently high fiber content.
Fiber: 4-7 grams per pod
Chia seed pudding is another overnight dish that's been popularized by social media and, like oats, features a ton of fiber. The Chia Co.'s Chia Pods come in four flavors—Cranberry + Coconut, Vanilla Bean, Coconut, and Dark Cacao—are free of dairy, gluten, and 100 percent plant-based. What's more, chia seeds are a soluble fiber, so these snacks are not only rich in fiber, but they also support healthy cholesterol and blood sugar levels, says McDonough.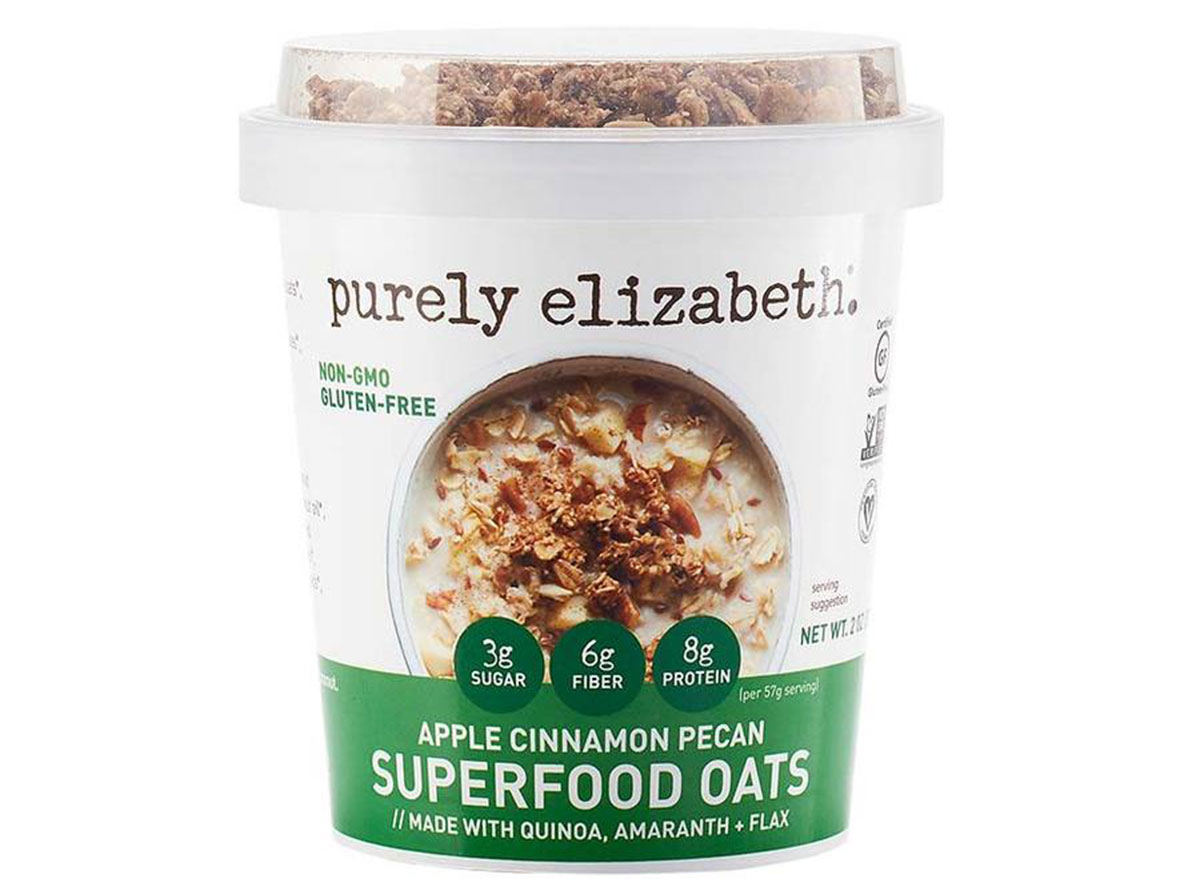 Fiber: 6 grams per cup
Alternative options for oatmeal lovers are Purely Elizabeth's oat cups. The Apple Cinnamon Pecan flavor is jam-packed with fiber sourced from whole, organic ingredients like dried apples, pecans, flax seeds, chia seeds, and more. These microwavable cups are great to bring to work.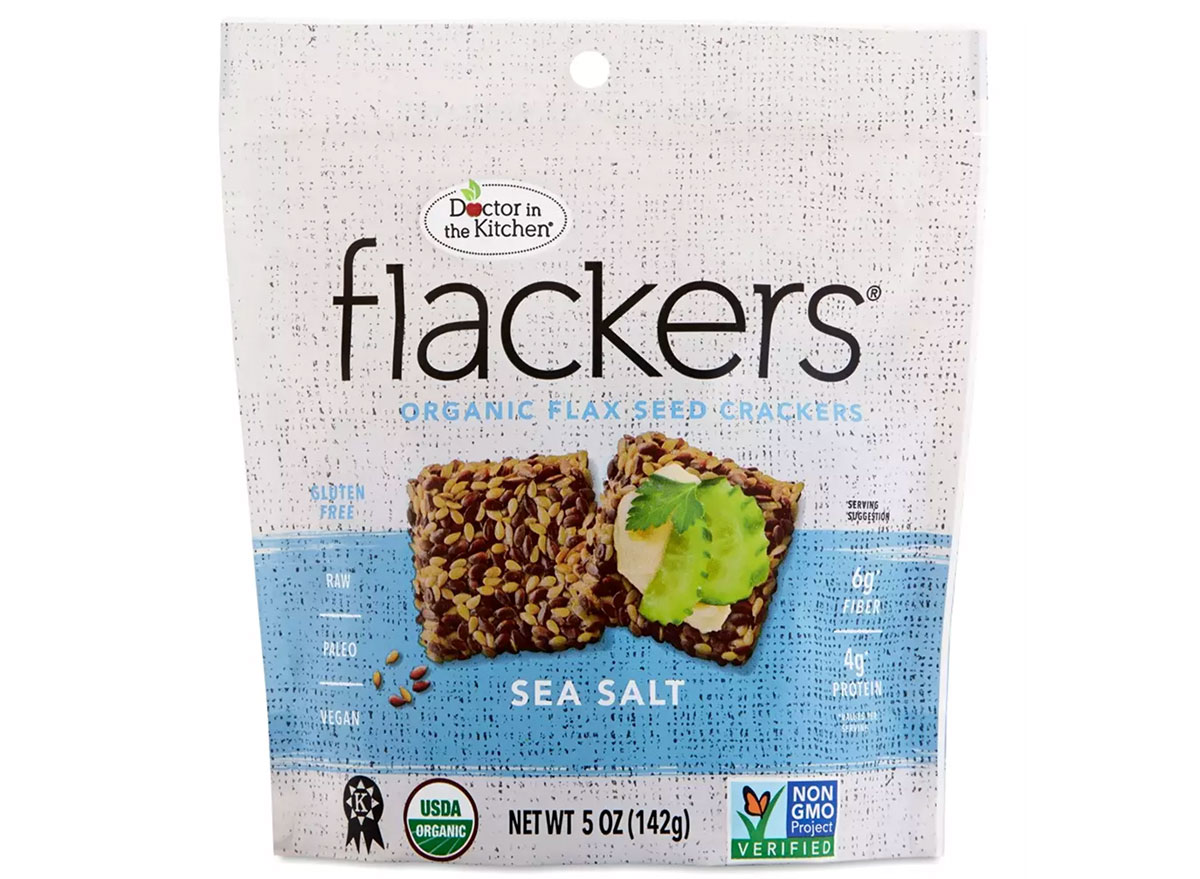 Fiber: 6 grams per serving
Cecere is a fan of these flaxseed crackers from Doctor In The Kitchen. They're made from only three ingredients—organic flaxseeds, organic apple cider vinegar, and sea salt—and because the flax is sprouted, it's easier for your teeth to chew and for your body to digest and absorb. Spread on some mashed avocado or nut butter and you've got yourself a wholesome, delicious fiber-packed snack.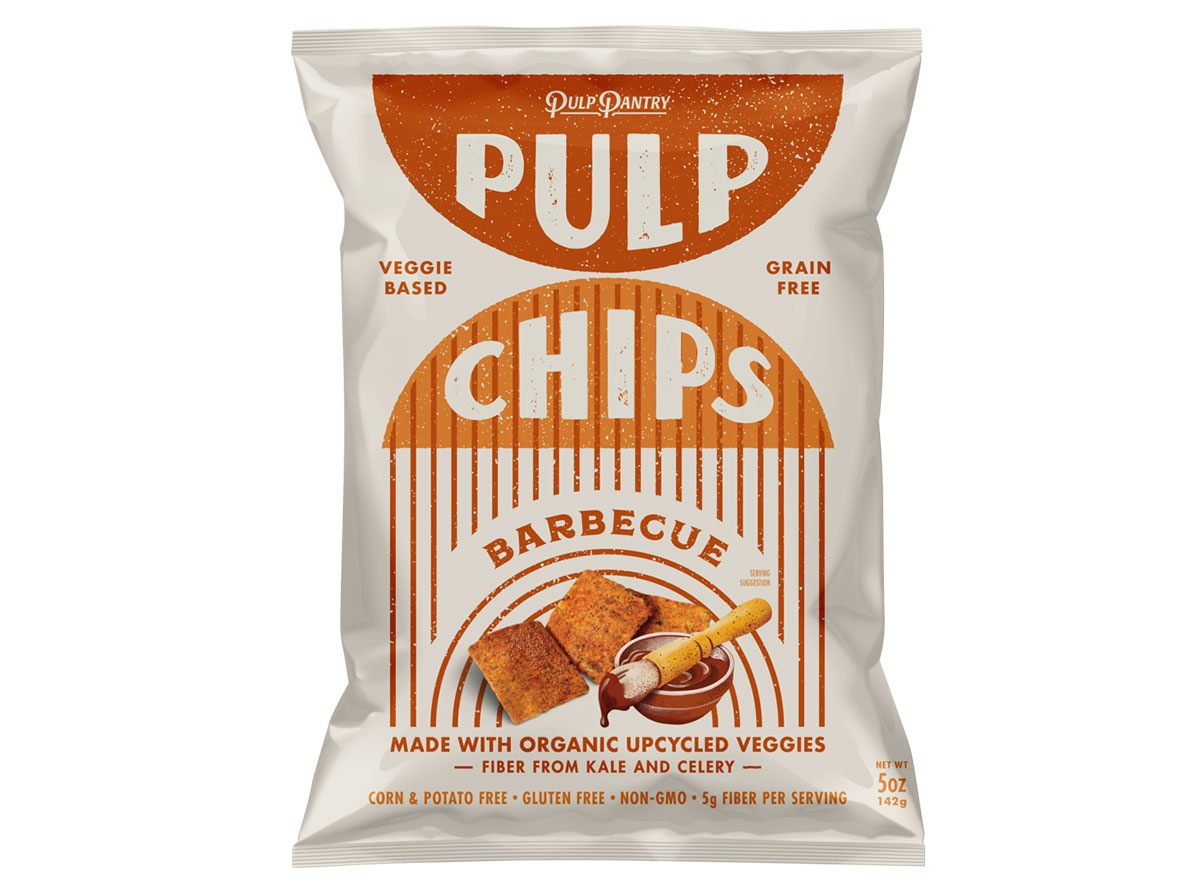 Fiber: 5 grams per serving
If your go-to snack is a bag of potato chips, swap greasy, salty spuds for this healthy alternative. Pulp Pantry is on a mission to eliminate food waste by taking fresh vegetable juice pulp and transforming the often discarded food group into delicious snacks. Currently, their roster of treats features four bags of chips: Barbeque, Jalapeno Lime, Salt 'n' Vinegar, and Sea Salt. They aren't just super flavorful, but they're also highly nutritious. For example, a serving of BBQ yields 5 grams of fiber and only 17 grams of net carbs.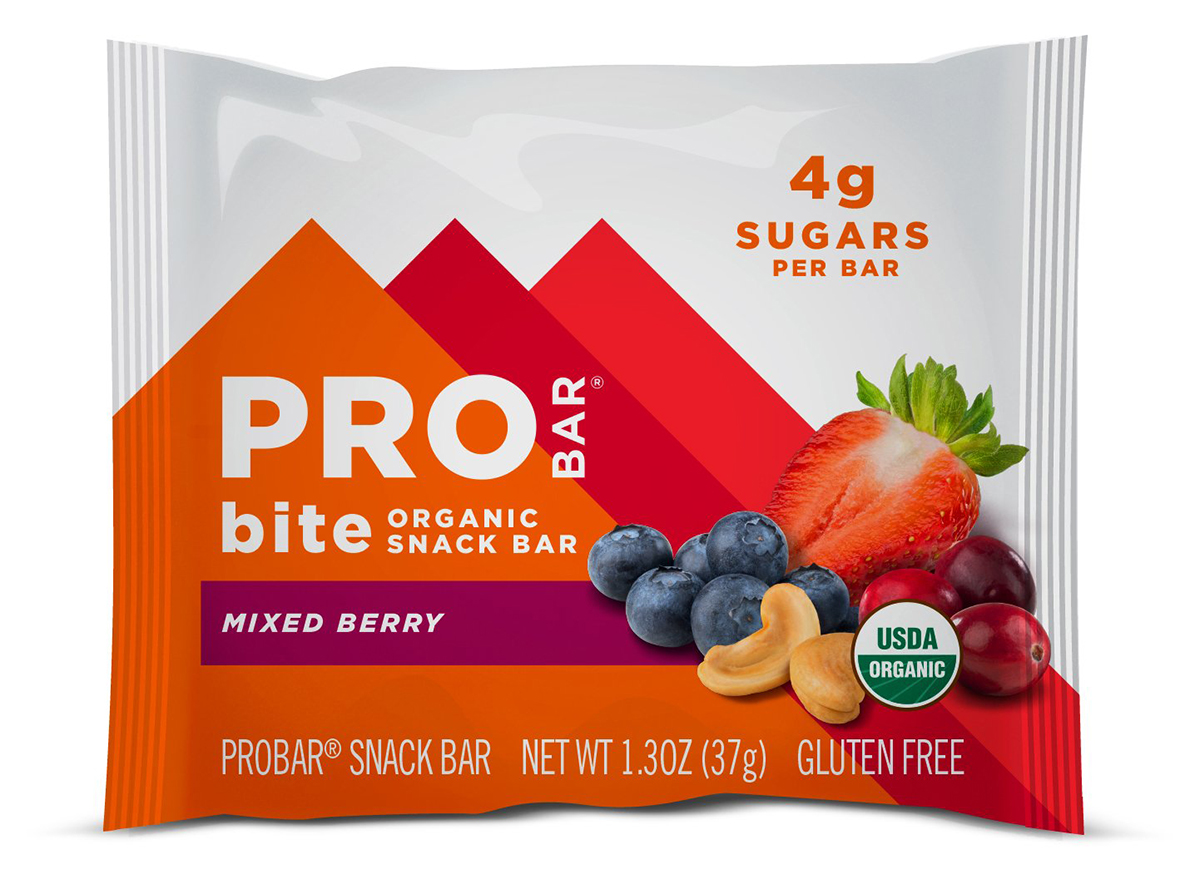 Fiber: 6 grams per serving
Not the type to pack four pieces of fruit in your lunch bag? No problem. PROBars Mixed Berry Bites combine organic blueberries, cranberries, and strawberries with organic cashews, flaxseed, chia seed, and more for a compact, fiber-rich snack you can add on to any meal for an extra boost of gut health.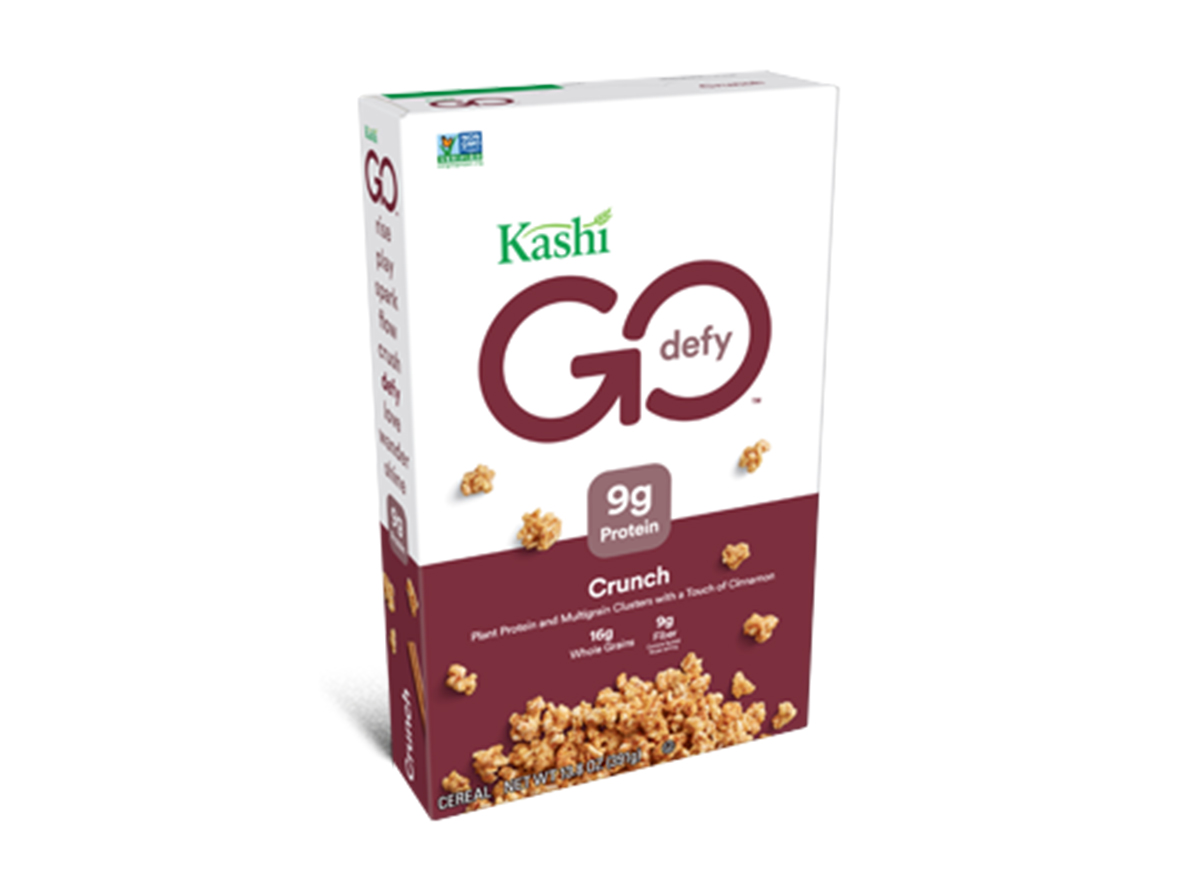 Fiber: 8 grams per serving
Cereal snackers rejoice! Kashi's new GO Crunch! cereal is a tasty high-fiber option you don't have to eat for breakfast exclusively. Measure out the ¾ cup serving in a baggie for grazing throughout the day. One serving yields 8 grams of fiber sourced from a seven whole grains and sesame blend and whole grain oats. Plus, one bowl equates to a whopping 9 grams of plant-based protein, putting Kashi GO Crunch at the forefront of balanced meals.
Fiber: 5.2 grams per serving
Kencko recently joined the roster of smoothie delivery services this year, and so far reviewers are raving. The term "kencko" literally means health in Japanese, and the name definitely translates to the brand's line of plant-based beverages. Categorized by the colors of each drink's star ingredients, the Crimsons smoothie contains acai, banana, strawberry, mango, cinnamon, and chia seeds. One packet equates to 90 calories and 5.2 grams of gut-loving fiber, plus a slew of antioxidants to support brain health and cognitive function, and calcium for a strong heart, teeth, and bones.6254a4d1642c605c54bf1cab17d50f1e
Fiber: 13 grams per serving
Sakara Life Energy Super Bars keep your tastebuds satisfied and your body well satiated with 10 grams of protein, 11 grams of healthy fats, plus a whopping 13 grams of fiber per serving. "Super" is an understatement—these bars are delicious, nutritious, and made from mostly organic ingredients like raw hemp protein, sunflower seed butter, almonds, and dates. What's more, these high-fiber snack bars do more than keep you feeling full, they keep you energized so you can be productive long past that dreaded afternoon slump period.
Fiber: 5 grams per serving
A word of advice to fruit shavers: Don't ditch the peel. RIND snacks are made from whole fruits, including their skins. Fiber is found in the rind, so these sun-dried superfruit snacks maintain their juicy flavor and nutrition. One serving of the Straw-Peary blend—made from sweet red apples, bosc pears, and strawberries—yields 5 grams of fiber. And don't get discouraged by its 16 grams of sugar—none of it is the added sugar kind.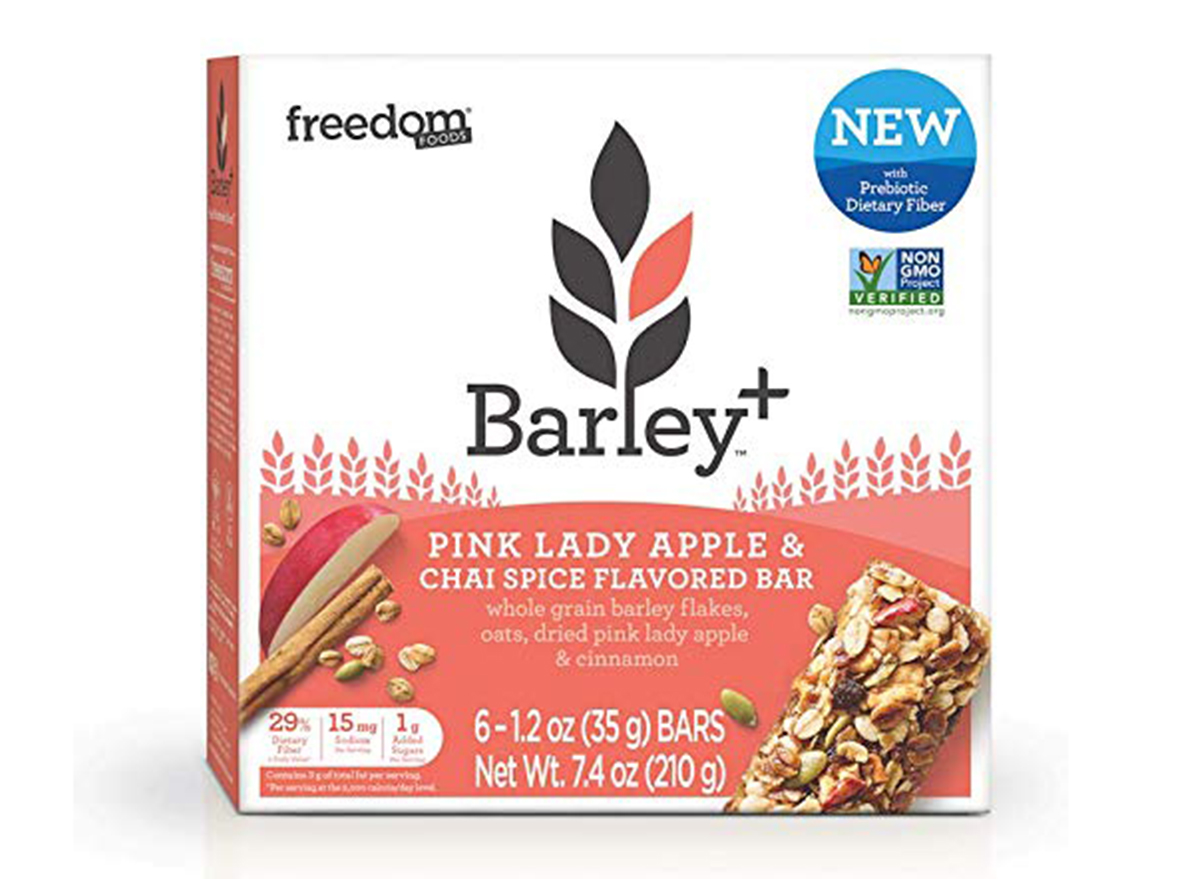 Fiber: 9 grams per serving
This writer speaks from experience when she says if you're not regular, Barley+ Pink Lady Apple & Chai Spiced Bars are a game-changer. With 6 grams of soluble fiber, plus 2 grams of insoluble fiber, each bar contains 32 percent of your daily needs. The special barley grain mixture was designed to keep your digestion at its most optimal, keeping you regular and fuller for longer.
Fiber: 5 grams per bar
These high-fiber snacks are 100 percent vegan, gluten-free, soy-free, dairy-free, and non-GMO so everyone can enjoy them between meals, for dessert, or as a pre/post workout treat. Despite there being only 100 calories per bar[/infoline], these little bites are mighty filling, offering grazers 5 grams of fiber from whole food sources like chia seeds, cashew butter, chicory root fiber, dried cherries, tart cherries, and rolled oats.
Fiber: 3 grams per serving
Among her list of store-bought high-fiber snacks, Cecere also praises Mary's Gone Crackers, which are made from organic ingredients like whole grain brown rice, quinoa, flaxseed, and sesame seeds. One serving yields 3 grams of fiber, but when paired with something like Justin's Almond Butter (3 grams of fiber per serving) or half an avocado (7 grams of fiber), it can easily be transformed into a delicious, natural high-fiber snack. "I think the best way to choose a high fiber snack is to just eat more plant foods," says Cecere, and these different combinations are the perfect examples.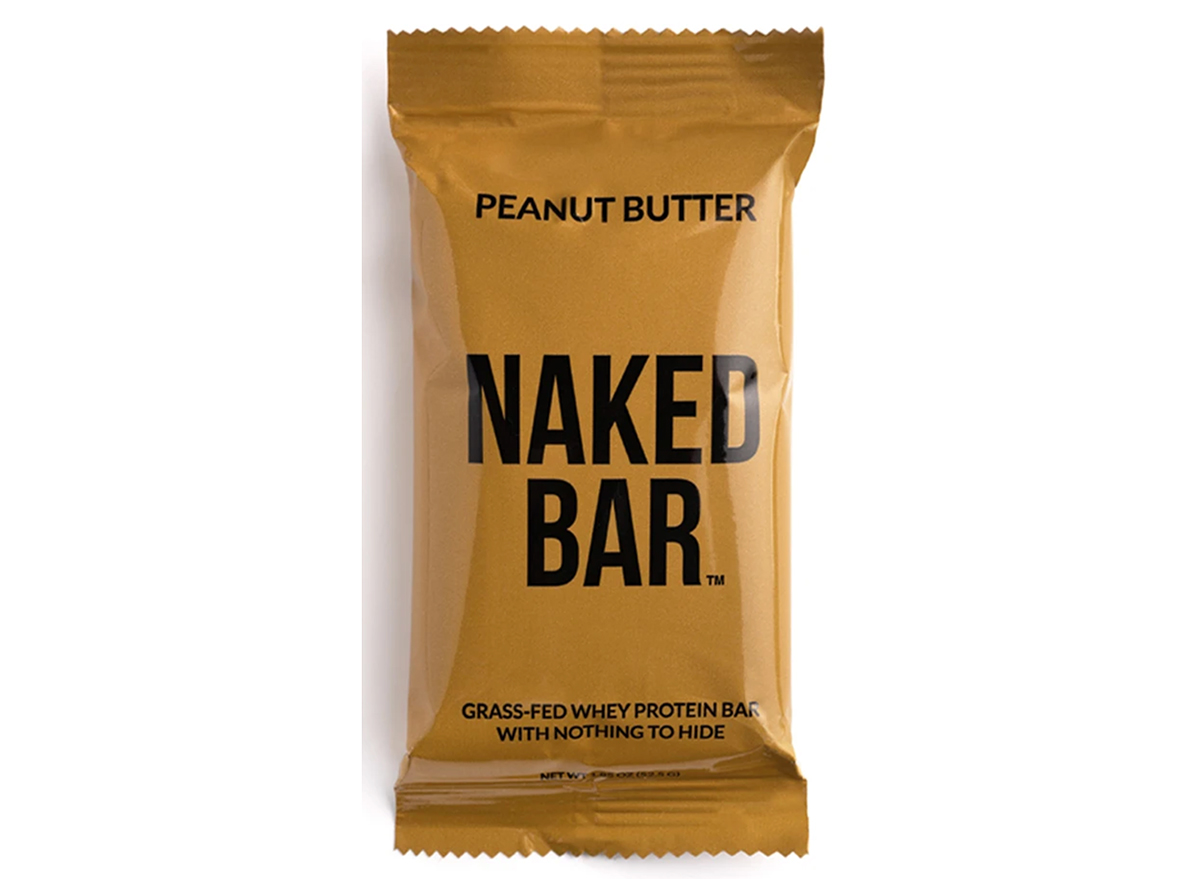 Not to get confused with Naked Juice, NAKED bars are manufactured under NAKED Nutrition, a company whose mission is to deliver optimal nutrition to athletes through pure ingredients. Of course, you don't have to be an avid gym-goer to enjoy their products, and Cecere says you'll definitely want to add these high-fiber protein bars to your snack stash. Each bar contains between five and seven real food ingredients with zero additives. Plus, with the combination of protein, healthy fats, and fiber, you'll stay full and energized for longer after snacking on these bars.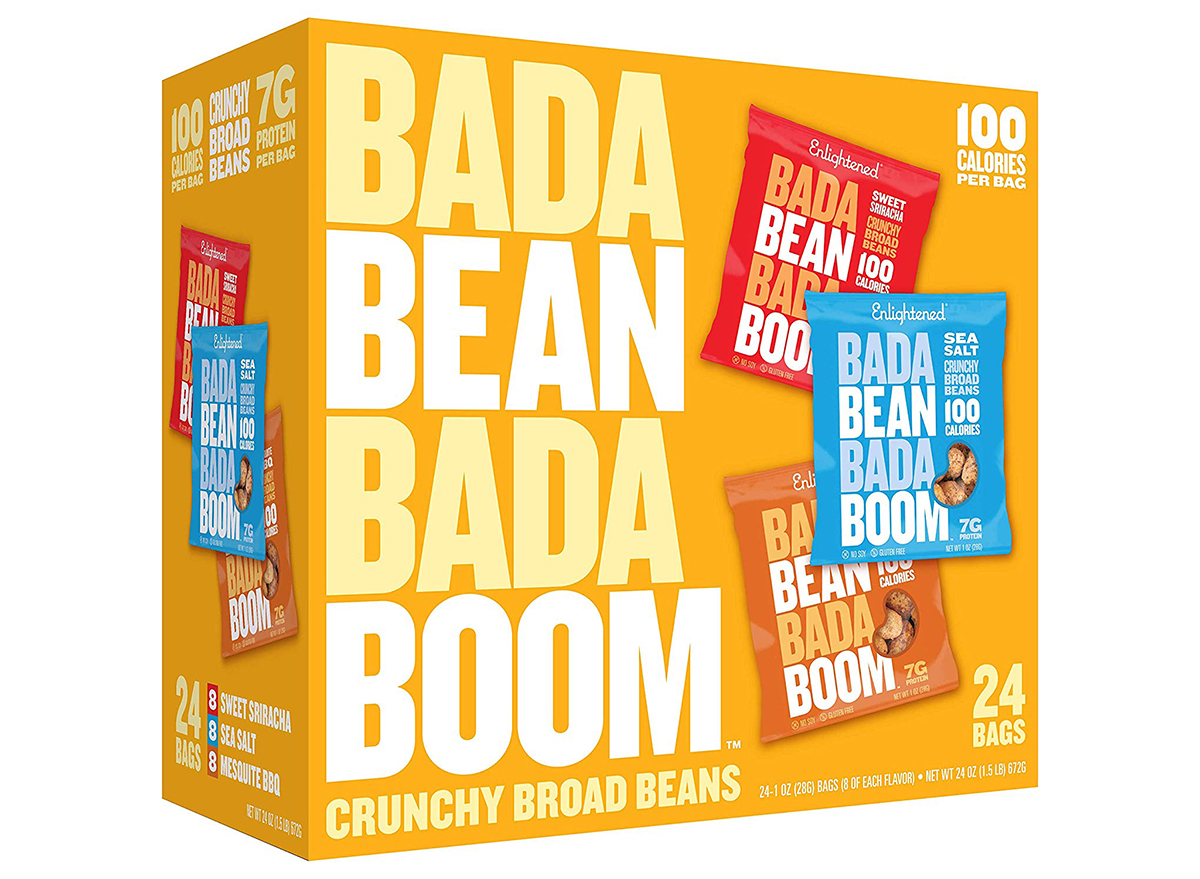 Fiber: 5 grams per serving
They say beans are a magical fruit because the more you eat, the more regular you'll be. But if a can of black or kidney beans just isn't your idea of a tasty snack, give Enlightened Bada Bean Bada Boom's roasted snacks a try. With flavors like sea salt, sriracha, and mesquite BBQ, you'd never know these crunchy bites were so nutritious unless you scanned the label (which, of course, we highly suggest you do). Each 1 ounce bag is 100 calories and yields an impressive 7 grams of protein, 5 grams of fiber, and only 1 gram of sugar. They're also free of cholesterol and saturated fats, which is good news for your heart.
Fiber: 11 grams per serving
Have a sweet tooth? Avoid the 3 p.m. temptation to gorge on vending machine snacks to get your fix with a soft cookie from Quest Nutrition. The Peanut Butter Chocolate Chip flavor is a personal favorite (the combination of flavors is heavenly), and with 16 grams of protein paired with 11 grams of fiber (not to mention only 1 gram of sugar and a mere 5 net carbs), it's the perfect high-fiber snack to curb your sugar cravings.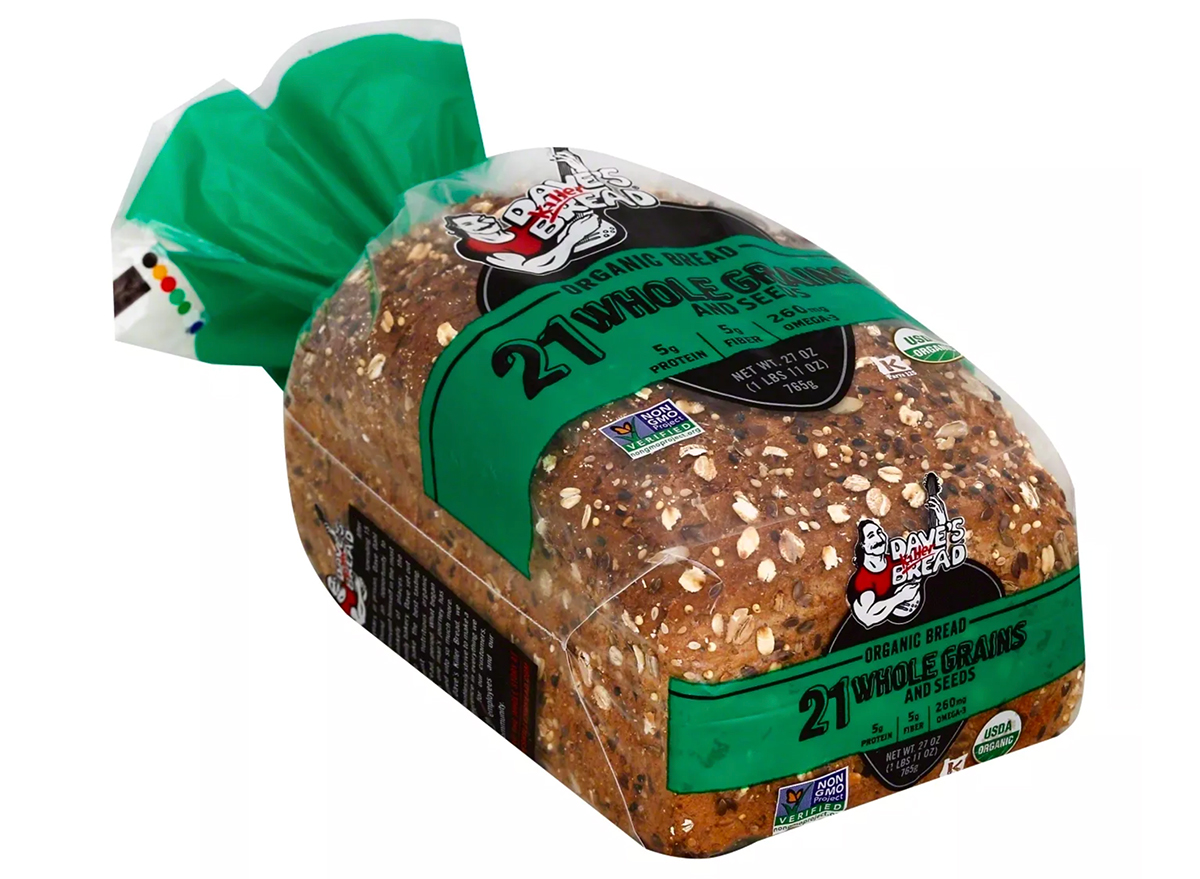 "Adding an avocado to your breakfast or having avocado toast (using minimally processed, whole grain bread options) for a snack is also a high fiber snack," says dietitian Kelly Bay, DC, CNS, CDN. Dave's Killer Bread is an excellent option for toast fans as it offers 5 grams of fiber per slice and is made from organic ingredients.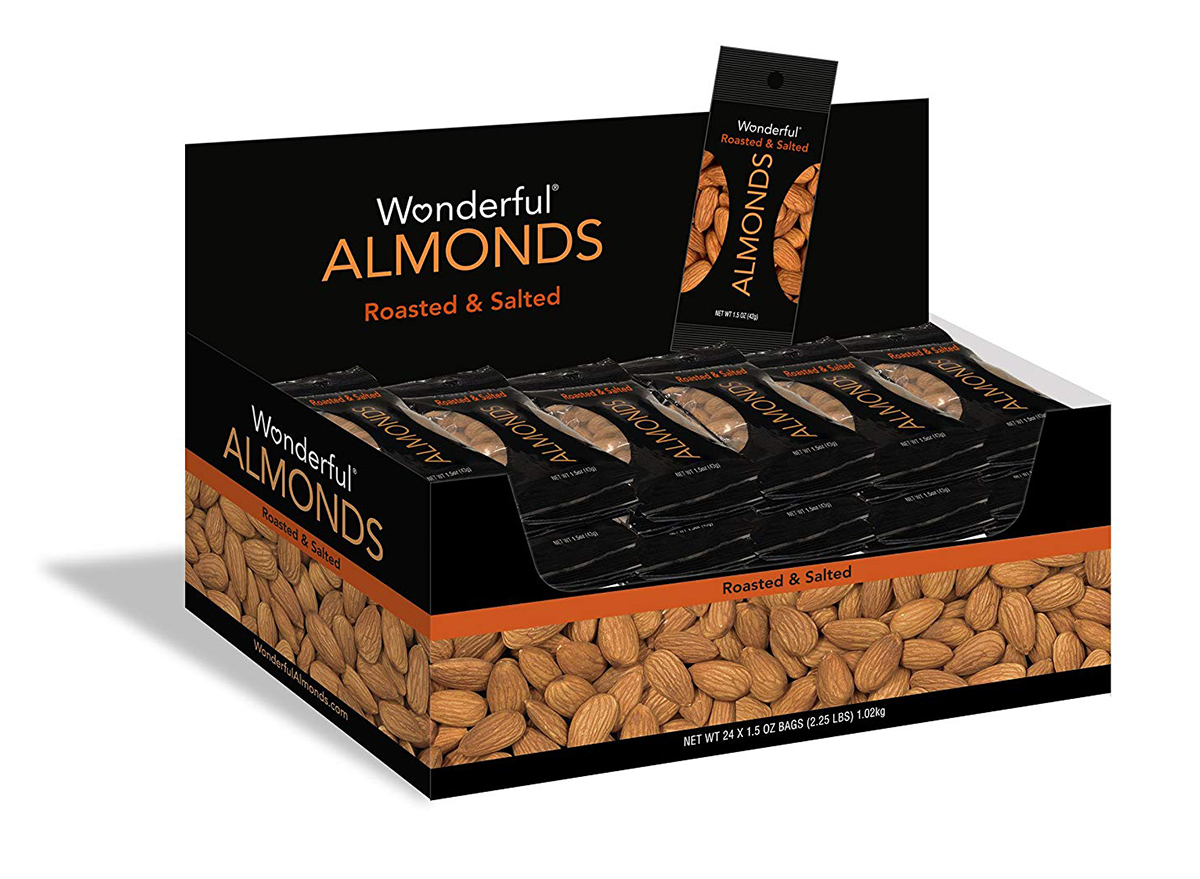 "[For high-fiber snacks,] the least processed a food is, the better. Which basically means whole, "real foods," such as fruits, veggies, whole grains, nuts and seeds," says Healthy Meals Supreme's Melissa Nieves, LND, RD, MPH. Under those guidelines, Wonderful Almonds definitely qualifies. Though one serving-size packet is 250 calories, they're also jam-packed with healthy fats and 5 grams of fiber, so they're a great option to keep on your desk to ensure you're healthily grazing throughout the day.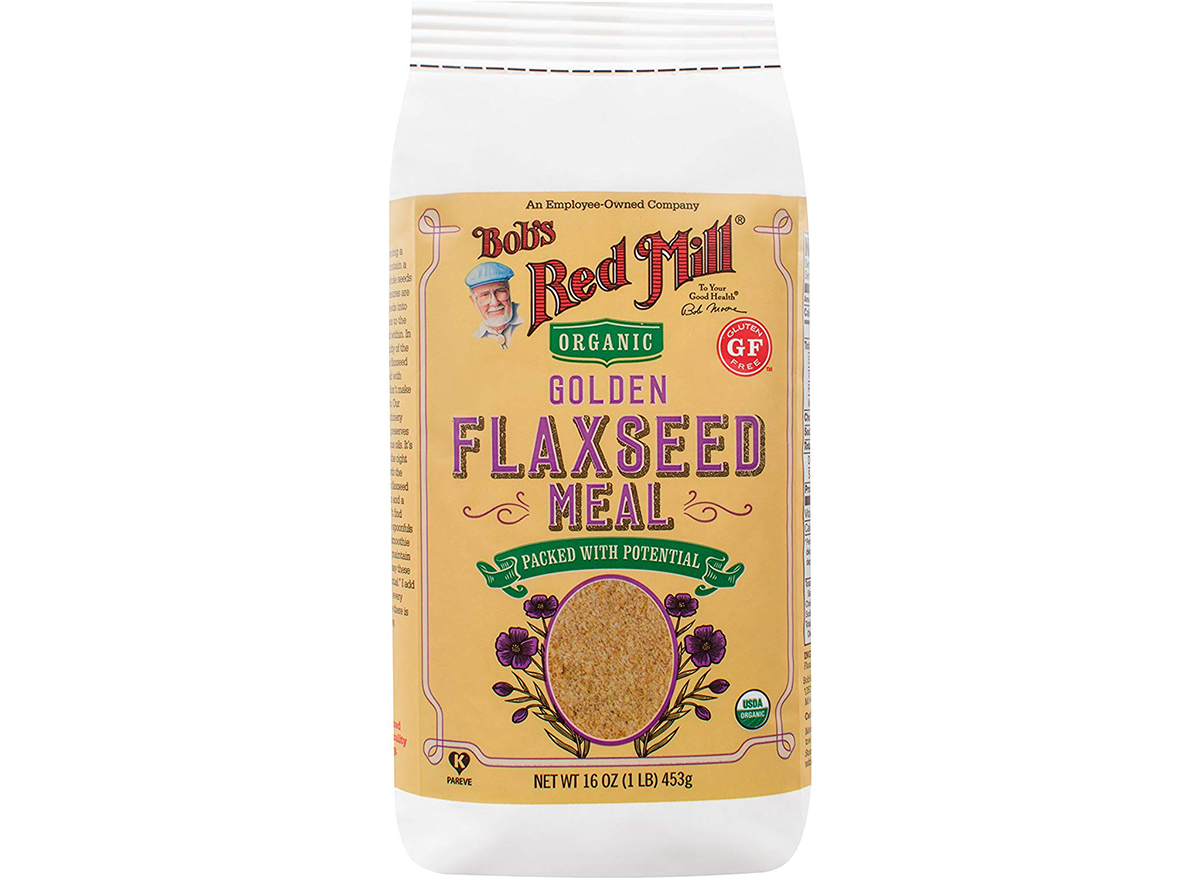 Fiber: 3 grams per serving
"A great way to sneak in fiber is throwing chia seeds or flaxseed meal into meals and snacks. You can add it to a smoothie, put it in baked goods, sneak it in your oatmeal," says Bay.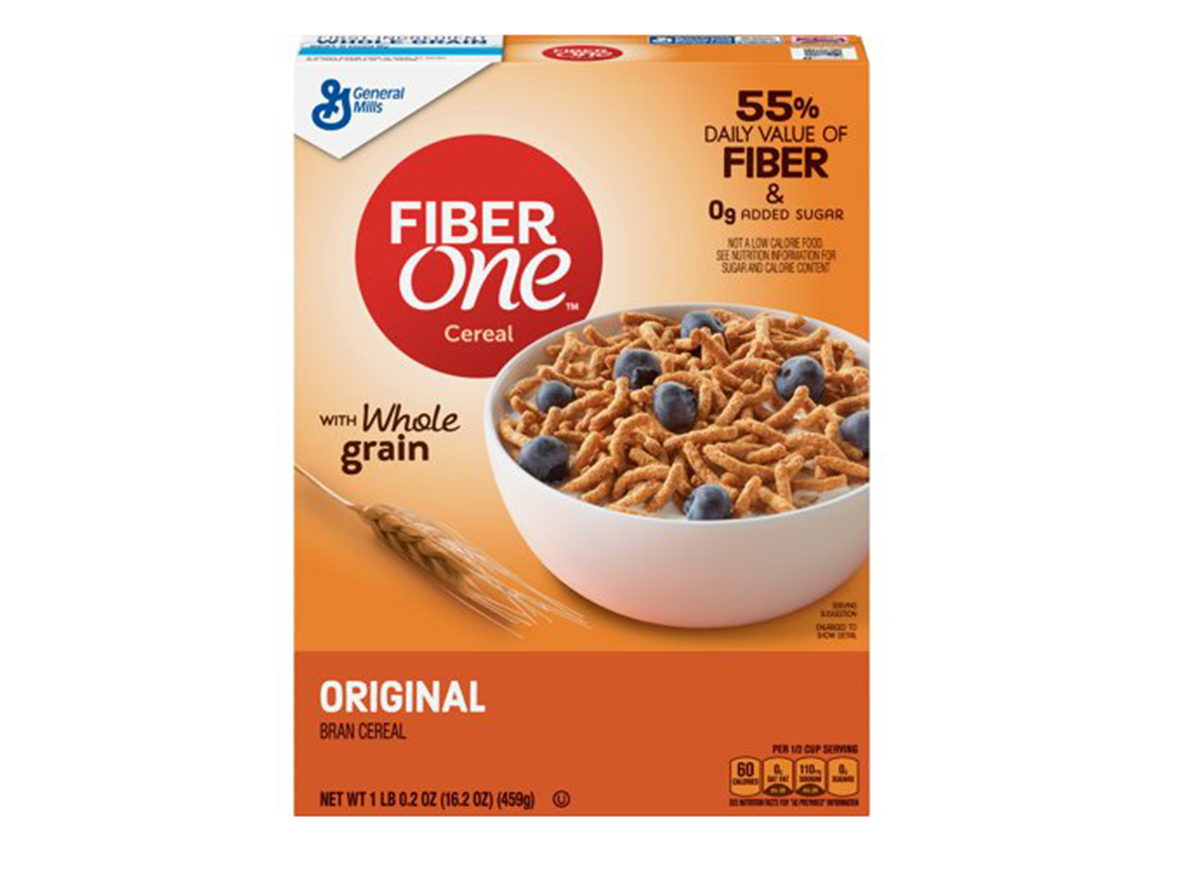 Fiber: 14 grams per serving
Cereals high in fiber, like Fiber One Original Bran, are great to have on hand in your cupboard. You can eat them as a meal or measure out a serving and pick at it throughout the day. But note, because Fiber One has such a high fiber content, it's very important that you drink a glass of water after eating this hearty bowl. "Keep in mind that more is not always better. Add fiber slowly to avoid intestinal gas and bloating. Fiber works best when it absorbs water so for a moving experience, be sure to have plenty of fluids when fueling up on fiber for a perfect partnership," says Taub-Dix.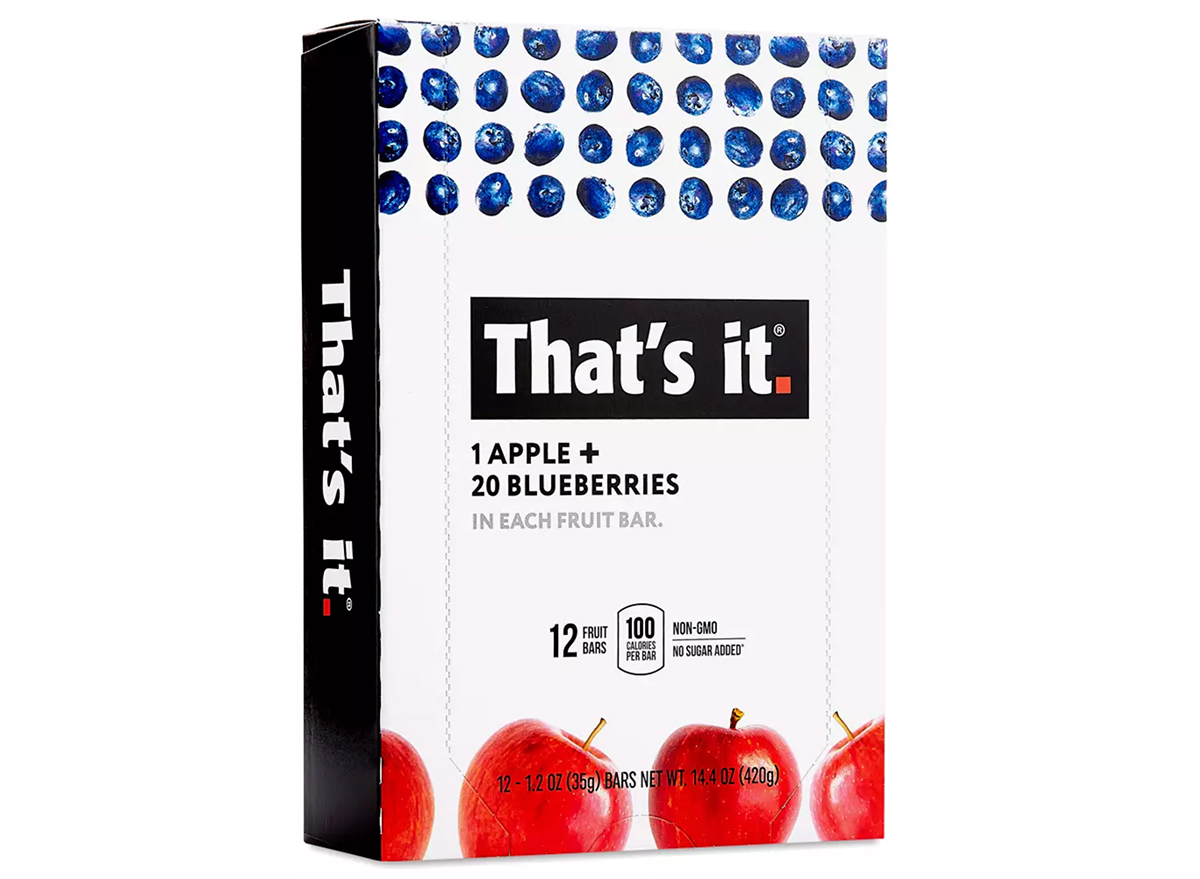 Fiber: 4 grams per serving
"The best way to add fiber to your diet is by adding whole grains, fruits, and vegetables. Aim to make at least 1/2 your servings of grains, whole grains, get 2-3 servings of fruits and vegetables a piece," says Emily E Tills, MS, RDN, CDN. That's It bars can help knock out a few fruit servings. For example, this Apple Blueberry bar is made from one apple and 20 strawberries and that's it—literally.