5 Major Differences in Costco and Costco Business Center Right Now
You may start finding yourself shopping here more often than your regular Kirkland warehouse.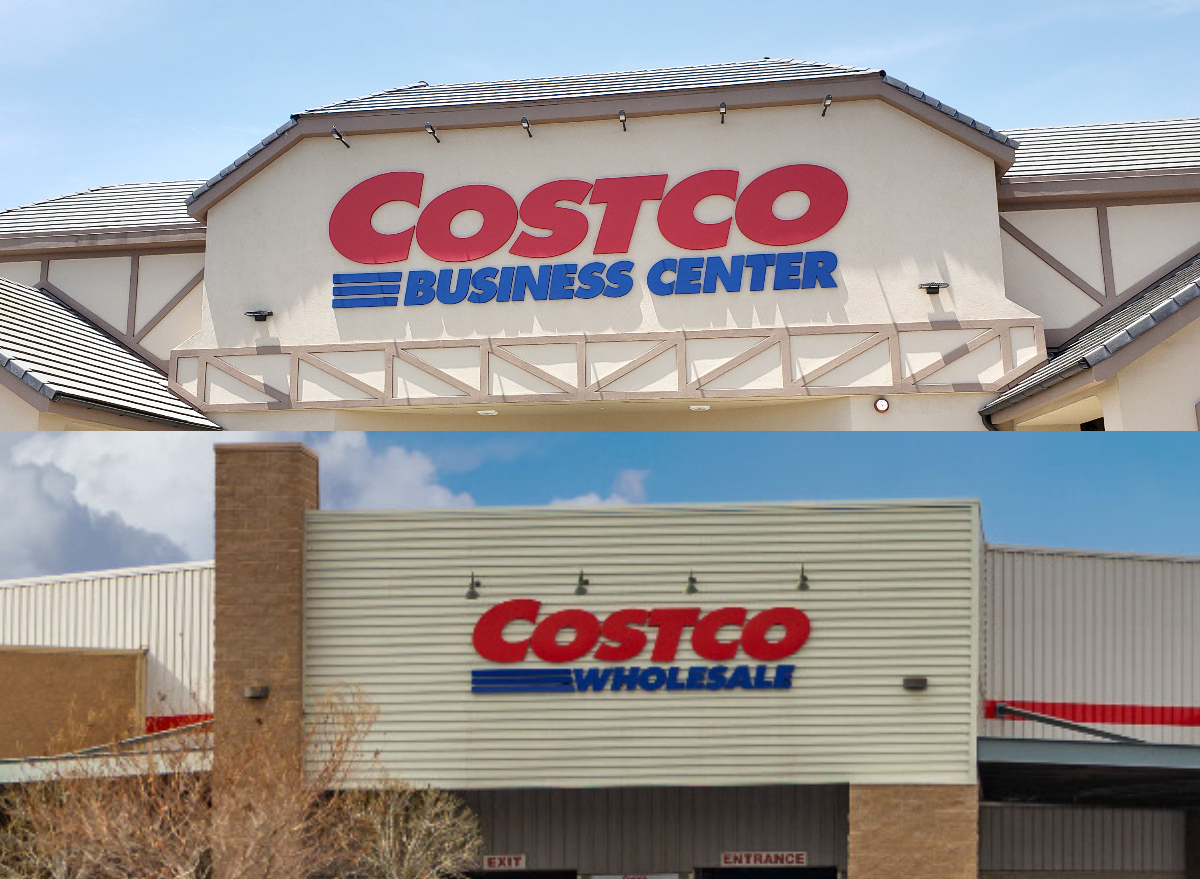 Have you heard of the Costco Business Center? If the Costco Warehouse were a movie, this would be the sequel—except these stores cater to the needs of small companies. Offering expanded options for food, drinks, and other necessities for budding restaurants, convenience stores, and hotels, this version of Costco has a business-minded take on what it means to provide high-quality products at an affordable cost.
There are currently 23 Business Center locations scattered throughout the U.S., although 15 of them are located on the West Coast, according to shopfood.com. But if you do happen to live near one of these warehouses, other Costco shoppers say it's well worth a trip. And no, you don't need to purchase an additional membership – or even be a business owner – to partake in the experience.
However, there are a few things you should know before you shop there. Read on for the six major differences you'll find if you visit the Costco Business Center on a future grocery run.
Store Hours
While the Costco warehouses start checking membership cards at 10 a.m., early risers will appreciate that the Business Center opens its doors at 7 a.m. daily. However, it's worth noting that it also closes early (6 p.m. on weekdays, 4 p.m. on Saturdays) and stays closed on Sunday.
Bulk Buying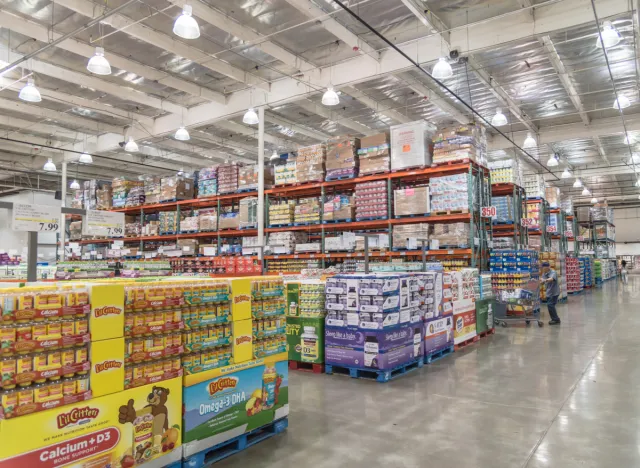 One way to get better prices on your groceries? Buy in bulk. Costco shoppers already know and love the wholesale experience they get in the warehouse, but the Business Center takes it to another level.6254a4d1642c605c54bf1cab17d50f1e
A Reddit user/Costco member raved about the Business Center's gargantuan product sizing 10 months ago. "5 gallon buckets of Soy Sauce, Giant Tubs of Peanut Butter, Whole Goats for BBQ. Giant bags of pre chopped onions. Don't even get me started on the walk in commercial meat department," u/SanDiegoCK commented.
At a time when costs are shooting up, even at Costco, any opportunity to get more bang for your buck is worth considering.
Product Selection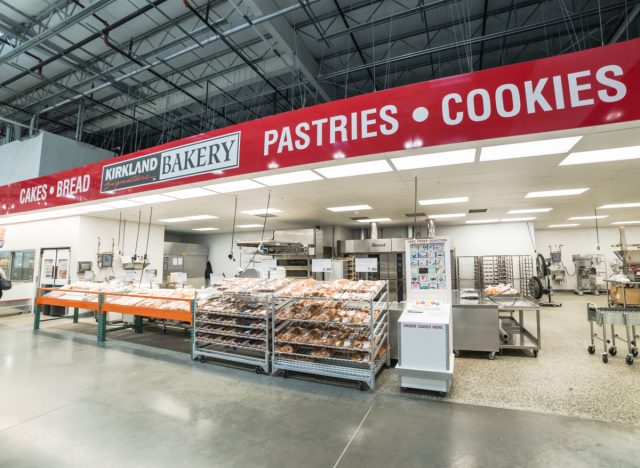 You're not going to run into this warehouse mini bakery treat at the Costco Business Center.
More than 70% of its items are different from what is carried at a normal Costco warehouse, according to the company's website.
When you enter a Business Center, prepare to find shelves lined with a multitude of single-serving snacks and a wide array of drinks. In the same Reddit post, one Costco member said that "[The Business Center] has every flavor of Jarritos by the case…And the individual-pack boxes of Hawaiian Maui Onion chips, Takis, and jerky are so useful to have around for snacks. [The] Business Center is a gold mine."
There's also a massive refrigerated section with different kinds of meat, some of which can be less expensive than the Costco warehouse. According to one user on another Reddit post, the meat may be cheaper because of the inventory of select- and choice-grade meats, whereas the regular Costco carries mostly prime-grade.
"The business center…also sometimes has nice discounts on the meats that are getting close to the sale by date. Got Select grade beef strip loin for like 5 bucks a pound there last week," the user wrote.
A visit to the Business Center might save you both time and money, while also offering a welcome break in your shopping routine.
Deals and Sales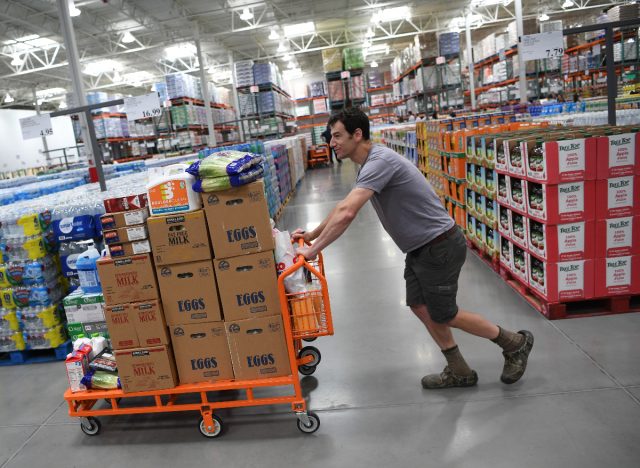 With today's ever-rising inflation, everyone could use some grocery hacks. Here's one – the Costco Business Center has its own Saving Events, with coupons that rotate monthly and are automatically applied at checkout. This usually only helps if you're already buying a lot (ex. $5 off on a 14-count box of Pringles cans), however.
The warehouse also has member savings, which can be used in-store and online. But if you're not finding the right deals at your local Costco, you can always try your luck at a Business Center.
Kitchen Appliances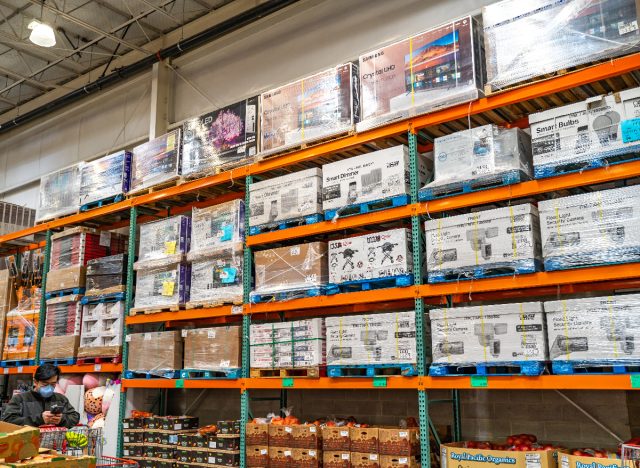 You can't get free samples, buy liquor, or visit a pharmacy at a Costo Business Center. But you will see appliances that the regular warehouses don't carry.
The Business Center is tailored toward small businesses. So naturally, rather than walking past electronics, sofas, and clothing, you'll find this Costco stocking refrigerators, meat slicers, stand mixers, fryers, and countless other kitchen tools.
The Costco Connoisseur blog posted about the treasure trove of cooking utensils, big and small, including "…cookware and bakeware, a selection of chefs uniforms in various sizes and colors, bar mops, commercial grade oven mitts, commercial sized food storage containers…plates, bowls, cups & glassware and a variety of mixing and serving bowls. The best part – all of these items were at unbelievably low Costco prices!"
In other news, Many Costco Warehouses Just Added This In-Demand Item.
Sarah Wong
Sarah studied at Northwestern University, where she received a bachelor's degree in computer science and experimented with mixing tech and journalism.
Read more about Sarah