Supply of This Seafood Is "Ugly" Right Now, Experts Say
Labor shortages are a big reason why.
News of shortages in just about every aisle of the grocery store has been dominating headlines in the last few months, with other products being threatened by dwindling supplies. One of these items that may be harder to get your claws on at the store soon can normally be found in the meat and seafood section—but one industry expert says the upcoming season does not look good.
Chesapeake Bay Seafood Industries Association president Jack Brooks recently told Washington D.C. area local news station WTOP News that crab catches this year are going to simply be "ugly." The low supply, he says, will be in large part thanks to labor shortages, but the number of crabs in the Chesapeake Bay off the coast of Maryland and Virginia is also shrinking, reports say.
RELATED: 6 Things You'll See at Costco This Year6254a4d1642c605c54bf1cab17d50f1e
Brooks explains to the news station that seafood industry employees have to get an H-2B temporary work visa along the Eastern Shore to work from April through November. Almost 140,000 requests came in, but only one crab-picking operation got some of the visas available. Brooks described it as a "visa treadmill" and said that finding anyone to work crab processing for just a few months is challenging. Usually, workers from other countries are available, but in 2020, former President Donald Trump suspended work visas for people outside of the U.S.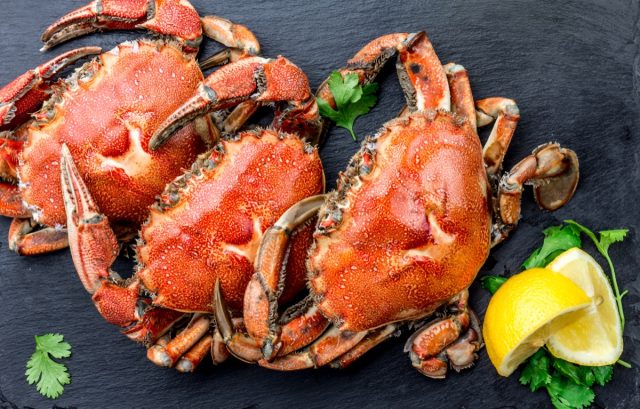 Last year, Maryland faced a similar issue. Prices for crab were through the roof, forcing local restaurants to raise the cost of dishes like crab cakes—at one eatery by $5, according to the New York Times. In addition, blue catfish have become an invasive species, feeding on the crab in the Chesapeake Bay.
At the start of the 2021 season, there were around 282 million crabs in the bay, which was the lowest number since 2007, the Bay Journal said at the time. However, "We're comfortable with where we are currently with the abundance of females," Mike Luisi, the director of the Maryland Department of Natural Resources fisheries monitoring and assessment division, said. While the numbers for this year aren't known, come April, crab may be hard to find in your local grocery store.
In the meantime, check out how Walmart Is Trying to Keep Grocery Prices Down By Doing This.
Amanda McDonald
Amanda has a master's degree in journalism from Northwestern University and a bachelor's degree in digital journalism from Loyola University Chicago.
Read more about Amanda