These 6 Grocery Items Probably Won't Face Shortages, Experts Say
Keep this list in your back pocket for a low-shelf day.
It can be daunting to hear about all the supply chain disruptions stores are still facing in 2022, leading to shortages, shipping delays, and price increases that impact the way you shop for your everyday needs. There are ways to rework your grocery list to stay on budget—buying the store brand or finding cost-effective substitutes—but constantly re-strategizing your shopping trips takes time and creates hassle. That's why it's good to have some staples in your back pocket that you can be certain to find.
Experts are weighing in—CEO and founder Bindiya Vakil of Resilinc, a company that uses predictive analytics to help build and sustain effective supply chains, and Phil Lempert, the consumer behavior analyst and founder behind Supermarket Guru—on the six types of products you can likely expect to be a little more "shelf-stable" through the next supermarket ups and downs.
Related: 6 Things You'll See at Costco This Year
Produce at the Farmer's Market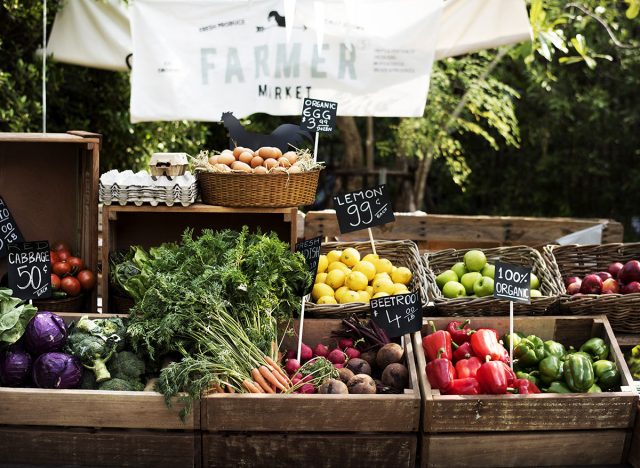 There are 8,600 farmers markets registered with the USDA, and it's becoming a well-known way to support local growers and shop sustainably. But browsing one is a great way to circumvent the shortages affecting supermarkets.
"Shopping at a local, specialty store that sources from local farms are a good option," says Vakil. "You can find locally grown fruits and vegetables much more easily from your neighborhood farmer's market."
Going this route takes a little more due diligence to get exactly what you want, however. Lempert says to check the boxes behind the table. "Look at where the product is coming from. You'd be surprised that it might be coming from Mexico or Peru. Not everything at a market is local, so you have to be careful."
If you're trying to buy organic, Lempert also warns you to check for the USDA Certified Organic seal to guarantee you're getting a thoroughly inspected product. "If there's [only] a handwritten sign, it's not necessarily organic," he says.
You can find nearby farmers markets by searching the National Farmers Market Directory.
Meat from a Local Butcher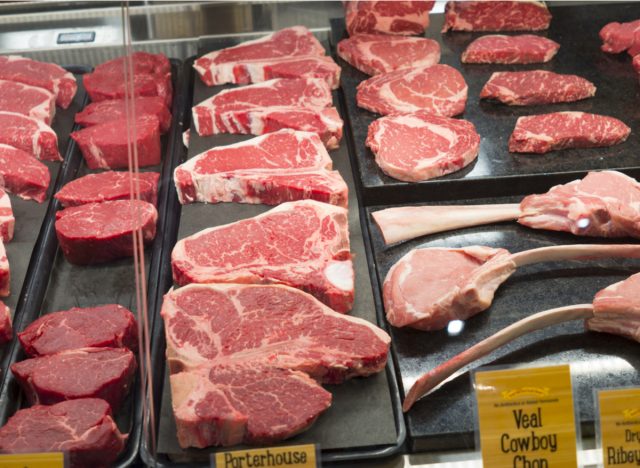 Amidst all of the production issues with meat, including shortages of raw materials and workers, weather disruptions, and costly pandemic-related sanitation measures, you'd be better off finding your cuts of chicken and beef from a local butcher.
"Foods requiring packaging and long-distance transport will have a harder time making it to store shelves," notes Vakil. "The items most likely to withstand these kinks are those that are regionally sourced: the shorter the transport…the less packaging required, the less likelihood of a disruption."
According to Lempert, due to transportation issues, many cattle ranchers have started using in-house or independent slaughterhouses, fast-tracking the meat to the customer directly. "You might well be able to find a farmer or rancher that is selling direct-to-consumer—you'll have a fresher product, and often it's less expensive."
If you're looking to find local, high-quality meat, Lempert suggests searching Good Meat Breakdown, where you can get connected to sellers, buyers, and more through their community Switchboard.
Groceries at the Dollar Store
You may not have expected to find low-cost fresh foods at the dollar store, but discount stores like Dollar General have started selling produce and other perishables through the pandemic to make groceries more accessible.
"There are about 35,000 dollar stores in the US, and they operate on opportunistic buying," Lempert says. This means consumer goods suppliers come to them with products that wouldn't be accepted by bigger retailers. "The products are up-to-code but may be discontinued or incorrectly packaged, so they sell them at a deep discount."
The only issue with going to your local dollar store for all your kitchen and household needs is consistency. Though stock is generally available, stores rotate through items and brands frequently. "You might find a product that you like, go back the next week, and it might be gone. But it's more of an adventure," Lempert says. "You might not find the same items every time, but you will find products on the shelves."
Apples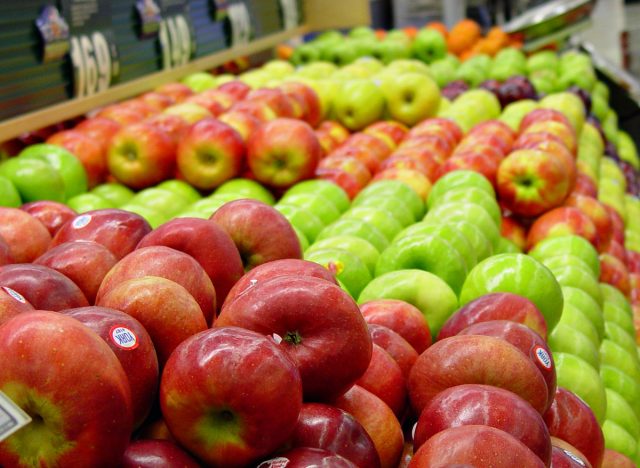 Apples have avoided making headlines among all of the shortages. FreshPlaza reported a healthy supply of Gala, Fuji, Red Delicious, and more for the upcoming year. According to Lempert, apples are harvested and then go into cold storage for the next year, so consumers are unlikely to see shortages in the next few months.6254a4d1642c605c54bf1cab17d50f1e
However, due to climate change and labor shortages, there may be changes in the upcoming yield that could lead to lower supply. "We don't know how the weather from the past two to three months will affect next year," Lempert notes.
To help you put your basket of apples to good use, we have a handful of delicious, healthy recipes so you can satisfy your sugar craving with this crisp, juicy fruit instead.
Greenhouse-Grown Produce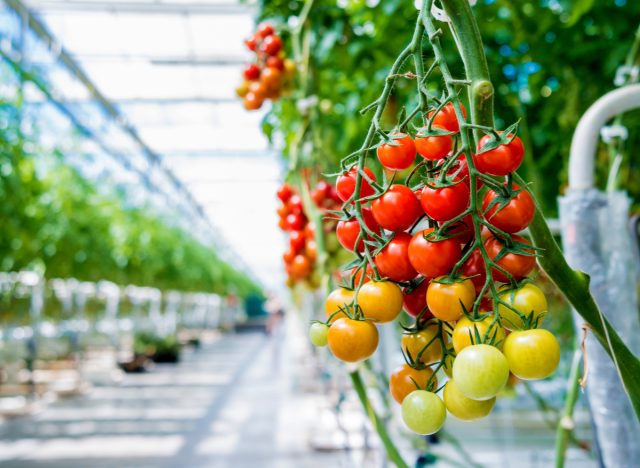 Greenhouses allow a variety of fruits and leafy greens to grow in a controlled environment, eliminating any temperature or water-related factors that could impede production, which allows them to flourish all year round.
"Anything grown in a greenhouse is more likely to be plentiful," Lempert says. Some of these products include tomatoes, lettuce, peppers, herbs, and strawberries.
In 2021, CNN reported that the largest U.S. greenhouse facility could grow up to 45 million pounds of tomatoes—30 times more per acre than traditional open fields—while using 90% less water. The artificial intelligence company that owns the greenhouse, AppHarvest, aims to use technology to create more sustainable growing practices.
Josh Lessing, AppHarvest's chief technology officer said to CNN, "We're creating a new framework for how to restructure the food supply, lower carbon emissions, and create stability."
Frozen Seafood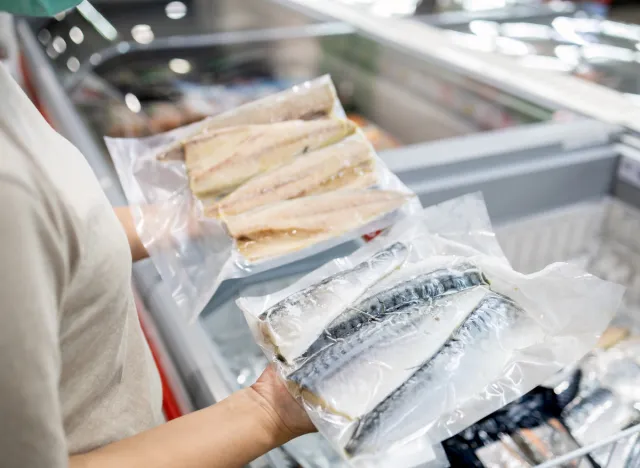 If you're already familiar with the numerous health benefits of incorporating more Omega-3 rich foods in your diet, you'll be glad to hear that seafood, when sold frozen, is likely to remain a staple you can find in most stores.
The production process for frozen seafood ensures freshness, and it's usually stockpiled for three to six months, so it's more likely to be available, according to Lempert.
"Most of the large fishing boats have the cleaning, freezing, and packaging of the fish right on board. That's one of the reasons that frozen fish can be better than fresh fish," he says.
The Wild Alaskan Company website explains the "flash frozen" process they use, which helps the fish retain more of its nutritional value and reduce the risk of contamination as it makes its way into your grocery cart.
The best part? Frozen fish is usually less expensive than fresh. "You can get a better product and save probably around 40% by buying from the frozen fish case," Lempert says.
Sarah Wong
Sarah studied at Northwestern University, where she received a bachelor's degree in computer science and experimented with mixing tech and journalism.
Read more about Sarah