The Dangerous Side Effect of Eating Red Meat, New Research Suggests
Consider ordering a plant-based burger instead.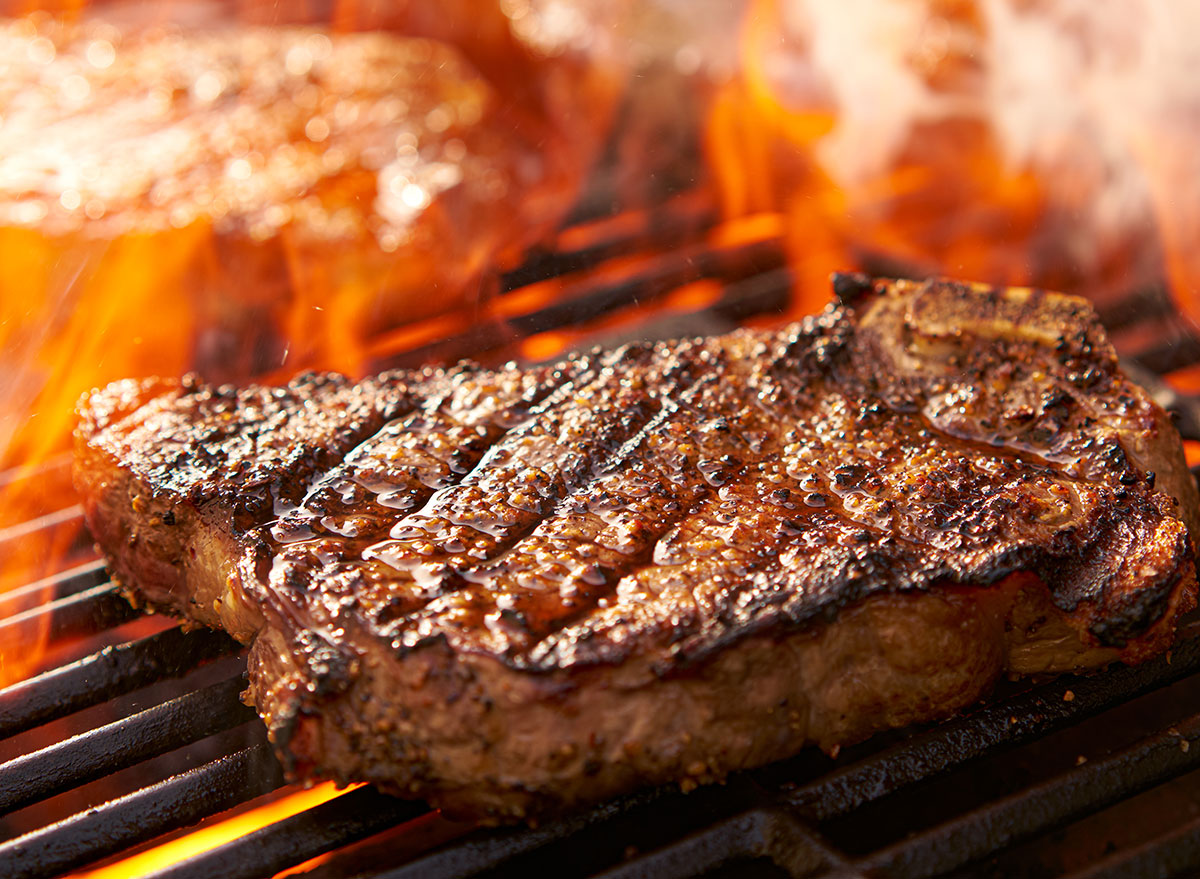 There are numerous reasons to consider cutting back on beef, pork, and other types of meat. Doing so could help alleviate joint pain, decrease inflammation, and lower your risk of fatty liver disease. Now, new research links a nutrient in red meat to an increased risk of cardiovascular disease, meaning cutting back on this food may also have a vital impact on heart health.
In the study, published in the journal Nature Microbiology, researchers from the Cleveland Clinic, a non-profit medical center, looked at how the consumption of L-carnitine, a chemical in red meat, contributes to the formation of trimethylamine N-oxide (TMAO), which is linked to a range of different cardiovascular problems.
Previous studies have linked TMAO to increased cholesterol in the arteries. Thus, it may not only increase your risk of cardiovascular disease risk but also your risk of stroke.
If you're a fan of red meat who's interested in cutting back but are struggling with the idea of completely eliminating it from your diet, consider starting small, Elena Paravantes-Hargitt, RDN, founder of Mediterranean diet resource OliveTomato and author of The Mediterranean Diet Cookbook for Beginners, tells Eat This, Not That! an interview.6254a4d1642c605c54bf1cab17d50f1e
"Instead of going cold turkey, you can start by reducing the portion sizes," she suggests. "[You can also] choose a meatless day. Meatless Monday is a great campaign that provides ideas and support on cutting down on meat."
Related: What Eating Red Meat Every Day Does to Your Body
As an added bonus, committing to going meatless Mondays would not only benefit your health but also give you the chance to explore a ton of new recipes and discover your next favorite group of food influencers.
When possible, Parvantes-Hargitt also recommends subbing out red meat for other hearty proteins as you aim to let vegetables play a more central role in your diet.
"There are many hearty vegetable and bean dishes that are satisfying and filling," she says. "Aim to have a vegetable or bean main course two to three times a week."
For ideas of swaps you can make to reduce your red meat intake (while still making sure that you're getting plenty of the nutrients you need), check out these 26 Best Vegetarian Sources of Protein. And to get all of the latest news delivered straight to your email inbox every day, don't forget to sign up for our newsletter!
Clara Olshansky
Clara Olshansky (they/she) is a Brooklyn-based writer and comic whose web content has appeared in Food & Wine, Harper's Magazine, Men's Health, and Reductress.
Read more about Clara