20 Vegetables Ranked By Protein
Meat, beans, tofu and powders aren't the only ways to get your daily dose of protein. Time to veg out!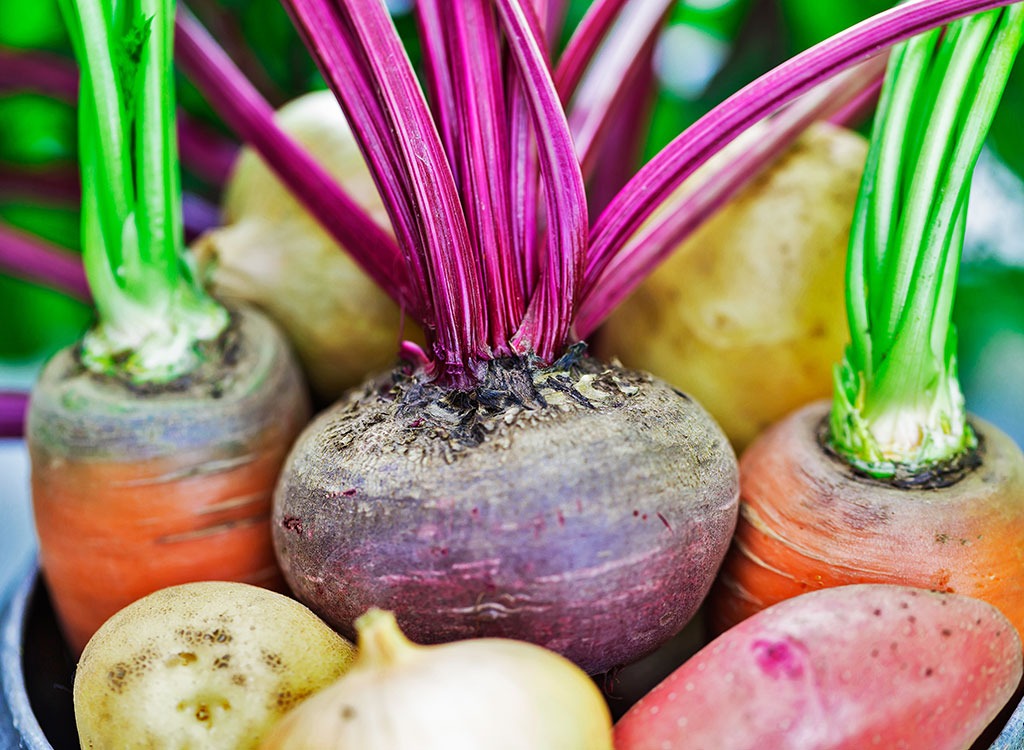 After sneaking in a much-needed post-holiday workout, my friend Sarah and I hit up a restaurant in town for lunch. "I'll have the lean chicken breast," she told the waiter, "Gotta up my protein." Smart choice: A solid serving of protein after a sweat sesh is crucial for building lean muscle mass and blasting away belly fat. "As for me," I said, glancing past the meats, "I'll have…. the roasted veggie salad." Surprised? So was Sarah. "I'm going to let you in on a little secret," I told her. "Protein-packed chicken isn't the only food that helps you get toned. Veggies also pack a punch." In fact, some high-protein vegetables have as much as 8 grams per cup. That may pale in comparison to a chicken breast (34 grams per 4 ounces) or burger (26 grams per quarter pounder), but vegetables are also high-fiber foods that contain antioxidants and vitamins.
They're not only more affordable sources of the nutrient than fish and beef, but they can be healthier, too: People who consume higher amounts of vegetable protein are significantly less susceptible to developing type 2 diabetes, according to a study published in the British Journal of Nutrition. What's more, the study found that replacing about 5 grams of animal protein with plant protein daily would reduce the risk of diabetes by an impressive 18 percent. 

That's not all. Another Nutrients journal study found that plant protein could help dieters feel just as full and less hungry than the same amount of animal protein.
Looking to reap the slimming benefits? We've gathered up the most popular veggies on your plate and ranked them according to their protein content. So whether you're a vegetarian or an omnivore just looking to pack on the protein without having to scarf down another baked chicken breast, bookmark this handy guide to always have your go-to plant-based sources on hand.
Yes, we included some botanically classified fruits like eggplant and pepper, but we put them on the list because people typically eat them like veggies. All protein content information was collected from the USDA's National Nutrient Database for Standard Reference. Also, check out 25 Popular Fruits—Ranked by Sugar Content!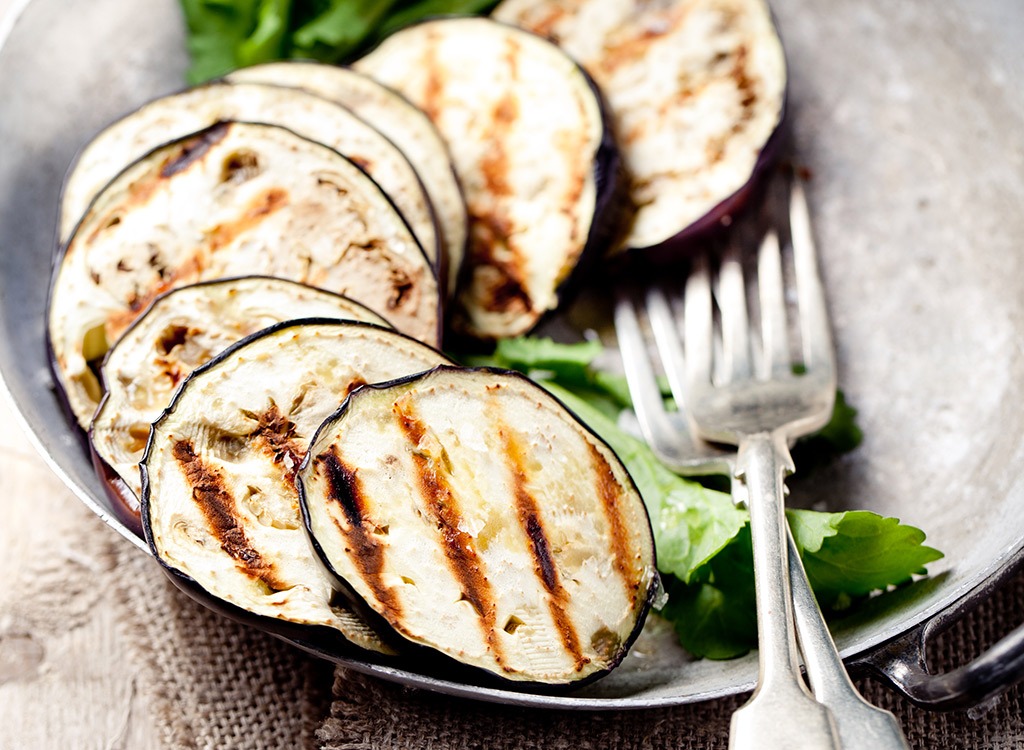 Protein, per 1 cup: 0.82 grams
While eating eggplant won't be listed as one of the best weight loss tips from the world's fittest men as it's fairly low in the protein department, it's still a great addition to your diet. The purple plant is packed with powerful antioxidants called anthocyanins that provide neuroprotective benefits like bolstering short-term memory.
Sign up for our newsletter for more healthy eating tips and cozy recipes.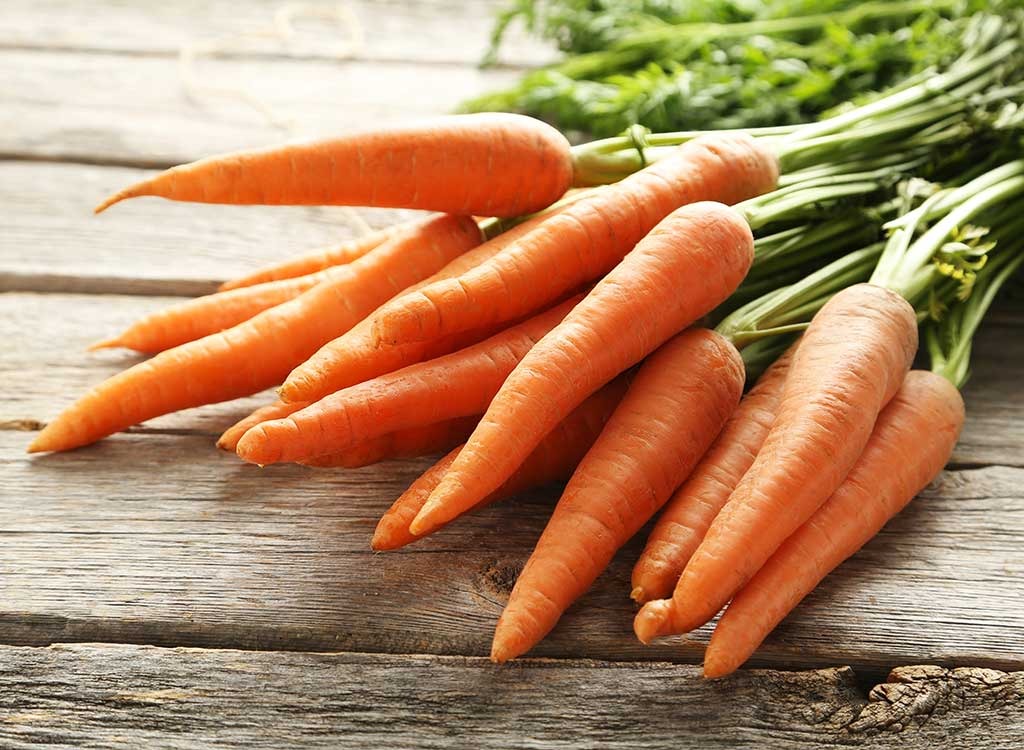 Protein, per 1 cup chopped (raw or boiled): 1.19 grams
What's up, doc? Unfortunately, it's not the protein content of carrots. That being said, munching on these veggies either raw or steamed will still serve up a healthy dose of inflammation-fighting vitamin A. Try one of our 41+ Best Carrot Recipes for Weight Loss.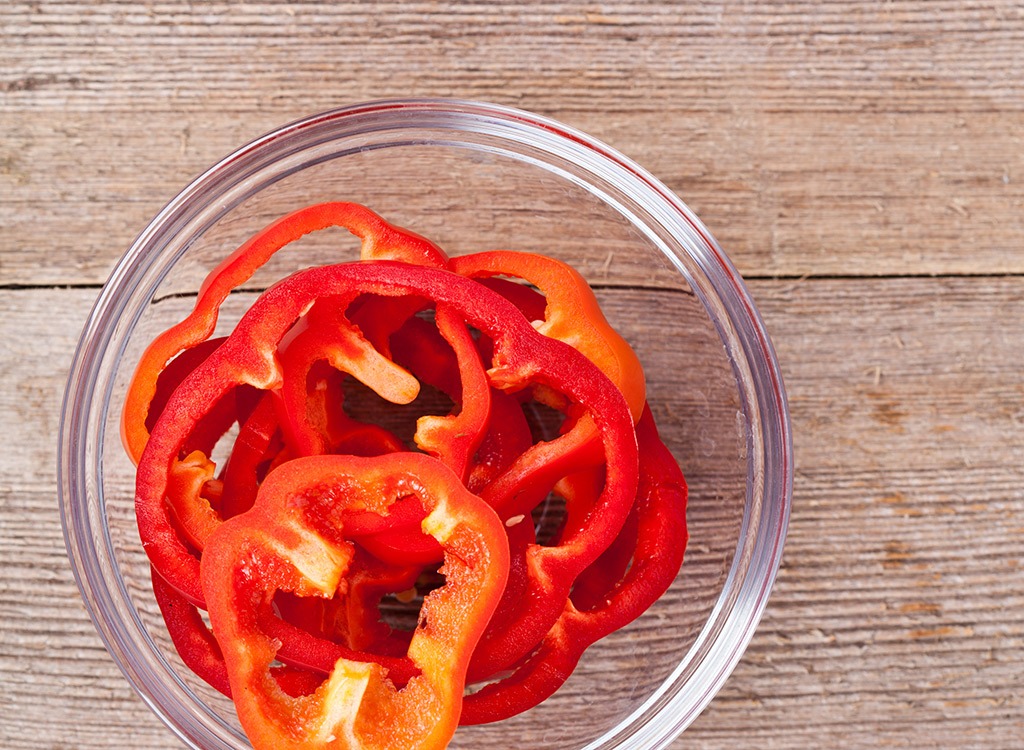 Protein, per 1 cup chopped (raw): 1.48 grams
Although bell pepper won't directly increase your lean muscle mass, the vitamin-C-rich veggie will still help you turn off the stress hormone that's causing you to put on belly fat. Find out the Secret Effects of Eating Bell Peppers, Says Science
Protein, per 1 cup (cooked): 2.47 grams
Protein, per 1 cup (raw): 0.68 grams
You'll soon see that kale has more protein than the next veggie, but we docked it a spot because the majority of dieters eat this leafy green raw, in which case, you'll only get a measly half a gram of protein out of a cup. To up your muscle-building power, we'd recommend adding some chickpeas to your next kale salad. Try one of our 15+ Best Healthy Kale Recipes for Weight Loss.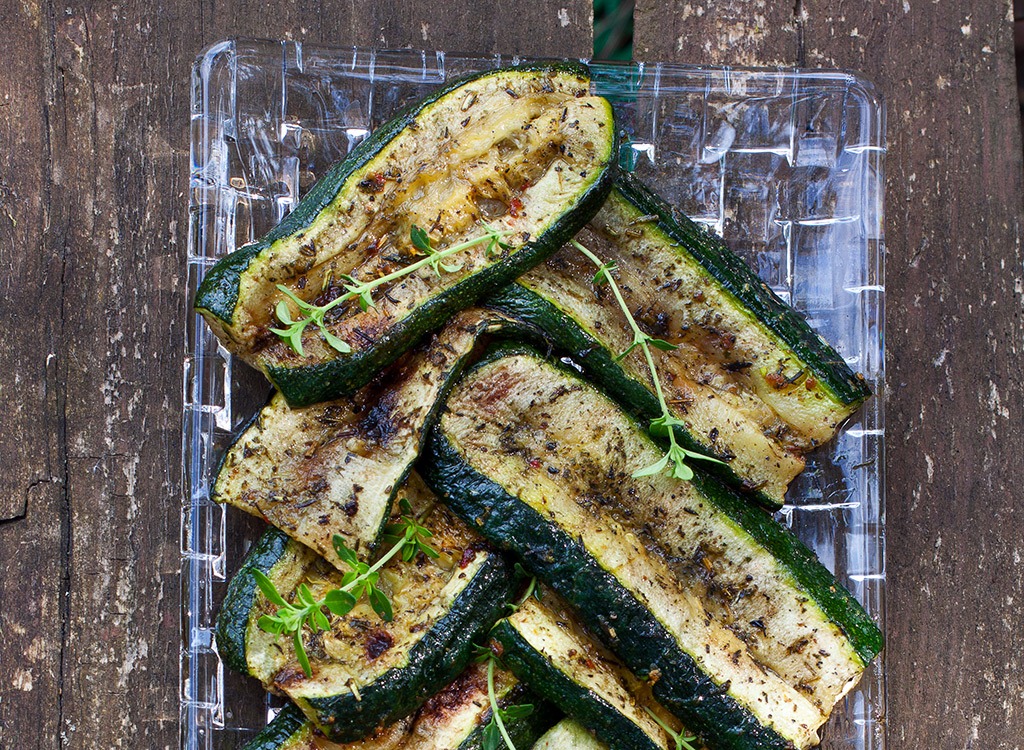 Protein, per 1 cup sliced (cooked): 2.05 grams
It may be low, but 2 grams of protein for only 27 calories and an additional 2 grams of fiber isn't all that bad for zucchini. Saute it up in some olive oil for a side dish, or throw diced zucchini into one of these soup recipes.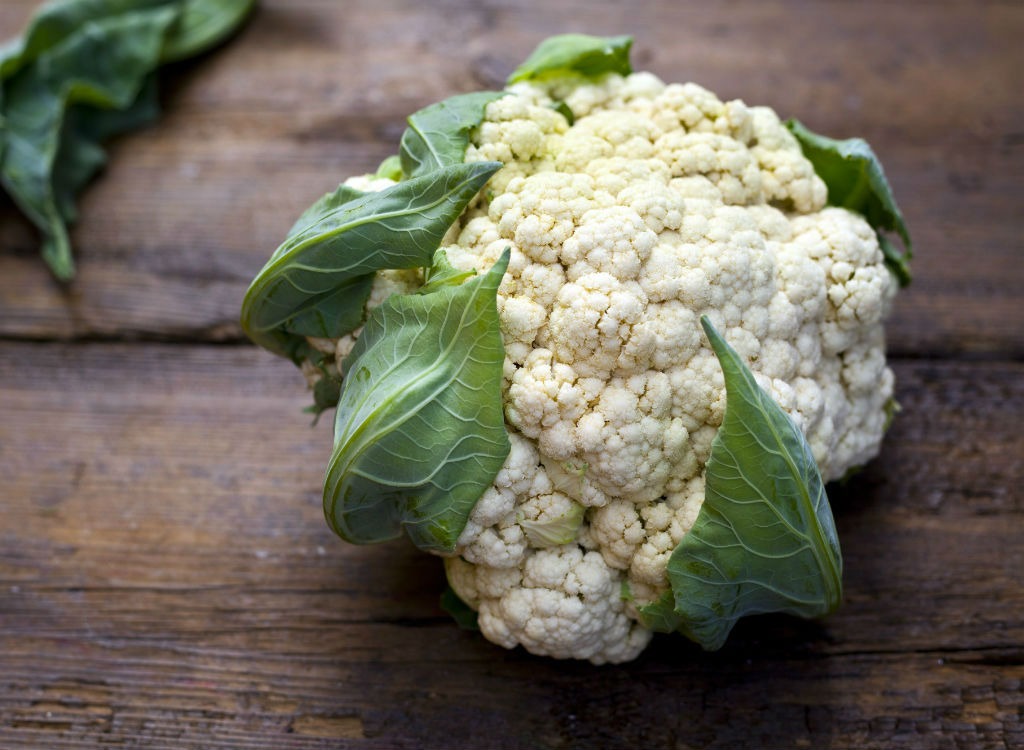 Protein, per 1 cup: 2.28 grams
It's one of our favorite cruciferous veggies to roast, but pick it up to make a low-carb pizza crust rather than a replacement for your roast pork. Try one of these 13 Delicious Recipes That Prove Cauliflower Is the Greatest Thing Ever!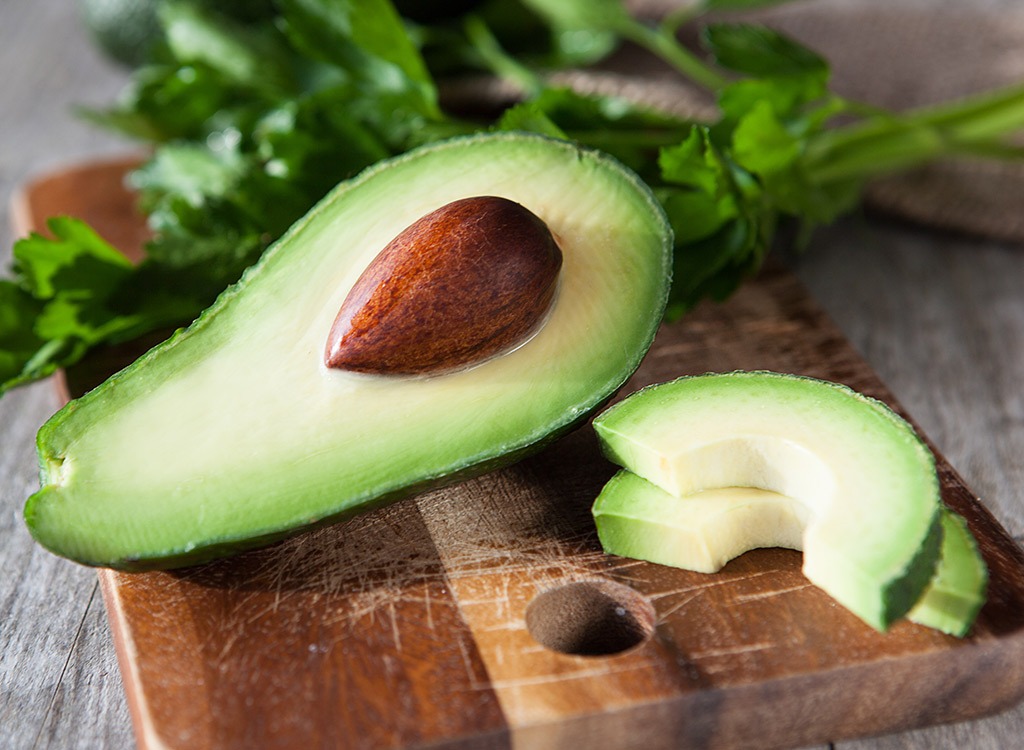 Protein, per 1 cup (cubes): 3.00 grams
To get those three grams of protein, you'll also have to scarf down 240 calories, so don't go too crazy. Rather, a more reasonable serving size is ½ an avocado, which will still give you 2 grams of protein. Slice some of this healthy fat to serve on a slice of sprouted grain bread, on a side salad, or throw it into a smoothie! Here are 18 Things You Had No Idea You Could Do with Avocados.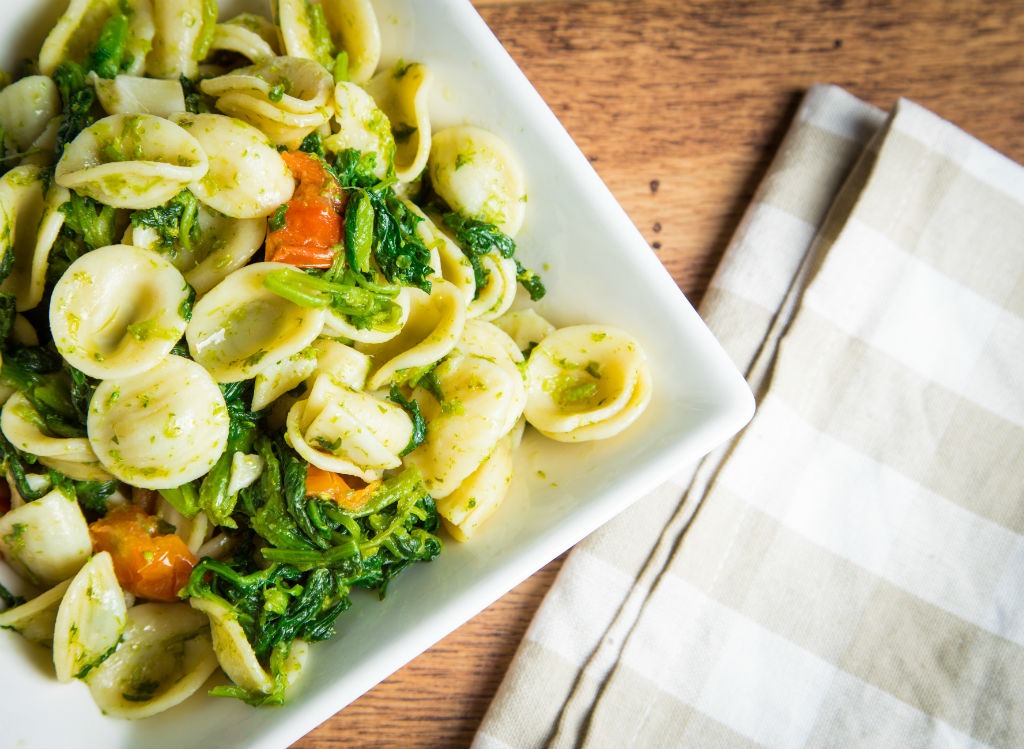 6254a4d1642c605c54bf1cab17d50f1e
Protein, per 1 cup (cooked): 3.26 grams
If you can get past the bitter taste, broccoli rabe is a great addition to your diet. If not for its protein content, do it for the calcium: A cup of the steamed high-protein vegetable has a whopping 301 milligrams of bone-protecting calcium—that's 30 percent of your recommended daily intake! Calcium doesn't just help protect your bones, it also plays a role in maintaining proper muscle function and boosting endurance. And if you are over 60, here are the best foods to eat every day.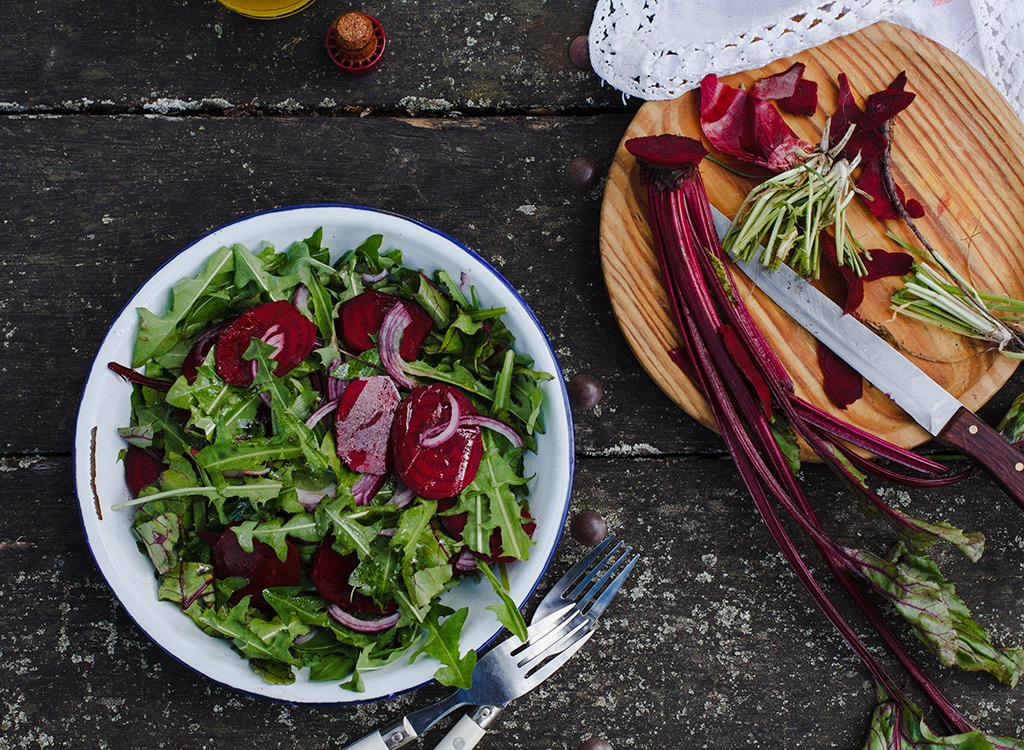 Protein, per 1 cup (sauteed): 3.70 grams
Protein, per 1 cup (raw): 0.84 grams
Commonly found in mixed greens, seek out a package of exclusively beet greens to reap their satiating properties. A sauteed cup of the high-protein leaves will serve up close to four grams of protein along with an additional four grams of belly-filling fiber. Try one of our 13 Ways to Cook With Beet Greens and Beet Root.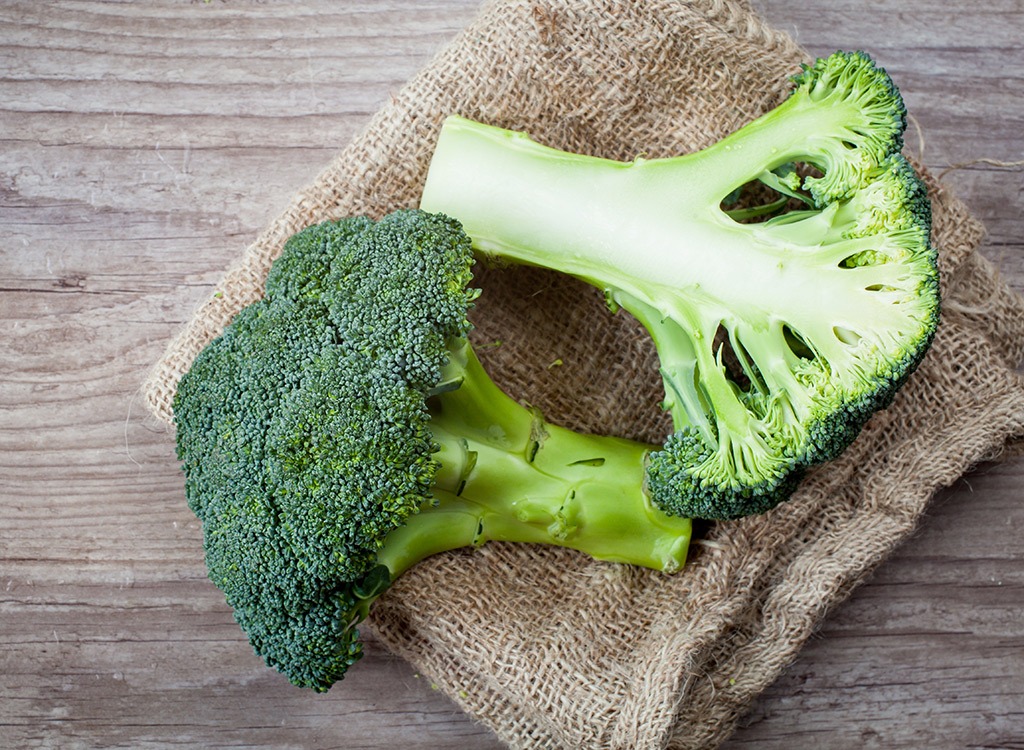 Protein, per 1 cup: 3.7 grams
This cruciferous veggie packs a whole lot of protein. We like it steamed (to preserve most of its water-soluble nutrients!) until al dente and topped with low-sodium soy sauce and sesame seeds. Yum! As an added bonus, chomping on steamed broccoli just a few times a week is clinically proven to lower rates of breast, lung, and skin cancers—that's why it's one of the best foods for women!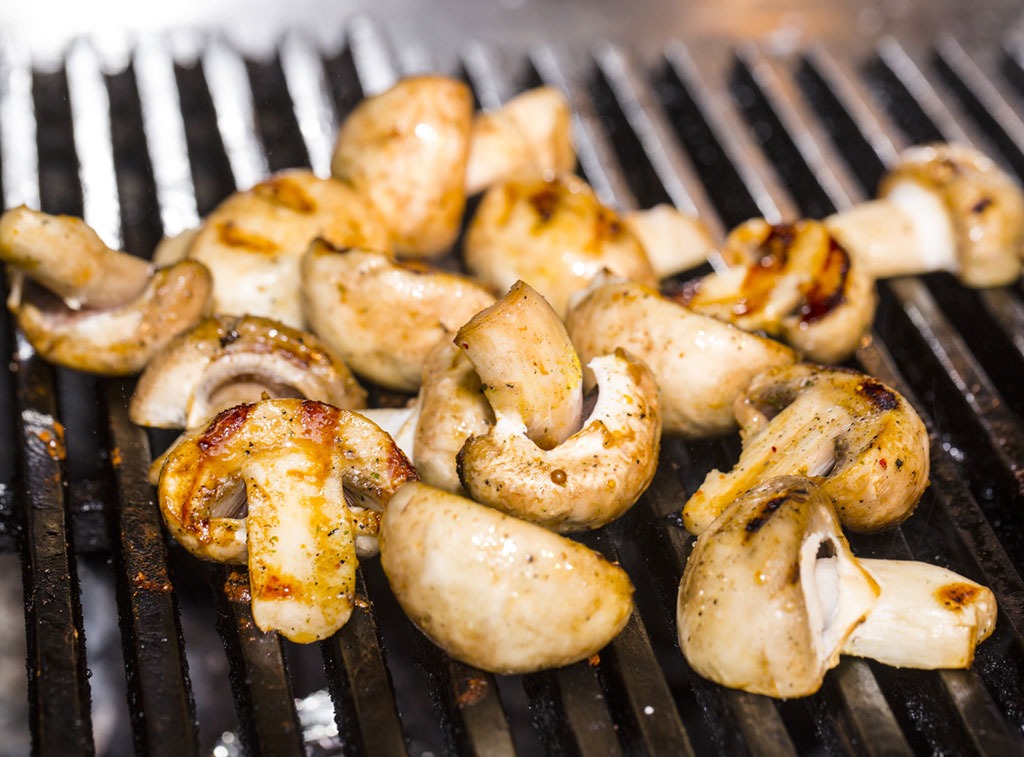 Protein, per 1 cup (Portabella, grilled): 3.97 grams
Protein, per 1 cup (Shiitake, stir-fried): 3.35 grams
Protein, per 1 cup (White, boiled): 3.39 grams
Mushrooms are a favorite of vegetarians thanks to their unctuous umami flavor that's also found in meat and cheese (and what makes each taste so good!). Not only do these fungi offer up a decent serving of protein, but they also are one of the few non-animal-based sources of vitamin D—a vitamin that boosts immunity and is essential for bone health. Here are The 45 Best Recipes for an Instant Vitamin D Boost.
Protein, per 1 cup (cooked): 3.98 grams
These crucifers shouldn't be reserved for your Thanksgiving table. Add Brussels sprouts to your diet to supplement your protein intake as well as help decrease bad cholesterol levels due to their high fiber content. Also, check out the 20 Best Fruits and Vegetables to Keep You Full Longer.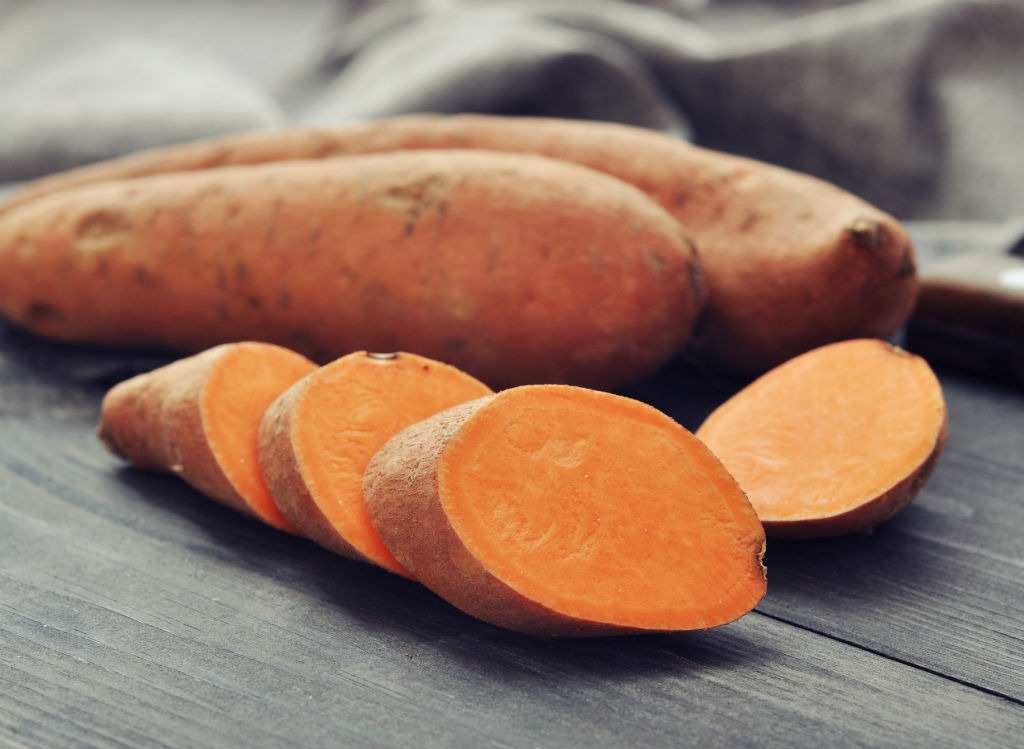 Protein, per 1 cup (baked with skin): 4.02 grams
Sweet potato? More like sweet protein! Add this tuber as a side dish to your typical chicken breast meal to up your protein content even more and you'll also reap the benefits of their carotenoids: disease-fighting compounds that give you glowing skin.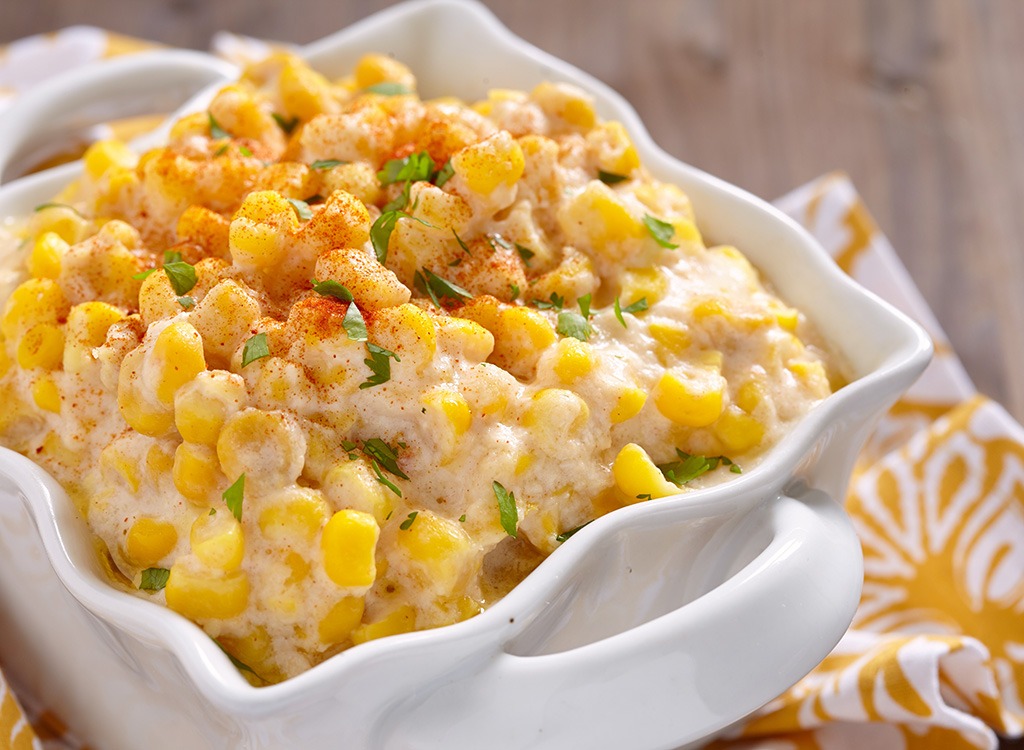 Protein, per 1 cup: 4.21 grams
This sweet veggie is also packed with an equal amount of fiber. The only problem is it's higher in calories than other veggie-based protein sources, coming in at 134 calories. At least you'll be ingesting loads of free-radical fighting antioxidants! Sweet yellow corn is full of lutein and zeaxanthin—two phytochemicals that work in tandem to promote healthy vision. Here are some other Surprising Side Effects of Eating Corn, Says Science.
Protein, per 1 cup (cooked): 4.32 grams
Who knew that so much protein could be stuffed into a 32-calorie cup of these skinny spears? Besides the protein, we also love that asparagus is jam-packed with inulin (a type of prebiotic fiber that promotes the growth of healthy bacteria in your gut) and potassium, which can help you look slimmer by keeping bloating at bay. If bloating is your problem, check out 25 Tips on How To Reduce Bloating In Less Than 24 Hours.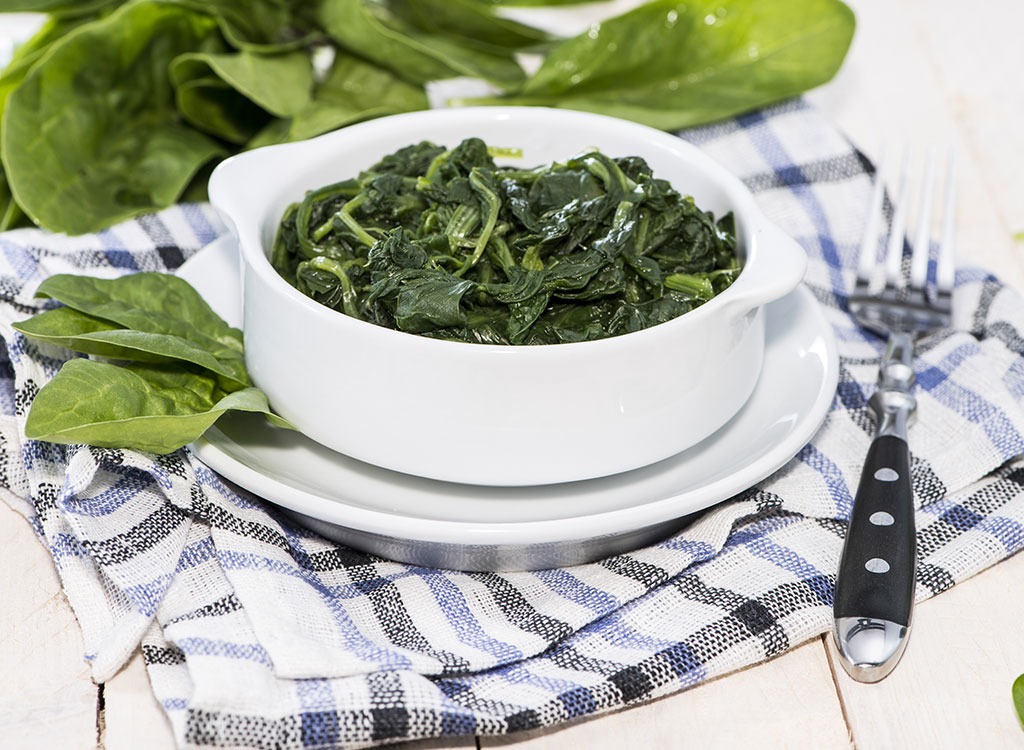 Protein, per 1 cup (cooked): 5.35 grams
Protein, per 1 cup (raw): 0.86 grams
Now we know why Popeye had such large muscles! Baby spinach might be small, but it packs a powerful protein punch. We'd recommend eating it sauteed for the most hunger-quelling benefits: while one cup of cooked spinach has over five grams of fiber, the same cup of raw spinach doesn't even make it to one. Here's What Happens to Your Body When You Eat Spinach, Science Says.
Protein, per 1 cup (cooked): 5.08 grams
You'll start squashing your workout routine when you add Hubbard squash to your diet. With five grams of protein per cup, this roasted squash makes a great, filling addition to your favorite veggie-filled soup recipe or tossed with pine nuts, arugula, and bow tie pasta. Seek out a perfect squash at The Best Farmers Market in Your State.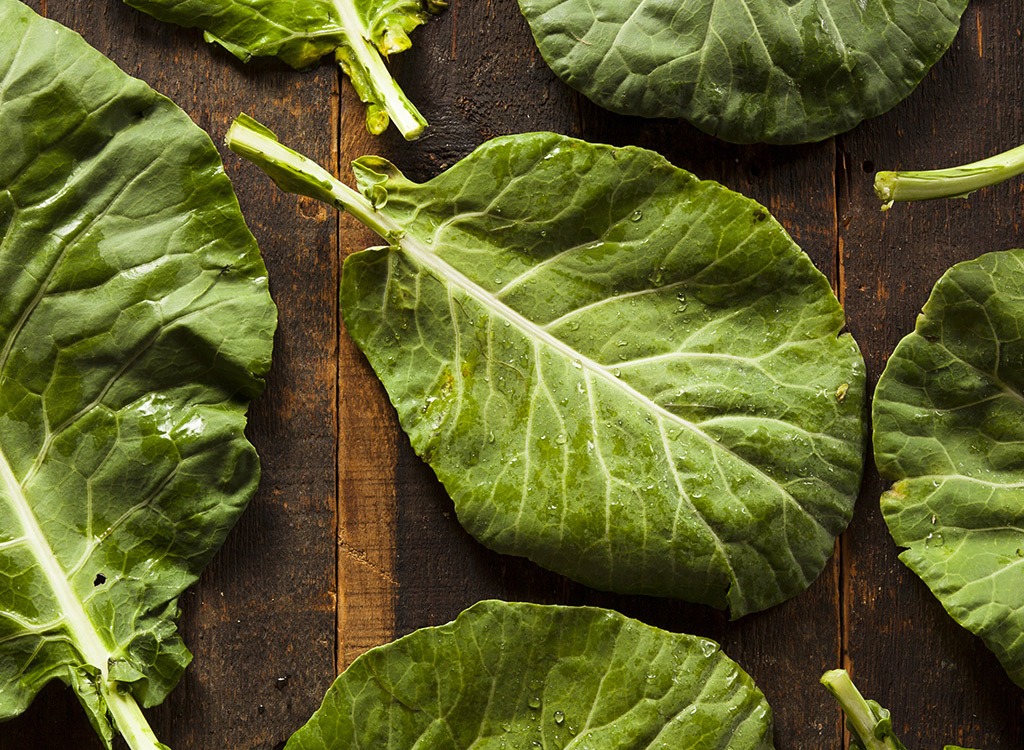 Protein, per 1 cup: 5.15 grams
You won't reserve this southern staple to solely be served with barbecue anymore. Collard greens are also a great source of folate (serving up 75 percent of your recommended daily intake). The B vitamin helps with the production of serotonin, a neurotransmitter that keeps us happy, as well as aids with focus, energy, and alertness—not to mention, increases sexual stamina.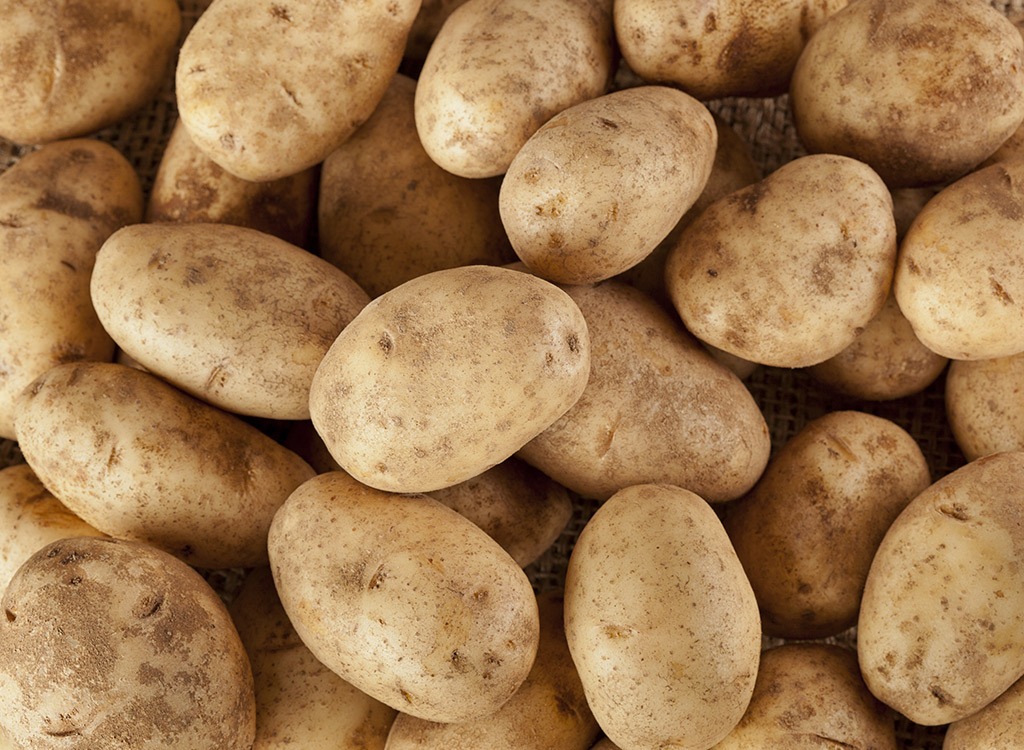 Protein, per large potato with skin (baked): 7.86 grams
All hail the humble potato! Still "clothed" in its skin, the tuber provides almost 8 grams of protein and plenty of slow-digesting carbs to help your muscles rebuild and recover after an intense workout. We like serving our baked potato with a sprinkling of cheddar cheese, a dollop of Greek yogurt, some chopped scallions, and a sprinkle of salt and pepper.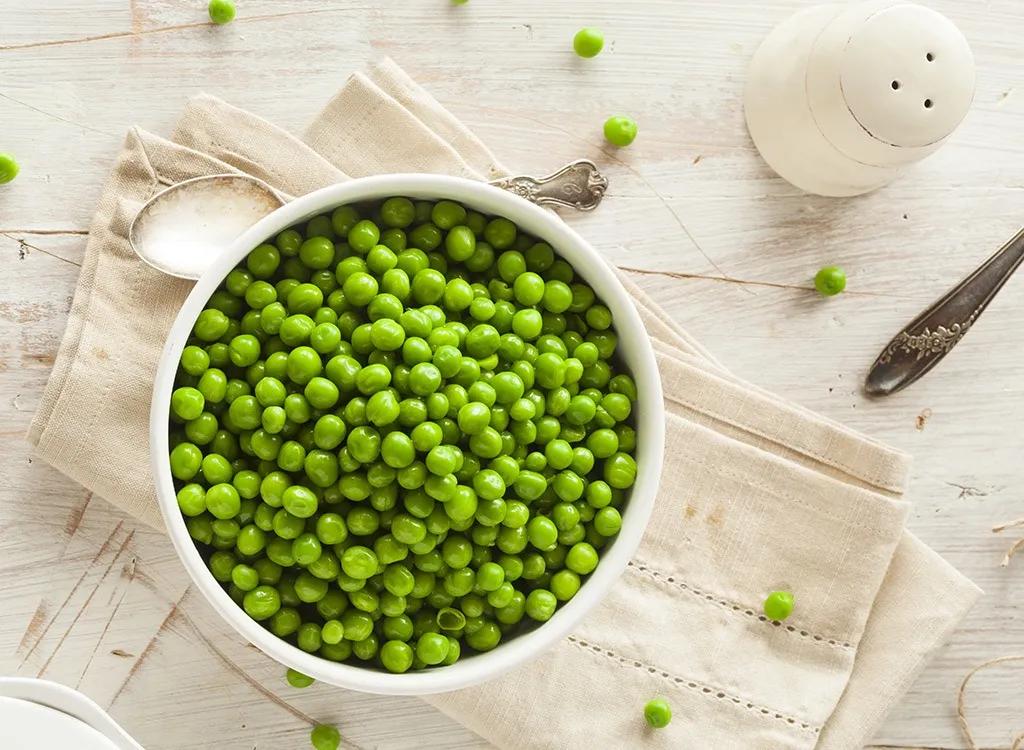 Protein, per 1 cup (frozen then cooked): 8.24 grams
Although, yes, technically peas are part of the legume family, many people eat them as they would other high-protein vegetables: steamed with carrots, thrown into a veggie fried rice, or added to a chicken pot pie. And we're all for it. These tiny green beans will not only tone your muscles with over eight grams of protein, but they'll also provide seven grams of satiating fiber—all for a mere 125 calories. Adding non-starchy veggies like peas to your diet can help you lose inches of belly fat.
Read more:
Olivia Tarantino
Olivia Tarantino is the Managing Editor of Eat This, Not That!, specializing in nutrition, health, and food product coverage.
Read more about Olivia