12 Delicious Celeb Recipes You Can Make Today
Now you can really see exactly what the famous like to cook and eat!
If you've ever wondered what the rich and famous like to eat, welcome to the club. You might think celebrities are always indulging in opulent meals that are out of reach for the rest of us, but in reality, they enjoy a quick-and-easy dinner, too.
Although you might not be looking to refuel after a long shoot day or whip up a healthy breakfast before you spend the afternoon in the recording studio, you can enjoy these simple, delicious recipes from the stars themselves. And to really step up your cooking game, check out the 100 Easiest Recipes You Can Make.
Meghan Markle's Zucchini Bolognese
Want to eat like a royal? Enjoy this plant-based twist to traditional bolognese with Meghan Markle's simple dish. Perfect for warmer weather, you just need zucchini, onion, oil, and bouillon. It's not necessarily quick, as it needs to simmer for four hours to let the zucchini break down into a meat-like texture, but the process is very hands-off. Then, she tosses it with pasta, salt, pepper, and lemon juice before topping it all off with a little parmesan cheese.
Kristen Bell's Everything Cookies
Gluten-free cookies? Yes, please! Despite the lengthy list of ingredients, these cookies by Kristen Bell are primarily made with pantry staples and come together in about 20 to 30 minutes, including prep time. Delicious ingredients like applesauce, cinnamon, nutmeg, vanilla, oats, chocolate chips, and butterscotch chips make for a flavorful cookie that you won't be able to get enough of.
Beyoncé's Guacamole
You can never go wrong with a simple guacamole recipe, but guac by Queen Bey herself? You just need avocados, onion, fresh garlic, a tomato, lime juice, and salt and pepper to make this dip. Serve it up with corn chips or fresh veggies and you have an impressive and yummy appetizer or snack.6254a4d1642c605c54bf1cab17d50f1e
Looking for more tips? Your ultimate restaurant and supermarket survival guide is here!
Trisha Yearwood's Blackberry Cobbler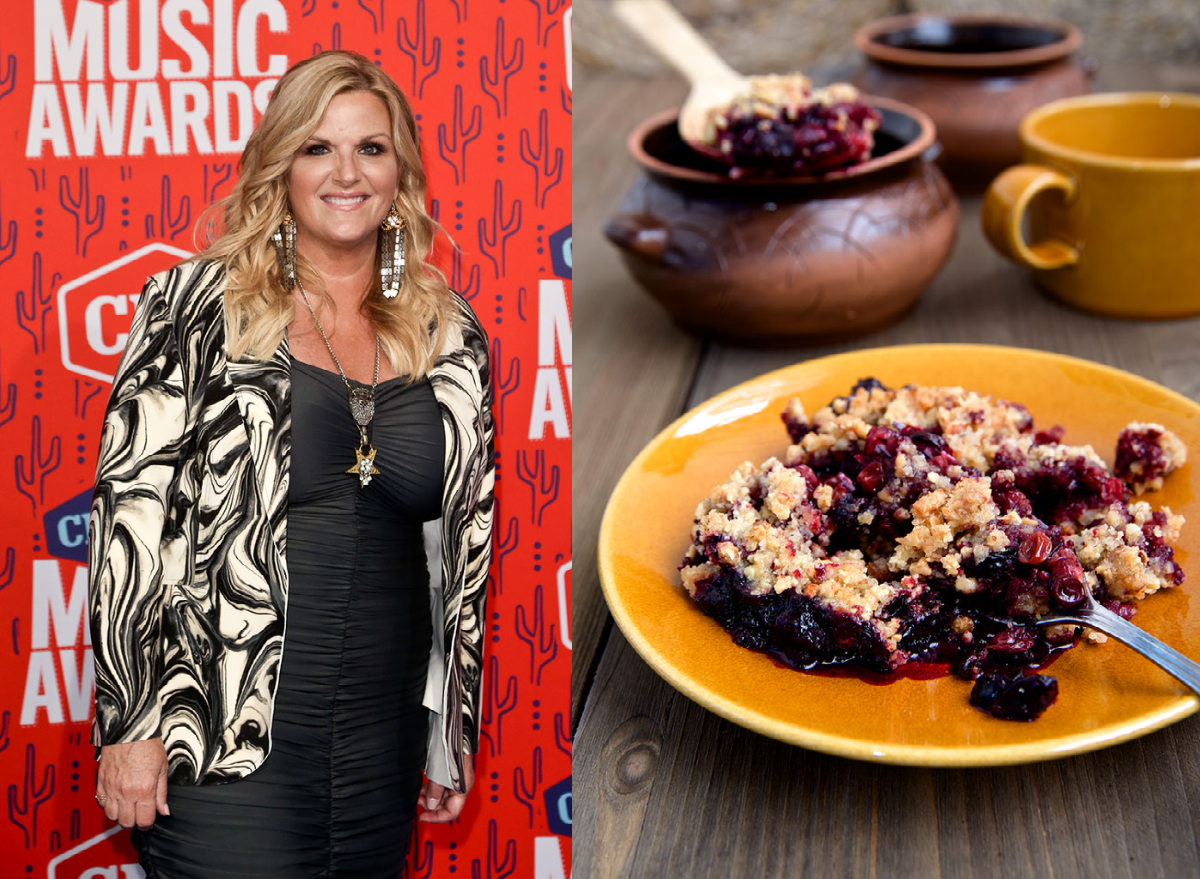 As the weather gets warmer, berry cobblers are a coveted dessert. But the crust of pies and cobblers can be tricky to get right. Enjoy the fresh, ripe berries of the warmer months with this blackberry cobbler by Trisha Yearwood, which also includes a quick, beginner-friendly crust and just five ingredients (six if you count the vanilla ice cream to go on top!).
Tia Mowry's Grilled Shrimp Salad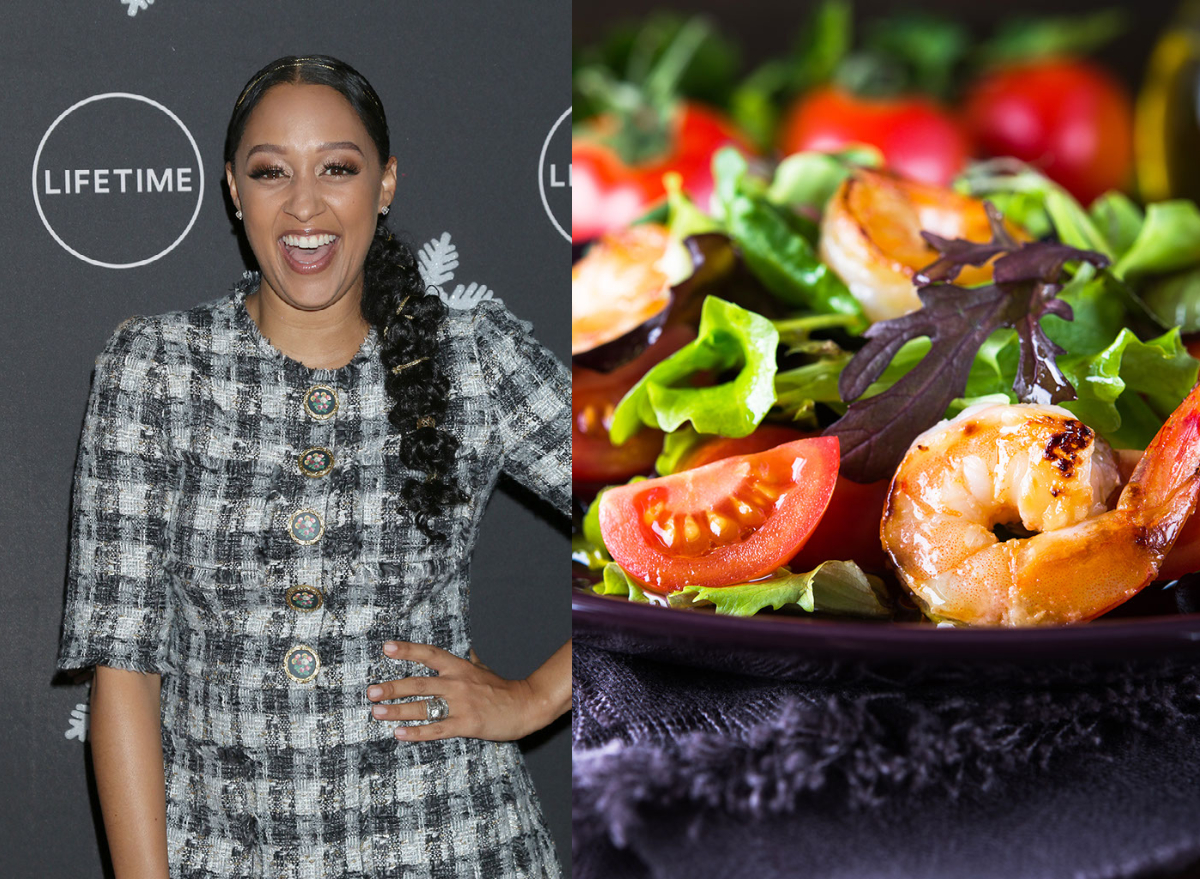 This vibrant, light salad has a flavorful protein boost thanks to the grilled shrimp. The actress even includes a homemade vinaigrette made with just four kitchen staples to really let the flavor of the veggies and shrimp shine.
Jessica Alba's Turkey Meatballs
For a lighter meatball, Jessica Alba uses turkey plus some sneaky vegetables for a nutritious boost. A pro at meal prep, the actress likes to make a large batch of this recipe, then uses it for different meals throughout the week. Try them with salad, on a sub, over pasta, with roasted veggies, or all on their own in your favorite sauce.
Drew Berrymore's Halibut Milanese
Ready in 25 minutes, Drew Berrymore's recipe for Halibut Milanese offers a filling and healthy dinner idea. All of the ingredients are easy to pick up at your local grocery, too. The breaded fish is served with a simple arugula and tomato salad to complement the flavor of the halibut.
Snoop Dogg's Bow Wow Brownies
Quite possibly my favorite brownie recipe ever—and no, there's no marijuana in them—Snoop Dogg's brownies are loaded with chocolate. As a close friend of Martha Stewart's, it's no surprise Snoop Dogg is also so skilled in the kitchen. These are definitely best reserved as an occasional treat, but they are pretty straightforward for a brownie recipe. Best of all, you sprinkle a heavy helping of chocolate chips on top of the batter before it bakes, making for a gooey, fudgy treat.
Martha Stewart's Beet Hash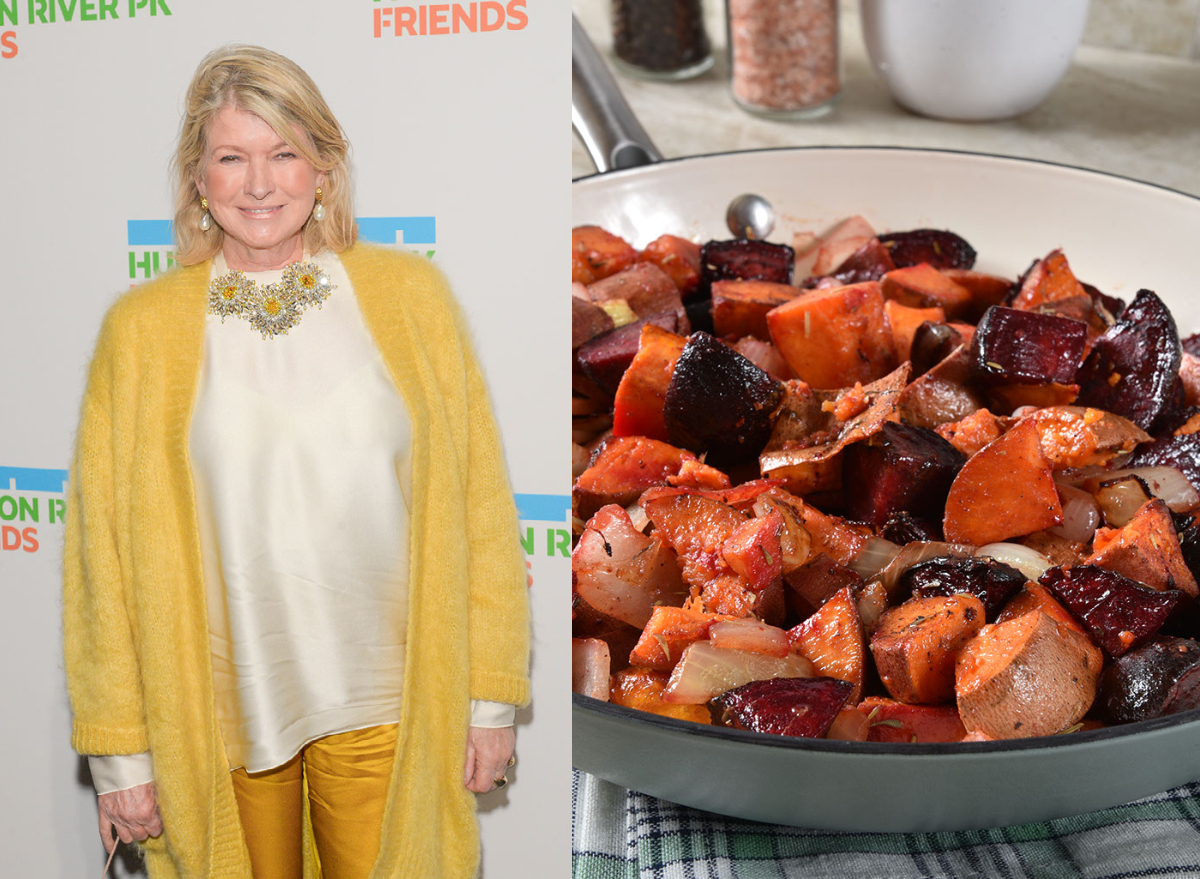 Speaking of Martha Stewart, we couldn't do a collection of celebrity recipes without something from the legend herself. For a speedy, simple, and delicious meal morning or night, this beet hash will do the trick. The beets add a unique twist and extra nutrients to your typical hash, and poached eggs round out the dish with protein. In fact, beets are a rich source of antioxidants, fiber, folate, potassium, and vitamin C, so this is a breakfast hash you can feel good about! The entire meal takes 30 minutes to make.
Chrissy Teigen's Pizza Dip
Part pizza, part dip—what's not to love? Chrissy Teigen's recipes are well-loved by many people, and this pizza dip is no exception. Even better is that it takes 25 minutes to make and leaves only one dish to clean up. The ingredients are likely , and makes use of store-bought ingredients like premade French bread and your favorite marinara sauce to simplify the process.
Alicia Silverstone's Chocolate Peanut Butter Cups
In her cookbook, The Kind Diet, Alicia Silverstone shares a healthier version of Reese's cups. "Back in the day, I was obsessed with Reese's Peanut Butter Cups," Silverstone writes. "Now I make this healthier version and they are way better. In fact, I think they are the most ridiculously delicious things in the entire world." These sweet bites are vegan and require just 15 minutes of prep for a treat you can enjoy all week long.
Stanley Tucci's Simple Pasta
Stanley Tucci is taking the food world by storm with a new show, Stanley Tucci: Searching for Italy—not to mention his viral Instagram videos. When he's not shaking up a cocktail, the beloved actor is often making delicious meals at home. One of his go-to comfort dishes is a simple, no-recipe recipe for pasta. "Really something simple, like pasta with sauteed onion, garlic, fresh tomatoes and basil, and maybe a little Parmigiano or ricotta or goat cheese," Tucci told Parade. A no-frills, yet still delicious meal? Sounds good to us!
Paige Bennett
Paige is a Los Angeles-based editor and freelance writer. In addition to writing for Eat This, Not That!, she works as the content editor for Inhabitat.
Read more about Paige