We Just Discovered The Easiest Healthy Hack for Oatmeal
Oatmeal can be even healthier?! Dietitians explain how.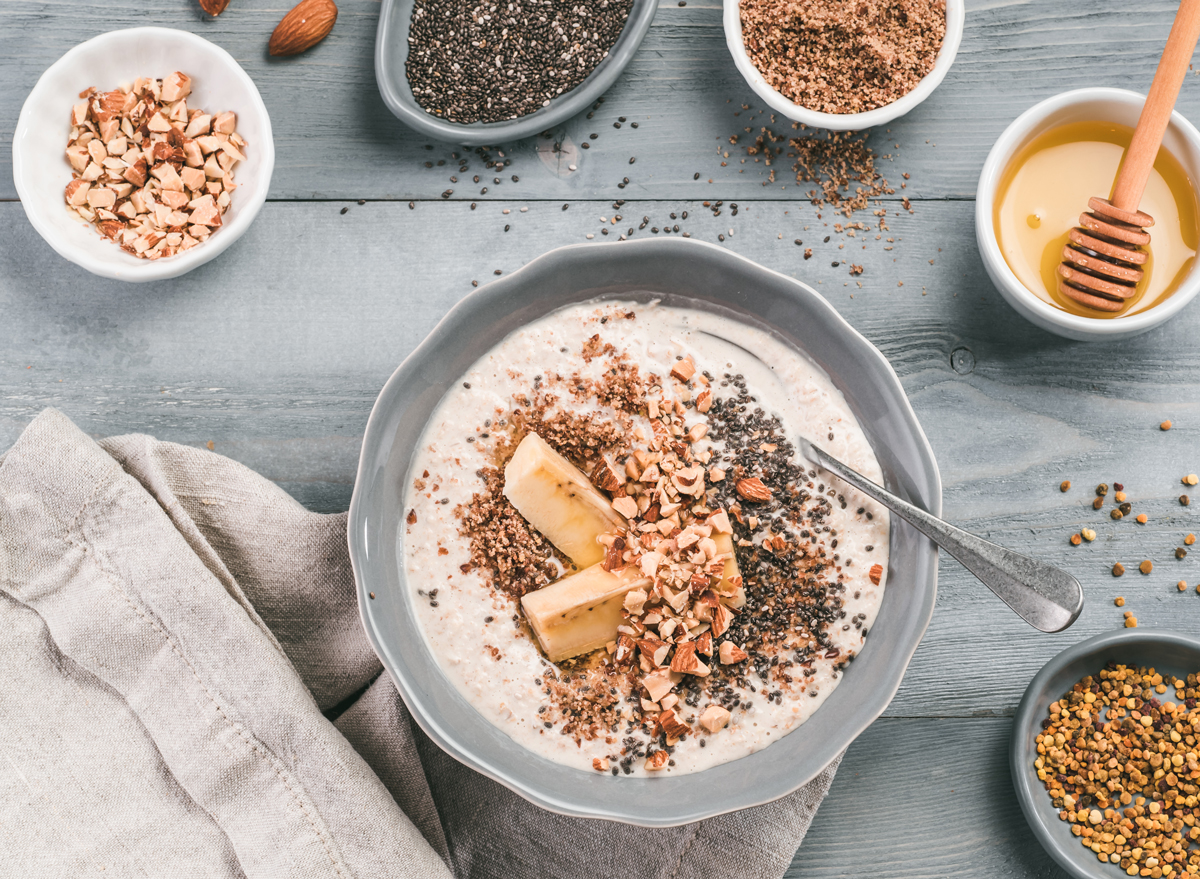 Oats are incredibly healthy. "Oats are nutritional powerhouses filled with soluble fiber, protein, and essential nutrients like iron and vitamin B-6," says Kelsey Lorencz, RDN, Registered Dietitian Nutritionist at Graciously Nourished.
And if you haven't been eating oats, there's a few good reasons you should: "Eating 2-3 servings of whole grains (like oats!) per day is associated with a reduced risk for cardiovascular disease, good levels of LDL 'bad' cholesterol, and even a healthy gut/microbiome. And oatmeal has been scientifically-proven to help you feel full between meals," says Julie Miller Jones, PhD, LN, CNS, an emeritus professor of nutrition at St. Catherine University and a member of the Grain Foods Foundation's Scientific Advisory Board.
But did you know that there actually preparation methods that could increase oatmeal's health benefits? We asked a team of registered dietitians for their tips on how to make oatmeal even healthier. That's how we discovered the easiest hack for a healthier bowl of oats all has to do with what you're putting on top of it.
Read on, and for more on healthy eating, don't miss 7 Healthiest Foods to Eat Right Now.
Your bowl of oatmeal is only as good as what you're eating it with.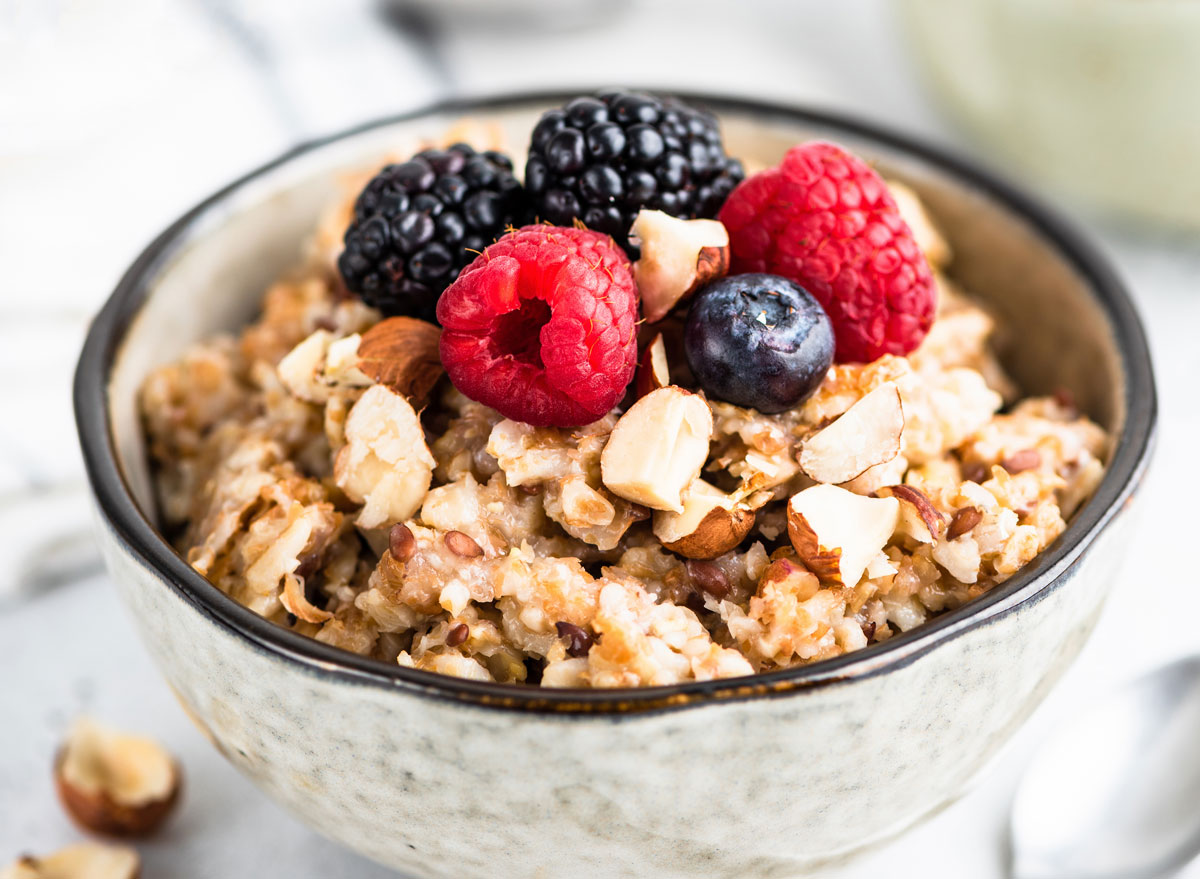 While oats are healthy on their own, you can make oatmeal even healthier by what you add to it.
The bulk of oatmeal's nutritional composition is carbs, so if you want your breakfast to be especially filling, dietitians agree that you'll want to pair it with satiating macronutrients like healthy fats, fiber, and protein. (Just like Best Breakfast Combos That Double Weight Loss.)
The healthiest (and best tasting!) way to enjoy oats is by "adding nutrient-dense toppings to make oats more balanced," says Rachel Fine, MS, RD, CSSD, CDN, a registered dietitian and owner of To The Pointe Nutrition. "Though oats are incredible complex carbs, I recommend pairing them with toppings like flax, chia, and nuts to round out the nutrient profile," she adds.
"You have to add toppings!" chimes in Miller Jones. "Adding fruit, nuts, or peanut/nut butter can boost the fiber, healthy fats, and protein for breakfast," she adds.
There are so many options for oatmeal toppings, so we asked dietitians for their absolute favorites.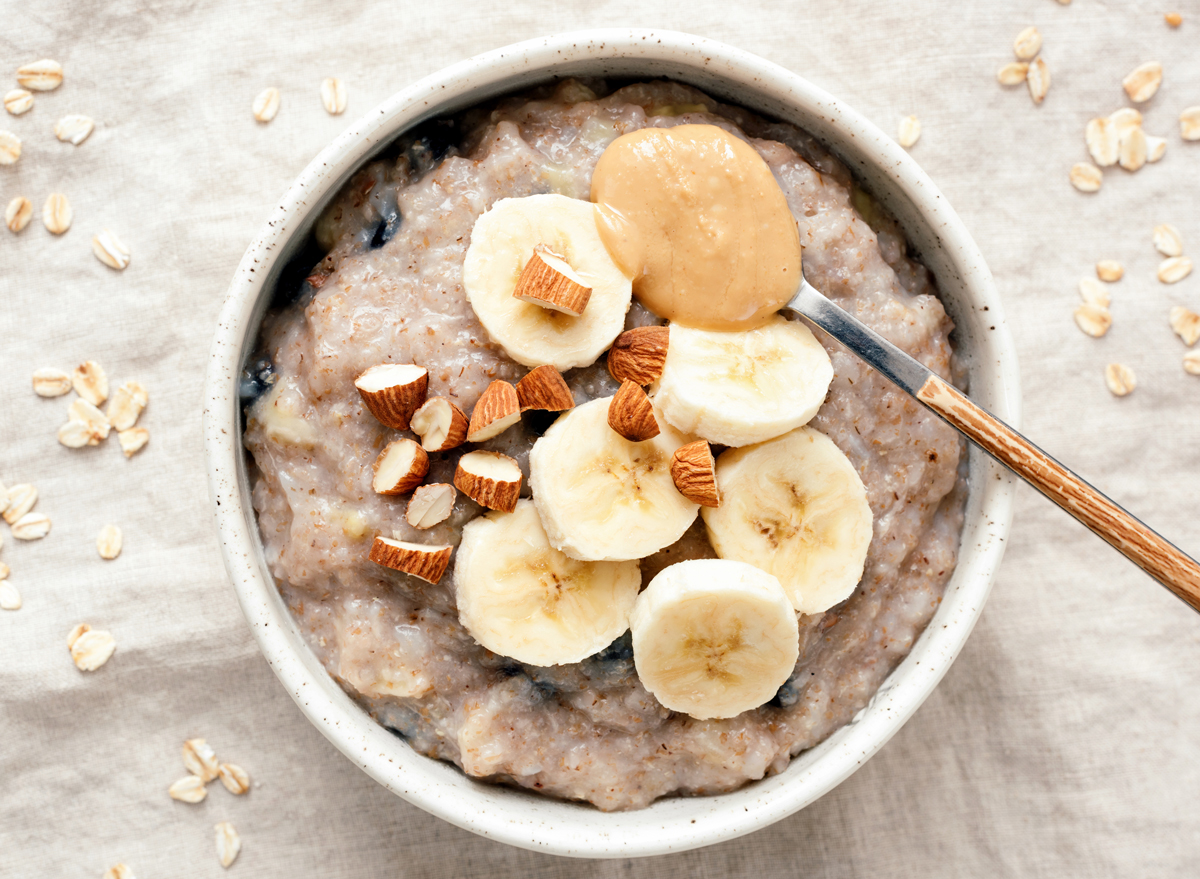 "Oats aren't rich in protein, so my number one recommendation to boost their nutritional content is to add a protein source to them," says Diana Gariglio-Clelland, RD, registered dietitian at Next Luxury. "Adding nuts, seeds, or even stirring in some Greek yogurt or cottage cheese can all do the job."
"Pairing oatmeal with a protein and fat is best because it prevents a blood sugar spike. Some options are chia seeds, hemp seeds, walnuts, almonds, unsweetened coconut flakes, protein powder, or a scoop of collagen," says Kylie Ivanir, MS, RD, a registered dietitian with Within Nutrition.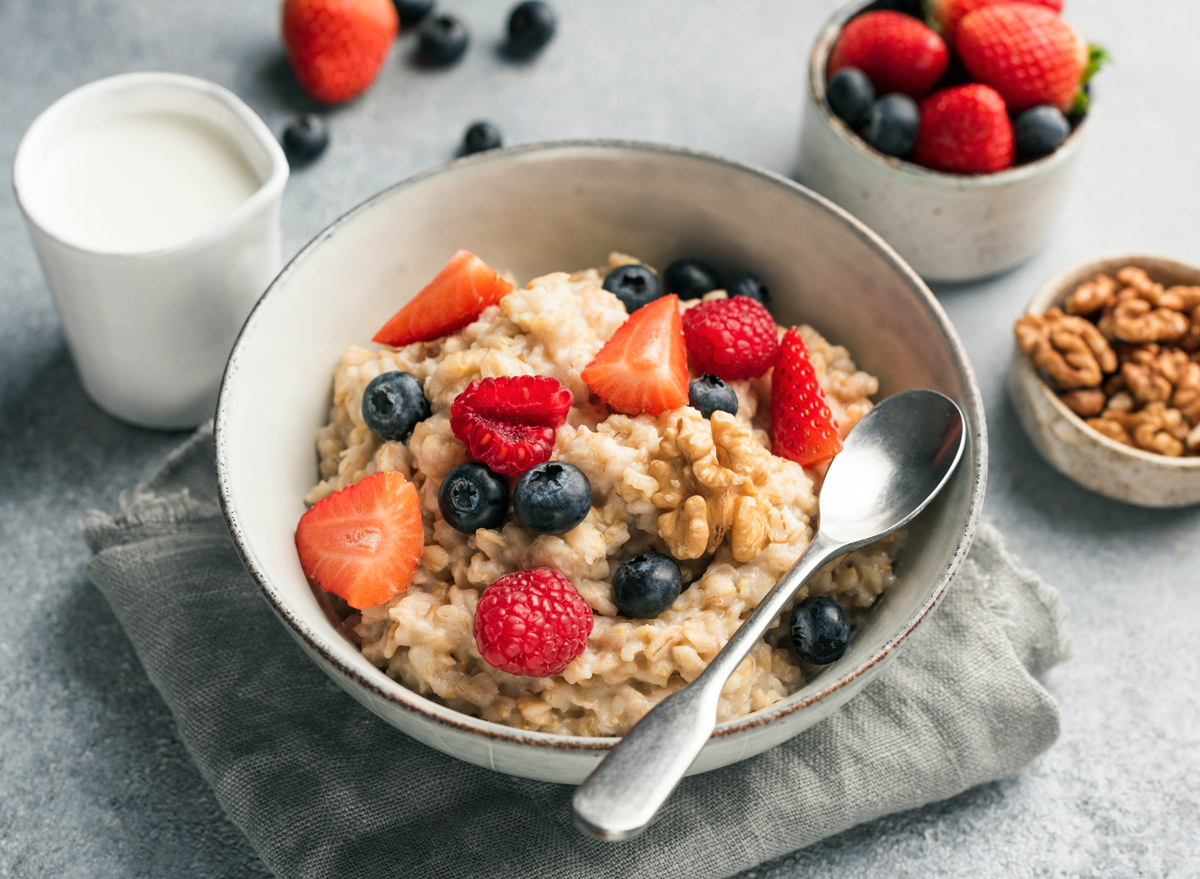 Nuts are a great oatmeal topping from almonds to walnuts to cashews. registered dietitian Lauren Manaker, MS, RDN, founder of Nutrition Now Counseling and author of Fueling Male Fertility."Top your oatmeal with walnuts. Walnuts contain fiber, healthy fats, and plant-based protein—three nutrients that help keep people feel fuller longer. Plus, data shows that increasing daily consumption of nuts, like walnuts, is associated with less long-term weight gain and a lower risk of obesity in adults," says registered dietitian Lauren Manaker, MS, RDN, founder of Nutrition Now Counseling and author of Fueling Male Fertility.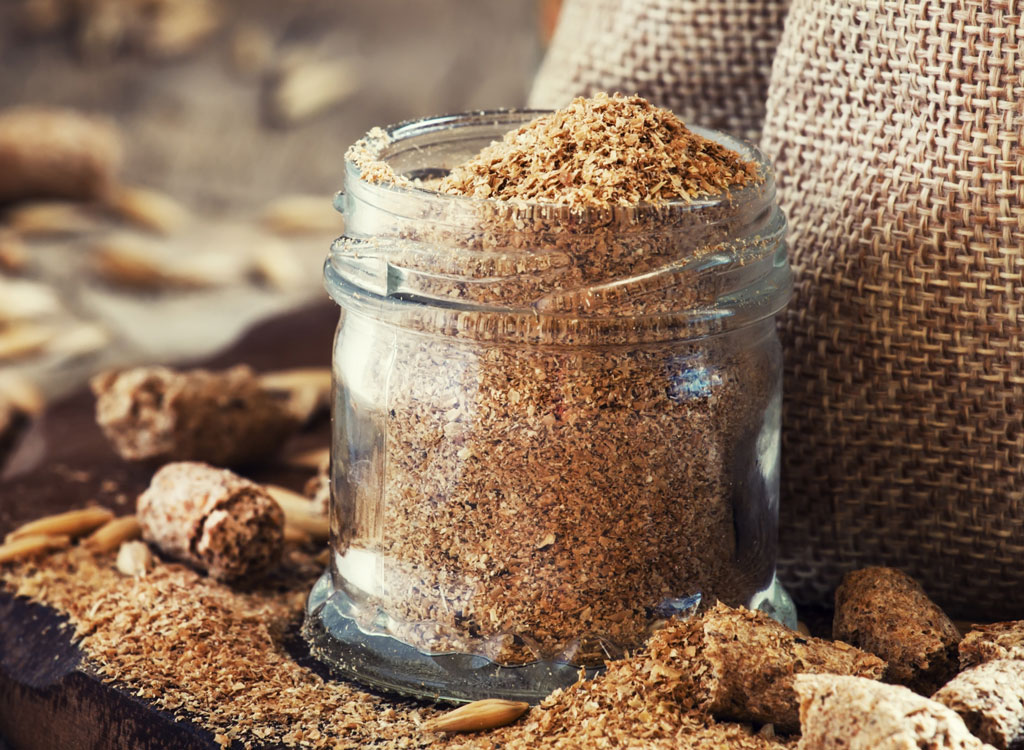 A serving of oats contains between 4-5 grams of fiber, but you can boost that number up even more with some clever ingredients. Many of the sources of protein, like nuts and seeds, are also good sources of fiber, and so are fruits. "Another great option is mixing your steel-cut or rolled-oats with some oat bran since oat bran is highest in fiber and great for satiety and overall health," says Ivanir.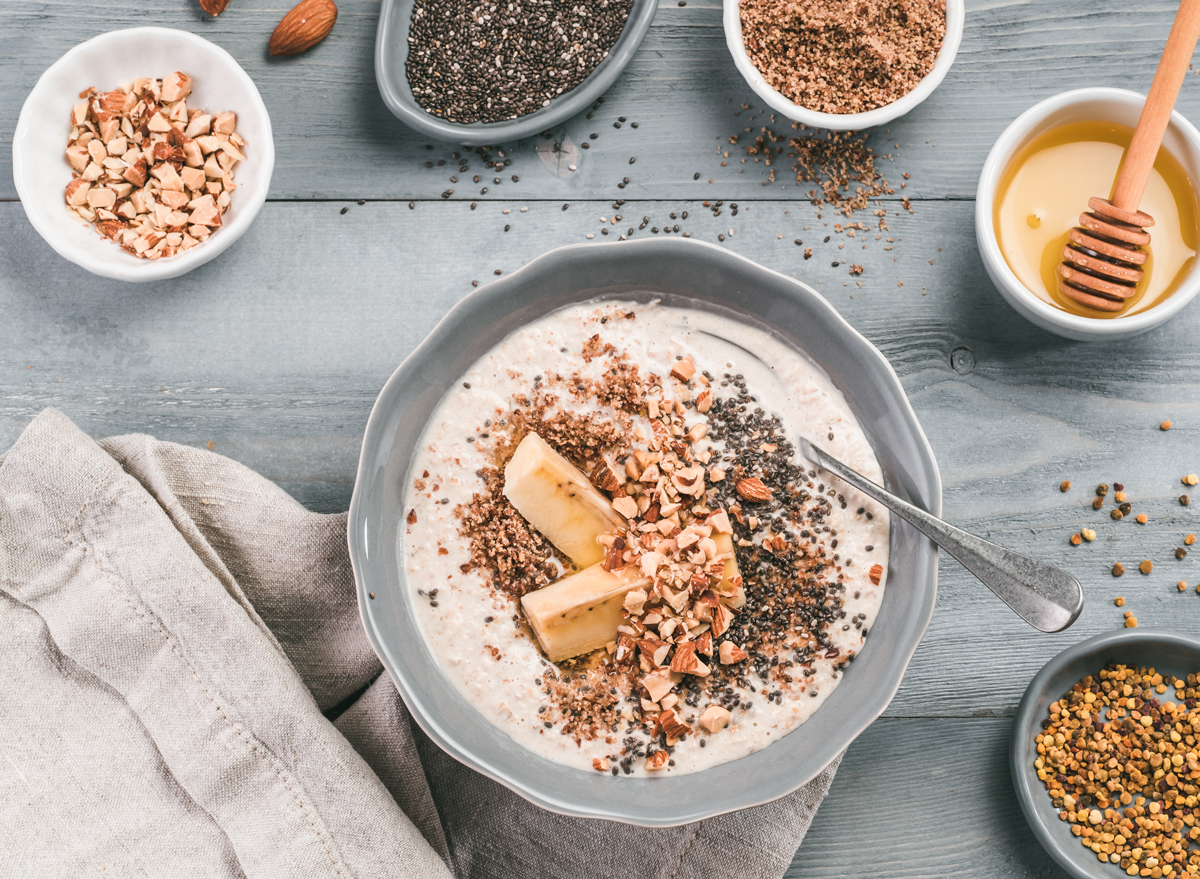 As a food group, you can't go wrong with seeds. "Flax is a rich source of lignans, a powerful phytochemical with anti-oxidative characteristics. Flax also contains the highest percentage of Omega-3 fatty acids (ALA) per serving. Chia seeds are also a great source of calcium and unlike flax, doesn't need the extra step of grinding before eating (chia is easier for the body to digest without the need to grind the seeds beforehand)," says Fine.6254a4d1642c605c54bf1cab17d50f1e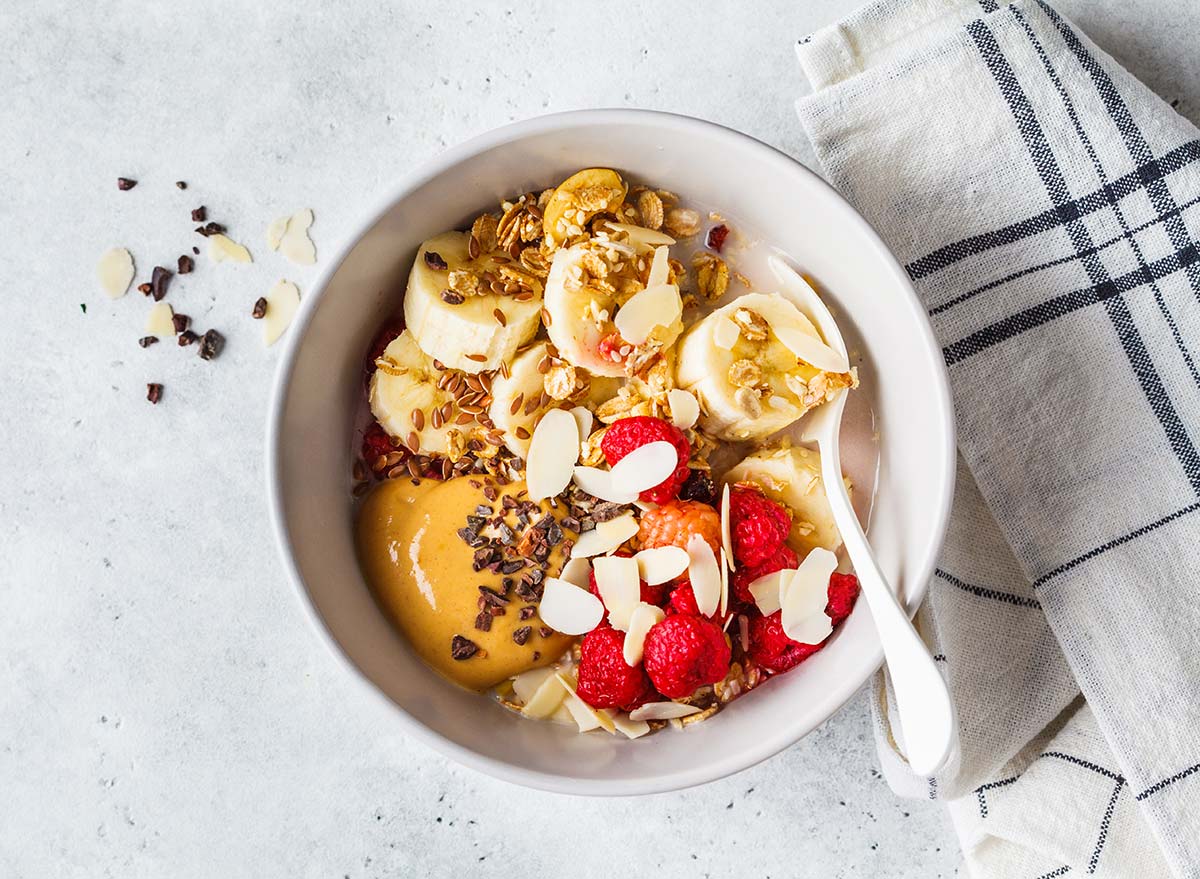 Berries, apples, bananas, the list goes on. For inspiration, take a page out of Lorencz's book: "My favorite oatmeal recipe is old-fashioned oats topped with strawberries and a spoonful of peanut butter. The strawberries naturally sweeten the oatmeal and the peanut butter adds extra fat to keep me full and satisfied all morning."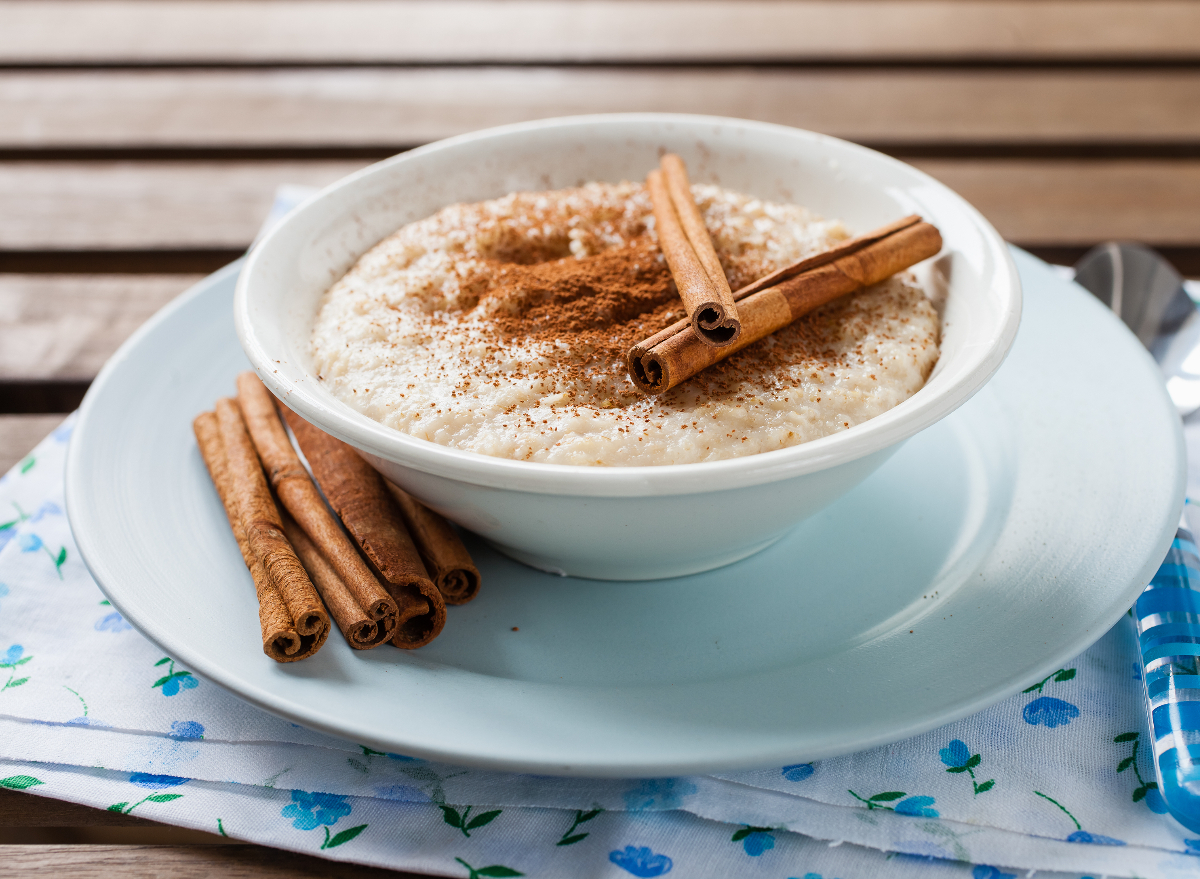 "Boost flavor with cinnamon, nutmeg, vanilla extract or pumpkin pie spice," says Lisa Hugh, MSHS, RD, LDN, a registered dietitian and Founder & CEO, Single Ingredient Groceries. And for more ideas, don't miss 51 Healthy Overnight Oats Recipes for Weight Loss.
Olivia Tarantino
Olivia Tarantino is the Managing Editor of Eat This, Not That!, specializing in nutrition, health, and food product coverage.
Read more about Olivia