The Best Grilled Cheese in Every State
Curious if your hometown snagged the top spot? We asked our friends at Yelp to find the cheesiest sandwiches out there.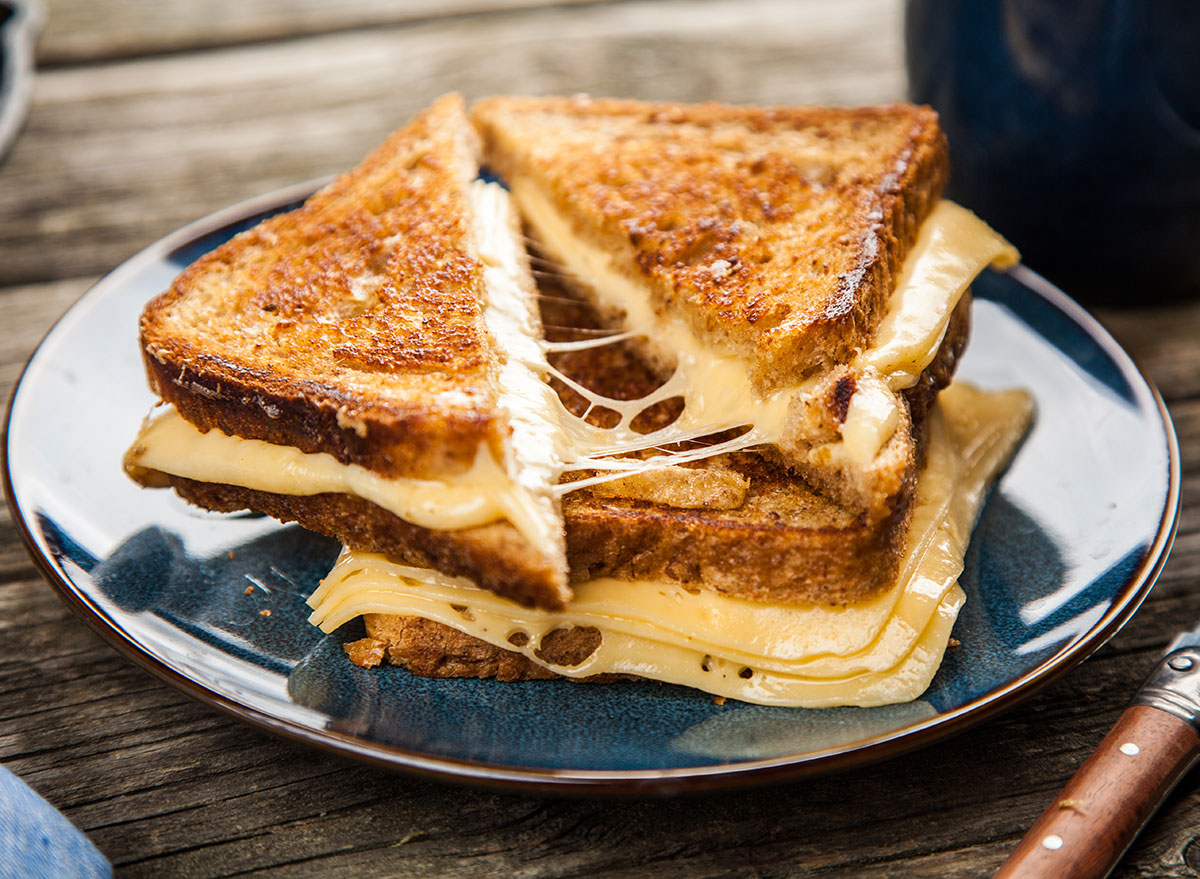 Is there anything better than melty layers of cheese pressed between two slices of crisp, buttery bread? There's no denying that the grilled cheese is the epitome of comfort food, and for many of us, it's also a form of culinary nostalgia. That's precisely why we put together this list of the best grilled cheese in every state.
While your mama's version may have consisted of American cheese, bread, and butter, there are so many different ways to put an adult spin on this classic sandwich. Between different types of bread and cheese, and the inclusion of a variety of vegetables, spreads, and even fruits, the possibilities are endless at these restaurants when it comes to creative grilled cheeses.
How we chose the best grilled cheese in every state
We worked with Yelp to determine the best grilled cheese in every state. "We identified businesses in the restaurants and food categories with a large concentration of reviews mentioning 'grilled cheese,' then ranked those spots using a number of factors, including the total volume and ratings of reviews mentioning 'grilled cheese," says a Yelp representative.
After reviewing the top two or three grilled cheeses in every state according to Yelp's data, we narrowed it down to one business that had particularly standout reviews. The winning establishments range from fast-casual joints to posh restaurants.
Now, here are the restaurants where you can get the best grilled cheese sandwiches in every state, along with some sandwich suggestions in case you need some ordering inspiration. And for more, don't miss the The Best Chili in Every State.
ALABAMA: Paramount Bar in Birmingham
The menu at this downtown arcade bar includes pretty standard pub grub, but their sourdough grilled cheese is anything but standard. What sets it apart is not only the inclusion of three different kinds of cheese (cheddar, goat cheese, and mozzarella) but the unique addition of savory tomato jam. One Yelp reviewer says it tasted "really decadent." Pro tip: Order it with a basket of the thyme-seasoned, house-battered onion rings on the side.
ALASKA: Bread & Brew in Anchorage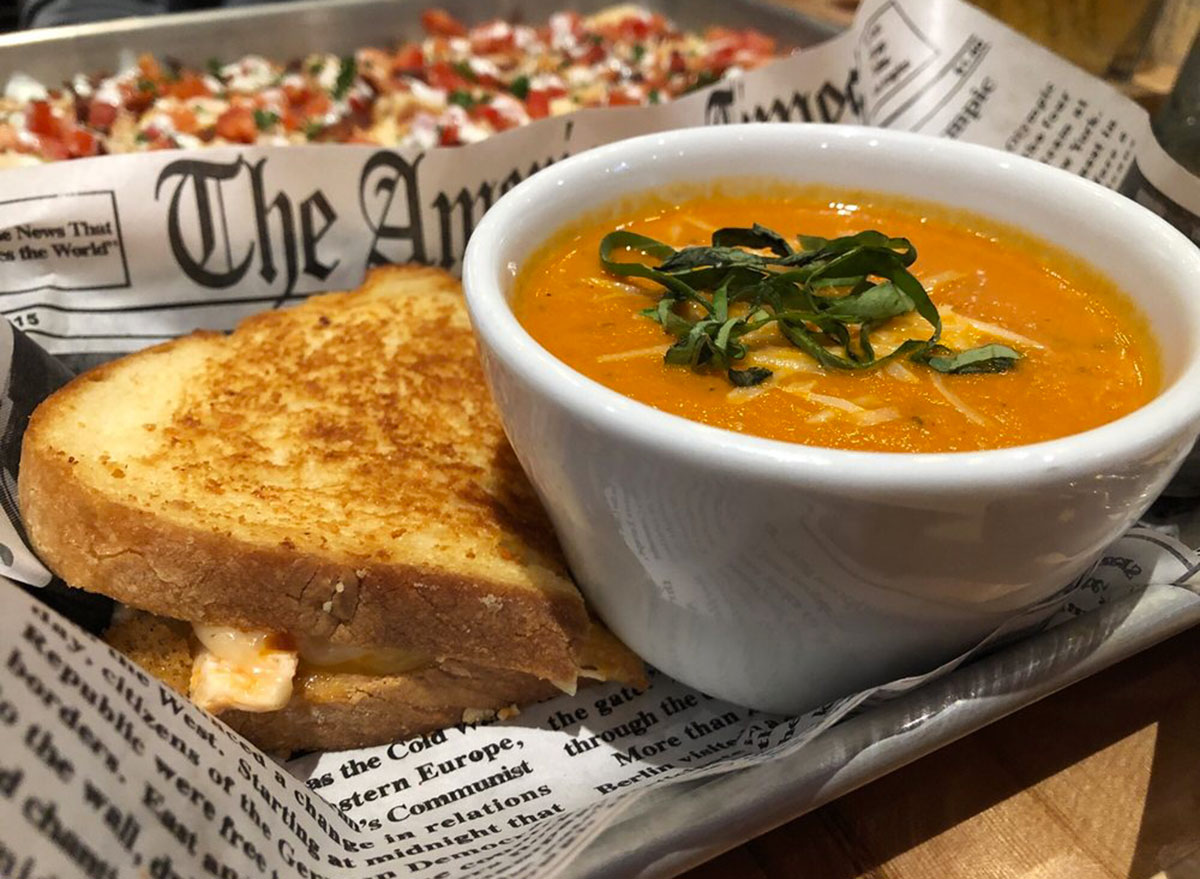 Along with local craft beer, you might say grilled cheese is this eatery's specialty. In fact, the menu boasts an entire category for just grilled cheese with eight different equally drool-worthy varieties. Purists will appreciate their cheddar-packed OG, which is served with a tomato soup dipper. More adventurous foodies should consider the Apple & Bacon, the fiery Jalapeño Popper, or the Aloha, which features ham ribbons, pineapple chutney, and tangy BBQ.
ARIZONA: Prep & Pastry in Tucson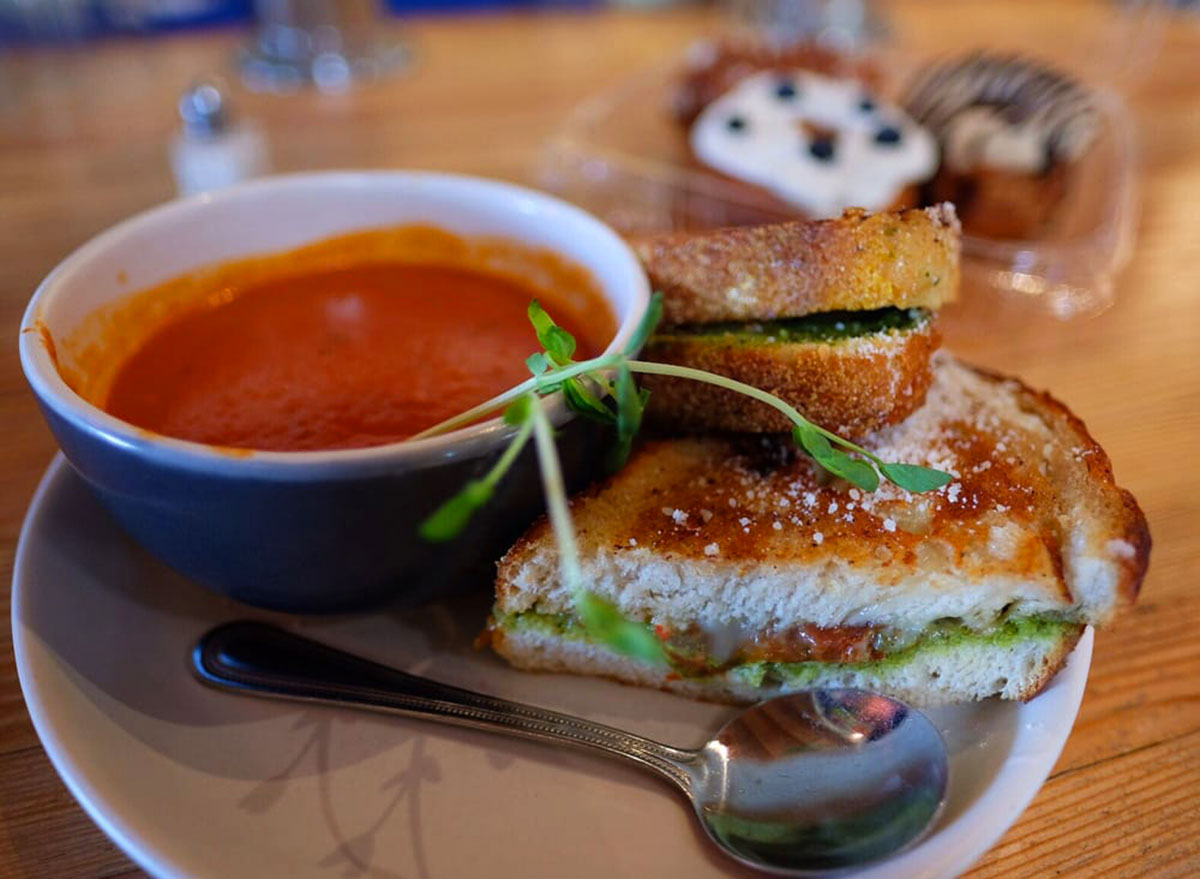 You can expect a wait for a table at this award-winning brunch spot, but Yelp reviewers say it's well worth the hype. Prep & Pastry prepares all of its dishes with locally sourced ingredients only, and that includes the grilled cheese. Its grilled cheese combines white cheddar, brie, tea-smoked tomato, and arugula pesto on parmesan asiago bread. Yes, even the bread has cheese in it! Fortunately, it's on both the brunch and lunch menu, so you can get your fix any day of the week.
ARKANSAS: Hammontree's Grilled Cheese in Fayetteville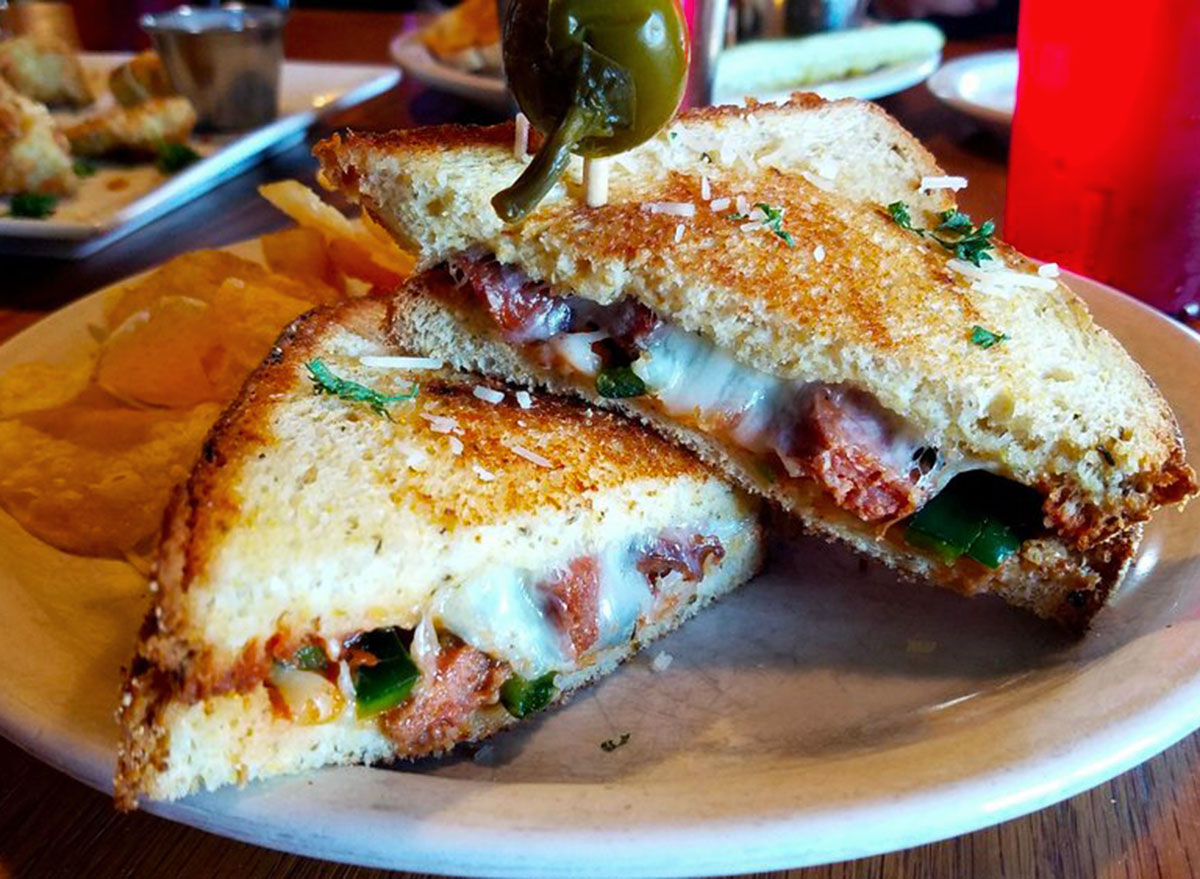 "It's all about the cheese." That's the motto at this charming sandwich shop, which sources many of the ingredients locally. The menu features 15 different grilled cheese sandwiches, ranging from a savory one with pit-smoked ham, and a sweet one with fresh blueberries, cream cheese, and mascarpone pressed between honey-drizzled pound cake. But if you're feeling creative, there's also a build-your-own option. With 26 kinds of cheese, eight types of meat, seven sauces, six veggies, and four styles of bread to choose from, the possibilities are endless. Don't forget to round out the meal with a cup of one of their made-from-scratch soups.
CALIFORNIA: Shift Coffee in Sacramento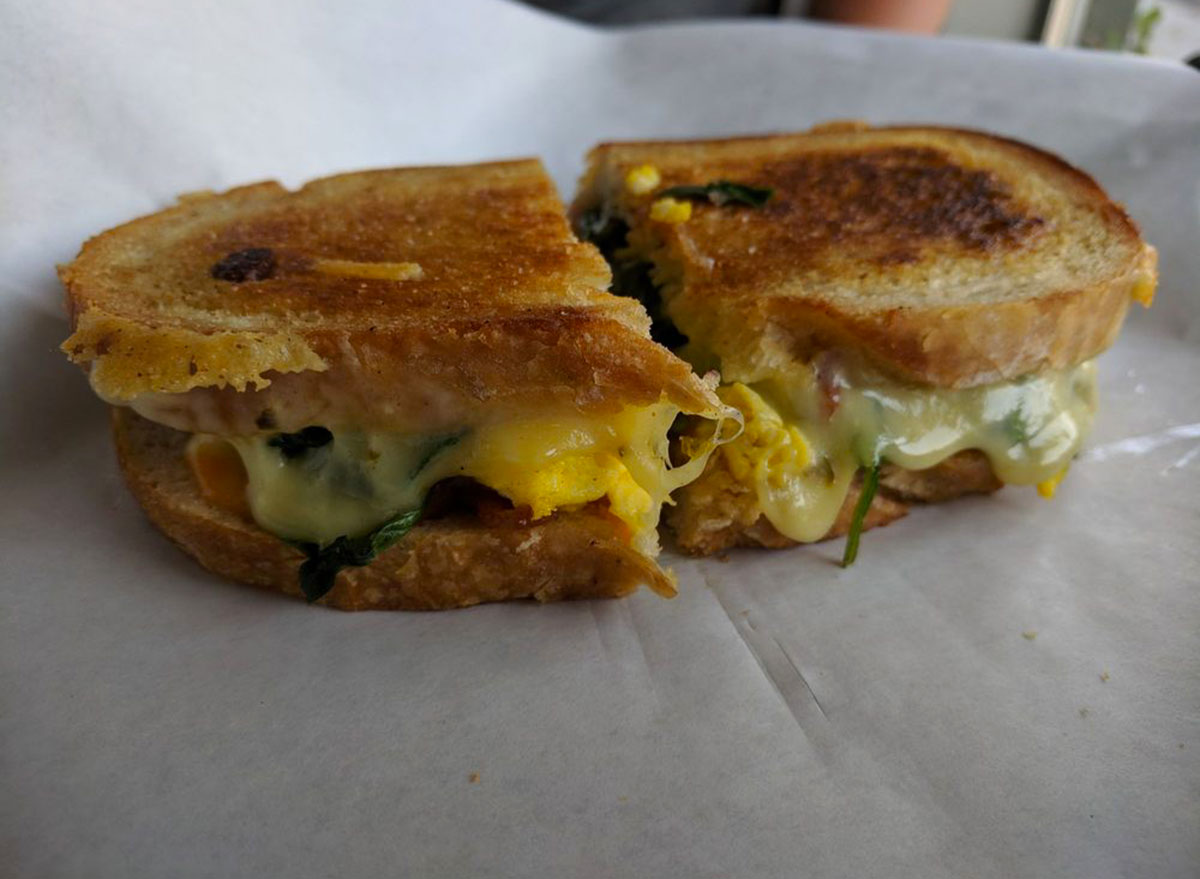 Don't be fooled by the name of this cafe! While it definitely has an impressive java menu, plenty of locals flock here just for the grilled cheese. It's easy to see why, given that Shift Coffee incorporates a variety of unique ingredients like tender brisket, carnitas, creamy avocado, crisp apple slices, and mango habanero hot sauce. There are roughly 20 different options at any given time, whether you're craving a savory sandwich or a sweet one, including a slew of breakfast grilled cheeses (which, thankfully, are served all day). And did we mention all of them are made with freshly baked local artisan bread?
COLORADO: The Canteen Taphouse and Tavern in Breckenridge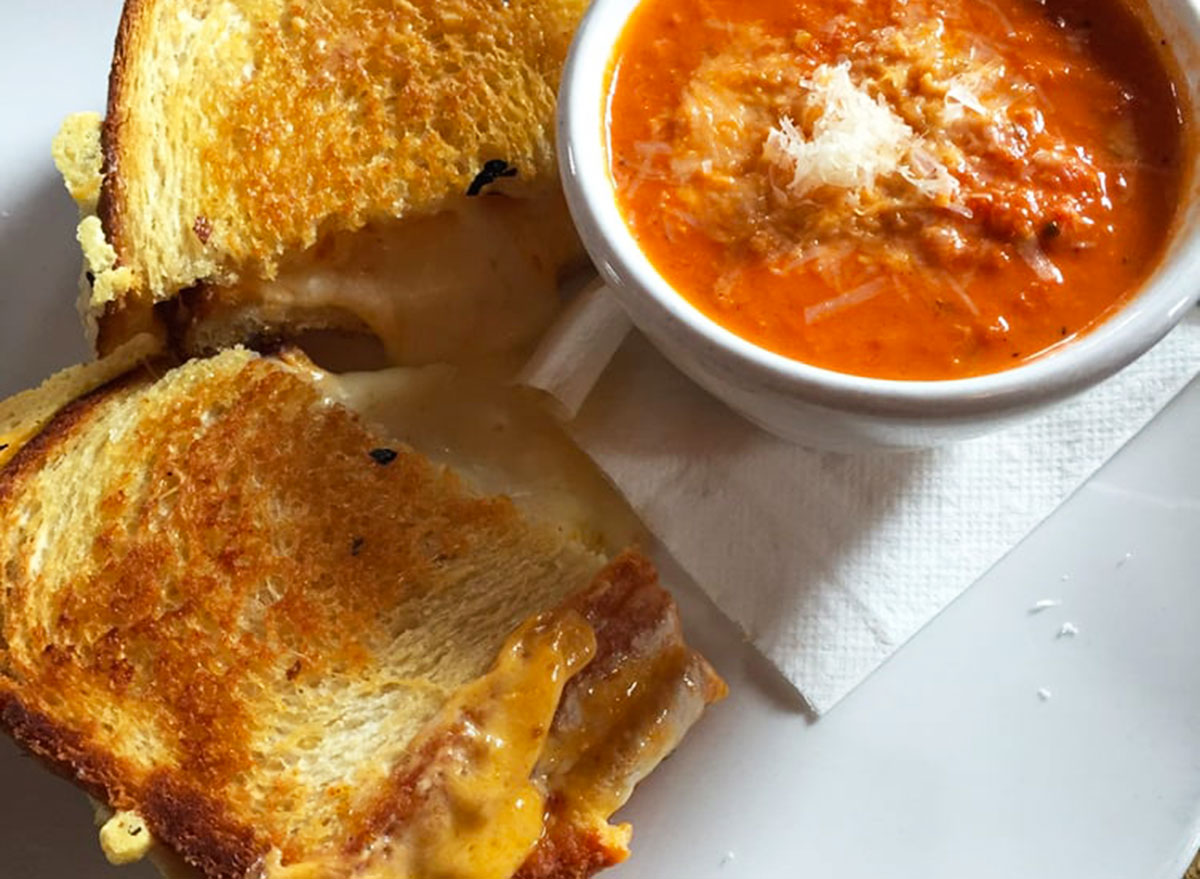 This eatery gets pretty packed during peak season, and not just because of its prime location. With a menu that puts a modern twist on comfort food and a super cozy atmosphere, it's an ideal spot to refuel after hitting the slopes. In particular, Yelp reviewers praise the four-cheese grilled cheese on thick-cut sourdough, which combines cheddar, jack, swiss, and fontina with sweet caramelized red onions. Served with a cup of roasted red pepper bisque, this sandwich is perfect to warm up.
CONNECTICUT: NV Bakery & Market in Waterford
There's a grilled cheese for every palate at this quaint bakery, which also serves up crepes, smoothies, and salads. In fact, the grilled cheese menu features about 18 different unique gourmet interpretations, ranging from the Mushroom Melt drizzled with truffle oil to the Smoked Salmon with cream cheese, whole grain mustard, and arugula. It doesn't get more indulgent than a mushroom melt drizzled with truffle oil, or a meat-loaded Monte Cristo melt on egg-battered brioche.
DELAWARE: Matt's Fish Camp in Lewes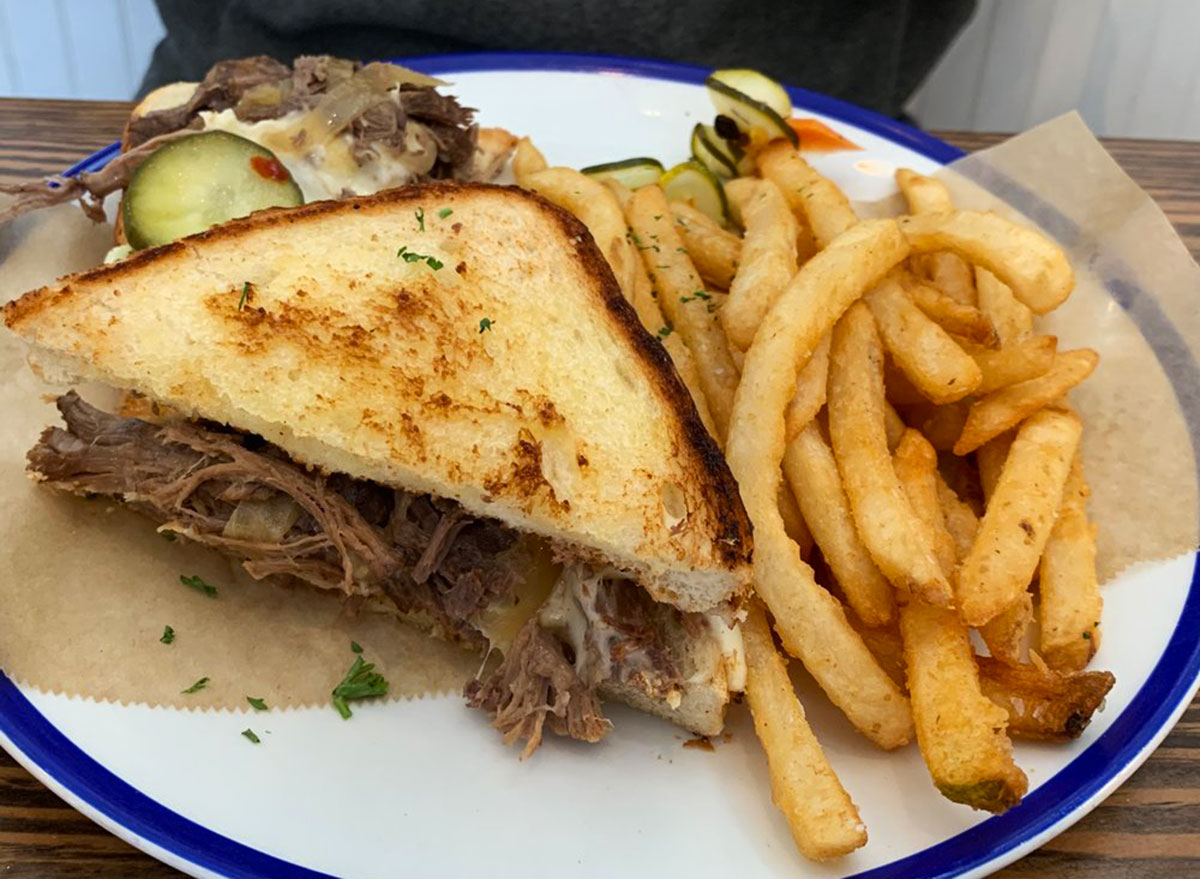 As the name suggests, seafood is this caasual, coastal-chic restaurant's specialty. But Yelp reviewers agree that the short rib grilled cheese with caramelized onions is a hidden gem on the menu, thanks to its "flavorful, tender meat." It's served with chips and a pickle, but you can sub out their signature crabby fries with Old Bay fondue for an upcharge.
FLORIDA: Mr. & Mrs. Bun in Miami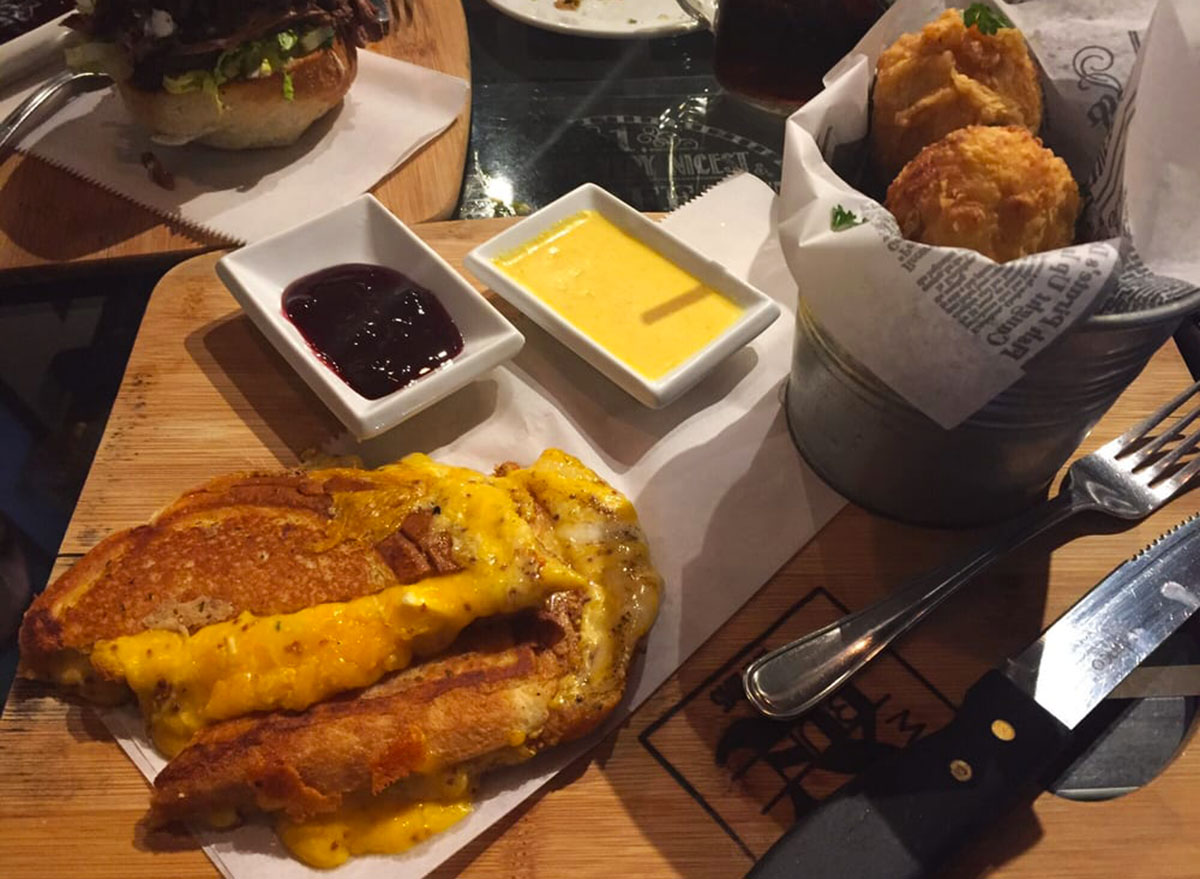 While this mom-and-pop Peruvian shop serves up a slew of unique sandwiches with South American flavors, the grilled cheese is an unexpected menu highlight, and with good reason. Yelp reviewers say it offers the perfect balance of savory, sweet, and salty. With a combination of cheddar and brie cheese on homemade garlic butter bread, this grilled cheese is no joke. The unique twist? A side of blueberry jam for dipping.
GEORGIA: Soho South Cafe in Savannah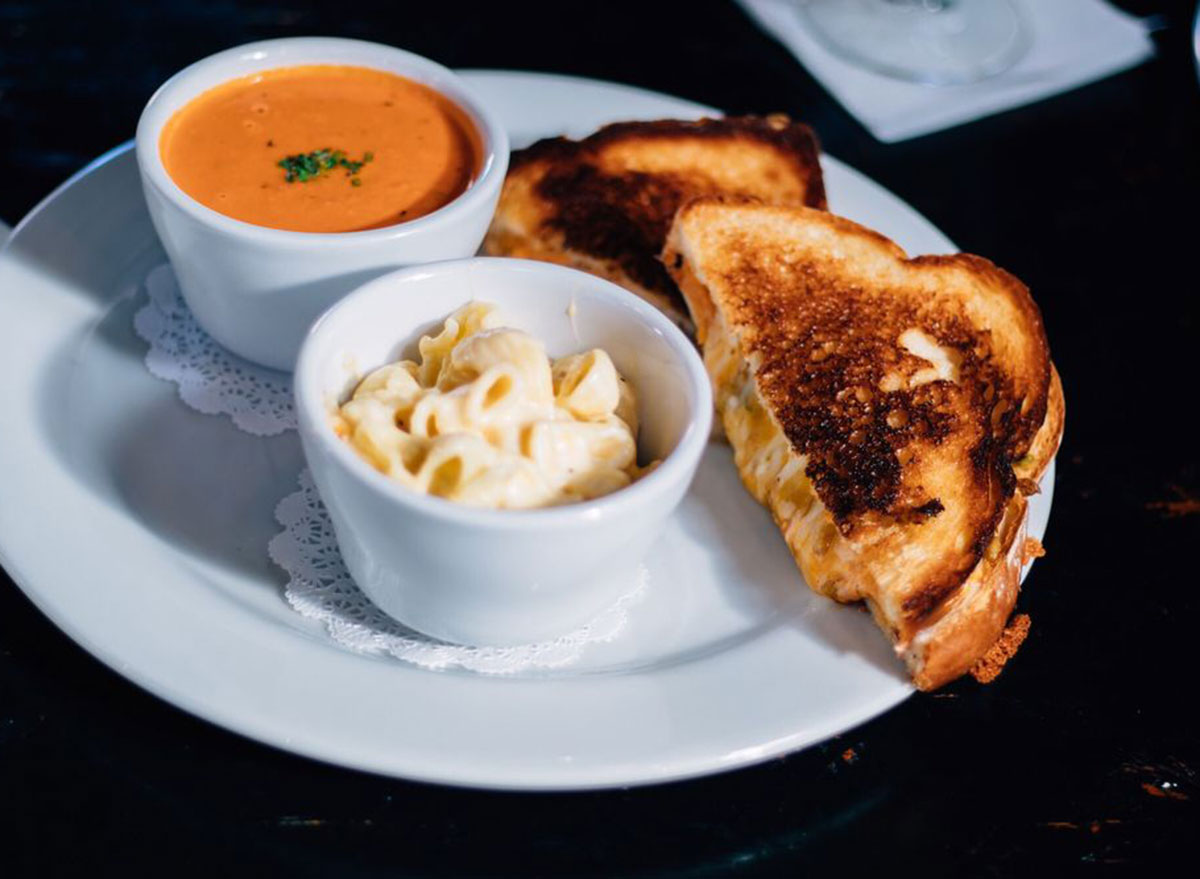 Located right in the heart of downtown Savannah, this rustic farm-to-table bistro is known for its epic Sunday brunches and weekday lunches—and many come specifically for the "melt-in-your-mouth" grilled cheese. Served with pimento aioli, a cup of Soho's creamy tomato basil bisque, and a choice of side, this sandwich is comfort food at its finest. Patrons love the option to customize the grilled cheese, too. Add-on options include bacon, turkey, tomato, and spinach, as well as Southern staples like fried green tomatoes, fried pickles, and fried jalapeños.
HAWAII: Porky's Kauai in Waimea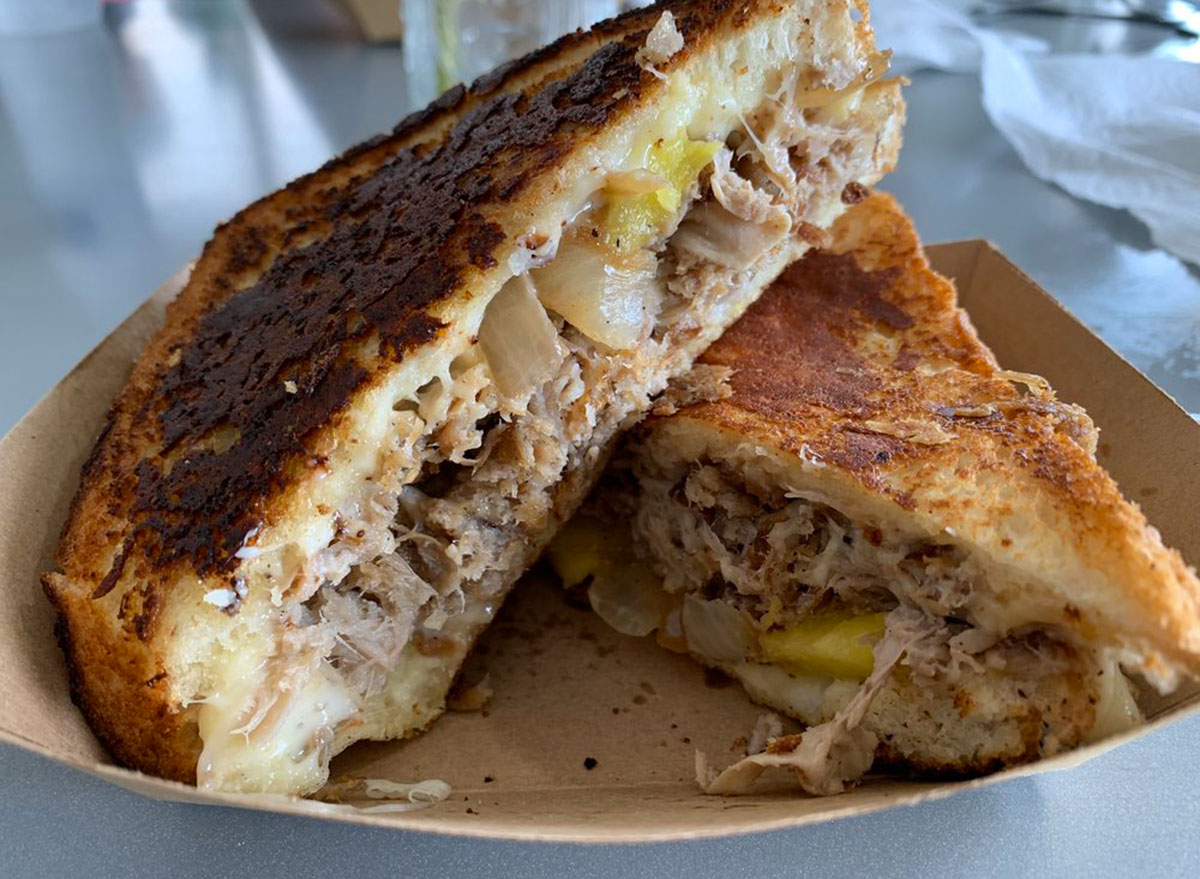 There are only four options on the menu at this Hawaiian-barbecue fusion eatery, which started as a popular food truck before landing its own brick-and-mortar location. Yelp reviewers insist you can't go wrong with the #3, a grilled cheese sandwich stuffed with Hawaiian-style pulled pork, a combo of Muenster and Havarti cheese, and the optional additions of fresh-cut pineapple or grilled onions. Pro tip: Get a side of the sweet and spicy sauce for dipping—Yelpers say it gives the sandwich a satisfying kick.
IDAHO: Meltz Extreme in Coeur d'Alene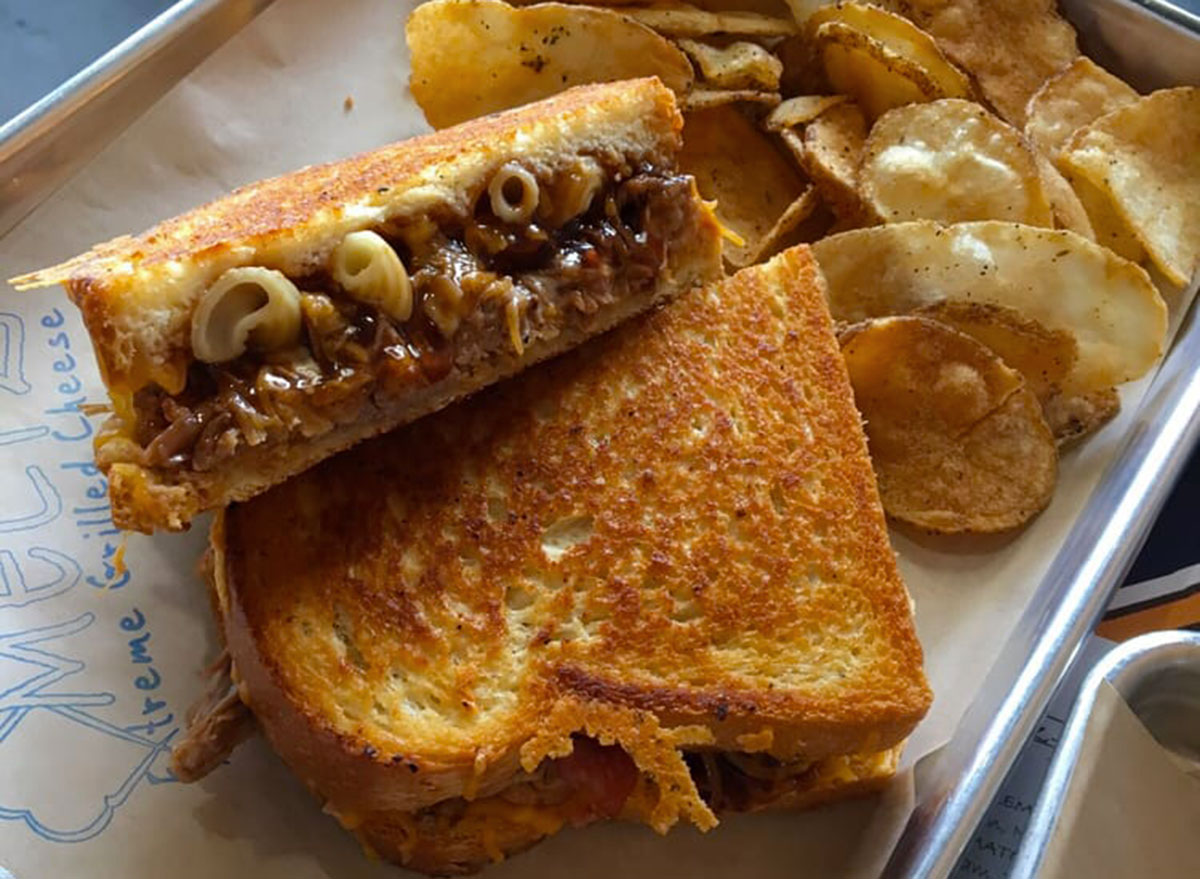 As they say, don't judge a book by its cover—because this place in a gas station parking lot is almost always jam-packed due to its award-winning gourmet grilled cheeses. The rotating selection often changes with the seasons (or at the chef's whim), and it has plenty of innovative options. One popular choice is the Pepperosa, with pepperoni, creamy tomato, roasted garlic, and basil sauce. Another is the Border Patrol, with jalapeno bacon, buttermilk fried onions, and ranch. Yelp reviewers recommend going before the lunch rush.
ILLINOIS: 3 Arts Club Cafe in Chicago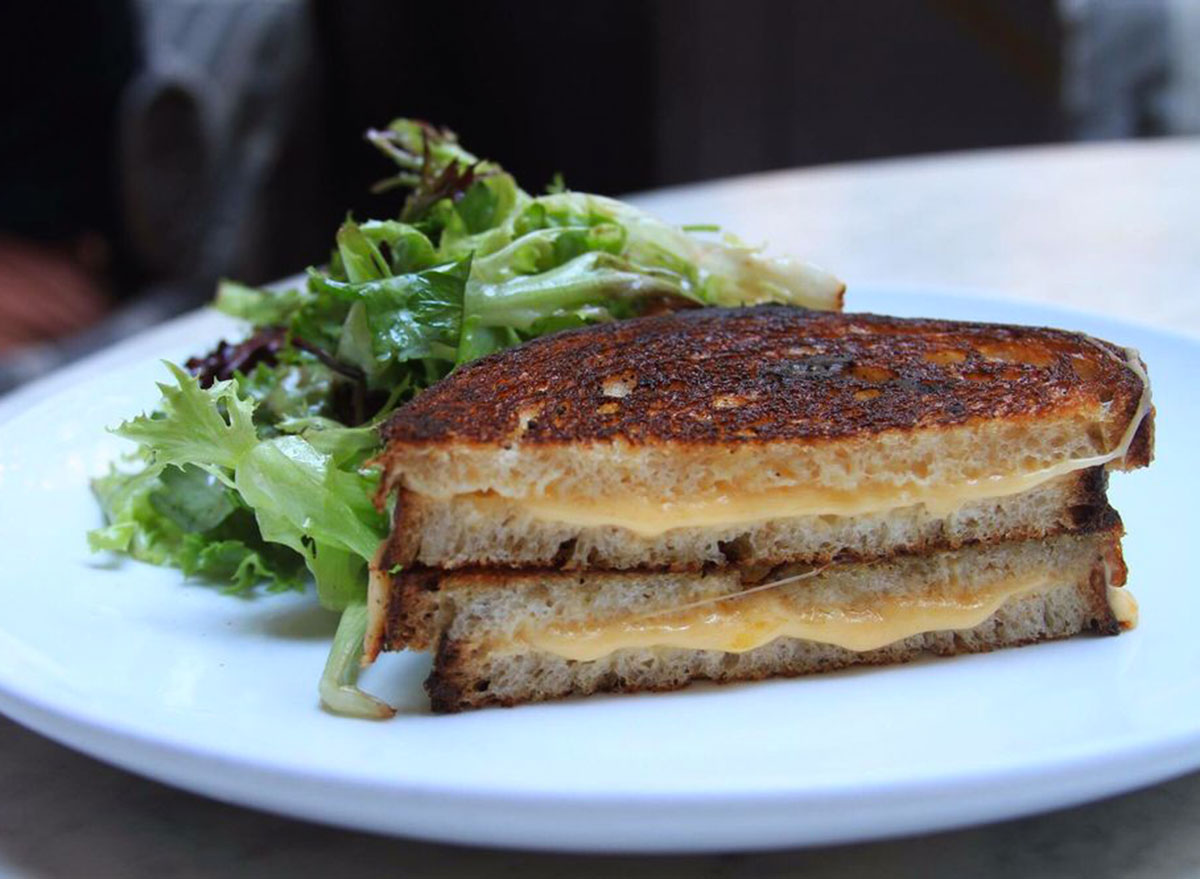 Tucked inside a Restoration Hardware, this swanky lunch spot is a fan favorite not only for its awe-inspiring ambiance but also for its scrumptious fare, which includes an ultra indulgent truffled grilled cheese. With a hefty dose of cheddar, crispy sourdough, and truffle butter, it's about as elegant as a grilled cheese gets.
INDIANA: The Eagle in Indianapolis
Honky-tonk charm and hearty Southern grub: that's what you can expect at this beer hall and dining hotspot, which typically has a line out the door on weekends. While The Eagle is famous for its fried chicken, Yelp reviewers applaud the grilled cheese on rustic bread, which features crisp Granny Smith apples and sweet apricot preserves to offset the three kinds of cheese. "My mouth is watering just thinking about it," says one Yelp review.
IOWA: Cheese Bar in Des Moines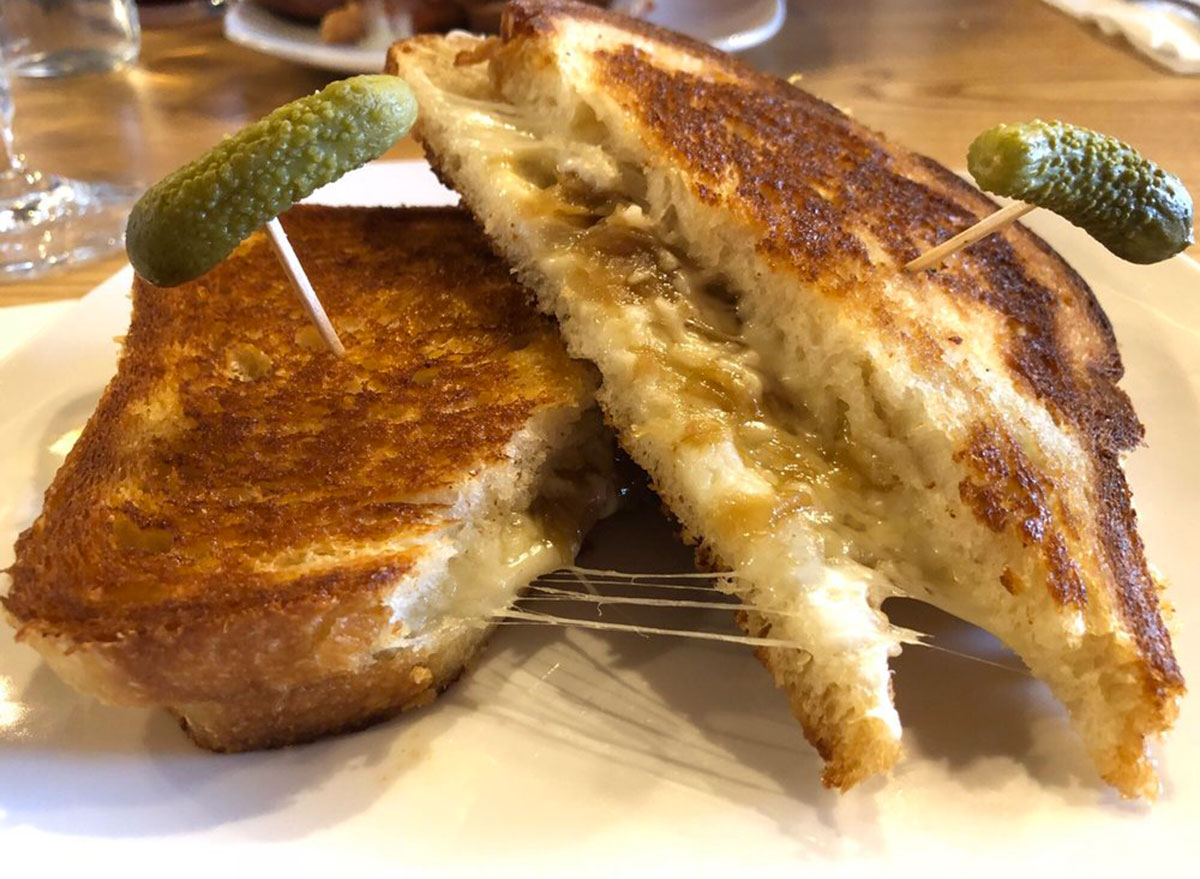 Cheese is the star of the show at this laid-back gastropub, which is known for its house-made charcuterie and cast-iron mac and cheese. Yelp reviewers are particularly enthused about the grilled cheese sandwiches, which they call "rich," "super filling," and "life-changing." The menu features nine different iterations, ranging from the no-frills classic to innovative options like La Quercia with prosciutto and pepper jam, the Bacon & Blue with fig spread, and the award-winning Champ with house-smoked cheddar, ham, pickled zucchini, and zingy sassy sauce. You can also modify your grilled cheese with a variety of meats and sauces.
KANSAS: The Wheel Barrel in Topeka
Craft beer and grilled cheese is definitely a winning combo—and that's precisely what this cozy brewpub specializes in. In fact, The Wheel Barrel has won multiple awards for its creative grilled cheeses, which include the Treehugger (an oozy sandwich with sautéed portabella mushrooms and sundried tomato aioli), the Jalapeño Popper (bacon and cream cheese on sweet brioche), and The Baja Turkey (with guacamole and cilantro lime aioli). Best of all, if you need some greasy grub to soak up all the craft suds, there's a custom grilled cheese on the late-night menu.
KENTUCKY: Momma's Mustard, Pickles & BBQ in Louisville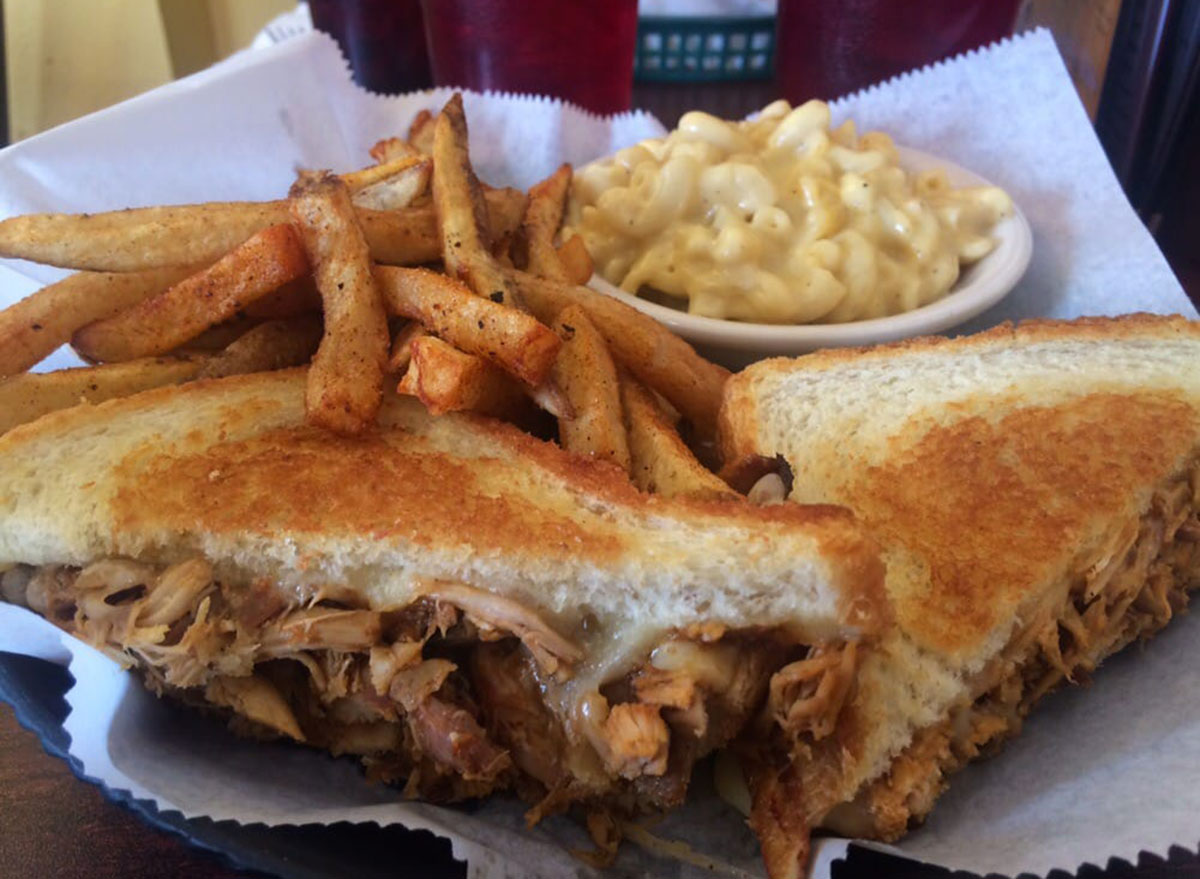 If you're looking for some good old-fashioned Kansas City-style BBQ, that's exactly what you'll find at this casual Kentucky institution. But there's more to this menu than ribs and cornbread! Yelp reviewers say the grilled cheeses, which can be customized with your choice of meat, are a highlight. While the options range from fried bologna to smoked sausage, the pulled pork and brisket grilled cheese seem to be especially popular picks. Grilled cheeses come with two sides to round out the meal, including cheesy corn, baked beans, and potato salad.
LOUISIANA: Backspace Bar & Kitchen in New Orleans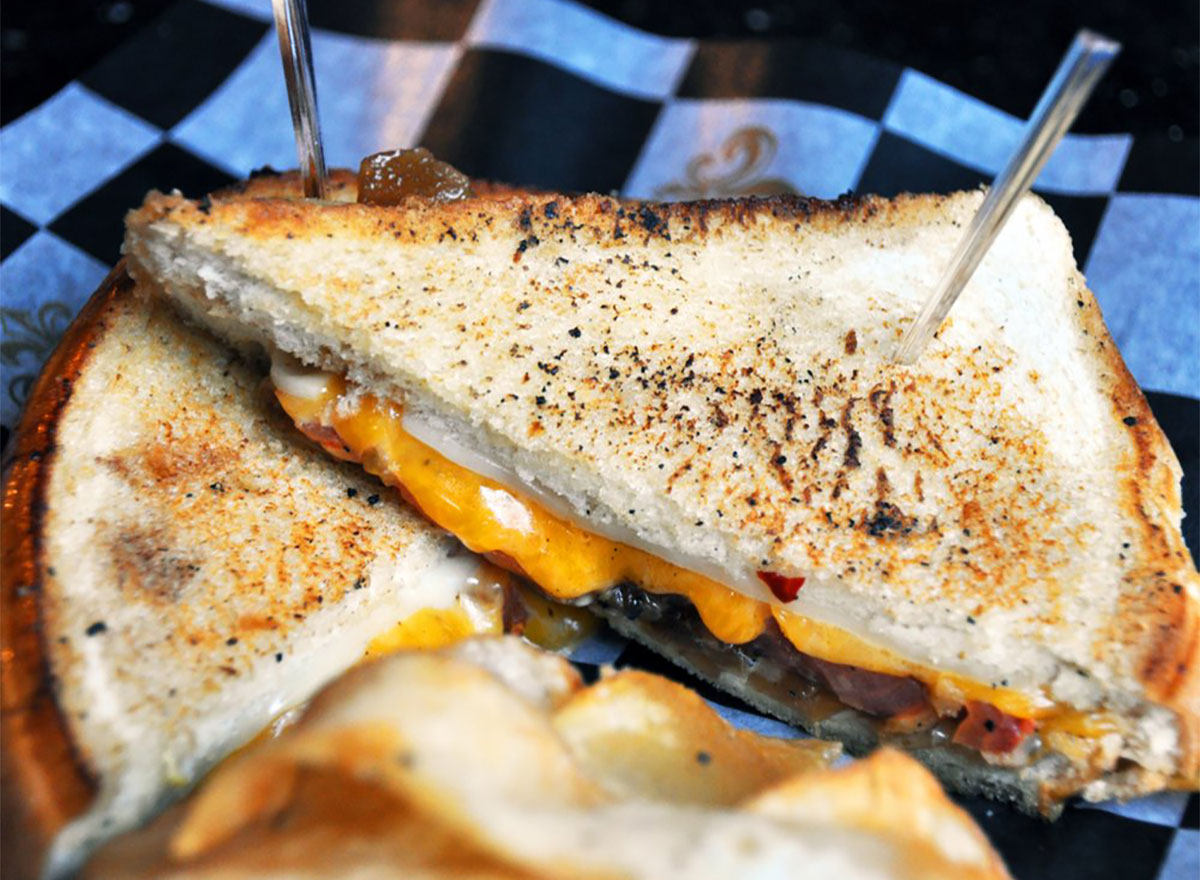 Sadly, Yelp's top choice for grilled cheese in Louisiana, Meauxbar, has closed. But we think the grilled cheese from Backspace Bar & Kitchen looks great, too. Reviewers agree, with one writing,"Best grilled cheese ever!!! On sourdough bread with grilled onions, tomatoes and bacon!"
MAINE: The Highroller Lobster in Portland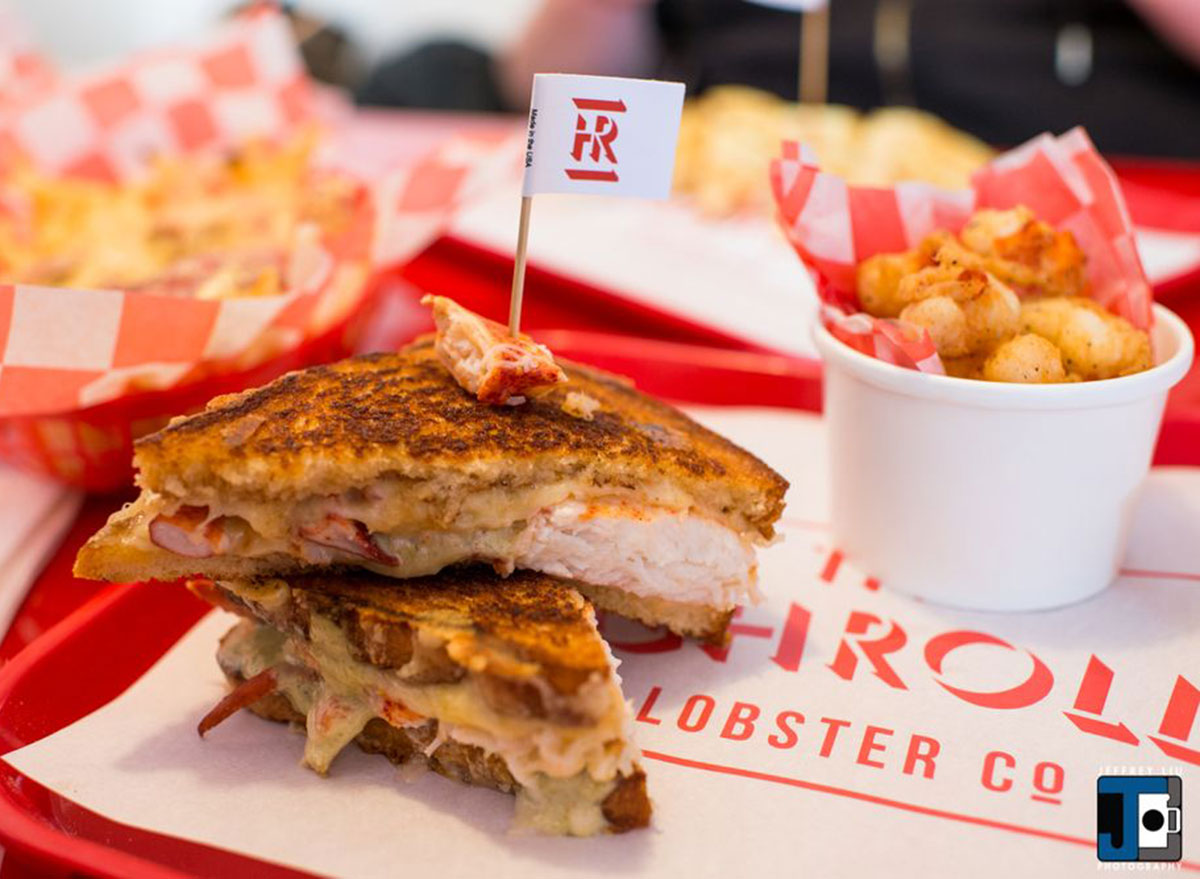 How do you make a grilled cheese even more decadent? By adding chunks of fresh lobster, of course. Yelp reviewers described this neighborhood dining favorite as "heavenly" and "to die for," and it's easy to see why: The melt is overflowing with Jarlsberg and Cabot cheese and fresh Maine lobster on a grilled English muffin loaf. While you have a number of sauces to choose from, including roasted red pepper mayo and garlic mayo, Yelp reviewers highly recommend getting the lobster ghee on the side. Add avocado or bacon if you want to kick things up a notch.
MARYLAND: Full On Craft Eats & Drinks in Rockville
Oozing with pepper jack, cheddar, tomato, and remoulade sauce, this crab cake grilled cheese from Full On Craft Eats & Drinks is not your average sandwich. One Yelp reviewer pointed out that they're definitely not stingy on the crabmeat—the sandwich is overflowing with it. In case you need extra incentive to order it, another Yelp reviewer says the first bite made her dance in her seat.
MASSACHUSETTS: Mystic Station in Malden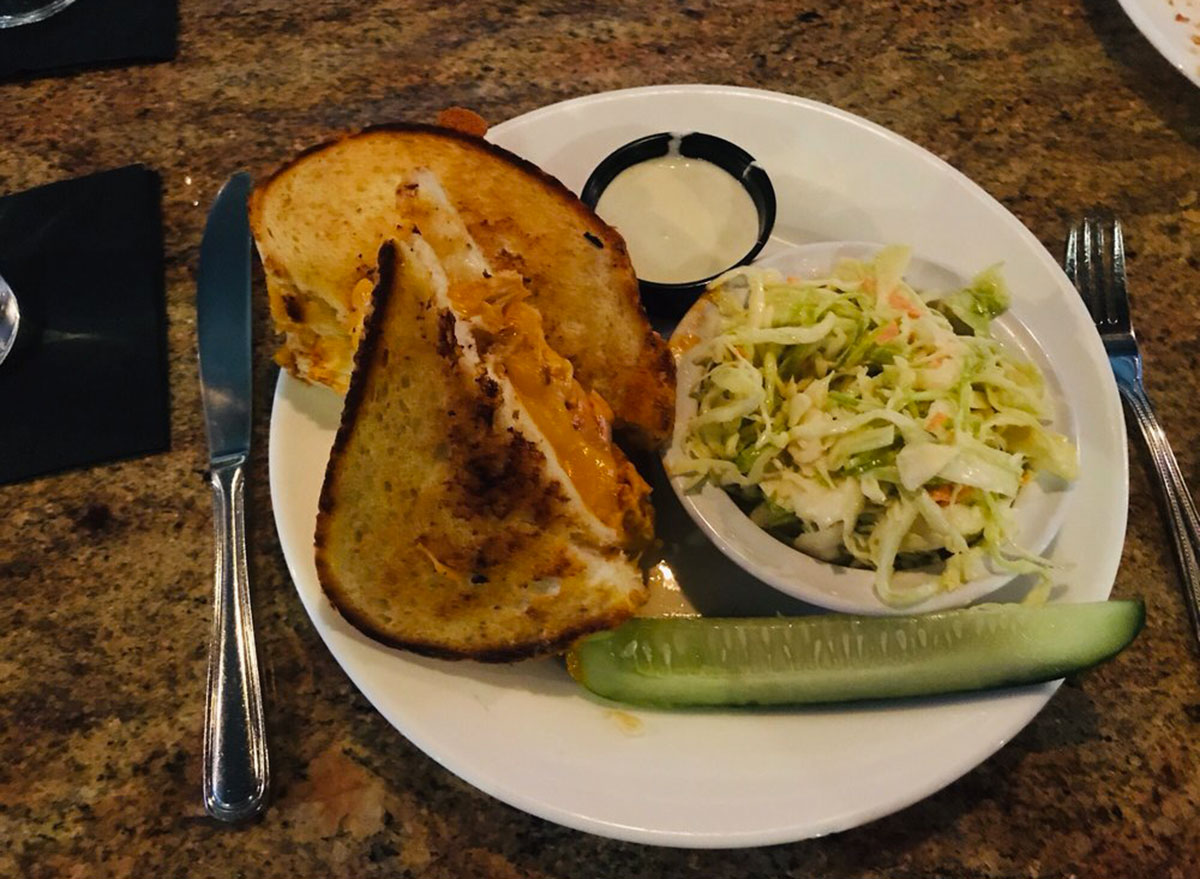 This isn't your average neighborhood pub. Mystic Station uses locally sourced ingredients and makes everything from scratch, and those efforts seem to pay off, especially where the grilled cheeses are concerned. There are two equally scrumptious options to choose from: Buffalo chicken grilled cheese, which comes with blue cheese dipping sauce, and BBQ pulled pork grilled cheese, which features house-made burnt sugar bourbon BBQ sauce. Both are served on thick-cut sourdough toast, and one Yelp reviewer says they provide "the perfect ratio of meat to cheese."
MICHIGAN: Uncle Cheetah's Soup Shop in Grand Rapids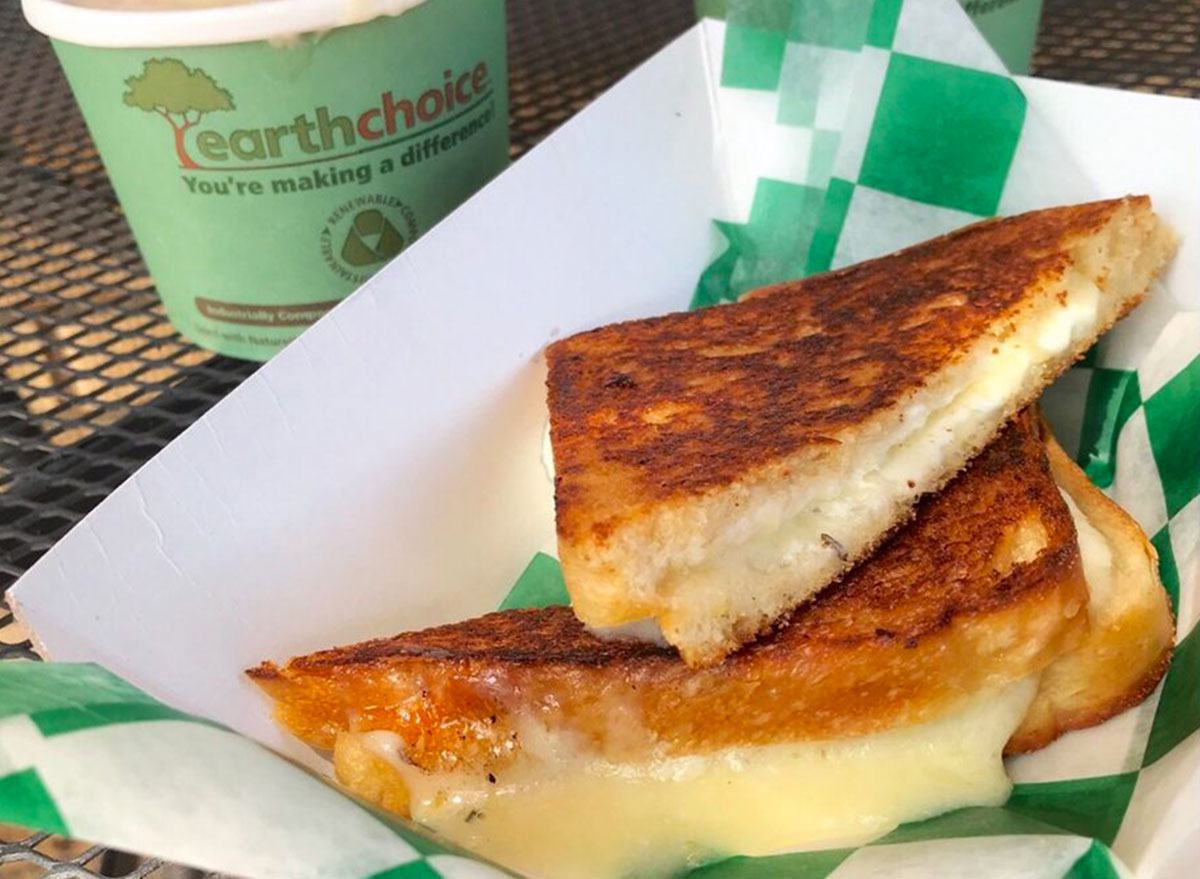 This quaint and quirky lunch spot serves up a rotating variety of made-from-scratch soups, sandwiches, and salads, with an impressive array of vegetarian, vegan, and gluten-free options. Most Yelp reviewers agree that the gourmet grilled cheeses stand out. While the menu changes almost on a weekly basis, a few examples of the unique selections include The Brussel Snout, with Havarti, bacon, grilled purple Brussels sprouts, and garlic and spring herb aioli; and The Spicy Buddha, with local golden ghost pepper jelly, thinly sliced roast turkey breast, and rosemary goat cheese.
MINNESOTA: All Square in Minneapolis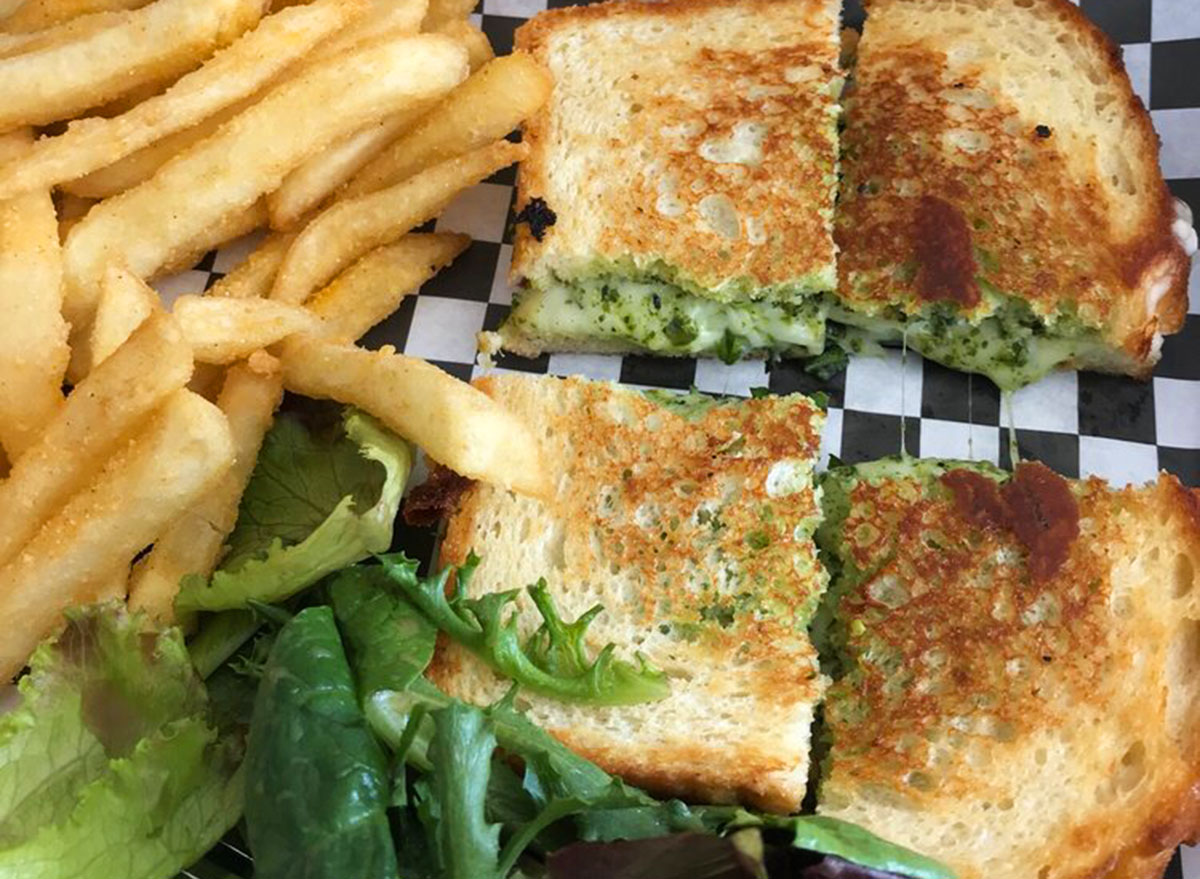 There are craft grilled cheeses galore on the All Square menu, from the top-selling Jerk Chicken with guava jam to the Mexican-themed Mucho Mas. There's no shortage of meatless options, either, like the Basil Pesto, Apple Brie Pecan, and the Mediterranean-inspired Zeus. But you can feel extra good about devouring one of the gooey grilled cheeses here because the nonprofit restaurant gives previously incarcerated people a second chance by hiring them. Grilled cheese for a good cause? Now that's a win-win.
Note: Sadly this restaurant is temporarily closed due to a family tragedy.
MISSISSIPPI: Depot Kitchen & Market in Hattiesburg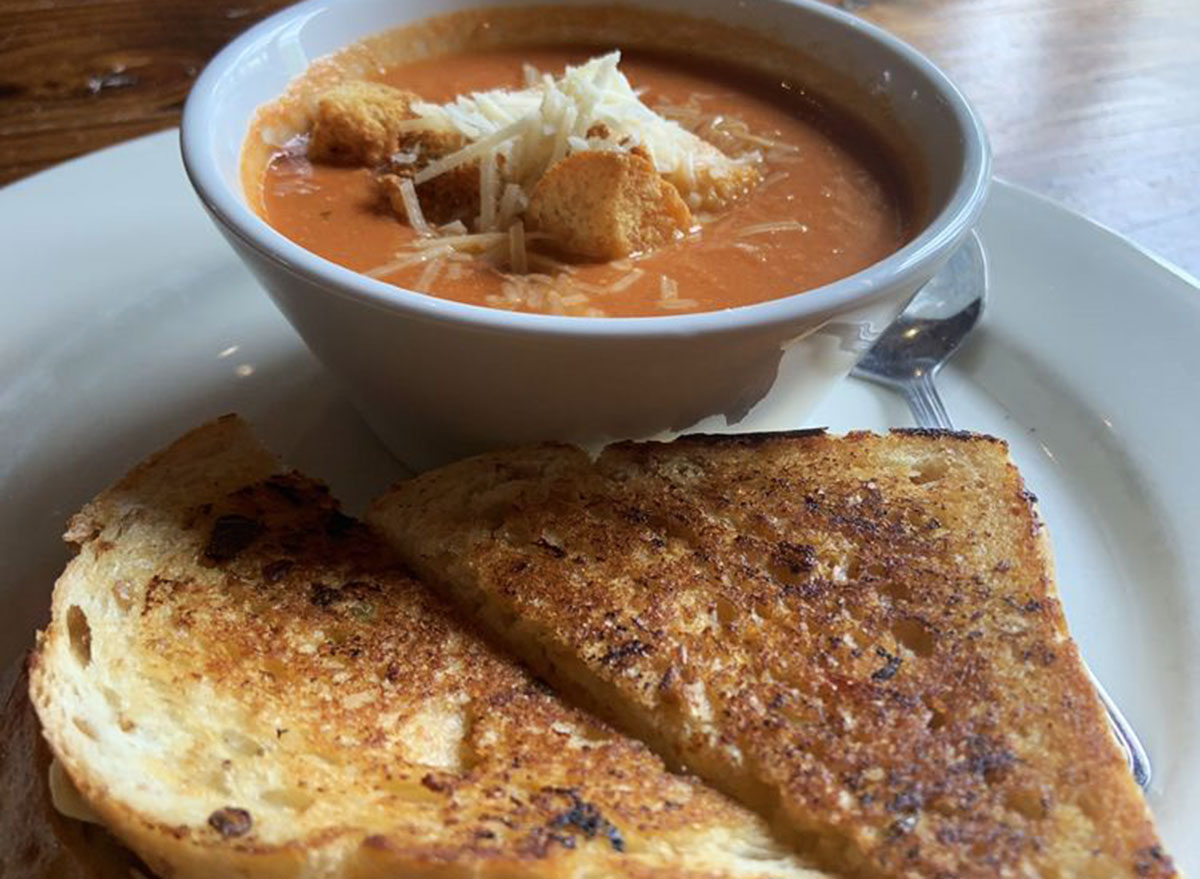 This downtown dining destination, which features a menu peppered with familiar Southern ingredients, is frequently bustling around lunchtime—likely due in no small part to its epic grilled cheeses. Whether you order the classic (with your choice of six different kinds of cheese), the roasted veggie with romesco sauce, or the lump cramp option with remoulade sauce, Yelp reviewers insist you can't go wrong.
MISSOURI: The Fountain On Locust in St. Louis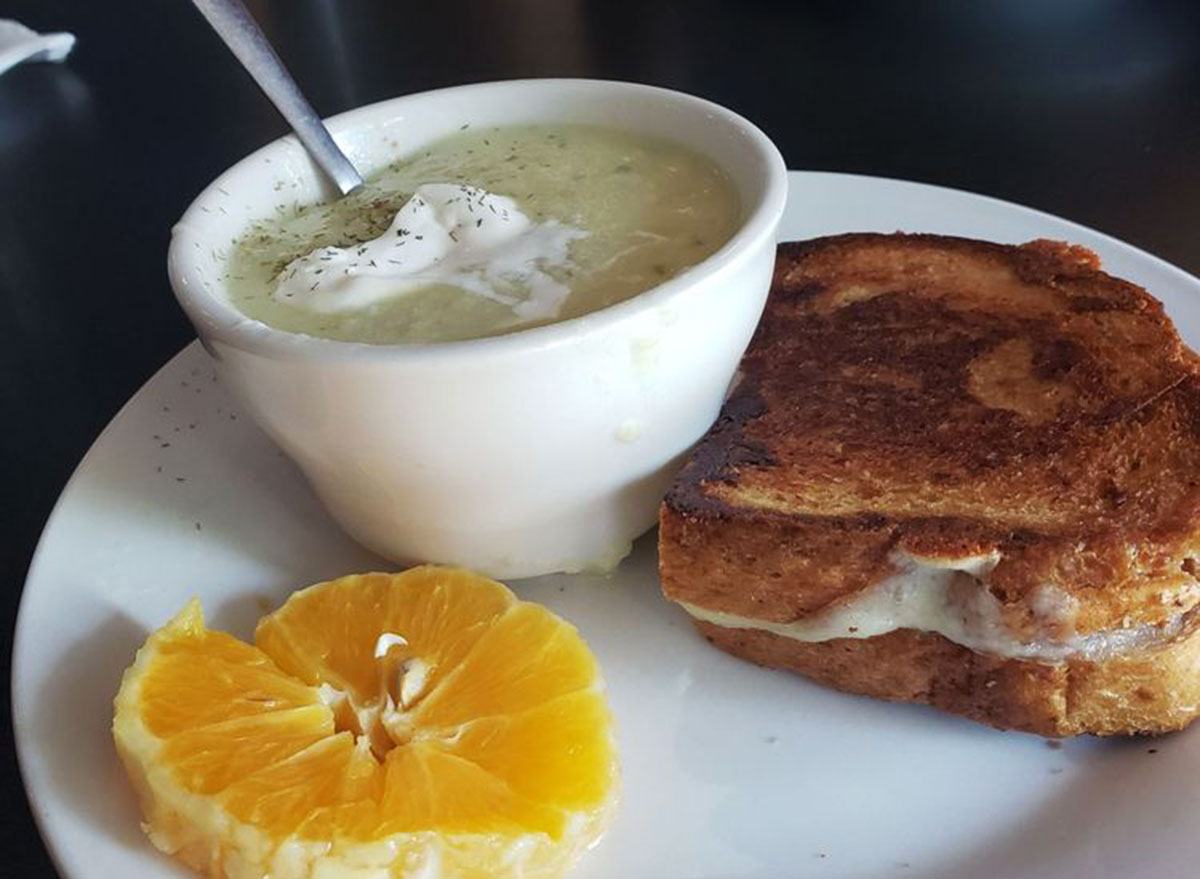 Nothing about this eclectic eatery is ordinary. From the setting (a former Stutz auto showroom) and the art deco decor, this unique eatery is the home to an award-winning grilled cheese. The sandwich comes on whole-grain bread and features a secret blend of cheeses, as well as Fuji apples, which even the most skeptical Yelp reviewers were won over by. Extra hungry? You have the option of adding turkey or ham for a meaty treat.
MONTANA: Muffaletta's in Dillon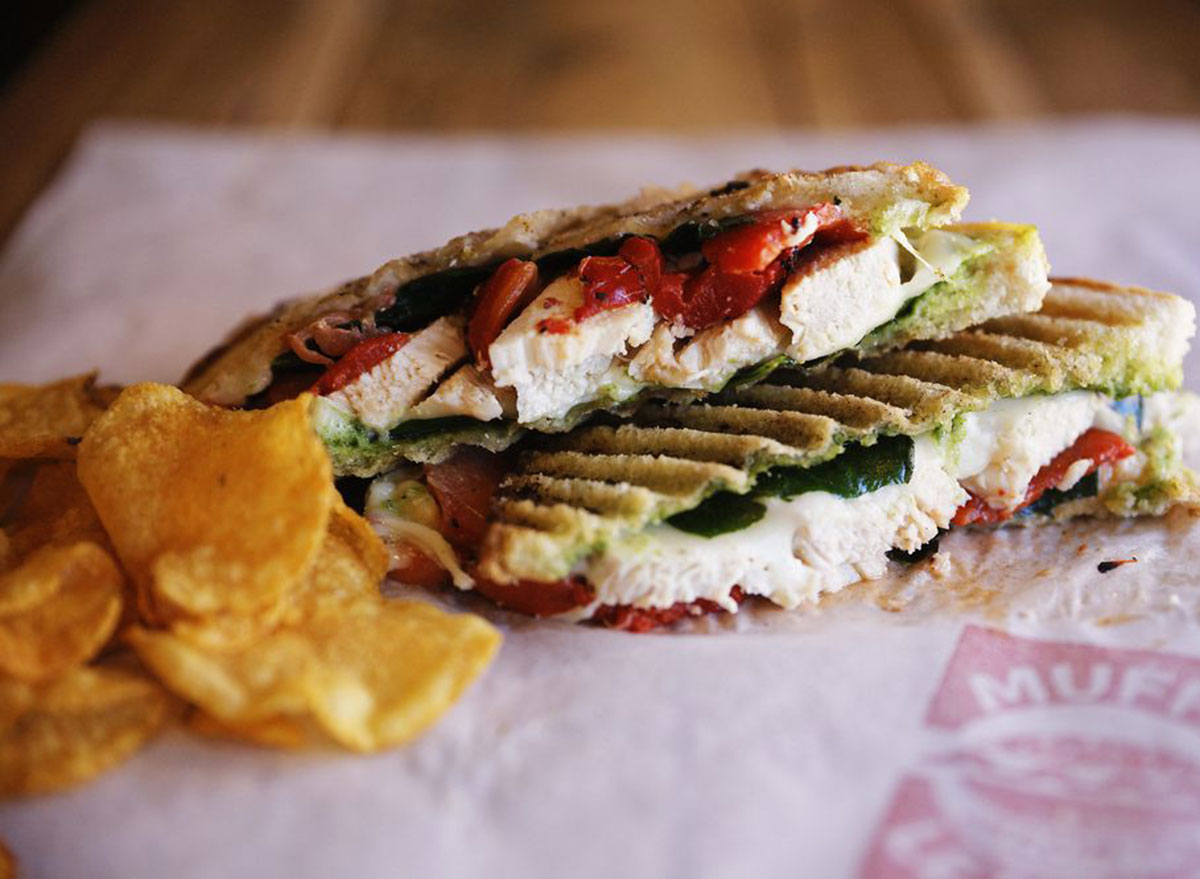 Given that this charming eatery is named for the Italian muffuletta sandwich, you might never guess that they serve up a mean grilled cheese. But what sets theirs apart is one simple twist: It's made on fluffy naan bread. The grilled cheese also comes packed with ham, but vegetarians can order it without. Either way, Yelpers recommend ordering it with their homemade tomato soup, which has just the right amount of heat.
NEBRASKA: Block 16 in Omaha
This farm-to-table sandwich shop has developed a cult-like following thanks to its peculiar but palate-pleasing grilled cheese, which changes on a daily basis. Past specials have included a smoked oxtail melt and a wagyu meatloaf grilled cheese. Want to know what's on the grill before you go? Scope out Block 16's Facebook page to find out what their daily cheesy creation is.
NEVADA: Great Full Gardens in Reno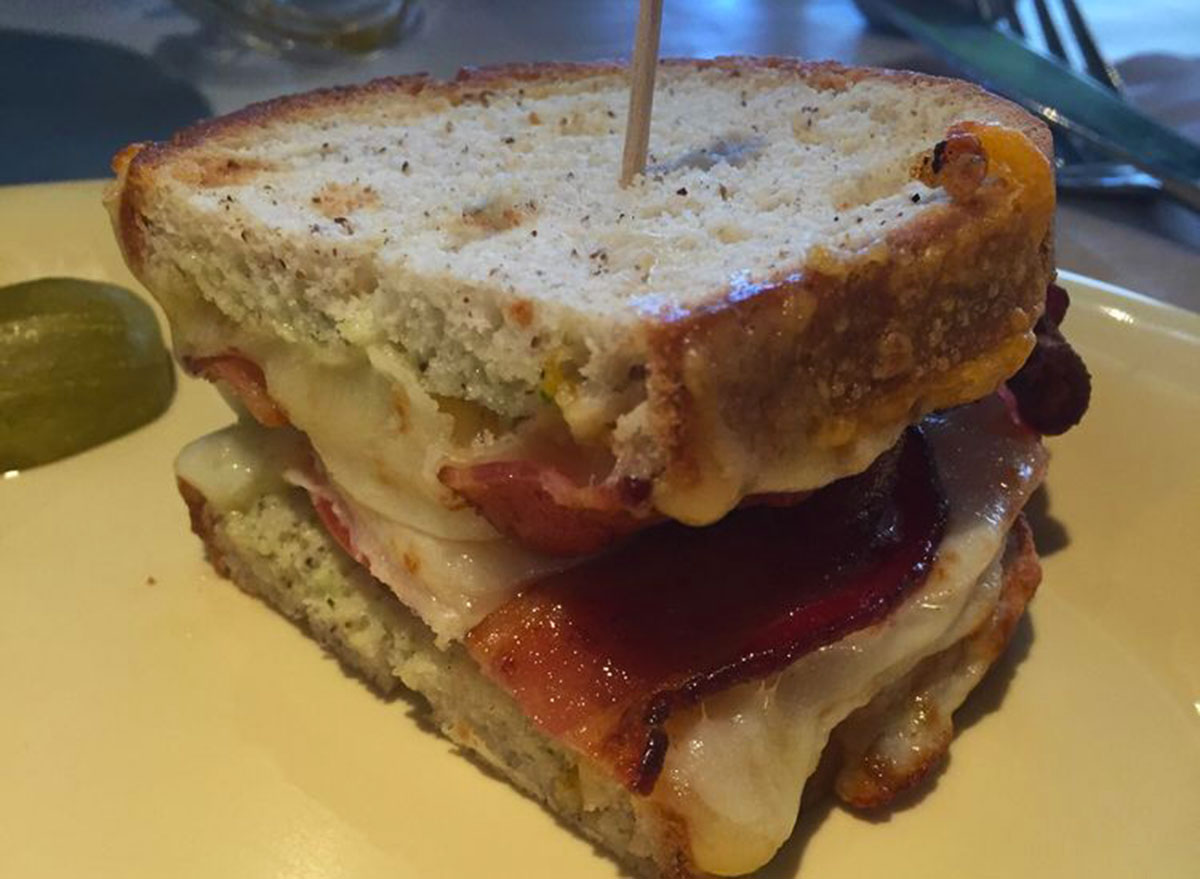 A relaxed environment and healthy, locally-sourced menus are what this popular brunch/lunch establishment is known for. Great Full Gardens also has a number of menu options accommodating special dietary needs, like the vegan grilled cheese, made with house-made cashew cheez, pesto aioli, and tomato on sourdough. One Yelp reviewer says it's "the best vegan grilled cheese I've ever had." If you prefer the real gooey stuff, go for the Gourmet Grilled Cheese, with a blend of cheddar, Havarti, provolone, and mozzarella.6254a4d1642c605c54bf1cab17d50f1e
NEW HAMPSHIRE: Gypsy Cafe in Lincoln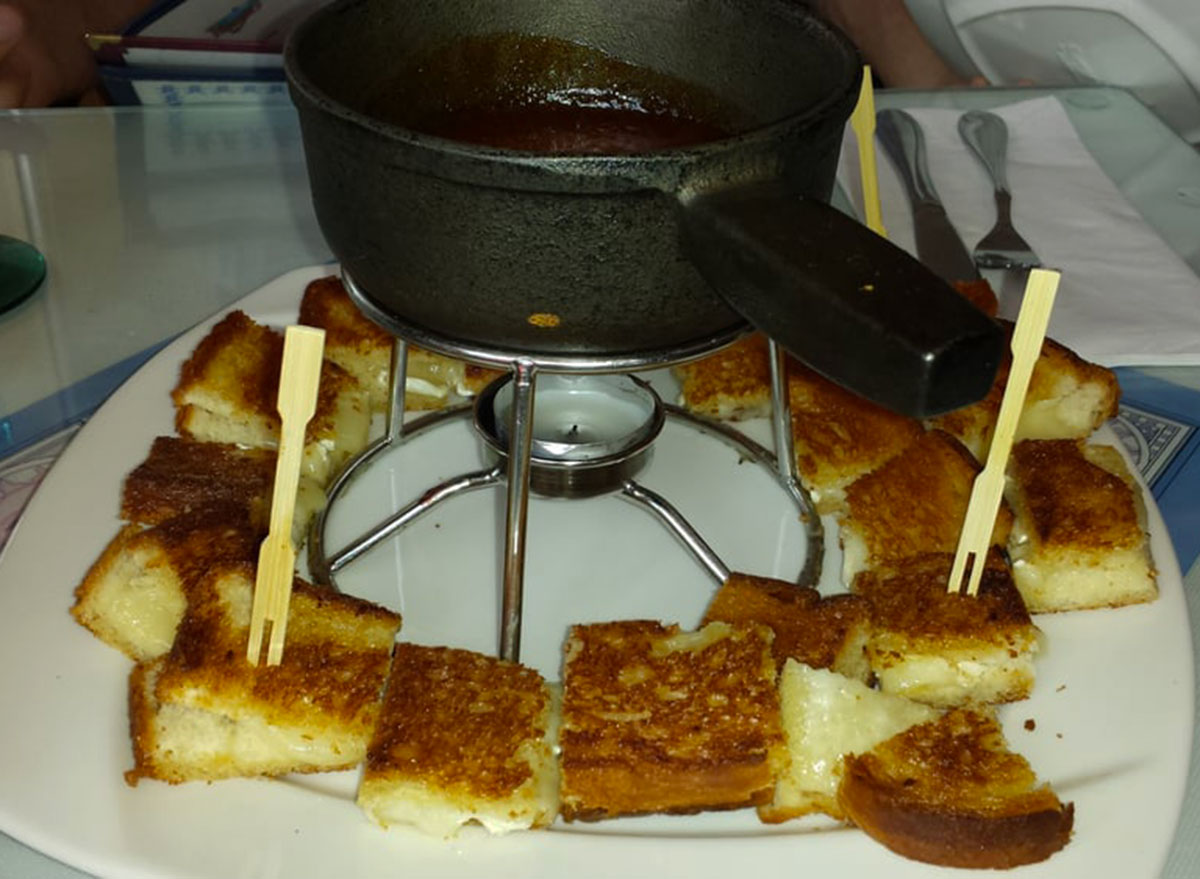 This colorful cafe, which is nestled in the White Mountains of New Hampshire, gets its charm from eclectic artwork and an international menu. But the funky vibes aren't the only thing to love here; Gypsy Cafe also features two different crave-worthy iterations of grilled cheese. The grilled cheese fondue appetizer is a big hit with Yelp reviewers, who note that the unexpected ancho-apricot dipping sauce pairs perfectly with the cubed sandwich. Aside from the appetizer, there's also an Italian Duck Grilled Cheese, which is stuffed with pulled duck, basil aioli, fig jam, and jack cheese. According to Yelp reviews, you can't lose no matter which grilled cheese you choose.
NEW JERSEY: American Melts in Kenilworth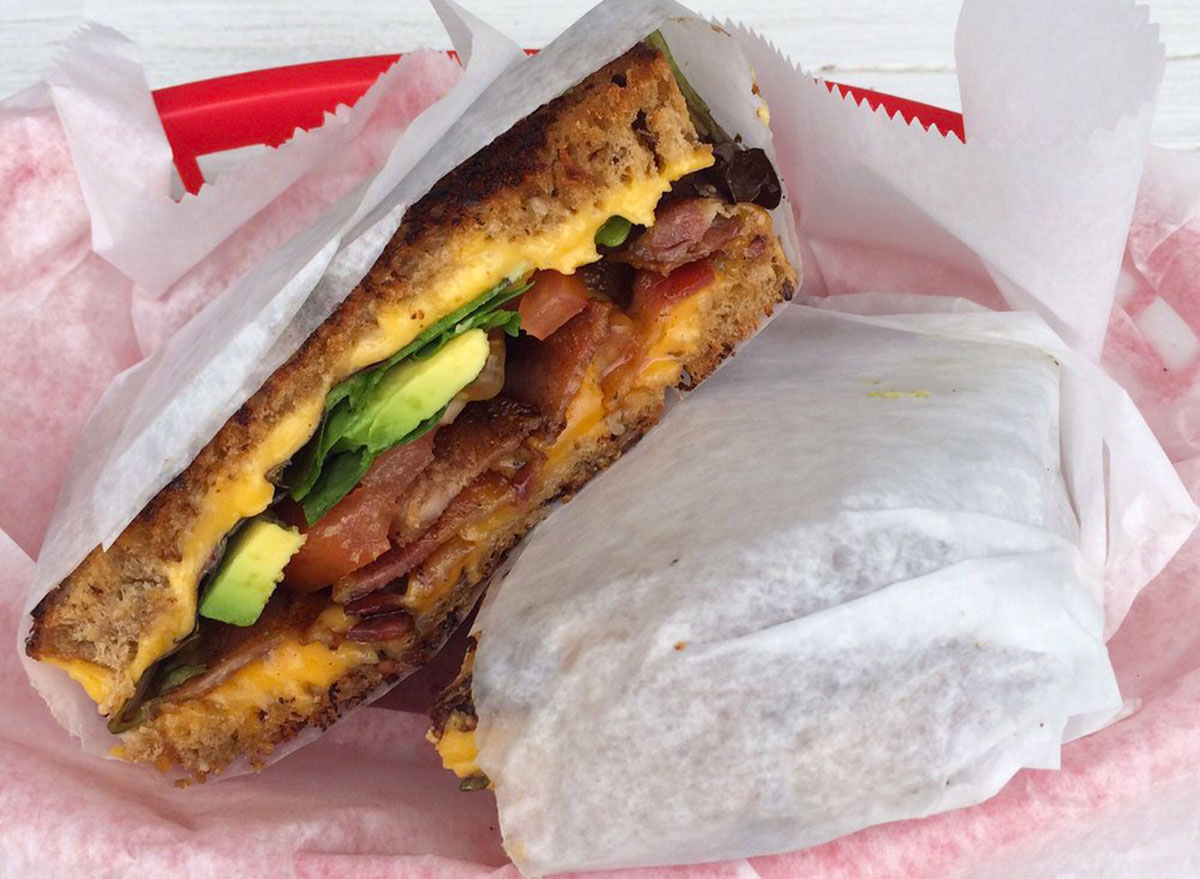 From the outside, it may just look like an unassuming little shack in an unpaved parking lot, but don't be fooled. On the inside, American Melts is an elaborate customizable grilled cheese bar that features locally baked bread and artisan cheeses. There are 11 different "chef's combinations" on the menu, like the C.A.T. with herb grilled chicken, avocado and sundried tomatoes, and the Stone Pony, with roast beef, caramelized onion, and horseradish aioli. Or, you can build your own, with five kinds of bread, 10 kinds of cheese, six types of meat, nine sauces and spreads, and over a dozen veggies and other toppings. All of the sandwiches are easily customizable based on your dietary restrictions. If you're going for the full nostalgic grilled cheese experience, add on a soup dipper and top the meal off with cheddar-topped apple pie.
NEW MEXICO: The Grove Cafe & Market in Albuquerque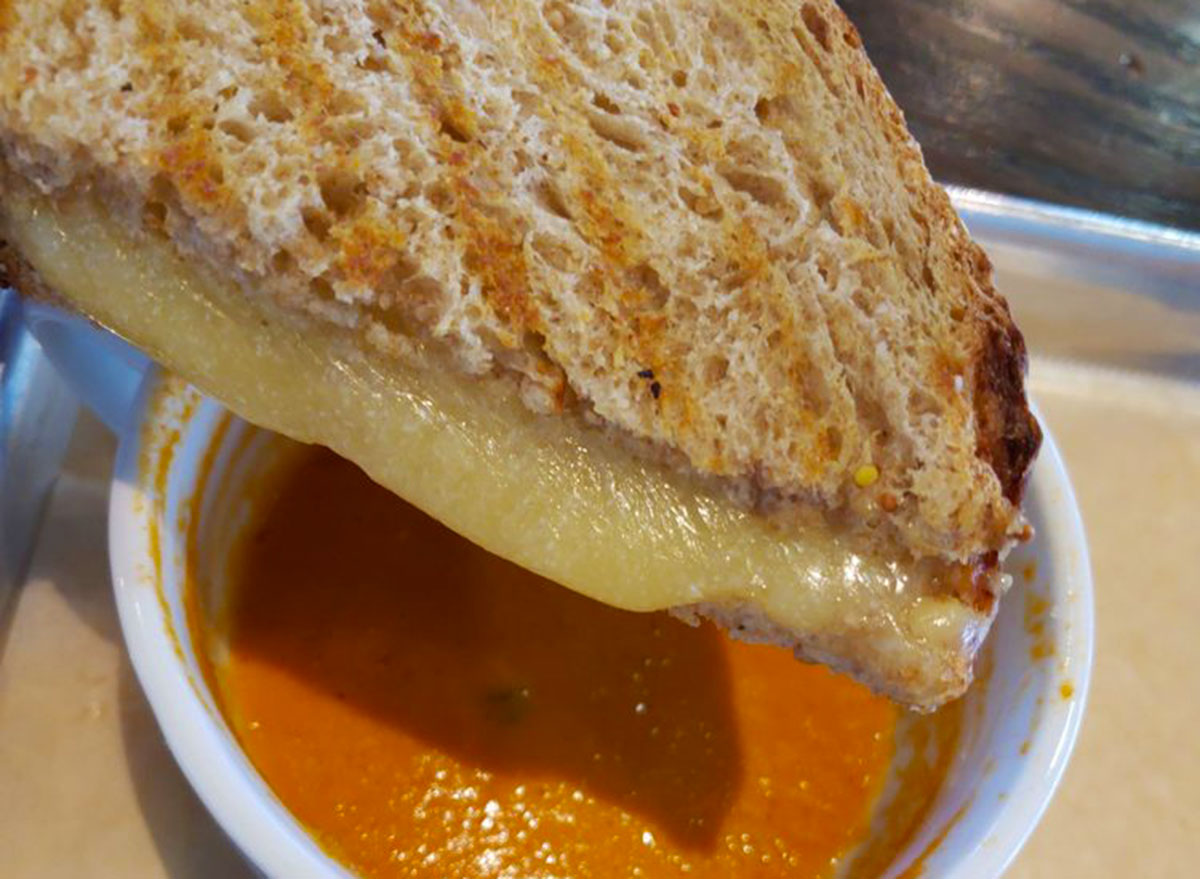 The menu at this eatery, which is located on the trendy EDo (East Downtown) neighborhood, revolves around organic ingredients from local farms, with an emphasis specifically on sustainable agriculture. But what makes The Grove truly shine, according to Yelp reviewers, is its grilled cheeses. You have two options at lunchtime, both on pressed sourdough: The Three-Cheese (which boasts white cheddar, Havarti, and aged provolone) and the Grilled Cheese 'N Greens (with ricotta, gruyere, braised kale, roasted tomatoes, and pickled fennel.) When the weather permits, savor your sandwich out on the covered patio.
NEW YORK: The Cheese Traveler in Albany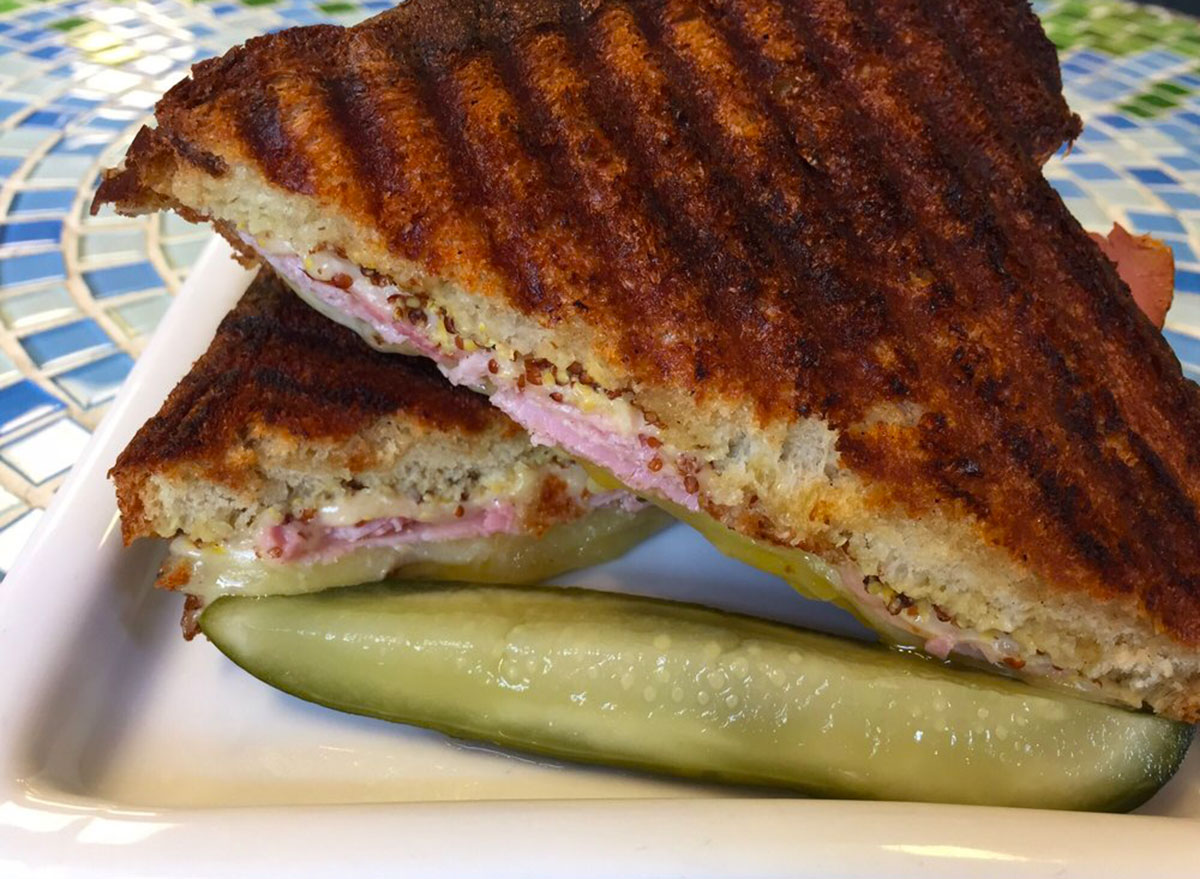 This specialty food shop is full of artisan cheeses and meats to take home. But while you're there, you might want to order one of their famous grilled cheeses. Mill around and sample some cheeses and other charcuterie, or sip a glass of wine while you wait for your sandwich to be prepared on the panini press. Traditionalists will appreciate the Simple Pleasure, which combines Shelburne Cheddar from Vermont and Edelweiss Havarti from Wisconsin on an Our Daily Bread sandwich loaf. But if you're looking for a more unique sandwich, go for the Sweet and Savory with smoked duck breast and Sidehill Blueberry jam.
NORTH CAROLINA: Papi Queso in Charlotte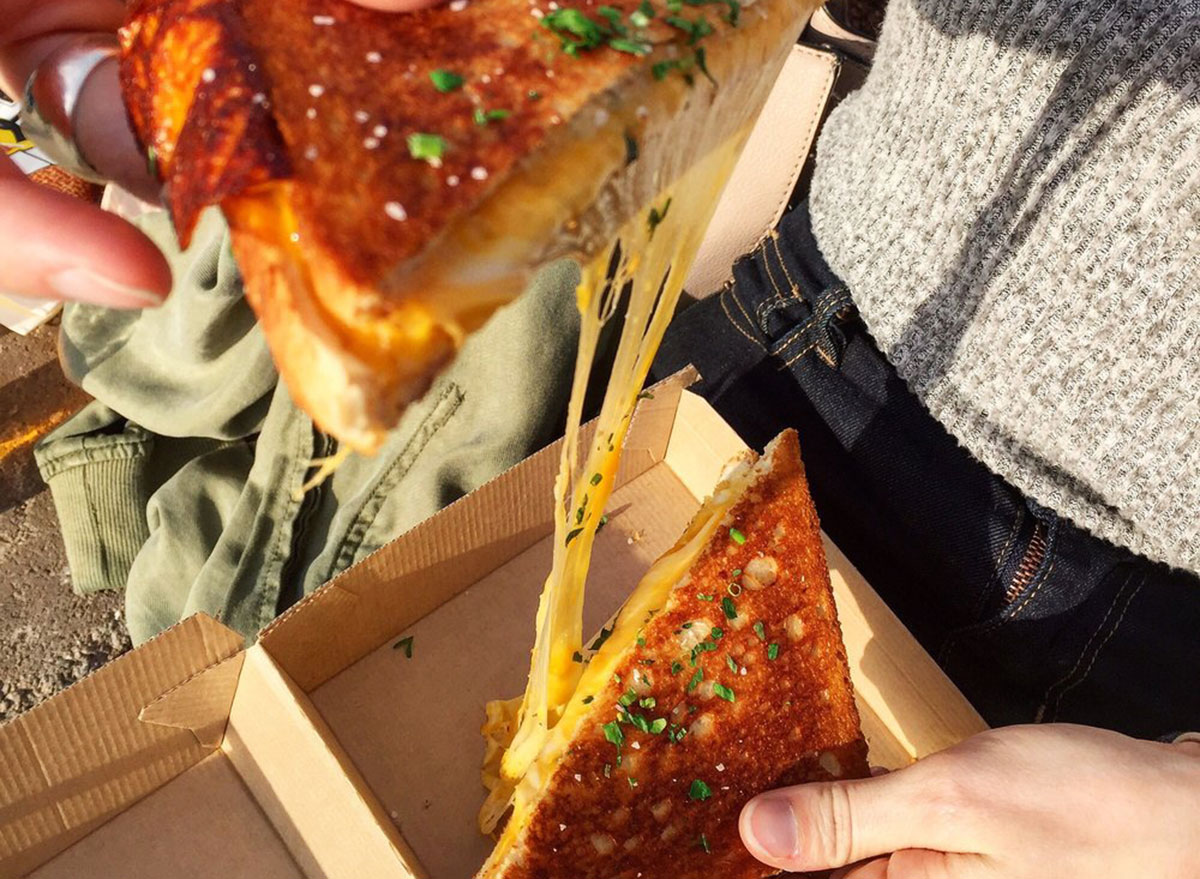 "Anyone can put cheese between two slices of bread, but Papi Queso makes an art out of it," says one Yelp review. That explains why this uber-popular food truck now has its own brick-and-mortar location at the Optimist Park food hall. Vegetarians will appreciate the Mushroom Gruyere with truffle cream, while meat-eaters may prefer the Burger Melt with caraway onions and Thousand Island. But without a doubt, the Pig Mac is Papi Queso's top seller. Considering it's brimming with slow-smoked Cheshire pork, caramelized onions, and mac and cheese, it's no surprise.
NORTH DAKOTA: Mezzaluna in Fargo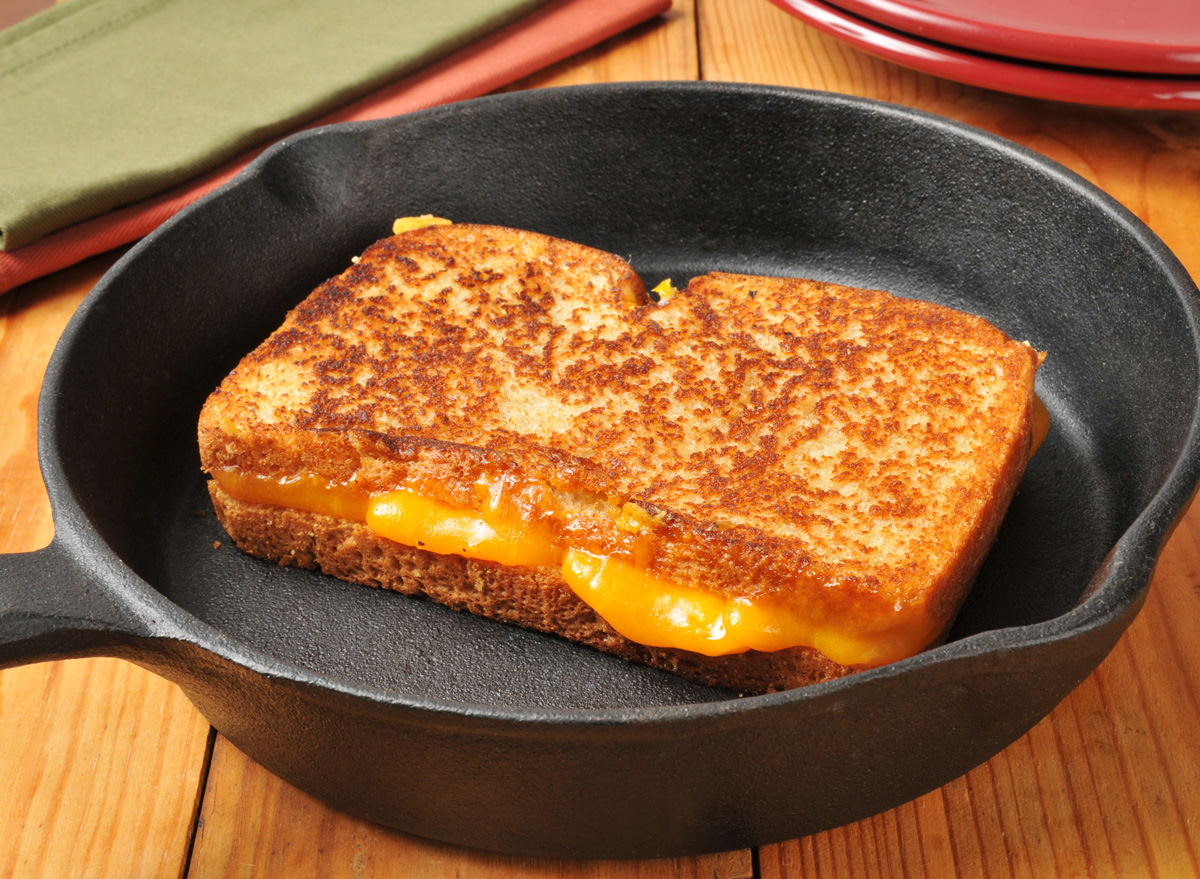 Yelp's top choice for grilled cheese in North Dakota, Bosey's Bistro & Bar in Fargo, has closed. But we think the grilled cheese at Mezzaluna sounds just as delicious. Reviews agreed, one wrote, "My personal favorite is the grilled cheese and tomato soup! I know, you're probably asking what am I doing ordering that at a classy lounge. But not so fast…this isn't your ordinary grilled cheese and soup. It's a grilled cheese with a mixture blend of cheeses on thick Texas toast and what tastes like homemade tomato soup!"
OHIO: Maplewood Kitchen and Bar in Deerfield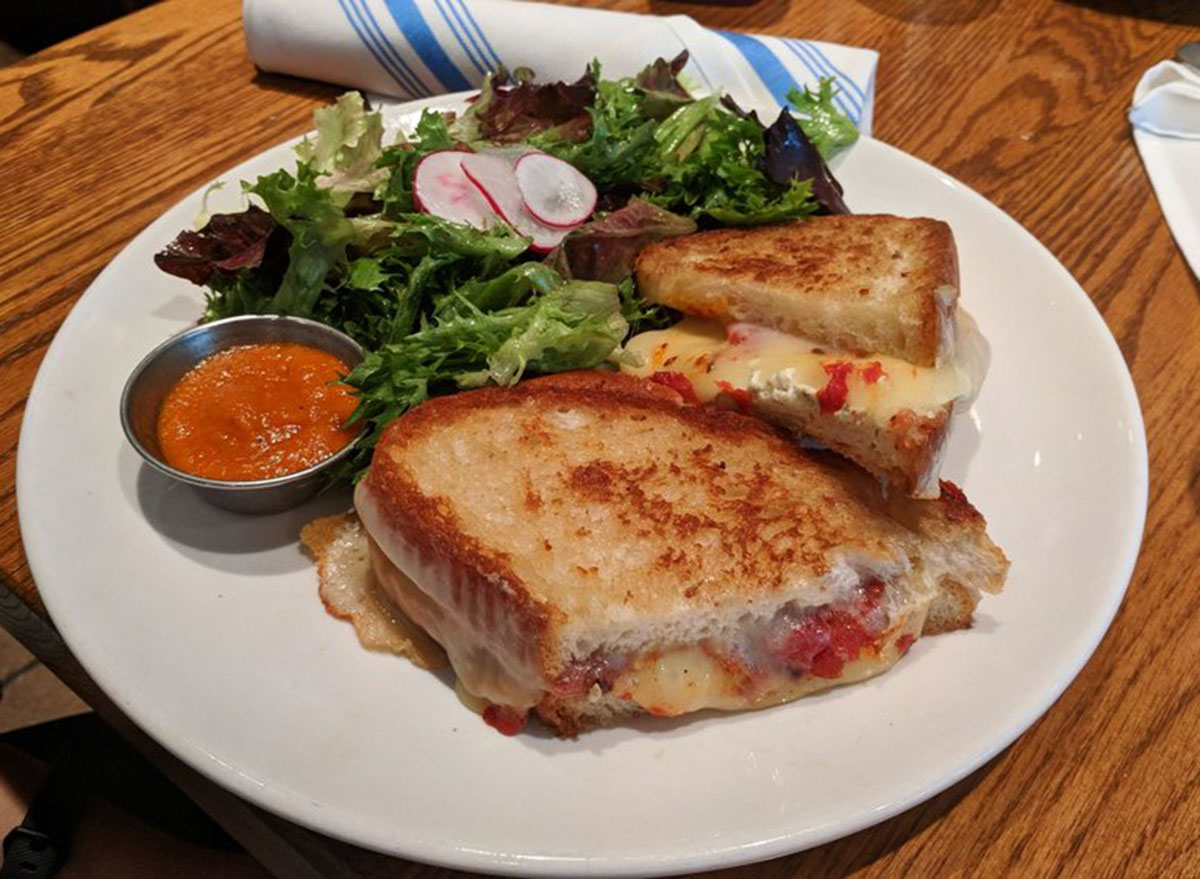 You can expect long lines and wait times at this bright, spacious cafe, which serves up farm-fresh West Coast eats from brunch through dinner time. And yet, Yelp reviewers agree it's worth the wait to try the "not your average" sourdough grilled cheese. This famous sandwich features white cheddar, Havarti, Boursin, slow-roasted tomato, and red pepper tomato sauce for a zesty kick. Your choice of sides ranges from smoky Black Beans with queso fresco to shoestring fries and seasonal fresh fruit.
OKLAHOMA: The Mule in Oklahoma City
Hot melts and cold beer—that's the name of the game at this hip restaurant. One Yelp reviewer says the fare is "comfort food at its finest, but made with quality ingredients and flair," and it doesn't get more comforting than the array of indulgent grilled cheeses. While nearly all of their sandwiches seem to be a hit, the Macaroni Pony is definitely a fan favorite. With melty three-cheese mac and chipotle BBQ pulled pork sandwiched between slices of jalapeño cornbread, it's easy to see why. Other grilled cheese options include the Fancy Pants, with roasted chicken, pear, pesto, and balsamic reduction on wheat, and the Herbivore, with cashew cheese, a medley of grilled and roasted veggies, and chipotle aioli.
OREGON: Sugarpine Drive-In in Troutdale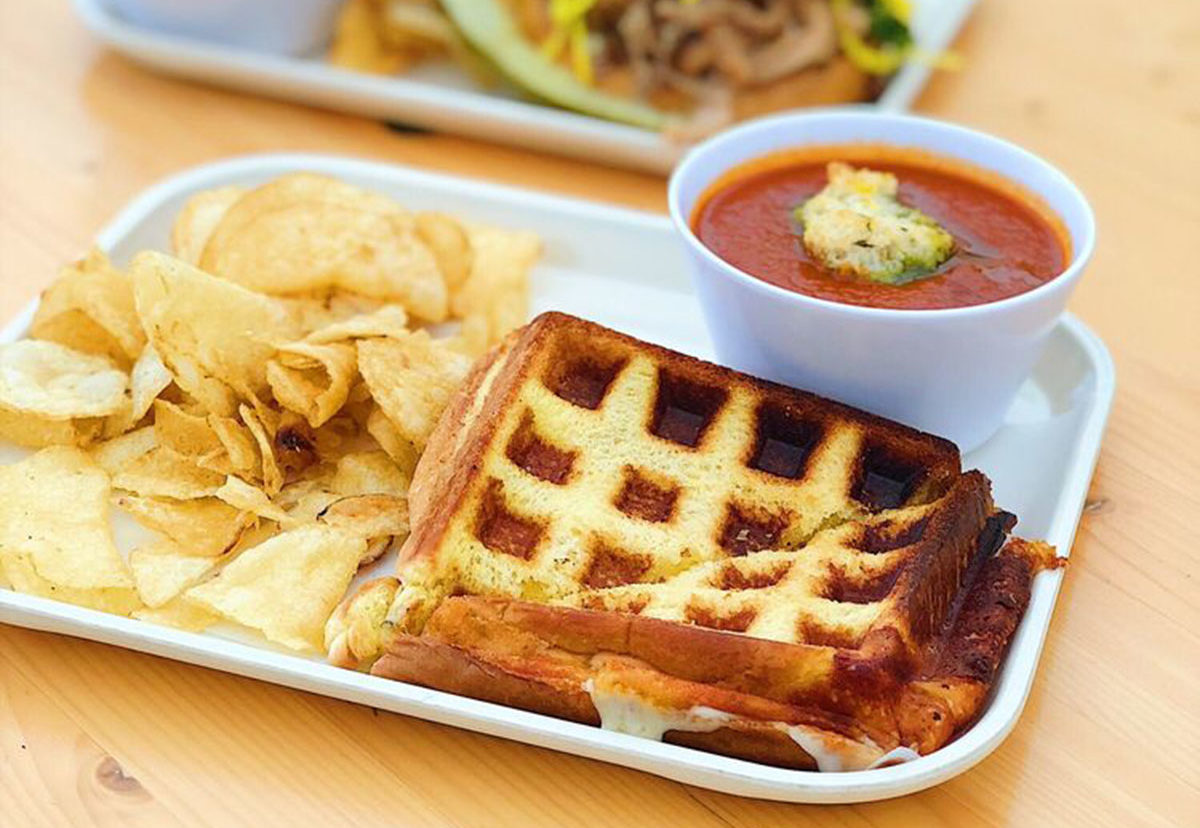 Cyclists, hikers, picnickers, road-trippers, and local foodies alike flock to this family-owned drive-in, which serves up American comfort food from a refurbished gas station on the banks of the Sandy River. While the restaurant doesn't have indoor seating, patrons can enjoy their grub on the picturesque heated patio overlooking the river. Some stop by just for the elaborate sundaes, but Yelp reviewers insist that it would be a mistake to miss out on the "waffle" grilled cheese on Texas toast. Optional additions include everything from bacon and honey ham to kimchi and apple chutney. Regardless of whether you keep it simple or add some accents, Yelp reviewers say you can be sure this sandwich has that sought-after cheese pull.
PENNSYLVANIA: Gracie's on West Main in Leola
While there's a multitude of options on the massive menu at this comfy neighborhood diner, Yelp reviewers say the grilled cheeses here are definitely worth ordering. One reviewer says these sandwiches are so filling that they can be split into two meals. There are seven different styles to choose from, including a pulled pork, pesto turkey, and Philly cheesesteak grilled cheese. Some reviewers seem to drool over the sweet and spicy Blasian Chicken Grilled Cheese with pulled spoke chicken, sweet garlic chili bacon, and Blasian sauce on grilled sourdough.
RHODE ISLAND: Scratch Kitchen & Catering in Newport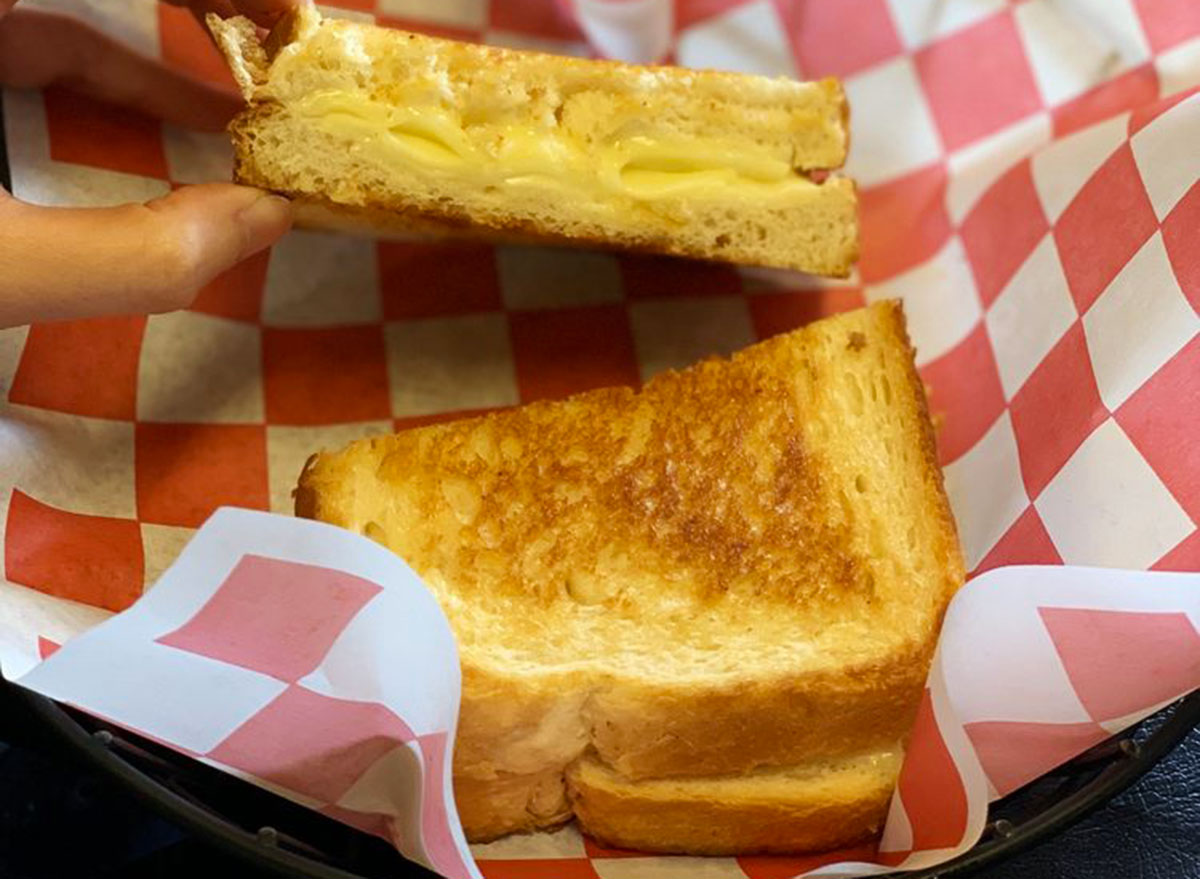 Gourmet grilled cheeses are this quaint restaurant's specialty, and as the name suggests, most of the ingredients are made from scratch. At breakfast time, snag one of the grilled cheese frittatas, which feature savory baked egg custards with various mix-ins. Or, if you come at lunchtime, try one of the 20 different creative grilled cheese selections (all of which can be made as a gluten-free quesadilla). Some of the especially creative options include The Fat Kid with deep-fried mac and house-made tomato bacon jam; and The Thanksgiving with turkey breast, cranberry orange relish, and apple-sausage-cornbread stuffing.
SOUTH CAROLINA: The Grilled Cheese & Crab Cake in Murrells Inlet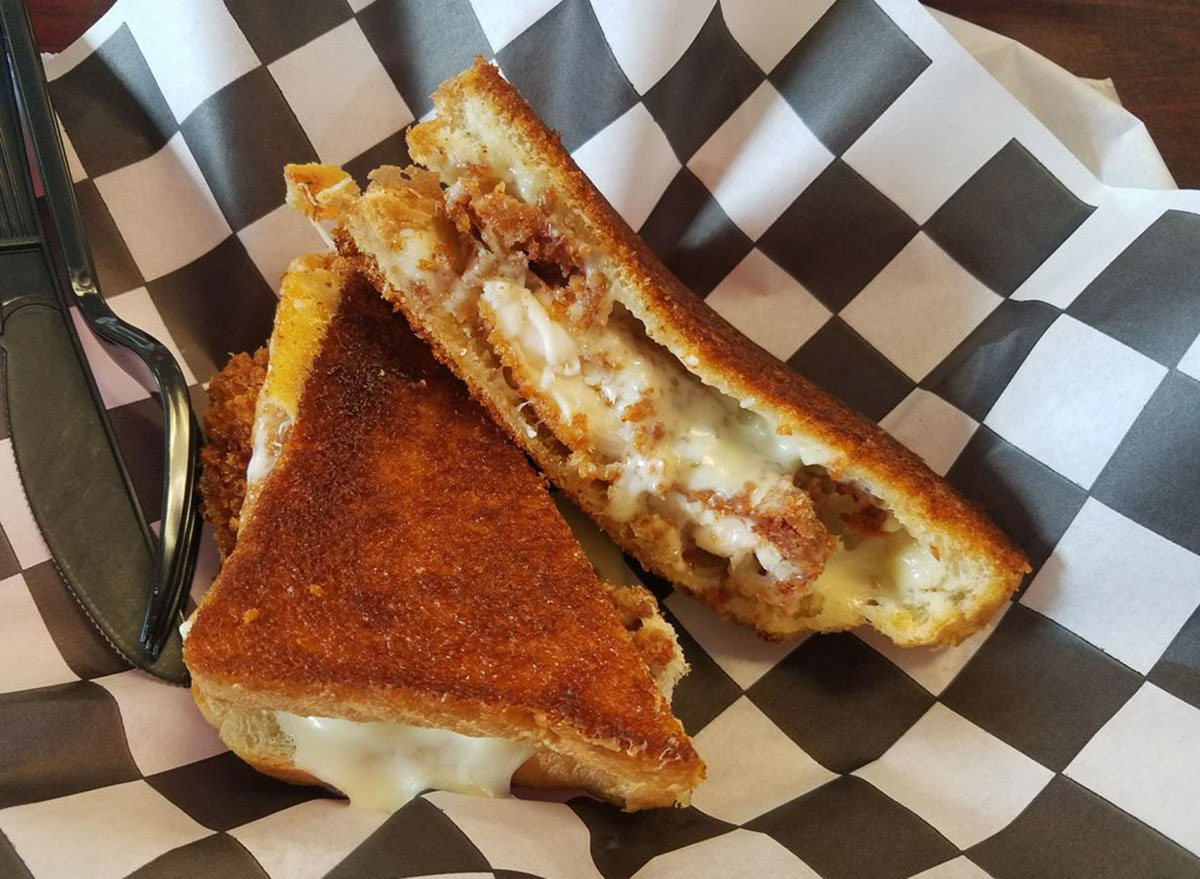 The name of this unassuming eatery, which happens to be located in a strip mall, tells you everything you need to know about what to order. The best part? You can try both specialties at once with The CrabMelt, a Texas toast grilled cheese brimming with Maryland-style crab cake and Monterey jack. That's not the only seafood-inspired sandwich, either. Other grilled cheese options feature fried shrimp, oysters, and lobster tails. If you're not a fan of fish, go for the top-selling buffalo chicken grilled cheese, which contains their housemade secret buffalo sauce (as well as blue cheese for dipping, of course).
SOUTH DAKOTA: Murphy's Pub & Grill in Rapid City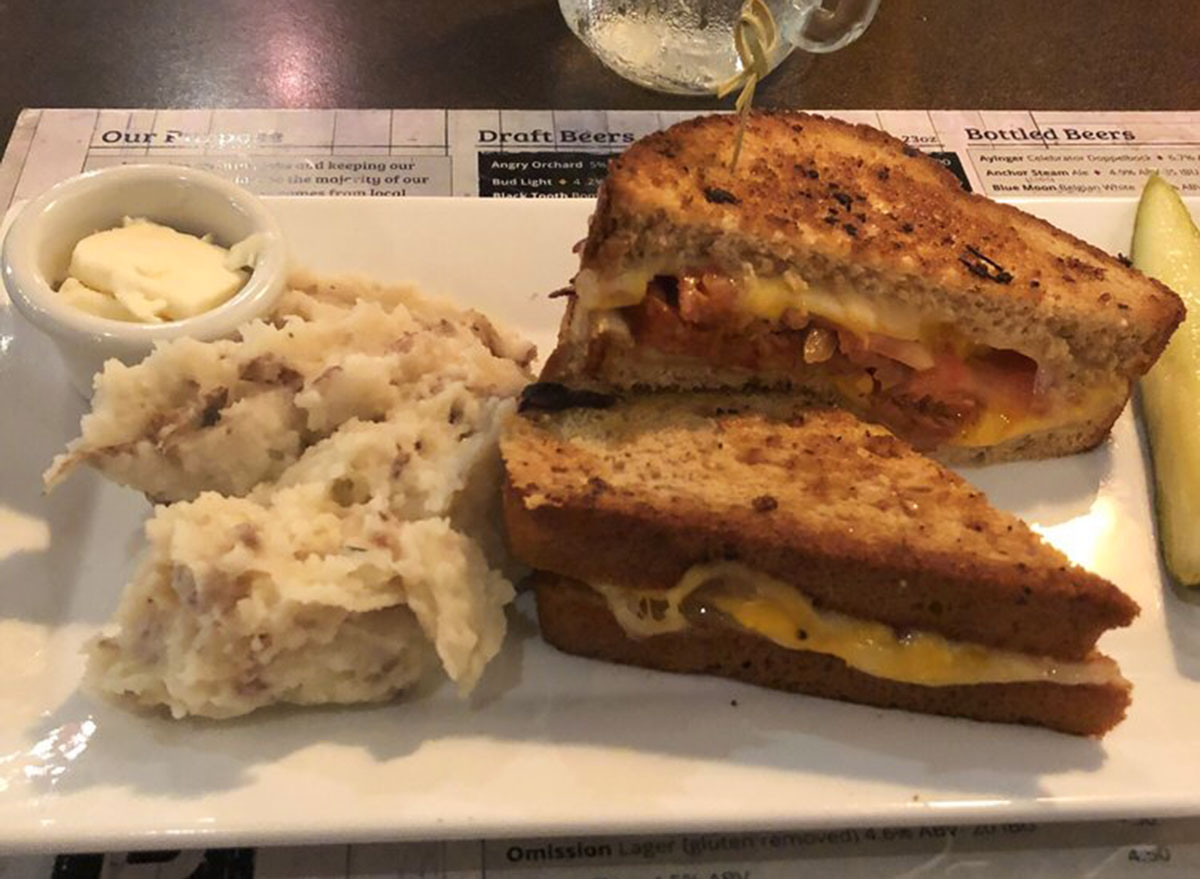 "Phenomenal," "filling," and "perfectly melted" are just a few of the descriptors that Yelp reviewers have used to describe the adult grilled cheese at this Irish watering hole. While Murphy's menu offers a wide variety of soups, salads, wraps, burgers, and other pub grub, one Yelp reviewer is adamant that the grilled cheese is "where it's at." The sandwich is loaded with cheddar, swiss, parmesan, and mozzarella, and if you want to amp things up, you can add in pulled pork, steak, lobster, or sausage, among other options. The grilled cheese can be ordered as a half sandwich, but based on Yelpers' reviews, you may want to go for the full thing.
TENNESSEE: Barrel House BBQ in Lynchburg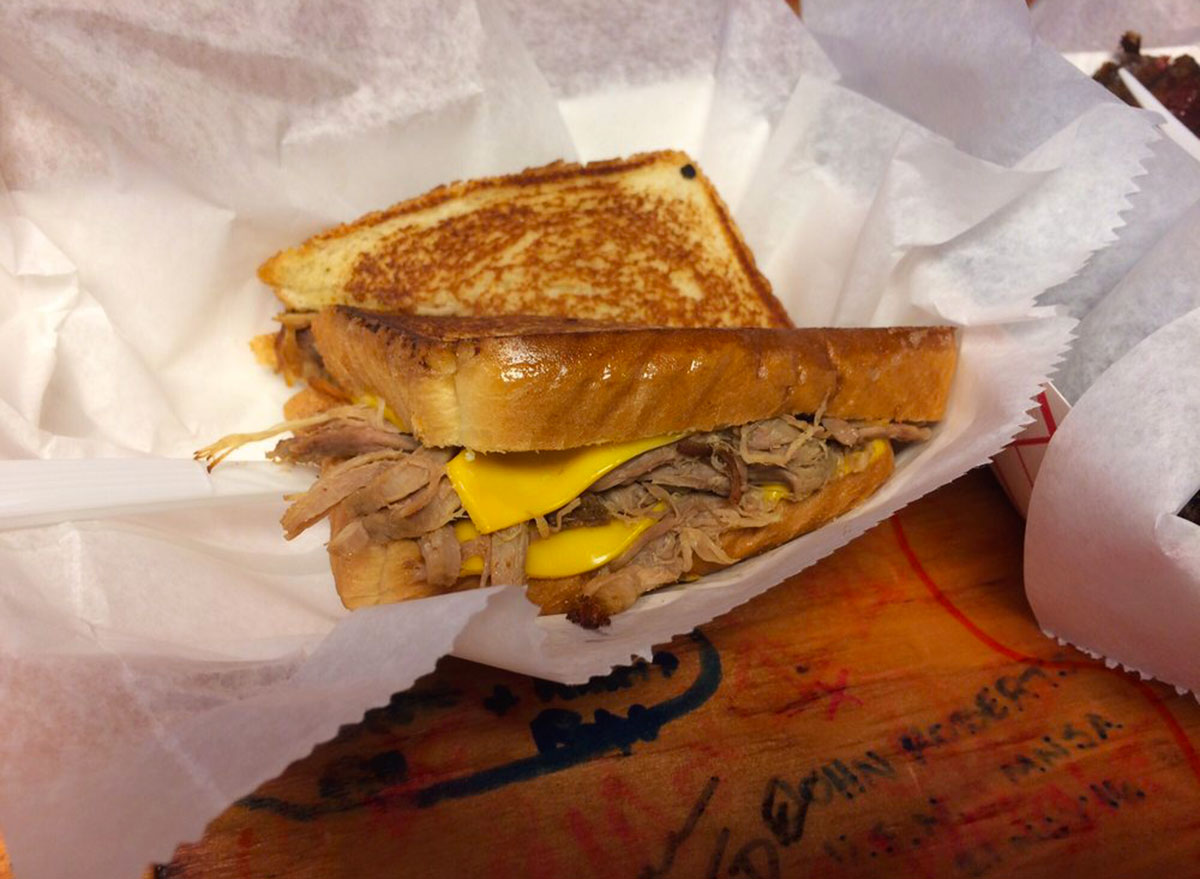 Barrel House isn't just one of the most beloved barbecue restaurants in the state of Tennessee. It's also home to the award-winning "Grilled Cheese on Crack," which one Yelp reviewer says is "out of this world." The sandwich, which is named for its super addictive nature, features a combo of American cheese, pulled pork, and habanero sauce. Other versions of the sandwich will sub pulled pork for smoked sausage, brisket, or grilled chicken. Make it a meal by tacking on a Southern side or two, like baked beans, vinegar slaw, or potato salad.
TEXAS: Brotherton's Black Iron Barbecue in Pflugerville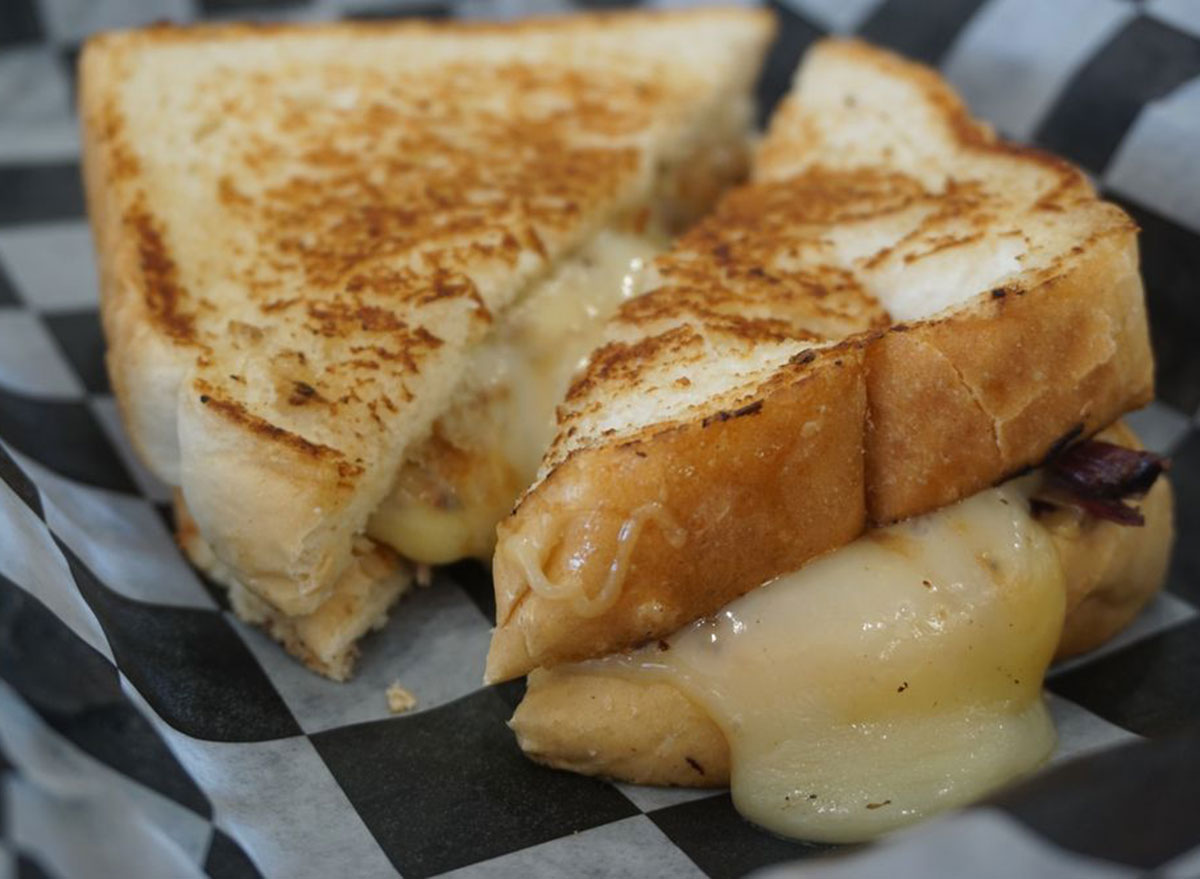 High-quality smoked meats are the highlight at this hole-in-the-wall Texas BBQ joint, which is located in a strip mall. That explains why the grilled cheese is oozing with juicy brisket (along with a combo of melted gouda and Monterey jack). One Yelp reviewer says it's a "must try" and suggests adding BBQ sauce to complement the flavors. You can also purchase a limited variety of smoked meats by the pound, so consider picking up some brisket on your way out to elevate your grilled cheese at home.
UTAH: Fletcher's in Park City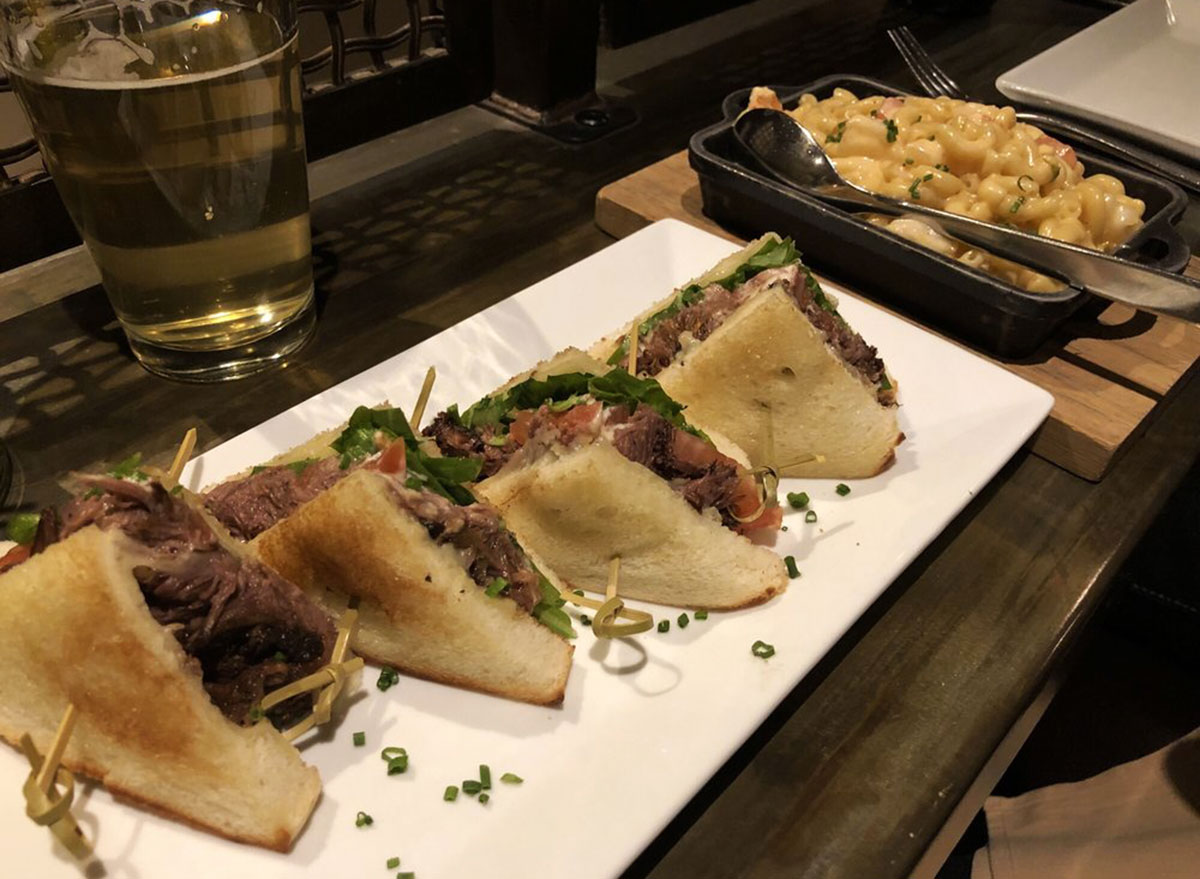 Talk about an ideal aprés situation: This stylish restaurant not only provides warm, cozy vibes, but also satiating comfort fare. The short rib grilled cheese is one of them, which combines cheddar, roasted garlic aioli, tomato, and arugula. If you're really hungry, Yelp reviewers highly recommend ordering it with a side, like the rosemary fries, Brussels sprouts, or charred cauliflower with pumpkin seeds.
VERMONT: Monarch & The Milkweed in Burlington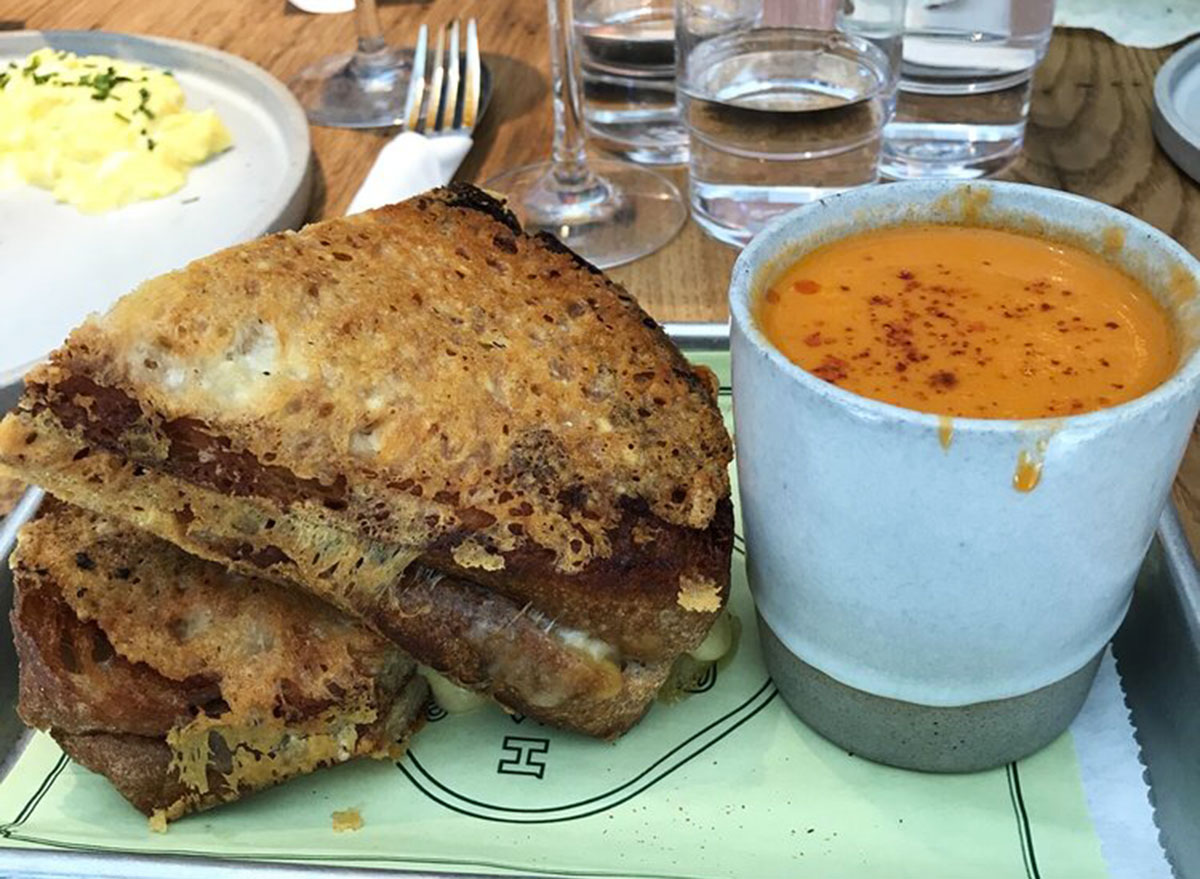 Part pastry shop and part "fine diner," this sophisticated hotspot is known for its cocktails, its cannabis edibles, and, of course, its grilled cheese. It's a sandwich that highlights several heavenly local cheese varieties including cheddar and gruyère. It's served with the perfect accompaniment: a cup of slightly spicy tomato soup. The secret to such a delicious sandwich? According to some Yelp reviewers, the outside of the bread is slathered in cheese before it's grilled, which gives every bite a super salty and satisfying crunch.
VIRGINIA: Food For Thought in Williamsburg
This charming restaurant may have discussion cards placed on the table to get guests talking, but truth be told, the signature grilled cheese sandwiches are enough of a conversation starter in themselves. Some of the innovative iterations include The Coastline, with lump crab, bacon, asparagus, and Old Bay mayo, and the Wine Country, with creamy brie, sliced apples, strawberries, red onion, and honey mustard. Be prepared to hang tight for a table during the busy lunchtime. And while you wait, read the many thought-provoking quotes from famous inventors, leaders, and scientists displayed on the walls.
WASHINGTON: Beecher's Handmade Cheese in Seattle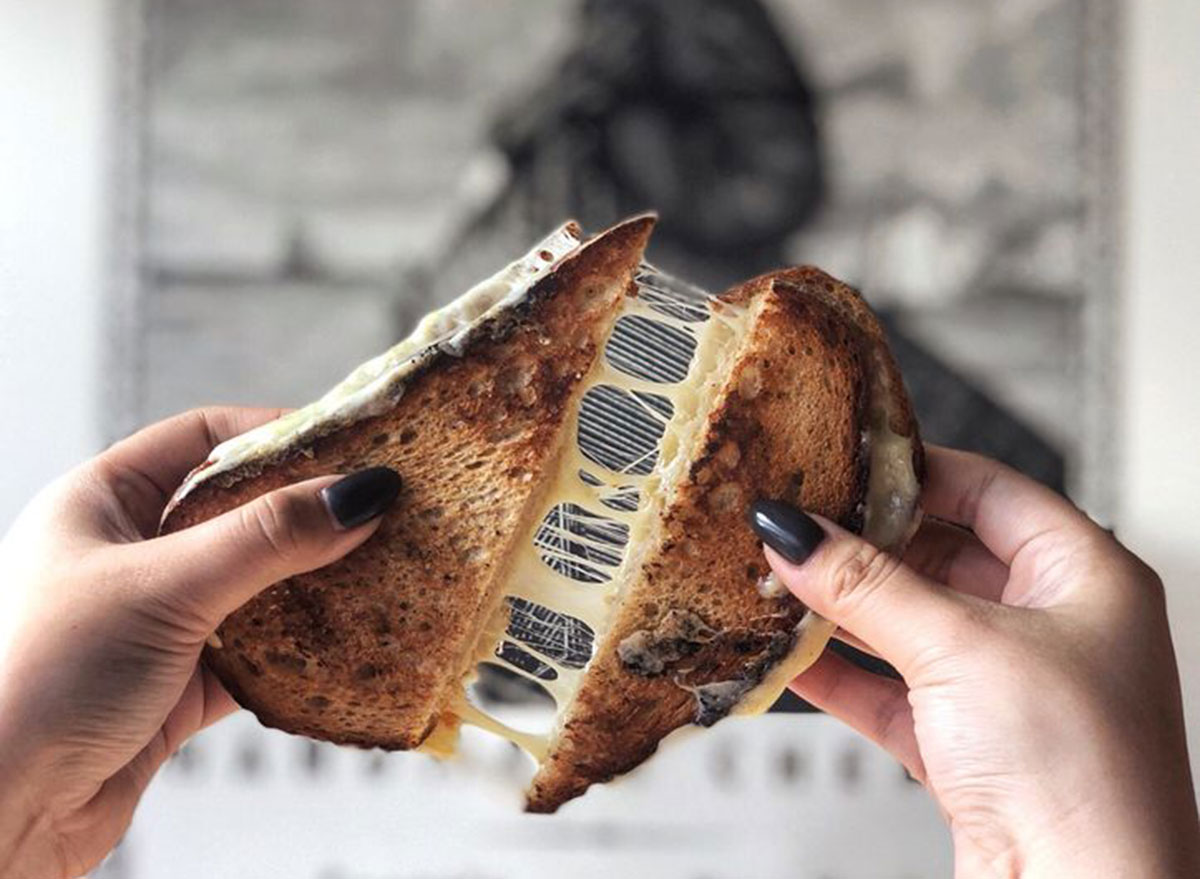 Beecher's is not only a retail shop but also a sit-down cafe. And what better way to enjoy their award-winning cheeses than with a grilled cheese sandwich? Located in the heart of the historic Pike Place Market, it's the perfect spot to take a lunch break. While you wait for your sandwich to be served, nosh on some cheese samples and watch the cheesemakers at work. All of the grilled cheeses are made with local whole wheat bread. The lineup includes melts with basil and tomato, kimchi, smoked turkey, and roast beef with arugula.
WEST VIRGINIA: Cheese Louise in Morgantown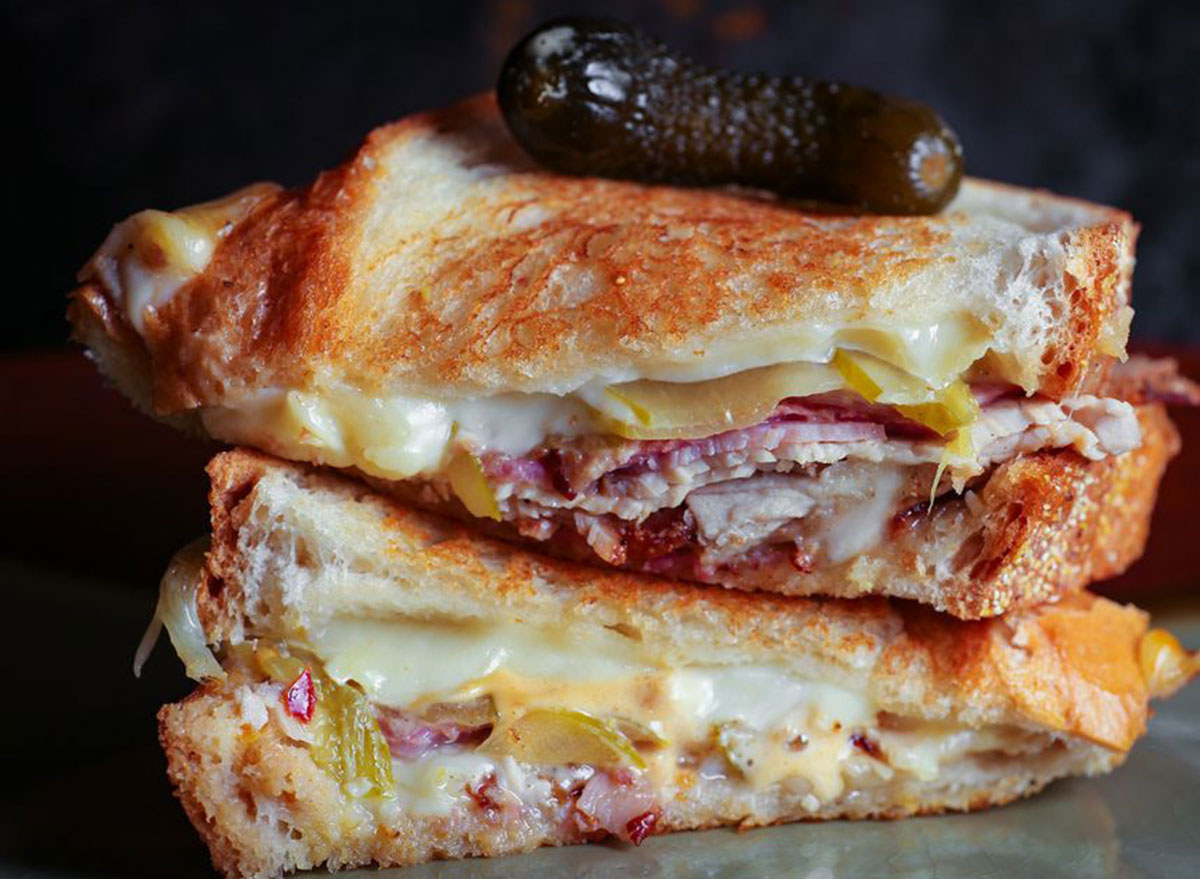 This humble little sandwich shop has a few tricks up its sleeve when it comes to grilled cheese. One of their most famous is slathering a mixture of mayo and butter on freshly-baked, thick-cut bread before grilling it. If the classic just isn't going to cut it, try some other Yelp reviewer's top picks such as the Buffalo Chicken Dip Grilled Cheese, or the Smashed Pepperoni Roll Grilled Cheese. Because there isn't a lot of seating in this cozy space, you may opt to take your sandwich to-go. Don't be surprised if you devour it before you make it home!
WISCONSIN: Comet Café in Milwaukee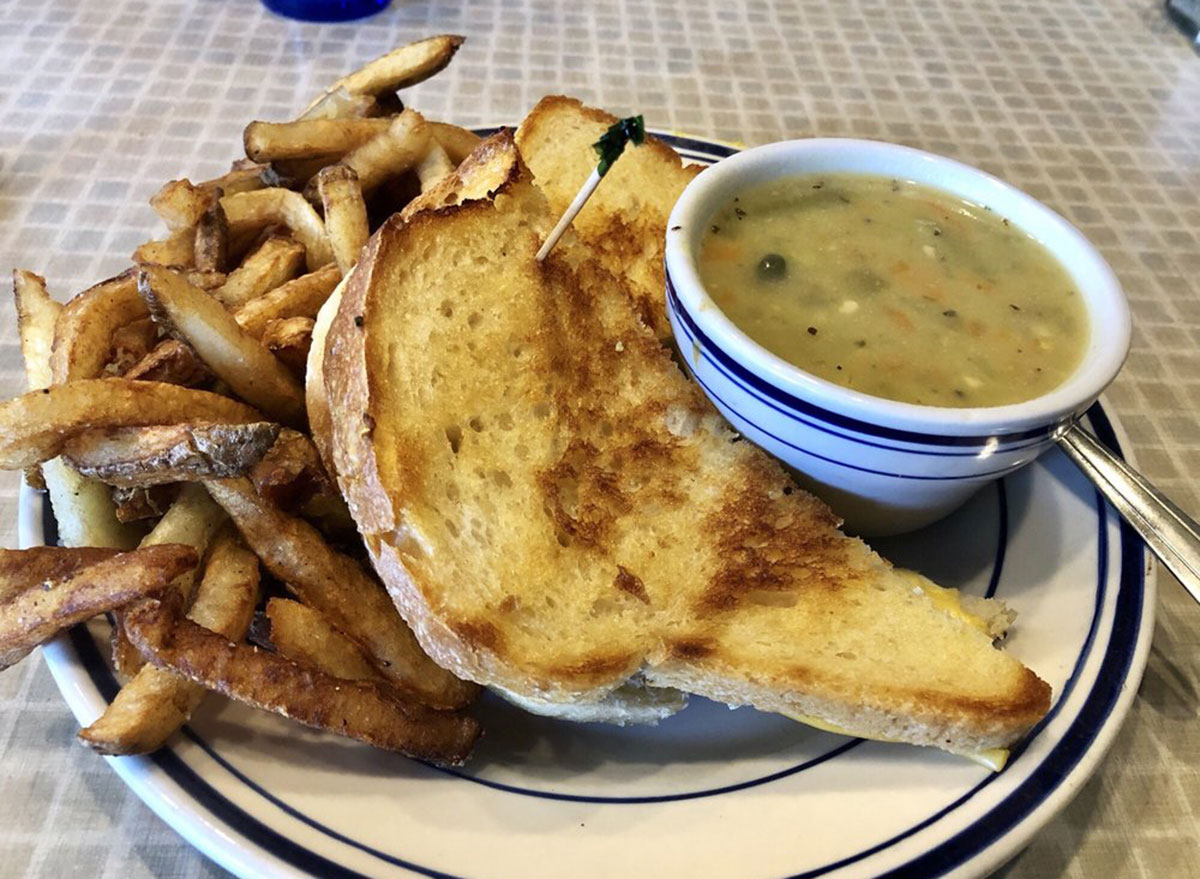 You can expect humongous portions inside this retro-inspired restaurant, which offers comfort food that caters to both carnivores and vegetarians alike. The grilled cheese, which includes a blend of American, mozzarella, and provolone between two slices of sourdough, gets plenty of applause from Yelp reviewers. You can order it unadorned or with bacon or ham for a small upcharge.
NOTE: Comet Café is temporarily closed.
WYOMING: Liberty Burger in Jackson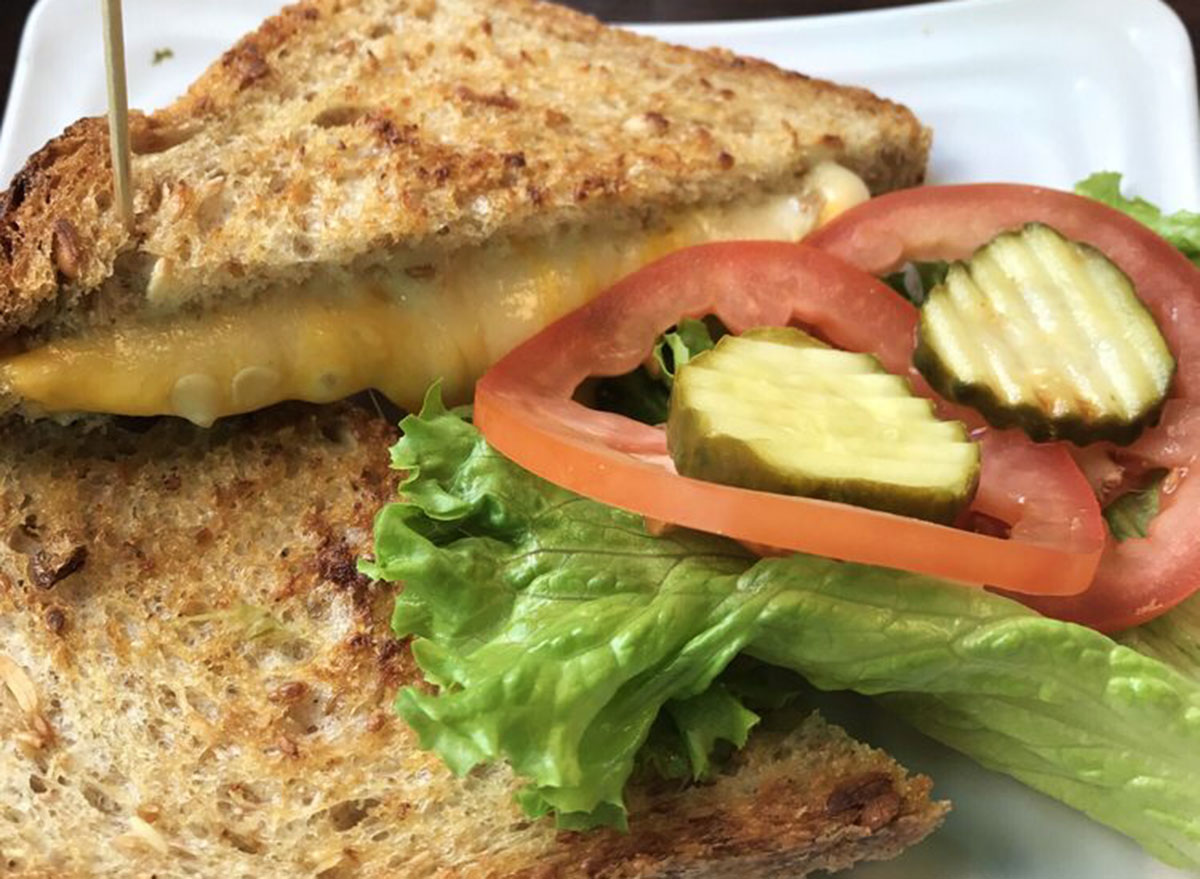 You might not think to order a grilled cheese at this Jackson burger joint, but Yelp reviewers strongly advise doing so. Featuring a mixture of cheddar, American, Swiss cheese, and pickles on toasted multigrain, it proves that sometimes there's beauty in simplicity. Liberty Burger's focus on local produce and other ingredients is just one reason why it's amassed such a loyal following, and without a doubt, the grilled cheese is one of the menu's hidden gems.
For more, check out: The Best Fried Chicken in Every State
Rebecca Strong
Rebecca Strong is a Boston-based freelance health/wellness, lifestyle, and travel writer.
Read more about Rebecca