7 New Recalls at Costco, Trader Joe's, and More Supermarkets to Know About
These items may be lurking in your kitchen, so check your pantry ASAP.
Because there are thousands of products on display at grocery stores and dozens more lining your kitchen pantry, it can be hard to keep track of every item on your shopping list. When groceries are the subject of a recall, supermarkets and other retailers act quickly to remove them from shelves. However, it's still crucial for shoppers to be in the know in case any affected products are already inside their homes.
Luckily, the U.S. Food and Drug Administration (FDA) and other government groups post the latest food recalls that grocery shoppers should know about. To help you easily identify the products involved in these recalls, the information shared with consumers includes items like "Best By" dates and UPC codes.
Here are seven new recalls that include products sold at Costco, Trader Joe's, and other top supermarkets. To keep your family safe, take a moment to pause and check your pantry today. 
Related: Grocery Recalls Are Hitting an All-Time High—Here's Why
Nature's Own Honey Wheat Bread at Costco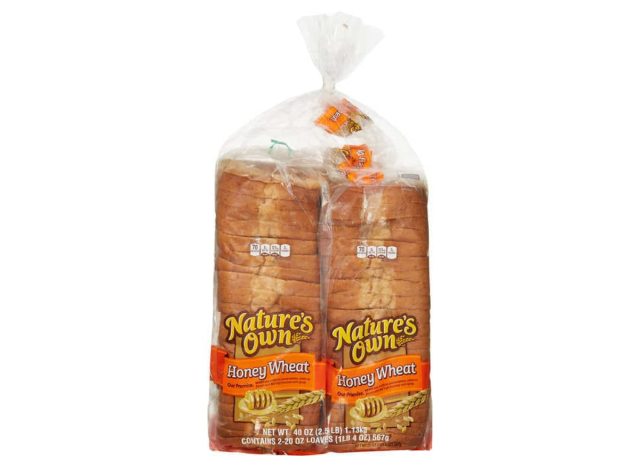 Costco sells this bread in packages of two loaves, but certain bundles are being recalled due to the potential presence of undeclared milk. "Flowers Foods and the FDA have issued a recall on a specific code of their Nature's Own Honey Wheat Bread," a notice sent to Costco members who purchased the item says. "If you have a milk allergy, do not eat any remaining bread . . . please return it to Costco for a full refund."6254a4d1642c605c54bf1cab17d50f1e
The affected products were sold in warehouses in Arizona and Colorado. The bags have a "Best If Used By" date of 12-26-2021 and a UPC code of 0-72250-00539-5. No related illnesses or incidents related to the recalled items have been reported, according to the FDA.
Alaura Two-Tone Jar Candles Sold at Costco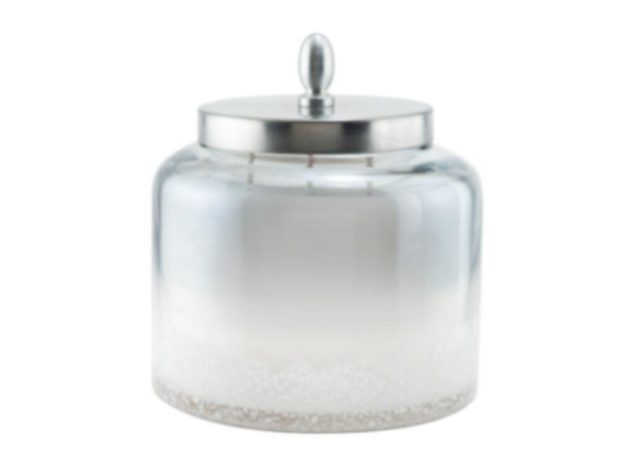 Almost 140,000 of the Alaura Two-Tone Jar Candles sold at Costco stores are being recalled because they pose "laceration and fire hazards." Specifically, they could "shatter, crack, or break apart while burning," according to a recall notice posted by the U.S. Consumer Product Safety Commission.
The recall was initiated after 138 reports of the candles shattering, cracking, or breaking apart were submitted—three of which resulted in lacerations. The impacted candles were sold at Costco warehouses nationwide between August and September 2021 for around $17.
Related: To get all of the latest grocery store news delivered right to your email inbox every day, sign up for our newsletter!
Herbal Essences, Pantene, and More Dry Shampoos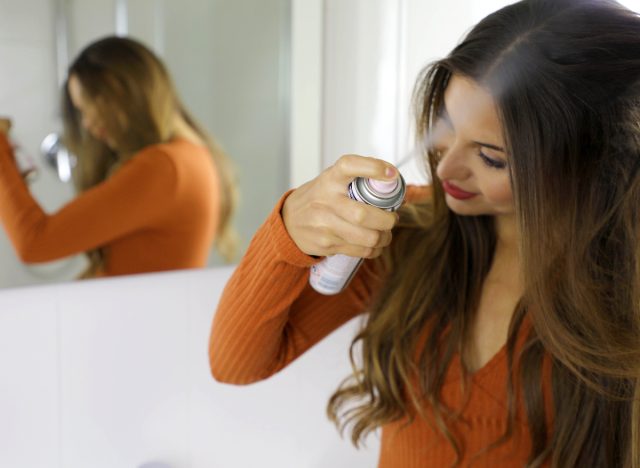 More than 30 types of dry shampoo spray are being recalled by Proctor & Gamble after the presence of benzene was detected in some products. The recall includes items under the brand names Aussie, Hair Food, Herbal Essences, Old Spice, Pantene, and Waterless. Here's exactly what the notice posted by the FDA says about the risks associated with using products that contain benzene:
Benzene is classified as a human carcinogen. Exposure to benzene can occur by inhalation, orally, and through the skin and it can result in cancers including leukemia and blood cancer of the bone marrow and blood disorders which can be life-threatening. Based on exposure modeling and the cancer risk assessments published by the Environmental Protection Agency (EPA) (IRIS database), daily exposure to benzene in the recalled products at the levels detected in our testing would not be expected to cause adverse health consequences.
Proctor & Gamble said it reviewed its entire portfolio of aerosol products "following recent reports that indicated traces of benzene in some aerosol spray products."
"While benzene is not an ingredient in any of our products, our review showed that benzene came from the propellant that sprays the product out of the can. We detected unexpected levels of benzene in aerosol dry shampoo sprays and aerosol dry conditioner sprays," a Proctor & Gamble spokesperson told Eat This, Not That!. "The majority of our portfolio—mousses, hairsprays, liquid shampoos, liquid conditioners, styling products and treatments—including other Pantene, Aussie, Herbal Essences, Hair Food, and Waterless products are not included in the scope of this recall and may continue to be used as intended."
The company says it hasn't received any reports of "adverse events" related to this recall. The dry shampoo spray products were sold nationwide at retailers and online.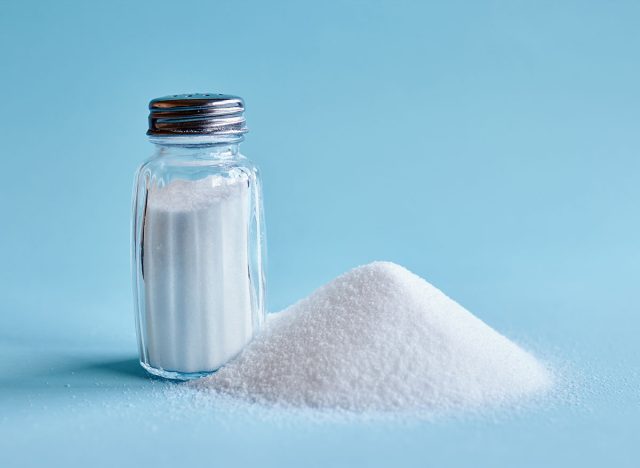 Almost 17,000 26-ounce canisters of Morton Salt are being recalled because of mislabeling. Instead of iodized salt, the packages contain salt that isn't fortified with iodine. The items in question have a "Best By" date of 9/8/2026 and were distributed to retailers in Colorado and California.
The FDA classifies this event as a Class III recall, meaning "use of, or exposure to, a violative product is not likely to cause adverse health consequences."
Related: Follow These Two Steps to Sanitize Your Kitchen, Expert Says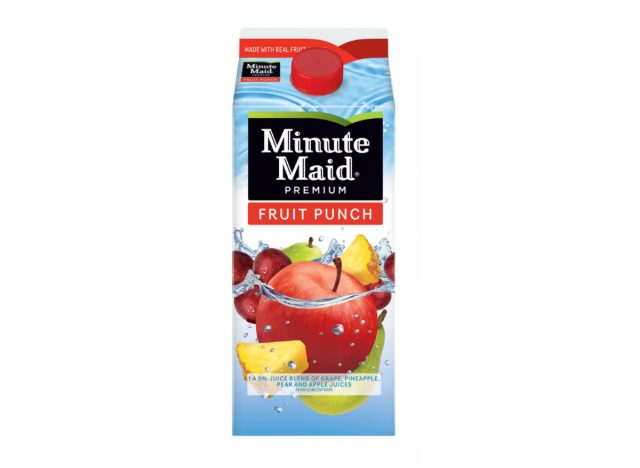 Eat This, Not That! reported on Dec. 15 that more than 7,000 cases of "America's Favorite Juice" were being recalled due to the possibility they may contain pieces of metal.
The original recall notice cited 59-ounce jugs of Minute Maid Berry Punch, Fruit Punch, and Strawberry Lemonade products. An update later listed a similar risk posed by containers of Minute Maid Watermelon juice sold in Alabama, Florida, Georgia, Louisiana, Mississippi, North Carolina, South Carolina, Tennessee, and Virginia.
"The firm was notified via a consumer complaint that the product contained a long piece of metal," the notice said.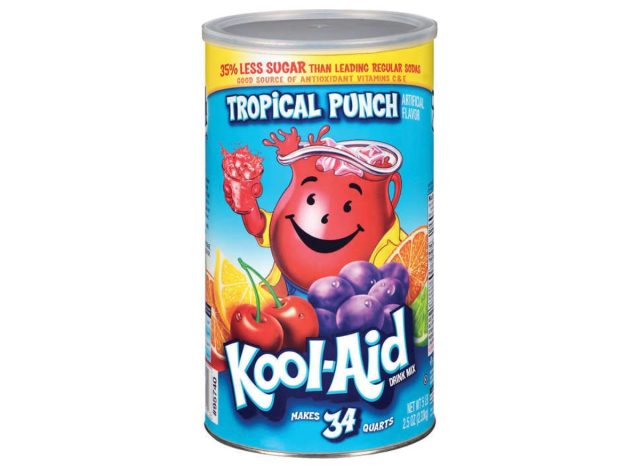 Another large beverage recall was also updated to include additional items. The ongoing Kool-Aid recall is classified as a Class II event by the FDA due to the potential presence of glass and metal in the affected products. That means this is a "situation in which use of, or exposure to, a violative product may cause temporary or medically reversible adverse health consequences or where the probability of serious adverse health consequences is remote."
Impacted items were removed from Costco warehouses back in mid-November, with other stores like Walmart and select Sam's Clubs following suit as the recall was expanded.
The Kraft Heinz Foods Company says to throw any of the items involved in this recall out immediately if they're in your pantry.
Trader Ming's Chicken & Vegetable Wonton Soup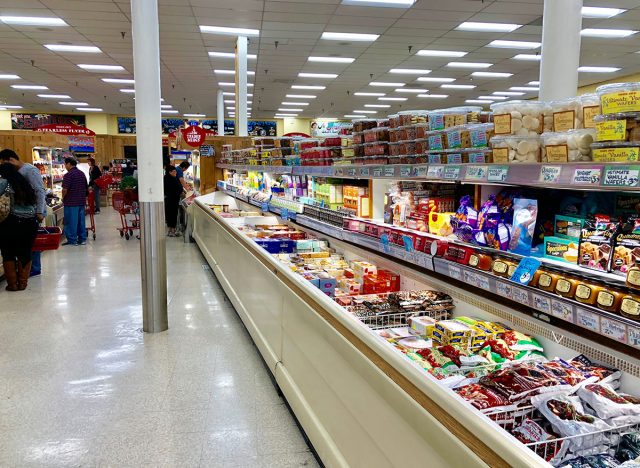 The U.S. Department of Agriculture's Food Safety and Inspection Service (FSIS) recently issued public health alerts for two grocery items, one of which includes a product carried at Trader Joe's.
Containers of Trader Ming's Chicken & Vegetable Wonton Soup sold in Arizona, Delaware, Maryland, New Jersey, New York, Pennsylvania, Southern California, Southern Nevada, Utah, Virginia, and Washington, D.C. may contain undeclared shrimp and pork. No reports of adverse reactions have been confirmed at this time.
Unfortunately, these aren't the only recalls to know about right now. Before you go, read about These 4 Recalled Grocery Items That May Also Be Lurking in Your Kitchen.
For more on what's happening at your neighborhood supermarket, check out:
Amanda McDonald
Amanda has a master's degree in journalism from Northwestern University and a bachelor's degree in digital journalism from Loyola University Chicago.
Read more about Amanda