This Is Gisele Bundchen's Exact Diet and Exercise Routine
After Sunday's sunny bikini photo, we zoom in on the beauty icon's healthy habits. (Yes! We've got the pic.)
It seems Gisele Bündchen does not take a bad photo; it's just that some are perhaps more, well, noteworthy than others. That's the case regarding a beachy pose she shared Sunday to Instagram, in which she's wearing a pretty bikini at the beach and looking impressively fit. She captioned the post by celebrating the current time of year: Sunday, summer, and sunshine = Heaven, punctuated with a contented-looking smiley face.
The supermodel and mom of two is a notoriously clean eater whose husband, Tom Brady, is also known to follow a highly disciplined regimen. Gisele is also generous with posting about the habits that see her looking—and seemingly feeling—so gorgeously healthy. To help inform your routine too, we're zooming in to reveal the food and workout habits this icon of beauty practices.
Keep reading to learn Gisele Bünchen's exact diet and exercise routine. And for more, check out why Nicole Scherzinger's swimsuit is motivating us all.
Gisele Bündchen follows a plant-based diet.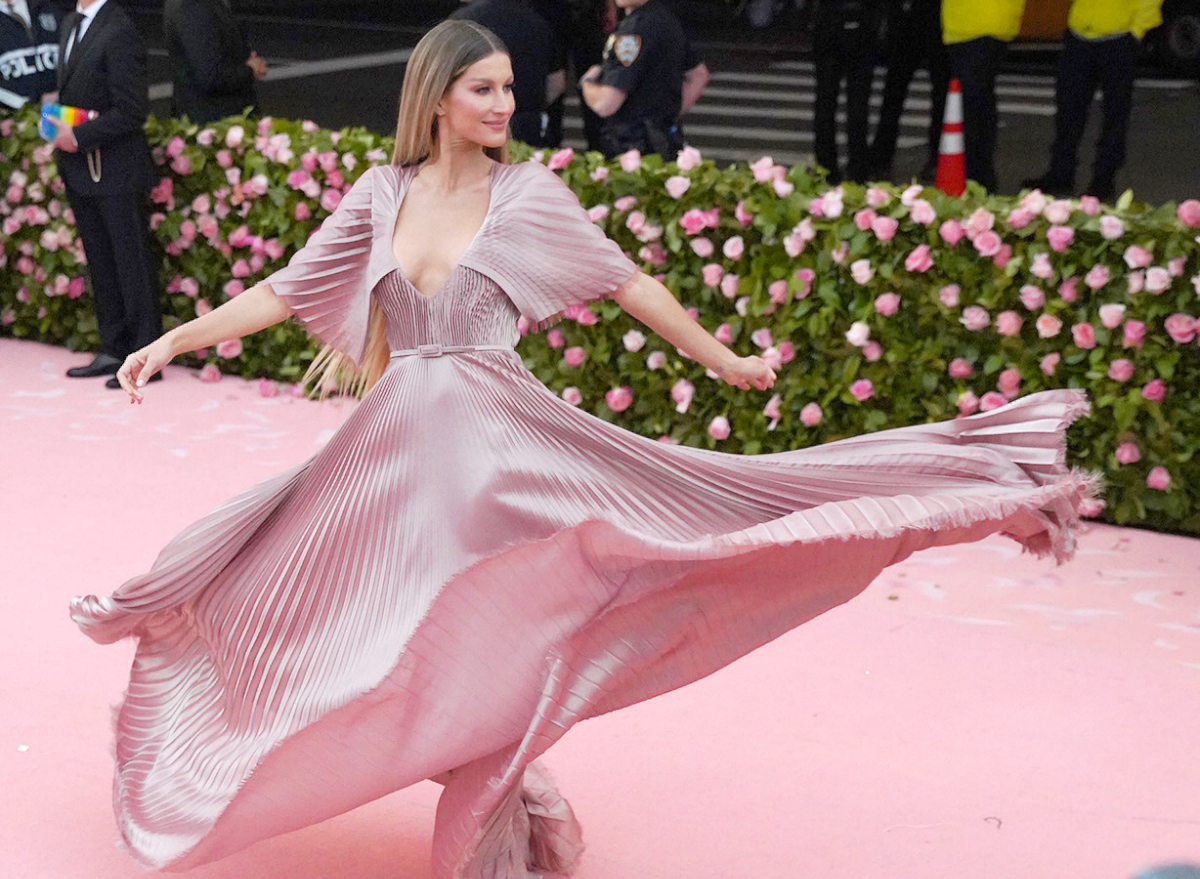 If you follow sound advice about how to get your protein elsewhere, deleting meat from your diet is a good way to do away with a lot of saturated fat and cholesterol. This is how Gisele eats on a daily basis, as the New York Post's Page Six quotes the supermodel as having said: "At our house, we try to eat organic foods that are in season and locally grown . . . We eat mostly a plant-based diet. It makes us feel good, and it also has less of an impact on the environment."
She also shared: "My ultimate guilty pleasure is dark chocolate." It's actually not so guilty: Check out Eating This Type of Chocolate May Burn More Fat, New Study Says.
Related: Sign up for the Eat This, Not That! newsletter to get the latest celeb food and weight loss news.
The Brady-Bündchen household drinks smoothies.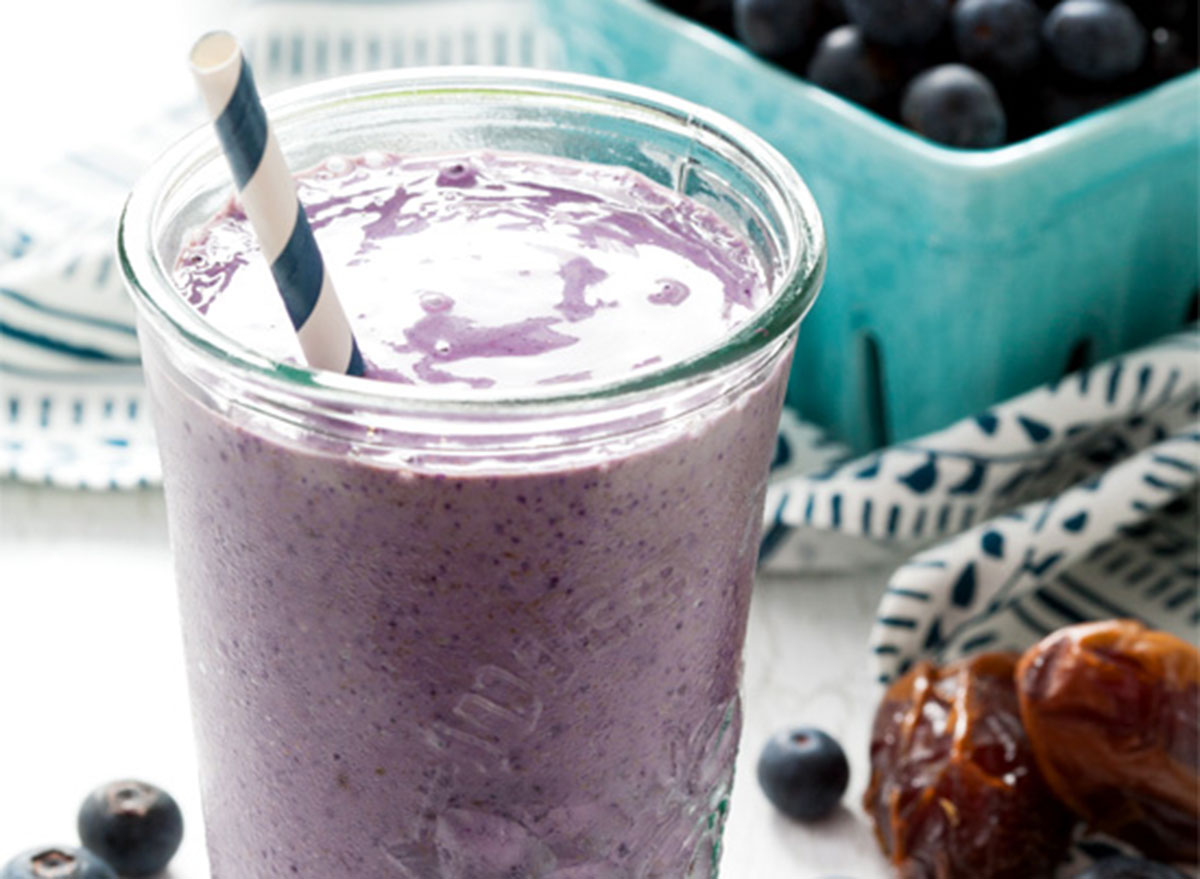 Smoothies are an amazing way to pack a ton of nutrients into one meal. Before Bündchen's husband, Tom Brady, had his seventh Super Bowl win this year, the Post revealed Brady's favorite smoothie recipe, which he reportedly drinks each morning at 5:30 AM: blueberries and banana, hemp protein, chia seeds, walnuts, almond butter, and hemp milk.
Since Gisele is also an all-natural food lover, it's pretty safe to bet she loves this formula, too. (For you, we've got a whole menu of weight-loss breakfast smoothie recipes right here.)
Gisele Bündchen plays outside.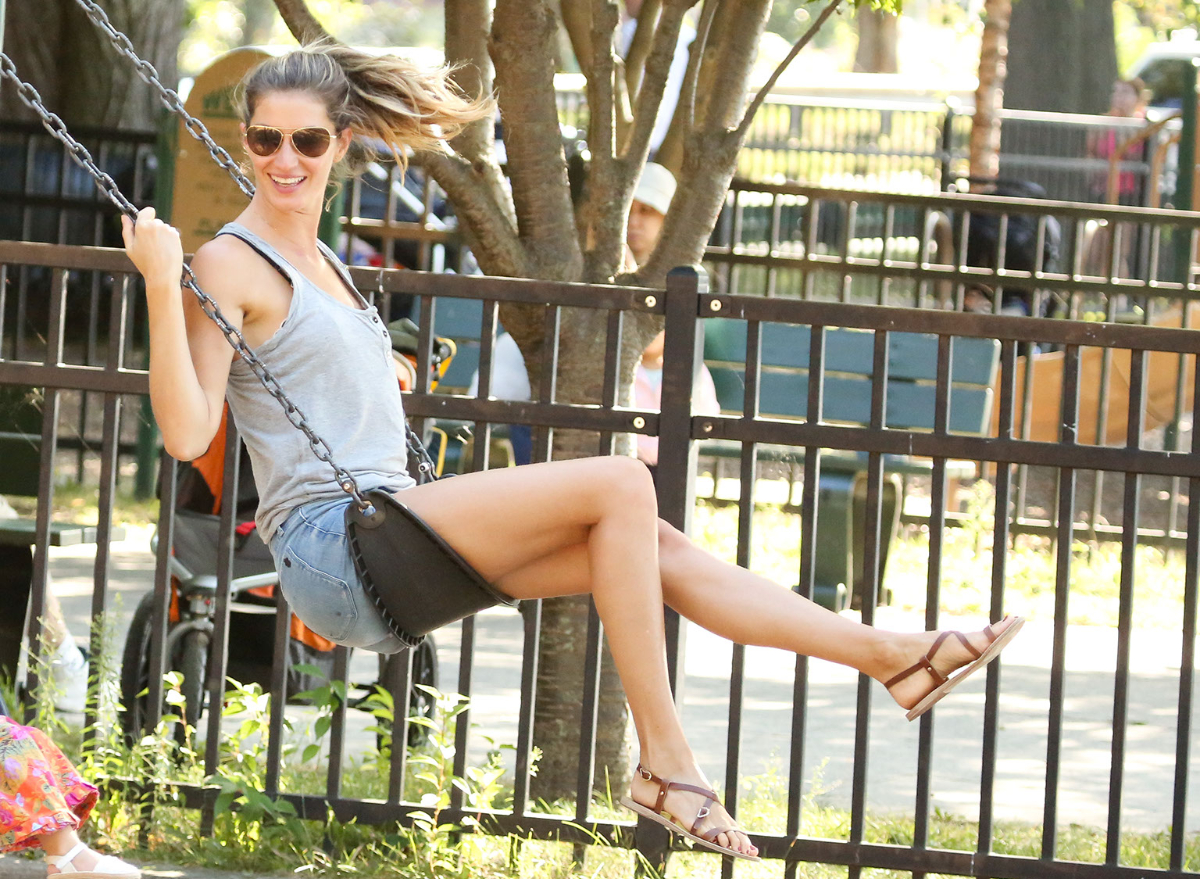 As if the weekend's bikini capture didn't make this clear, Gisele loves to be outside… not only for posing, but also for staying active. Shown here on a Boston playground adventure with her kids, the Brazil native incorporates tons of outdoor activity into her lifestyle in addition to a gym routine.
In addition to her indoor workouts, Bündchen loves to get out and ski, bike, and go horseback riding, Page Six reports.
Gisele Bündchen is a yoga devotee.
Bündchen famously adores doing yoga regularly, as she has shared on Instagram. Yoga can be amazing for stretching muscles, opening joints, supporting digestion, and many other benefits. On International Yoga Day last week, Bündchen conveyed how powerful a yoga practice has been for her:
"Many years ago, after going through one of the most difficult times in my life, I immersed myself in the very deep process of getting to know myself better. With the help of yoga and meditation, I came out of that period stronger and happier, and knowing that no matter how difficult challenges appear in the moment, they always bring with them an opportunity for transformation."
Gisele Bündchen keeps her mind healthy with meditation.
For Gisele, staying healthy is not all about being on the move. Last month, Gisele shared an image during a meditation session and said practicing meditation "helped me find strength and balance during some of the most challenging periods in my life."
Check out one newly discovered way meditation can support a healthy mind and longevity in Secret Side Effects of Meditating Just 12 Minutes Per Day, Says Study.
Gisele Bündchen and Tom Brady involve their kids in the kitchen.
In April, Bündchen posted an Instagram photo of her eight-year-old daughter, Vivian Lake, and said: "Vivi super chef whipping up some scrambled eggs. Did someone say Miss independent?!" Young Vivi appeared to keep her scramble simple with pink Himalayan salt and cracked pepper both within reach.
She's not a celebrity who seems big on pushing brands, but Gisele did recently share something she uses to supplement her wellness: Nutrients from some plants. "Whenever I'm in an environment that's filled with plants I feel a strong sense of wellbeing," she said. In the post, she listed aloe, lavender, and basil, in particular, as plants she recommends using.
If Gisele Bundchen's diet and exercise habits have inspired you to live better today, don't miss One Major Effect of Taking Apple Cider Vinegar Supplements, Expert Says.
Keep reading:
Krissy Gasbarre
Krissy is a senior news editor at Eat This, Not That!, managing morning and weekend news related to nutrition, wellness, restaurants and groceries (with a focus on beverages), and more.
Read more about Krissy