The #1 Best Almond Butter to Eat, According to Nutritionists
Your spoon is going to take up permanent residence in this jar.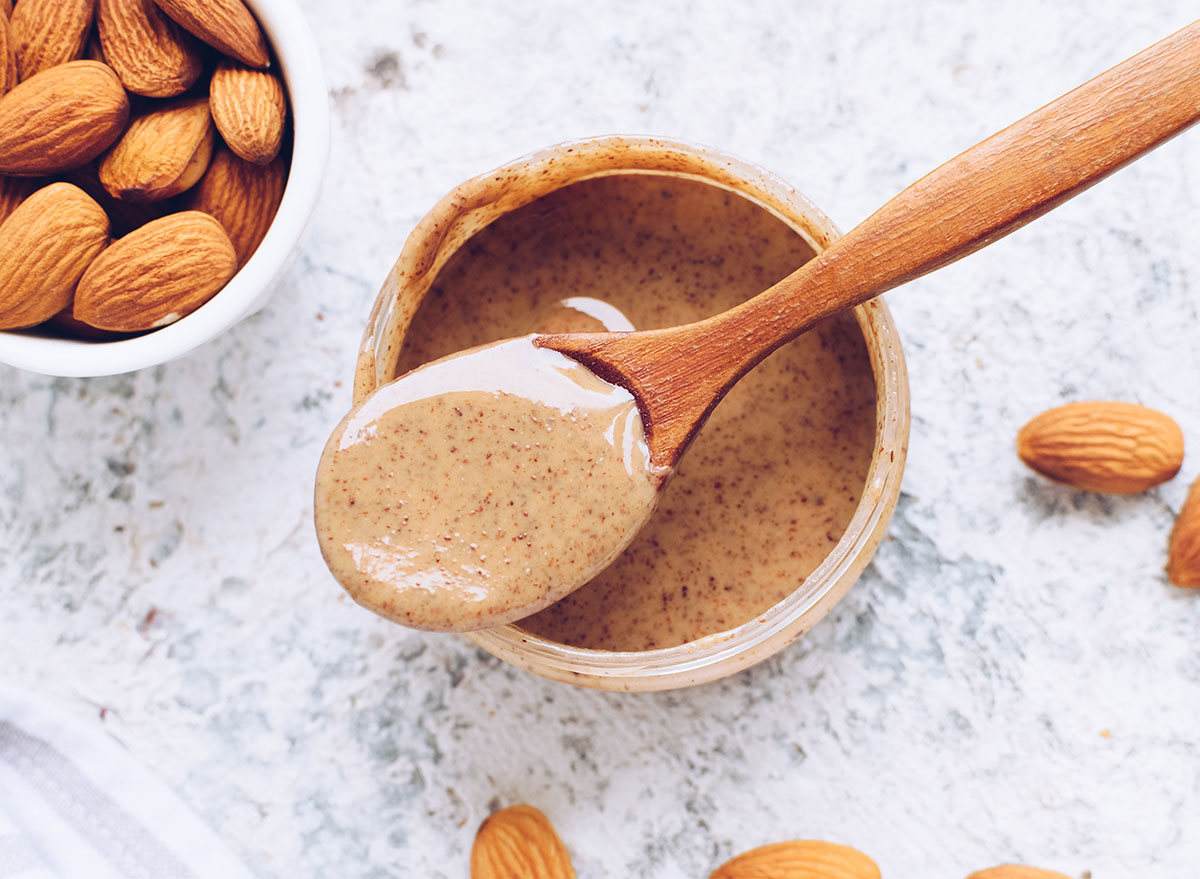 Not all nut butters are created equal. Even nut butters made with the same type of nut aren't necessarily on par with one another. Everything from where a nut is grown to what additives (such as salt, oils, and added sugars) are smashed into the jar along with those nuts factors into both the taste and the nutrition profile of nut butter.
Take almond butter, which has risen in popularity by several hundred percent over the last few decades. Almonds are packed with vitamins, protein, fiber, and fat that help balance blood sugar and studies show almonds can crush hunger.
How to pick the best almond butter
Choosing the right almond butter can be tough. There's a huge array of almond butters on store shelves—everything from raw to roasted to ones swirled with chocolate. With the numerous options available, you might be surprised to hear that the best almond butter to eat can't be found on a grocery store shelf because it happens to be the one you make yourself.
That's right, a homemade jar of almond butter is the best one you can eat because you are controlling all of the ingredients—and that alone is a major key to healthy eating considering that restaurant and store-bought meals tend to be loaded with unhealthy ingredients.
The easiest almond butter recipe ever
It doesn't get simpler than a one-ingredient recipe, does it? This almond butter recipe from certified nutrition consultant Megan Gilmore, CNC, founder of Detoxinista, uses raw almonds—but you can use roasted ones if you prefer. Almonds release their own healthy oils, so there's no need to add more.
"Try to use organic almonds as all 'raw' almonds are required to be pasteurized in the United States, and organic almonds are steam pasteurized, rather than using chemicals," says Gilmore.
Here's the recipe for this easy one-ingredient almond butter.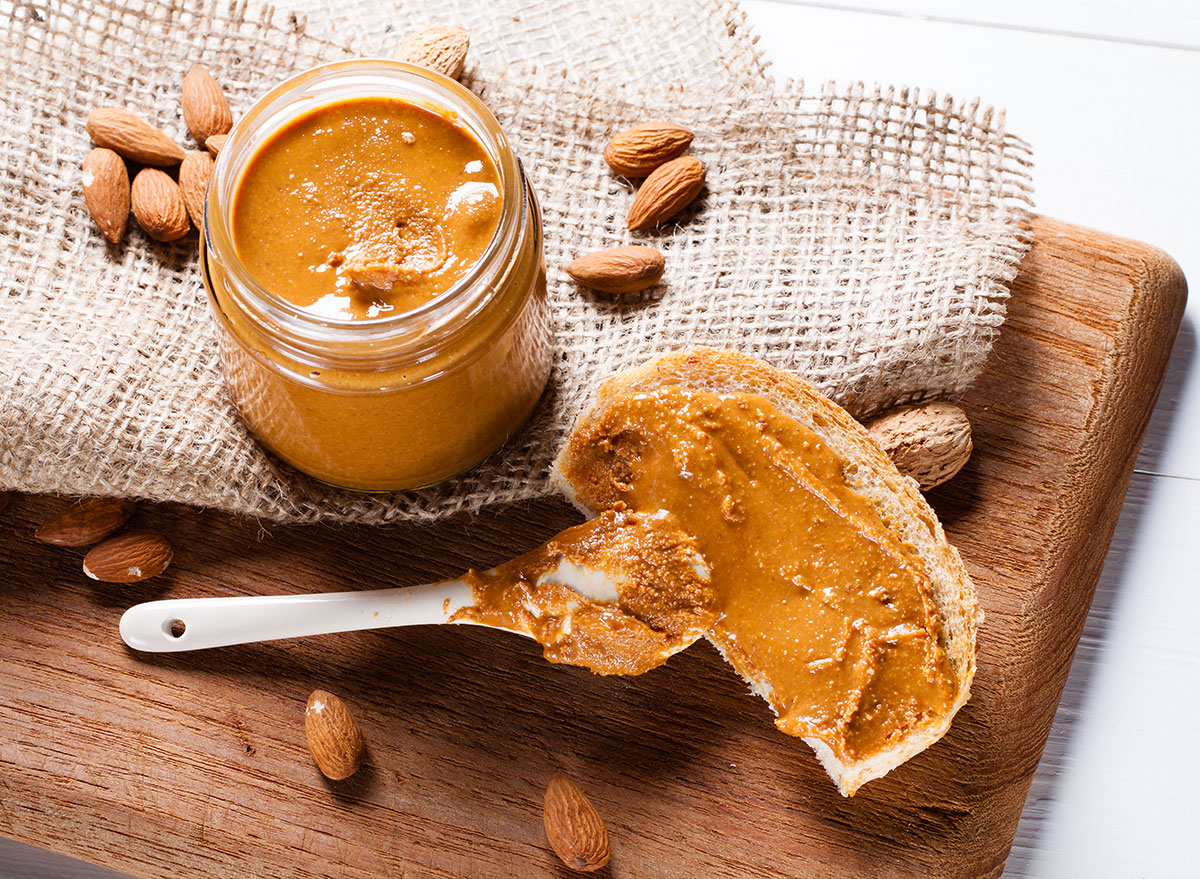 Makes 24 servings
You'll Need
3 cups of almonds (around 1 lb.)6254a4d1642c605c54bf1cab17d50f1e
How to Make It
To make the process faster, warm the almonds in an oven preheated to 350 degrees F for 10 minutes.
Transfer the almonds to a large food processor fitted with an "S" blade, and process them until creamy. You may want to stop and scrape down the sides every now and then, but this process will take up to 25 minutes. The almonds will first look like a flour with clumps, then will form a ball that moves around the food processor, then it will turn to a grainy almond butter before it becomes silky-smooth. Be patient! Just when you'll want to give up is usually when the magic happens.
Once totally smooth and creamy, transfer the almond butter to a glass jar and store it in the fridge. I've found that almond butter with no additives usually lasts at least a month in the fridge, but be sure to check for signs of spoiling (such as mold or a bad smell) each time you use it.
If you don't have a super-powerful blender (such as a 10-speed Vitamix), you may need to add a little oil (unflavored coconut works). This recipe explains how to do that. Last, Abby Vichill, MS, RDN, LD, tells Eat This, Not That! It's okay to add a little sea salt in if you want.
If you really can't be bothered to blend up a homemade batch (no shame in that!), be sure to check out the 7 best almond butter brands worth buying.
Vichill prefers Artisana because it contains only one organic ingredient (the nuts), but also because it comes in a BPA-free glass jar instead of plastic.
Get even more healthy eating tips straight to your inbox by signing up for our newsletter! Then, read these next:
Michele Promaulayko
Michele Promaulayko is an influential voice on health, wellness, beauty, relationships, and women's issues.
Read more about Michele