7 Grocery Items That Could Face Shortages Next, Experts Say
You may need to find some new alternatives.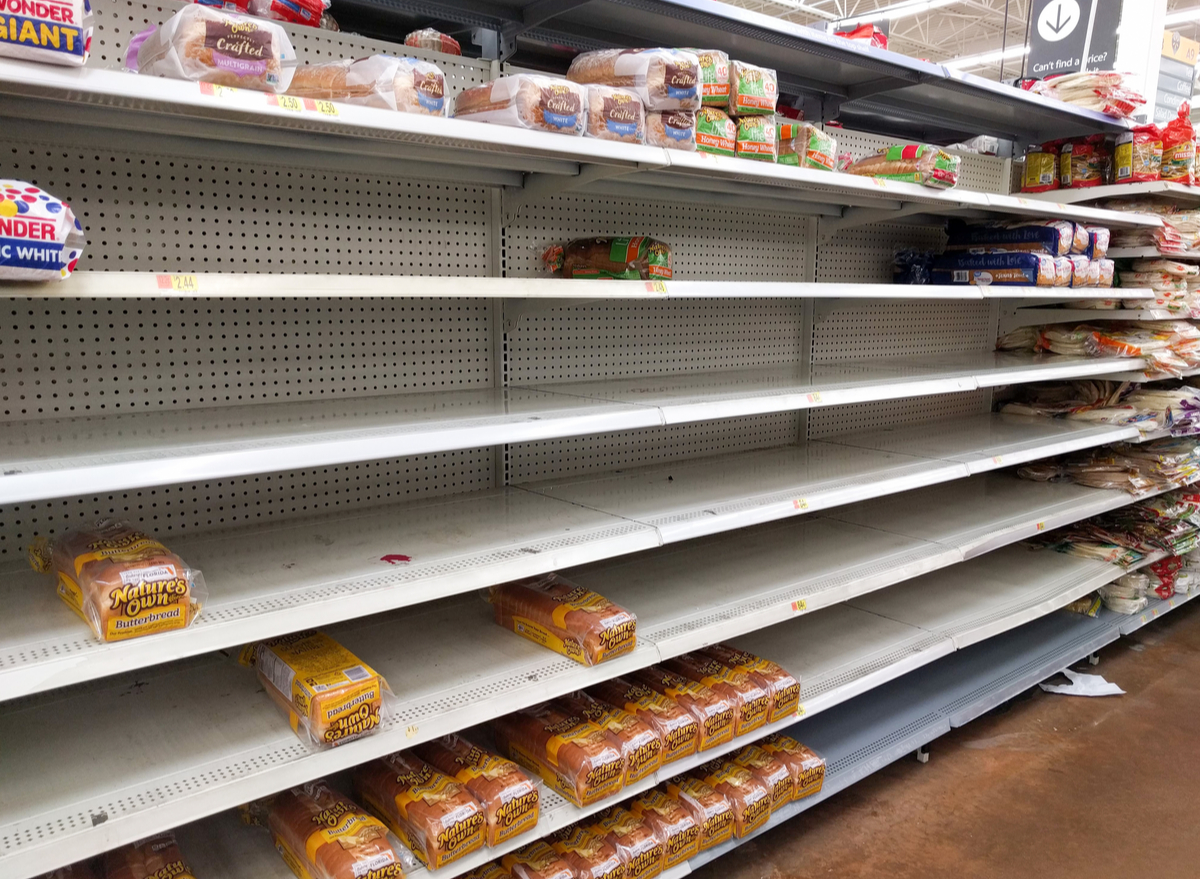 While it may not come as much of a surprise given the past year's low-stocked shelves, supply delays, and surging demand for a long list of grocery items, hearing that the era of shortages is far from over doesn't bode well for shoppers.
Supply chain disruptions play a big role in product shortages. According to The Associated Press, grocery store scarcity is being exacerbated by Omicron-related labor absences, a deficit in truck drivers, and weather-related delays such as extreme storms and wildfires. A January 2022 report by Resilinc found that supply chain disruptions were up 88% by the end of last year.
When operations within a supply chain (think manufacturing, packaging, and transportation) are derailed by unanticipated events, it costs suppliers additional time and money to get their products into aisles. Despite some stores' best efforts to work through the disruptions and avoid passing higher costs onto customers, prices are still rising, demand is still outpacing supply, and many are wondering what they need to do to prepare for the coming months.
We talked to CEO and founder Bindiya Vakil of Resilinc, a company that uses predictive analytics to help build and sustain effective supply chains, and Keith Daniels, partner and middle-market advisor at Carl Marks Advisors, about seven products consumers should expect to be in short stock in 2022, and how to adjust their purchasing habits accordingly.
While many of these items may be temporarily impacted, Vakil says that suppliers who take time to account for potential risks of disruption can mitigate long-term shortages. "I think why we're ending up in these situations is, people hope for the best case, but we're living [in the] worst case right now. We have to treat this as an extraordinary time and be careful about how we calibrate our supply chains."
Similarly, Daniels notes that shortages will affect various products at different times, but you don't need to panic buy. "The reality is, in-stock percentages are normally around 95%. Even before COVID, there were products that might sell out. Now, it's a little under 90%," he says. "There are other alternatives to going to the grocery store – such as shopping online. It's not like you can't find anything. Just be a little flexible, as we work through some of these challenges, which will be short-term in nature. It's certainly something we can manage through."6254a4d1642c605c54bf1cab17d50f1e
So you can be prepared for whatever shortages lie ahead in the next few months, here are seven of the products that might see some time off the shelf.
Related: 6 Things You'll See at Costco This Year
What do bread, pasta, crackers, cereal, and countless other grain-based items have in common? Wheat. With rising tensions between Russia and Ukraine, wheat is again at risk of short supply. According to S&P Global, Russia is the largest exporter of wheat in the world. We've also seen how the Great Plains drought in 2021 has led to a lower expected wheat yield in the U.S. and 28 to 40% price increases at the end of last year.
Other commodities like corn and soybeans are also facing production issues, says Vakil. For corn, these challenges range from wildfires to excessive wet weather, and they have major implications on harvest yield. For soybeans, China's new power policies shut down their own plants, driving up the cost for ingredients like soybean oil and soybean meal.
Both consumers and farmers depend on these three commodities – so it's likely to have downstream consequences for pricing on many products.
The meat industry is up against more than its fair share of supply chain issues. On top of labor shortages from Omicron illnesses, a lack of truck drivers, and shortages of packaging materials like plastic, paper, and aluminum, farmers are also being forced to slaughter parts of their herds due to a shortage in antibiotics and feed materials.
The result? Lower availability and soaring prices. Vakil reported that meat is one of the biggest contributors to pandemic inflation, with some beef cuts, like boneless chuck roast, rising 25% in cost.
If you're trying to fit protein into your budget, Vakil recommends picking T-bone steak, which has seen a modest price increase of $1 per pound, bone-in chicken over boneless, or a plant-based protein.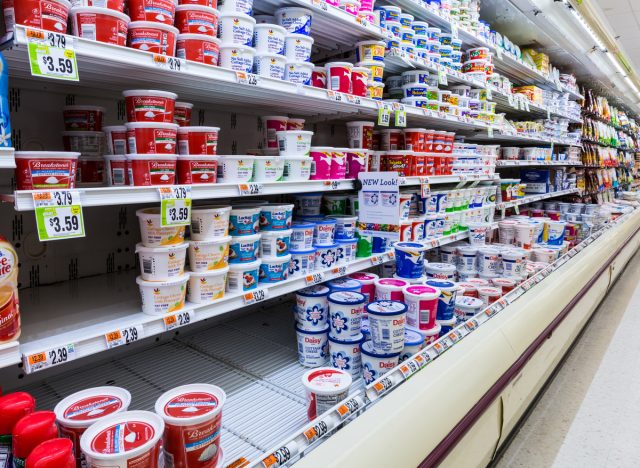 The shortage of dairy cows is hampering production for a number of dairy products, Daniels says. U.S. Foods released a January Farmer's Report with price trends showing higher costs for butter, cheese, milk, and cream.
Daniels notes you might see your favorite brand missing from the shelf some of the time, but you won't be totally out of luck when trying to find these ingredients in general. "People shouldn't be fearful. Things will come in and out of stock, and stores are doing their best to keep up with demand." In the meantime, he advises checking out a different store or trying out your local farmer's market.
We've already seen higher prices for America's favorite caffeine fix in 2021, and since South America produces coffee for most of the globe, this shortage is being felt around the world. Vakil explains, "[Coffee] supplies were decimated after extreme weather destroyed crops in Brazil, and with a La Nina pattern forecast through early 2022 expected to further hurt yields, it could take years for the market to recover."
You can expect to pay a bit more for your morning cup of joe at restaurants and supermarkets, she says. However, a cheaper alternative could be using instant coffee, if you're in a pinch.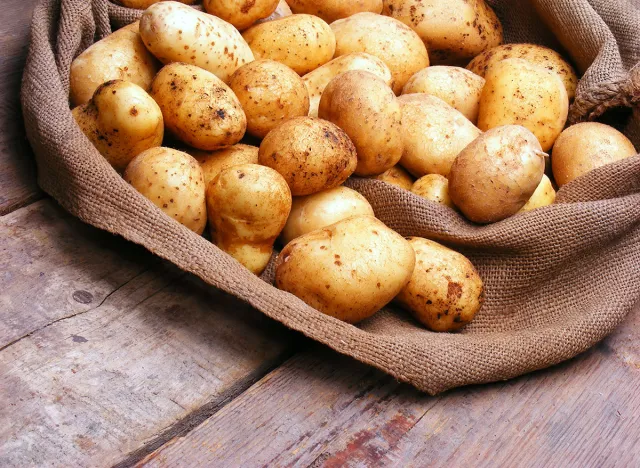 Both a hearty staple and a guilty pleasure as a salty snack, potatoes are starting to disappear from the menu in certain countries. The Washington Post reported supply chain issues for imported potatoes in Japan and Kenya at the beginning of January, alongside a two-percent decline in overall potato yields in 2021.
In Japan, McDonald's restaurants took French fries off the menu for a month, after weather- and COVID-related delays created a backlog of potato deliveries from the U.S.
Kenya's shortage was not as widespread, with some restaurants like Burger King able to swap in spuds from local suppliers in South Africa. However, others like KFC say they "could not easily switch to Kenyan potatoes because of global quality standards."
Whether Americans will see the effects of lower potato production remains to be seen, but you should keep your eyes peeled for this one.
Perhaps a hopeful sign of a turnaround is the 120% increase in celebratory champagne sales reported by CNN in December 2021. But that higher demand is accompanied by shipping delays, labor shortages, and climate events that led to the smallest grape yield in decades, Vakil informs. She says that you'll likely see hiccups with the champagne supply into 2023.
However, you can still find a bottle of bubbly to pop – you might just have to switch to an alternate label. Vakil also offers the option of sparkling wine. "Most wine regions make a version of sparkling—many in the same traditional method as Champagne, and for a fraction of the price!"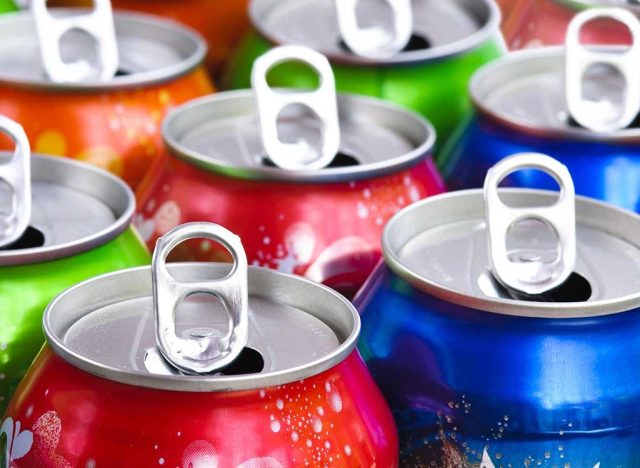 Price increases and higher demand for raw materials have a significant effect on products that rely on them for packaging needs. For 2022, Daniels notes the increased costs for plastic components, like oil and resin.
One of the bottlenecks for aluminum output is China's new set of regulations to reduce CO2 emissions. Vakil reports that this shutdown triggered a shortage of magnesium, a necessary component in creating aluminum alloys, and will have ripple effects on anything that uses aluminum for packaging.
This poses a challenge for some canned goods, sodas, beers, and pet food. But companies are reprioritizing their production temporarily to ensure they can deliver their core products, according to Daniels. "If you have a specific brand or product that you like that's not a major seller, you're going to see some challenges around those and extended times for those to go back on shelves. But if you want regular or diet Coke, you'll be able to find it."
Sarah Wong
Sarah studied at Northwestern University, where she received a bachelor's degree in computer science and experimented with mixing tech and journalism.
Read more about Sarah