These 5 Walmart, Kroger, ALDI and Other Grocery Store Foods Are Being Pulled From Shelves
These recalled items may be lurking in your kitchen.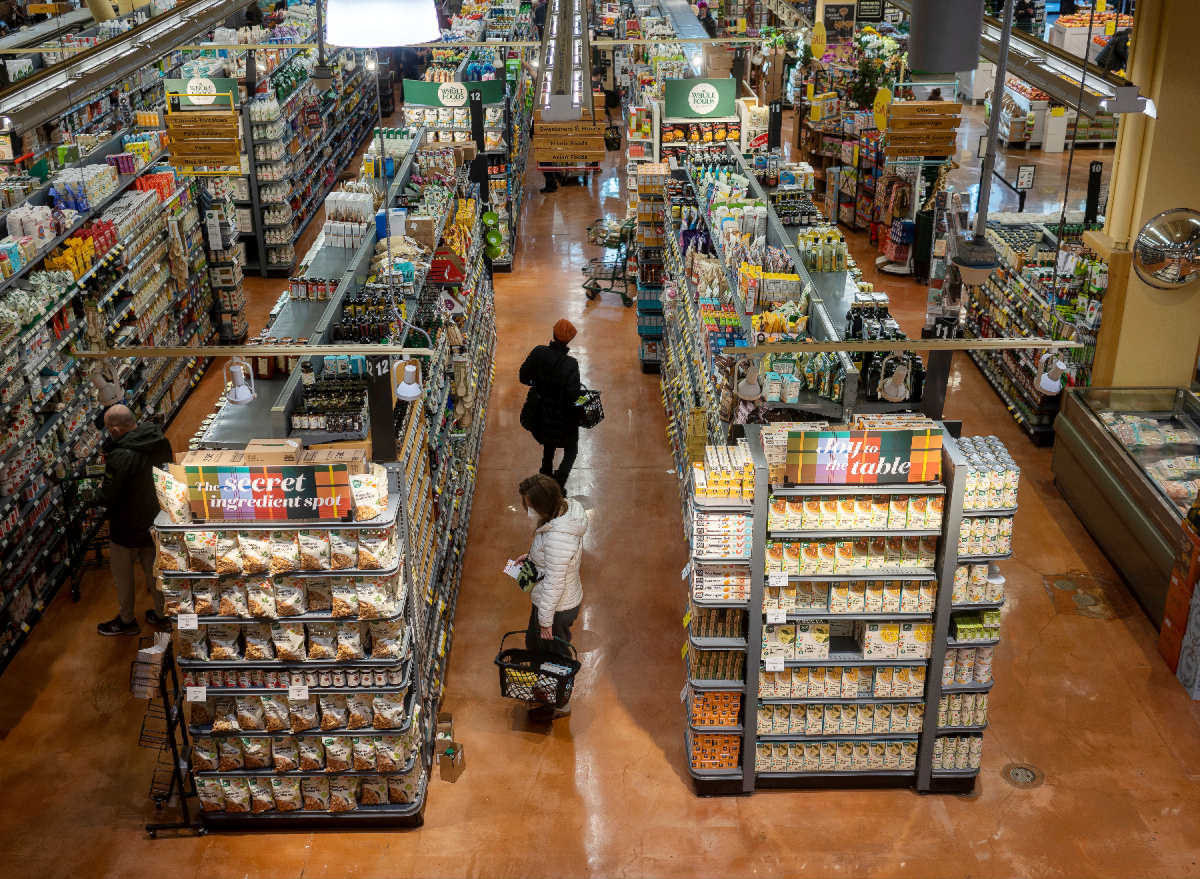 There's been a 125% increase in the number of foods being pulled from shelves recently. But have you ever stopped to wonder why there have been so many grocery recalls in the news?
"The answer: new laws and new technology," Eat This, Not That! Medical Expert Board member Toby Amidor, MS, RD, CDN, writes. "In 2011, the FDA enacted the Food Safety Modernization Act that provided them with more power in preventing food safety issues."
Unfortunately, there are new recalls to add to the ever-growing list, which includes items sold at top grocery stores like ALDI, H-E-B, Kroger, Trader Joe's, Walmart, and Whole Foods. To help keep your family safe, check to see if the following items are in your kitchen ASAP.
Related: 3 Reasons Your Grocery Store's Shelves May Look Empty Right Now
Packaged Salads sold at Walmart, Kroger, ALDI, and more stores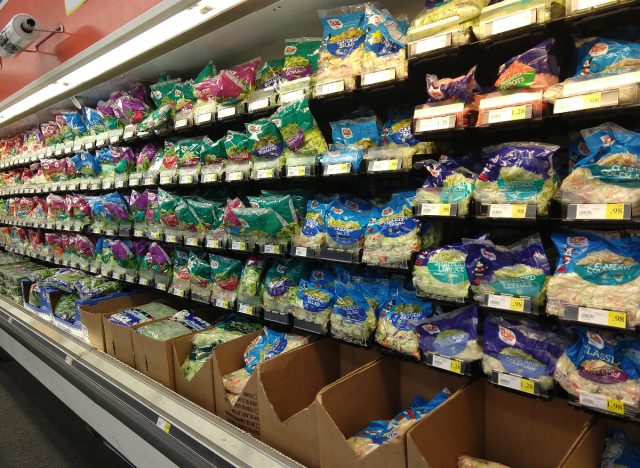 Dole has been plagued by harmful bacteria in its bagged salads three times in only three months. Recalls were issued in October and December, and now there is a new one to be aware of. More than 70 varieties of bagged salads are being recalled due to possible health risk from Listeria, according to an announcement posted by the U.S. Food and Drug Administration (FDA).6254a4d1642c605c54bf1cab17d50f1e
The recalled items were distributed to retailers in more than 35 states, as well as several provinces in Canada. In addition to Dole-branded products, they included private label packaged salads sold at grocery stores like ALDI, H-E-B, Kroger, and Walmart, which gave this statement to Eat This, Not That! about the recall:
"Walmart is committed to providing our customers with safe, high-quality products at our everyday low prices. As soon as we were notified by Dole Fresh Vegetables, Inc. of the recall, we alerted our stores and distribution centers to remove the affected product from their shelves and inventory, and we implemented a register block to prevent additional sales. Customers who have purchased one of the items identified in the recall may return it to their nearest Walmart for a full refund."
Fortunately, no illnesses have been reported to date. The impacted items have "Best if Used By" dates between Dec. 22, 2021, and Jan 9, 2022. To view a full list of the affected products on the FDA's website, click here.
Soycutash sold at Trader Joe's
This blend of sweet corn, shelled edamame, and red bell peppers is one of the beloved frozen food products sold at Trader Joe's. However, the low-cost grocery chain is pulling almost 46,000 16-ounce bags from shelves because they may be contaminated with Listeria. 
The FDA classifies the situation as a "Class II" recall, or "a situation in which use of or exposure to a violative product may cause temporary or medically reversible adverse health consequences or where the probability of serious adverse health consequences is remote."
Similar to other foodborne germs, Listeria contamination causes symptoms like diarrhea and fever, according to the U.S. Centers for Disease Control and Prevention. Infections in pregnant women may lead to miscarriage, premature delivery, stillbirth, or more complications.
The bags were distributed to stores in Arizona, California, Nevada, and Utah. No information about potential illnesses related to this recall was provided.
Related: To get all of the latest recall and grocery store news delivered right to your email inbox every day, sign up for our newsletter!
Beef Sticks sold nationwide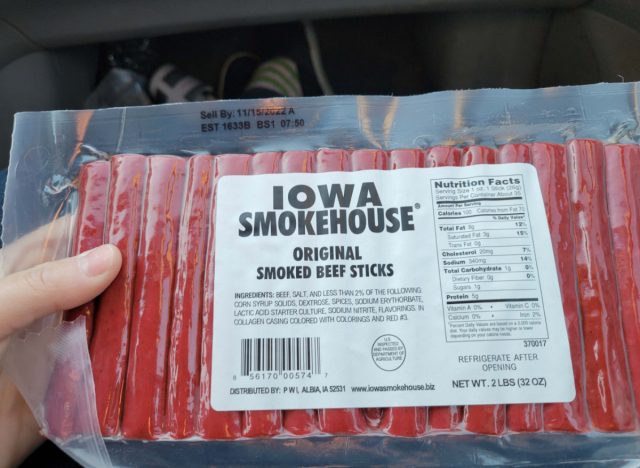 Almost 15,000 pounds of beef sticks sold at stores nationwide are being recalled because of faulty labeling and undeclared allergens. The Iowa Smokehouse Original Smoked Beef Sticks may contain milk, a known allergen, according to an alert posted by the U.S. Department of Agriculture's Food Safety and Inspection Service (FSIS). Anyone who is allergic to milk or has a sensitivity to it may have an adverse reaction to this product.
"The problem was discovered after the firm received consumer complaints of cheese in the product and reported the event to FSIS," the alert says. "There have been no confirmed reports of adverse reactions due to consumption of these products. Anyone concerned about an injury or illness should contact a healthcare provider."
Walmart tells Eat This, Not That! that the beef sticks are not sold at all Walmart stores but at some of the company's third-party marketplaces. "We blocked and removed the item from our website on January 8 and directed the sellers to take appropriate action to address the recall," a spokesperson says.
It's possible that some of these items may still be lurking in consumers' pantries or refrigerators. If you have one in your kitchen, double-check the packaging. Affected products have sell-by dates of 11/15/2022 or 11/17/2022 and establishment numbers of 1633B.
Ice Cream Bites sold at Whole Foods, ShopRite, and more stores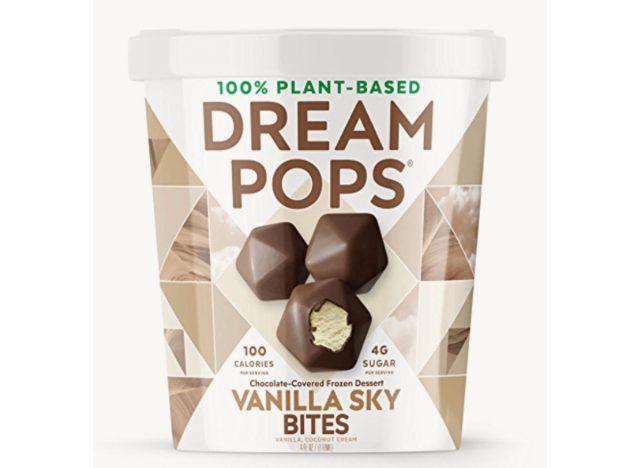 Dream Pops is asking retailers to pull 26,111 cases of its products after it was discovered that the bite-sized desserts may contain undeclared milk, according to an alert posted by the FDA.
The Berry Dreams, Birthday Cake, Cookie Dough, and Vanilla Sky bites are available at Whole Foods, Wegmans, ShopRite, Schnucks, H-E-B, Harris Teeter, and more grocery stores, but the notice doesn't specify which places the recalled pops were sold at. All of the affected packages have best-by dates ranging from 6/28/22 to 10/21/22. 
The FDA classifies this as a "Class I" recall, or "a situation in which there is a reasonable probability that the use of or exposure to a violative product will cause serious adverse health consequences or death."
No information about possible illnesses related to this recall was provided.
Infant Formula
Angel Formula, which was sold at Moor Herbs' Detroit store and on its website, is being recalled after the FDA determined that it didn't meet certain labeling and nutrition requirements for infant formula. The product is labeled as "a powdered mylk alternative for the health conscious mother." Here's what the organization said about the issue:
"When the product was tested, the iron, sodium, and potassium content were well over the maximum allowed, which could potentially lead to iron overload and/or electrolyte imbalances. In addition, the product did not have vitamin D, and a vitamin D deficiency can potentially lead to rickets, a softening and weakening of bones."
The company began shipping this product in 2019, and "all units in distribution are included in this recall." Parents and caregivers who purchased the affected formula should stop using it and either throw it away or return it for a refund. Anyone concerned about the health or safety of their child should contact a health care provider for more information.
For more on what's happening at your neighborhood supermarket, check out:
Amanda McDonald
Amanda has a master's degree in journalism from Northwestern University and a bachelor's degree in digital journalism from Loyola University Chicago.
Read more about Amanda