3 Reasons Your Grocery Store's Shelves May Look Empty Right Now
Pantry staples may be in short supply—even at top stores like Safeway and Whole Foods.
The rush of the holiday season is over, but the empty store shelves that made headlines from Thanksgiving to New Year's Eve remain bare as another calendar year begins.
Ongoing supply chain problems are continuing to cause problems for grocery shoppers nationwide, but they're not the only issues dashing hopes of stocked supermarket aisles in 2022. Here are three reasons why the shelves at your neighborhood store may look empty right now.
Related: Dangerous E. coli Found in This Meat From America's Largest Grocery Chain
The Omicron Variant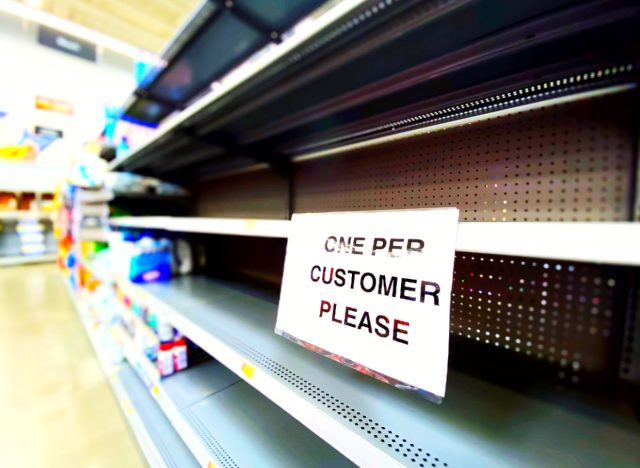 A new wave of COVID-19 has hit the U.S. especially hard within the last few weeks, leaving grocery stores and other food businesses confronted with labor shortages. SpartanNash Co., a grocery distributing company based in Michigan, told Bloomberg the number of COVID-19 cases among its 18,000 employees recently tripled.
"The company has been able to fulfill orders, but with delays," the outlet reports. "The employees who are available are working more."
Throughout the pandemic, Walmart has closed select stores for deep cleaning and sanitization. Lately, America's largest retail chain has ramped up these initiatives due to the Omicron variant.
"We have a team at the home office that meets daily to evaluate criteria related to stores and the communities we serve. When that data reaches certain thresholds, we make the decision to get ahead of the situation and proactively close the store for cleaning and sanitizing," Charles Crowson, the director of corporate communications for Walmart's press office, said in a statement to Eat This, Not That. "Determining when and where temporary store closures will take place is not something we can forecast in the long-term because the information our team is evaluating continually evolves."
Related: The Best Foods to Eat for Omicron Symptoms, Says Doctor
Winter Storms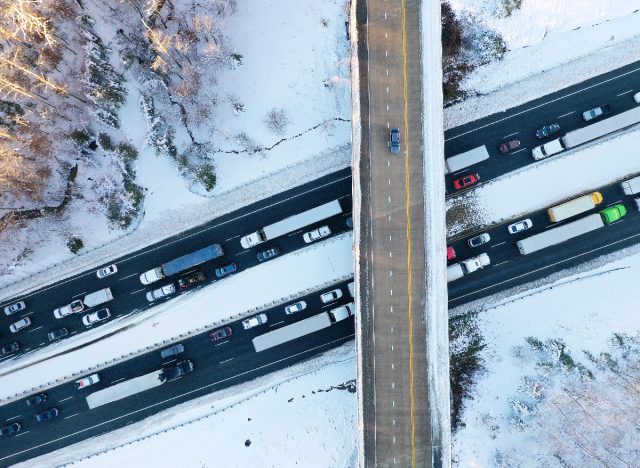 Huge amounts of snow and ice have fallen across the country, closing businesses, roads, and schools.6254a4d1642c605c54bf1cab17d50f1e
Workers at a Food Fair in Ashland, Ky., reported sales increases of 50% as a winter storm moved through. Shoppers picked up bread, eggs, meat, and milk, according to local news station WOWK13 News. 
ABC7 News reporter Kevin Lewis checked Giant, Harris Teeter, Safeway, and Whole Foods stores in the Bethesda, Md. area for shortages—and he spotted quite a few.
On the West Coast, winter storms are also causing dwindling grocery supplies in Washington state, according to Spokane's KXLY. Station meteorologist Matt Gray posted a sign at a Safeway store announcing a shortage of one popular breakfast and lunch staple.
"Bread shortage! Due to unforeseen weather conditions. Sorry for any inconvenience," the sign reads.
Related: To get all of the latest grocery store news delivered right to your email inbox every day, sign up for our newsletter!
Ongoing Supply Chain Issues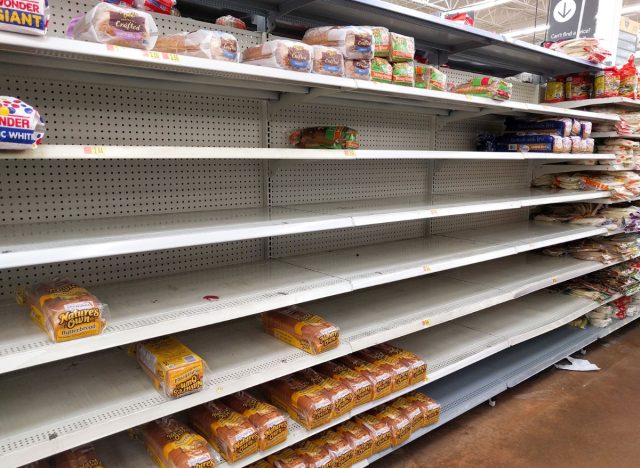 Just because the calendar reads 2022 doesn't mean the supply chain issues that defined grocery shopping in 2021 are magically fixed. Efforts to ease delays have been outlined, but they could take a while to materialize.
Costco Chief Financial Officer Richard Galanti previously revealed that the warehouse chain was chartering three ocean vessels to transport thousands of items from overseas in 2022. "Every ship can carry 800 to 1,000 containers at a time, and we'll make approximately 10 deliveries during the course of the next year," he said on a Q4 earnings call that took place on Sept. 23.
At the same time, grocery and restaurant leaders are reporting delays of not weeks but months. In addition to dwindling supplies, businesses are also feeling the heat from inflation and labor shortages, according to the Cape Cod Times.
In Memphis, supply chain issues delayed the opening date of a new supermarket. The South Point Grocery is opening early this year—behind schedule—after difficulties obtaining equipment and supplies, according to the Memphis Flyer.
What Products Are Shoppers Seeing Shortages Of?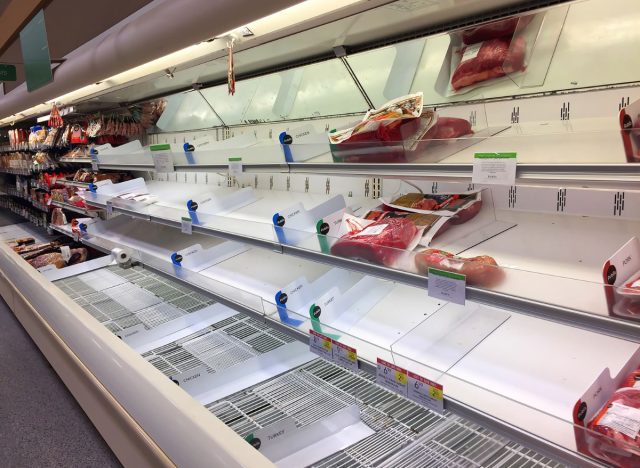 Eat This, Not That! asked recently readers on Facebook and Twitter to share the products they can't find in their local supermarkets. In addition to cream cheese and dried pasta, many called out the prices of the groceries on store shelves. Prices continue to be at an all-time high, and they won't be going down soon, experts say.
Shoppers also reported shortages of refrigerated cinnamon rolls, cat food, and cold medicine.
For more on what's happening at your neighborhood supermarket, check out: 
This Regional Grocery Chain Just Added a New Customer Perk

America's Two Largest Grocery Chains Just Raised the Price of This COVID-19 Item
Amanda McDonald
Amanda has a master's degree in journalism from Northwestern University and a bachelor's degree in digital journalism from Loyola University Chicago.
Read more about Amanda