3+ Major Grocery Chains Changing Their COVID-19 Policies
One of them is a new way to fight against the virus.
We've seen how the grocery industry has been affected by COVID-19—from shipping delays and shortages to ongoing price increases and even store closures in the face of rising inflation and operational costs. As another pandemic peak greets the new year, grocery retailers continue to adapt quickly to address consumers. And safety concerns and preventative measures are top of mind for these stores.
Some of the changes are in response to the surge in Omicron cases, while others reflect the advancement in treatment options available to combat the spread of COVID-19 infection. These are three major grocery chains, along with several state-specific locations, that are introducing new initiatives at the start of 2022.
Related: 3 Big New Grocery Recalls You Need to Know About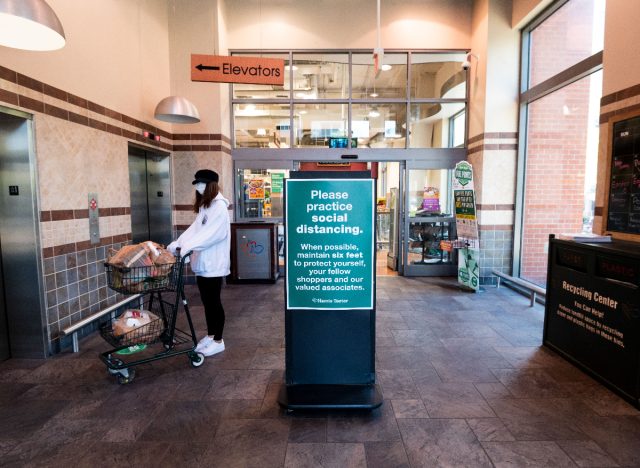 The East Coast neighborhood grocer is bringing its modified hours into 2022. All Harris Teeter locations will be open from 6 a.m. to 9 p.m., with some of their amenities shutting down nightly at 7 p.m. This policy has been in place since September 2021, with the company stating that the shorter hours will allow more time for sanitizing the stores, as well as providing better safety to their employees.
This includes other ongoing initiatives, such as their senior shopping hours, from 6 a.m. to 8 a.m. on Monday and Thursday mornings, in an effort to provide protection for vulnerable groups.
According to the site's official COVID-19 response, "Harris Teeter is committed to providing an Incredible Place to Work and Shop. We have been intently focused on taking actions to keep our shoppers and valued associates safe and healthy and our stores open and operating efficiently."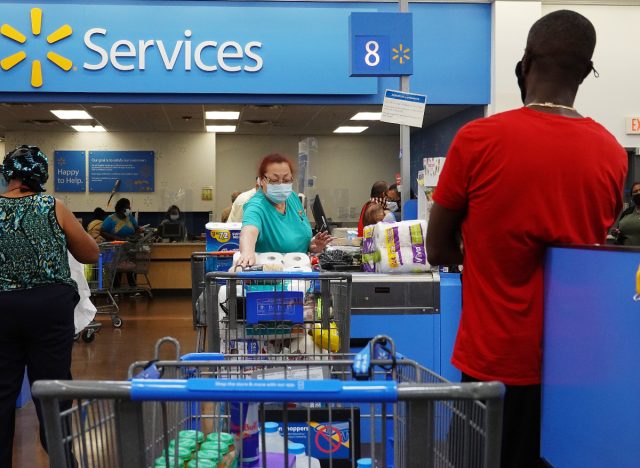 In the superstore chain where you can find household goods, groceries, and fast food dining all in one place, you can now get a pill to help treat a COVID-19 infection.
Walmart has been building the infrastructure to provide the customers with better access to healthcare through their new health center locations. In 2020, the big-box retailer rolled out millions of Pfizer and Moderna vaccine doses to prevent the spread of the virus.
Now, with the U.S. Food and Drug Administration's approval of two new oral antiviral treatments, Walmart is also prepared to fill prescriptions of Pfizer's Paxlovid and Merck's Molnupiravir pills to treat COVID-positive patients. The medications will be free for consumers and can be picked up at select pharmacy locations through curbside pickup or drive-thru, as to avoid COVID-19 positive people from entering the store.
Related: To get all the latest grocery store news delivered right to your email inbox every day, sign up for our newsletter!
While this grocery store chain isn't mandating COVID-19 vaccines for all of its workers, they are making changes that may encourage unvaccinated employees to get their shots.
At the start of the year, Kroger made the decision to discontinue its additional two-weeks paid leave for any unvaccinated staff who contract the virus. Instead, they will be required to request unpaid leave or use days from their earned paid-time-off. Unvaccinated salaried employees will also need to pay $50 per month for company healthcare.
Meanwhile, the extra two weeks of paid leave will still be granted to workers who are fully vaccinated and fall ill from the virus. Any employees that choose to get the vaccine will still receive a $100 bonus.
Walmart and Kroger are also upping the price of rapid tests.
The most common at-home COVID-19 rapid test on store shelves is the Abbott BinaxNOW test, a self-administered nasal swab that can provide results in just 15 minutes. But many have been struggling to access this detection tool due to higher costs and low availability.6254a4d1642c605c54bf1cab17d50f1e
Both Walmart and Kroger have noticeably increased the price of these testing kits recently. A federal deal with these popular grocery stores agreed to provide BinaxNOW at $14 for two test swabs. But this discount ended at the end of December 2021. Now, Walmart shoppers will find the tests cost around $20, while Kroger customers will see a sticker price of just about $24.
Kroger told USA Today, "We fulfilled our commitment to the Biden Administration to sell at cost for 100 days and that pricing program has now phased out and retail pricing has been reinstated."
The country has struggled to ramp up testing over the course of the pandemic. According to NBC News, the omicron variant has been tricky to reliably identify with rapid tests. PCR tests are the most accurate, but increased demand and insufficient supply cause delays in results, making it difficult for people to know what their COVID status is. The Biden administration says it is investing $3 billion to increase testing production to address the gap in effective detection.
Other local grocery store chains are changing their rules based on state and local regulations.
Certain states are introducing new safety measures to mitigate the rapid increase in omicron cases.
California has reinstated mask mandates, enforcing that people wear a face-covering in all public settings, regardless of vaccination status. This was set to end by January 15, but in the wake of daily case surges reaching around 59,000 per day and spikes in hospitalizations, the California Health Department announced they would be extending the mandate into February, according to NPR.  
"Implementing a universal masking requirement not only has proven to decrease the rate of infections but is able to slow community transmission," the department stated.
On the Eastern side of the country, Illinois reached a daily case count of 32,000 this week, with high numbers of hospitalizations across the state. In response, Chicago and Cook County are now requiring proof of vaccination for anyone over the age of 5 to enter indoor spaces, like restaurants, bars, gyms, and entertainment venues. Grocery stores do not fall under the list, but they will still enforce a mask policy, as regulated by the city of Chicago.
Similar policies have been used in New York City, such as the "Key to NYC" initiative that requires everyone over the age of 12 to show proof of full vaccination to gather in public spaces in order to reduce the risk of infection across the population.
For more info about what's happening at the supermarket in your area, read these next:
Sarah Wong
Sarah studied at Northwestern University, where she received a bachelor's degree in computer science and experimented with mixing tech and journalism.
Read more about Sarah