The #1 Healthiest Order at McDonald's, According to a Nutritionist
Here's how to order a healthful meal at America's favorite fast-food chain.
Who doesn't love a McDonald's burger and fries after a long night out, or an Egg McMuffin with hash browns to start the day? Plus, the chain is convenient and affordable, and, we can't deny it, super tasty. So, it's pretty hard to resist that craving for chicken nuggets, fries, milkshakes, ice cream, burgers, and more. Unfortunately, most of the items you'll find on their menu are the definition of "junk" food—large portion sizes packing higher-than-necessary amounts of calories and fat.
But you can actually concoct a healthy order for a balanced meal that won't wreck your diet, and that actually has some good nutrition to keep you full longer. We chatted with dietitian and head of Nutrition & Wellness at WW (formerly Weight Watchers) Jaclyn London, who helped us pick the healthiest order you can currently get at McDonald's—main, side, and dessert included!
Main: A Classic Hamburger or Cheeseburger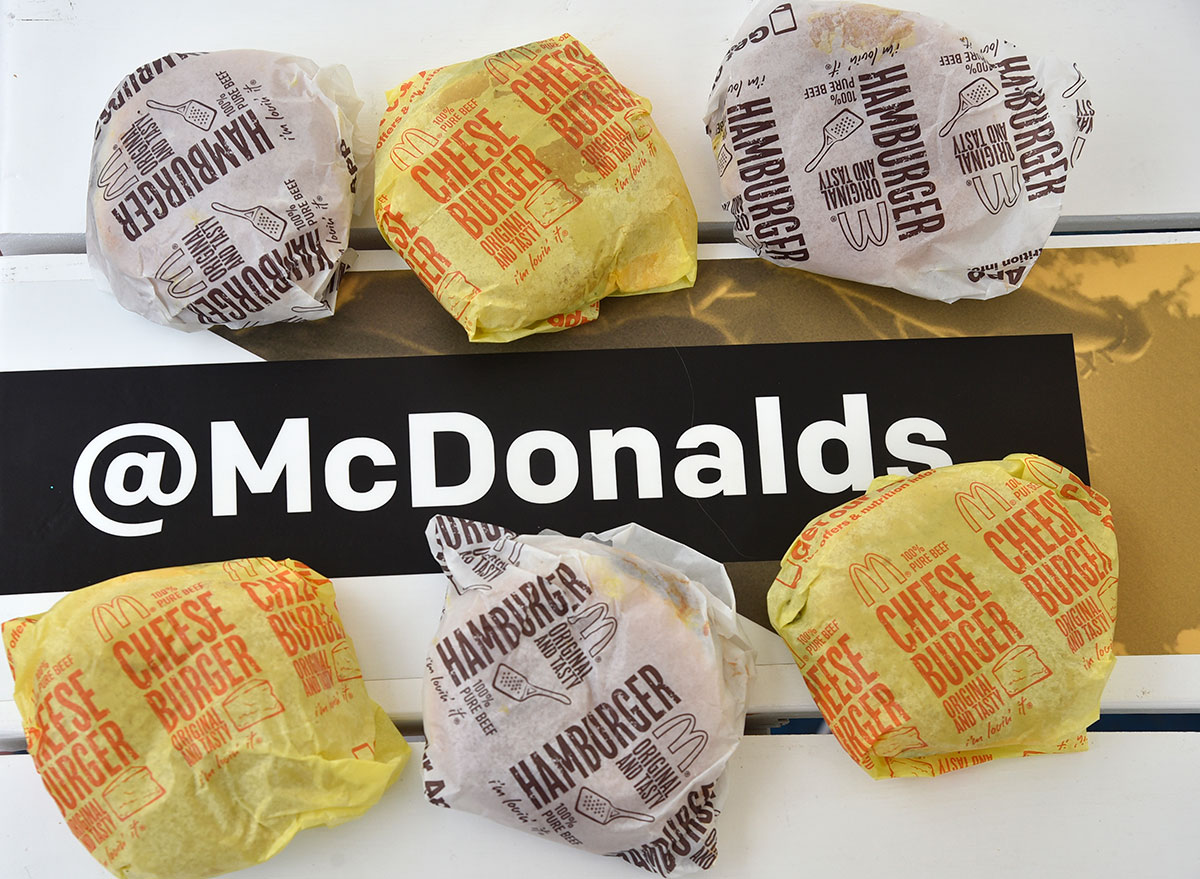 PER SERVING (classic hamburger)
: 250 calories, 9 g fat (3.5 g saturated fat, 0 g trans fat), 510 mg sodium, 31 g carbs (1 g fiber, 6 g sugar), 12 g protein
PER SERVING (classic cheeseburger)
: 300 calories, 13 g fat (6 g saturated fat, 0.5 g trans fat), 720 mg sodium, 32 g carbs (2 g fiber, 7 g sugar), 15 g protein
Here's the thing about burgers: they've gotten a bad rap over the years thanks to super-sizing, double-patty-ing, and over-the-top add-ons consisting of melted cheese, bacon slices, eggs, and other high-fat, high-calorie ingredients.
But when it comes to America's #1 fast-food chain, the trick is in the portion size. You can actually get a decently healthful burger at McDonald's just by making the right menu choices, swaps, and tweaks to your order, which will boost nutrition and get rid of some of the excess "junk."
A classic burger is one of your best options—hands down. "Whether you want to add cheese or not, the original burger delivers 12 grams of protein at only 250 calories per serving and you can amp up the flavor with pickles, onions, mustard, and a little bit of ketchup—or my personal favorite, BBQ sauce," London says.
The cheese doesn't really make it much worse and you're getting 3 extra grams of protein. So feel free to add it in, but note a slight increase in calories, fat, and saturated fat, as well as sodium. And you can further lower carbs, calories, sugar, and sodium by ditching the bun and enjoying your burger in a lettuce wrap, too.
Side: Kid's World Famous Fries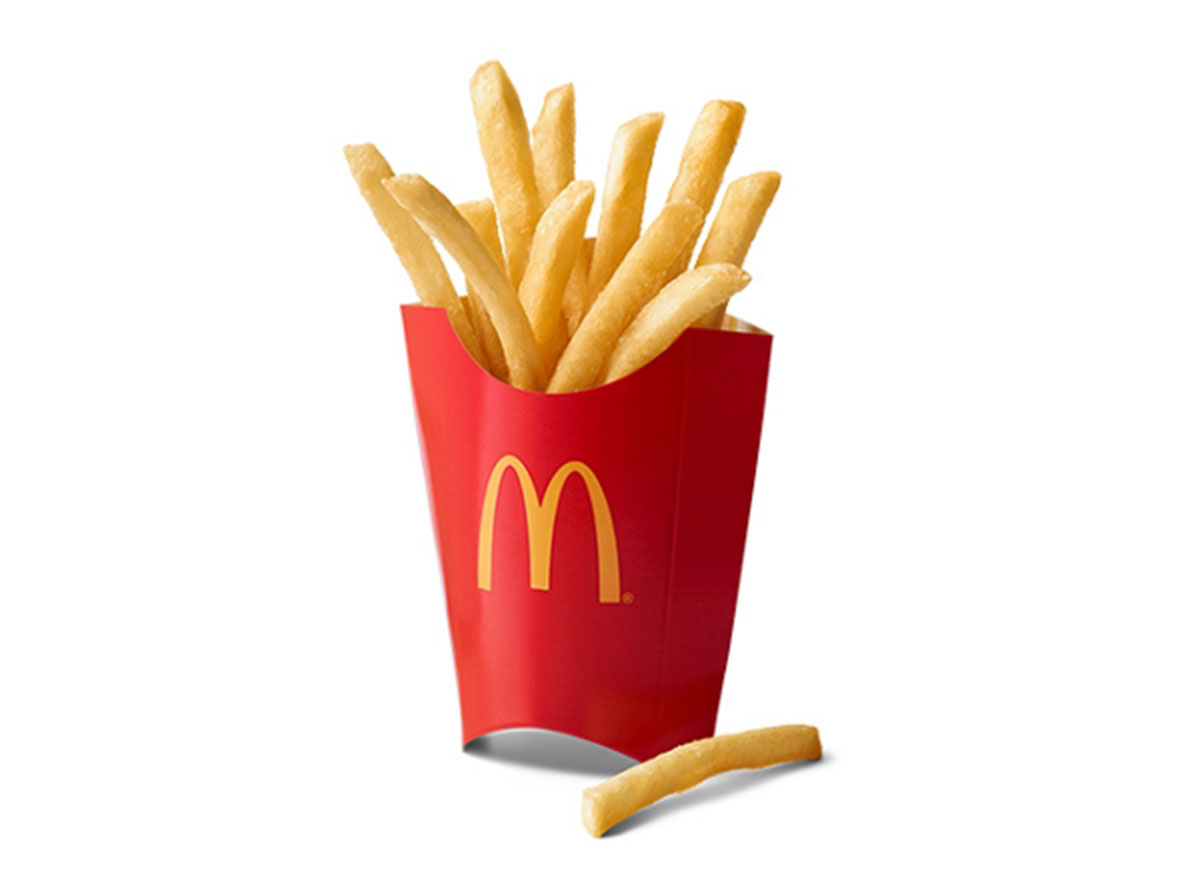 PER SERVING (kids size fries)
: 110 calories, 5 g fat (0.5 g saturated fat, 0 g trans fat), 90 mg sodium, 15 g carbs (1 g fiber, 0 g sugar), 2 g protein
Let's be honest: What's a burger without fries? "When you're in the mood for a classic burger-and-fries meal, the kid-sized fries are a good side choice, as this side of fries is relatively low in calories and sodium due to surface salt," London says.
Yes, really. "The FDA defines a low sodium food as 140 milligrams or less, and this fits the bill" she explains. "Graduate to the regular small size if you're really craving fries and are in the mood for a heartier portion."
You can also swap classic ketchup as a condiment for something a bit healthier, like a low-sodium and low-sugar hot sauce, for example. Or just go without, as the fries will still be tasty and you'll avoid increasing calories, sugar, and sodium.
DESSERT: Vanilla Cone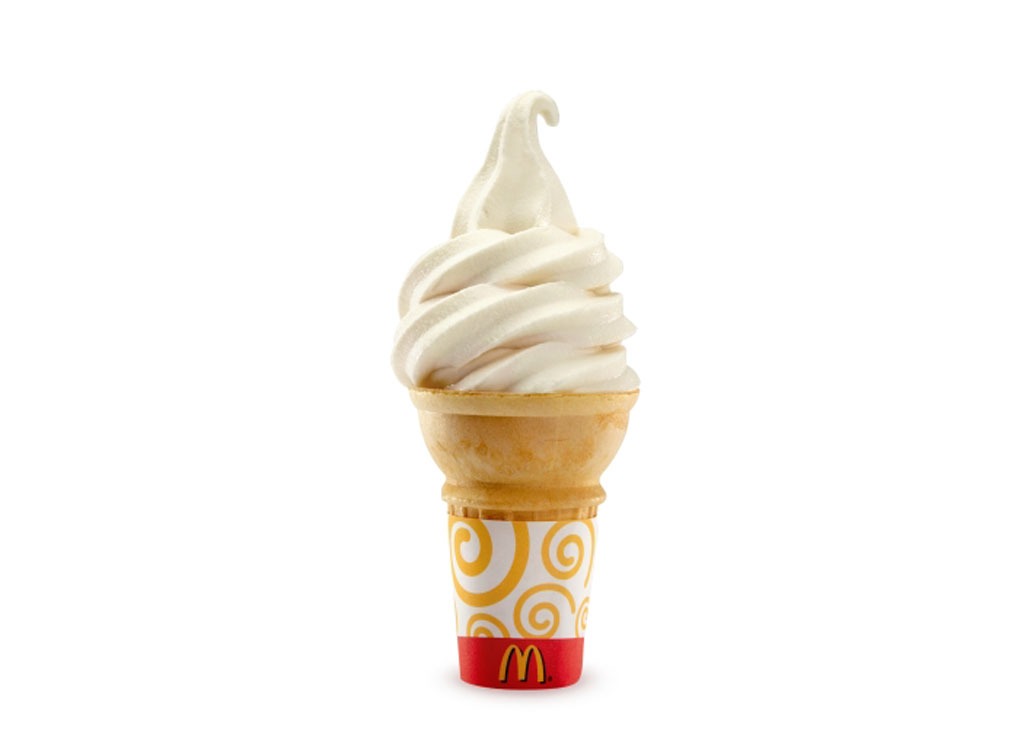 PER SERVING (one vanilla cone)
: 200 calories, 5 g fat (3 g saturated fat, 0 g trans fat), 80 mg sodium, 33 g carbs (0 g fiber, 23 g sugar), 5 g protein
We all know Mickey D's milkshakes and McFlurries, and while they all taste amazing, they're also loaded with sugar, fat (and saturated fat, especially), and carbs. So, they're not the ideal pick for how to end your meal.6254a4d1642c605c54bf1cab17d50f1e
But you can avoid the blood sugar spikes and the subsequent crash by choosing the one dessert item that's sneakily pretty healthy after all. "The vanilla cone packs up to 15% of your daily value for calcium, and can help you stay satisfied with 5 grams of protein," she says.
Calcium is great for building bone mass and lowering the risk of osteoporosis later in life, and protein will fill you up for longer so you won't feel the need to go back for another side order or a snack shortly after. For more, check out our list of The Worst Fast-Food Desserts, and don't forget to sign up for our newsletter to get the latest restaurant news delivered straight to your inbox.
Isadora Baum
Isadora Baum is a freelance writer, certified health coach, and author of 5-Minute Energy.
Read more about Isadora