The #1 Worst Breakfast to Order at McDonald's
This McDonald's breakfast has more calories than even the Double Quarter Pounder combo meal!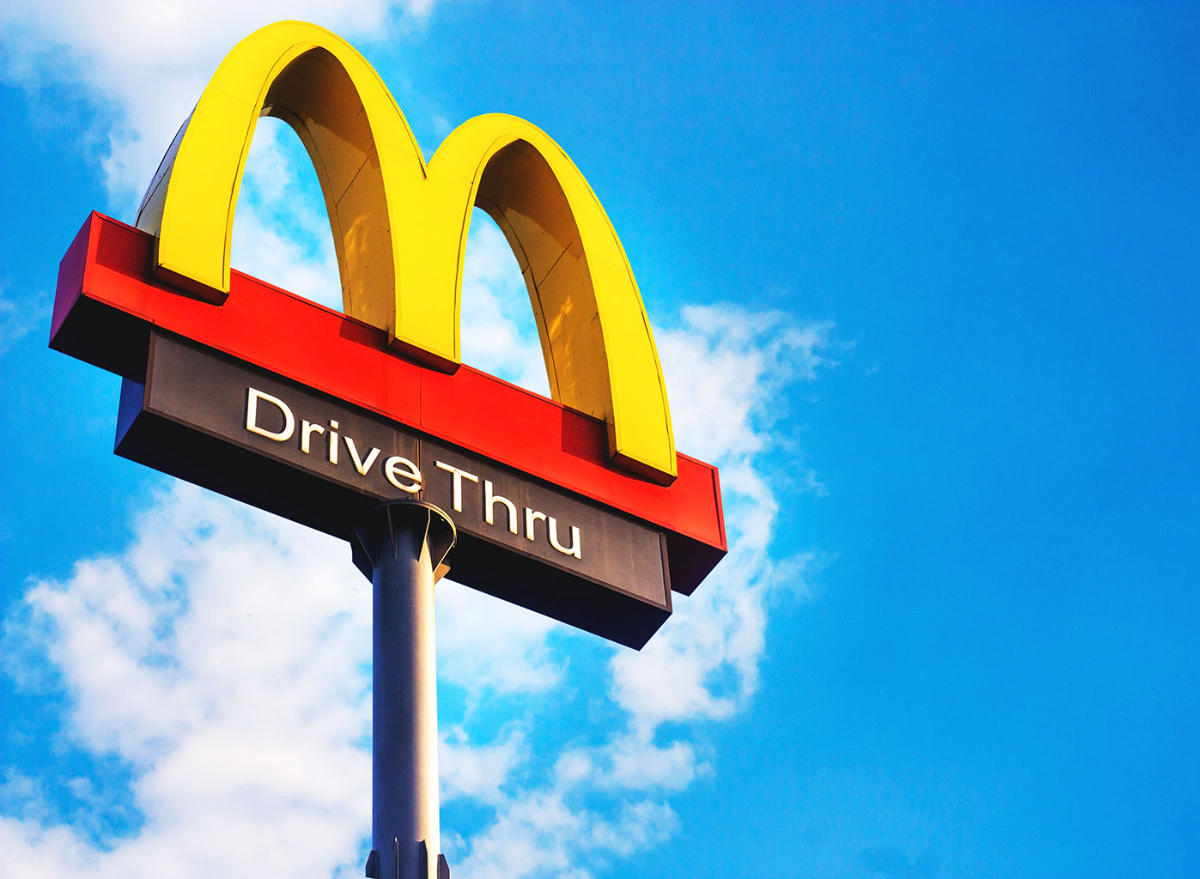 Breakfast out is always a treat, and a trip through the drive-thru can be a cheery way to rise and shine. That's unless you've made an overly decadent menu choice, which can cause you to feel heavier for the rest of the day. No fun!
The good news is that with a little wisdom, it can be easy to select a fast-food breakfast that won't wreck your day. If you're headed out to grab a McDonald's breakfast, we've researched the menu. Read on to find out the #1 worst breakfast to order at McDonald's, as well as a few options that will fill you up without making you feel like you've let yourself down.
And, if you're curious about the nutrition truth for your go-to foods, find out what's the worst ranch dressing on grocery store shelves.
We rated these McDonald's breakfast choices based on their calories.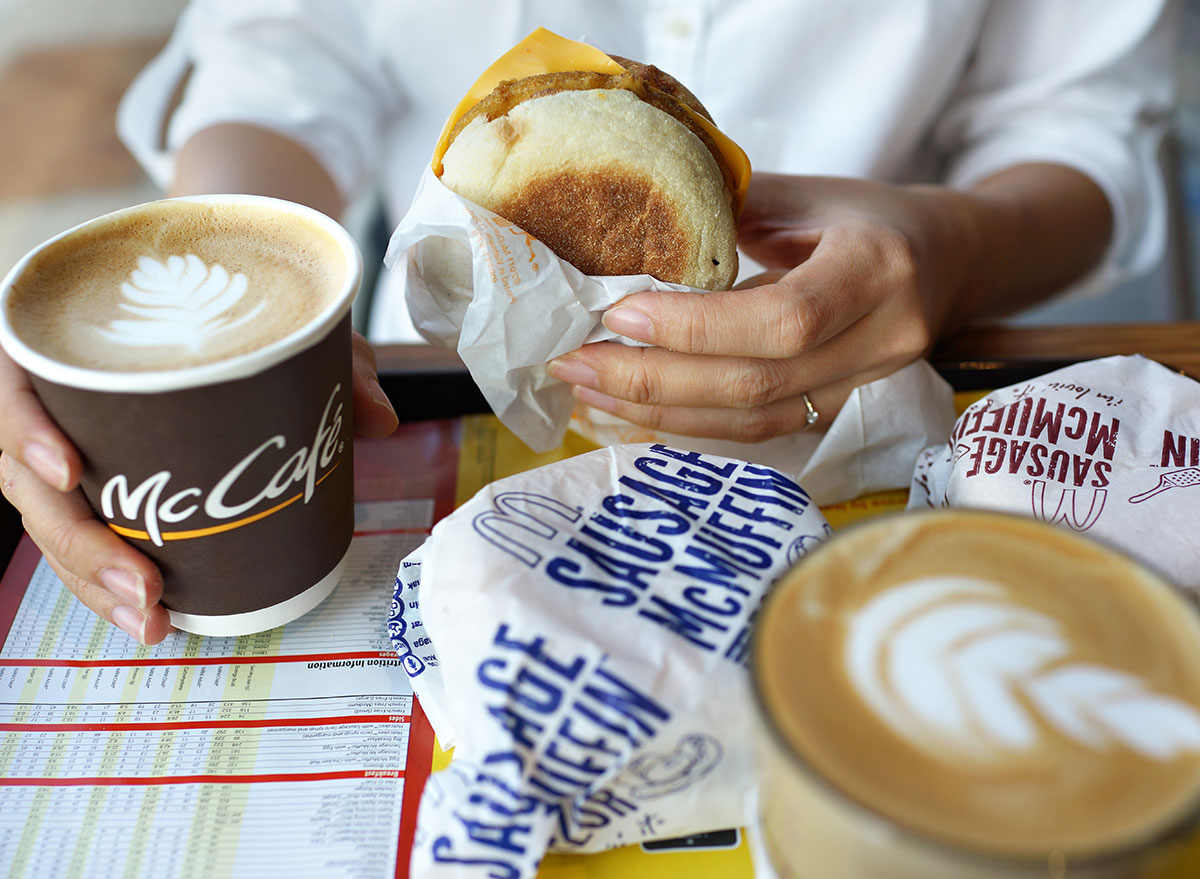 Yep, we kept it simple, basing our choice for the worst breakfast order at McDonald's on the calorie count. Calories aren't the only way to judge how good or bad a particular food is for you—but especially with fast food items, which tend to be inherently high in fat, sodium, and other nutrition facts in general, reviewing the calorie content can be an easy way to narrow down which items to choose versus which to steer clear of.
McDonald's breakfast menu offers a few a-OK options.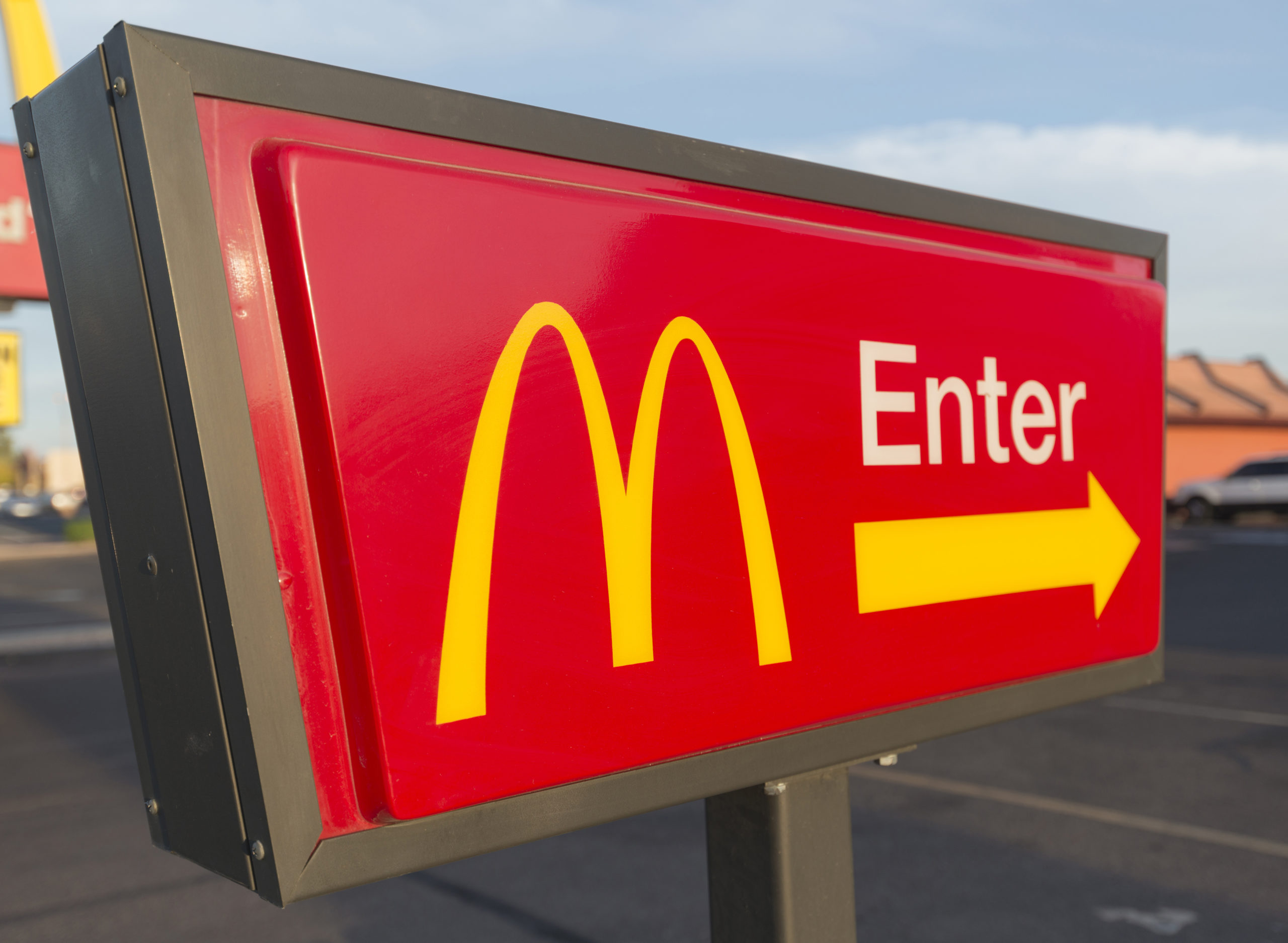 Let's start by pointing out that the fast-food giant does offer some reasonable items that, if you grab them on occasion, probably won't destroy your diet and wellness goals.
One section of McDonald's breakfast menu might surprise you.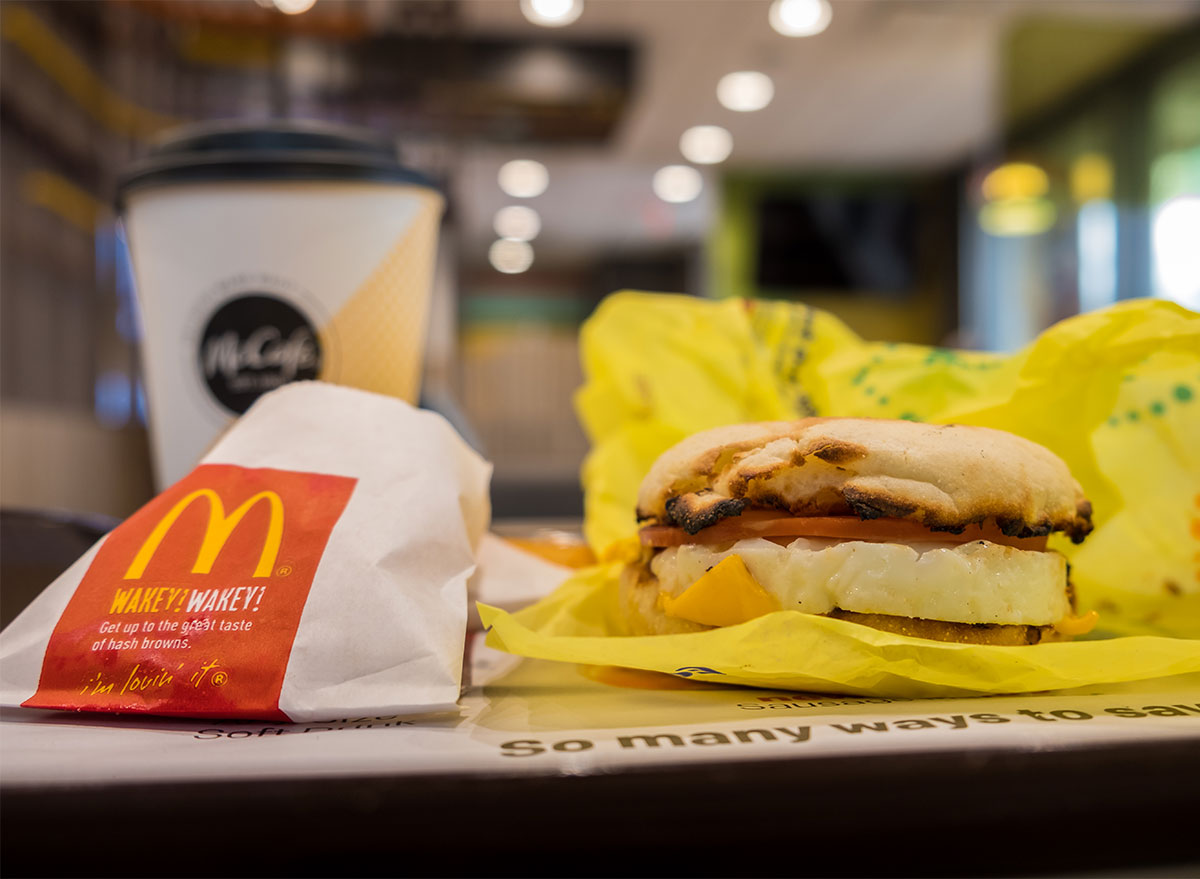 Even most of McDonald's breakfast combo meals are workable, if you're not frequenting the drive-thru, per se. A choice like the Bacon, Egg, & Cheese McGriddle combo meal weighs in at 570 calories, which is just under one-third of the calories in the standard 2,000-calorie diet. While it doesn't really fit most definitions of "healthy," enjoying this every now and then is probably just fine for most people.
Here's one McDonald's breakfast tip to keep in mind.
The right fruit juice can deliver awesome health benefits, so we're not anti-juice overall. But ordering McDonald's orange juice with a combo meal—or, a regular soda for that matter—will pour on more calories, plus more sugar, than a coffee will.
Another McDonald's breakfast rule of thumb.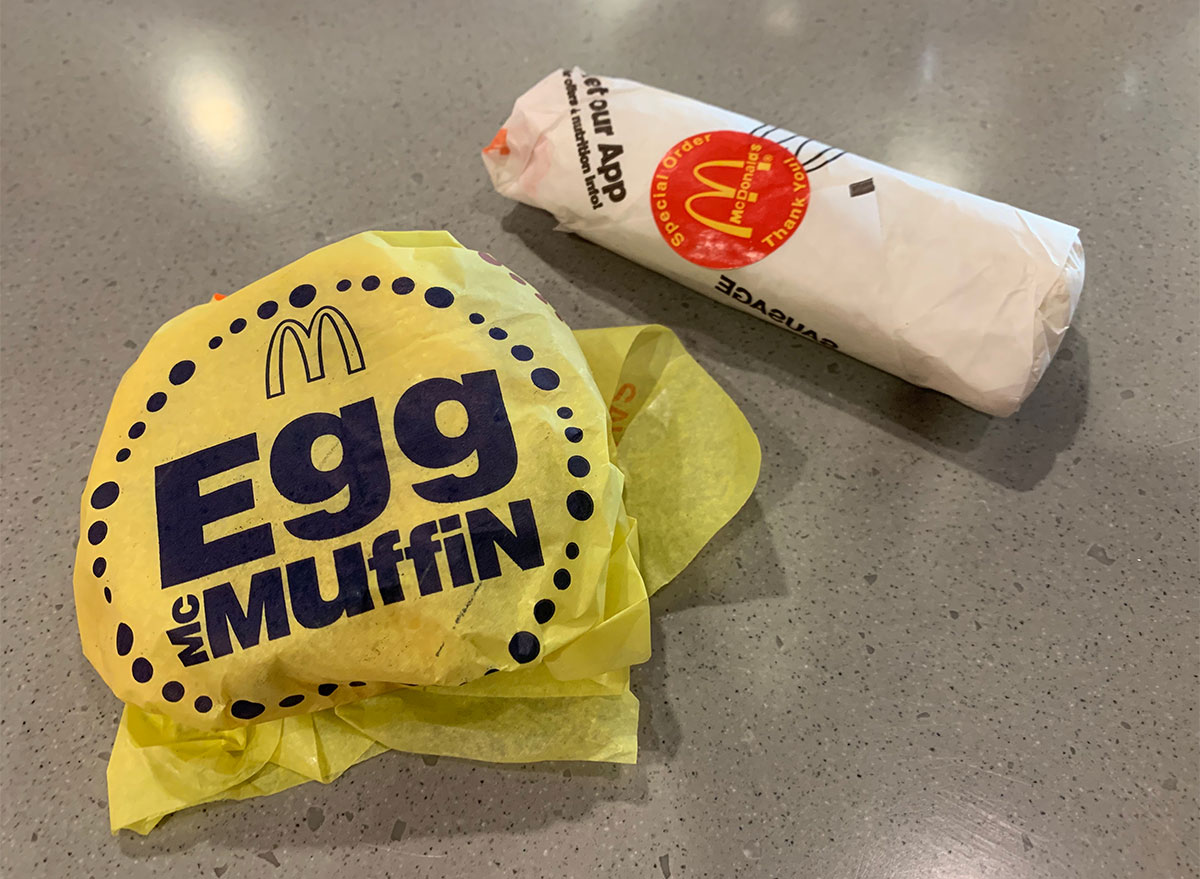 It might go without saying, but opting for no meat in your McDonald's breakfast will help keep the calories (plus fat, sodium, and others) down.
But if you're going to choose meat…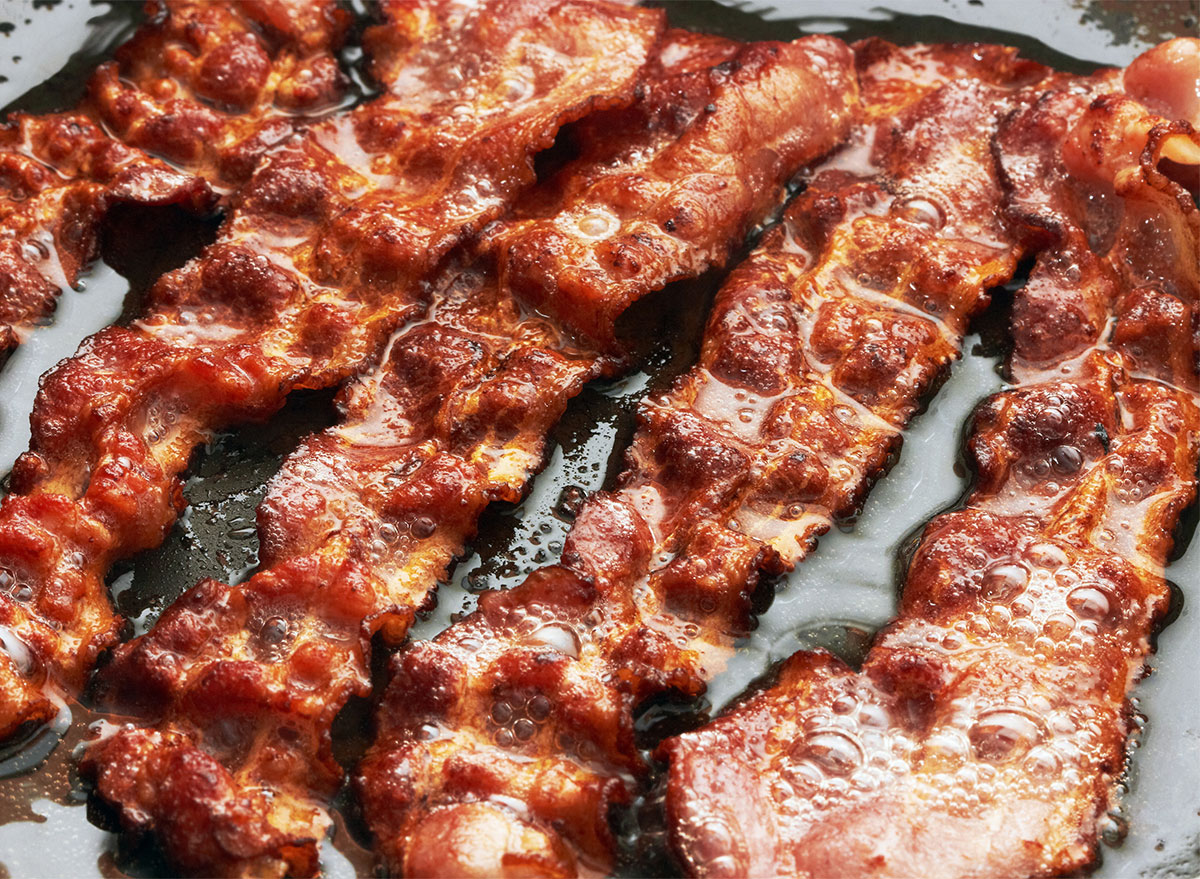 Consider requesting bacon. That's because a single McDonald's sausage patty drives up the calorie count of a breakfast item about 120 calories higher than bacon does. (That's not to say we recommend bacon freely—read Eating Bacon Could Cause This Type of Liver Disease, New Study Reveals.)6254a4d1642c605c54bf1cab17d50f1e
There's one sausage exception when it comes to McDonald's breakfast.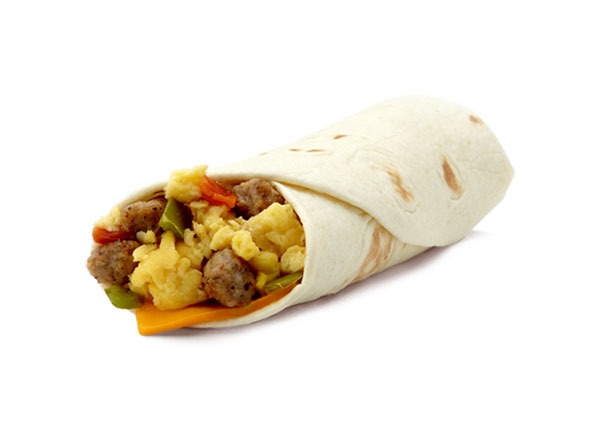 At 450 calories, the Sausage Burrito Meal has the fewest calories of any McDonald's breakfast combo. (The Egg McMuffin Meal has the same.)
But the single worst McDonald's breakfast order…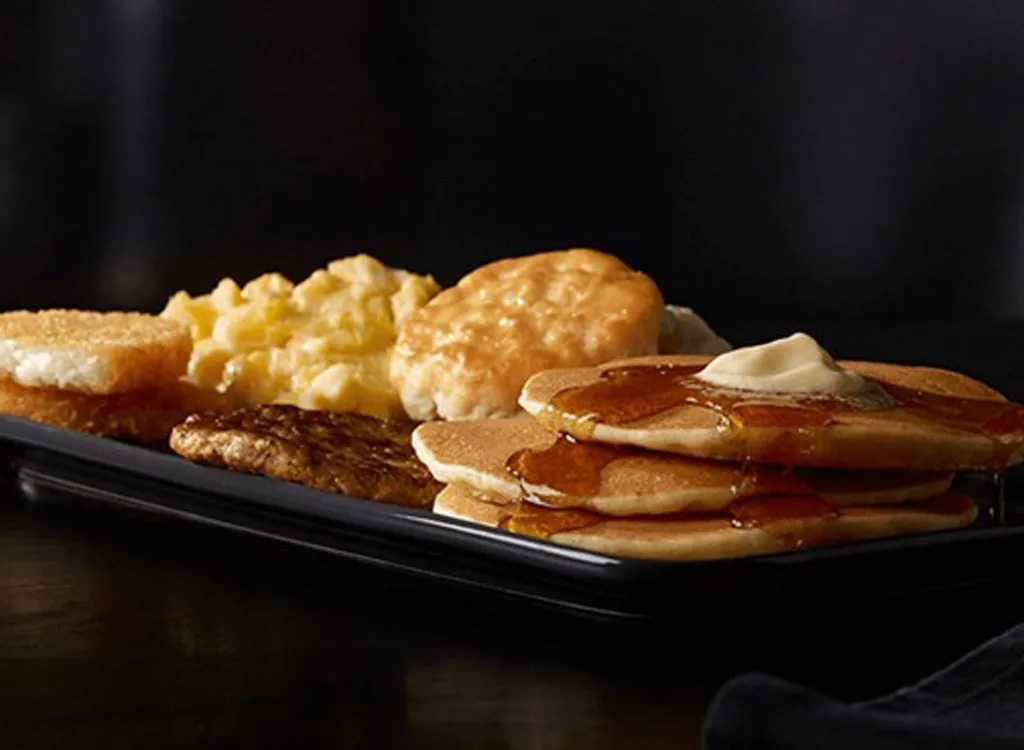 Perhaps not shockingly, the #1 worst item on McDonald's breakfast menu is the Big Breakfast with Hotcakes. This is a belly buster—McDonald's describes the Big Breakfast with Hotcakes as "a warm biscuit, savory hot sausage, fluffy scrambled eggs, crispy hash browns, and golden brown hotcakes with a side of real butter and the sweet flavor of maple." (Notice they don't say "real maple syrup," which might tell you that you don't even need to read the syrup package to know there's a lot of fructose in there.)
At 1,340 calories, this is one of the highest-calorie items on McDonald's entire menu. It even beats out the Double Quarter Pounder Combo Meal's 1,270 calories.
Those heavy carbs, the saturated fat, the fried items: This is not a recipe to feel energized for the day. Unless you're splitting this with a couple other people, stay away from McDonald's Big Breakfast with Hotcakes.
Wiser breakfast choices at McDonald's are…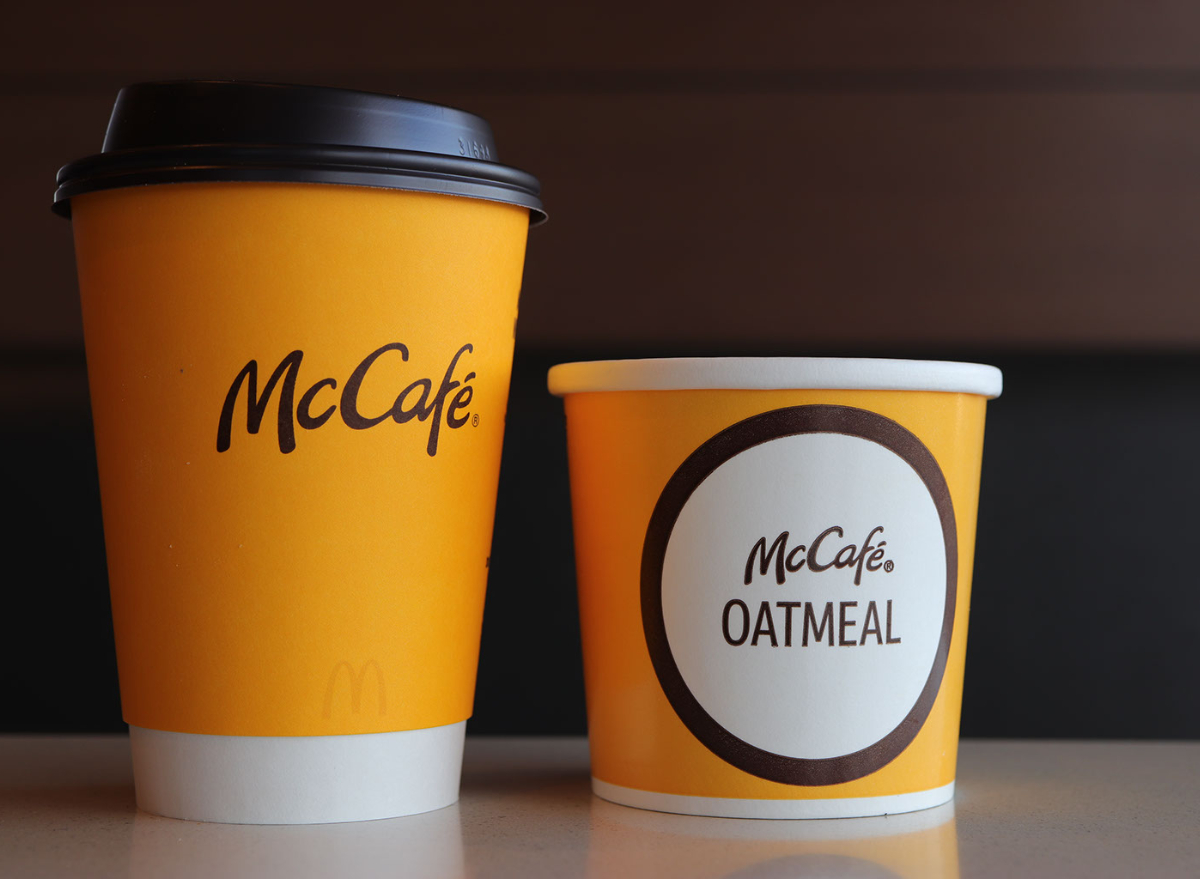 McDonald's says the Sausage Burrito, Fruit & Maple Oatmeal, and an Egg McMuffin all have 310 to 320 calories. As an alternative, a single order of hash browns has just 140 calories.
It all goes to show that even when it comes to fast-food breakfast, knowing what to ask for can be better for your health!
Get the nutrition news you need by signing up for our newsletter, and check out The #1 Worst Blizzard to Order at Dairy Queen. Also read:
These McDonald's Super-Fans Turned Their Home Into a Shrine
Krissy Gasbarre
Krissy is a senior news editor at Eat This, Not That!, managing morning and weekend news related to nutrition, wellness, restaurants and groceries (with a focus on beverages), and more.
Read more about Krissy