6 Healthiest Snacks to Buy at Walmart Right Now, According to Dietitians
Don't forget, though, half the battle with healthy grocery shopping is a healthy mindset!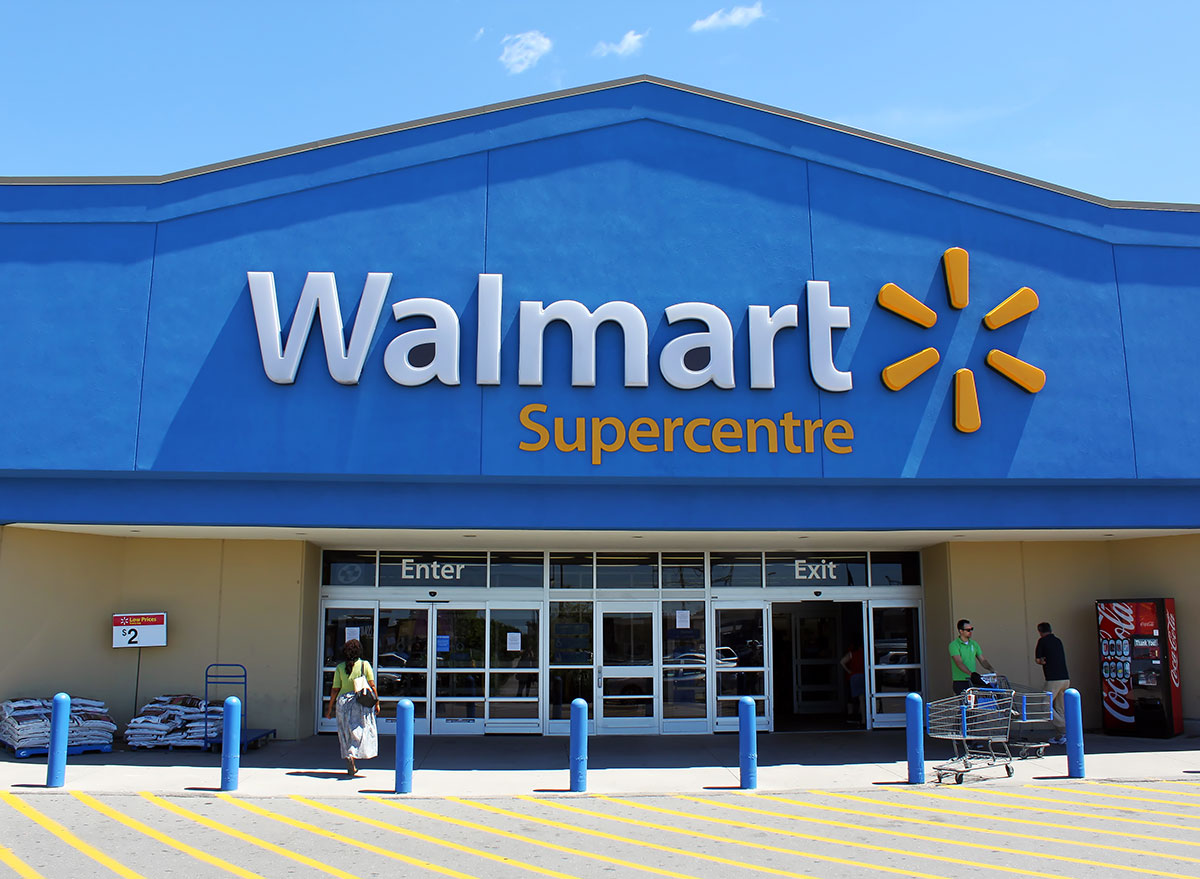 If you're trying to maintain a healthier lifestyle with eating, snacking can sometimes be the hardest part to figure out. Healthy snacks exist, though, and some of them are really delicious! Grocery shopping for them, though, may require some planning and a healthy mindset from the moment you step into the grocery store. 
"Something that often happens is individuals think of trying to grab the healthiest snack option possible but fail to think about satisfaction," says Jenn Baswick, RD, MHSc, of the Intuitive Nutritionist. "If you get some healthy snacks but you truly don't enjoy them, that's not going to serve you well overall with your eating behaviors and relationship with food. Sometimes what can happen when we focus on the healthiest option and don't include the satisfaction piece is that we end up endlessly snacking or continually searching for something to satisfy us."
To combat this issue, Baswick actually just recommends giving yourself some grace to eat the foods you want but in moderation. This way you don't feel deprived. But when you are considering snacks, try to keep variety in mind so you don't get bored with what you're eating and also consider picking protein-rich options. 
"If you're looking to satisfy your hunger with a snack, having a source of protein in your snack is a good way to do this," says Serena Benali, RD, of In Good Nutrition. "Protein increases fullness and prevents the return of hunger. Keeping a healthy mindset with this doesn't mean that this has to be a new 'food rule' that you must follow each time but instead you can make an informed decision depending on your level of hunger and how satiating you want the snack to be."
Walmart is a great place to shop for snacks, because the options are practically endless, and usually pretty cheap. For some ideas on healthy options to pick up at America's largest retail chain—with thousands of stores located throughout all 50 states—check out what more dietitians had to say when you keep reading.
Related: 6 Things You'll See at Costco This Year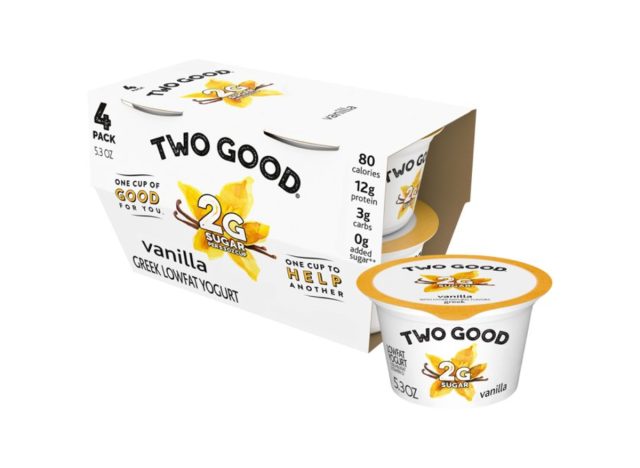 Greek yogurt is a great snack to fill you up between meals. It's packed with protein and can be topped with fruit or granola as well.
"I love this brand of Greek yogurt because it contains 12 grams of protein, 2 grams of sugar, no artificial sweeteners, and is sweetened naturally with Stevia," says Bailey Oschman, RDN, CD. "Greek yogurt is a great snack to help keep you full and satisfied."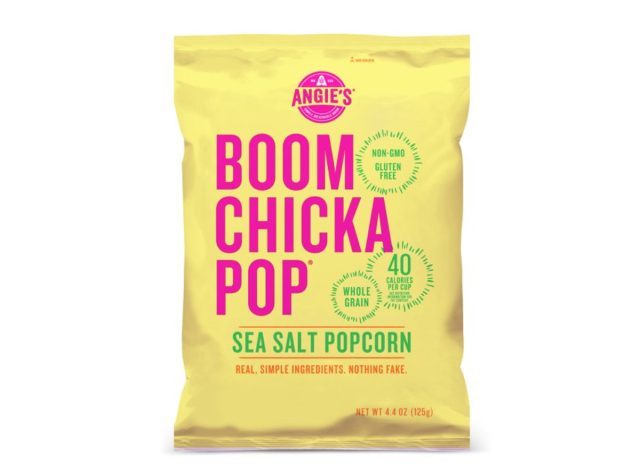 Popcorn is a great anytime snack. You can easily snack on it between meals or even in the evening if you get hungry while watching TV.
"Boom Chicka Pop is a lightly salted, air-popped whole-grain high-fiber snack that is perfect for on the go!" says Kristi Ruth, RDN, of Carrots and Cookies. "I prefer Boom Chicka Pop over Skinny Pop because I firmly believe that our focus should be on our health, not our body size (as the word 'Skinny' implies)."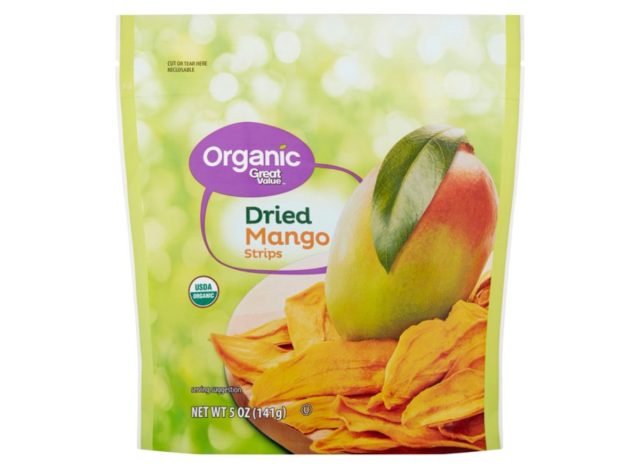 It's important to be mindful when choosing dried fruit, because some have added sweeteners that really make the sugar level tick up. Grab the organic dried mango at Walmart that's nothing but mango.
"Ingredients: dried mango. That's it! It tastes like candy!" Ruth says. "Some conventional dried mango at Walmart is made with added sugars, so that's why I opt for the organic version. It contains fiber and a variety of nutrients (vitamins, minerals, and antioxidants, most notably the B vitamins)."
Great Value Whole Natural Almonds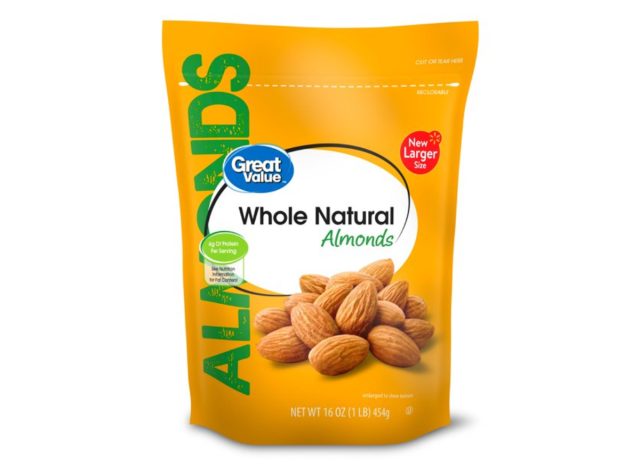 You can't go wrong with snacking on nuts, as long as you don't go overboard (those fats add up!).6254a4d1642c605c54bf1cab17d50f1e
"Almonds are a healthy snack that's high in fiber and low in calories," says Jennifer Schlette, RD, founder of Kitchen Substitute. "A handful of almonds makes an excellent snack when you need something tasty to keep you going. You can also use them as a topping for cereal, baked goods, or yogurt."
An ounce of almonds will give you a good boost of protein and monounsaturated fats (the good ones), so you'll be satisfied until your next meal.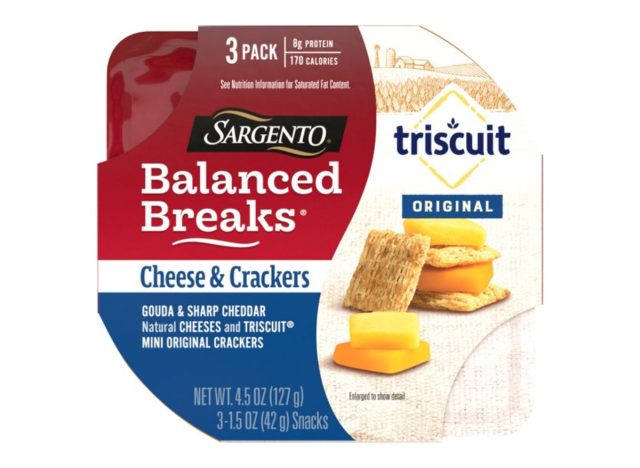 These snack packs come in a variety of options with different kinds of cheese and crackers to suit your taste buds.
"Sargento Balanced Breaks are a great source of fiber, protein, and healthy fats," says Kimberly Marsh, MS, RD, of Low Iodine Dietitian. You can tuck these in your work bag in the morning for a midday snack or toss it in the car to eat on the drive home from the office if you have a long commute.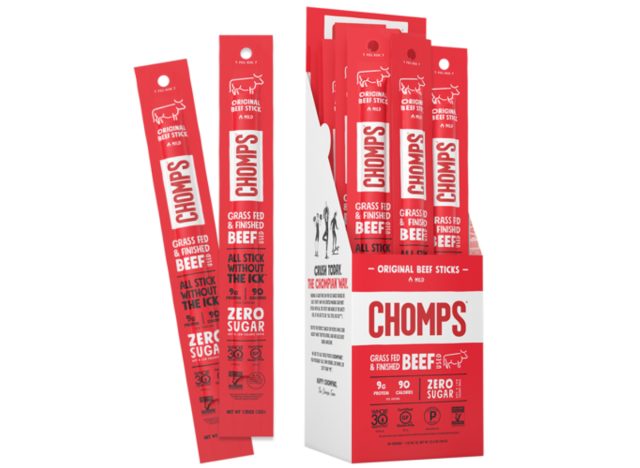 Not only are these Chomps Meat Sticks at Walmart a solid choice and one of the healthiest snacks, but they're compliant with numerous dietary plans, like Paleo, Whole30, and keto.
"This is a great on-the-go snack," Oschman says. "They use the highest-quality, sustainably-sourced protein with no added sugar or artificial ingredients. One stick packs in 9-10 grams of protein and 0 grams of sugar."
Head to the Walmart store near you and you may see the 5 major changes the company is making right now.
Hedy Phillips
Hedy is a freelance writer with years of experience covering buzzy food trends, wellness, and weight loss.
Read more about Hedy