5 Healthy Costco Food Court Orders, According to Registered Dietitians
Here's what to get at on the (still) limited menu.
It goes without saying that an afternoon spent navigating Costco's massive aisles builds up a big appetite. However, you don't want to blow through all of your daily nutritional values in one go.
Though members in certain cities don't have to wear a mask anymore if they're fully vaccinated, warehouse food courts aren't totally back to pre-pandemic norms. Beloved menu items are making a comeback (as is outdoor seating!), but options remain limited at this time.
We asked two registered dietitians to recommend the best items to order on the menu right now. While they aren't all necessarily healthy, consider splitting one with your Costco co-pilot. For more information on the healthiest and unhealthiest items outside of the food court, here are the Costco Foods You Should Always Avoid, According to Nutritionists.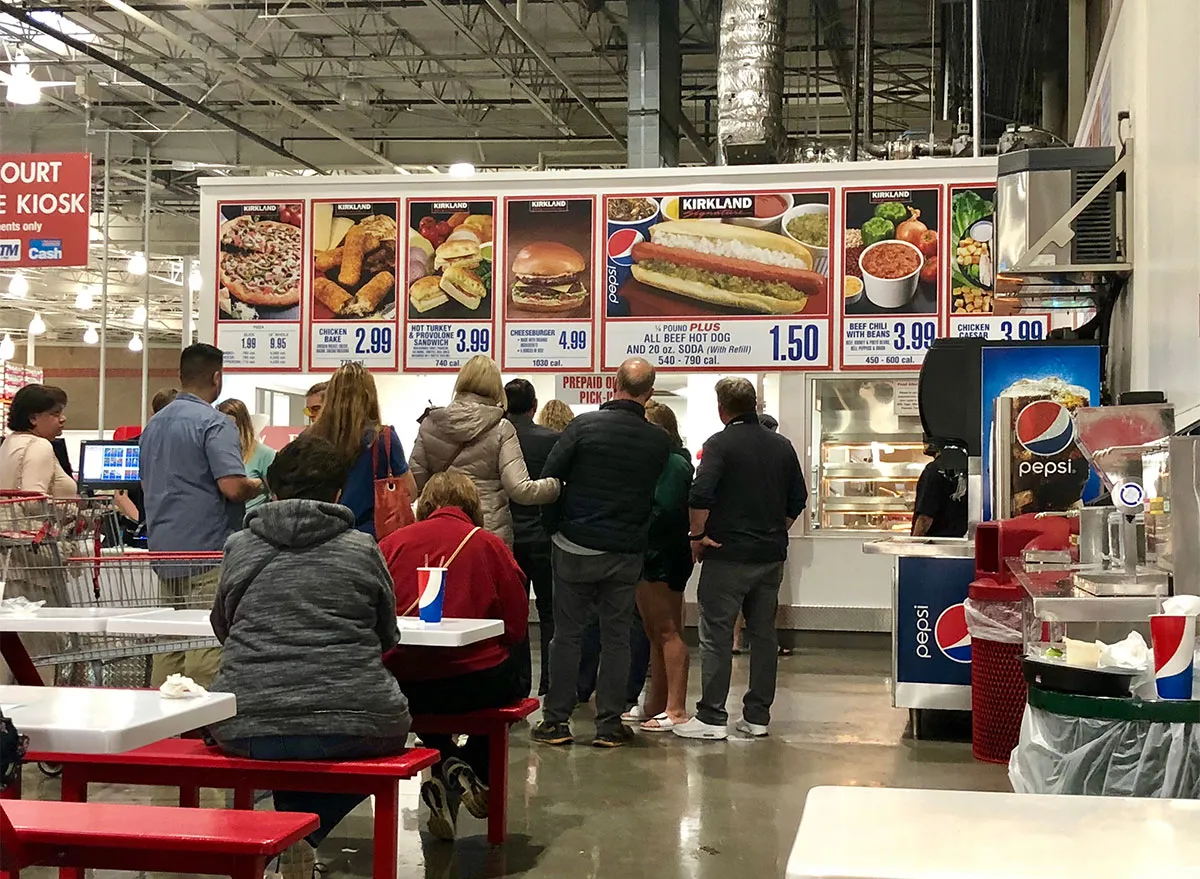 Compared to the other entrée selections on the menu, such as a hot dog or a slice of cheese or pepperoni pizza, the Chicken Bake is a good choice, says dietitian Ashley White, MPH, RDN, LDN.
"It's lower in fat (27 grams per serving) and saturated fat (10 grams per serving), even though it does have more sodium than the others," White says. "It has more protein (46 grams per serving), which will keep you fuller longer," she adds, noting that chicken also has vitamins and minerals like B 12, iron, and zinc.
But keep this in mind: One chicken bake has 770 calories, 81 grams of carbs, and 2,250-2,320 milligrams of sodium. 
Related: To get all of the latest Costco food court news delivered right to your email inbox every day, sign up for our newsletter!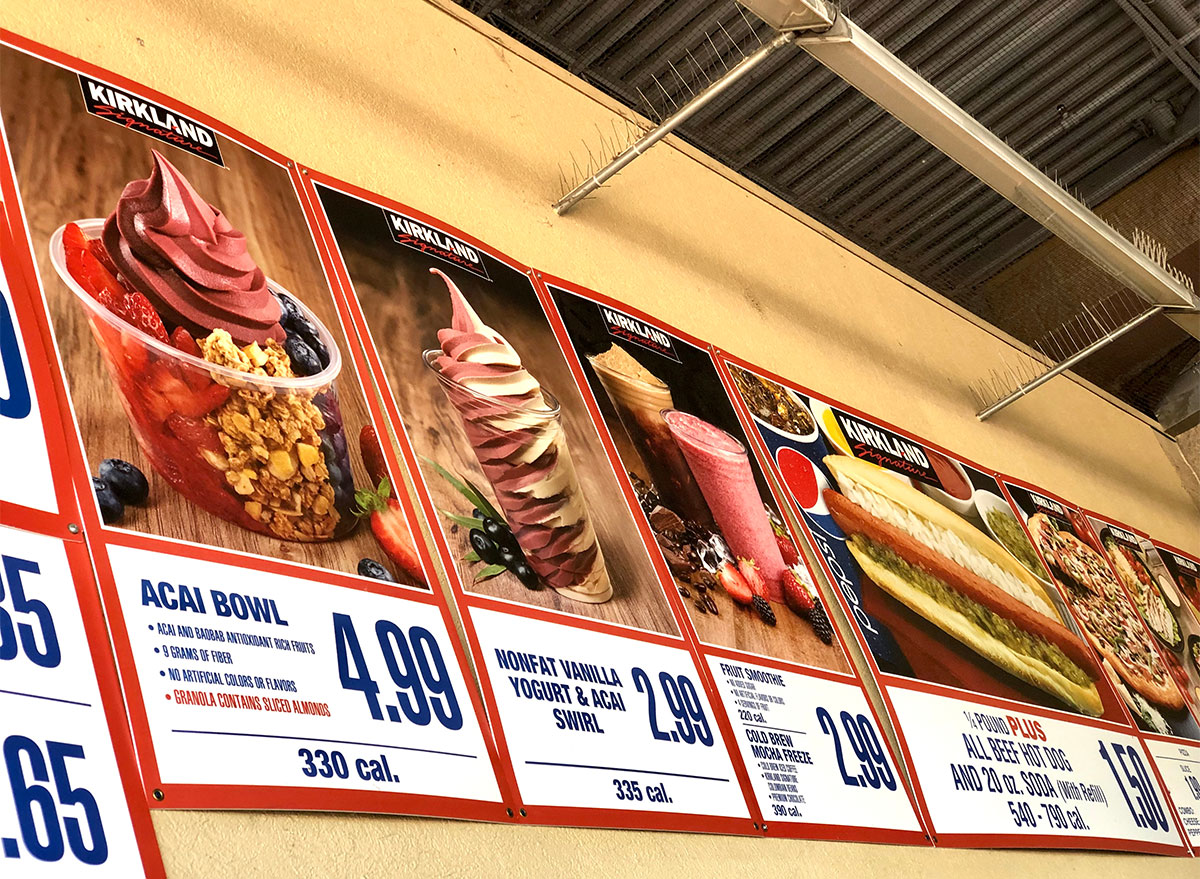 "Out of the drink choices, the fruit smoothie is the healthiest choice, since it's lower in calories (220 per serving)," White says. "And the fruit is jam-packed with antioxidants, vitamins and minerals, and some fiber."6254a4d1642c605c54bf1cab17d50f1e
Consider this a great way to get your fruit, but also think of it like dessert. This smoothie contains 50 grams of sugar, which is the equivalent of eating about 13 Oreo cookies!
What does that much sugar do to your body? Cancer, heart disease, and liver disease have very recently been linked to eating a lot of the sweet stuff.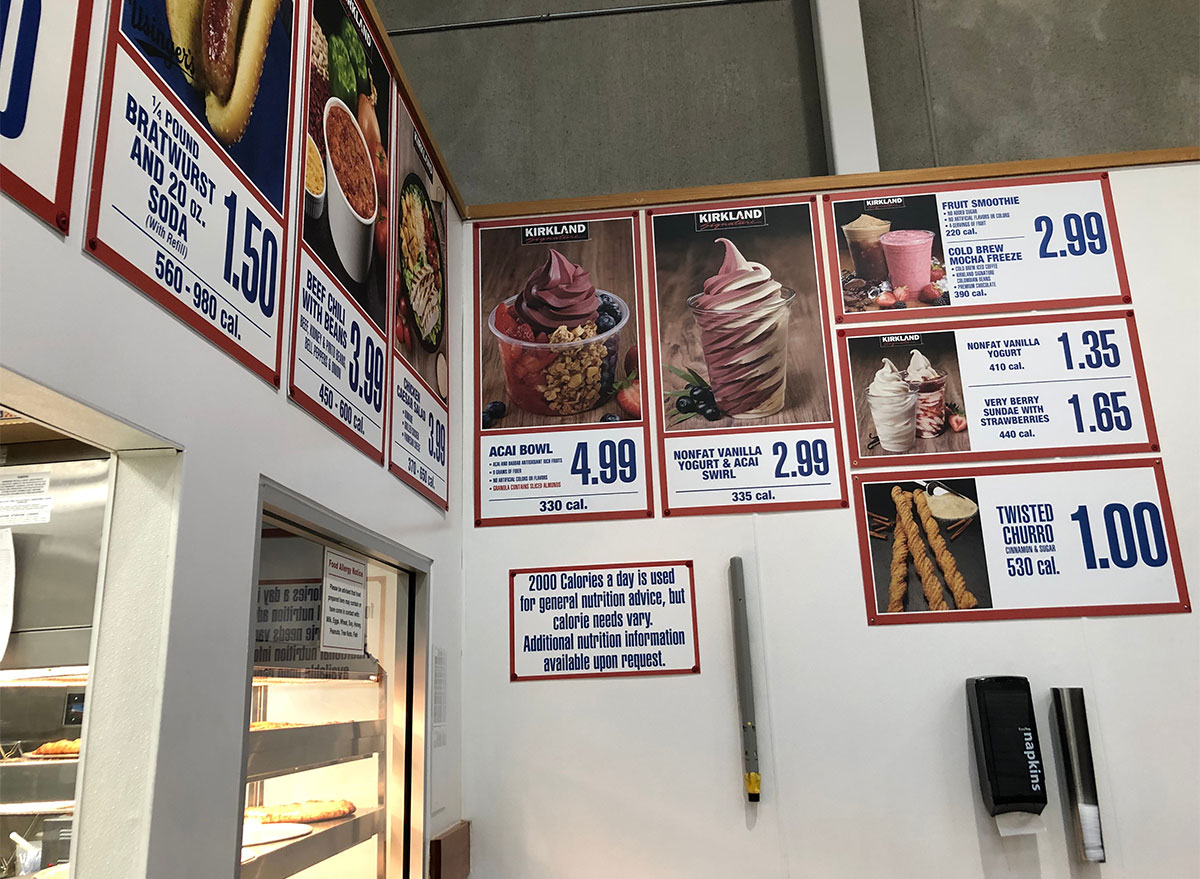 If it's a true dessert you're looking for after a trip to Costco, go for the Strawberry Sundae, which is lower in calories (440 per serving).
"The strawberries on top add some antioxidants and vitamin C, while the ice cream itself is a good source of calcium," White says. "Strawberries are also full of soluble fiber, which is great for heart health and preventing type 2 diabetes."
Related: 5 Major Side Effects Of Not Getting Enough Fiber, Says Science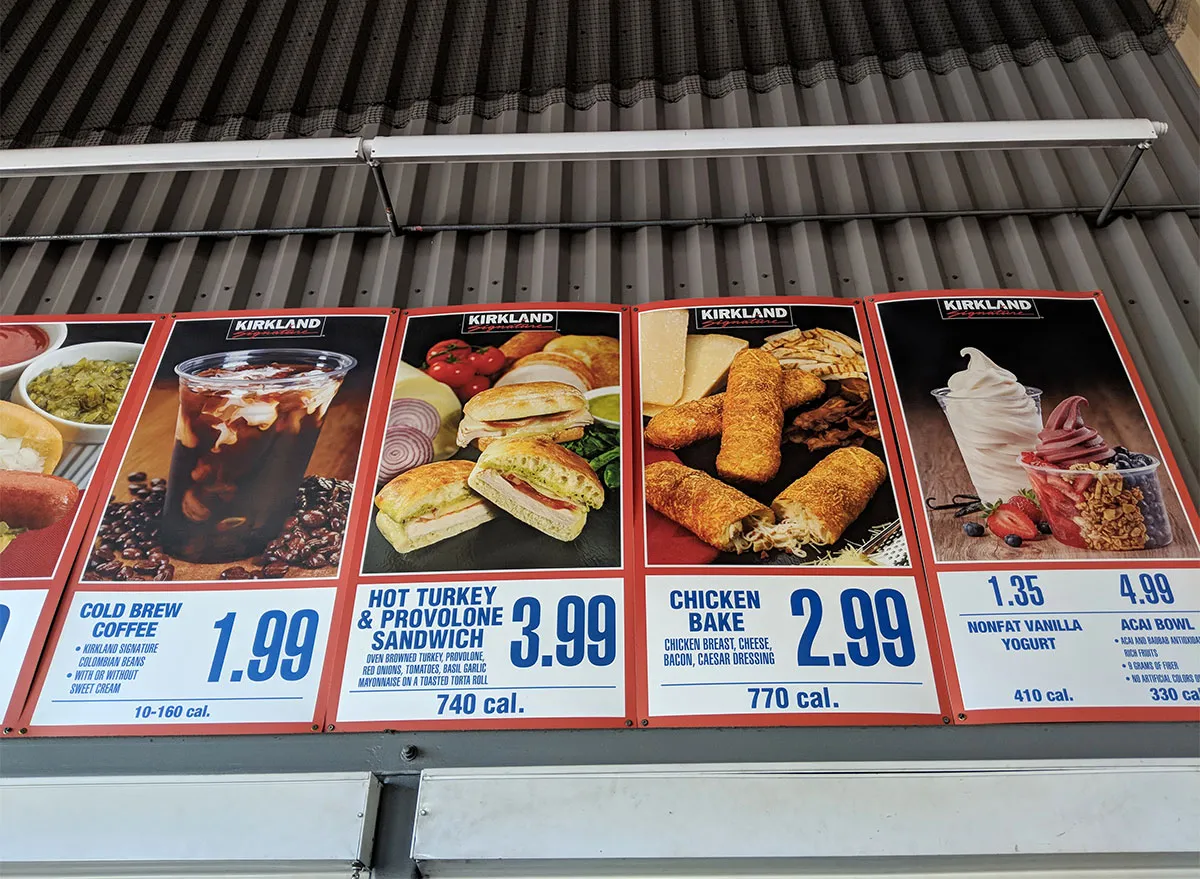 Shopping at Costco can be a big undertaking—bulk items are no joke! If a trip leaves you parched, one item on the food court menu is a good option both health- and price-wise.
"If you're looking for a pick-me-up during your Costco trip, this 16 oz. cold brew beverage will hit the spot (and is half the price of a Starbucks drink!)," says Laura Gilstrap RD, LD/N.
This option is great because it has 7 grams of protein that will help keep you full. But the sugar content is drastically high, coming in at 71 grams. (In terms of Oreos, it's the equivalent of eating about 17!) But Gilstrap has a pro tip: "If you're looking to reduce your sugar intake, ask for it without syrup."
Churros are officially back—and they're bigger than ever! This upgraded food court item costs $0.49 more, but it's larger than it was before it disappeared from the menu.
"Their redesigned churro has more twists and turns, allowing for extra cinnamon and sugar sprinkled on," Gilstrap says.
This means that the sugar content is up, as well as the calorie count (570 per serving). Despite the fact that this food court item isn't really healthy, it has been sorely missed by Costco fans. Having it as a treat is fine, especially if you split it.
"While this item may not be nutrient-dense, it can serve as a lovely treat after a hard day's work," Gilstrap adds.
For more on what to order (and what to not order!) from the complete menu, here are The Best & Worst Menu Items at Costco's Food Court.
Amanda McDonald
Amanda has a master's degree in journalism from Northwestern University and a bachelor's degree in digital journalism from Loyola University Chicago.
Read more about Amanda