The Best & Worst Menu Items at Costco's Food Court
The cheese pizza is a huge no-go.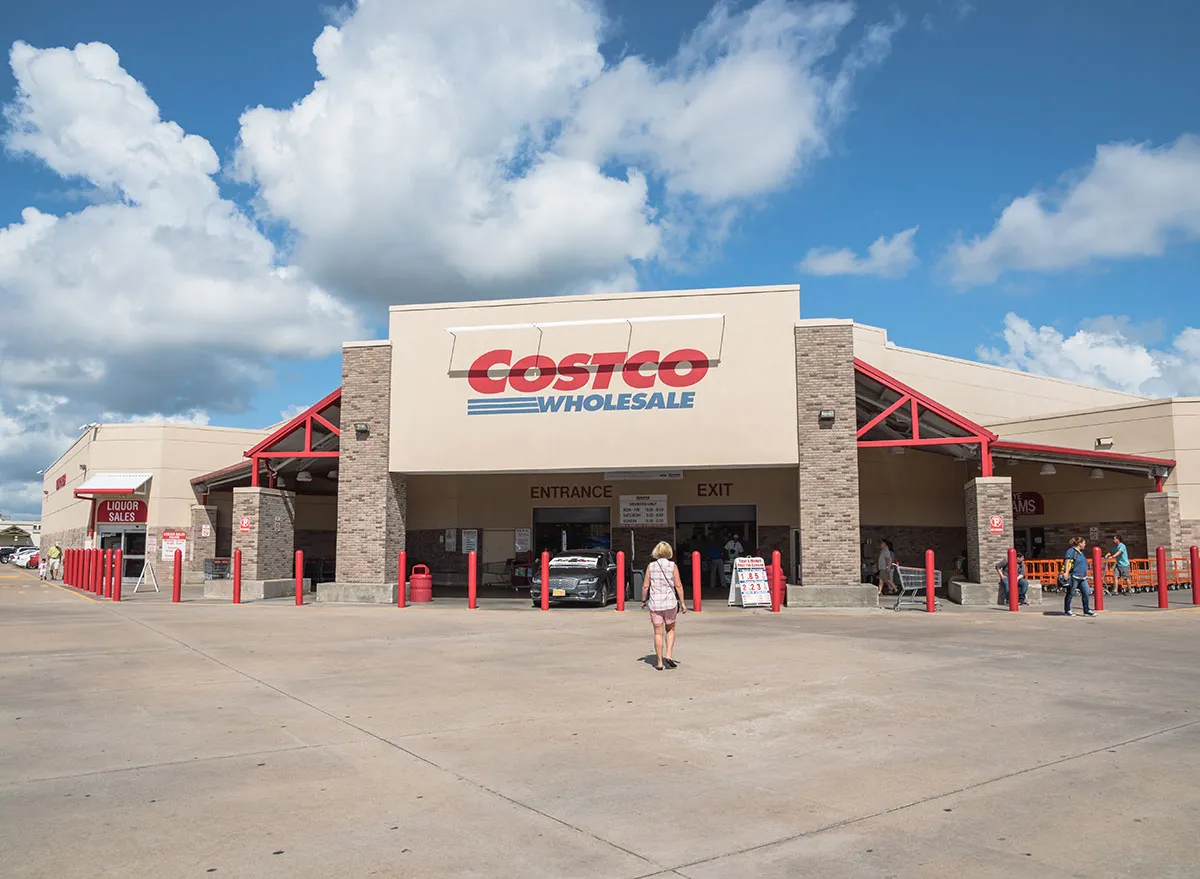 The Costco food court is always there when you need it, ready to serve pizza and hot dogs to fuel you through a day of shopping. And while it might've changed a bit the last year, the beloved food court is back. But the warehouse chain's affordable food isn't the best for your body. Those quarter-pound hot dogs and pepperoni pizza slices are loaded with fat and sodium, and drinks like the cold brew mocha freeze are brimming with sugar.
That said, sometimes you might find yourself at the Costco food court, whether by choice or because you just need some fuel to get through the day. To help you make an informed decision next time you're there, we asked RDs and nutritionists to share their top picks at the Costco food court, and which foods they'd steer clear of at all costs. (As a note, you might not see all of these menu options at your local food court. Costco had reduced its menu during the pandemic, and the most recent nutrition PDF the warehouse could provide us was from 2018. So there's no guarantee that all of these foods will be on the menu.)
And for more Costco tips, don't miss these 17 Secrets You Never Knew About Costco.
Hot Dogs, Pizza, & Sandwiches
While our RDs gave recommendations for what to order at Costco, it's worth noting that the "best" menu options should still be once-in-a-while treats. Sodium and fat are abundant in almost all of these options.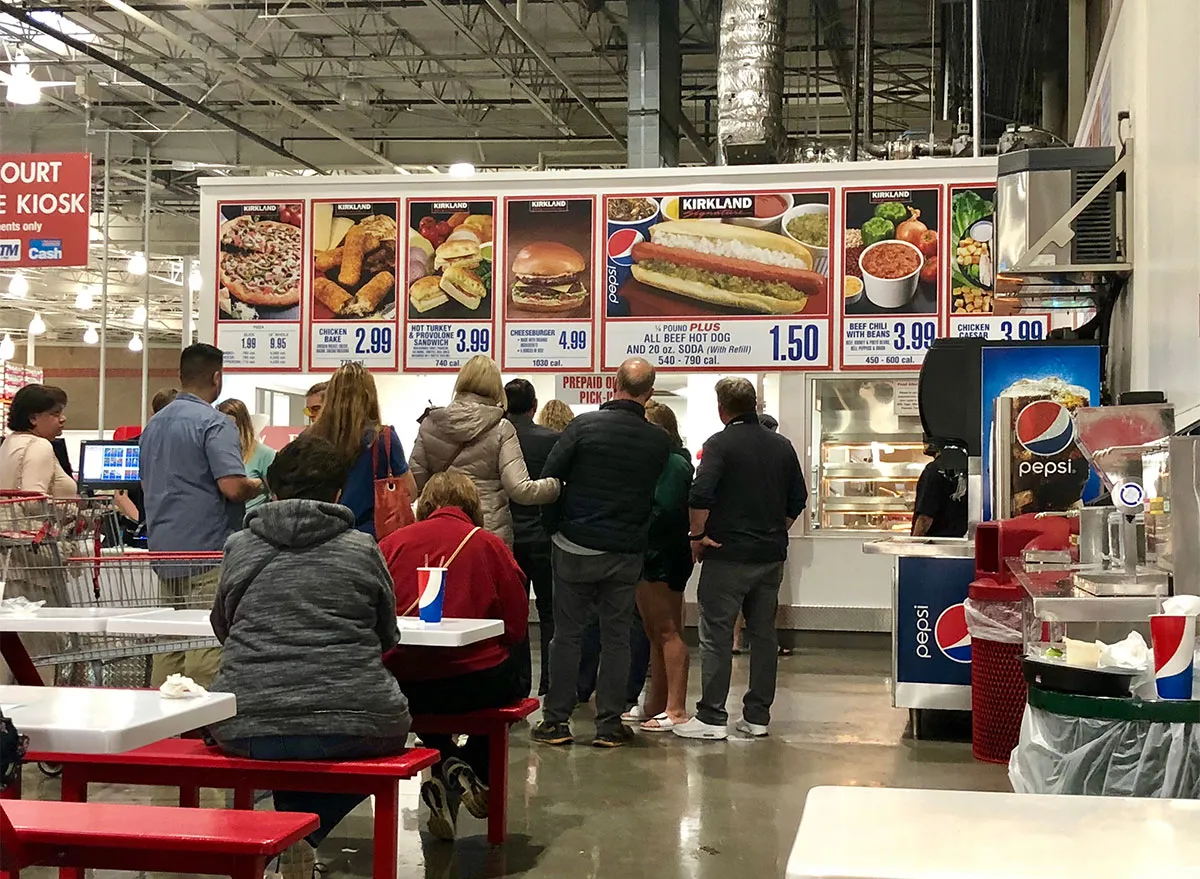 Per serving (601 g)
: 450-600 calories, 32 g fat (13 g saturated fat, 0 g trans fat), 2,840 mg sodium, 40 g carbs (17 g fiber, 11 g sugar), 41 g protein
If you can find chili at your local Costco, it's worth a try. "Chili is a hearty and satiating, protein-packed dish. Since this version contains beans, you're also getting gut- and heart-healthy fiber," says Lindsey Pine MS, RDN, CLT, owner of Tasty Balance Nutrition. "Judging by the calorie range of 450-600, it looks like this item can be customized to be ordered without cheese. The chili is the lowest calorie item in this section of the menu, and if you order it without cheese, you can actually get that number down to a very respectable 450 calories. I'm not happy with the insane 2,840 milligrams of sodium, however, which is more than we should consume in an entire day."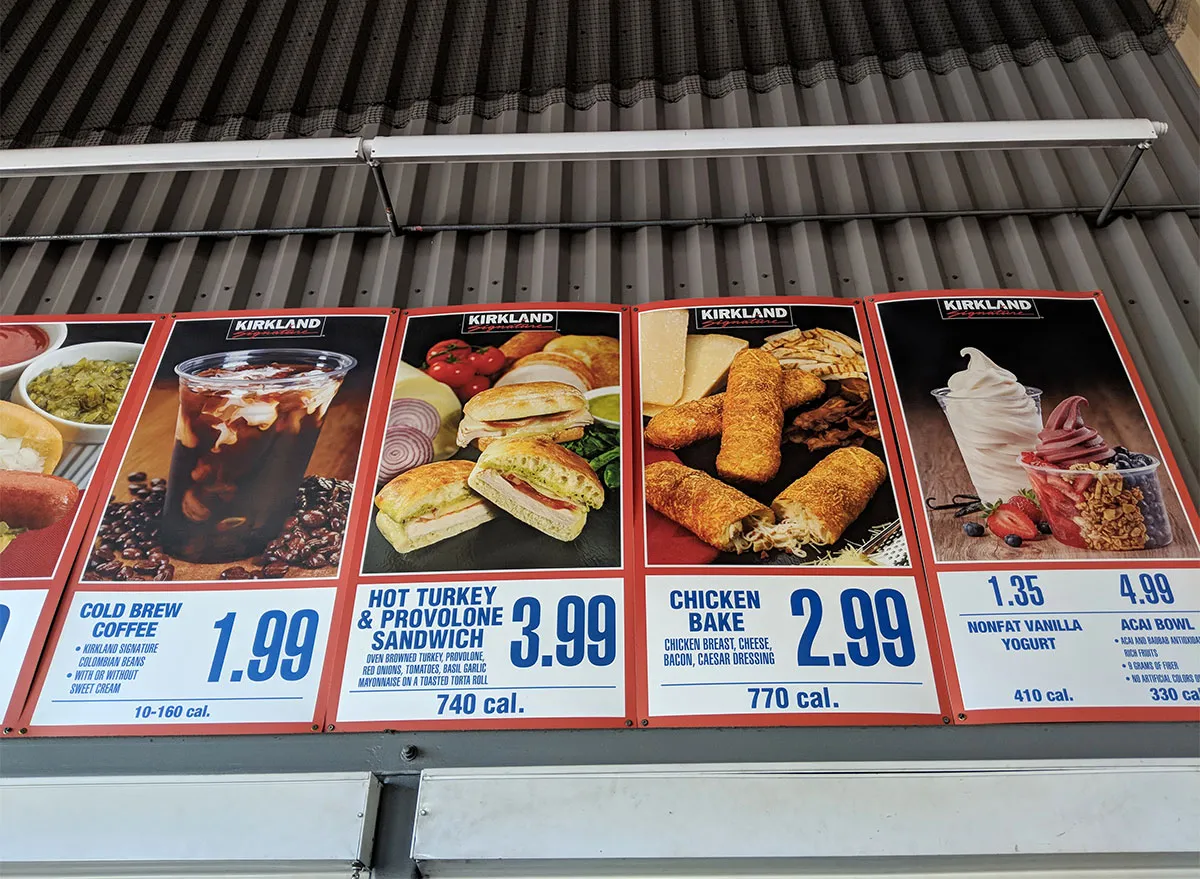 Per serving (364 g)
: 610 calories, 35 g fat (13 g saturated fat, 0 g trans fat), 1,590 mg sodium, 51 g carbs (3 g fiber, 10 g sugar), 24 g protein
Italian sausage is another menu item that's not available at U.S. Costco locations during the pandemic. But if you can get your hands on it, it's a better choice than the cheese pizza.6254a4d1642c605c54bf1cab17d50f1e
"In terms of calories and sodium, the Italian sausage is the better option," says Mary-Catherine Stockman, MPH, RD, LDN, owner of Busy Babes Nutrition, LLC. "It also provides 24 grams of protein. However, processed meats like sausage, ham, and pepperoni are linked to a higher risk of cancer. They also tend to be extremely high in sodium, contributing to bloat and water retention. With no veggies in this sandwich, there is minimal fiber, making this a less-than-desirable 'best' option."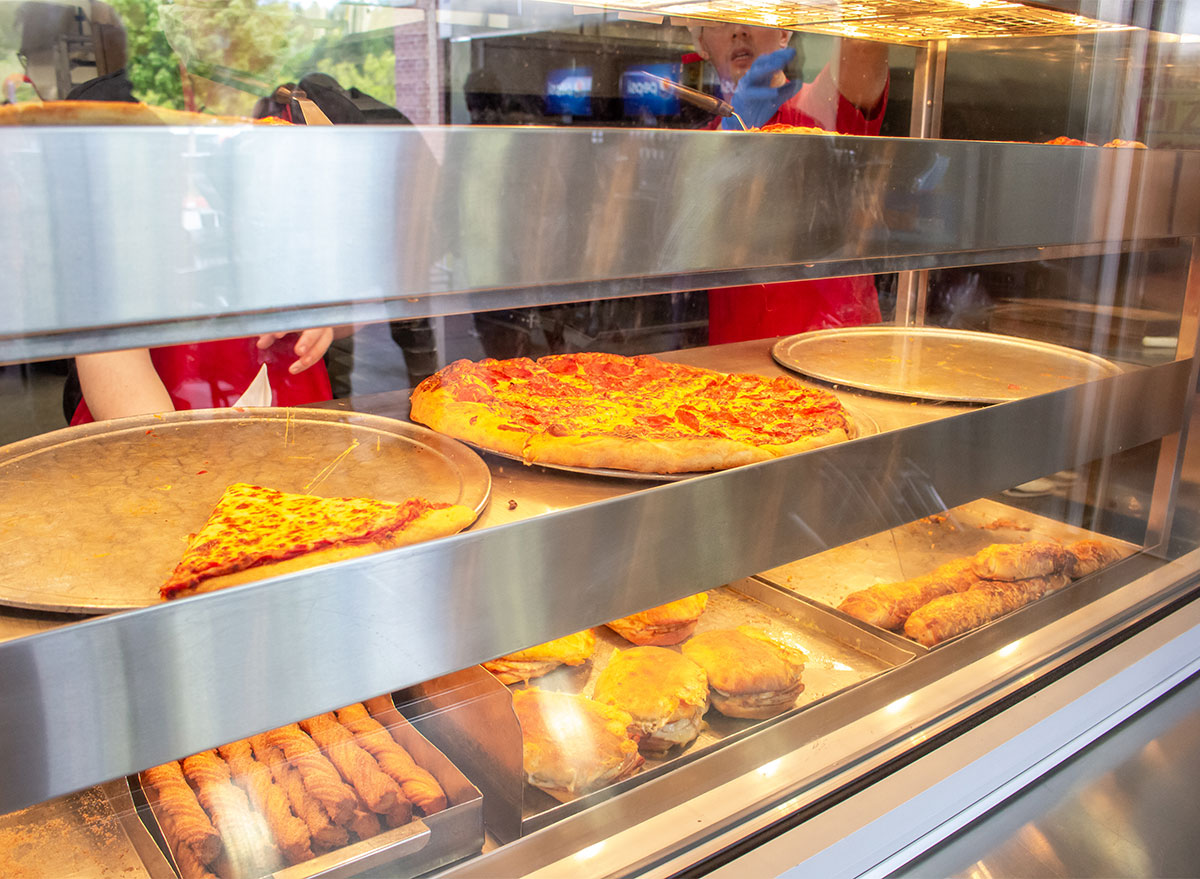 Per serving (353 g)
: 770 calories, 27 g fat (10 g saturated fat, 0 g trans fat), 2,250-2,320 mg sodium, 81 g carbs (4 g fiber, 4 g sugar), 46 g protein
When Costco's full menu returns, we're hoping the chicken bake will still be on the list. "With the lowest amount of saturated fat and highest protein content, the chicken bake is the best option," says Mascha Davis MPH, RDN, Private Practice Registered Dietitian Nutritionist, founder of NomadistaNutrition.com and author of the newly released book Eat Your Vitamins.
And whatever you do, steer clear of The One Thing You Should Never Order at Costco's Food Court.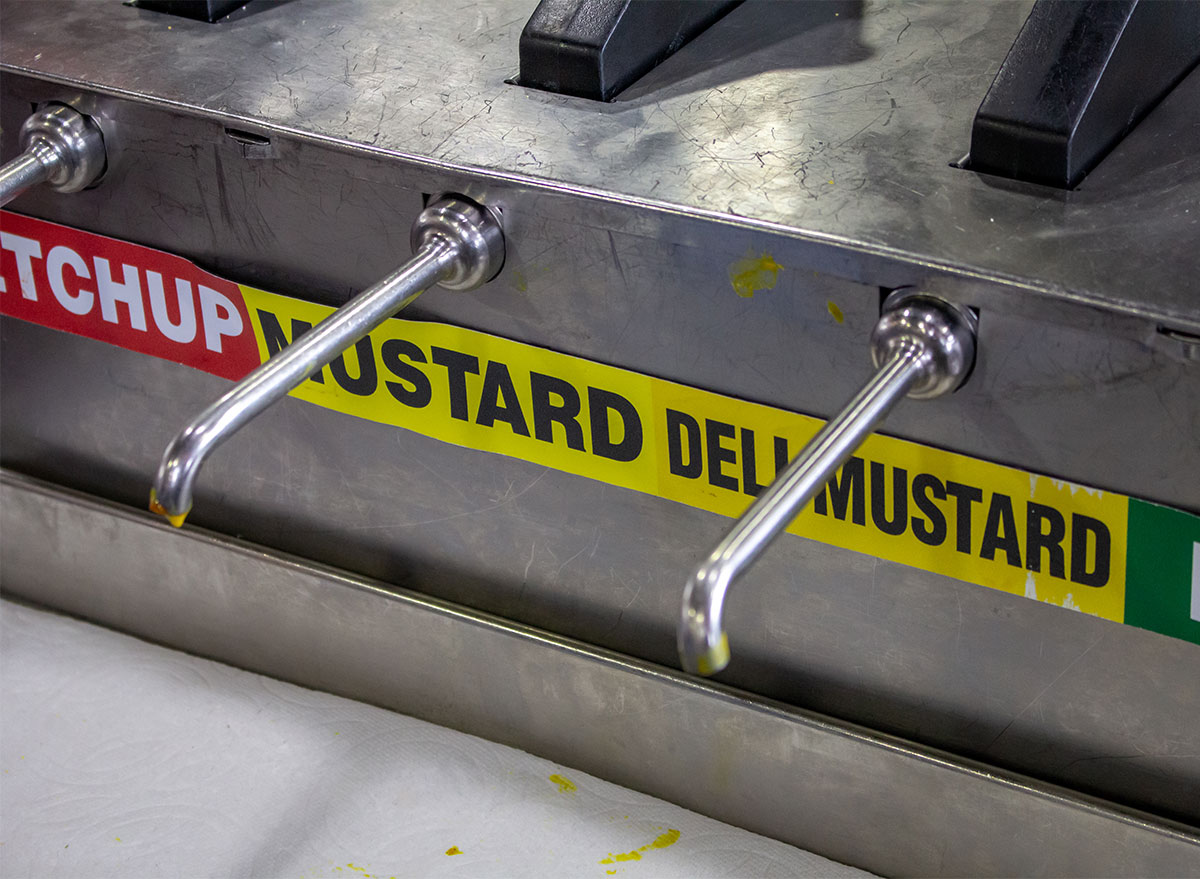 Per serving (749 g)
: 540-790 calories, 32 g fat (12 g saturated fat, 2 g trans fat), 1,520-1,550 mg sodium, 45-113 g carbs (1 g fiber, 7-77 g sugar), 22 g protein
"The entire selection is totally loaded with sodium…so beware," says LeeAnn Smith Weintraub, MPH, RD. But if you're looking for a quick bite, there are some options that are better than others. "The hot dog and the Hot Turkey and Provolone tie for the best, but neither are particularly healthful with still too much salt and fat for a balanced meal. In fact, the hot dog is lowest in calories and saturated fat, but the Hot Turkey and Provolone is served with red onion and tomato, which give it a nutritional boost."
The hot turkey and provolone sandwich isn't available during the pandemic, but the hot dog is. And if your Costco location lets you top your dog with onions and sauerkraut for a veggie boost, that's even better.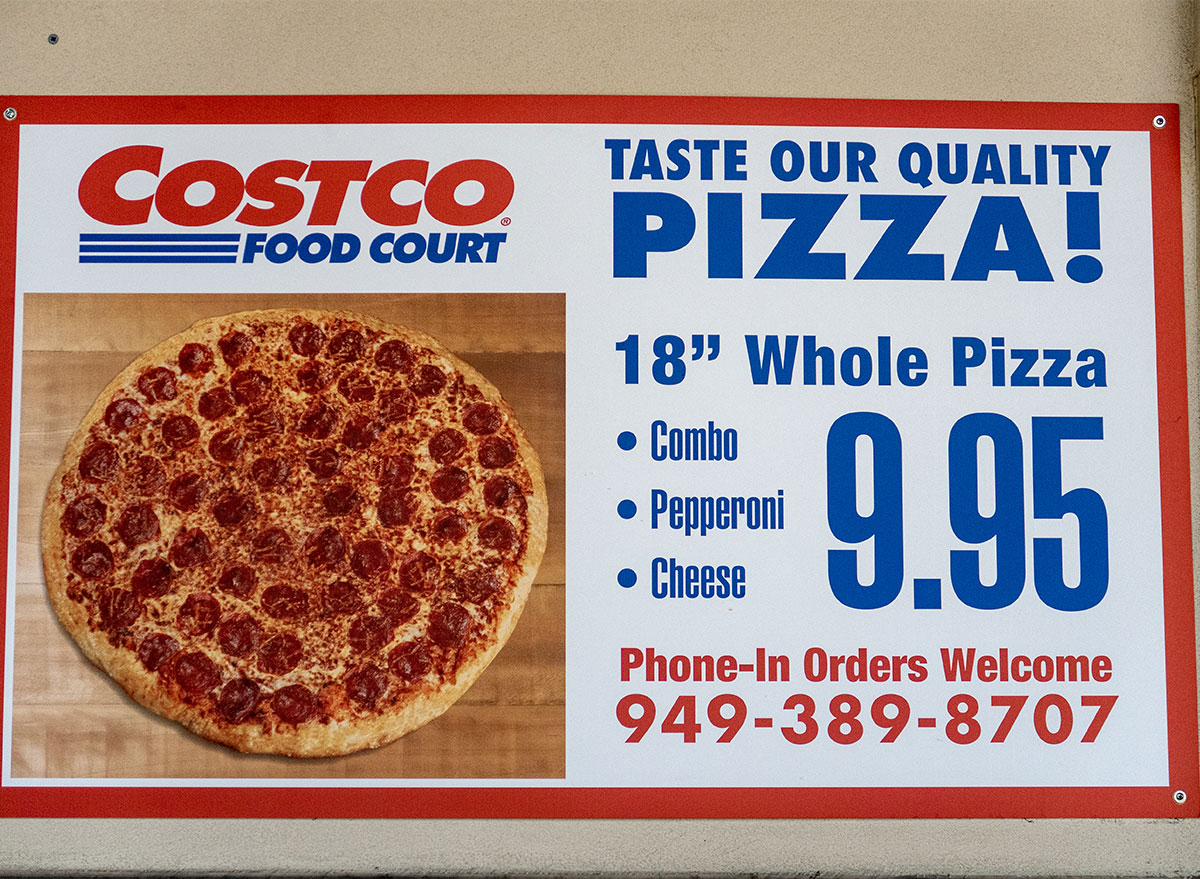 Per serving (276 g)
: 760 calories, 26 g fat (15 g saturated fat, 0.5 g trans fat), 1,450-1,570 mg sodium, 72 g carbs (7 g fiber, 5 g sugar), 36 g protein
Those giant pizza slices at Costco come with a price, health-wise. "A slice of cheese pizza from Costco contains 760 calories, 40% DV fat and 75% DV for saturated fat, and around 1,500 milligrams of sodium, which is more than half the DV," says Amy Tao, MS, of Based Wellness. "While the cheese pizza does contain a lot of fat, it may not keep whoever is consuming it full for a very long time."
And in addition to the calorie count, this pizza contains trans fat. "I don't like that this menu item contains some trans fat," Pine says. "When we're looking at nutritional facts, we want that number to be zero. Trans fat not only increases LDL ("bad") cholesterol, but it also decreases HDL ("good") cholesterol."
Looking for a sweet way to end your meal? Here are 15 Desserts You Can Buy at Costco.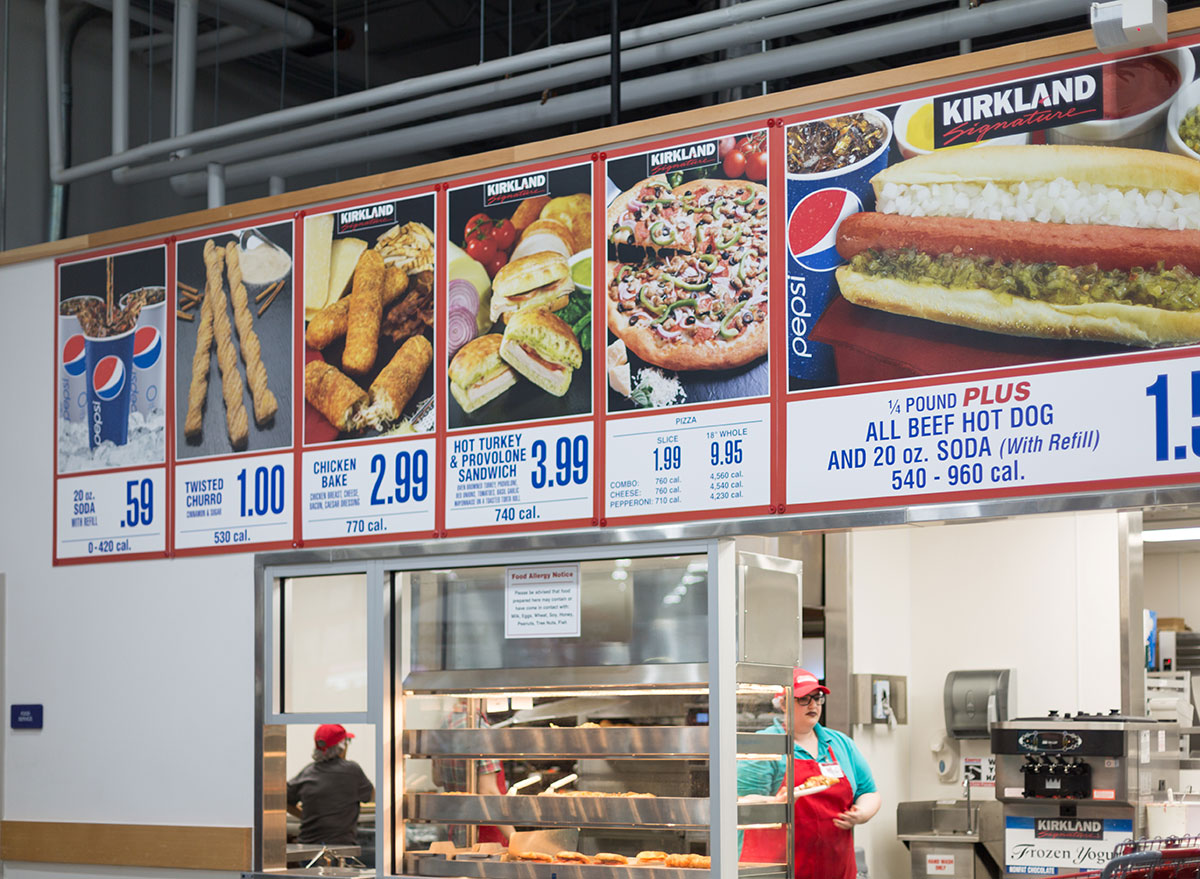 Per serving (397 g)
: 830 calories, 37 g fat (16 g saturated fat, 0 g trans fat), 2,330 mg sodium, 52 g carbs (6 g fiber, 3 g sugar), 53 g protein
If the turkey wrap returns to Costco stores after the pandemic, stay far away. "This turkey wrap is high in calories, fat, and sodium," says Stockman. "The American Heart Association recommends a limit of 2,300 milligrams of sodium per day, though it's moving toward an ideal limit of no more than 1,500 milligrams per day for most adults."
Plus, this turkey wrap contains saturated fat and trans fat, which you should also be wary of. "If you're sticking to a heart-healthy diet, this item should be a 'no-go,'" Stockman says.
Salads
Salads aren't currently on the menu at Costco, but the nutrition facts the chain shared with us included nutrition information for the Chicken Caesar Salad and the Al Pastor Salad. If these return to Costco after the pandemic, you're better off with the chicken Caesar.
Per serving (584 g)
: 650 calories, 41 g fat (10 g saturated fat, 0 g trans fat), 2,010 mg sodium, 35 g carbs (6 g fiber, 1 g sugar), 40 g protein
"For salads, I recommend opting for the Chicken Caesar with Dressing over the Al Pastor Salad because the Chicken Caesar has less fat and sodium," Weintraub says. She also recommends not using the full amount of dressing on either of the salads to reduce the calorie count.
"Neither one is that great," Davis says of the two Costco salads. "The Al Pastor salad is lower in overall calories and saturated fat, but it exceeds the daily recommendation of sodium intake at 3,270 milligrams for one serving. So the Caesar may be a better choice if you are looking to limit sodium intake."
And when you're shopping for groceries, here are 15 Costco Foods That Make Meal Prep Easy.
Per serving (652 g)
: 330-750 calories, 56 g fat (8 g saturated fat, 0 g trans fat), 3,270 mg sodium, 59 g carbs (8 g fiber, 30 g sugar), 32 g protein
"I would say absolutely avoid this salad, especially if we cannot tell if many of the items that would make me pass on it, like the high fat, sodium, and sugar content, are part of the salad or part of the dressing," Tao says. "While this salad is packed with veggies, it is also packed with calories, fat, salt, and sugar. When people think they are making a healthier choice, they are not necessarily realizing that they are eating so much of all of these the aforementioned and therefore will not adjust the rest of what they consume that day accordingly, which could lead to weight gain."
Pine echoes the comments about the salad's high sodium content, along with the recommendation to avoid using all of the dressing. "The al pastor salad has a whopping 3,270 milligrams of sodium, which is equivalent to about nine pickle spears," she says. "Assuming you don't have high blood pressure, we want to aim for no more than 2,300 milligrams for the entire day."
Stockman points out that this salad has more fat than even the cheese and pepperoni pizza slices at Costco. Yikes! And Tao adds that both salads contain saturated fat, so neither one is a truly healthy choice.
Smoothies, Frozen Yogurt, & Churros
Best: Acai Bowl with Fruit and Granola
Per serving (340 g)
: 330 calories, 8 g fat (4.5 g saturated fat, 0 g trans fat), 55 mg sodium, 72 g carbs (9 g fiber, 41 g sugar), 3 g protein
Stockman recommends the acai bowl with fruit and granola. "This bowl provides 330 calories, which is about the amount of two snacks (150-200 calories each)," she says. "However, it provides nine grams of fiber and three grams of protein. The fiber content helps you stay full and gets you close to the daily goal of 25 grams for women or 38 grams for men. The protein can also contribute to satiety, holding you over better until your next meal. It's important to note, however, that this option provides 41 grams of sugar (again, not differentiated as natural in the fruit vs. added sugar)."
The acai bowl is better than the soft-serve vanilla frozen yogurt, but it's still high in sugar, so be aware that this is a treat, not a "healthy" snack. And the berry smoothie, which has 50 grams of sugar, is still an unhealthy choice, but it's also a slightly better one than the vanilla frozen yogurt, which clocks in at a whopping 70 grams of sugar.
And if you're feeling nostalgic, here are 7 Classic Desserts Costco Customers Are Desperate to Have Back.
Worst: Vanilla Frozen Yogurt
Per serving (340 g)
: 410 calories, 0 g fat, 180-250 mg sodium, 88-94 g carbs (0-3 g fiber, 60-70 g sugar), 9-12 g protein
"With over 400 calories and up to 70 grams of sugar (more than you should have in an entire meal, much less dessert), vanilla frozen yogurt is the least nutritious option," Davis says. Still, she adds that she "wouldn't recommend" Costco's smoothies or churros, either.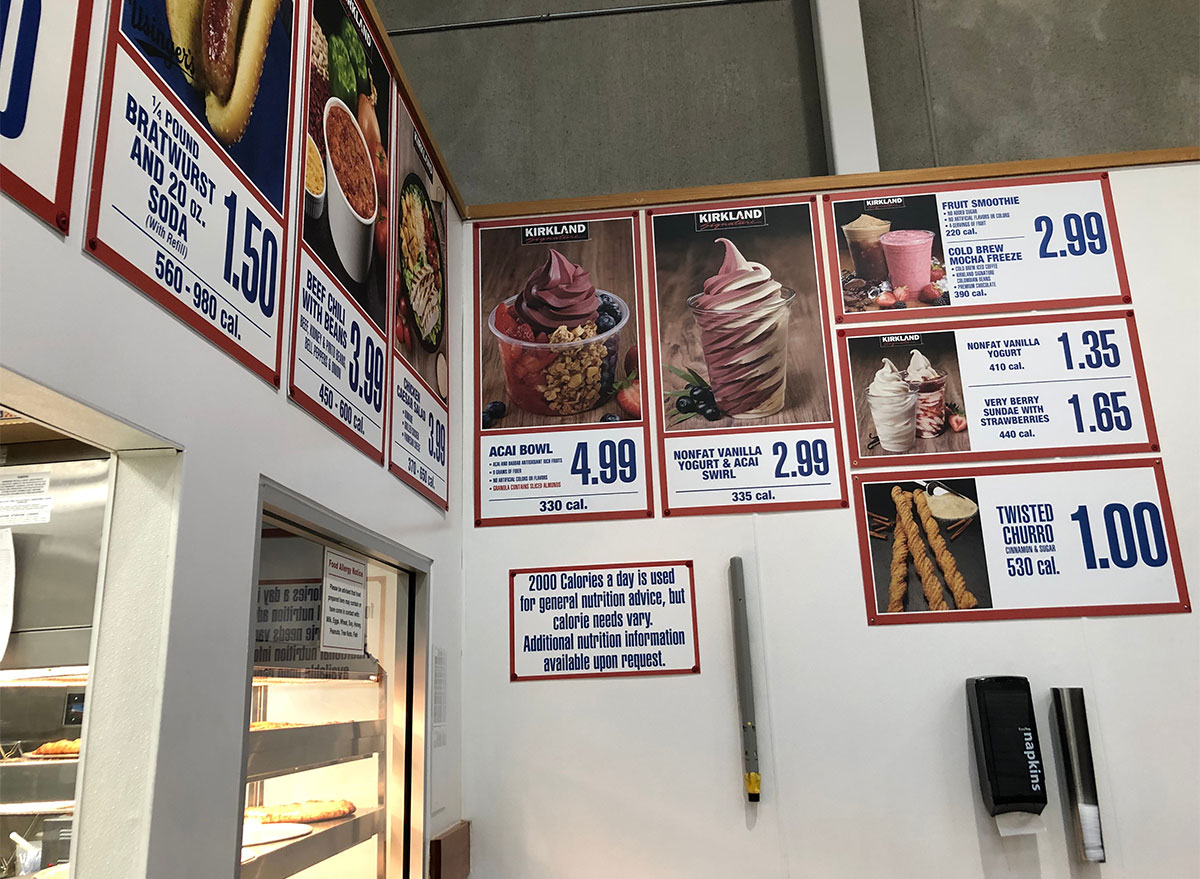 Per serving (154 g)
: 490 calories, 22 g fat (6 g saturated fat, 0 g trans fat), 440 mg sodium, 70 g carbs (3 g fiber, 26 g sugar), 8 g protein
This probably won't come as a surprise, but the beloved churro isn't doing you any favors, health-wise. "Churros aren't known to contain ingredients with high nutritional quality," Pine says. "The 490 calories for this one treat are mostly made of white flour and sugar. I'd definitely consider this a dessert to have once in a while rather than a snack to eat every time you go to Costco."
Tao adds that for a 2,000-calorie diet, this churro would provide you with 34% of your daily recommended fat intake. No, thank you!
Coffee Drinks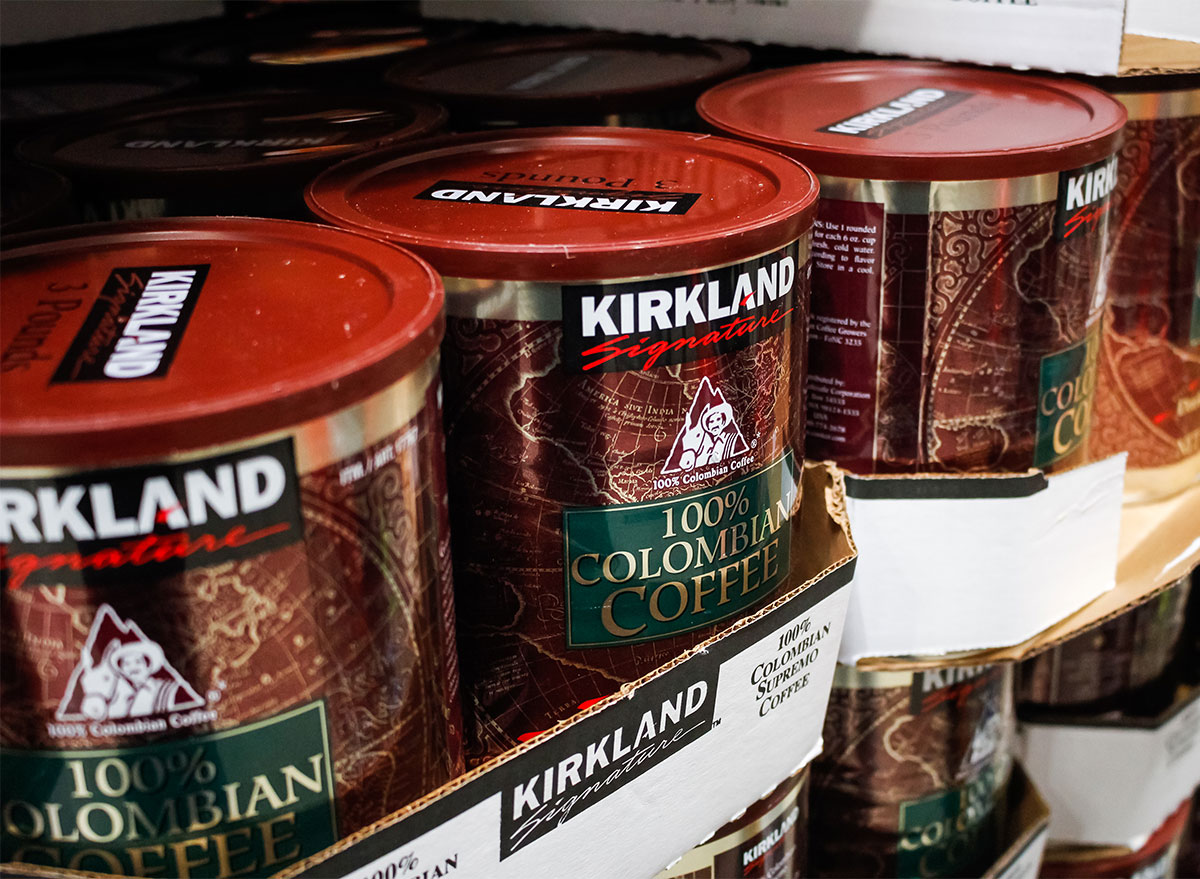 Per serving (268 g)
: 130 calories, 5 g fat (3 g saturated fat, 0 g trans fat), 120 mg sodium, 12 g carbs (0 g fiber, 12 g sugar), 9 g protein
If your local Costco is serving the hot latte, it's your best bet. "The hot latte has the lowest amount of sugar, calories, and saturated fat making it the best option," Davis says.
"While it does contain more fat [than the cold brew pourover], the amount of fat it contains is not at all unreasonable," Tao says. "And combined with the higher amount of protein, it makes this drink a little bit filling!"
To keep this drink on the healthier side, though, don't add sugar to it, Pine advises. There are already natural sugars from the milk in this drink.
Worst: Cold Brew Mocha Freeze
Per serving (432 g)
: 390 calories, 5 g fat (4 g saturated fat, 0 g trans fat), 70 mg sodium, 78 g carbs (1 g fiber, 71 g sugar), 7 g protein
The Costco cold brew mocha freeze is loaded with sugar—steer clear! "The cold brew mocha freeze has close to 400 calories and a whopping 71 grams of sugar, making it the worst option," Davis says. There's no situation in which a drink with that much sugar is worth it.
"While we often think about sugar and conditions like diabetes, there is actually a link between high sugar diets and death from heart disease," Tao says. "Aside from the link to diabetes and heart disease, there is also a link between consuming too much sugar and weight gain, hypertension, and overall inflammation."
And the next time you're shopping at the warehouse chain, don't miss these 30 Cheap Costco Buys That Make the Membership Worth It.
Meghan De Maria
Meghan De Maria is a senior editor at
Eat This, Not That!
, specializing in food, product, and restaurant coverage.
Read more about Meghan
More content from
Restaurants