5 Healthy New Frozen Items at Grocery Stores, Dietitians Say
Stock up on these for a quick and nutritious meal.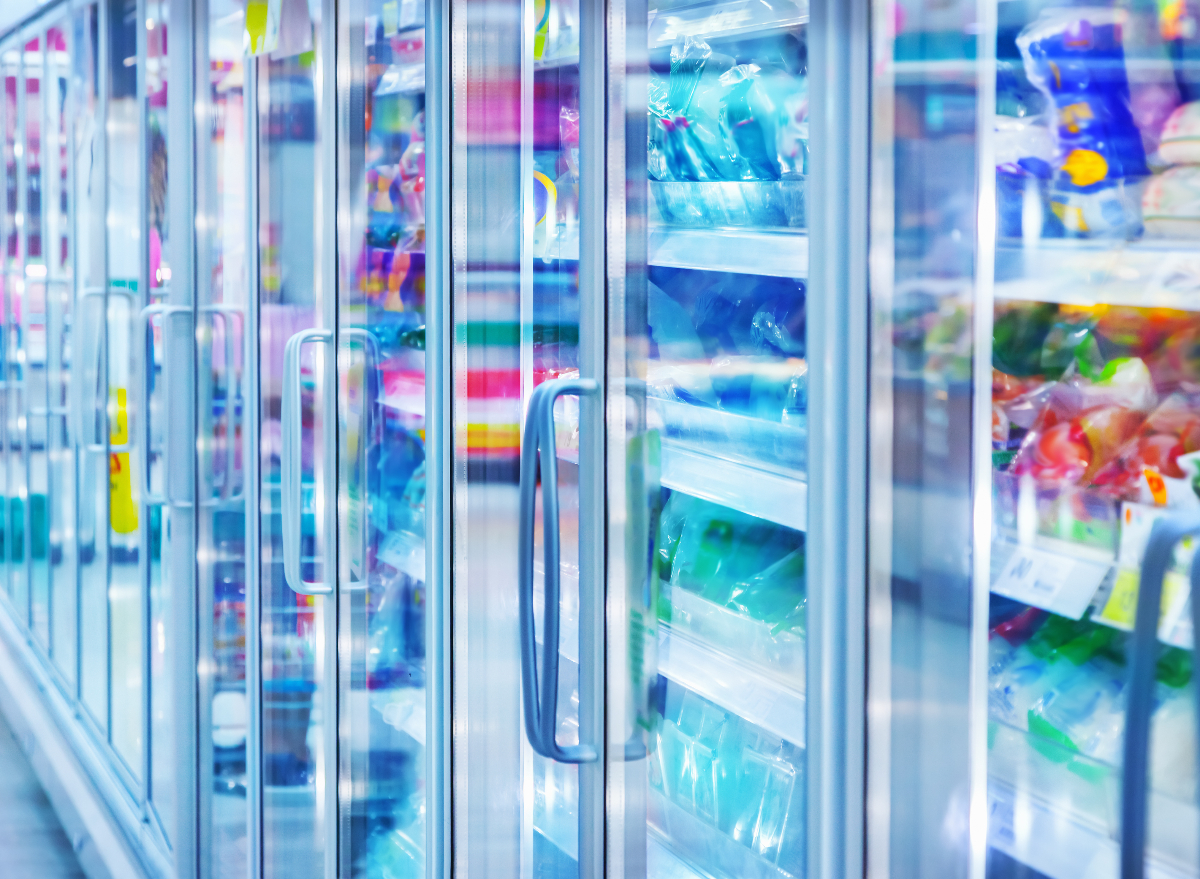 There are some days when you just need an easy, convenient meal that tastes good and is good for you, but you don't actually have to cook. Luckily, thanks to the wonders of frozen foods, you can have everything you wished for quickly.
Frozen foods have come a long way from the past's over-processed and under-supplemented microwave meals. Today, the aisles are filled with organic, nutrient-dense, clean pre-made snacks, dinners, desserts, and everything in between.
So far this year, a few new frozen foods have hit the shelves that seem to check all the boxes when it comes to nutritious and delicious premade meals. However, not all healthy frozen dinners are as healthy as they seem, so we spoke with Eat This, Not That! medical expert board members and medical professionals Dr. Cedrina Calder, MD, MSPH and Brittany Dunn, MS, RDN, CD to help dig into the details of five of the newest products to hit the frozen dinner scene.
Snow Days Buffalo Chicken Grain-Free Pizza Bites
Snow Days is on a mission to make better-for-you finger foods and recently they released their Buffalo Chicken Pizza Bites, an organic upgrade to the traditional pizza rolls.
These rolls are 100% organic, grain and gluten-free, and made with grass-fed dairy and 10 grams of protein and vegetables sourced from organic farms.
The reasons why Dr. Calder would reach for these rolls are, "I really like the simplicity of the ingredients. It doesn't appear that there are too many preservatives or other additives included, and there are no added sugars."
However, this more nutritious version of the nostalgic after-school snack isn't at the top of the healthiest list since these small bites come with a lot of saturated fat, cholesterol, and sodium per serving, Dr. Calder mentions.
So even though they are just a snack, Dunn suggests being mindful of your pizza bite intake if you're living a low sodium lifestyle, and be sure to pair with a veggie or fruit side for a more balanced meal.
Real Good Foods Three Cheese Stuffed Chicken Bites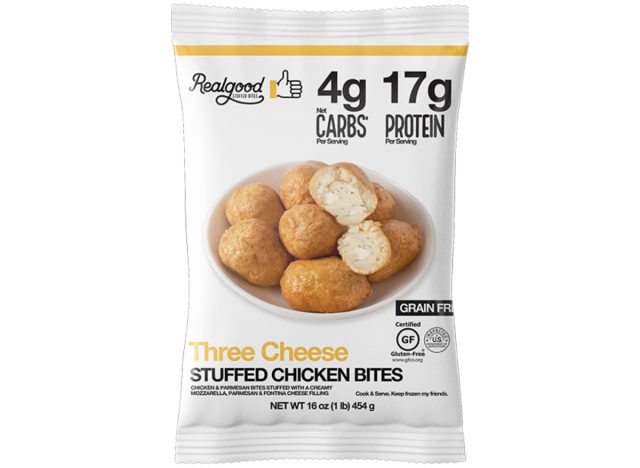 Another new addition to the on-the-go section of the freezer aisles is Real Good Foods' Three Cheese Stuffed Chicken Bites. What sets these apart from other breaded frozen options is that Real Good Foods' Stuffed Chicken Bites are made without processed flours or grains so they are gluten and grain-free. Plus, with only 5 grams of carbohydrates, Dunn points out that these bites are also keto-friendly.
For Dr. Calder, she likes these because "Only 3 pieces provide 17 grams of protein and no added sugars. Also, it contains about one-fifth of the daily recommended calcium intake. This is pretty good compared to most of the other products which contain minimal amounts of vitamins and minerals."
In addition to the good parts, like using all real chicken and cheese it's important to note that these bites are pretty high in cholesterol, sodium, and saturated fat.
According to Dr. Calder, "The American Heart Association recommends no more than 13 grams of saturated fat per day. This product contains a whopping 17 grams of saturated fat. "
Also, because of the low fiber, Dunn suggests supplementing with other foods for additional nutrients and sustained energy.
Handy Seafood Plant-Based 'Crabless' Cakes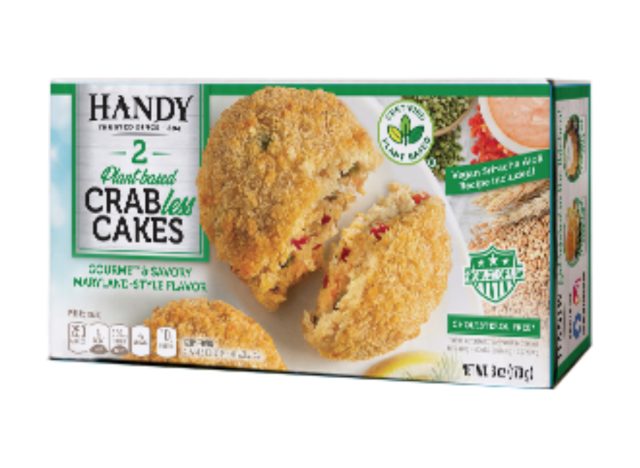 Handy Seafood, America's oldest seafood processor, has launched its own plant-based crab-less cake.6254a4d1642c605c54bf1cab17d50f1e
The crabless cake is made from a proprietary pea and wheat protein blend mixed with organic vegetables such as red and green peppers, and onions and is described as having a crab cake-like texture with a Maryland-style flavor.
For Dr. Calder these are a great pick because "You get 10 grams of protein with each serving. There are no added sugars, and it's low in saturated fat."
Despite it being a good source of plant protein, these cakes could contain more fiber, vitamins, and minerals and the portions are small so they are not suitable as a meal on their own, Dunn adds.
Cutting Vedge Plant-Based Sweet Italian Sausage
One of Dunn's top picks, the new plant-based Sweet Italian Sliced Sausage from Cutting Vedge, is a plant-forward spin on traditional sausage. It's made with artichokes and a mix of spinach, quinoa, and chickpeas and is Non-GMO, vegan, gluten, soy, and dairy-free.
"What I love about this product is that it is a plant-based option for a variety of diets. It's an ingredient that you can be creative with and add to a variety of dishes," she says.
For Dr. Calder, the things that stand out include that "It's a good source of iron providing 15% of the daily value and contains no saturated fat. It also has a limited amount of ingredients with no listed additives."
Despite the naturally high-fiber artichokes being the main ingredient, with only 1 gram of fiber per serving and 1 gram of protein, both experts suggest a side of more nutrient-dense veggies with your sausage.
The Better Fish Tuscan Herb Butter Barramundi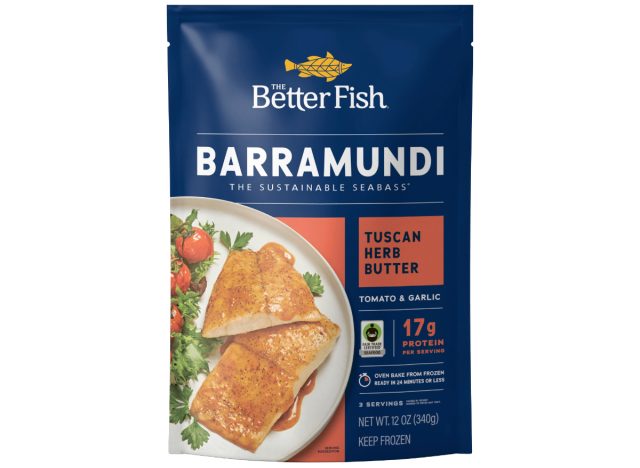 The expert's top pick, Australis Aquaculture, has expanded its Better Fish line of frozen Fair Trade-certified Barramundi by introducing a new freezer-to-oven variety.
The Better Fish Tuscan Herb Butter Barramundi features individually wrapped Barramundi portions glazed in a buttery tomato, garlic, and chive sauce and is a quick way to make a healthy, gourmet dinner without a ton of effort since you can bake straight from the freezer.
"I love that it is packed with omega-three fatty acids. Omega 3s are essential fats that are important for heart health. Because the product is fish, you also get a high protein content bonus," says Dr. Calder. "It provides 17 grams of protein per serving. It's also a great source of vitamin D, which happens to be one of the vitamins Americans are most deficient in."
The Better Fish Barramundi offers health-conscious consumers a delicious, high-quality dinner solution to add more sustainable seafood to their diet. Dunn adds to the benefits of this fish saying, "Barramundi is a good source of Omega 3 FA (EPA and DHA); consumption can reduce the risks of heart problems and chronic disease. Additionally, this fish is high is protein and offers a variety of micronutrients. Quick and easy to prepare item that is has a variety of nutrients."
The Better Fish Barramundi frozen bag line is rolling out across the U.S. to over 5,000 retail and club locations nationwide on Instacart, and Amazon in the first quarter of 2022.
For more of what to put on your next grocery list, check out 9 Dietitian-Approved Healthy New Breakfasts on Grocery Store Shelves.