I Tasted 8 Trader Joe's Frozen Desserts & This Is the Best
When you need a sweet treat, these are waiting for you.
Trader Joe's is one of our favorite places to shop because there's always something new to try. I love walking down the aisles of my local Trader Joe's to see what's new and I always pick up my old favorites like orange chicken and street corn. One area at Trader Joe's I didn't explore much until recently is the frozen dessert area. This relatively small section of the store was one I always glazed over because I pride myself on my ability to bake fresh apple tarts and there's always some ice cream of some sort in my freezer.
Well, I finally took the leap and decided to try some of the frozen dessert options at Trader Joe's, and let's just say none of them were completely disappointing where I wouldn't buy them again, which was a good start. I picked up eight frozen desserts that ranged from apple tarts, that could honestly rival my homemade version, to individually packaged chocolate lava cakes. This is my ranking of frozen Trader Joe's desserts from worst (which were actually still pretty good) to best. (Plus, don't miss The Best & Worst Trader Joe's Foods—Ranked!)
Trader Joe's Apple Blossoms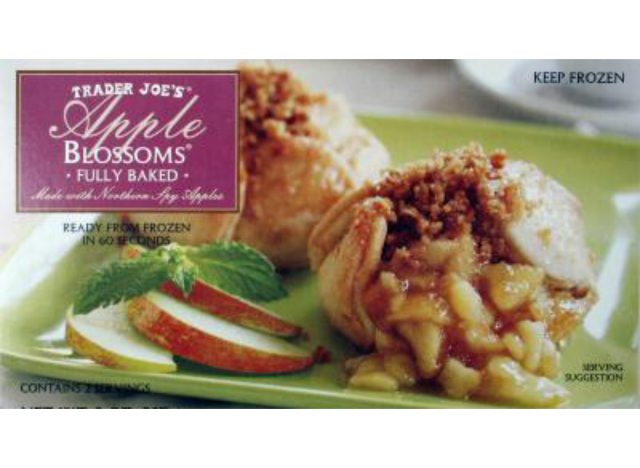 These single-serve apple blossoms are pretty similar to apple dumplings, but instead of being an entire apple wrapped in pastry dough, the apples here are more like apple pie filling. I thought these tasted pretty good, but there was too much dough for the amount of filling that was actually inside. If you want a frozen apple dessert from Trader Joe's keep reading for a better option.
Trader Joe's Cranberry Orange Bars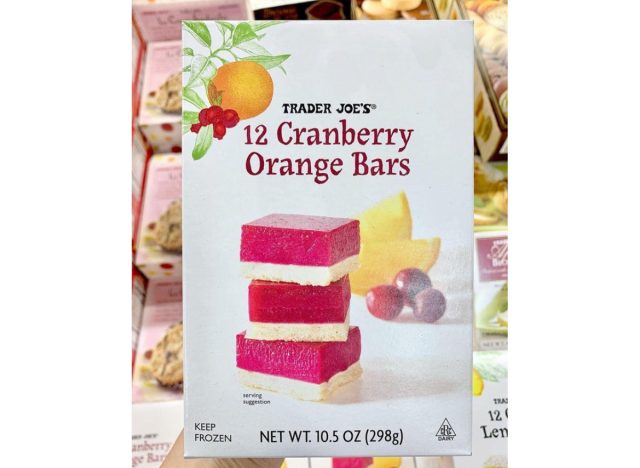 The Trader Joe's Cranberry Orange Bars are marketed as a fall version of lemon bars. While these were decent, I'd rather just have a lemon bar. The orange flavor was very light and was overwhelmed by the tart cranberry curd on top. The crust on these was slightly crumbly, which made them hard to eat without a plate or at least a napkin. I did like that these didn't have to be cooked and all I had to do was pop them in the refrigerator for a few hours to thaw before eating.6254a4d1642c605c54bf1cab17d50f1e
Trader Joe's Chocolate Lava Cakes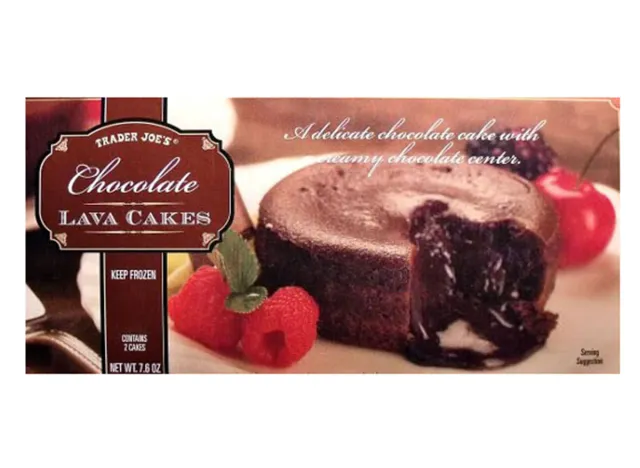 The individually packaged Trader Joe's Chocolate Lava Cakes came as a set of two, which means I still have one of these in my freezer for another time. The cakes were what I expected, a frozen concoction of chocolate that's similar to a decedent lava cake I could order in a restaurant albeit not quite the same quality. The actual cake had a rich chocolate flavor without being overly sweet, and the center did stay gooey and runny. The part that knocked this down a few notches was the actual preparation. After baking one of the cakes and allowing it to cool for a moment I went to carefully take it off of the baking tray and onto my plate and the bottom broke and some of the lava center oozed out. I wish these had a more substantial cake bottom so that didn't happen.
Trader Joe's A Dozen Sweet Bites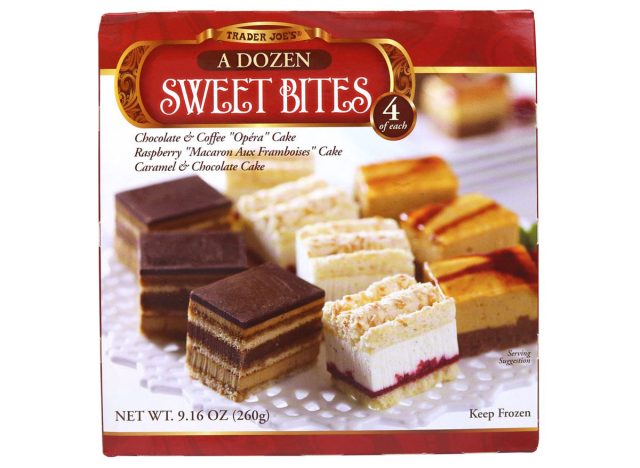 This dessert trio from the frozen section at Trader Joe's is a good deal if you're having a party and want something easy to put on a dessert platter. There are three types of cake-like desserts in the box: chocolate and coffee opera cake, raspberry macaron aux framboises cake, and caramel and chocolate cake. Each cake tasted like the description on the box, and I liked that there was an assortment of flavors that were completely different from one another. The one thing I didn't like about this was that the cake part of each bite disintegrated quickly in my mouth and was a slightly grainy texture.
Trader Joe's Hold The Cone Vanilla Mini Ice Cream Cones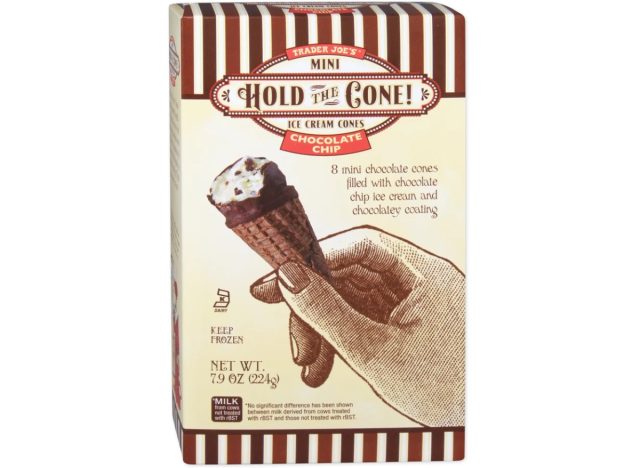 These are one of my favorite Trader Joe's desserts because they are just big enough to take away my craving for something sweet without ruining my entire day with sweets. This is actually the one frozen Trader Joe's dessert that's always in my freezer and the one I judged everything else against. The vanilla ice cream that's used in these tiny ice cream cones is perfectly creamy, the cones are crunchy, and the chocolate shell is super thin so it's easy to bite through.
Trader Joe's New York Deli Style Baked Cheesecake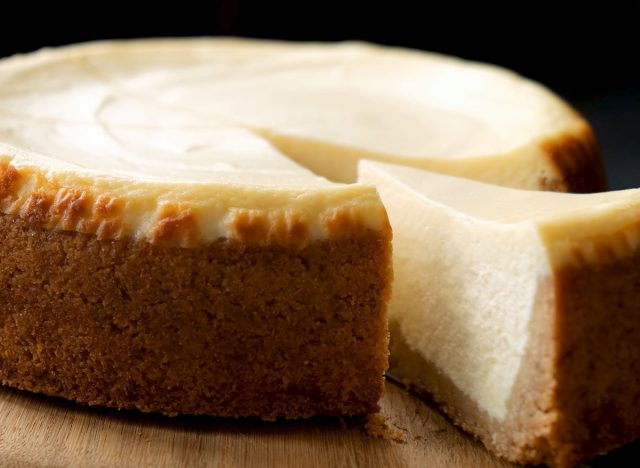 Cheesecake is one of my favorite desserts, and I never knew Trader Joe's made such a good one until now. I let the cheesecake thaw in the refrigerator for a few hours before cutting a slice to try it. The filling was super dense and had a rich cream cheese flavor that I loved. It was sweet and tangy without being overly sweet. The crust was nice and held up to the filling well. I would definitely buy this again and again.
Trader Joe's Ice Cream Bon Bon with Chocolate Cookie Crust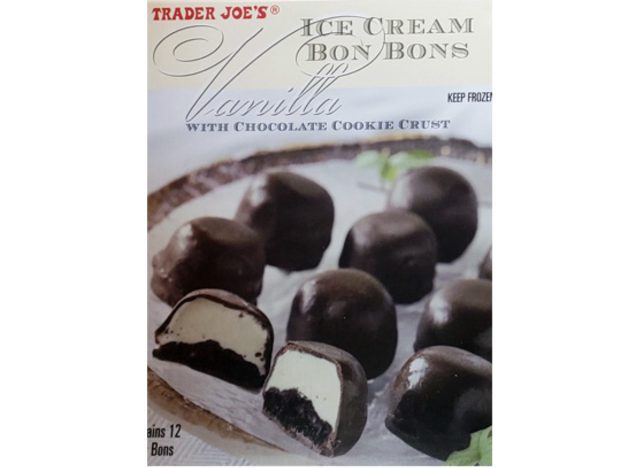 These bite-sized ice cream treats are basically Hold The Cones but in a different form. The bon bons use vanilla ice cream and have a super crunchy cookie crust that tastes very similar to the cone from the mini ice cream cones. I like these because it's one or two bites and they are gone. I also appreciate the ice cream to cookie ratio, which I feel can be a little off with the Hold The Cone desserts.
Trader Joe's Rustic Apple Tart
The number one dessert I tried from Trader Joe's freezer section was the Rustic Apple Tart. The delightful tart was filled with sweet apples and had a crumble topping with crunchy almonds and coarse sugar. The ratio of filling to crust was good, and I didn't think the crust was too thick, which can happen with frozen desserts. The tart took just a few minutes to bake and then it was ready to serve. I'll be keeping one of these in my freezer from now on.
Check out more exclusive taste tests:
We Tasted 10 Hot Cocoa Mixes & This Is the Best
We Tasted 10 Popular Light Beers & This Is the Best
Megan duBois
Megan duBois is a travel and lifestyle journalist with bylines across the internet and in print at Delish, Conde Nast Traveler, Travel + Leisure, Yahoo Lifestyle, and more.
Read more about Megan