9 Healthy New Breakfasts on Grocery Store Shelves, Dietitians Say
Try out these healthy breakfast options that are new to the shelves.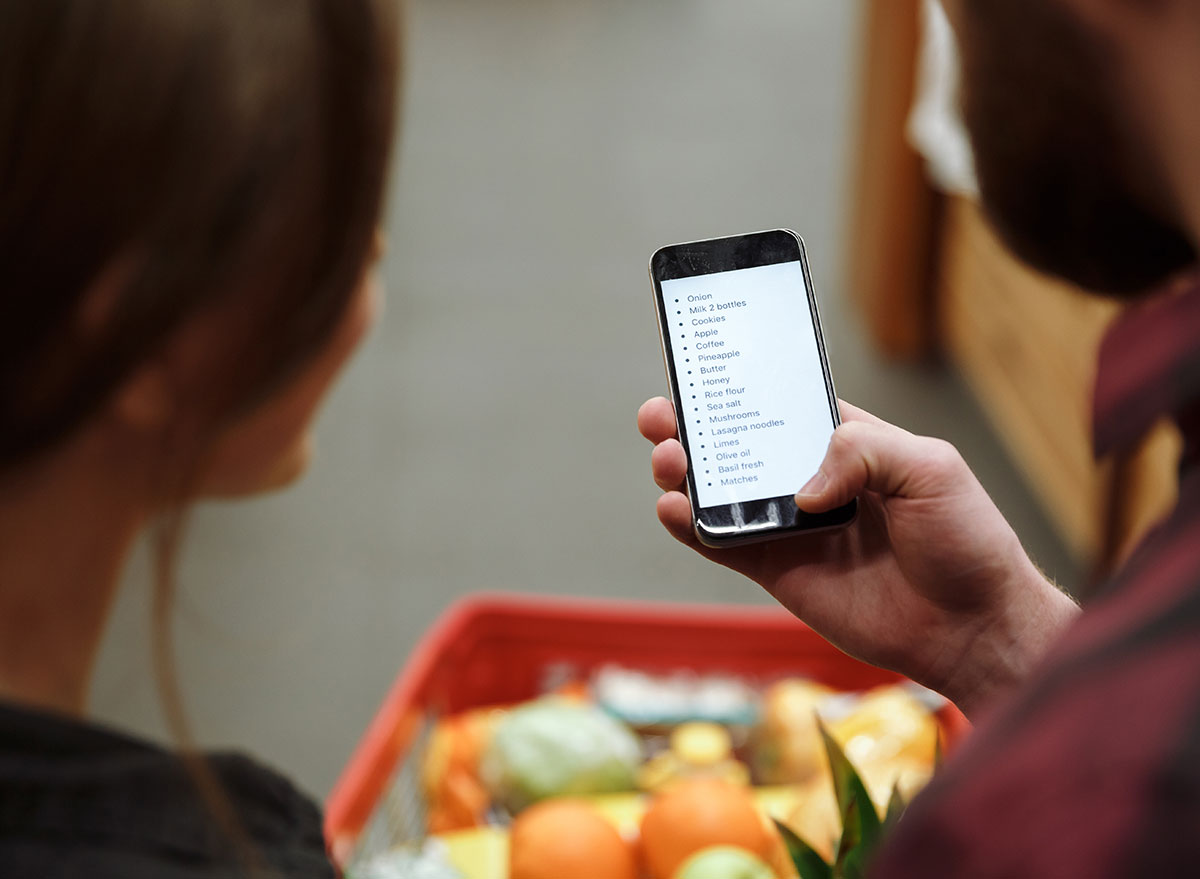 The new year brings new breakfast foods to grocery store shelves. Instead of walking around searching for these additions, we compiled them together. You can find something for everyone on this list, from hot and cold cereals to pancakes and waffles and a protein bar, milk, and coffee.
Once we rounded up all these new breakfast grocery items, asked three registered dietitians to take a look and choose their sure-fire picks. Johna Burdeos, a registered dietitian for Kindred Health; Erin Palinski-Wade, a registered dietitian and author of 2-Day Diabetes Diet; and Kristian Morey, a registered dietitian at Mercy Medical Center, chose these breakfast foods you can add to your cart the next time you hit the grocery store. Keep reading for the experts' choices on nutritious breakfast foods.
Pitaya Foods Organic Acai Berry Powder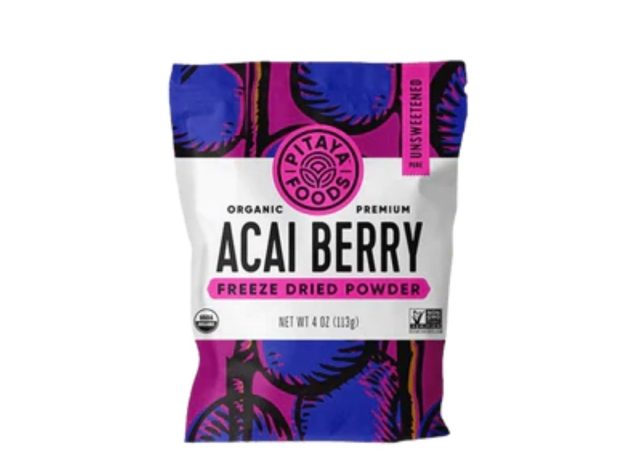 ½ CUP
: 74 calories, 6 g total fat, 0 mg cholesterol, 8 mg sodium, 4 g carbs (3 g fiber, 0 g sugar), 1 g protein
You can't go wrong with acai berry powder for a healthy breakfast, and this new option is a winner. It's incredibly versatile and can be added to anything like oatmeal, yogurt, and more. So enjoy the low calories and nutrients.
"It doesn't get easier to add antioxidant-rich acai powder to your meals and snacks. With this powdered version, you can quickly toss it into smoothies, sauces, soups, and even baked goods to boost the nutrition content and flavor of your meals anytime," notes Palinski-Wade.
Birch Benders Keto Pancake and Waffle Mix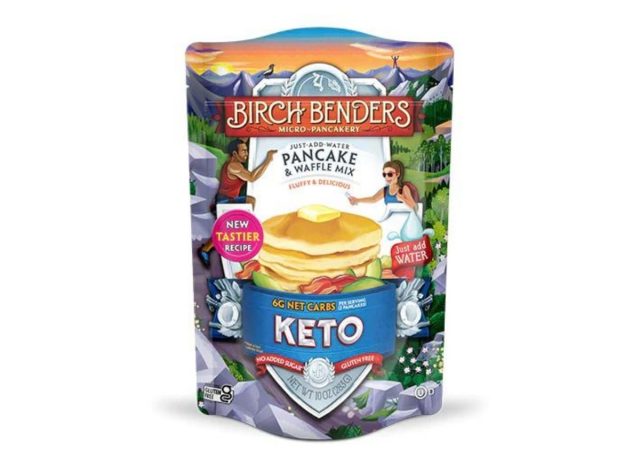 ⅓ CUP
: 140 calories, 8 g total fat (1.5 g saturated fat, 0 g trans fat), 45 mg cholesterol, 330 mg sodium, 19 g carbs (9 g fiber, 1 g total sugar, 0 g added sugar), 6 g protein
Make some high-protein, low sugar breakfast pancakes or waffles with this brand new keto-friendly mix. Get some potassium and calcium with your morning meal. Morey chose this because it is "low in saturated fat and an excellent source of fiber," aka perfect for those watching their carb intake.6254a4d1642c605c54bf1cab17d50f1e
Morey likes foods that are "balanced when it comes to carbs, protein, and fats – this makes it easier to get a satisfying breakfast in as few steps as possible."
Planet Oat Unsweetened Oatmilk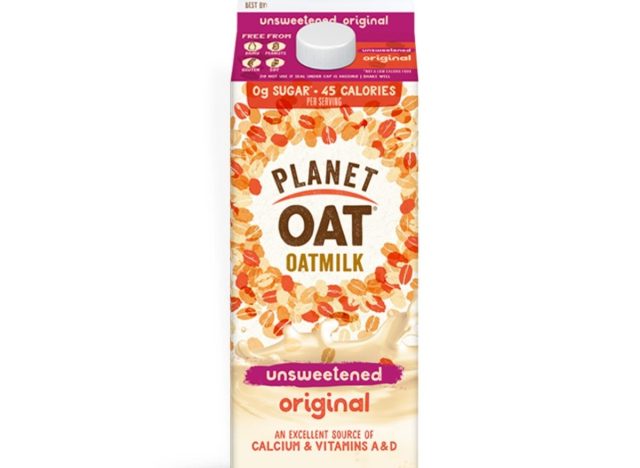 1 CUP
: 45 Calories, 0.5 g total fat (0 g saturated fat, 0 g trans fat), 100 mg sodium, 8 g carbs (1 g fiber, 0 g total sugar), 1 g protein
Oat milk is an excellent alternative to cow milk for anyone lactose-intolerant, allergic to milk, or anyone dairy-free. Add Planet Oat's new Unsweetened Oatmilk to your cereal, coffee, or smoothie. Burdeos likes it for the added vitamins and minerals.
Kashi Go Protein Waffles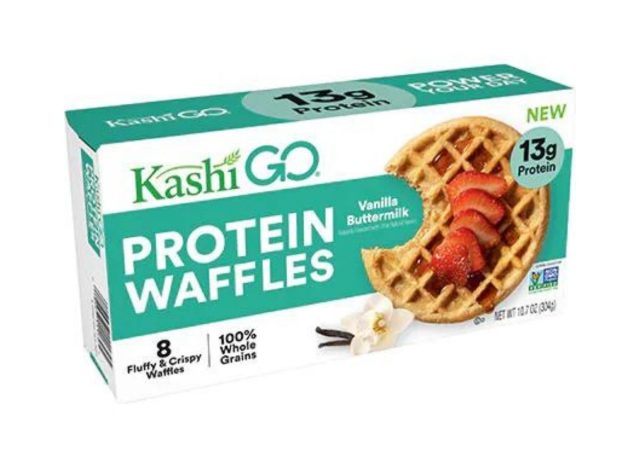 2 WAFFLES
: 220 calories, 11 g total fat (1 g saturated fat, 0 g trans fat), 25 mg cholesterol, 240 mg sodium, 21 g carbs (3 g fiber, 7 g total sugar, 6 g added sugar), 13 g protein
All three RDs say Kashi Go Protein Waffles are a must-add to your next grocery list.
"I love how these waffles provide a blend of whole grains and protein for a meal that will keep you satisfied. With a balance of protein, fiber, and fat, these waffles are great for anyone looking to balance blood sugar while still enjoying one of their favorite breakfast options," says Palinski-Wade.
Burdeos agrees. "Kashi Go Waffles is packed with protein at 13 grams and beneficial nutrients – calcium, potassium, magnesium, and phosphorus," notes Burdeos.
Morey likes these waffles because they are "fair in sodium (commonly an issue with frozen items) and are a good source of iron." Best of all? Choose from three flavors: cinnamon brown sugar, wild blueberry, or vanilla buttermilk.
Nature's Path Grain Free Hot Cereal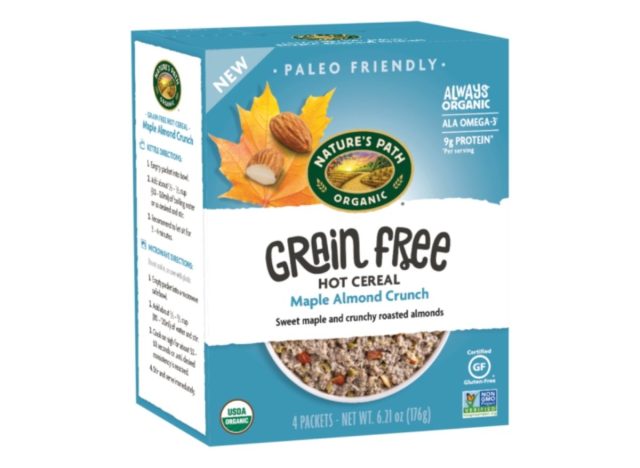 1 PACKET
: 190 calories, 10 g total fat (3.5 g saturated fat, 0 g trans fat, 6 g polyunsaturated fat, 2 g monounsaturated fat), 130 mg sodium, 19 g carbs (7 g fiber, 8 g total sugar, 5 g added sugar), 9 g protein
This paleo-friendly hot cereal comes with premeasured packets. Flavor choices include apple and maple almond.
Burdeos chose this for its protein and fiber content, healthy omega-3 fat from chia seeds, and chicory root inulin. Morey says Nature's Path Grain Free Hot Cereal is a good source of fiber and calcium.
NuTrail Keto Nut Granola, Birthday Cake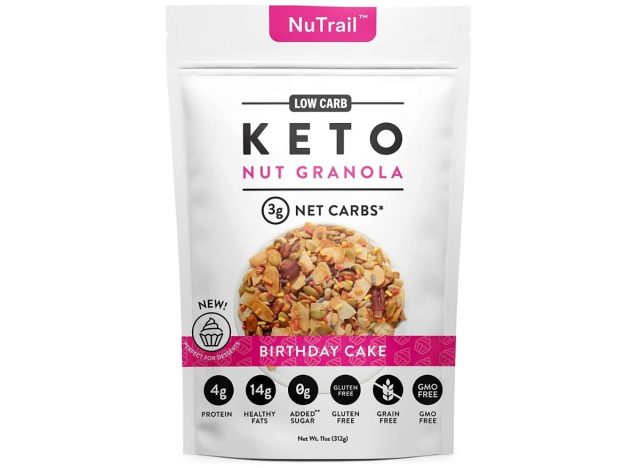 ⅓ CUP
: 160 Calories, 14 g total fat (5 g saturated fat, 0 g trans fat), 5 mg cholesterol, 35 mg sodium, 10 g carbs (2 g fiber, 1 g total sugar), 4 g protein
Add this granola to your smoothie bowls or add milk for a nutritious cereal—or for a mid-morning pick-me-up. It's perfect for a low-carb diet.
"For a snack, I'd go for the Nutrail Keto Nut granola," says Burdeos. She likes this granola because it has 4 grams of protein, is low in sugar, and has pumpkin and sunflower seeds, which contain healthy fats.
Magic Spoon Cereals Fruity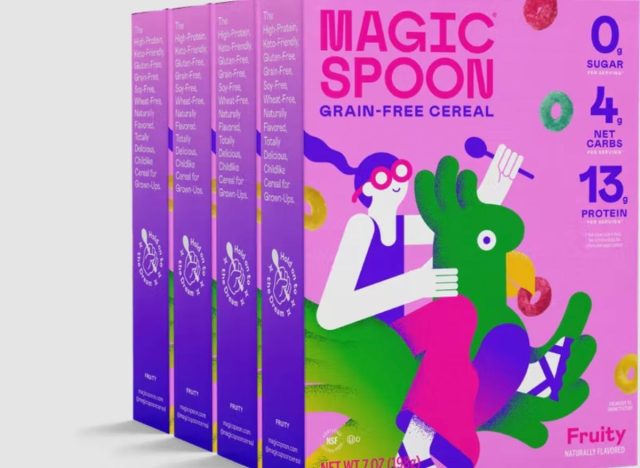 1 CUP
: 150 calories, 8 g total fat, 10 mg cholesterol, 160 mg sodium, 15 g carbs, 1 g fiber, 0 g total sugar, 0 g added sugar, 13 g protein
Are you looking for a tasty, healthy cold cereal with many flavor choices? Magic Spoon has plenty, including fruity, peanut butter, cocoa, cinnamon, frosted, blueberry, maple waffle, and cookies and cream. Unfortunately, you won't find these in grocery stores yet, but you can order online.
These Magic Spoon cereals have a "good source of protein, no sugar, lower-calorie, has chicory root inulin which helps promote healthy digestion, short ingredient list (compared to some others), and would compliment well with any milk or dairy alternative — even the ones with lower protein since this cereal is packed with 13 grams of protein," says Johna Burdeos, RD.
Four Sigmatic Whole Bean Mushroom Coffee
4TBSP
: 5 calories, 0 g total fat, 1 g carbs (0 g fiber, 0 g sugar), 0 g protein
If you're looking to spice up your morning cup of joe, try an organic, fair-trade, single-source mushroom coffee for overall health. Four Sigmatic claims this new option at the grocery will help you lose that afternoon slump and have better focus. And it is RD-approved.
"For coffee lovers, this mushroom coffee provides everything you love without the downsides. The added chaga and lion's mane mushroom are rich in antioxidants which may support the immune system to boost your body and the brain," says Palinksi-Wade.
Nature's Path Grain-Free Granola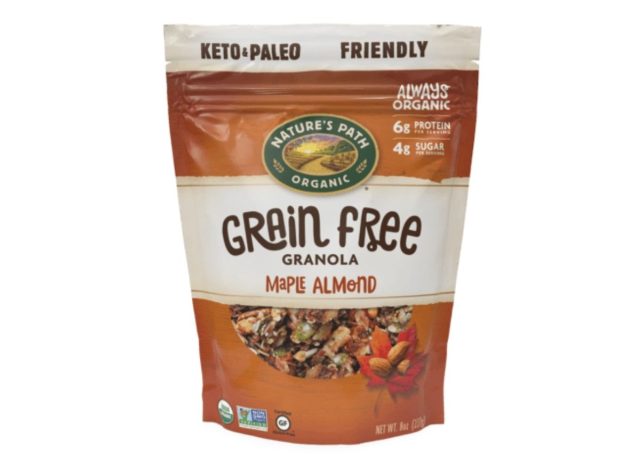 ⅓ CUP
: 170 calories, 14 g total fat, 0 g cholesterol, 65 mg sodium, 9 g carbs (2 g fiber, 4 g total sugar), 6 g protein
"Many granolas contain large amounts of added sugars, but not this brand, Palinski-Wade says about the Nature's Path Grain-Free Granola. "The rich mix of seeds and nuts provides a good source of plant-based protein, healthy fats, and fiber to ensure you stay full for hours after snacking." The best part? "And with just 4 grams of sugar per serving, this granola provides significantly less added sugar than many varieties on the market."
Morey also likes these waffles because they are an excellent source of iron. In addition, she says they are great for those with celiac disease or gluten intolerance because they are gluten-free. Pair the granola with a plant-based protein shake for extra protein.
Want some more ideas? Here are 5 Healthiest Breakfast Foods to Buy at Walmart Right Now, Dietitians Say.
Nicole LaMarco
Nicole has a first-degree black belt in Taekwondo and is passionate about everything health-related.
Read more about Nicole