Kate Beckinsale Reveals Her Exact Workout for Flat Abs
The star makes her grueling routine look effortless in a new clip from the gym.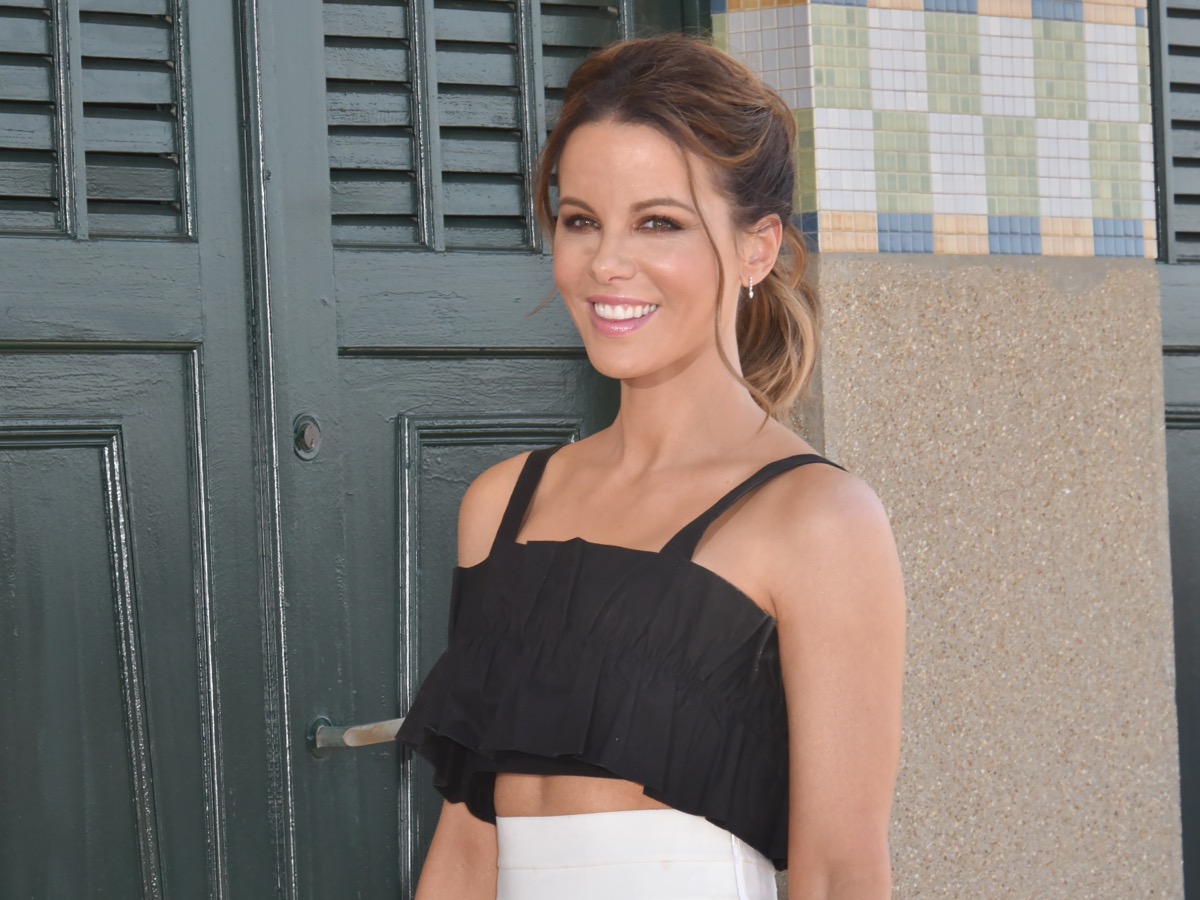 Kate Beckinsale has been lauded for many things over the course of her career, from her acting chops to her sense of humor. However, there's yet another impressive achievement on the star's CV—and one she hasn't shared as readily with her fans: her incredible dedication to fitness.
In a recent video shared to her Instagram account, Beckinsale reveals how she manages to maintain her flat abs with a peek into her core workout. In the clip, Beckinsale can be seen supporting herself on her forearms as she balances on a dip station, with her body in a vertical position. In a series of rapid movements, the actor brings her legs upward so they form a 90-degree angle with her torso, then lowers them again, repeating this motion multiple times.
As she continues her set, she incorporates a knee bend into the movement before propping her legs and arms up on the dip station's bars and making a face to suggest that she's exhausted.
In a subsequent video, Beckinsale displays some impressive arm- and leg-toning moves, performing a simultaneous combination of battle rope exercises and side squats while her trainer can be heard cheering her on in the background.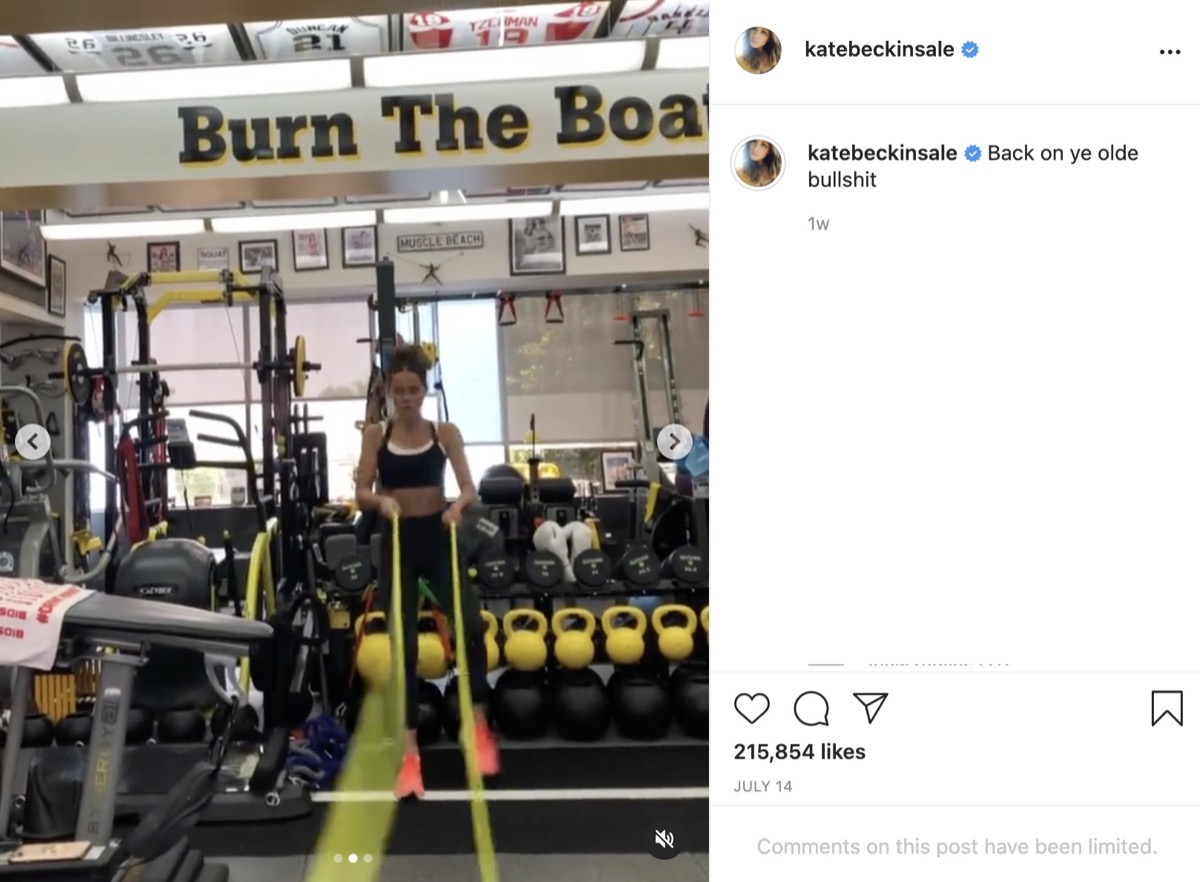 Following her workout, Beckinsale performs perhaps her most impressive feat yet—and she's barely doing a thing. In the clip, Beckinsale's trainer is seen stretching the star out, and when we say stretching, we mean the actor is giving Gumby a run for his money. Beckinsale's trainer stretches one of the actor's legs straight back within inches of her face, then stretches it to the side, this time coming within inches of her elbow—and Beckinsale doesn't so much as wince.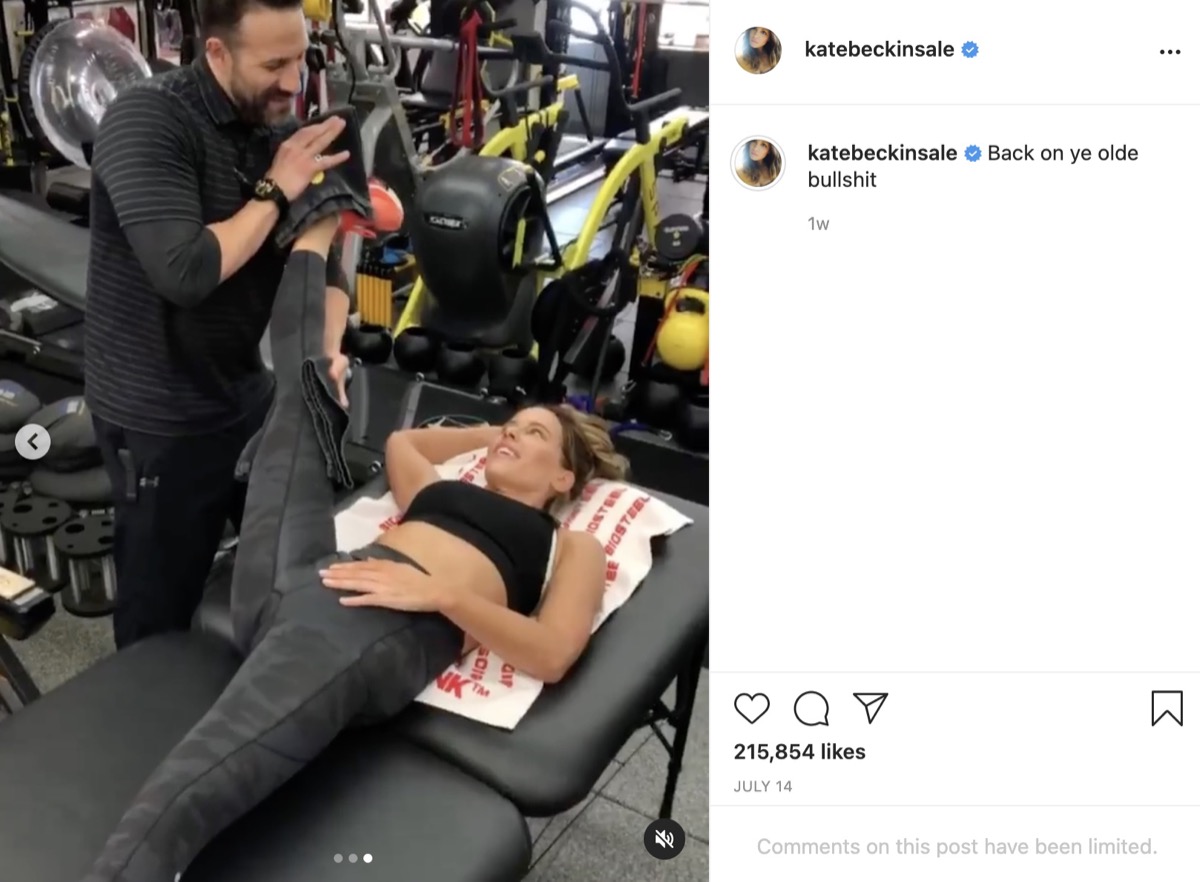 Beckinsale has long been vocal about how important exercise is to her overall well-being. In a 2020 interview with Women's Health, Beckinsale revealed that, in addition to doing interval training six days a week, she also loves doing rebounding workouts at home. "I just got into trampolining, and it's the greatest thing…It makes you feel kind of jolly!"
"Exercise is almost more important to me mood-wise," than it is for her physical appearance, she told the publication. "The other aspects feel like a great side effect."
For more on how your favorite stars stay fit, check out Kate Hudson Shares Her Intense Butt and Leg Workout in New Video, and for the latest celebrity health and fitness news delivered to your inbox, sign up for our newsletter!
Sarah Crow
Sarah Crow is a senior editor at Eat This, Not That!, where she focuses on celebrity news and health coverage.
Read more about Sarah