8 Major Changes Wendy's Made in 2021
The fast-food giant has achieved a lot this year.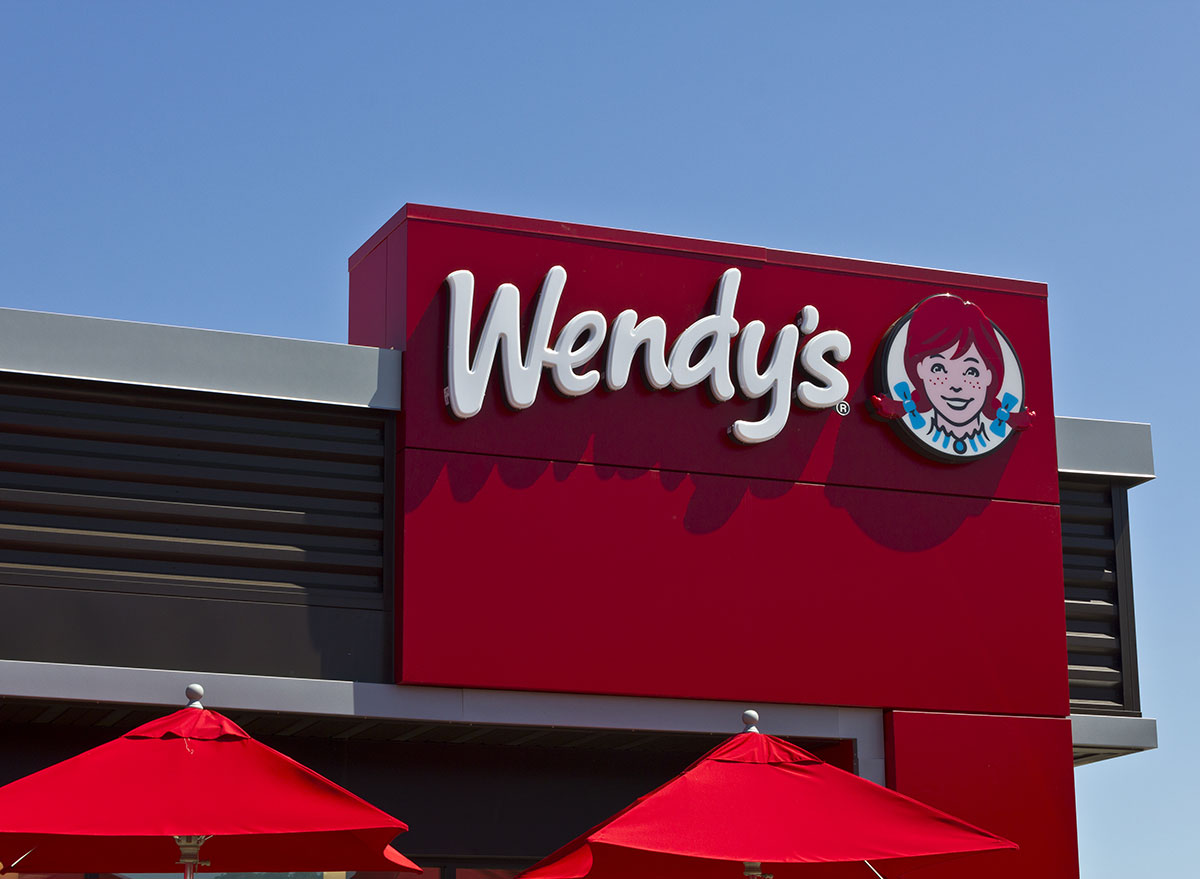 This has been a big year for Wendy's. The chain has made significant updates to its menu as well as customer-facing technology. But perhaps most importantly, the fast-food giant has also achieved several major milestones by becoming America's second-largest burger chain by sales as well as a top-three destination for fast-food breakfast.
Here are some of the biggest changes taking place at Wendy's in 2021. And for more on Wendy's, check out We Tried Every Burger at Wendy's & This Is the Best.
Became America's #2 burger chain
Thanks to the strong sales Wendy's posted in 2020, the chain has dethroned Burger King from the #2 spot, taking its place as the second-largest burger chain in America in terms of sales, according to Forbes. Wendy's success seems even more staggering when you consider that it operates thousands of locations fewer than BK.
Banned harmful chemicals from its products
Wendy's announced a huge upgrade to its food packaging this year. The chain's 2020 Corporate Responsibility Report included a commitment to rid its food packaging of per- and polyfluoroalkyl substances (PFAS), a class of man-made substances that have been shown to have a harmful effect on human health. The company said it will "fully eliminate" PFAS in the U.S. and Canada by the end of 2021.6254a4d1642c605c54bf1cab17d50f1e
Announced major expansion plans
The chain made the huge announcement that it will be opening a whopping 1,200 new locations by 2025. Interestingly, not all of those locations will be regular Wendy's restaurants. In fact, 700 of them are going to be opening in the form of ghost kitchens, according to executives. These locations will grow Wendy's global footprint by a third, and especially help to serve the urban communities without the expense of opening additional restaurants.
Made an important upgrade to fries
Every fast-food fan knows that fries are an essential side, so making sure they are as good as they can be should be of the utmost importance. Wendy's took itself to task on this by launching new and improved Hot & Crispy Fries this summer. The new spuds are engineered to keep their crunch and heat for up to 30 minutes after purchase, which means no more cold or soggy fries from Wendy's—it's an actual guarantee.
Discontinued the Pub line menu items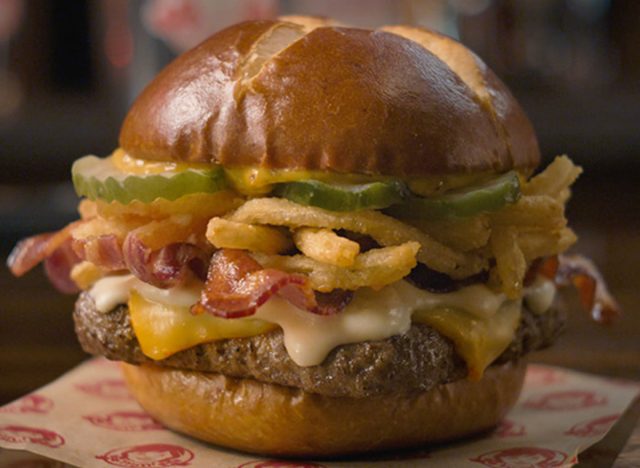 The chain began to phase out its Pub line items—the Pretzel Bacon Pub Cheeseburger, Pretzel Bacon Pub chicken sandwiches, and the Pub fries—sometime this year. The Pub menu was first introduced in September of 2020 as part of the chain's premium Made to Crave offering. And while the Pretzel Bun will be missed, the chain promptly replaced the Pub line with the Big Bacon Cheddar cheeseburger and chicken sandwich.
Discontinued the Spicy Sriracha sauce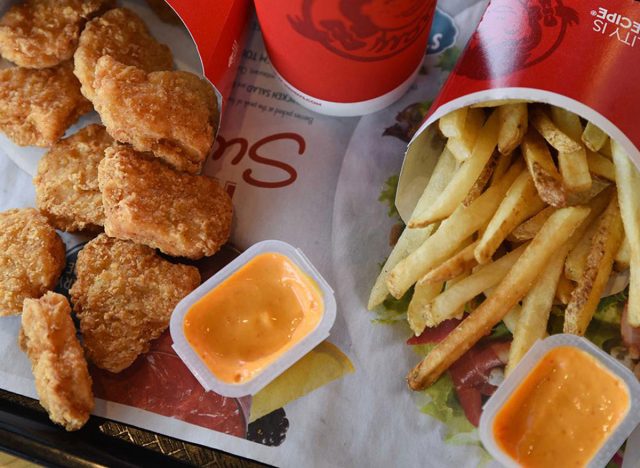 This discontinuation was definitely upsetting to many Wendy's lovers. Over the summer, the burger chain debuted the Ghost Pepper Ranch Sauce, and unfortunately, that didn't come without consequences. Adding this new spicy sauce to their list of signature sauces meant the retirement of the beloved Spicy Sriracha sauce.
Partnered with Google on big tech upgrades
This fall, Wendy's announced a new partnership with tech giant Google. The move will allow the chain to speed up its service, while also making the customer experience more personalized. Wendy's will begin using Alphabet Inc.'s Google Cloud to utilize a vast pool of customer data it collected during the pandemic via its mobile app. On top of that, it will onboard new AI capabilities to predict customers' tastes and order preferences.
Opened its 1,000th international restaurant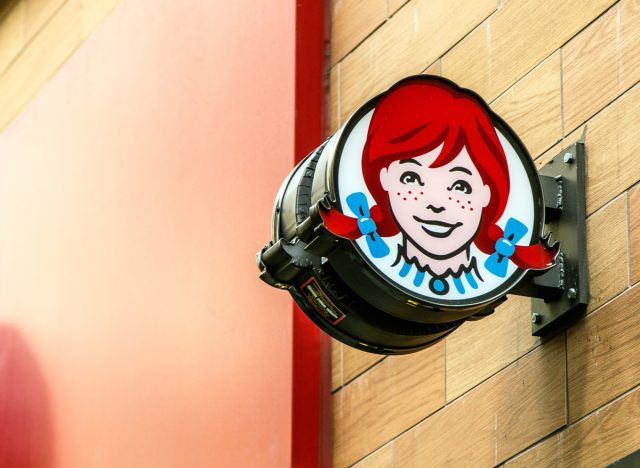 Wendy's made its debut in the United Kingdom in June, and its 1,000th location happens to also be the fourth restaurant it is opening in that market—located in Croydon, a town south of London. But it was mostly its major expansion in Canada, where it recently opened its 400th restaurant, and the APMEA region (Asia Pacific, Middle East, and Africa), where it has as many as 300 locations, that has gotten it to this important milestone.
For more, check out the 108 Most Popular Sodas Ranked By How Toxic They Are.
Rachel Linder
Rachel is an Associate Editor responsible for compiling the daily Eat This, Not That! newsletter, making TikTok and YouTube videos for the brand, writing articles for the site, creating original graphics and providing direct assistance to the editors when needed.
Read more about Rachel