There's a Massive Shortage of This Popular Breakfast Item
Lack of this necessary product is causing strain for bagel shops across the country.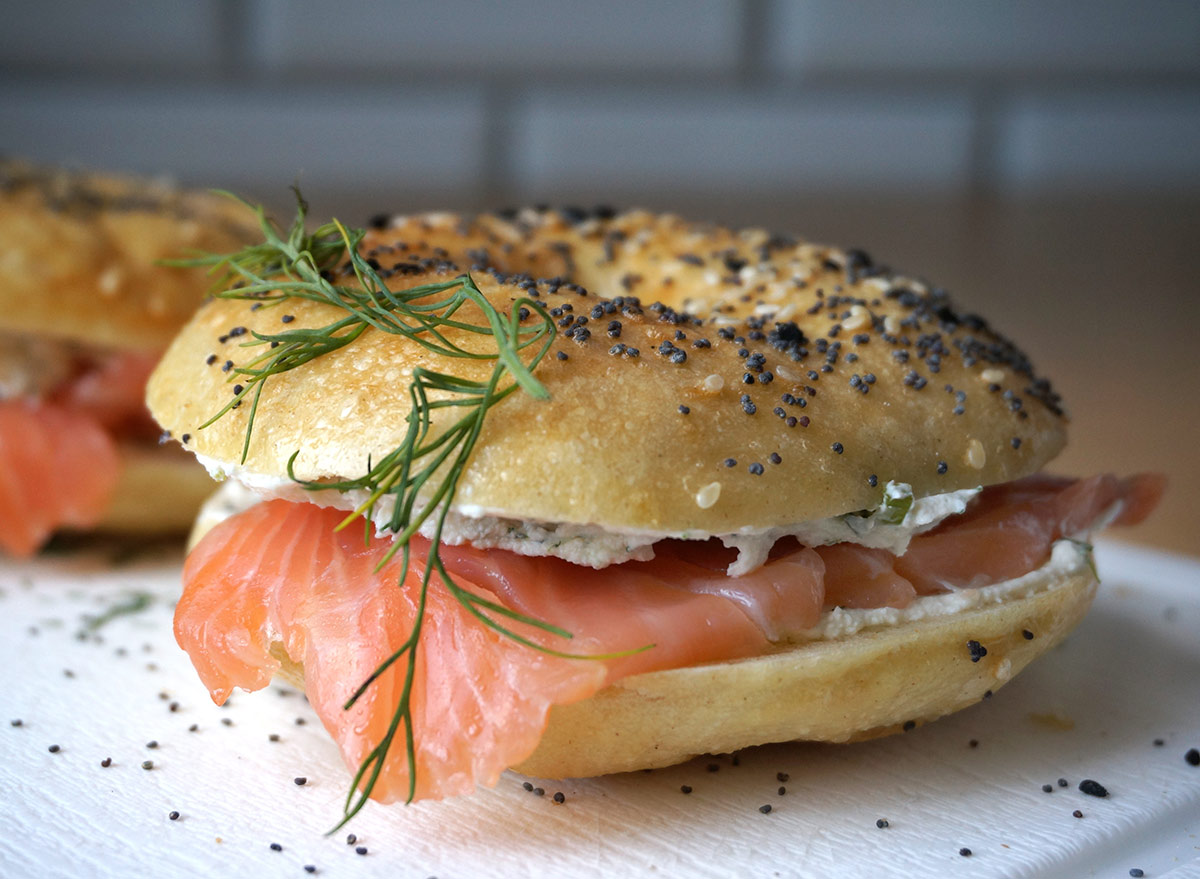 Going out for a bagel and cream cheese won't exactly work if there's no cream cheese to be had. Due to recent supply chain issues, dairy manufacturers and suppliers that provide pallets of cream cheese to different shops have come up short in the past few weeks, according to a recent report in The New York Times. This is causing strain not only on those popular shops in New York City, but also for bagel shops across America.
The shortage is linked back to Kraft Heinz, the company that owns Philadelphia Cream Cheese—which is typically sold in pallets to bagel shops around the country. The pallets include unprocessed, unwhipped cream cheese that allows for numerous bagel shops to make their own flavors.
While bagel shops in NYC are experiencing massive shortage issues (some bagel shops experiencing missing 800-pound cream cheese orders), they aren't the only bagel shops affected. Shops around the country have experienced effects of the shortage as well.
Deke Haylon, owner of Deke's Bagels with two Connecticut shops—located in Niantic and Guilford—admits the massive demand has ultimately resulted in him increasing his prices.
"Instead of paying a wholesale price of $65 for 30 pounds, now we're paying $86," says Haylon.6254a4d1642c605c54bf1cab17d50f1e
It's even a race to snag an order of cream cheese when he needs it. Haylon admits heading to the wholesale market with two dozen fresh bagels as a "bribe" to the workers so he can be one of the first to know when the cream cheese comes in.
"I've raised the price of the cream cheese that I sell wholesale and [I'm] hoping this doesn't last too long," he said, followed by a joke on how this is also the kind of statement regularly made about a pandemic that continues to drag on.
A spokesperson at Kraft Heinz told the Times that along with Philadelphia Cream Cheese, there's an increased demand for "several" products due to the pandemic as Americans stocked up on supplies in the grocery store. Kraft Heinz has previously announced shortages for ketchup as well as various dairy, meat, and coffee products.
According to The Wall Street Journal, Kraft Heinz admits to "capacity constraints" that have limited their demand needs and even increased prices of at least two-thirds of their products sold in the U.S. by 4% to 5%. This cost inflation is likely to remain in effect leading into 2022.
Some of the constraints Kraft Heinz is currently facing include issues with current labor (less workers in the factory, not enough truck drivers), as well as some manufacturing and logistical issues.
While the results of this shortage are still yet to be determined for bagel shops—whether it be higher prices or even a limited number of bagel orders each day—Kraft Heinz tells The Wall Street Journal that it is working to fast-track plant expansions to make more of their high-demand products.
For even more news regarding shortages, read these next:
This New Shortage Is Affecting Wine and Spirits

A Chicken Tender Shortage May Soon Hit Grocers and Fast-Food Chains, Reports Say