6 Most Expensive Burgers at Popular Fast-Food Chains
These premium creations are meant to be a cut above the rest.
When the first McDonald's restaurant opened its doors in 1940, the most expensive burger on the menu was the Tempting Cheeseburger, which cost 19 cents. It was also one of only two burgers offered, the other being the 15-cent Pure Beef Hamburger. Burger King's first menu prices were similar—the Broiled Cheese Burger, which was the most expensive item, was priced at 23 cents when the company launched in 1954.
However, times have changed dramatically, and the proliferation of fast-food options has given rise to two separate ends of the price spectrum—the value menu, where items go for $1, $2, or $3, and the high-end creations that border on fine dining (hello, Wagyu beef burgers!) In fact, most burger chains will have at least one fancy, fully-loaded burger on the menu, the price of which is often more than $10.
We surveyed several major burger chains to find their most premium, most expensive options. And for more on the latest fast-food trends, check out 6 Most Anticipated Fast-Food Menu Items Launching This Year.
Wendy's Pretzel Bacon Pub Triple
The 1,520-calorie Pretzel Bacon Pub Triple burger is so named for the pretzel-style bun and the three quarter-pound patties stacked atop one another along with sliced muenster cheese, bacon, warm beer cheese sauce, and crispy fried onions. The fact that you're getting almost a pound of meat in this sandwich helps justify the higher price point of around $8.50 at most Wendy's locations.
McDonald's Double Bacon Quarter Pounder with Cheese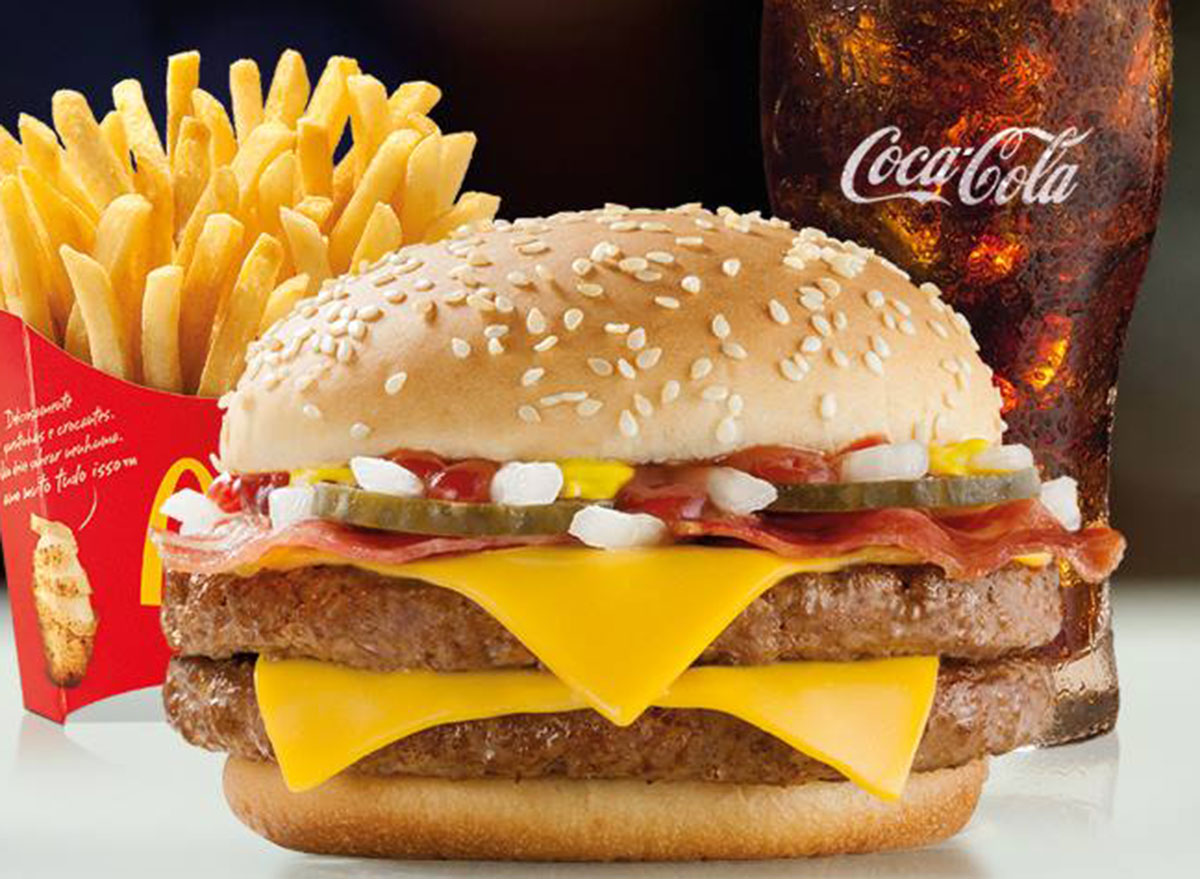 Prices vary slightly from location to location, but this behemoth of a burger sells for about $9.50 at most McDonald's restaurants. The pricey sandwich is a full meal in and of itself, though, being that it packs in 820 calories. So you get your money's worth—no fries needed.
Five Guys' Bacon Cheeseburger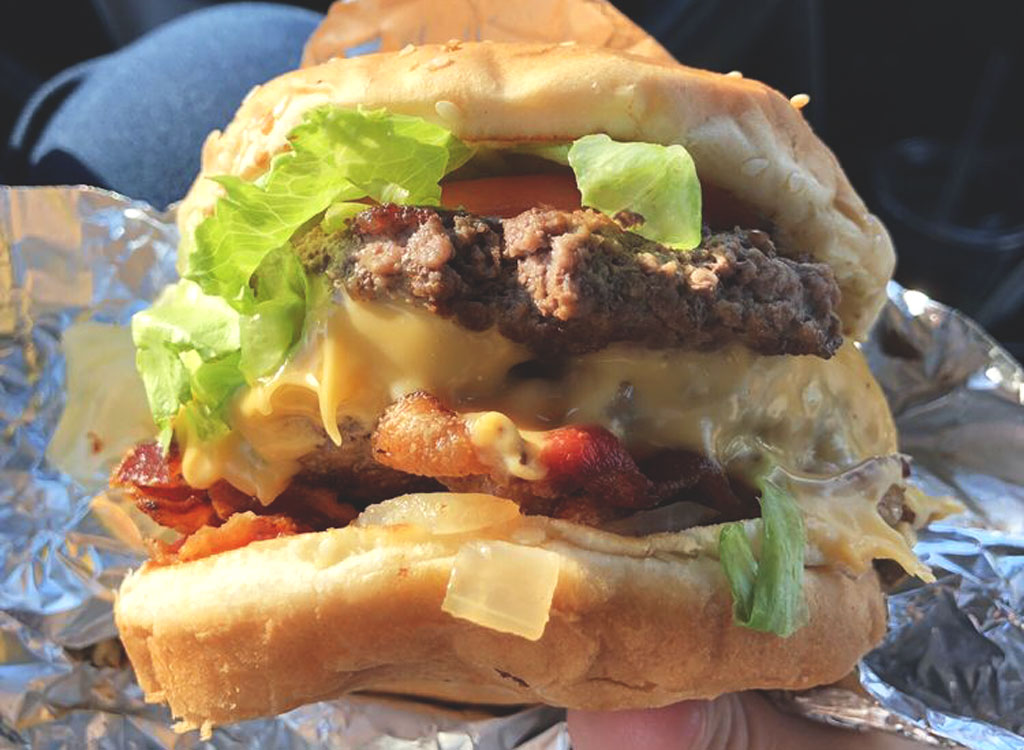 This is not some crazy double- or triple-patty burger, it's a classic cheeseburger with bacon, but at $10.39 it costs quite a bit more than similar items from other chains. So what makes this 1,060-calorie burger from Five Guys worth top dollar? For one, like everything they offer, the Cheeseburger is made fresh every time, and that goes for the patty, the chopped veggies . . . all of it. You also get the choice of "unlimited" toppings for which Five Guys burgers are famous, allowing you to create a pretty loaded sandwich at no extra charge.6254a4d1642c605c54bf1cab17d50f1e
Shake Shack's Shake Stack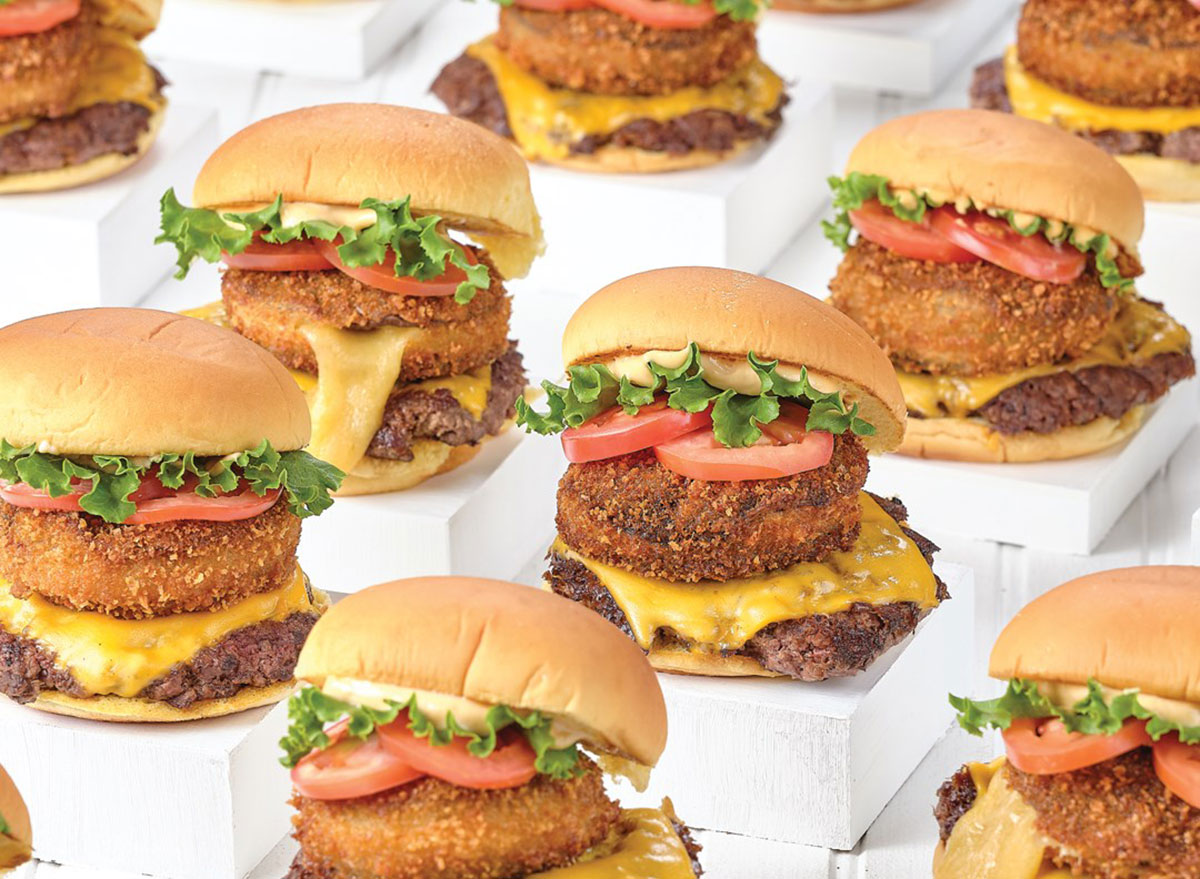 In this Shake Shack mashup, the veggie burger meets a cheeseburger, so you can think of it as getting two burgers for the price of one. The $10.89 sandwich consists of a beef patty with cheese, topped with a crisp-fried portobello mushroom cap, and finished with lettuce, tomato, and ShackSauce. It can easily become a much more expensive burger if you add bacon ($1.89 more) or avocado (another $1.25). Without the additions, it clocks in at around 770 calories, which is pretty low compared to some of the other burgers in the same price range.
Smashburger's Double Smoked Bacon Brisket Burger
This creation from Smashburger is a meat-lovers fantasy. The Double Smoked Bacon Brisket Burger features two Angus beef patties, layered with brisket which has been smoked for 10 hours, bacon, and aged cheddar cheese. Considering you're getting triple the meat, the price of $11.49 starts to make sense. The whole thing clocks in at 1,249 calories, which is more than enough to keep the hungriest among us full for a good while.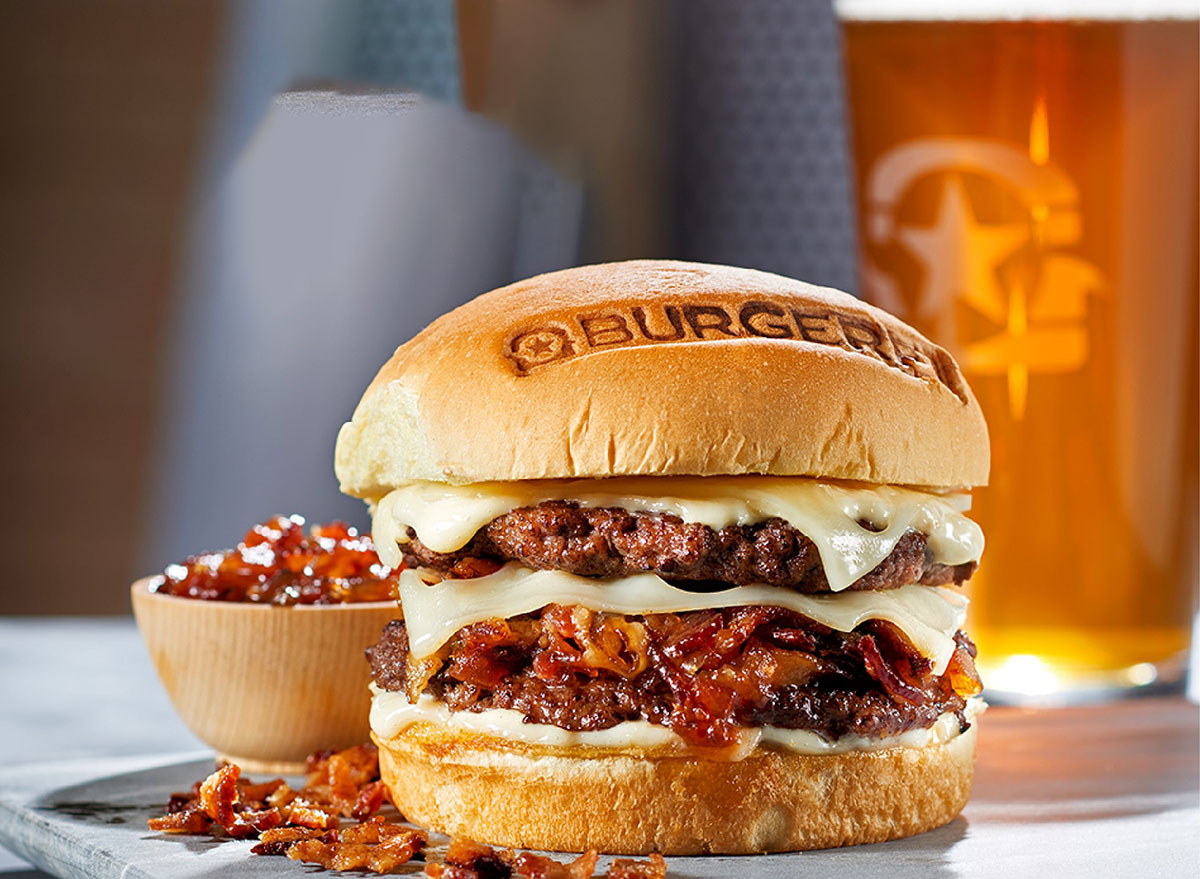 BurgerFi is home of the gourmet burger, so it's no wonder the chain's menu is dotted with burger options that cost more than $10. But at $13, this aptly named creation is their most expensive one, thanks to layers of several premium ingredients: truffle aioli, Swiss cheese, and tomato bacon jam which round out two beef patties. At that rate, it's the perfect example of a fast-food burger crossing over into dine-in pricing territory. Except when you're dining in, the fries are usually included in the price. Not so here: fries are sold separately.
For more, check out 108 Most Popular Sodas Ranked By How Toxic They Are
Steven John
Steven John is a freelancer writer for
Eat This, Not That!
based just outside New York City.
Read more about Steven