The 5 Most Unique Trader Joe's Stores in America
Have you ever shopped for groceries inside a movie theater?
Trader Joe's is known for its one-of-a-kind grocery items like Hold the Cone Ice Cream, Mandarin Orange Chicken, and Unexpected Cheddar. However, the product offerings aren't the only way in which this chain in unique from other supermarkets.
Costco is famous for its warehouses, while Walmart is known for its supercenters. Trader Joe's stores similarly have their own look and feel, but they also adopt certain characteristics of their neighborhoods. From a historic movie theater to the space below an iconic bridge, here are the most unique TJ's locations in the country.
Related: 6 Things You'll See at Costco This Year
The newest Trader Joe's below a New York City bridge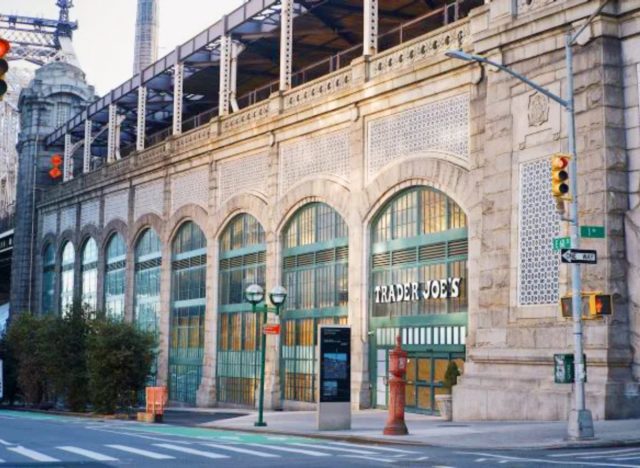 One of the newest Trader Joe's stores is located below a bridge on New York City's Upper East Side.
The architect Henry Hornbostel and the engineer Gustav Lindenthal covered the section below the Queensboro Bridge in tiles designed by Rafael Guastavino, according to Gustavino's. This "arcade" came to be known as Bridgemarket, a produce market that was open year-round until the 1930s.
TJ's petitioned to take over the building in 2020, and the store officially opened in December to hours-long lines. There was even a jazz band there to entertain shoppers.
The TJ's store inside a preserved Armory in Media, Penn.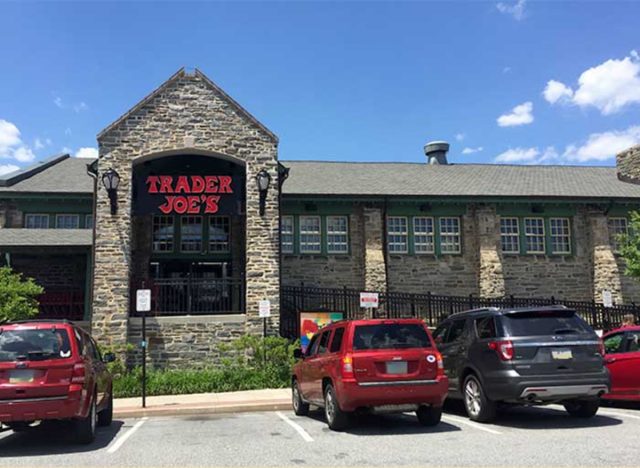 One Trader Joe's resides in a historic building in Pennsylvania, which also has a museum in the basement.6254a4d1642c605c54bf1cab17d50f1e
"Our Media store doesn't just honor the history of this charming neighborhood, it's a part of it. We've stationed this store in the historically preserved Armory of the 111th Infantry of the Pennsylvania National Guard," TJ's writes in a related story on its website. "Folks from the neighborhood stop on by not just to shop, but reminisce about when the Armory was used by local schools as a gymnasium, and to host sock hops in the 1950's and 60's."
The Trader Joe's inside the Alabama Theatre in Houston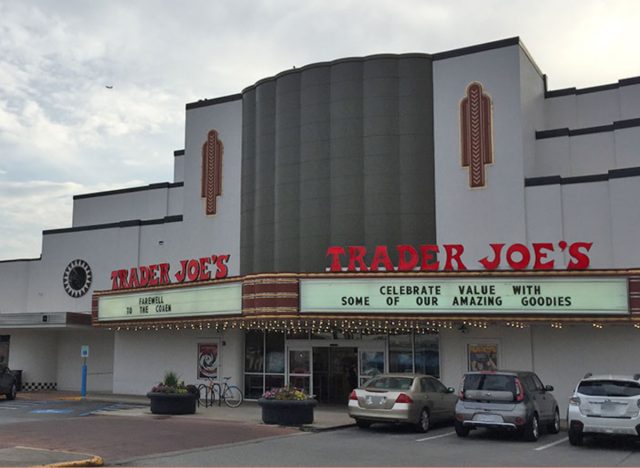 As displayed on the marquee, this Trader Joe's location in Houston is now showing some exciting new finds. Located inside of an old movie theater, this one-of-a-kind store honors the city's artistic legacy with decor like signage and sculptures. Trader Joe's details more of the unique features here.
The smallest TJ's in Boston's Back Bay neighborhood.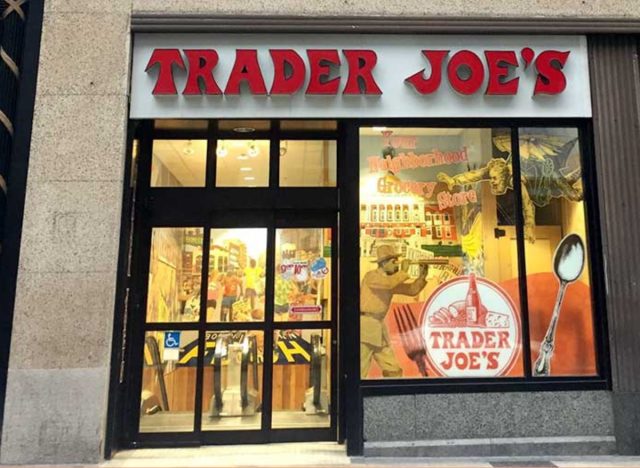 Trader Joe's is known for using space creatively at locations like one Back Bay store in Boston, which is the smallest unit in its portfolio. The location features escalators immediately inside of the entrance, and customers even have to line up in a different way to help save space.
"The crew gets quite creative with the space in order to serve our many student customers from nearby Boston University, MIT, and Berklee College of Music," the low-cost chain writes about this store.
If TJ's fans are one thing, they are loyal. Even before the pandemic necessitated capacity limits in grocery stores, shoppers would post about the long lines to get inside this store on social media.
The oldest Trader Joe's in Pasadena, Calif.
This is another tiny store, but only because it was the first Trader Joe's location ever—back before the 500+ others.
"About half the size of most of our stores, but with all the same products, South Pasadena is one of our longest running Trader Joe's, and the very definition of a neighborhood store," the chain writes. "In fact, many customers in South Pas were still shopping here when it was operating as our predecessor, Pronto Market, 50 years ago!"
The store became known as Trader Joe's in 1967, and crew members then wore Hawaiian shirts. A 50th-anniversary party was held in August 2017 that included food tastings, giveaways, and a commemorative reusable bag for $0.50 in honor of the first one TJ's offered shoppers in the 1970s for only $0.40.
Since this location opened up, many products have come and gone from TJ's shelves. Unfortunately, last year saw some heartbreaking departures—here are the 10 Items Trader Joe's Discontinued in 2021.
Amanda McDonald
Amanda has a master's degree in journalism from Northwestern University and a bachelor's degree in digital journalism from Loyola University Chicago.
Read more about Amanda