These New Drinks Are Taking Over Your Grocery Store's Alcohol Aisle
"Mocktails" are getting a mood-enhancing makeover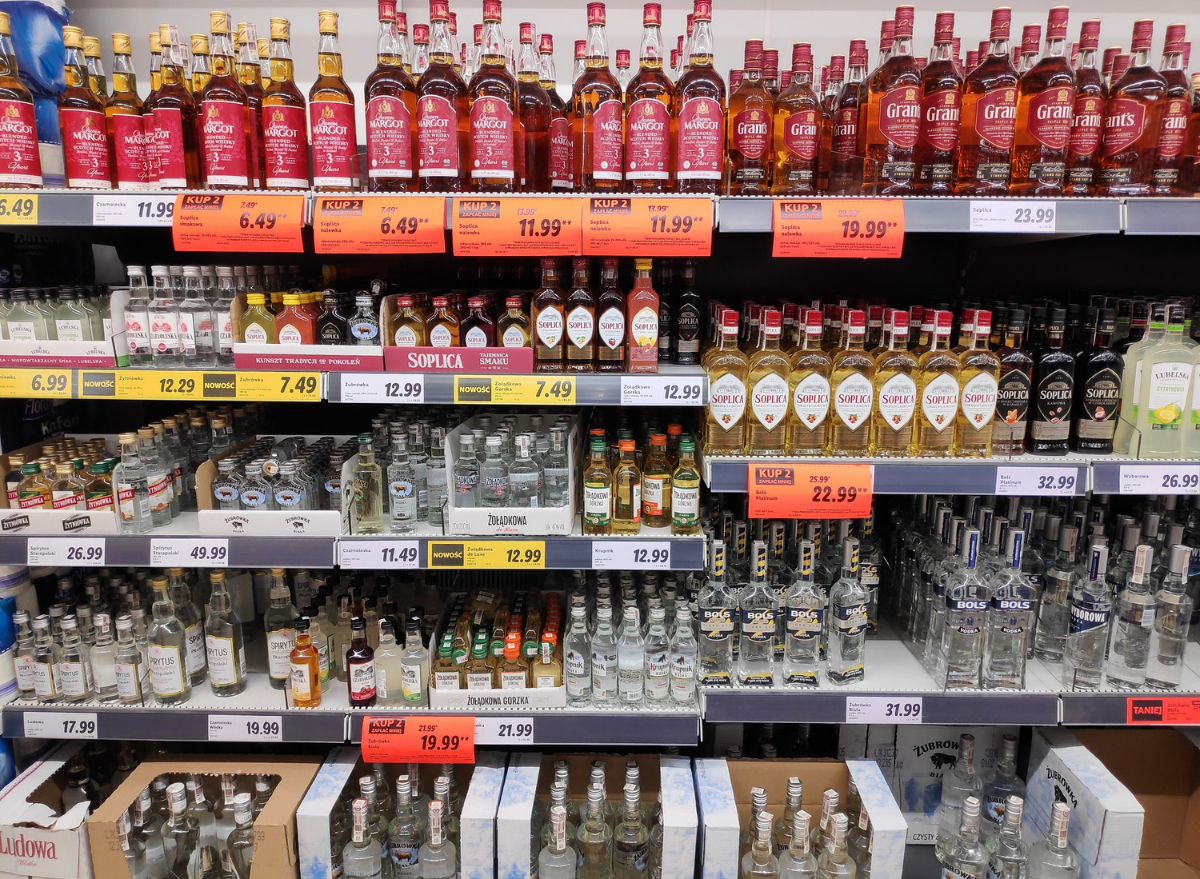 The sober truth for the alcohol industry is that the trend is now headed away from casual consumption, according to the World Health Organization (WHO). This recent cultural shift toward teetotaling is largely seen in the younger generations, who've managed to bring the average down for the first time in 25 years. In fact, according to News Gallup, 60% who say they drink alcohol is down from 65% in 2019. This effect hasn't just been seen in the U.S., however, but a movement occurring worldwide and making its way to grocery store shelves.
The reason young people are abstaining is largely complex. It's speculated that Millennials and gen Zers are more concerned about costs, drinking-related health issues, and a stricter set of government regulations, which have all affected their decision to say, "No, thank you," or passing up on their grocery store's alcohol aisle. Not for long, however.
The progression hasn't been lost on innovative new companies, who've decided to capitalize on the trend by remodeling what our idea of a "mocktail" is. Rather than a sickly-sweet mixer served in a Poco Grande glass with an umbrella, these future mocktails are designed with mood-enhancers called "nootropics." These alcohol alternative "functional" drinks are supposedly designed to recreate the buzz of alcohol without all the health issues and hangovers.
Recently, several brands, including Kin, Curious Elixirs, and Proposition Cocktail Co., have combined booze-free living and nootropics into drinkable beverages that allow non-drinkers the comfort of sipping and socializing while not actually becoming inebriated. The fad has already taken off in Silicon Valley and is expected to spread.6254a4d1642c605c54bf1cab17d50f1e
For many users, it's impossible not to ask, "Are you feeling it?" That's because most people are unfamiliar with the concept of Nootropics. Also known as "smart drugs," Nootropics are basically any natural or synthetic substance aimed at increasing brainpower. Many of these new functional beverages are supposedly helping consumers either think more sharply or, conversely, relax, by aiding in the creation of neurotransmitters like serotonin. While these health claims are largely unstudied and not backed by any scientific grounds, many consumers report the new non-alcoholic cocktails have promoted relaxation or focus, depending on the drink.
Specifically, Kin's alcohol alternative drink, boasts to have calming spices, Reishi mushroom, and melatonin, as a substitute for "a night cap." Their "Lightwave" version of the drink is similar but with L-Theanine and L-Tryptophan to decrease anxiety, boost equilibrium, and "ride the wave of serotonin," according to their website.
In addition to these all-natural alternatives, the functional drink industry has found success with adaptogens like kava, which users say, produces a "euphoric high," and Yerba Mate, which advertises as a natural source of caffeine without the eventual energy slump. Yerba Mate is already widely available in most grocery stores around the U.S.
Whether placebo or not, it's clear that time will tell if these mood-enhancing functional drinks will find their place next to the booze at the grocery store or become just another passing fad. At the very least, it's something to sip on when socializing sober.
Amber Lake
Amber Lake is a staff writer at Eat This, Not That! and has a degree in journalism from UNF in Jacksonville, Florida.
Read more about Amber