The Best and Worst Menu Items at Zaxby's
When you need a wing fix, order wisely with our guide.
Let's face it: Once you get a craving for crispy fried chicken fingers or saucy wings, there's really no curbing it. However, a trip to Zaxby's, a Southern favorite, can quickly turn into much more than you bargained for if you're not careful. That's why we've picked the smartest choices on the Zaxby's menu — and marked the biggest red flags! — so you can still indulge in a fast and delicious meal without going off the rails.
Wings
Best: Traditional Bone-In Wings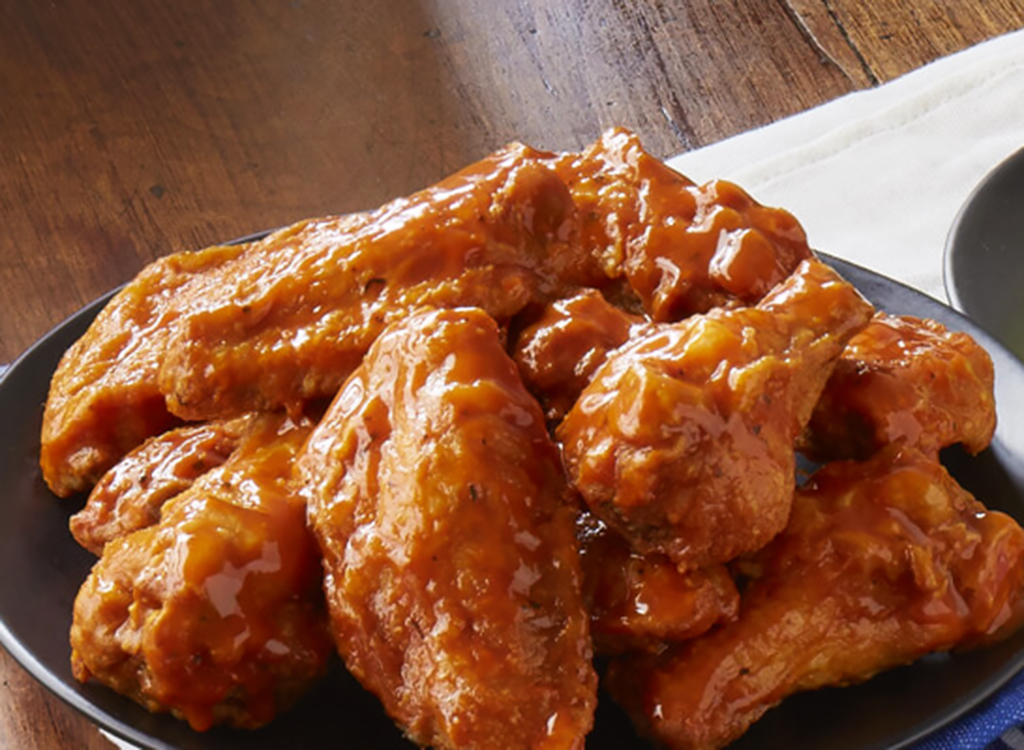 300 calories, 19 g fat (5 g saturated fat), 340 mg sodium, 0 g carbs (0 g fiber, 0 g sugar), 30 g protein
Even if you prefer boneless, it's best to stick to traditional drums and flappers to save yourself nearly 700 milligrams sodium and 27g carbs. Even when dunked in Zaxby's sweet and smoky or barbecue sauces, bone-in wings are a much smarter choice than their breaded and deep-fried counterpart. "It's one thing if the chicken was fried naked, but the breading on boneless wings adds not only extra calories, but excess sodium and fat," says Jane Ujoatu, a registered dietitian.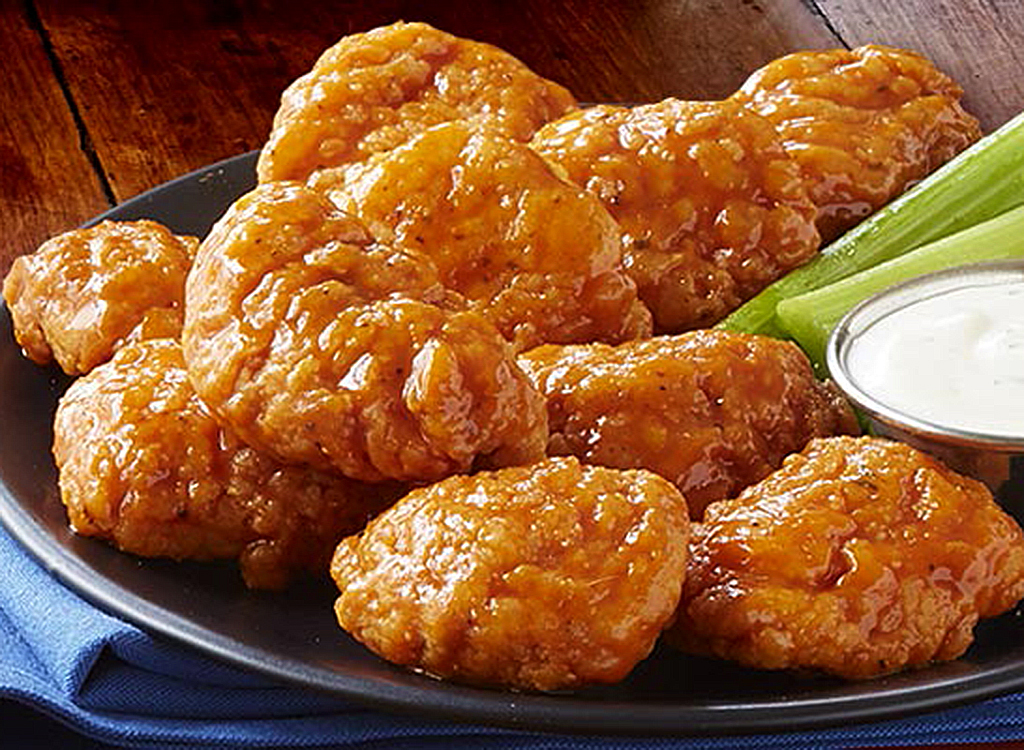 360 calories, 18 g fat (2.5 g saturated fat), 1,000 mg sodium, 27 g carbs (2 g fiber, 1 g sugar), 23 g protein
Dredged in breading and dunked in the fryer, boneless wings are delicious but a horrible decision to make at a fast-food spot like Zaxby's. In just five boneless wings, you will have accrued nearly your entire day in sodium. What's worse, most people are likely ordering 10 wings, or even a meal with five wings and fries, which is going to double your calories and salt — plus everything else. Unfortunately, it doesn't matter if you're eating these naked or with any of Zaxby's sauces — the sodium levels only get worse, as do the calorie counts and sugar content. "Wimpy, Tongue Torch, Nuclear, Insane, and even Teriyaki has upwards of 1,4000 milligrams of sodium for only five boneless wings," Ujoatu says. "That's just crazy." Forget these babies even exist, and stick to standard bone-in wings.
Sandwich
Best: Grilled Chicken Sandwich
530 calories, 22 g fat (4.5 g saturated fat, 2 g trans fat), 1,510 mg sodium, 46 g carbs (3 g fiber, 15 g sugar), 38 g protein
It comes as no surprise that the grilled option here is the best, clocking in with half the calories of most other sandwiches on the menu. Compared to the others, this honey mustard number is not a bad option. However, Ujoatu points out that its high sodium content should be taken very seriously: "In terms of calories, this is a good option, but it contains way too much sodium for one sandwich — let alone an entire meal," Ujoatu says. The daily recommended amount of sodium is 2,300 milligrams, so you'll need to pair this sandwich with a tall glass of water and forget about making it a meal — fries would push this well over 1,780 milligrams of sodium and 900 calories.
930 calories, 59 g fat (13 g saturated fat, 3.5 g trans fat), 2,300 mg sodium, 51 g carbs (4 g fiber, 5 g sugar), 50 g protein
Loaded with chicken fingers, bacon, American cheese, mayo, and Texas Toast, this over-the-top sandwich is extremely gluttonous in every way. In addition to containing a day's worth of calories, it's also jam-packed with insane amounts of sodium (2,300 milligrams!) and fat (59 grams—3.5 of which are artery-clogging trans fats!). "This should be removed from the menu," Ujoatu says. "This one sandwich contains more calories than some people should consume in an entire day, plus an insane amount of fat and mind-blowing amount of sodium. This is a complete no-no!"
Salad
Best: Garden Caesar Salad
280 calories, 12 g fat (6 g saturated fat, 1 g trans fat), 730 mg sodium, 23 g carbs (3 g fiber, 4 g sugar), 18 g protein
This mix of greens, with a bit of bacon and parmesan cheese, reigns as the top choice above other "zalads" on the menu that are loaded with unnecessary toppings like fried onions, Texas Toast, and chicken fingers. Though bacon adds a bit of extra sodium, Ujoatu has a pro tip: "Ask for the cheese on the side. That way you can sprinkle it sparingly and still get the flavor without the alarming amount of sodium." She also advises removing the croutons to save on extra calories and carbs. Just be sure to choose your dressing wisely.6254a4d1642c605c54bf1cab17d50f1e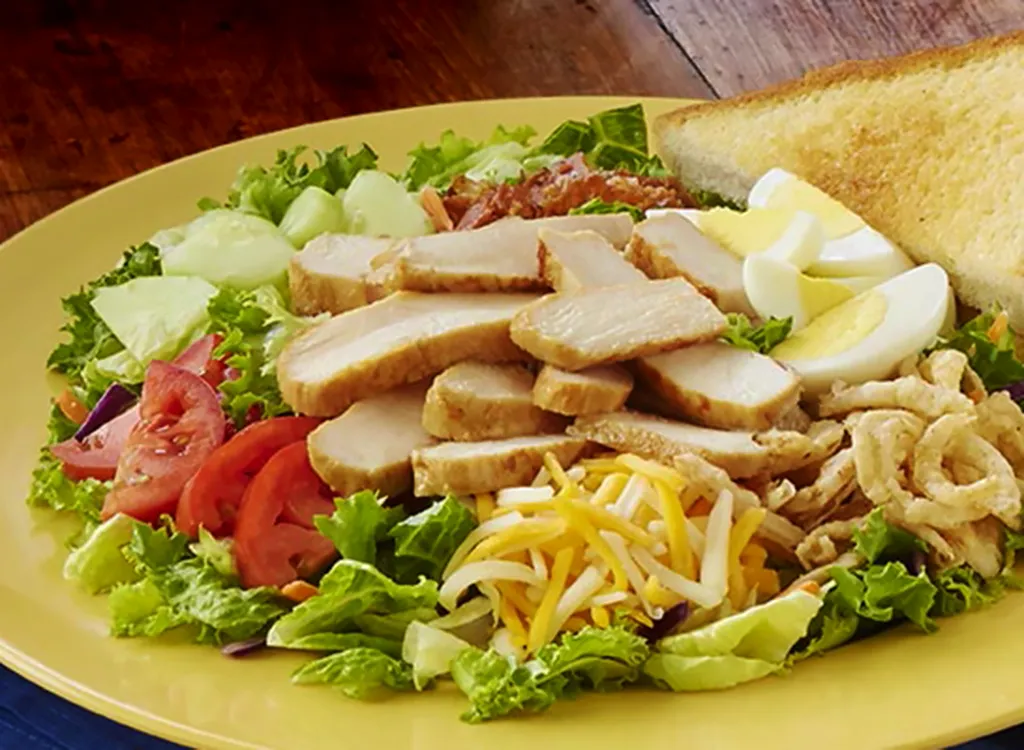 820 calories, 46 g fat (16 g saturated fat, 2 g trans fat), 1,970 mg sodium, 42 g carbs (6 g fiber, 6 g sugar), 58 g protein
While it's obvious that chicken fingers are a poor choice over grilled chicken, there are even more pitfalls to this salad than meets the eye. First, Ujoatu points out that a third of the high fat content (46 grams) is unhealthy saturated fat, but there's also much more sodium (thanks to bacon, breaded tenders, cheese, and Texas Toast) and protein than necessary. "This salad is just as bad as eating a burger," she says. "People tend to concentrate on protein and think they need a lot of it. But the average person only needs about 50 grams total throughout the day. And, like anything else, all the excess that you're not expending through exercise gets stored as fat." So even though it's technically salad and technically protein, it's still going to become fat. And this doesn't even include the dressing!
Dressing
160 calories, 16 g fat (2.5 g saturated), 290 mg sodium, 2 g carbs (0 g fiber, 1 g sugar), 1 g protein
Shockingly, buttermilk-based Ranch is the best option among all of Zaxby's salad dressings. And while you may be tempted to choose Caesar for the best salad option, think again: It has sky-high sodium — 440 milligrams to be exact. The sodium counts on the seemingly healthy and "lite" dressings like the vinaigrette and Lite Ranch are also high. Ujoatu recommends dressing your own salad lightly. "The whole packet is too much, and typically half is enough since most are sodium traps," she says. "Plus, when you have all this other tasty stuff on your salad, like cheese and bacon, you don't need to add much other flavor, just a hint of dressing."
Worst: Mediterranean Dressing
140 calories, 14 g fat (2 g saturated fat), 590 mg sodium, 4 g carbs (1 g fiber, 3 g sugar), 0 g protein
Sure, 140 calories might sound appealing, but that whopping 590 milligrams sodium is alarming. For this alone, it's worth avoiding completely. Ujoatu even recommends Thousand Island dressing (230 calories and 180 milligrams of sodium) over this option. "We place so much emphasis on fat, but sodium is scary," she says. "Heart disease and high blood pressure are serious concerns, and this much excess salt should be avoided at all costs."
Sides
10 calories, 0 g fat, 120 mg sodium, 2 g carbs (0 g fiber, 1 g sugar), 0 g protein
Though some may consider it boring, celery is by far the ultimate option when choosing a side at Zaxby's. Alongside caloric, fatty alternatives like Texas Toast and fries, these fresh-cut veggies are the obvious decision if you need something to accompany your wings or chicken sandwich. Just make sure you pass on the Ranch. Otherwise, as Ujoatu points out, you're taking a 10-calorie snack and turning it into 200 calories with a side of sauce. "Commercialization makes us want, and feel like we need, sauce on the side," she says. "But there are better things like hummus and peanut butter that you can enjoy with it instead." Or simply snack on it plain between bites of hot wings.
Worst: Crinkle Fries Basket with Zax Sauce
910 calories, 51 g fat (7 g saturated fat), 1,140 mg sodium, 106 g carbs (9 g fiber, 3 g sugar), 10 g protein
As we've seen multiple times on the Zaxby's menu, salt is a red flag. Packed with nearly enough calories and sodium for an entire day, these fries are a total trap. Don't even think about adding them to the already sodium-loaded sandwiches or wings.
Dessert
Best: Oatmeal Raisin Cookie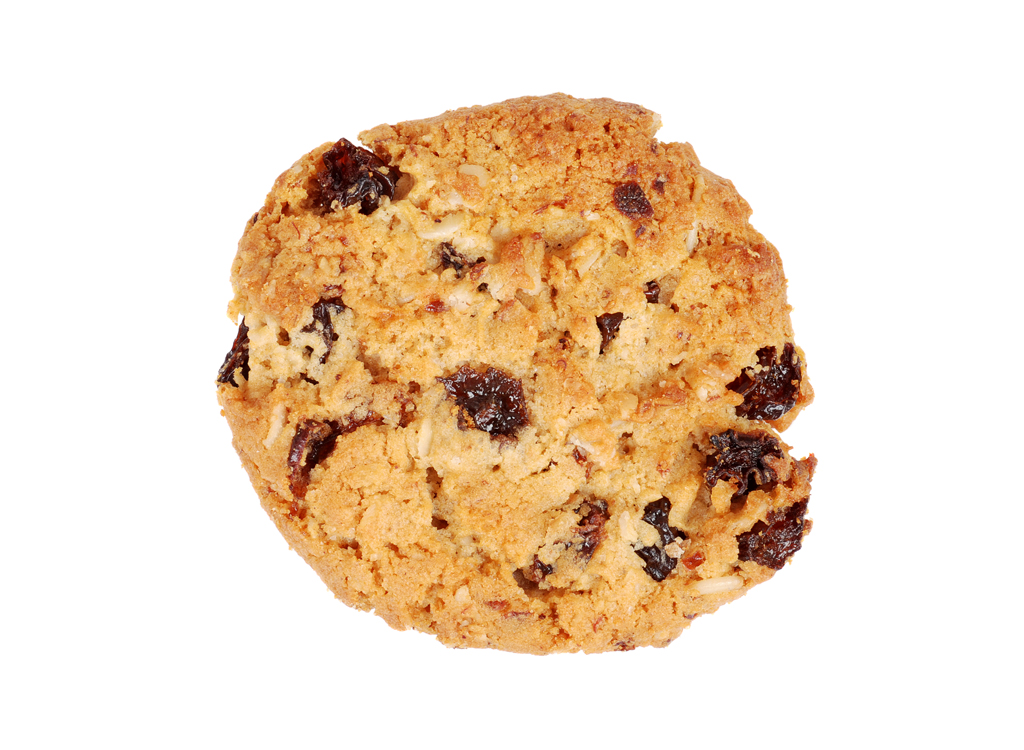 160 calories, 6 g fat (3.5 g saturated fat), 125 g sodium, 23 g carbs (1 g fiber, 12 g sugar), 2 g protein
Dessert is already an indulgence, so making a smart choice here is key. Ujoatu advises you to take a look at not only calories and sugar, but also to pay close attention to the amount of fat. In this case, the least of all evils at Zaxby's is the the oatmeal raisin, which has the least amount of fat, calories, and sugar, but also contains a bit of fiber. "Dessert at a place like Zaxby's is really only for someone who makes a good decision throughout the meal," she says. "Oatmeal cookies are smartest because it's the only dessert on the menu with a bit of fiber in it as well."
380 calories, 18 g fat (10 g saturated fat), 190 mg sodium, 52 g carbs (0 g fiber, 25 g sugar), 3 g protein
Digging into a fudgy brownie is tempting, but the massive amounts of saturated fat and sugar are not. This decadent dessert should be avoided at all costs, as it contains double the carbs and triple the fat of the oatmeal raisin cookie.