5 New Menu Items Starbucks Is Releasing This Spring
Some featuring the chain's newest ingredient: oat milk.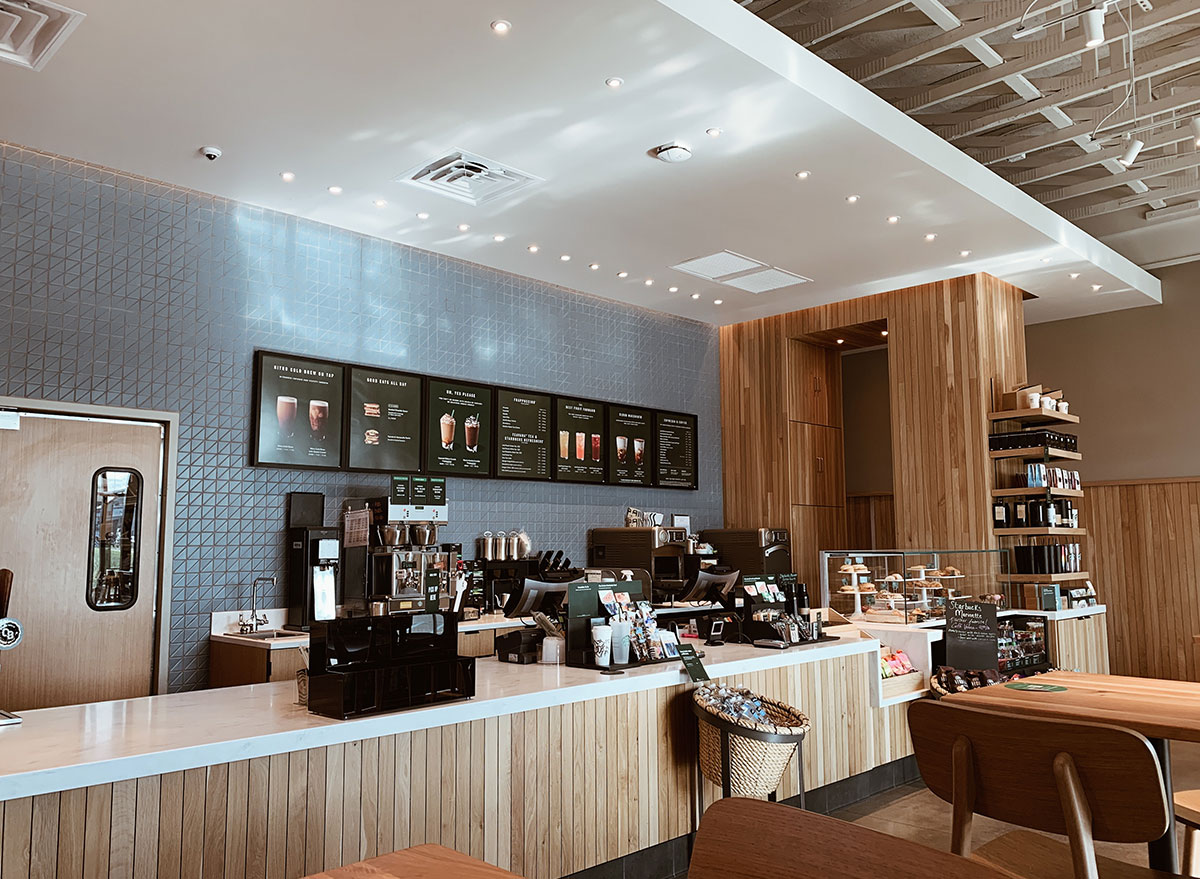 Spring brings a feeling of renewal, so it's the perfect time for Starbuck to refresh its menu with a handful of new menu items plus a much-requested new milk alternative.
As of March 2, Starbucks is offering Oatly oat milk in stores nationwide, a welcome addition to its lineup of plant-based and dairy options that can be swapped in nearly all of its drinks.
Of course, the addition of this creamy new ingredient provides the perfect opportunity to create new drinks, too. Starbucks is rolling out four new beverages this spring, two of which are made with Oatly. And the plant-based innovation doesn't stop there—here are all the new menu items to look forward to on your next visit to Starbucks.
And for more on the latest fast-food trends, check out 6 Most Anticipated Fast-Food Menu Items Launching This Year.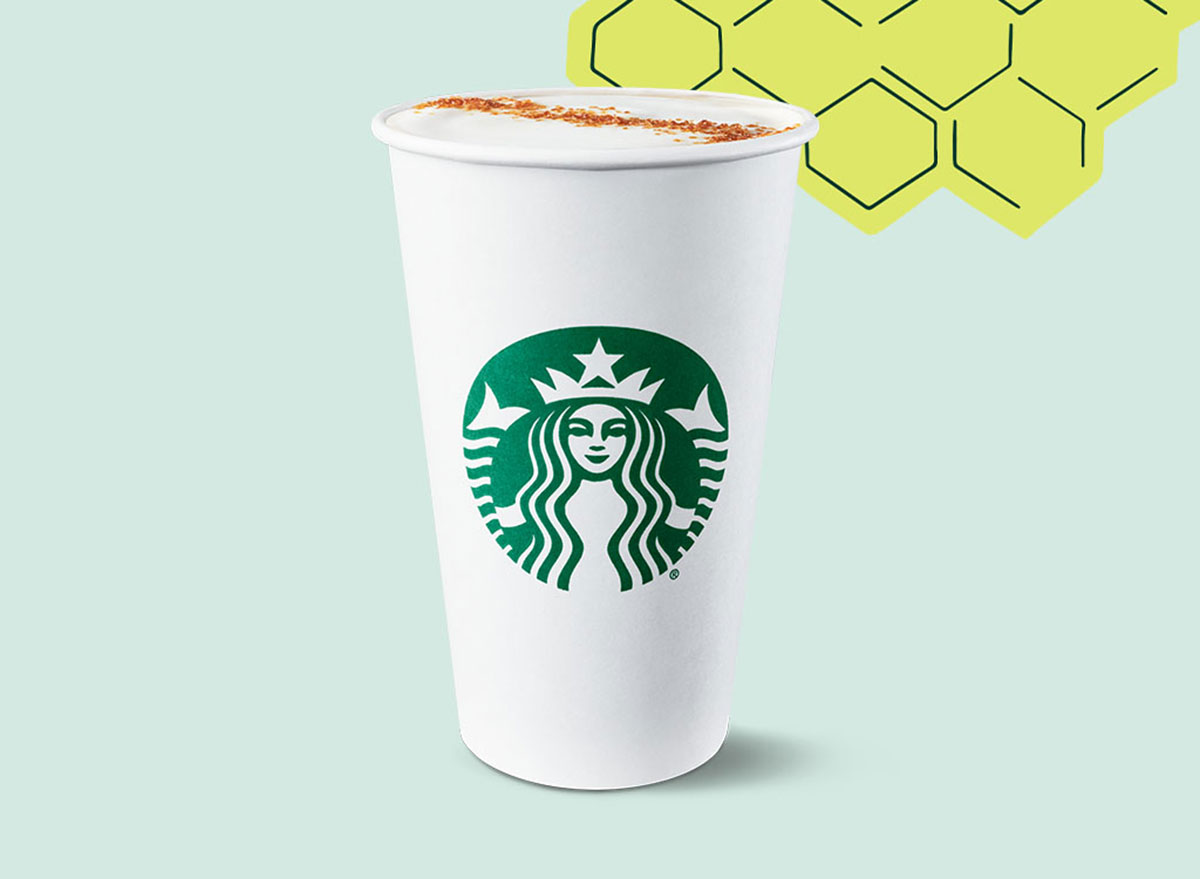 Grande
: 270 calories, 10 g fat (0.5 g saturated fat), 160 mg sodium, 42 g carbs (2 g fiber, 28 g sugar), 4 g protein
Showcasing Starbucks' new oat milk, the Honey Oatmilk Latte is made with the company's blonde espresso and features a three-honey blend as the sweetener, plus a toasted honey topping. The flavor profile is said to be a balance of sweet and salty, and the drink can be ordered hot or iced.
This new beverage has 170 milligrams of caffeine in a 16-ounce serving. According to the Mayo Clinic, up to 400 milligrams of caffeine is a safe daily limit for most adults.
No nutrition information available for this item.
The customizable Iced Shaken Espresso is an updated iteration of Starbucks' Doubleshot on Ice. Ordered as-is, this drink comes with 2% milk, although you can swap it for any of the other dairy or non-dairy options, including Oatly. It includes three shots of espresso and four pumps of syrup.
So what does the shaken element add to the espresso?
"The fun thing about shaking is it adds another dimension to the beverage," Alicia Binion, senior product developer on Starbucks' beverage development team, said in a press release. "It creates a rich texture on your palate—by just adding air. When you take that first sip, you get a wonderful froth that is infused with flavor."
Iced Shaken Espresso with Brown Sugar Oatmilk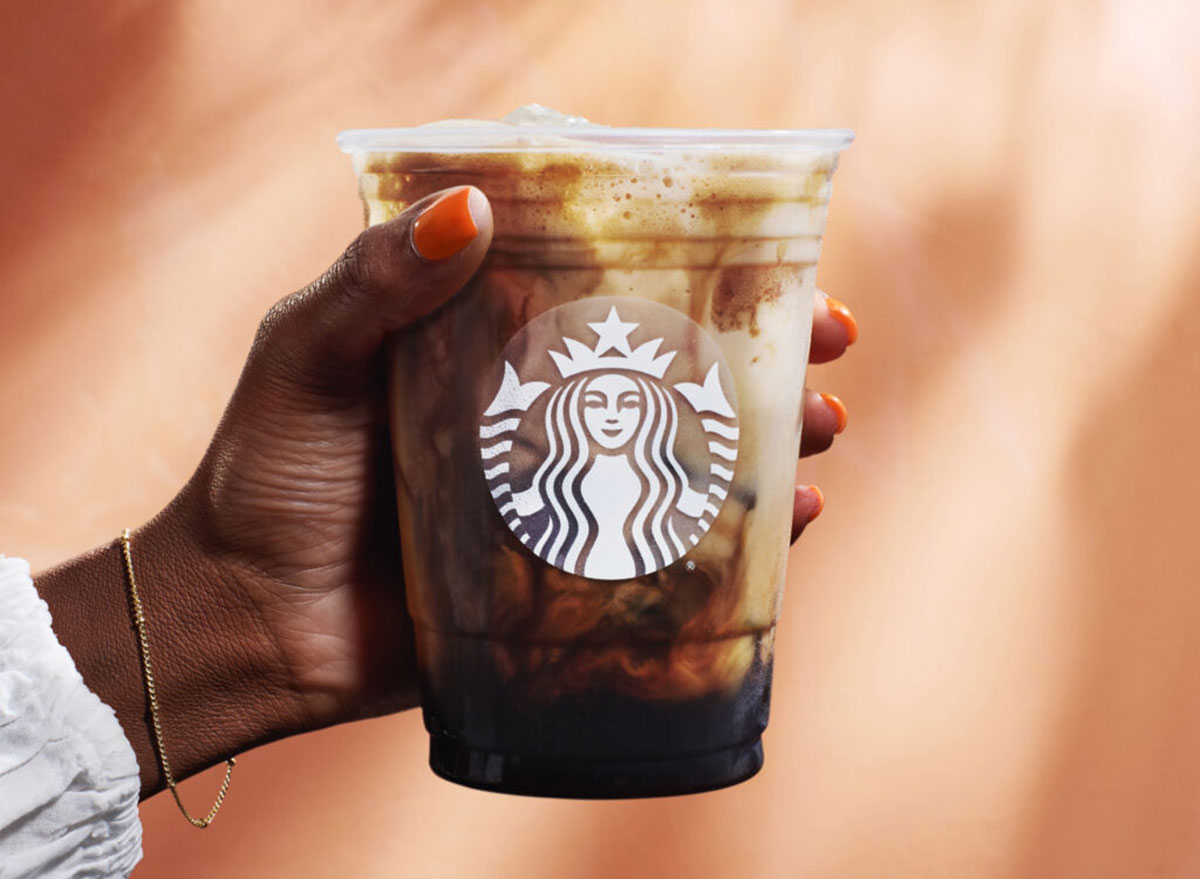 Grande
: 120 calories, 3 g fat (0 g saturated fat), 120 mg sodium, 20 g carbs (1 g fiber, 13 g sugar), 2 g protein
The second of the Iced Shaken Espresso options is a Brown Sugar Oatmilk version. This option combines three shots of blonde espresso, a splash of Oatly, and four pumps of brown sugar syrup all topped with cinnamon. A Grande clocks in at 255 milligrams of caffeine.
Iced Shaken Espresso with Chocolate Almondmilk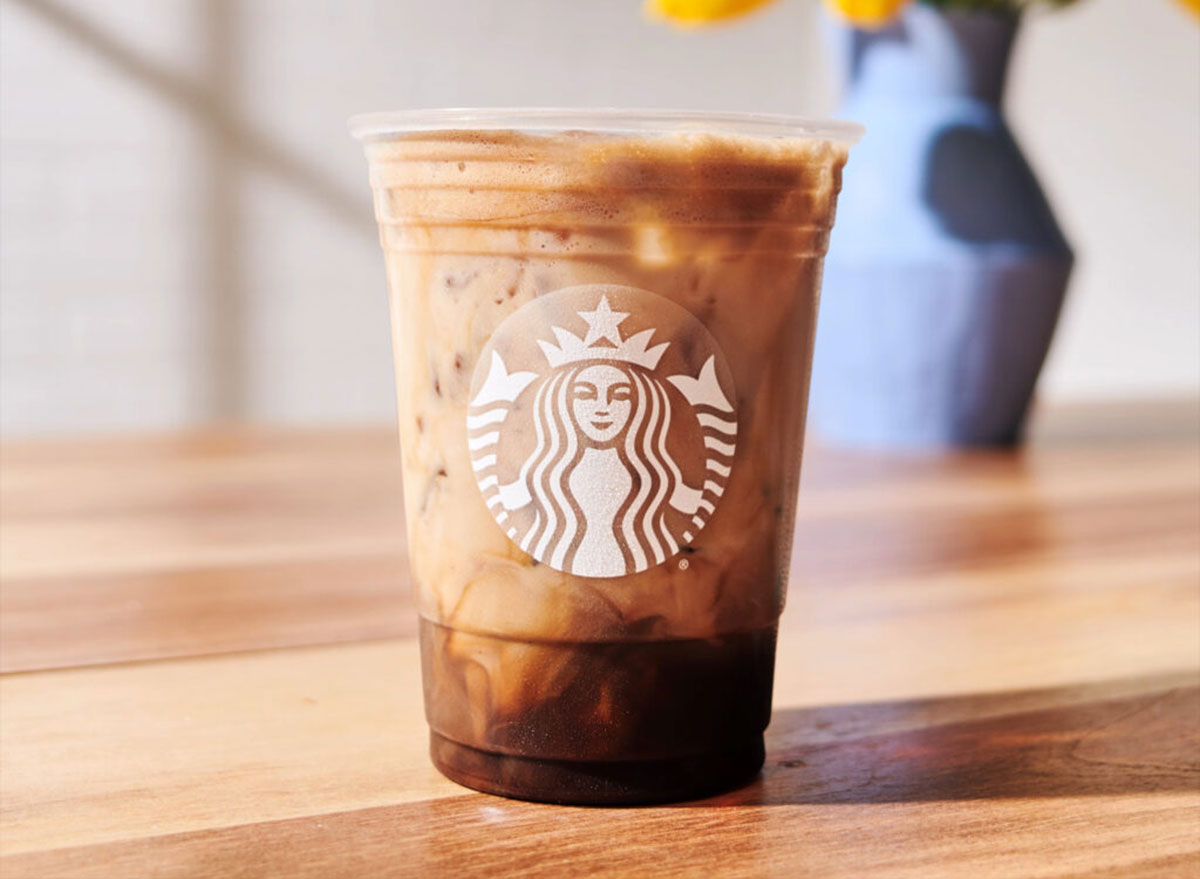 Grande
: 110 calories, 3 g fat (0 g saturated fat), 80 mg sodium, 20 g carbs (1 g fiber, 16 g sugar), 2 g protein
Looking to satisfy a chocolate craving? The Iced Shaken Espresso with Chocolate Almondmilk might just do the trick with a little kick of energy from its 255 milligrams of caffeine. This shaken espresso option includes three shots of espresso, chocolate malt powder, and almond milk. Notably, this beverage does not include pumps of flavored syrup.6254a4d1642c605c54bf1cab17d50f1e
Chickpea Bites & Avocado Protein Box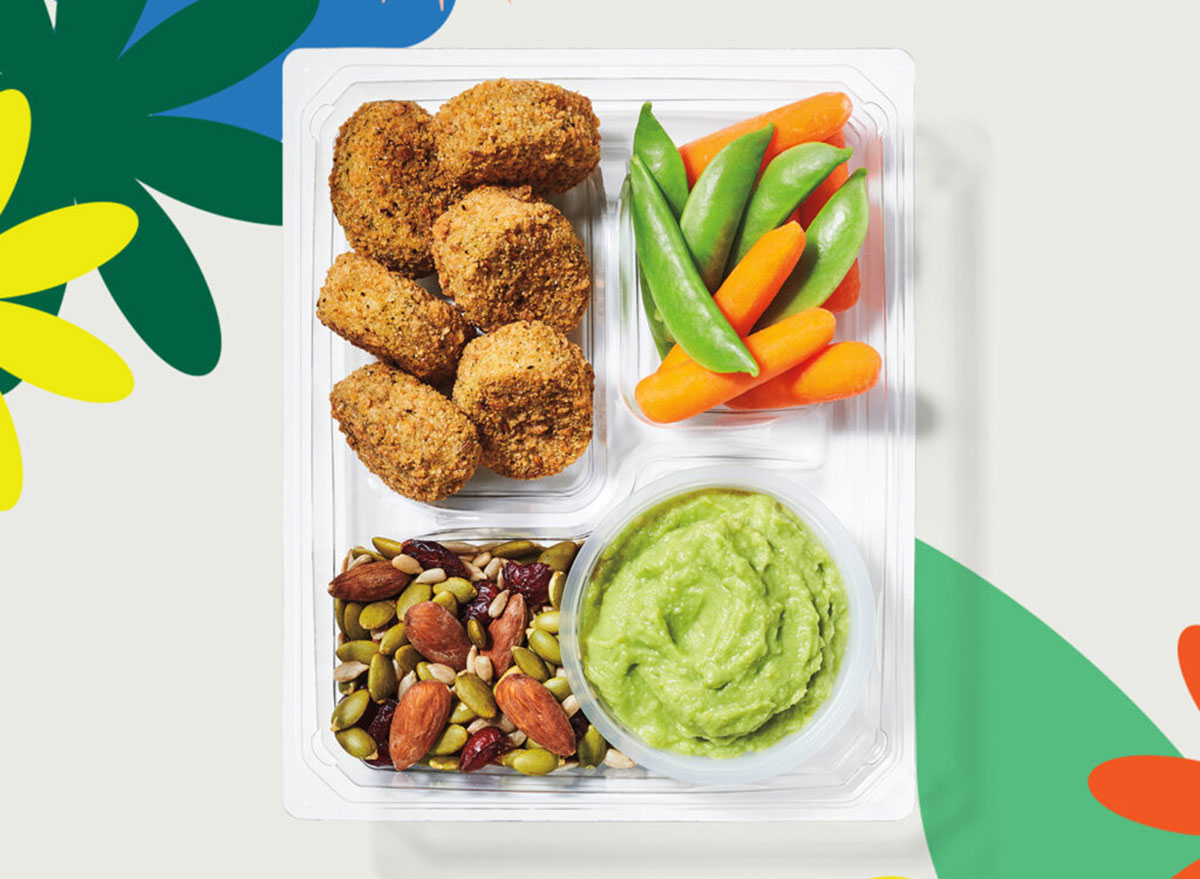 1 box
: 560 calories, 37 g fat (4.5 g saturated fat), 660 mg sodium, 43 g carbs (13 g fiber, 7 g sugar), 15 g protein
Need to refuel after a workout or just looking for a quick, easy lunch option? The new protein box is what you're looking for. Starbucks' Protein Boxes have been popular since their inception, and now the company has a plant-based alternative that is still packed with 15 grams of protein. This grab-and-go meal includes chickpea bites; snap peas; carrots; a mix of dried cranberries, nuts, and seeds; and an avocado spread perfect for dipping.
For more, check out 108 Most Popular Sodas Ranked By How Toxic They Are.
Paige Bennett
Paige is a Los Angeles-based editor and freelance writer. In addition to writing for Eat This, Not That!, she works as the content editor for Inhabitat.
Read more about Paige