5 Steakhouse Chains Customers Are Flocking To
These beloved brands are seeing their sales grow this year.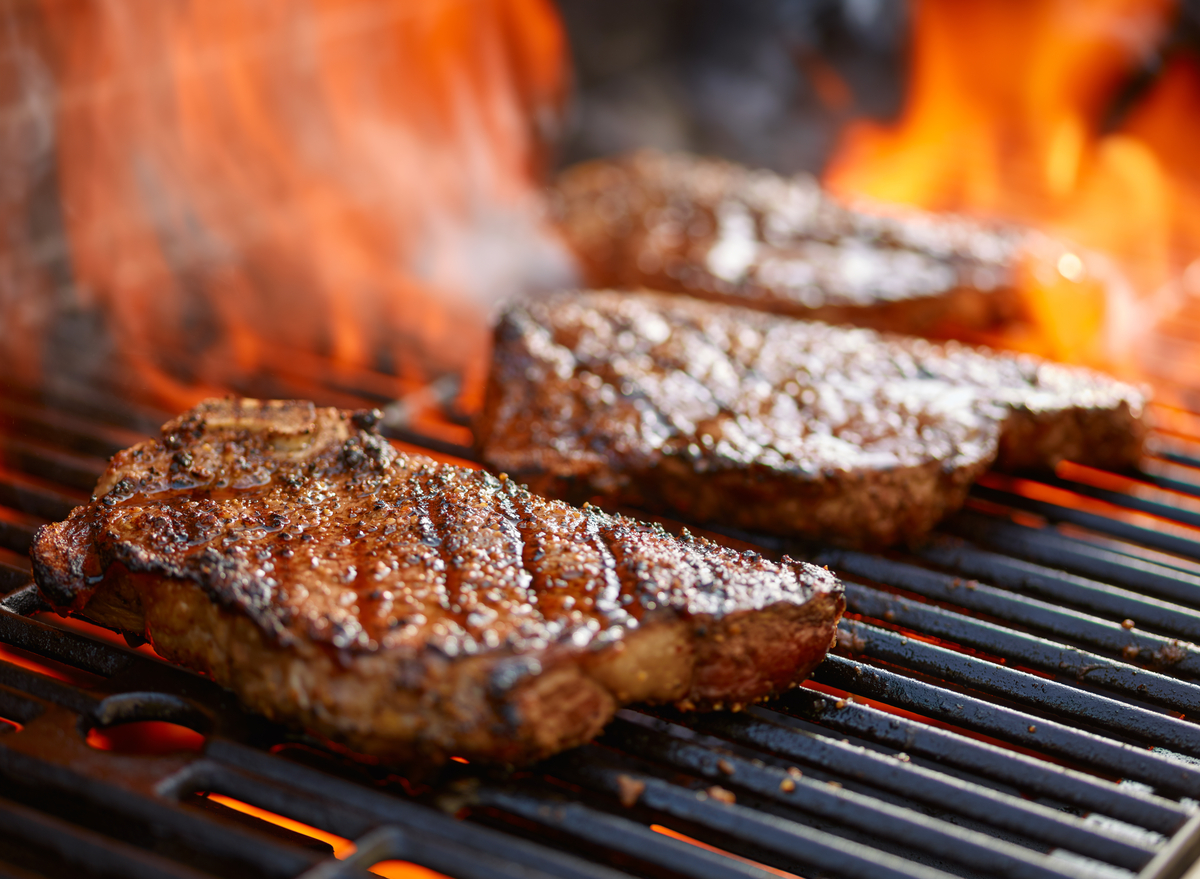 For some, visits to steakhouses are largely reserved for special occasions such as birthdays, anniversaries, and promotions. But now that diners have returned to restaurants across the country, some might wonder how their favorite steakhouse chains are doing.
Well, two words that are being tossed around by industry experts are "resurgent," and "growth," to describe how steakhouse chains are faring this year.
Restaurant Business reported late last year that "Higher prices and demand for celebrations have taken steak chains to new heights." And the latest earnings reports seem to bear this out with both casual dining and premium steakhouse chains showing significant gains in sales, foot traffic, and overall popularity.
Here's a look at five steakhouse chains that are enjoying strong sales, growing foot traffic, and expanding national footprints.
And don't miss 5 Fast-Food Burger Chains Customers Are Flocking To.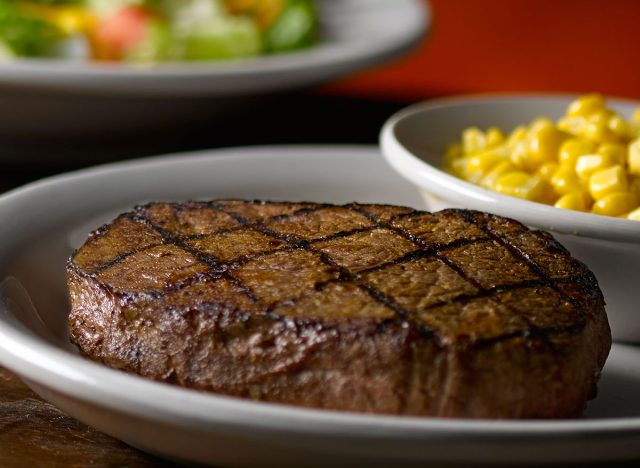 Casual dining spot Texas Roadhouse prides itself on not only delivering value but also on its hand-cut steaks, ribs, chicken, and made-from-scratch sides such as chili, vegetables, and the extremely popular fresh-baked bread served with cinnamon butter. The chain's top-selling item is its 6-ounce sirloin steak.
The chain recorded brisk sales during the first three months of the year with revenue rising 23.3% over the same period last year. Average weekly sales were up 14.8% from last year.
The company also plans to open 25 new Texas Roadhouse and Bubba's 33 restaurants this year. Bubba's 33 restaurants are owned by the same parent company and serve handcrafted pizzas, burgers, and beer.
"We continue to be very pleased with the sales levels that are being generated thanks to the hard work of our operators," said Jerry Morgan, chief executive officer of Texas Roadhouse. "While higher costs are impacting our bottom line, we remain focused on what we can control—providing legendary food and legendary service each shift."
Founded in 1993, Texas Roadhouse now has 580 locations across 49 states.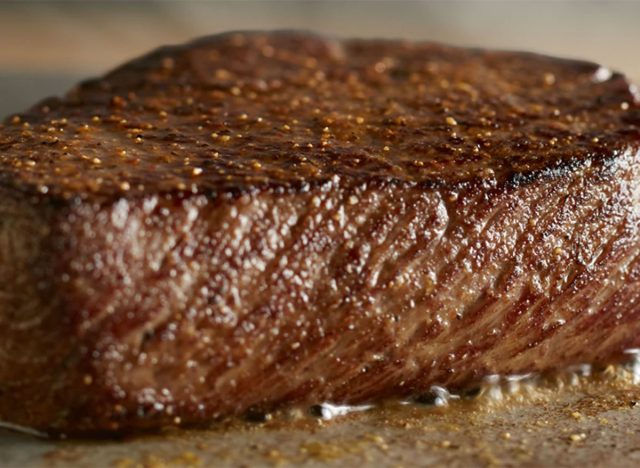 LongHorn Steakhouse is a direct casual-dining competitor to Texas Roadhouse since the chain also emphasizes quality steaks, ribs, seafood, and sides at a good value. For example, the chain's highly popular Renegade Sirloin is priced at around $15.99, like its competitors.
Owned by Darden Restaurant Group, the chain touts a variety of "fresh, never frozen," steaks from value-priced filets and sirloins to premium cuts, ribs, chicken, seafood, sides, and desserts.
The chain reported a sales increase of 31.6% at the start of the year, while its average weekly sales grew to $87,671, significantly up from $66,609 in 2021.
Getting its start in Atlanta, Ga. in 1981, LongHorn Steakhouse now boasts some 560 locations across the country.
An icon in the premium steakhouse category, Ruth's Chris is best known for serving prime cuts of beef cooked to perfection, sizzling with butter on a 500-degree plate. The chain also serves a variety of seafood, salads, premium sides, cocktails, and desserts.6254a4d1642c605c54bf1cab17d50f1e
Specialties at Ruth's Chris include a 16-ounce New York strip steak, creamed spinach, and potatoes au gratin. And, while dinner for two at the restaurant can quickly top $150, the price tag didn't seem to slow down the chain's momentum this year.
Restaurant sales amounted to $118.7 million during the first quarter of the year, compared to $81.6 million during the same time period last year. A new location opened in Aventura, Fla. during that time and the company plans to open four more restaurants by the end of the year.
Headquartered in Winter Park, Fla., Ruth's Chris Hospitality Group is the largest fine dining steakhouse company in the U.S. as measured by the total number of company-owned and franchisee-owned restaurants, with 151 locations worldwide.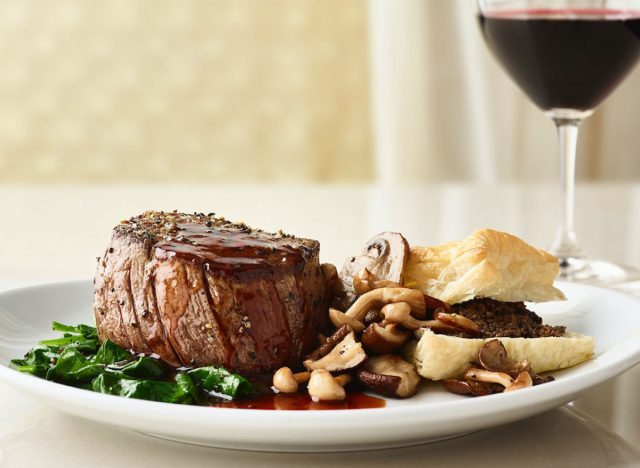 Fleming's Prime Steakhouse & Wine Bar is a high-end steakhouse chain known best for its prime-cut steaks, lobster, and extensive wine selection. This year, it has been enjoying strong sales due to a combination of increased emphasis on promotions as well as diners returning to celebrate special occasions.
The chain's popular Taste for Twosday promotion gives diners a three-course menu for two including two shareable entrees paired with a choice of two salads, two sides, and two desserts for $145.
Owned by Bloomin' Brands, Inc., Fleming's saw its same-store sales (meaning sales at locations open for 18 months or more) rise 45.7 % this year as compared to the same period last year.
"The first quarter was a strong start to the year and sets us up well to achieve our 2022 goals," said CEO David Deno. "Our Q1 results reflect both our customer's positive response to investments we have made in quality and service as well as the ongoing execution against our growth strategy. This strategy has produced sustainable gains in off-premises, higher digital engagement, and improved operational efficiencies in the restaurant."
Founded in 1998 by restaurateurs Paul Fleming and Bill Allen, the first Fleming's opened in Newport Beach, Calif. with a vision to create a unique steakhouse experience emphasizing hospitality, atmosphere, and the very finest aged USDA Prime beef. The chain now has nearly 70 locations nationwide.
Following decades of decline, Australian-themed casual dining chain Outback Steakhouse looks to be on a comeback trail. The chain has reported a growth in sales for several consecutive quarters.
Known best for its Bloomin' Onion, steaks, burgers, sides, and cocktails, the chain, owned by parent company Bloomin' Brands, saw its same-store sales rise 9.2 % in its most recent quarter as compared to the same period last year.
It has also unveiled a new smaller restaurant prototype, which will drive expansion plans and renew focus on delivery and takeout orders. Outback plans to add between 75 and 100 of these smaller restaurants in the coming years.
Founded in Tampa, Fla. in 1988, Outback now has about 694 U.S. locations.
Alan Krawitz
Alan Krawitz is a veteran New York-based journalist with 25 years of experience working for a variety of media outlets including Newsday, Zenger News, and Long Island Press.
Read more about Alan