One Surprising Effect of Drinking Alcohol, New Study Says
A pioneering cardiology team says taking the edge off may slash your heart attack risk, if do it right.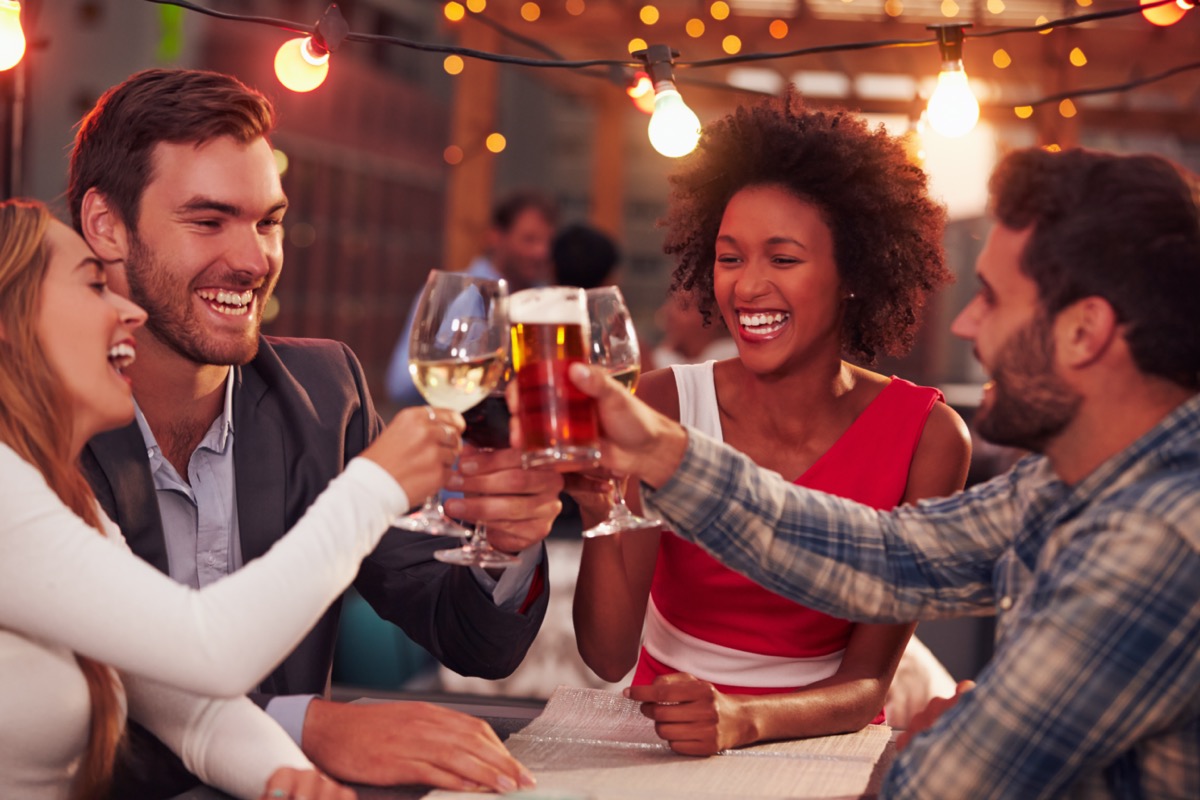 If you're exhaling in relief that the weekend is here, you're definitely not alone. And if you were thinking of unwinding with a drink, new cardiological research that involved brain imaging has found that the calming effect of drinking alcohol may quiet your brain's stress signals in a way that—get this—can protect you from a heart attack. Note there is a major flip-side: If you overdo it, you might put yourself in even worse heart attack danger.
At the American College of Cardiology's 70th Annual Scientific Session on May 17, a nuclear cardiology researcher will present the results of a revolutionary study. Science Daily reports that Kenechukwu Mezue, MD, a fellow in nuclear cardiology at Massachusetts General Hospital (often recognized as a top research hospital in the United States) has posited that as a society, we acknowledge a demonstrated connection between stress and heart disease. However, he says, not much research has been conducted to examine how modifying stress may help protect the heart.
Mezue and his team set out to investigate whether, as he says, "moderate amounts of alcohol may have effects on the brain that can help you relax, reduce stress levels and, perhaps through these mechanisms, lower the incidence of cardiovascular disease." They looked at data from over 53,000 participants with a mean age of 57 years and of whom 60% were women. They themselves had reported whether their weekly alcohol intake was low (less than one glass), moderate (one to 14 glasses), or high (more than 14 drinks).6254a4d1642c605c54bf1cab17d50f1e
Then, controlling for factors such as demographics and socioeconomic conditions, the research team looked at the sample data to see how many of the 53,000 participants had experienced a major adverse heart-related event, such as heart attack, stroke, or others that led to hospitalization to find an occurrence for 8,000, or 15%, of the participants.
Of this population, a sample of 752 underwent PET scans of the amygdala, the part of the brain where stress is signaled. The researchers examined amygdalar activity against the frontal lob, where activity like emotions and problem-solving function occur. Then the researchers divided the participants based on how much stress signaling occurred in the brain.
According to Mezue, the doctors found that "stress-related activity in the brain was higher in non-drinkers when compared with people who drank moderately," and that "the link between moderate alcohol intake and lowered cardiovascular event risk is significantly mediated though reductions in amygdalar activity." Mezue and his team concluded: "The current study suggests that moderate alcohol intake beneficially impacts the brain-heart connection."
There are a few important caveats to this study: The researchers found that drinkers of too much alcohol—more than 14 drinks per week in this study—"had the highest level of stress-related brain activity," Mezue said. This may ultimately correlate to greater heart attack risk. And while this study does provide some evidence that moderate alcohol consumption can calm the brain to protect the heart, Mezue was quick to add that other activities, like yoga and exercise, can have a similarly healthy de-stressing effect.
Now is as important as ever to make wise decisions for your health. Check out Surprising Side Effects Wine Has on Your Immune System, Says Science.
Krissy Gasbarre
Krissy is a senior news editor at Eat This, Not That!, managing morning and weekend news related to nutrition, wellness, restaurants and groceries (with a focus on beverages), and more.
Read more about Krissy