4 Things Coming to the Grocery Store This Summer
The whole shopping experience could change soon.
Strolling through the grocery aisles isn't always a painless process. But what starts as a quick trip to the market could easily turn into an hours-long ordeal, thanks to inflation, product shortages, and lengthy checkout lines. Grocery store brands have taken notice and are developing technological advancements to lighten the burden. As stores gear up to launch new tech innovations, the competition is heating up—just in time for summer.
Between video screens in the aisles and paying for groceries with just the palm of your hand, there are plenty of new things in store to elevate the customer experience. Check out some of these grocery store concepts that could make their way to a market near you soon.
Video screens could grace the aisles of your local grocery store sooner than you think. The Loop tablet campaign is employing video screens that are stationed throughout the adult beverage sections of grocery stores. These tablets have a storytelling component that uses short videos to educate the shopper on a specific product, including both the people and the history behind the brand as a way to better engage with the customers.
H-E-B is the latest grocery store chain to roll out the tablets and join other supermarket companies like Schnucks, Lowes Foods, and Harris Teeter. Supermarket News reports that the stores that have participated in the campaign even saw a boost in sales. Marketing consultant company The Looma Project introduced these in-store smart tablets to the beer and wine sections of grocery stores and has since expanded its reach to 120 different stores.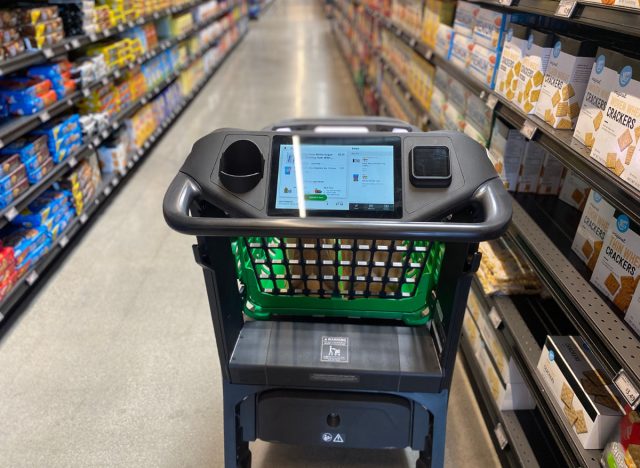 While Amazon has dominated the e-commerce world, the company is also ramping up its tech advancements across its Amazon Fresh and Amazon Go brick-and-mortar store chains. Some of the biggest developments include its Just Walk Out technology which seeks to completely eliminate the checkout line with its "Amazon One" feature, which reads the shopper's palm of their hand. According to the Amazon One website, you simply "hover to enter, identify, and pay."
But in case that's not for you, Amazon also launched the "Dash Carts" that use sensors to track the items shoppers put inside the cart and then add the charges once you exit the store. All of this is in an effort to build shopper convenience in order to create an easier and much quicker shopping trip.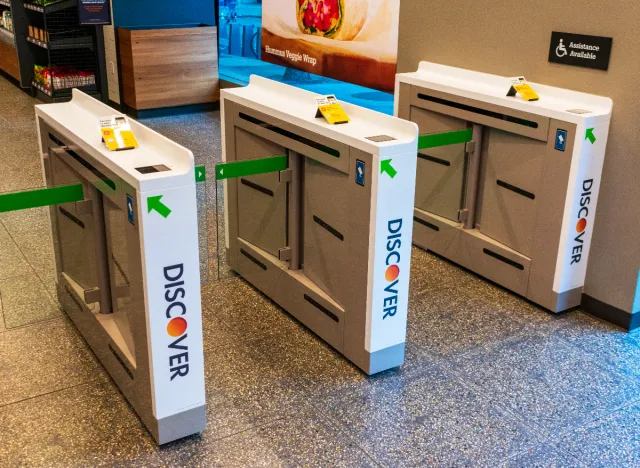 Much like the cashier-less innovations from Amazon stores, other markets have begun to implement contactless payments to speed up the shopping process. Earlier this year, ALDI opened its first checkout-free supermarket in Greenwich, London, where customers can download the Aldi Shop & Go app, and like Amazon, charges will be applied once the customer leaves the store. ALDI took it a step further by employing facial recognition, and BBC reports that "The supermarket's new site will also allow customers to buy alcohol, using facial-age estimation technology, to check whether they appear to be over the age of 25."6254a4d1642c605c54bf1cab17d50f1e
For big-box stores like Sam's Club, the retailer offers a "Scan & Go" feature that allows customers to have a frictionless shopping experience. Through the Sam's Club app, shoppers can scan each item's bar code, and present the digital receipt upon leaving the store. Not only does it cut out the checkout lines, but the feature also tracks spending with a built-in budgeting tool while you shop.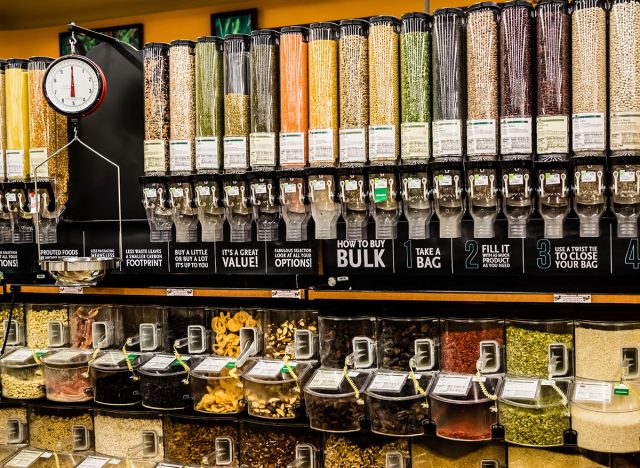 It could be a zero-waste summer as sustainability efforts are increasing in a number of grocery stores. Both the concept of zero waste options and physical zero-waste stores have seen a rise in recent times, with more stores appearing throughout the U.S. Zero waste shopping seeks to eliminate plastic from the packaging of products by requiring customers to bring in their own reusable containers such as Tupperware, jars, and bags. Dried food and cleaning products are just some of the items that are available at these zero-waste grocery stores.
In case you want to find a store near you, Litterless provides a list of stores in every state in the U.S., as well as composting locations and other eco-friendly resources. For shoppers who aren't near a zero-waste store, other environmentally-friendly stores like Whole Foods have banned plastic grocery bags, installed electric vehicle charging stations, and over 70 Whole Foods stores have solar roofs.
For right now, though, one item isn't at stores at all. Here's why Costco, Walmart, and Other Stores Still Have a Purchase Limit on This Disappearing Item.
Alex Perry
Alex Perry is a writer with Eat This, Not That! She graduated with a master's degree in broadcast journalism from Northwestern University, where she experienced all the amazing things Chicago has to offer.
Read more about Alex