9 Best New Trader Joe's Items on Shelves, Ranked by an RD
Spoiler alert: A dessert wins the top, healthiest spot!
Since Jan. 1, 2021, Trader Joe's has announced the arrival of over 20 new products to its many grocery store locations. But with such a busy revolving door of fresh items, how can you decide which ones are worth the hype and which aren't?
To help, we enlisted the help of Sue Heikkinen, MS, RD, a registered dietitian for MyNetDiary, to rank nine of the most recent items to hit Trader Joe's shelves (omitting home and personal care products) from unhealthiest to healthiest.
Read on below to find out which new foods you should try and which to skip. And for more, check out these Grocery Shortages to Expect in 2021, According to Experts.
Aussie-Style Chocolate Crème Sandwich Cookies
As appetizing as these look, you may not want to waste precious cart space with these new treats. Two cookies amount to 180 calories, 9 grams of fat, 23 grams of carbs, and less than 1 gram of fiber, not to mention a lot of sugar.
"These cookies contain 13 grams (about three teaspoons) added sugar," Heikkinen says. "They have 5 grams of saturated fat, and I suspect a fair amount comes from palm oil, which shows up five times in the ingredient list (as palm oil and palm kernel oil)."
Instead, Heikkinen suggests trying a piece of a dark chocolate bar from Trader Joe's. If you're still keen on these cookies, have just one at a time. The box comes with 11, and while it means you're having about 7 grams of sugar, you've cut the calories, fat, and carbs to a manageable amount.
Cheese Filled Fiocchetti with Pink Sauce
Trader Joe's is notorious for frozen meals—in fact, one just won the top spot in the chain's 12th Annual Customer Choice Awards. (Can you guess what it is?)
This Fiocchetti contains three servings per container. It has 290 calories, 26 grams of carbs, 8 grams of protein, and a whopping 17 grams of fat. All you have to do is look at the ingredients to see why.
"The pink color of the sauce is due to the addition of cream, a significant contributor to the 10 grams of cholesterol-raising saturated fat it contains," Heikkinen says, also noting another disparity. "This pasta dish provides half of the Daily Value for saturated fat, yet only has a measly gram of fiber."
She does give credit where it's due for this new Trader Joe's product: "Animal rennet" is indeed mentioned in the ingredients list, which is something people who follow a vegetarian diet look for in order to avoid.
For more on what you should and shouldn't pick up in the frozen foods aisle, here are 10 Frozen Pizzas You Should Always Leave on Grocery Store Shelves.
Calabrian Chili Tomato Dumpling Soup
"While not unusual for a soup, the sodium (740 mg) in a one-cup serving provides about a third of the Daily Value," Heikkinen says. "At 250 calories and 16 grams of fat, it's a bit rich for a soup."
She notes that the low fiber amount likely means this soup actually doesn't contain too many veggies. This, along with a minimal protein count, means this isn't really the healthy meal TJ's makes it out to be.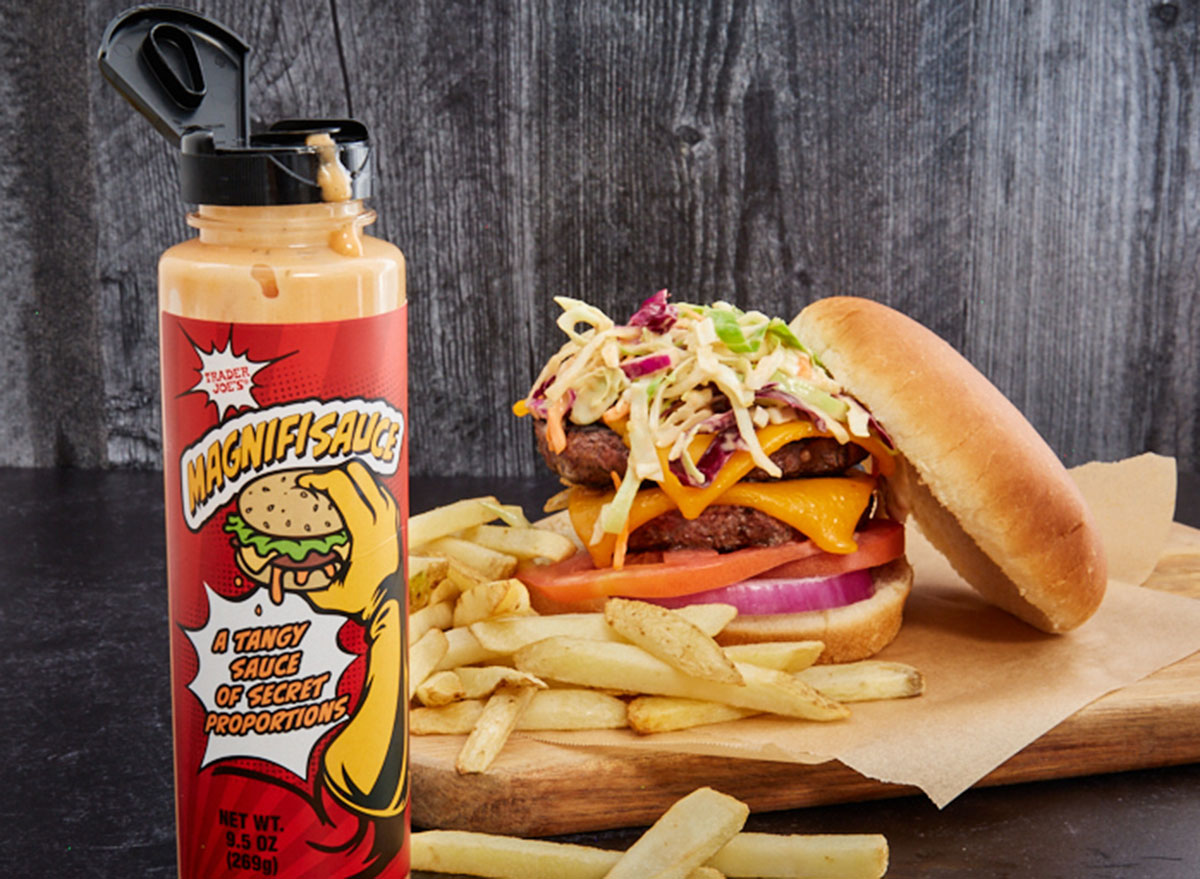 This condiment is made of relish, oil, sugar, vinegar, tomato paste, egg whites, and spices. Trader Joe's says you can put it on just about everything (which we already do with some of the brand's other spice blends). However, Heikkinen says the sodium content of Magnifisauce is one to watch.
"This sauce calls for french fries or a hot dog, leading to an even higher sodium total," she says. "Perhaps you could pair with Trader Joe's Julienned Root Vegetables crisped up in an air fryer."
Non-Dairy Chocolate Oat Beverage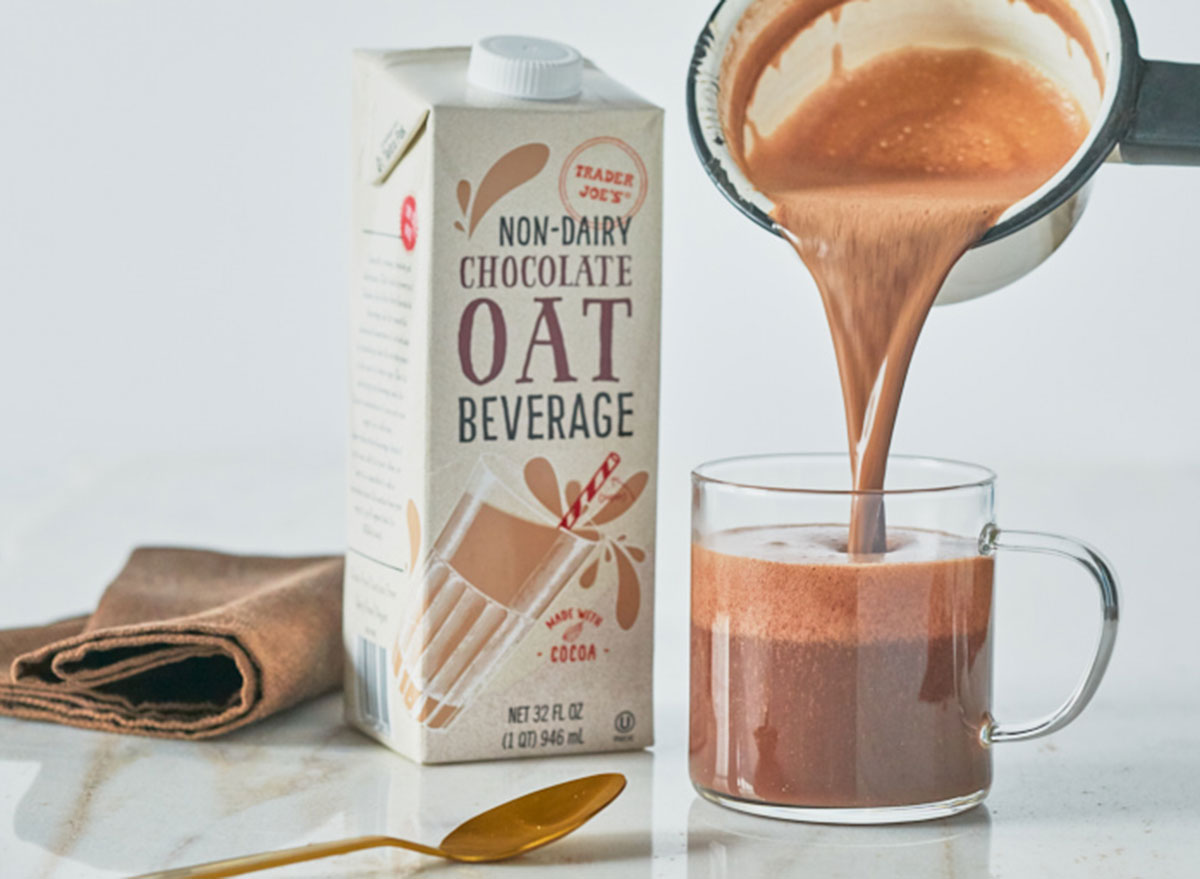 Although the ingredient list for this indulgent nut milk is small, one stands out to Heikkinen: cane sugar. The oat milk has almost half of the American Heart Association's daily recommended value of sugar for women in just one cup.
"The 13 g of added sugar (about three teaspoons) isn't surprising, given it is chocolate flavored," she says. "Still, this oat beverage doesn't come with much in the way of nutrition, given that it is minimal in calcium and protein. It does come with three grams of heart-healthy fiber from the oats, but not enough to ignore the added sugar."
Instead of getting this new product at Trader Joe's, here are the 7 Best Oat Milk Brands to Buy, According to Nutritionists.
British Mustard & Ale Cheddar Cheese
Trader Joe's has released two new kinds of cheese recently, and Heikkinen says this one is great to add over roasted veggies like broccoli or cauliflower. However, watch out for the super small serving size, among other things.
"This cheese provides a decent source of protein and calcium, yet has slightly more sodium (220 mg)," she says. "It would be so easy to eat more than the serving size of 'about 1-inch cube.'"
Related: 5 Healthy Breakfasts To Stop Cravings All Day
Dorothy's Holy Smoke Soft-Ripened Cheese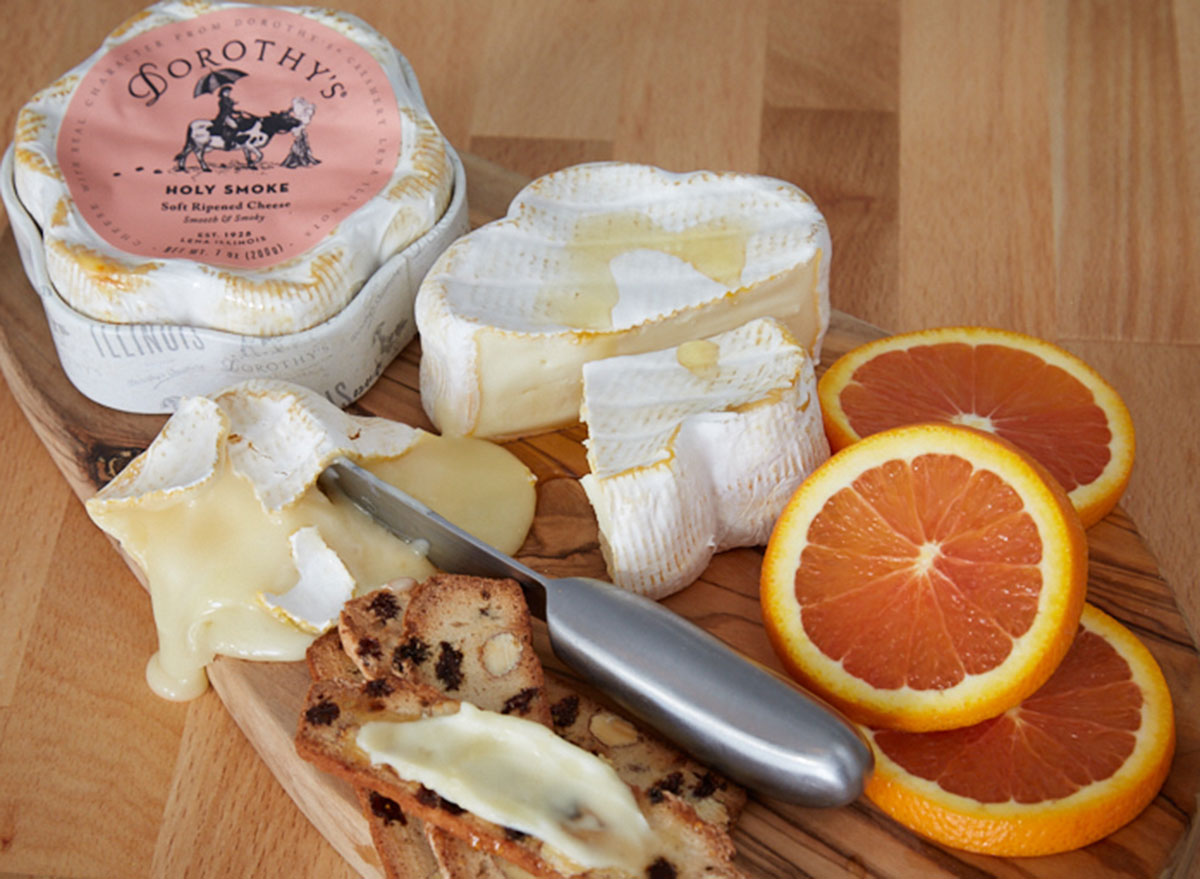 "This item has the distinction of the shortest and simplest ingredient list," Heikkinen says of the other new cheese on TJ's shelves. "It's a decent calcium source (151 milligrams per serving) and protein (5 grams per serving)."
It's great for snacking—Heikkinen suggests pairing it with a tart apple like a Granny Smith. Its fun shape also makes it great for your next charcuterie board. To complete the aesthetically pleasing app, be sure to pick up these other fan-favorite Trader Joe's cheeses.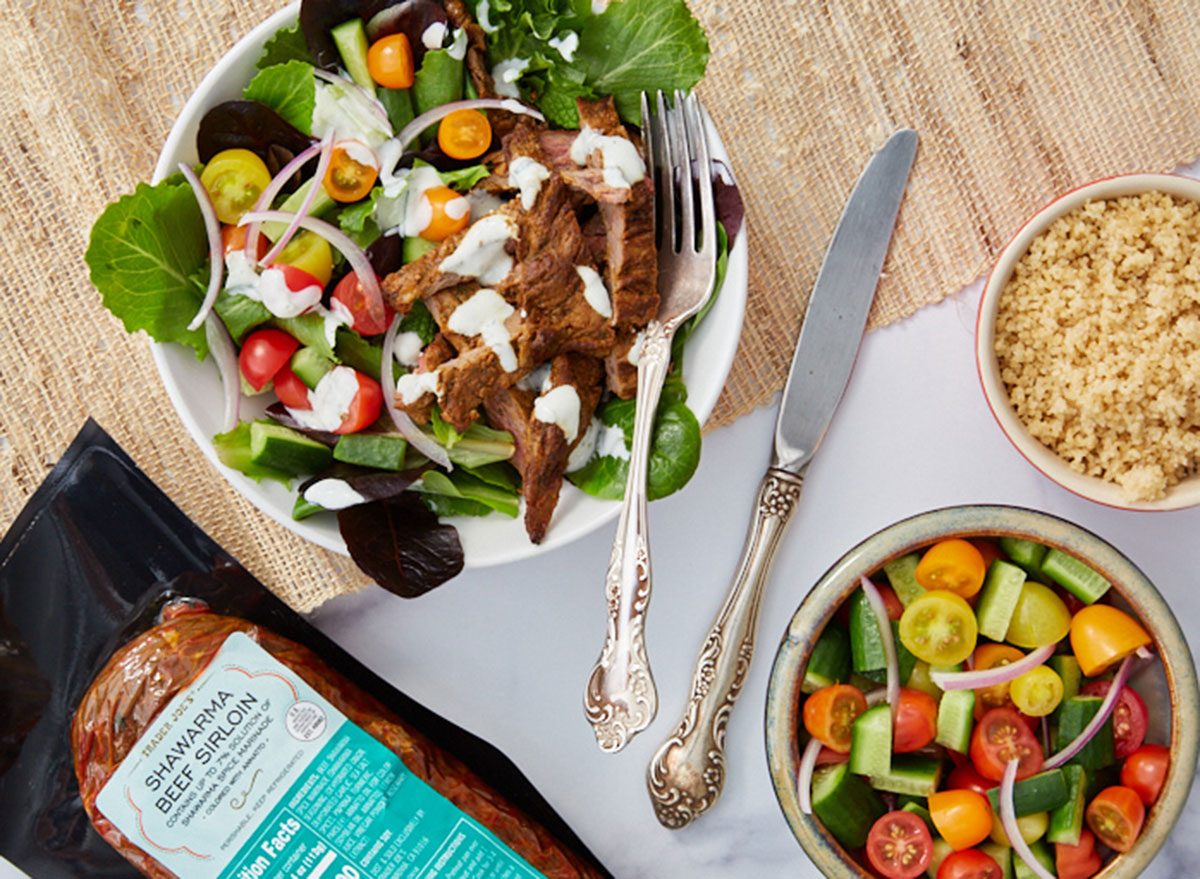 Heikkinen and Trader Joe's both say this makes a great hearty and healthy meal, especially if you add in veggies and grains.
One serving (about 4 ounces) is 200 calories, 11 grams of fat, 520 milligrams of sodium, but only 2 grams of carbs, no sugar, and 22 grams of protein. "Pair it with whole-grain couscous and added veggies," Heikkinen says. "It would also work great for a low-carb diet with only two grams of carbs per serving."
Dark Chocolate Drizzled Plantain Chips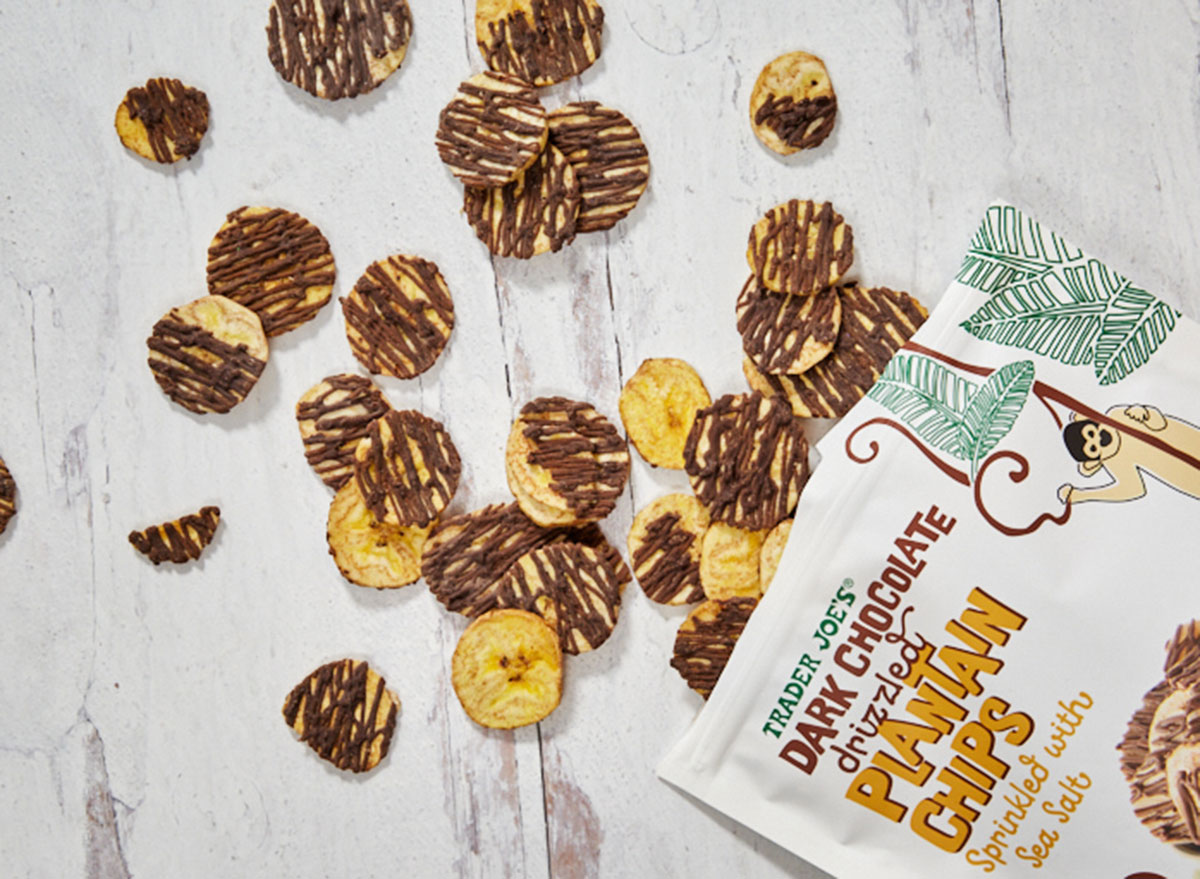 Wow, who would expect something with chocolate could be the healthiest new product at Trader Joe's? With not much to these sweet bites (just plantain chips, dark chocolate, and sea salt), Heikkinen ranks these as the healthiest new product.6254a4d1642c605c54bf1cab17d50f1e
About half a cup has 150 calories, 8 grams of fat, 150 milligrams of sodium, 19 grams of carbs, 1 gram of fiber, and less than a gram of protein. But it's the sugar content that makes these such a good option when you're craving chocolate.
"This treat has only 4 grams of added sugar (about a teaspoon) in a serving," she explains. "Unlike some other plantain chips, these are made with heart-healthy sunflower oil instead of palm oil."
These Dark Chocolate Drizzled Plantain Chips are a healthy choice, but they aren't the most popular sweet at Trader Joes's… yet!
Amanda McDonald
Amanda has a master's degree in journalism from Northwestern University and a bachelor's degree in digital journalism from Loyola University Chicago.
Read more about Amanda