This Is the #1 Unhealthiest Fast-Food Chain In America, Dietitian Says
The seemingly average chain is nutritionally much worse than its peers.
Fast food is named for its best trait: its speed. There are no promises of health, nutrition, or a low-calorie count involved. From the get-go, customers are aware of what they're ingesting and rarely have expectations of a well-balanced meal.
That's not to say, however, that there isn't a range of nutritional value within the fast-food market. All fast-food menus are not built equally—some are undoubtedly healthier than others. After discussing the options with dietitian Amy Goodson, MS, RD, CSSD, LD, we gleaned some insight on which chain is, overall, the least healthy pick.
For more fast-food news, check out 8 Worst Fast-Food Burgers to Stay Away From Right Now.
She explained that when she evaluates fast-food menus for nutrition, she considers five main factors: calories, fat, saturated fat, and sodium content of menu items, and, most importantly, how possible it is to make a healthy choice (or at least a "better-for-you" choice) when eating there.
"I truly believe you can make a smart nutritional choice at most places," Goodson said, "While the options might be slim, there is often at least an item or two available."
And the unhealthiest fast-food chain is . . .
Based on these standards, which chain takes the crown as the unhealthiest fast-food chain in America? According to Goodson, it's Burger King.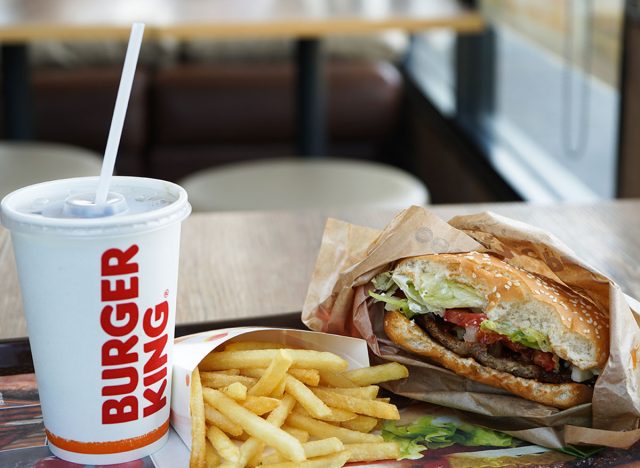 After looking at the burger slinger's current menu, Goodson pointed out that Burger King has higher overall calorie counts than even their closest competitor McDonald's.6254a4d1642c605c54bf1cab17d50f1e
"Most of Burger King's items seem to be highly caloric, some exceeding 1,000 calories," she says. "And, not to mention, an average burger or chicken sandwich packs 2000+ milligrams of sodium."
She explained that even though Burger King's Whopper is fairly comparable to McDonald's Big Mac—the sodium count is nearly equivalent with 940 milligrams in the Big Mac and 980 milligrams in the Whopper— the Whopper ultimately clocks in at 120 calories more.
When it comes to the Ch'King, the chain's new signature chicken sandwich, it is by far the worst pick of its kind. Of course, chicken sandwiches are generally high in fat and sodium, but even among the unhealthiest options out there right now, the Spicy Ch'King stands out as an over-the-top option in every aspect. For comparison's sake, Popeyes' spicy chicken sandwich has 700 calories, 42 grams of fat, and 1,473 milligrams of sodium, while Wendy's Classic Big Bacon Cheddar clocks in at 810 calories, 45 grams of fat, and 2,250 milligrams of sodium, even with all the fried stuff it holds between the bun.
But don't just blame the sandwiches, Goodson adds. "Many of Burger King's side items fall in the 'less than optimal' category," she said.
"Both [Burger King and McDonald's] offer lots of high-calorie, fried foods, and unfortunately not a grilled item on the menu! I don't see salads, grilled chicken sandwiches, nothing," says Goodson.
If your only option at a place is something fried making a healthy choice is exponentially more difficult. And while Burger King does offer largely just fried options, McDonald's narrowly avoids taking the cake as the unhealthiest chain due to its apple slices and some better-for-you breakfast items, according to Goodson.
What to do when Burger King is the only option?
If you need something quick and Burger King is the only option, Goodson offers the following tips:
If you order a burger, stick to just one patty and nix the higher calorie additions, like bacon and crispy onions.
Choose mustard or ketchup over a creamy, mayonnaise-based sauce.
Ask for double the lettuce and tomato to pack in more fiber.
Skip the sides and sugar-sweetened beverages.
Order from the King Jr menu. "Many times the serving sizes are the problem, so a kid's serving can bring down the calories significantly," Goodson says. "I promise you, you will not be hungry."