6 Unhealthiest Fast-Food Chicken Sandwiches To Avoid Right Now
Check out these crazy fat and sodium bombs.

BY
Amy Goodson, MS, RD, CSSD, LD
MEDICALLY REVIEWED
No fried chicken sandwich is healthy. For one, there's the fried chicken—one of the least healthy preparations of the otherwise lean and healthful protein. In fact, fried chicken is considered one of the unhealthiest foods on the planet.
But popular fried chicken sandwiches from major fast-food chains usually have another terrible secret: they're crazy high in sodium. Between the spicy sauces and the breading batter, some of these items will have you eating enough salt for days . . . literally.
Add to that other problematic ingredients like a buttered bun, a mayo-based sauce, and sometimes even bacon and other fried crispy stuff, and you've got yourself a recipe for a health disaster.
We've enlisted the help of Amy Goodson, a registered dietitian and certified specialist in sports dietetics to round up the absolute unhealthiest fried chicken sandwiches currently on the market. They're listed from bad to truly deplorable.
And for more, don't miss 8 Worst Fast-Food Burgers to Stay Away From Right Now.
Popeyes Spicy Chicken Sandwich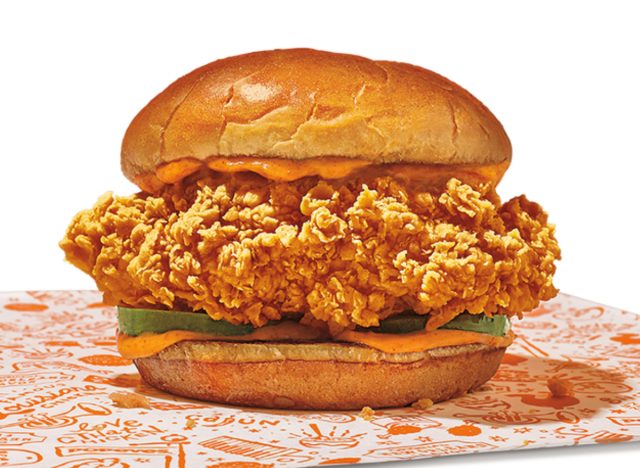 Per sandwich
: 700 calories, 42 g fat (14 g saturated fat, 1.5 g trans fat), 1,473 mg sodium, 50 g carbs (2 g fiber, 8 g sugar), 28 g protein
This best-tasting option has, unfortunately, also made our list of the worst chicken sandwiches for your health. It's high in sodium, clocking in way above the average of 800 milligrams you should be consuming in a meal.
Goodson points to the buttermilk batter breading, two layers of spicy mayo, and the buttered bun as the culprits for this sandwich's high levels of fat and salt. Still, the calorie count, while high, is on par with similar fast-food sandwiches and burgers.
Zaxby's Signature Sandwich with Spicy Zax Sauce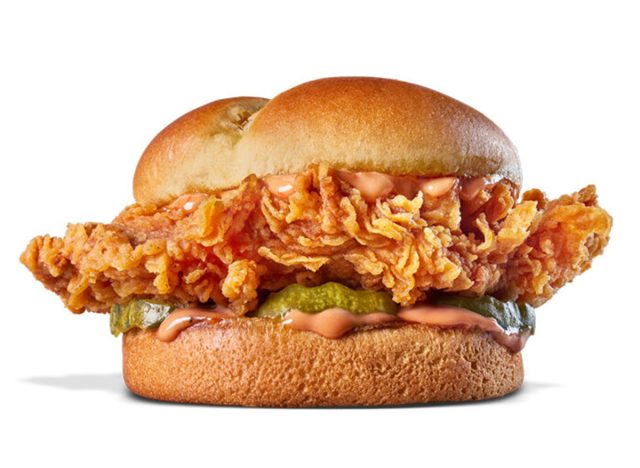 Per sandwich
: 770 calories, 42 g fat (7 g saturated fat, 0.5 g trans fat), 2,610 mg sodium, 53 g carbs (4 g fiber, 8 g sugar), 45 g protein
Zaxby's Spicy sandwich is only slightly higher in calories, but it's a sodium bomb. Let's put it this way, if the recommended daily allowance for sodium is 2,300 milligrams, then you're eating more than a day's worth of salt in one sitting—and that's not even counting the fries.
Goodson points to the Spicy Zax sauce, which comes slathered in two layers, as the likely culprit for this enormous amount of sodium.
"Creamy sauces are often where you pick up a lot of fat and sodium from sandwiches," she says. "Not to mention, this sandwich's chicken is double hand-breaded and loaded up on a buttery bun, which adds to the problem."
Carl's Jr. Bacon Swiss Hand-Breaded Chicken Sandwich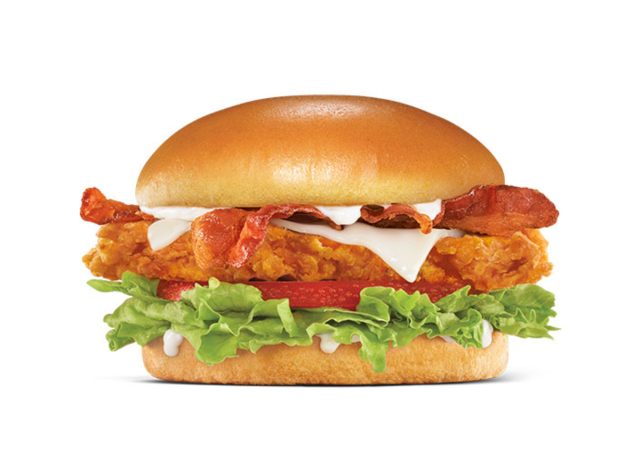 Per sandwich
: 810 calories, 45 g fat (11 g saturated fat, 0.5 g trans fat), 2,120 mg sodium, 58 g carbs (3 g fiber, 10 g sugar), 44 g protein
"While this chicken sandwich may look smaller to the eye than several other entrants on this list, don't let it fool you," says Goodson, "it still packs 810 calories." Not to mention, both bun halves are slathered with mayonnaise, which tacks on some extra fat, she warns.6254a4d1642c605c54bf1cab17d50f1e
And let's not forget the 2,120 milligrams of sodium—the amount that should, again, be consumed during the course of a day, and not in one sitting.
Wendy's Classic Big Bacon Cheddar Chicken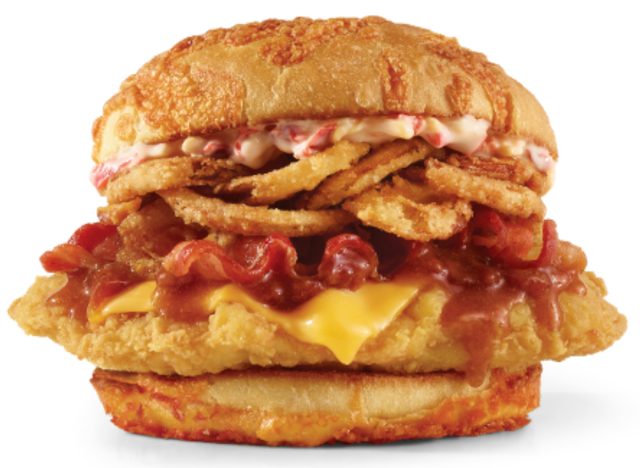 Per sandwich
: 810 calories, 45 g fat (14 g saturated fat, 0.5 g trans fat), 2,250 mg sodium, 60 g carbs (3 g fiber, 5 g sugar), 42 g protein
Chicken sandwich purists avert your eyes. This item from Wendy's is loaded with bells and whistles that most other sandwiches don't have, like the creamy cheddar cheese dip, bacon jam, slices of Applewood smoked bacon, crispy onions, and American cheese. So it comes as no surprise that it's high in calories, fat, and sodium.
"This sandwich provides more than one-third of the recommended daily allowance of calories and fat," says Goodson. Considering this is likely eaten with a side of fries, it's definitely one of the unhealthiest fast-food meals you could be ordering.
Again, the sodium content is shockingly high—a full day's worth in one sandwich and more than double the sodium of a Big Mac. "The two forms of bacon and the crispy onions are likely responsible for the added fat and sodium," says Goodson.
Burger King Ch'King Deluxe Chicken Sandwich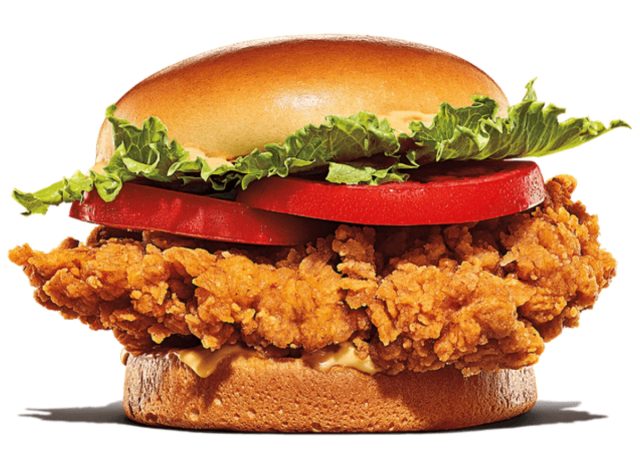 Per sandwich
: 1,340 calories, 132 g fat (9 g saturated fat, 0.4 g trans fat), 4,498 mg sodium, 176 g carbs (7 g fiber, 10 g sugar), 45 g protein
Burger King's Deluxe Ch'King is a huge departure from the pack when it comes to how bad it is for you. It basically has double the amount of sodium and more than double the amount of fat compared to most of the sandwiches on this naughty list.
"This Ch'King literally has more fat than you should be eating for several days, based on a 2,000-calorie diet," says Goodson. "And not to mention the sodium, which is enough to max you out on salt for two full days."
Burger King Spicy Ch'King Deluxe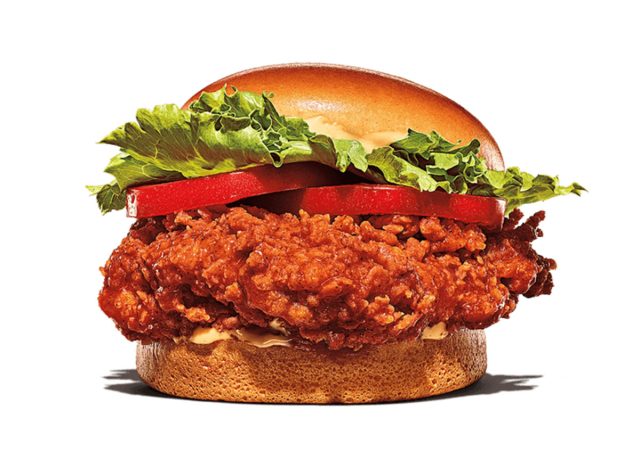 Per sandwich
: 1,499 calories, 149 g fat (12 g saturated fat, 0.5 g trans fat), 4,755 mg sodium, 180 g carbs (7 g fiber, 13 g sugar), 45 g protein
The Spicy Ch'King is indeed the King—of sandwiches that are absolutely terrible for you. While this bad boy may have been lauded by fast-food critics as one of the tastiest options out there, it is an absolute monstrosity when it comes to the nutrition panel and should frankly come with a health warning. It far outpaces most of its peers in the calories, fat, and sodium department.
So why is this sandwich so much worse than others? Goodson suspects the sauces—the spicy glaze that the chicken patty is bathed in, and the mystery "savory sauce" that comes on the sandwich—as well as the breading, are likely the biggest contributors to the high sodium levels.
"The moral of the story: just stay away from the whole Ch'King franchise if you value your health," says Goodson.
How to build a better chicken sandwich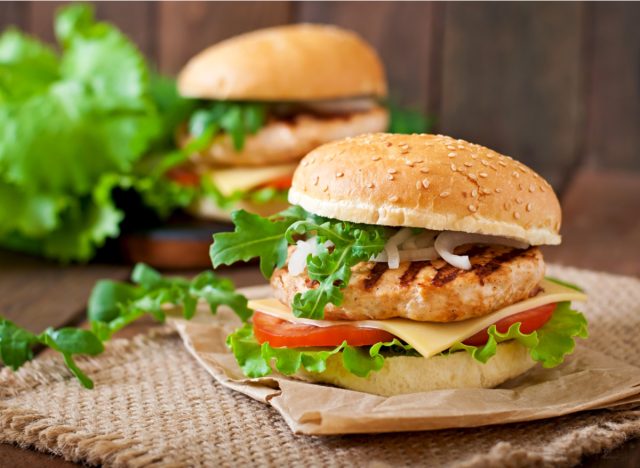 So, is there a better way to eat a chicken sandwich? Goodson says yes.
For starters, she recommends grilling your chicken instead of frying it.
"Breading soaked in oil will always tack on the calories and fat," Goodson points out. "White chicken meat itself is a lean source of high-quality protein and can be great on a sandwich, but the battering and frying alter its nutrition profile."
Also, skip the bacon and creamy sauces and load your sandwich up with veggies and avocado. "You can even mash the avocado as a sauce or use a lower-calorie sauce like mustard," Goodson recommends. And if you can find it, choose a whole wheat bun instead of white.
"Just remember, anything battered, breaded, and fried loaded with sauce likely doesn't make the list of foods you should be eating every day," says Goodson.
Mura Dominko
Mura is ETNT's Executive Editor, leading the coverage of America's favorite restaurant chains, grocery stores, and viral food moments.
Read more about Mura