These 14 Popular Weight Loss Supplements Do Not Work, New Study Says
Relying on these supplements to slim down may be a futile effort, new research reveals.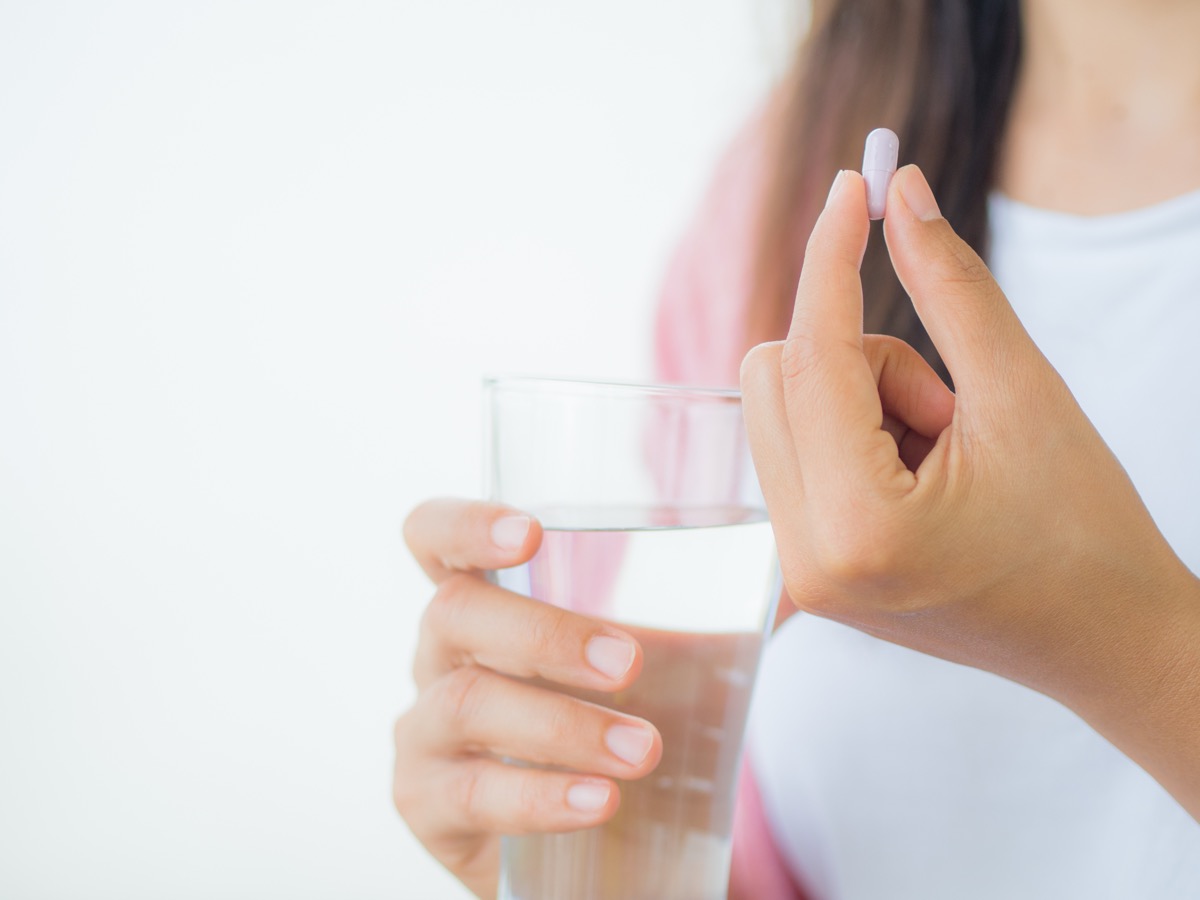 Whether you're trying to shed a few pounds by ramping up your exercise routine or counting calories, losing weight is no easy feat. For many people, the difficulty associated with dropping pounds makes it tempting to try alternative means of losing weight, like taking dietary supplements or relying on alternative therapies that claim to make slimming down easier. The only problem? According to a new study, they simply don't work.
New research published in the June 23, 2021 volume of the journal Obesity reveals that many popular weight loss supplements and therapies do precious little to aid weight loss. To come to this conclusion, researchers from Dartmouth-Hitchcock, the Geisel School of Medicine at Dartmouth, and The Dartmouth Institute for Health Policy and Clinical Practice conducted a systematic review of 315 randomized controlled trials that aimed to determine the relative efficacy of various dietary supplements and alternative therapies for weight loss.
Among these studies, just 16 found there to be any differences between the weight of individuals in the control population and those provided weight-loss supplementation or alternative therapies; among those who did lose weight using supplements or alternative therapies, the weight loss ranged between one and 11 pounds.6254a4d1642c605c54bf1cab17d50f1e
The supplements and therapies studied that were determined to have little efficacy at increasing weight loss included acupuncture, calcium and vitamin D, chitosan, chocolate/cocoa, chromium, ephedra or caffeine, garcinia, green tea, guar gum, conjugated linoleic acid, mind-body therapy, Phaseolus, phenylporpylamine, and pyruvate.
"The dietary supplement industry is a Wild West of herbs and over-the-counter pills that have a lot of claims and little to no evidence supporting those claims," study co-author Scott Kahan, MD, MPH, director of the National Center for Weight and Wellness in Washington, D.C., said in a statement. "We all want a magic pill, but dietary supplements aren't the magic pills that they are marketed to be."
In addition to not boosting weight loss, study co-author Srividya Kidambi, MD, MS, an associate professor and chief of the division of endocrinology and molecular medicine at the Medical College of Wisconsin/Froedtert Hospital in Milwaukee, cautioned that the use of these supplements and therapies may actually leave users in worse health than before they started taking them.
"If supplements take the place of diet, regular exercise and behavior changes, they will harm you in the long run," Kidambi explained, additionally noting that some supplements purchased through online retailers may contain ingredients that are not approved for use in the U.S. and may be harmful to consumers. In fact, since 2009, the U.S. Food & Drug Administration (FDA) has issued public health alerts for over 100 weight loss supplements due to counterfeiting, potentially harmful ingredients, undeclared drugs in their formulation, and other health and safety concerns.
If you want to lose weight in a healthy and sustainable way, check out these 15 Underrated Weight Loss Tips That Actually Work, and for more health and weight loss news delivered to your inbox, sign up for our newsletter!
Read more:
Sarah Crow
Sarah Crow is a senior editor at Eat This, Not That!, where she focuses on celebrity news and health coverage.
Read more about Sarah