We Tasted 9 Orange Juice Brands & This Is the Best
The winner was a huge upset.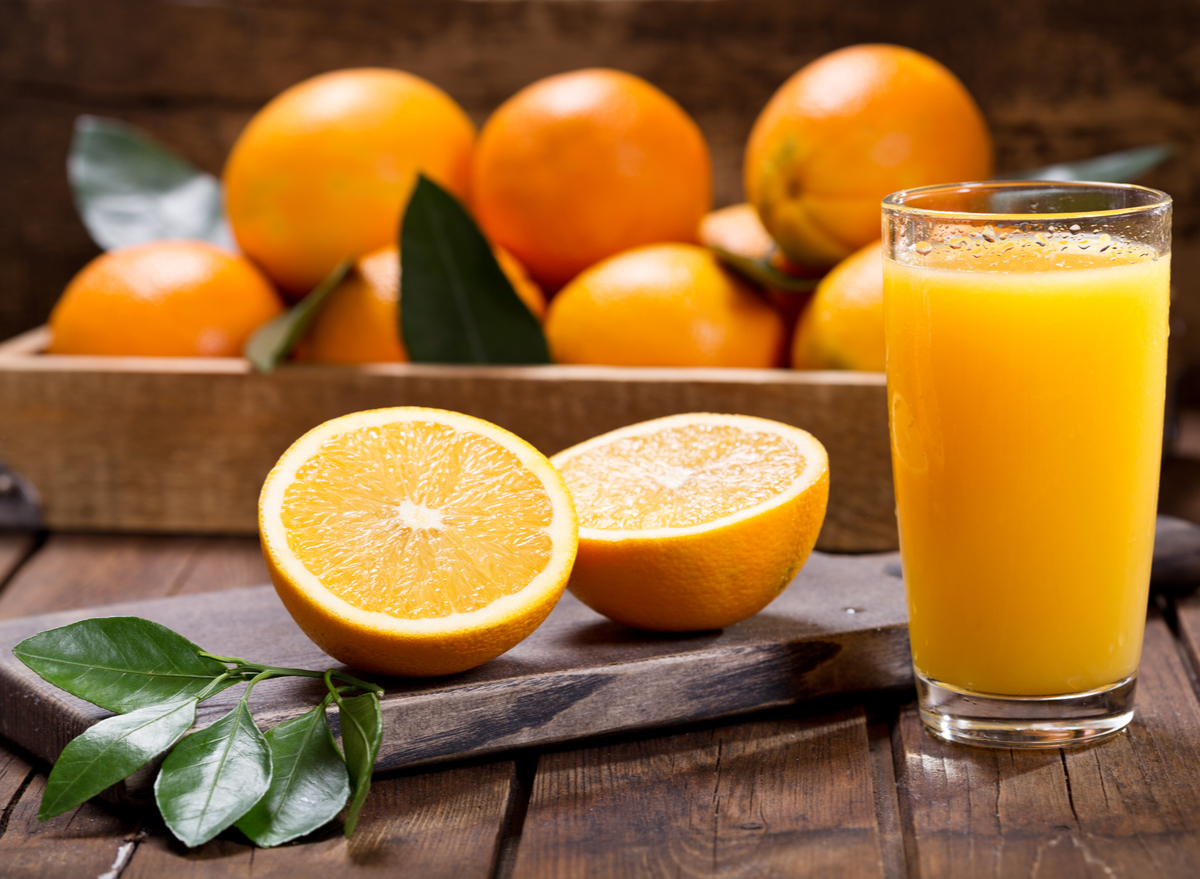 While consumption of orange juice in the U.S. has steadily declined in the past ten years, it remains the most popular juice that Americans still hold a special place in their hearts for. After coffee, orange juice is the official drink of the morning—and why not? Its sunny appearance and bright flavor wake up the senses with a hit of sweetness offset by just the right tart balance. The packaging itself is routinely welcoming, laden with juicy oranges and happy, welcoming colors. Plus, it's packed with vitamin C, and these days, fortified with essential vitamin D, calcium, and whatever else brands can pack into every bottle.
While most people stick to "their" brand of OJ, do they really know that it tastes the best? After all, new brands are introduced all the time, and rarely do people sample a new product when the old one is so entrenched in their routine. That's precisely why we put nine types to the test in order to see which is the best tasting orange juice on grocery store shelves.
We tasted these nine brands of readily available orange juice blind in order to remove any possibility of bias toward or against familiar labels. We rated each on texture, level of sweetness, and overall flavor (and each one was pulp-free in order to avoid conflicts with different consistencies). What we discovered was nothing short of shocking, especially for those that have a steadfast loyalty to a particular brand.
Here are the orange juice brands we tasted:
Bowl & Basket – 100% Orange – No Pulp
Bolthouse Farms – 100% Orange Juice
Florida's Natural Orange Juice – No Pulp
Minute Maid Orange Juice – Pulp Free
Simply Light Orange Juice – Pulp Free
Simple Orange – Pulp Free
Tree Ripe Premium Orange Juice No Pulp
Trop 50 – No Pulp
Tropicana Orange Juice – No Pulp
Keep reading to see how each one ranked in terms of taste, including our #1 pick. Then, don't miss We Tasted 10 Flavored Seltzer Brands & This Is the Best!
(Plus, science says this is the #1 Best Juice to Drink Every Day!)
Expensive does not always mean better, and that is the case with the most expensive orange juice on the list. Tasters liked the texture of this juice, but it fell flat on flavor. It had a distinctly sour note that tasters could not get past. One cited a "lemony aftertaste" and another said there was "not enough sweetness to round out the flavor," noting that it tasted like an unripe orange. Another thought it tasted "like medicine."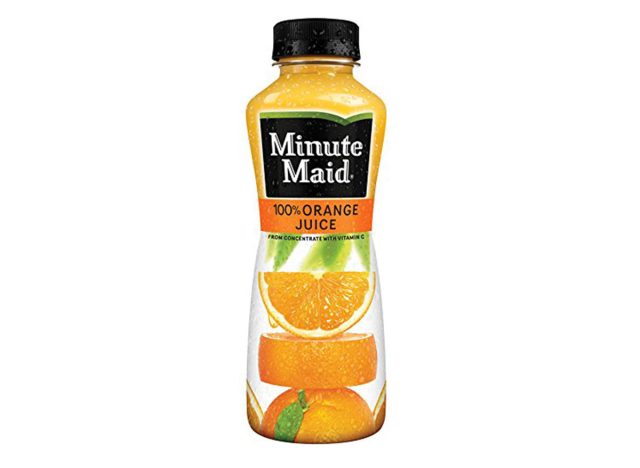 6254a4d1642c605c54bf1cab17d50f1e
This orange juice comes in a sunny carton like most of the others, but unlike the others, it's from concentrate. One orange juice aficionado picked up on this immediately by citing the thinner texture. The others noticed a bland, sourness to the drink. Like the Bolthouse, the Minute Maid suffered from a lack of sweetness to balance out the tart.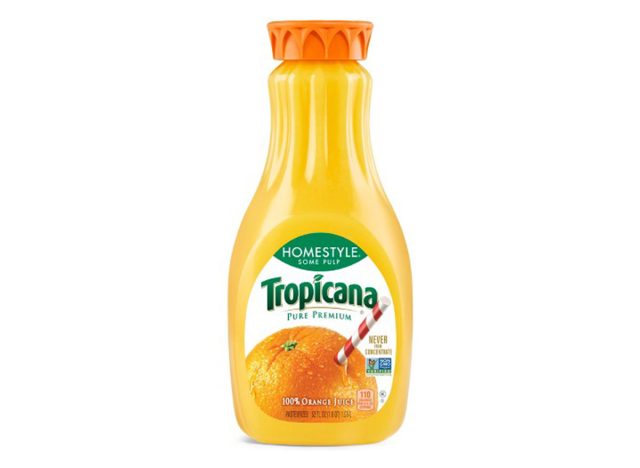 Tropicana was the best-selling orange juice in 2020, so it's no surprise that many people consider Tropicana their favorite OJ. Even one of our tasters considered it their favorite until our blind taste test, during which they pronounced it "average but purchasable." In the end, this old standby didn't fare any better than the Minute Maid brand, but was bumped up in our ranking because one taster said they'd buy it again. Oddly, tasters were split on if this juice was too sweet or too sour, but they agreed that it was lacking something to bring the flavor together.
Florida's Natural lacked a pleasing texture, with all of tasters calling it "watery." In terms of flavor, tasters also agreed that it was "flat" without enough sweetness or tartness.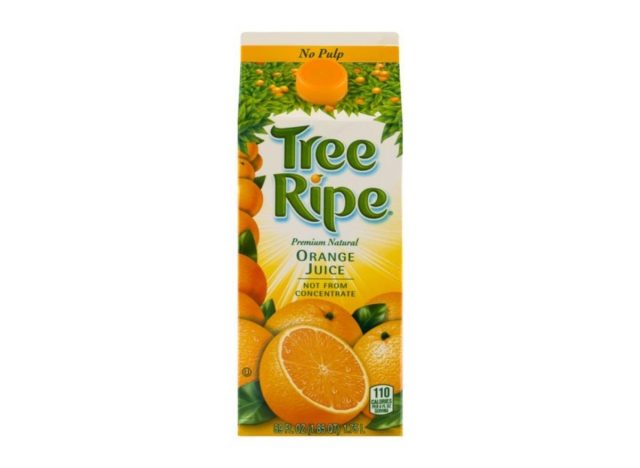 With Tree Ripe, we start falling into interesting water with the tasters, as one person who loved this juice praised the "sweet, but not too sweet" flavor and the "round, vanilla overtones" that made the juice taste almost like a "creamsicle." Others found the texture too heavy and found the flavor veering towards fake. One likened it to the "Bug Juice" that he used to drink at camp as a kid.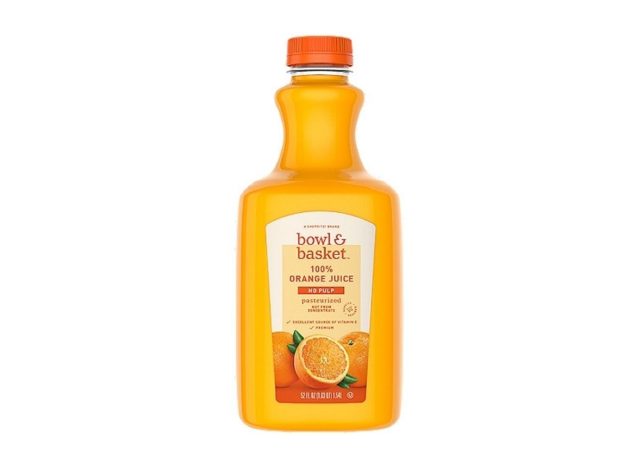 Bowl & Basket is Shop Rite's brand, and it fared far better than expected in this taste test—even coming up as the favorite for the Tropicana-lover. Everyone praised the smooth, pleasant texture of this juice and the rounded flavor that "has a bite to it," according to one taster.
RELATED: This Is America's Least Favorite Grocery Store, Says New Survey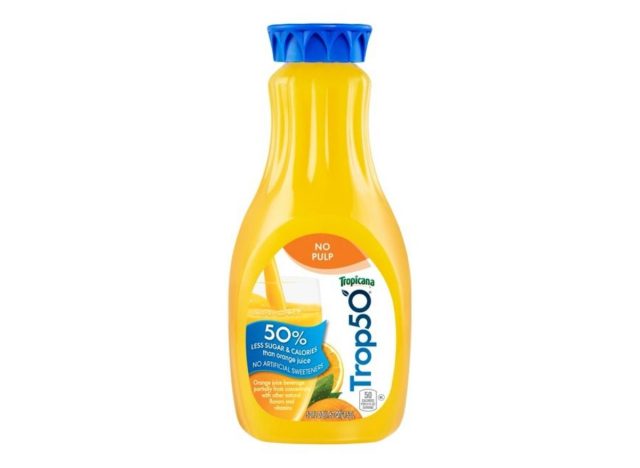 Trop 50 is Tropicana's lighter orange juice blend. It ranked far higher than expected because most tasters liked it (but one ranked it the worst in the taste test). One taster praised the lemony, tart flavor, and another thought it was "different but good." The one who didn't like it cited an odd flavor that veered into fake territory and noted that it "doesn't taste like an orange." If you like Tropicana and want to save a few calories, this could be an option for you. It has half the calories and sugar of regular orange juice, but of course, a few other additives like stevia leaf.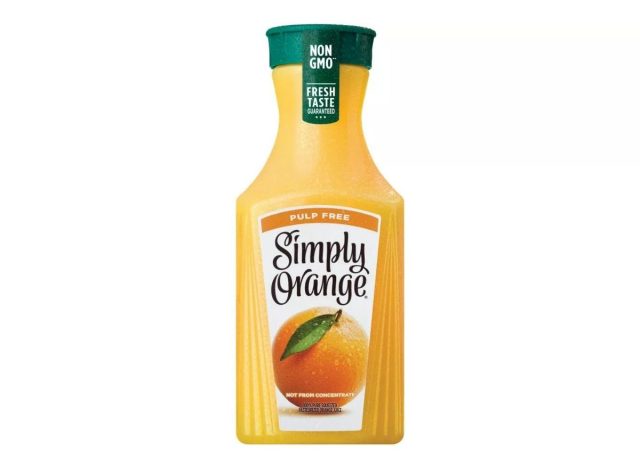 Simply Orange got good marks from all of the tasters. They praised the smooth, rounded flavor of the juice that had the perfect balance of sweet and tart. It had a mouthwatering effect that left the tasters wanting more (plus, a nice aftertaste). While Simply Orange didn't get the highest rating from any of the tasters, it scored high enough to stand firmly in our second-best spot.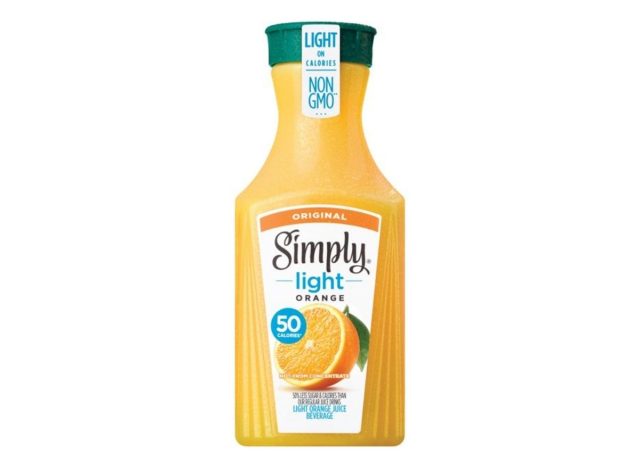 Yeah, we were shocked too. In our blind taste test, most of the tasters preferred the flavor of this stevia-sweetened orange juice. They praised the "full-bodied taste" and "full and orangey" flavor. One even noted a hint of vanilla that rounded everything out. Tasters said that this juice actually "smelled like an orange," and out of all the options, it had the highest-rated texture. Is it possible that after palate fatigue that tasters were ready for something lighter? Maybe. Simply Light, though, has far fewer additives than its Trop 50 cousin. If you're looking for a lighter orange juice, definitely give this one a tasty try.
Check out more of our exclusive taste tests:
We Tasted 8 Hot Dog Brands & This Is the Best
We Tasted 9 Diet Sodas & This Was the Best