The Worst New Fast-Food Pizzas, According to a Dietitian
These pies may look hearty and delicious, but beware of their health drawbacks.
Pizza is usually one of the hardest foods to resist, no matter how clean we're trying to eat. And while there is a proliferation of healthier-for-you pizza options, both at supermarkets and on the menus at trendy new pizza chains, most of us are still most drawn to the good old classics from places like Domino's and Pizza Hut.
But even those chains have lighter options, as well as ones that pile on the extra calories. The type of bread, cheese, oil, and toppings you get on your pie can turn an innocent slice of thin-crust plain pizza into a diet disaster. As big national pizza chains put out new, creative options of pizza toppings and crusts, it's even more important to be mindful of just how unhealthy some of these pies are. Piling on the meat slices or meatballs might make the pizza heartier, but it definitely doesn't make it healthier!
Here are some of the unhealthiest fast-food items that major pizza chains have put out recently. Our nutritionist Trista Best, RD recommends skipping them. And for more, check out We Tasted 5 Frozen Cheese Pizzas—and This Is the Best.
Little Caesars 5 Meat Feast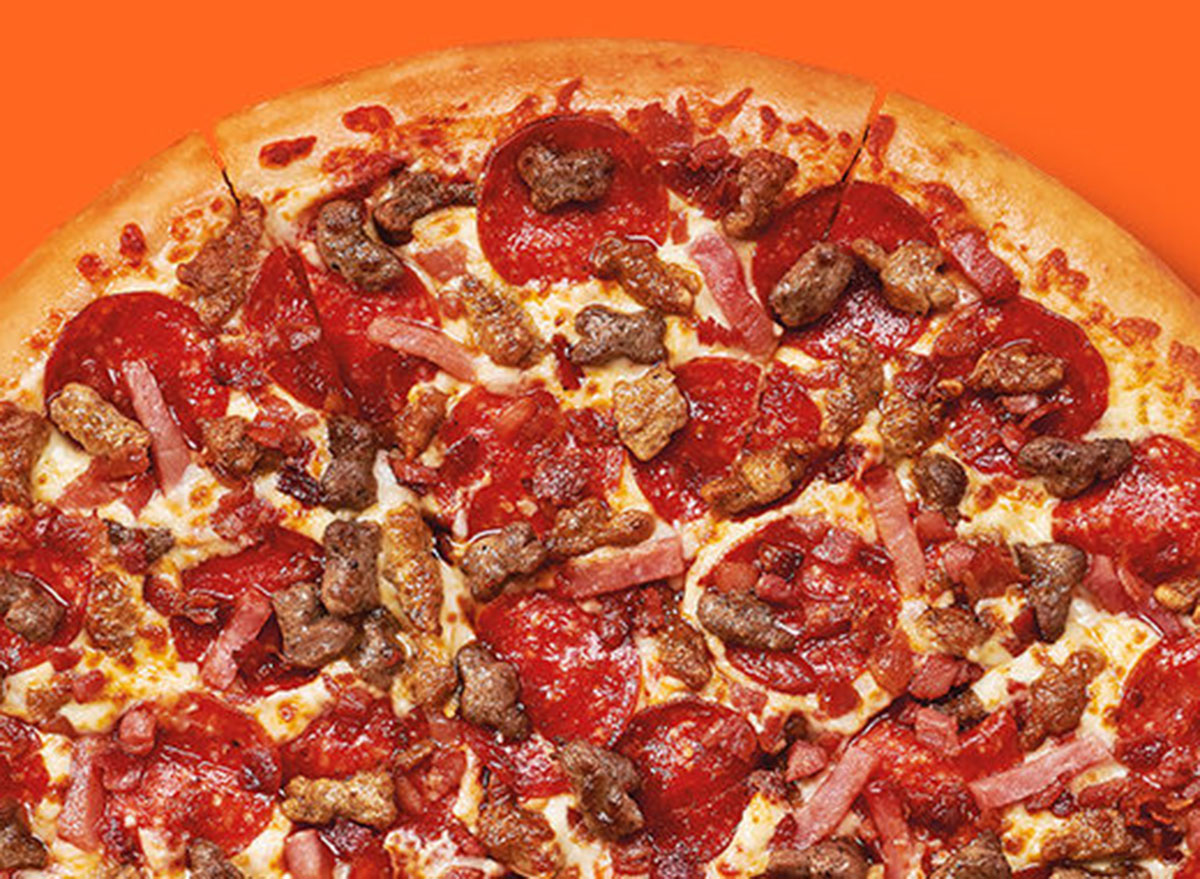 PER PIZZA
: 2,930 calories, 151 g fat (63 g saturated fat, 4 g trans fat), 7,250 mg sodium, 253 g carbs (13 g fiber, 15 g sugar), 143 g protein
This returning addition to the Little Caesars menu comes packed with high-fat toppings like cheese, sausage, ham, beef, and bacon. There are about 151 grams of fat in this pie, 63 of which are saturated. "Even if you only eat a half or a quarter of this pie, you're still ingesting more than the recommended amount of just about every nutrient, especially sodium," says Best. Hard pass!
Don't forget to sign up for our newsletter to get the latest restaurant news delivered straight to your inbox.
Domino's Cheeseburger Pizza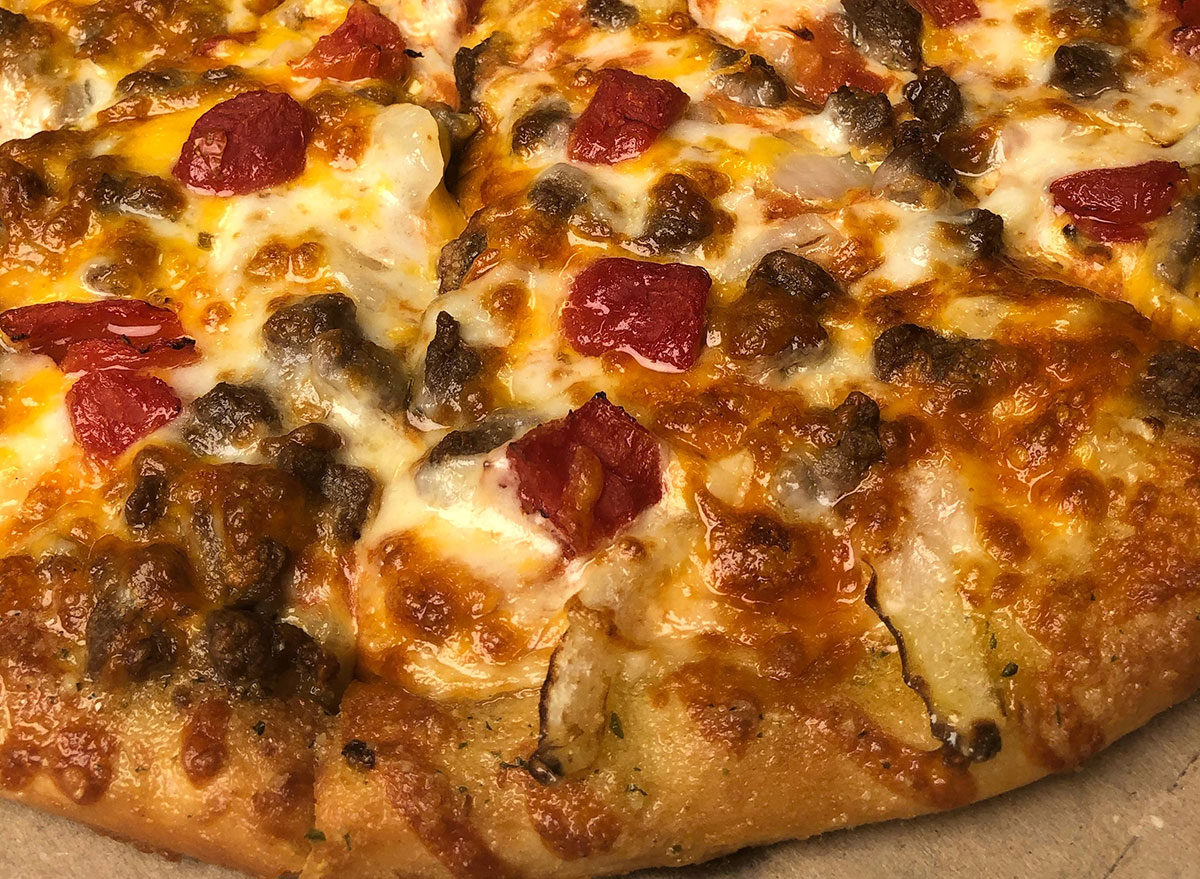 PER PIZZA
: 3,040 calories, 152 g fat (72g saturated fat, 2 g trans fat), 7,040 mg sodium, 280 g carbs (8 g fiber, 32 g sugar), 120 g protein
Just last summer, the #1 pizza chain delighted customers with new, creatively-flavored pizzas. But this one may not be delightful for your cardiovascular health or your waistline. "Even if you eat just two slices, you're topping off your fat and sodium allowance for the day," says Best.6254a4d1642c605c54bf1cab17d50f1e
And check out that sugar content! It's much higher than normal for a pizza. "The sugar content is concerning, as added sugar will also increase the potential negative health repercussions from indulging in this pizza," says Best. Eating sugary foods can hike up your risk of heart disease, diabetes, and stroke, and it can, of course, lead to weight gain by adding excess calories—and this pizza already has plenty!
Domino's Chicken Taco Pizza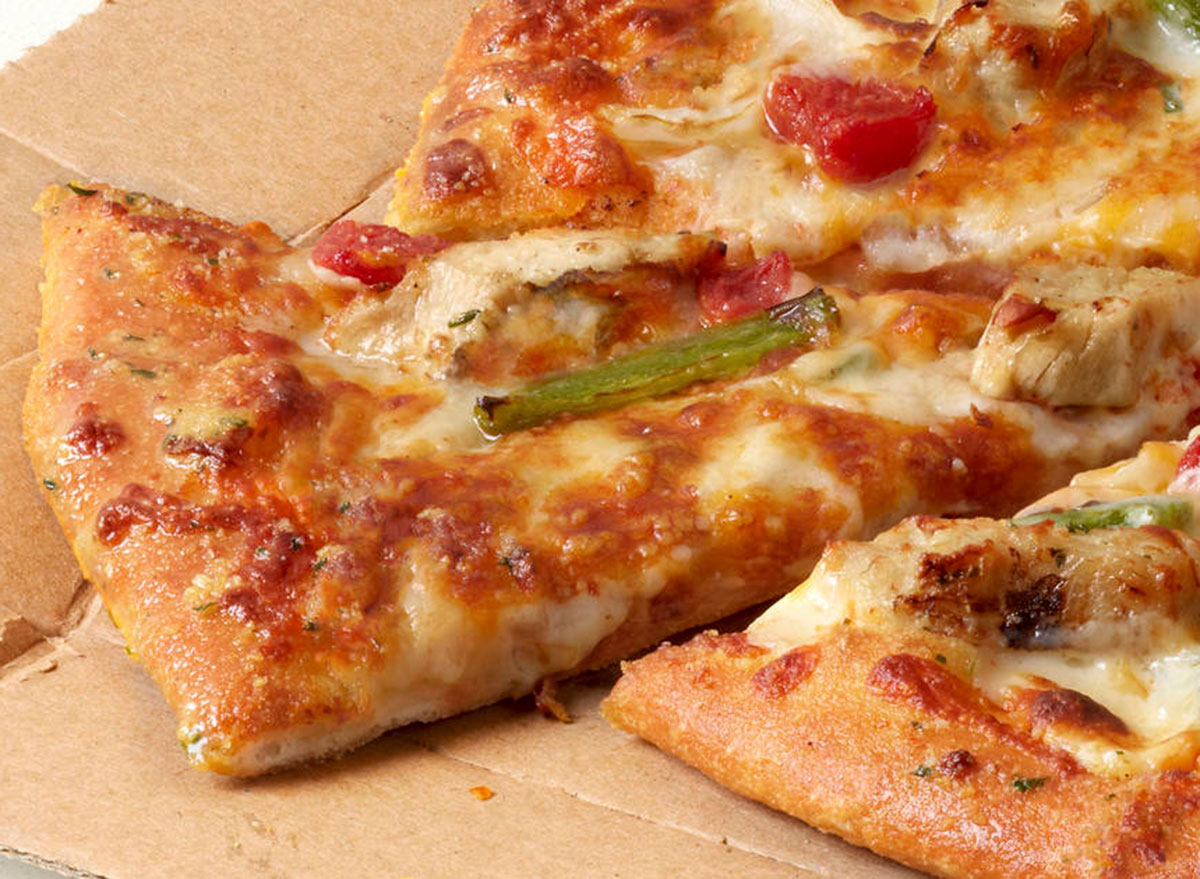 PER PIZZA
: 2,800 calories, 128 g fat (64g saturated fat, 0 g trans fat), 6,240 mg sodium, 272 g carbs (8 g fiber, 24 g sugar), 128 g protein
Don't let the choice of chicken over pork fool you into thinking this is a healthy pizza option—the nutritional values for fat and sodium, as well as the calorie count, are still super high. "For special, occasional pizza nights, this option is likely the one to choose over higher calorie, fat, and sodium pizzas," the nutritionist says. But don't think of this pizza as a go-to on a regular basis.
Papa Murphy's Fiesta Chicken Pizza
PER PIZZA
: 2,960 calories, 136 g fat (56 g saturated fat, 0 g trans fat), 7,360 mg sodium, 288 g carbs (16 g fiber, 32 g sugar), 112 g protein
"Thin crust, veggie-loaded pizzas are always a bit deceiving in their health qualities," says Best. Just one slice of this large pizza is 370 calories, and who eats just one, right? The sodium also gets up into dangerous territory.
PER PIZZA (mini pizza)
: 470 calories, 22 g fat (9 g saturated fat, 0 g trans fat), 1,600 mg sodium, 45 g carbs (3 g fiber, 1 g sugar), 22 g protein
This newest pizza option at Mod Pizza is packed with fresh ingredients like spinach, pesto, feta, artichokes, and jalapeños, which is a good start, according to Best, as they're excellent sources of nutrients. "Unfortunately, they are overshadowed by the high fat and sodium content of the mozzarella, feta, and bacon," she says. This is yet another pizza that looks nutritious at face value, but should still be eaten in moderation.
Papa John's Meatball Pepperoni Papadia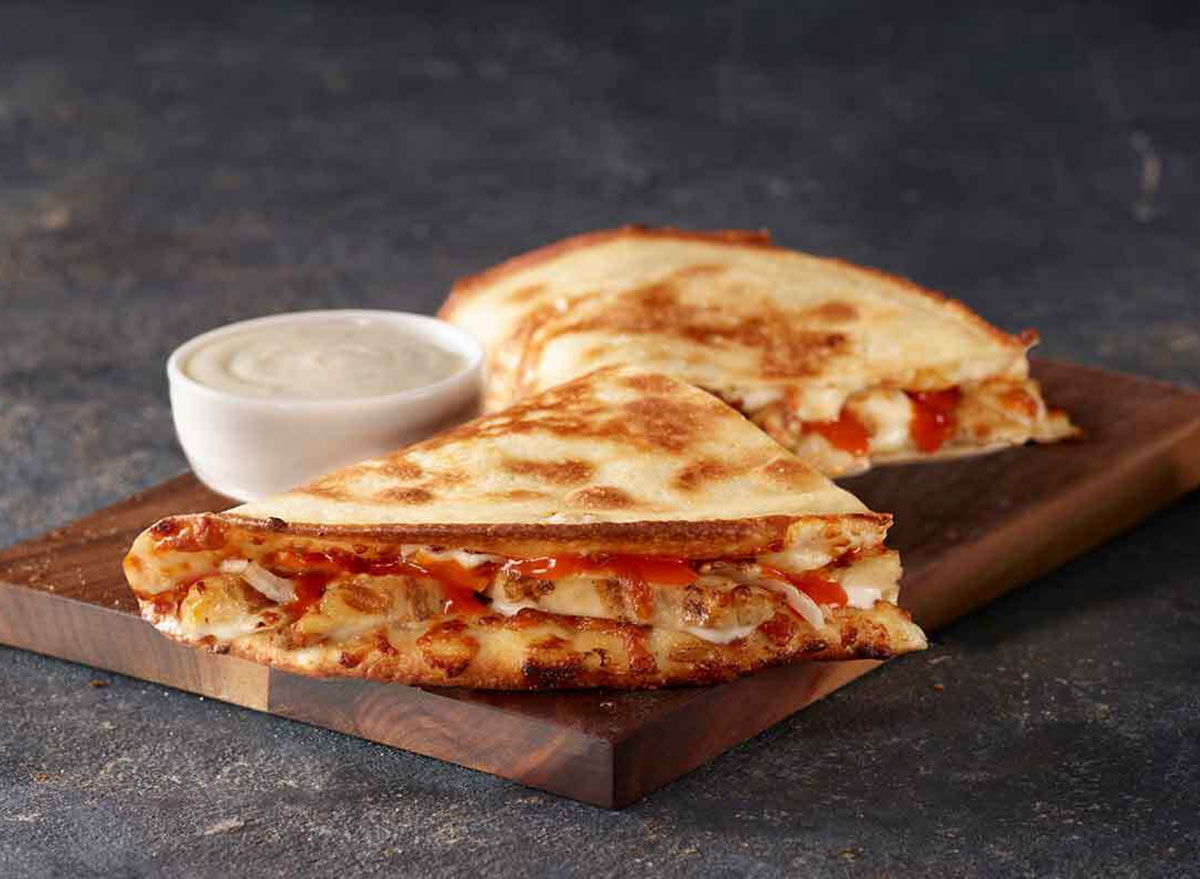 PER SANDWICH
: 940 calories, 49 g fat (21 g saturated fat, 1 g trans fat), 2,390 mg sodium, 79 g carbs (4 g fiber, 8 g sugar), 42 g protein
Papa John's released the super popular line of Papadia sandwiches last year to much success. But we'll let you in on a little secret—Papadias are just pizzas, folded over. At least nutritionally.
The sodium content alone meets the daily recommended value. And while there's ample protein, 42 grams isn't needed in one meal. Let's not forget most of the fat is saturated from the meatballs and pepperoni.
"What's most worrisome about the Papadia series is that the new shape of this pizza gives consumers the illusion that an entire pizza comprises one serving, whereas they would likely stop at a quarter or half if eating an actual pizza pie," says Best.
Papa John's Parmesan Crusted Papadia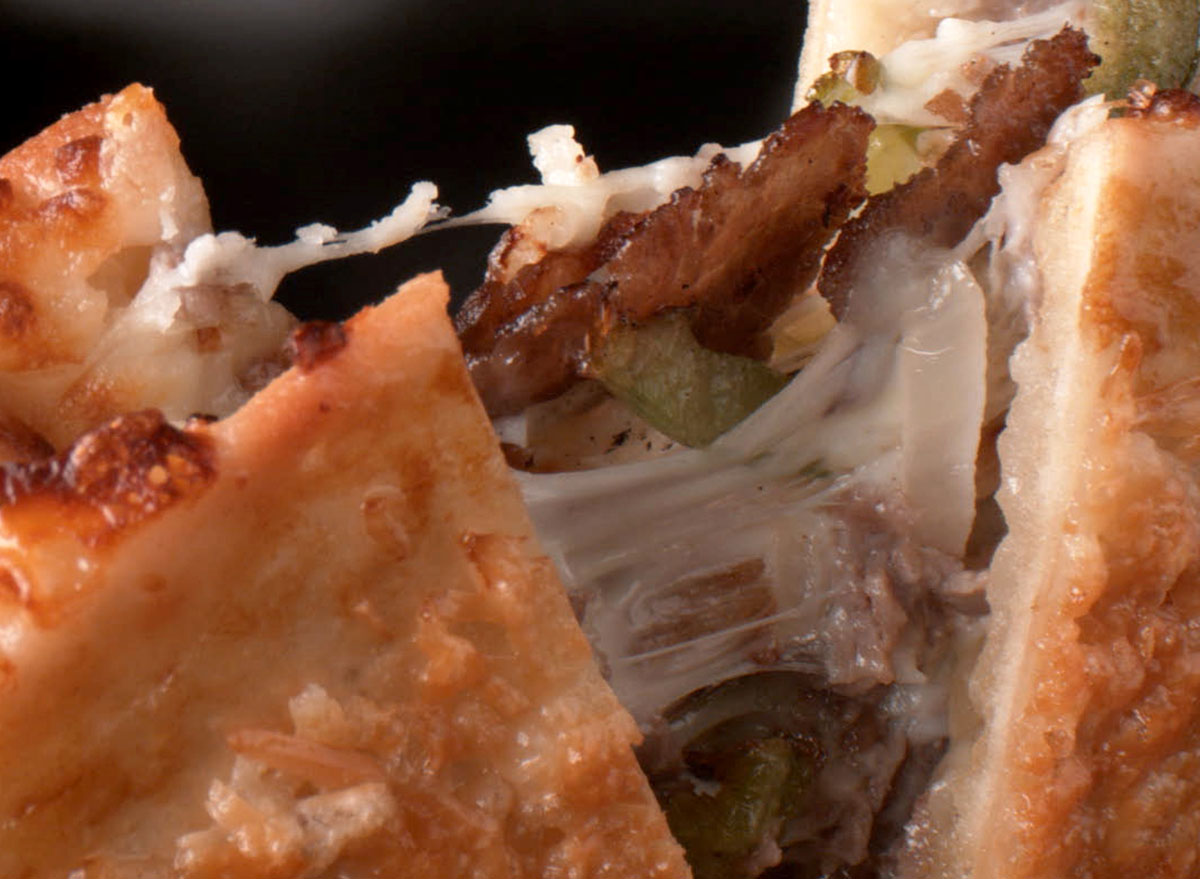 ESTIMATED PER SANDWICH
: 910 calories, 35 g fat (15 g saturated fat, 0 g trans fat), 2,090 mg sodium, 80 g carbs (0 g fiber, 11 g sugar), 40 g protein
You can now get your Papadias with an extra crunchy coating of parmesan. Sounds delicious, right? Sure, but it also adds about 100 extra calories to your already high-fat, high-calorie sandwich.
For more, check out the 108 Most Popular Sodas Ranked By How Toxic They Are.
Isadora Baum
Isadora Baum is a freelance writer, certified health coach, and author of 5-Minute Energy.
Read more about Isadora