This Is Zendaya's Exact Breakfast, Lunch, and Dinner
Between "Euphoria," "Spider-Man," "Dune," and her many other projects, the star has to keep things easy!
Euphoria Sundays have had us so wrapped up into Rue, that we almost forgot what Zendaya looks like when she trades those baggy t-shirts for runway looks. Zendaya's latest appearance in the Maison Valentino campaign #ValentinoRendezVous not only reinstates her title as a fashion icon, but it shows off her incredibly toned body. Her recent Instagram post in a pink, cutout dress from the campaign has us all wondering what this star eats to stay in such good shape.
Zendaya's diet is actually not as strict as you might think. Since her days on Disney Channel, Zendaya's been a strong advocate for body positivity. "There is no such thing as ugly. That's a word that doesn't really enter my vocabulary," she told New You in a 2016 cover interview.
Zendaya follows a vegetarian diet, but it's not exactly for health reasons. According to People, Zendaya loves animals, so she decided to leave meat out of her diet years ago. This comes as no surprise given her frequent Instagram posts with her adorable schnauzer Noon. "My kid's 4 today, again slow down time🌻," Zendaya wrote in a post for Noon's birthday.
Balance is Zendaya's motto when it comes to food. From green salads to the occasional grilled cheese, she stays healthy and treats herself after long days.
Read on to find out what Zendaya eats in a typical day, and next, check out Jennifer Lopez's Exact Breakfast, Lunch, and Dinner!
Breakfast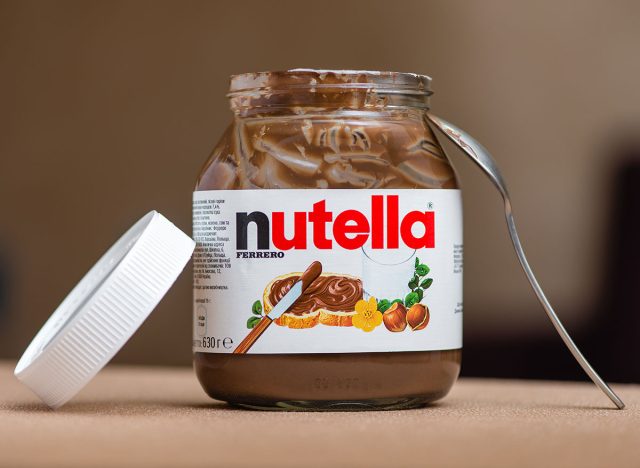 Zendaya is actually not much of a breakfast person, but she has to eat something to fuel her for those busy days. Her go-to? Nutella. "I'll eat breakfast food, but it must have some Nutella on it: pancakes, berries, and Nutella," she told Harper's Bazaar in a 2017 interview.6254a4d1642c605c54bf1cab17d50f1e
According to previous reporting, Nutella is not exactly healthy given its sugar content. But Zendaya balances her meal with a grain (pancakes) and fruit (berries). Besides, the alternative topping is syrup, and Zendaya told US Weekly that she doesn't like syrup on her pancakes.
Viral Tiktok creators like @celebrityeats and @jaztyler have gotten a kick out of Zendaya's breakfast, recreating it for themselves using homemade Nutella, vegan pancake recipes, and different kinds of berries.
Lunch
Between Euphoria, Spider-Man, Dune, and her many other projects, Zendaya's lunch is typically on-the-go. She told Harper's Bazaar that she enjoys ramen with hot sauce. However, Zendaya makes sure that the ramen brand is vegetarian to avoid the chicken broth.
Although Zendaya's super busy, she stays away from coffee, soda, and energy drinks. She draws her energy from her work and acts of self-care, rather than her caffeine intake. In a recent Glamour UK interview, she said that she'll paint for a few hours to recharge.
Her favorite mid-day drink? Juice, or more specifically, lemonade! Zendaya even made fresh-squeezed lemonade once with lemons plucked right from her tree for her Vogue interviewer in her June 2019 cover.
Dinner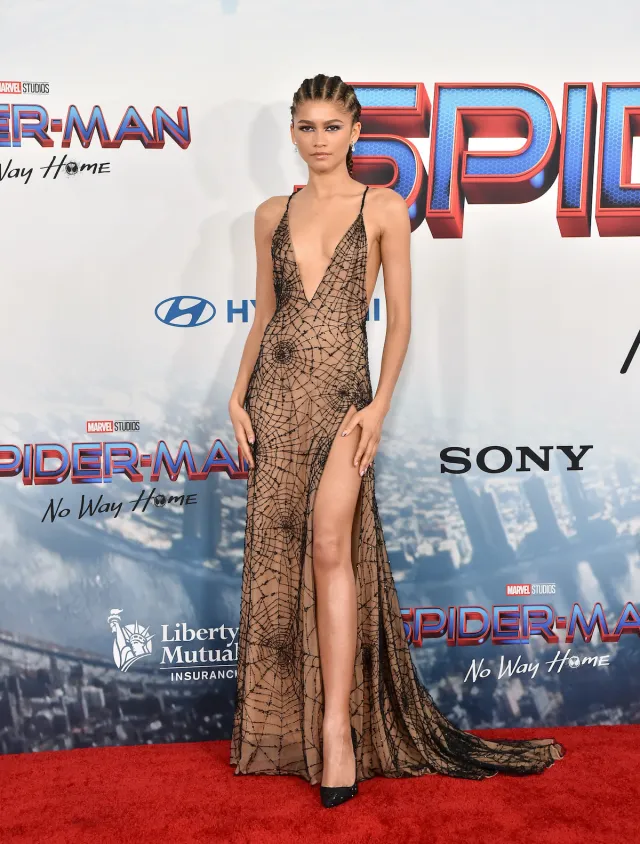 Zendaya isn't a huge cook, but she will make her own seasonal salads for dinner. Her go-to during the summer is a rice salad. She uses brown rice, vegetable broth, onion, zucchini, mushrooms, carrots, lemon juice, and olive oil. You can try whipping up Zendaya's salad for yourself according to the recipe she shared with Seventeen.
If she's feeling lazy, Zendaya told Harper's Bazaar that she'll skip the salad and order food via Postmates. Sometimes she'll order from fast food places like Chick-fil-A or Los Burritos, but she customizes her order to make it vegetarian.
Snacks
A long-time ice cream fanatic, Zendaya will treat herself every now and then to a sweet snack on set or at home after dinner. "Don't mess with me and my Haagen Dazs," wrote Zendaya along with an Instagram post of her holding a pint of Haagen Dazs coffee ice cream.
Eating ice cream with her teeth was even Zendaya's secret talent for Vanity Fair's Secret Talent Theater in 2018. "As most people know, I'm obsessed with ice cream," said Zendaya before she bit into an ice cream cone. It's not the healthiest snack, but with her active lifestyle, Zendaya can swing it.
Looking for more celebrity inspiration? Check out the Exact Breakfast, Lunch, and Dinner Gold Medalist Simon Biles Eats to Stay Fit.
Mia Salas
Mia is a freelance writer for several publications and a soon-to-be graduate from Princeton University with a degree in English.
Read more about Mia