I Tried 7 Non-Alcoholic Spirits & This Was The Clear Winner
You don't need alcohol to make a delicious drink!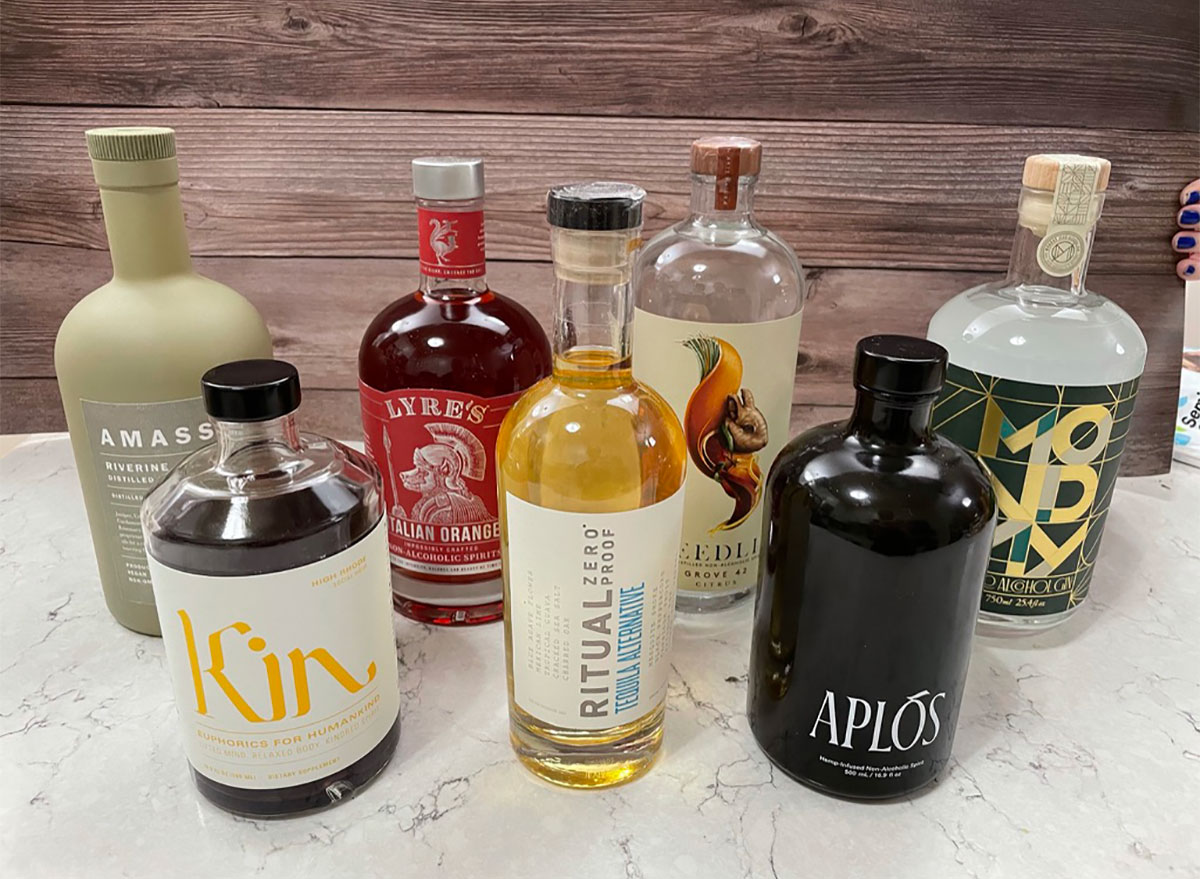 "Non-alcoholic spirits" might sound like an oxymoron, but that shouldn't stop you from giving them a try. Despite 2021 being one of the hardest years on record to make it through Dry January, there is a growing trend in going sober or being sober-curious.
The good news about non-alcoholic spirits is that it doesn't matter your reason for going alcohol-free. Whether you are going sober for mental health reasons, to help you cut down on calories, or just to try something new, there are a lot of great products on the market now. Here, I tried seven up-and-coming brands to help guide you in your first non-alcoholic purchase. Ranked by taste from my least favorite to most, these are the seven non-alcoholic spirits I tried.
And for more, check out the 8 Worst Fast-Food Burgers to Stay Away From Right Now.
Aplós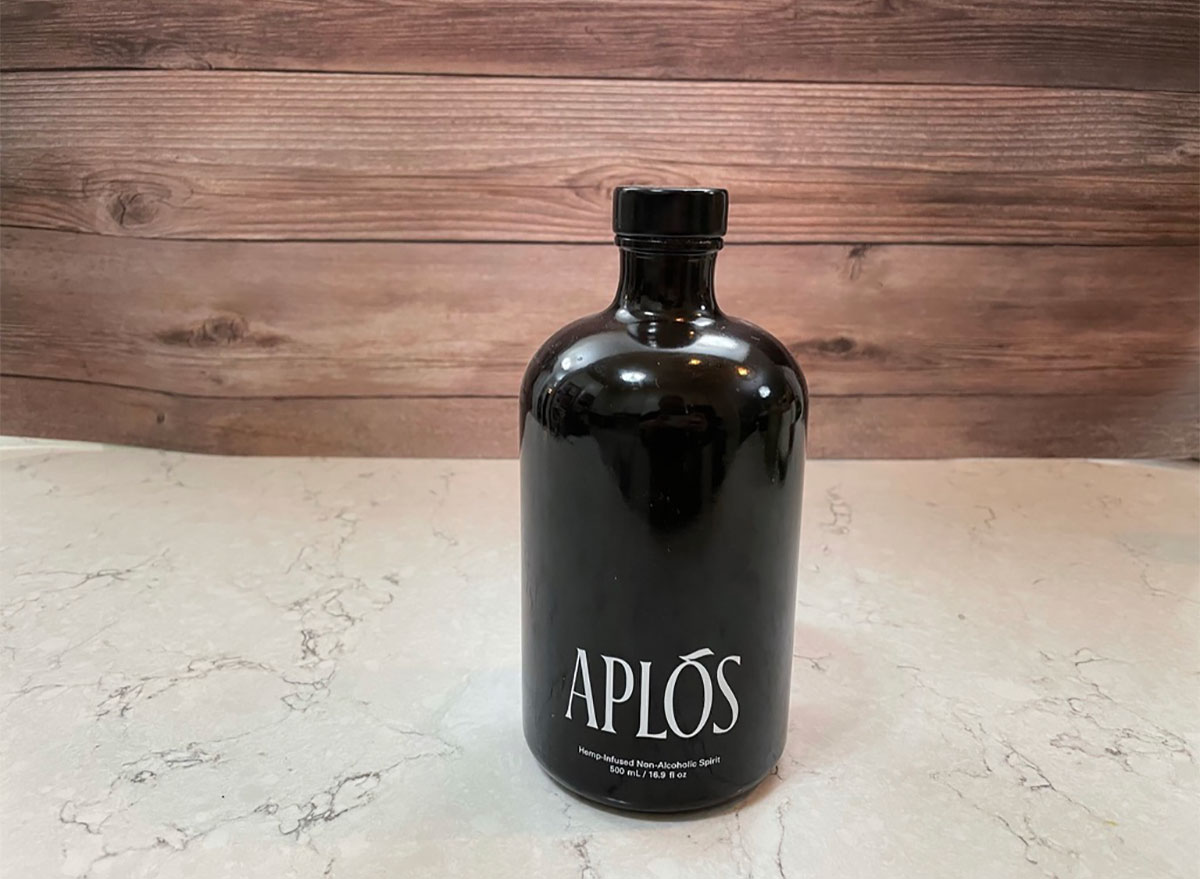 Launched in early 2020, Aplós is a healthier alternative to alcohol. Plus, it comes with a calming effect thanks to the 20 milligrams of broad-spectrum hemp extract in each serving. The drink can be served neat, but I found the taste a bit strong on its own. It was medicinal (which did remind me of some alcohol) and bitter, but when I combined it with grapefruit juice, it was much smoother to drink. I could see it being tasty with the right cocktails if you get creative with your non-alcoholic tastes. There's no THC in it, so it won't get you "high," but because it is hemp-infused, it may not be the best choice for everyone going alcohol-free. (It's not recommended for anyone pregnant or nursing.) It's meant to mellow you out—without the hangover the next day—but I didn't drink enough for the taste test to notice the effects.
And for more, sign up for our newsletter to get daily recipes and food news in your inbox!
Ritual Zero Proof
Ritual Zero Proof makes three varieties of non-alcoholic spirits: a Whiskey Alternative, a Gin Alternative, and a Tequila Alternative. My personal favorite of the three was the Gin Alternative. When I first opened the bottle, it smelled just like gin. I combined it with tonic and it tasted just like a gin and tonic, with the herbal taste you'd expect from an alcoholic gin. It's light and refreshing, and I could imagine knocking back a few of these if I was hanging out with friends (in post-COVID times, of course!). And I'd feel okay about doing it, too; there's no sugar or calories in any of Ritual Zero Proof's offerings.
The Whiskey Alternative smells like a smoky whiskey and has a peat quality to it when you taste it. I mixed it with ginger ale, and it felt similar enough to a "regular whiskey" ginger. I think it would be a decent substitute if you're a whiskey drinker (I'm not, really), but I imagine the more complex the cocktail, the happier you'd be as the alternative isn't incredibly complex on its own.
For the Tequila Alternative, I tried it mixed with soda and lime. While the other two alternatives smelled like their alcoholic counterparts, the tequila had an indistinct smell. The flavor was more watered down than the others, but it did give me a burning in the back of my throat like alcohol does.
If you do want to experiment with non-alcoholic spirits, Ritual Zero Proof offers a variety pack to purchase all three kinds, which comes with a cocktail recipe booklet.
Amass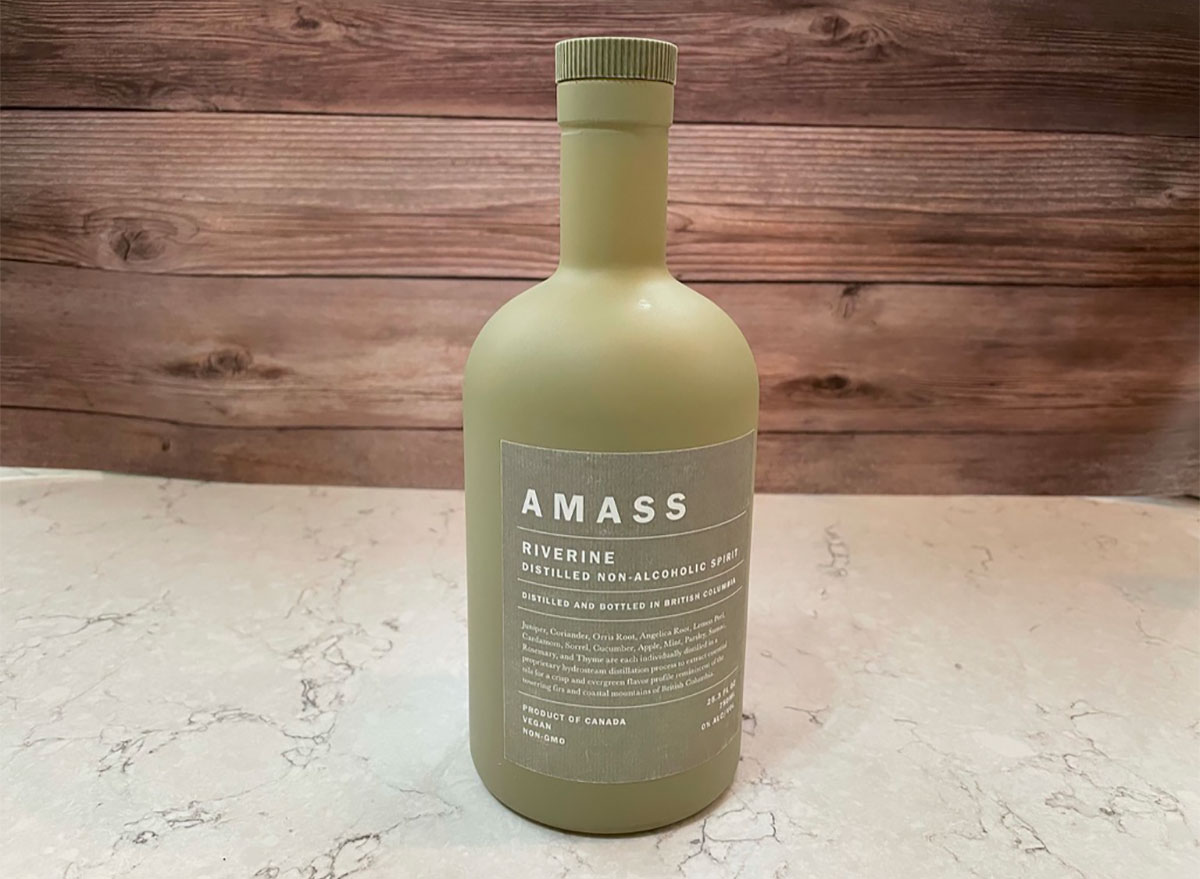 Known for its dry gin and botanic vodka, Amass has recently jumped into the non-alcoholic spirit game with Riverine. If you love a good herbal drink or green juice, you will love this. Crafted in the Pacific Northwest, Riverine features 14 botanicals like juniper, lemon peel, sorrel, thyme, and mint for a flavorful profile.
Drinking alone, it has a very strong earthy taste—it's enjoyable, but because it is so strong, it might not be for everyone. When mixed with tonic, it has a similar vibe to a gin and tonic… but, again, more earthy. However, it isn't meant to be a gin replacement, like some of the other options on this list. I found myself liking it more when I wasn't trying to compare it to a specific drink and enjoy it for what it was: its own botanical NA spirit.
RELATED: Ugly Side Effects of Drinking Alcohol Every Day, According to the Mayo Clinic6254a4d1642c605c54bf1cab17d50f1e
Kin
Unlike some of the other brands on the list, Kin's products are not meant to be one-for-one replacements for alcohol. The brand offers two bottled drinks—High Rhode and Dream Light—and Spritz, which comes in a mini can, available in four-, eight-, and 16-packs. These products are what the brand calls "euphorics," drinks that impact your mood, but have none of the side effects of alcohol.
High Rhode was my favorite. By itself, it's a bitter, but herby drink. But it's meant to be mixed, so I added it to tonic and it brought out the flavors even more. Kin provides lots of recipes to get the most out of the drink. I'll be honest and say I was lazy and didn't try it any other way, but I imagine it would be tasty in more complex drinks. Kin Spritz uses the High Rhode base but is a sparkly drink that can be drunk on its own or can be used as a bubbly mixer also.
Now, for the euphorics. Because I was just sampling, I didn't drink enough to notice a difference in my mood. However, High Rhode is supposed to make you joyful or calm—depending on your mood before.
Dream Light, on the other hand, is meant to be drunk right before bed so that you can relax and de-stress. The company suggested mixing it with oat milk, which is exactly what I did. It was a cold drink but had warm flavors like cinnamon and clove… and it was quite delicious! I don't think I have ever drunk a glass of milk before bed—and maybe it was a placebo effect—but I did feel like I went to sleep easier and slept better that night.
It's important to note that Kin Europhics are made with adaptogens, nootropics, and botanics. And while they are non-alcoholic drinks, they're not recommended for anyone under 18, pregnant, nursing, or people with certain conditions or medications.
Lyre's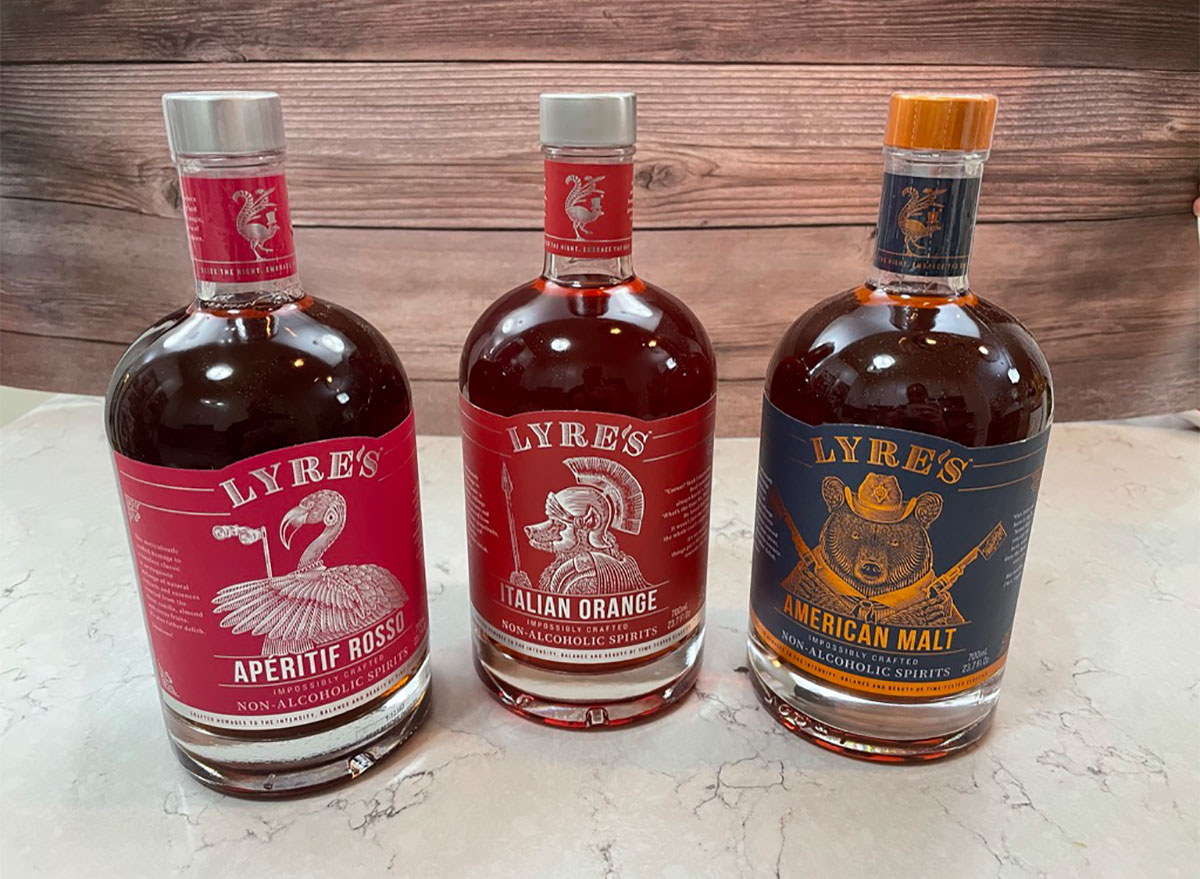 Lyre's has the most offerings out of all the brands I tried. They have more than 12 varieties, including a White Cane Spirit, Italian Spritz, and Coffee Originale. The brand's goal is to make a range of "spirits" that taste like the classics that they're paying homage to. And in my opinion, they do just that.
I first tried the Italian Orange. When I opened the bottle, it smelled similar to Campari or Aperol. It had a strong citrus taste that had a bite. I had an open bottle of champagne in the fridge and mixed it with that. It was delicious—but as I was drinking it, I realized that it kind of defeated the purpose of drinking a non-alcoholic spirit. Oops!
I next tried the Apéritif Rosso, which is like sweet vermouth. The Lyre's website recommended mixing it with the Italian Orange and adding tonic to create an Americano. I did that, and it was quite good. It reminded me a lot of having an apéritif at a restaurant (remember those??). The flavors blended together well, and it certainly drank like I had made a more complex cocktail than I did.
Finally, I tried the American Malt. As I mentioned above, I'm not a big whiskey drinker—but that could be why I enjoyed this one quite a bit. It's very mild and almost like a watered-down, sweet whiskey. I mixed it with the Apéritif Rosso and a dash of bitters to make a Manhattan. It wasn't exactly the same as a Manhattan, but it would do in a pinch.
Monday
Sommeliers say not to buy a bottle of wine because of its label, but I'll be honest: I do that. That's why I was probably most excited to try Monday Zero Alcohol Gin. It has a beautiful label with an intricate logo. And I was incredibly impressed (see, the label method works).
Like many of the others, it smells like alcohol when you open the bottle. I'm not sure how they all do that, but I'm intrigued. Monday has that familiar juniper/botanical taste of a gin, but it also feels a bit floral. It pairs beautifully with tonic, and I think it would hold up to the most complex cocktail recipes. And you wouldn't feel guilty making nightly cocktails, as it has zero carbs, no sugar, and no calories. Overall, I think Monday was the closest one-to-one replacement for alcohol.
Seedlip
And then, there's Seedlip. This was the only brand I had heard of before researching this article. And I'd tried the Garden 108 variety before, as it's offered in mocktails on drink menus at various restaurants and bars I've been to in NYC. Seedlip offers three kinds of non-alcoholic spirits: Garden 108, which is herbal, Grove 42, which is citrus, and Spice 94, which is aromatic. All three are great.
Garden 108 is bursting with botanical flavor. The company says the most notable flavors are rosemary, thyme, and spearmint. I can't say I picked out those flavors, but I enjoyed it, nonetheless. When I had it at Baar Baar, an Indian restaurant in NYC, this summer, it was mixed with a fresh green juice. I wasn't doing a dry month at the time but was so intrigued by the sound of the drink. And I wasn't disappointed then… or now. For this taste test, I simply mixed it with tonic, but it was delicious and bursting with flavors.
The Grove 42 is a citrus blend of Mediterranean orange, lemon peel, lemongrass, and ginger. Seedlip's website has a ton of recipe options, but I was feeling a bit lazy the evening I tried this, so I just mixed it with tonic. Despite the simple drink, it felt like there were multiple layers of flavor. It was almost as if I were drinking a handmade citrus soda. I plan to mix Grove 42 to make mock margaritas.
And finally, Spice 94 is what Seedlip calls "aromatic," a mix of allspice and cardamom. Opening the bottle, I was hit with a spicy smell—not like whiskey, more like a chai or other warm spiced tea. I mixed it with ginger ale and drank the whole glass.
The three Seedlip flavors were my favorites. All three are sugar-free, calorie-free, and suitable for vegans. They didn't feel like "substitutes"; they felt like premium drinks that are uniquely their own thing. The trio is so flavorful, I will likely use them as mixers with alcohol and to make non-alcoholic drinks.
With all of the drinks on this list, I believe a lot is dependent on tastes. I would recommend all of them depending on your preferences. Whether you're doing a Dry February or just looking to try something new, give a few of these a try to see what you like.
Now that I know my favorites, I'm excited to experiment with non-alcoholic cocktail recipes. Cheers!
Dalene Rovenstine
A New York-based freelance journalist, Dalene Rovenstine often writes about food and drink and health, as well as entertainment, beauty, and other lifestyle topics.
Read more about Dalene