16 Old-Fashioned Chocolate Desserts That Everyone (Secretly) Loves
Chocolate never goes out of style and neither should some of these old-fashioned desserts.
The benefits of cooking old school are many. First, many of these old-fashioned chocolate desserts are very easy to make. Second, they are usually cost-effective because, as you'll see, quite a few were developed during shortages caused by war or the Great Depression. Third, they are tried-and-true delicious. Translation: Everyone will love them.
Browse this list of some of the most beloved old-fashioned chocolate desserts and make one tonight!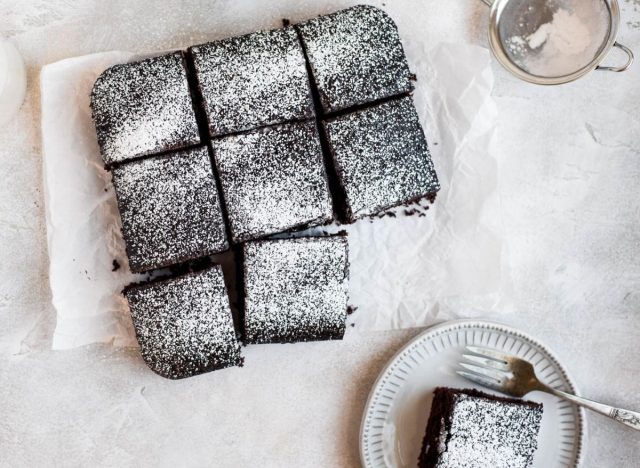 This chocolatey cake is made without eggs, milk, or butter—ingredients that were hard to come by during the Great Depression. It still manages to be delicious and decadent so give it a try!
Try this great Depression Cake recipe from A Cookie Named Desire.
Often confused with German Chocolate Cake, Black Forest Cake is actually from Germany. And this cake is really old-fashioned, like late 16th-century old-fashioned. This cake has multiple layers of chocolate sponge cake, whipped cream, and cherries which are rumored to represent the traditional outfits worn by dancers in the Black Forest. Also, the cake is traditionally brushed with Kirschwasser, or cherry brandy, so leave that out if you want a non-alcoholic cake.
Try this decadent Black Forest Cake recipe from Flour on My Face.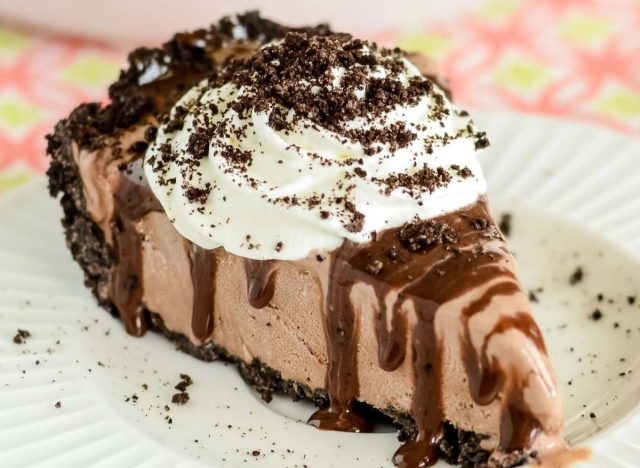 Named for the dark mud found at the banks of the Mississippi River, this dessert, as its name implies, isn't fancy. This layered dessert is thrown together in a cookie crust and can contain cake, cookies, pudding, ice cream, and marshmallows and is topped with chocolate curls, more whipped cream, and nuts.
Try these Mississippi Mud Pie from Lil' Luna.
Here's yet another dessert that pays homage to mighty Mississippi. According to lore, the fudgy layer that rests on the graham cracker crust was thought to resemble the mud at the bottom of the river. These days there are so many different ways to make this delicious dessert. After all, what chocolate-lover doesn't love a layer of fudge under just about anything?
Try this Low Carb Keto Black Bottom Pie from Low Carb Maven.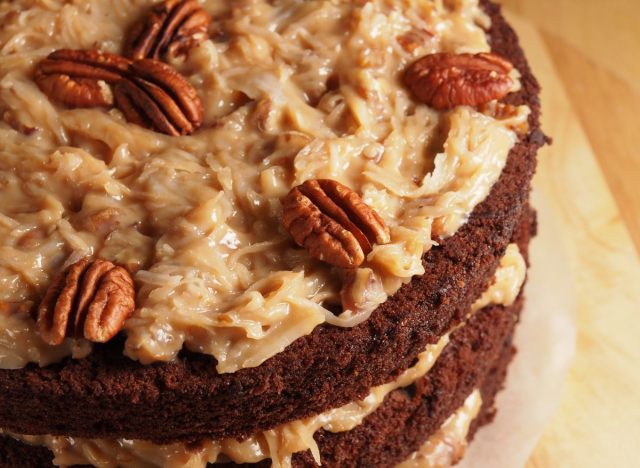 Surprise, this stunning cake topped with curls of coconut, pecan filling, and mounds of sweet chocolate frosting is not German at all. It was first made by a baker in Texas, according to Culinary Lore, and it featured a type of chocolate developed by Samuel German. Mrs. George Clay's recipe for "German's Chocolate Cake" was featured in the Dallas Morning Star. The "'s" got dropped in later years. However, you slice it, if you love a sweet chocolate cake and coconut, this is the one for you.
Try this amazing German Chocolate Cake recipe from Lil' Luna.
This layered chocolate cake with apricot jam or cherries covered in chocolate ganache was the creation of Austria chef Franz Sacher in 1832. Interestingly, there are only a few places in the world where you can experience an actual Sachertorte. The recipe is protected by a trademark and the cake is stamped with it in chocolate. You can, of course, make a version but it wouldn't be an authentic Sachertorte.
Try this recipe for the Original Sachertorte.
Traditional Texas Sheet Cake is a thin, chocolate cake made with buttermilk and unsweetened cocoa baked in a sheet pan. The fudgy frosting is poured over the still-warm cake and then sprinkled with chopped pecan, says Simply Recipes. Of course, you can add your own twist and toppings. One thing's for sure, this cake is a crowd-pleaser.
Try this Texas Sheet Cake recipe from Bigger Bolder Baking.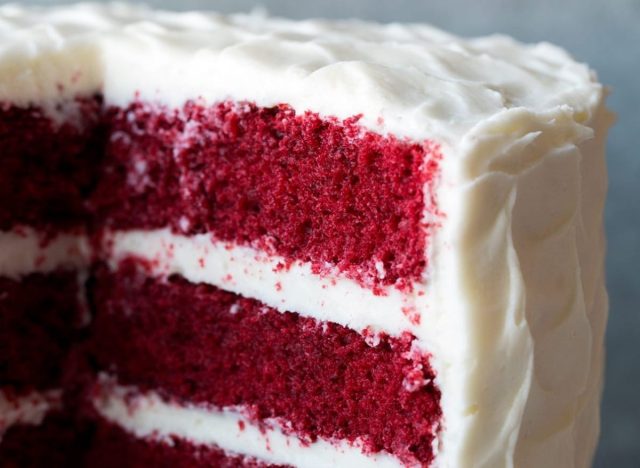 Yes, despite being red, this cake is actually chocolate. Flour was much coarser in the 1800s and when acidic cocoa was used in this recipe, the cocoa would break down the flour, thus making the cake velvety. The cocoa would also react with the other ingredients making the cake red, although these days food coloring is often used to achieve a more vibrant red. Cream cheese frosting has become the defacto frosting for a great red velvet cake.
Try this Red Velvet Cake recipe from Cooking Classy.
Origins of this cakey sandwich cookie creation with vanilla frosting in the center are debated, but most sources credit the Amish in Pennsylvania. These sandwiches started as leftover cake batter dolloped into rounds that were then baked and filled with frosting. The first commercially produced whoopie pies were sold in Maine.
Try these Chocolate Biscoff Whoopie Pies from Gimme Some Oven.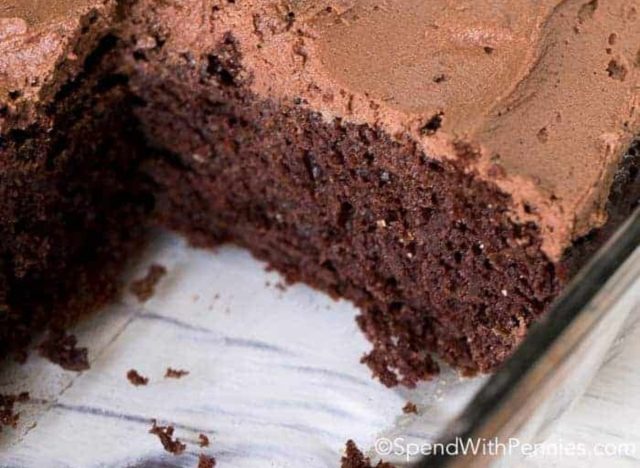 Sources attribute the rise of using mayonnaise in chocolate cake to the Great Depression or during World War II when eggs and dairy were scarce, after all, mayo is just an emulsion of eggs and oil—common ingredients in cake. According to Epicurious, the first mention in print is in 1927 in the Oakland Tribune. Taste tests since then have proven that the beloved condiment does indeed make a delicious and moist chocolate cake so keep this hack on the table.
Try this Chocolate Mayonnaise Cake from Spend with Pennies.
Mississippi Mud Cake and Mississippi Mud Pie are two different, though both beloved desserts. The cake version features a chocolate cake topped with marshmallows that are then drenched in chocolate frosting.
Try this Mississippi Mud Cake From Lil' Luna.
It's no surprise that the buckeye candy originated in Ohio, the Buckeye state. Apparently, these little peanut butter balls partially coated in chocolate resemble buckeye nuts from Ohio's state tree.
Try this easy Buckeyes recipe from Spend with Pennies.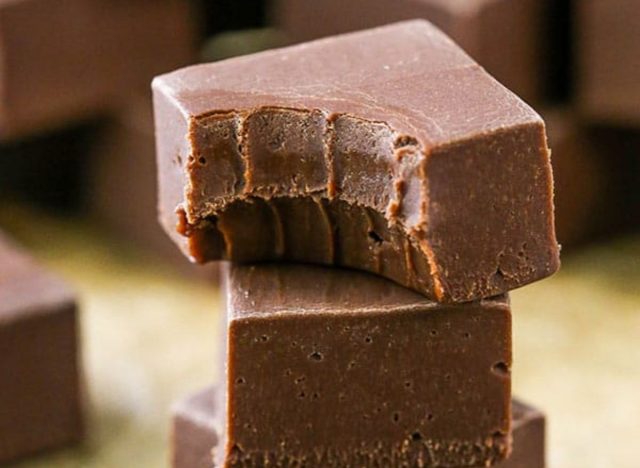 The origin of fudge, as with nearly all of the previous desserts, remains murky. In 1921, a Vassar College student was the first to officially write about the treat that came from Baltimore in 1886. This was the first known documentation of American-style fudge. The chocolate confection created a frenzy on campus and has been a coastal vacation favorite for a long time. Now, of course, it comes in all sorts of flavors and varieties.6254a4d1642c605c54bf1cab17d50f1e
Try this Quick and Easy Chocolate Fudge from Life, Love and Sugar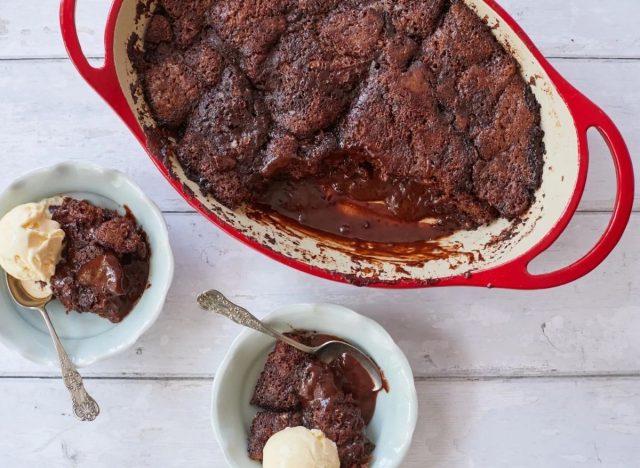 Most everyone is familiar with fruit cobblers. Whether made of summer peaches or fall apples, fruit just tastes better topped with a crunchy, butter-speckled crust. But have you ever heard of a chocolate cobbler? Southern Living says this pantry-staple dessert becomes two desserts in one with layers of cake and layers of gooey fudge throughout, and it's ridiculously easy to make.
Try this Ultimate Chocolate Cobbler from Bigger Bolder Baking.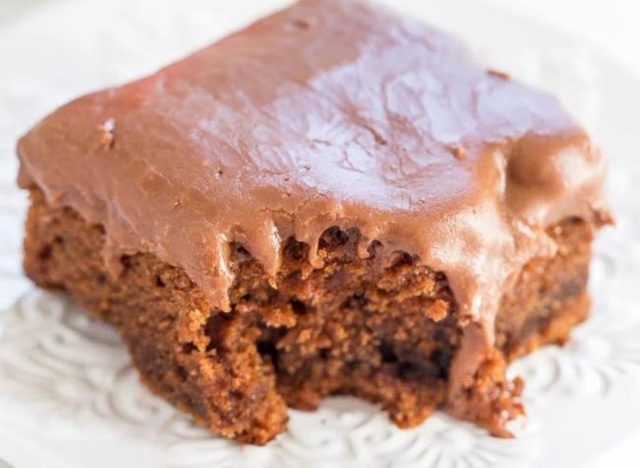 Coca-cola makes sense in a cake, it adds sweetness and the carbonation adds a little lift to the cake. The coca-cola cake origins are unclear, but a recipe was first published in the Charleston Gazette in 1952, says What's Cooking America. The cake saw a resurgence in popularity in the '90s when Cracker Barrel added one to its menu. The Double Chocolate Fudge Coca-Cola Cake became a permanent offering in 2009. So if you don't want to make one, head to Cracker Barrel and pick one up.
Try this amazing recipe from Averie Cooks.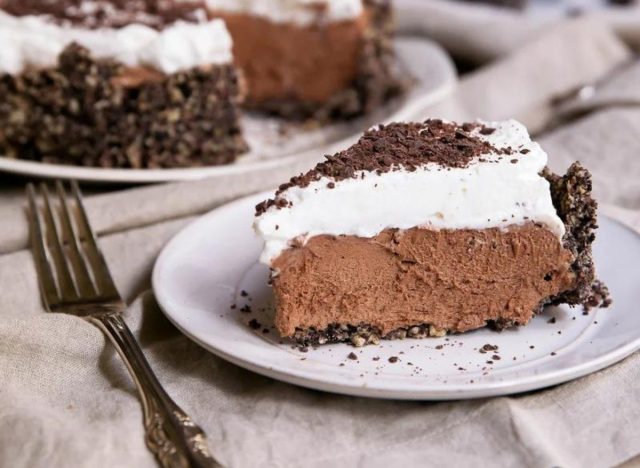 This pie of smooth chocolate mousse and a cloud of whipped cream is not French. An American baker named Betty Cooper made it for the Pillsbury Bake-Off in 1951 and won. The name refers to the silky texture of the pie's luscious mousse and it 100% deserves a place in your dessert rotation.
Try this recipe for Deep Dish French Silk Pie with Hazelnut Oreo Cookie Crust from Ambitious Kitchen.
Chocolate is one of those ingredients that will stand the test of time. Make one of these old-fashioned favorites at your next party and see what memories it brings up.
An earlier version of this recipe was originally published on May 12, 2022.